IOTA (MIOTA) was trading under the bearish influence at the beginning of 2020. However, after about 15 days, the coin started showing upward momentum. From January 21, the currency marked downward movement and traded in the lower range. The price of IOTA has been moving around in the range between $0.22 – $0.25 over the past five days.
IOTA Price Analysis
Over the past five days, the price of IOTA has been going from a high to a low at regular intervals indicating the strong bearish pressure. The price started trading on a low note at $0.2363 on January 20. It took an upward rally of 7.92% and the price touched $0.2550 on the same day. The continual bear pressure made the price of the coin go below the baseline to $0.2421 on January 21 at 5.13%.
IOTA price gave a tough fight to the bear pressure and moved up to $0.2530 on Jan 22, the upward rally being to the extent of 4.55%. The bears were in no mood to let go of the strong hold and again managed to push the price below the baseline at $0.2318 on the next day by 8.52% fall. The coin continued to try and push its price in the upward range to $0.2382 on the same day, and the upswing was at 2.66%.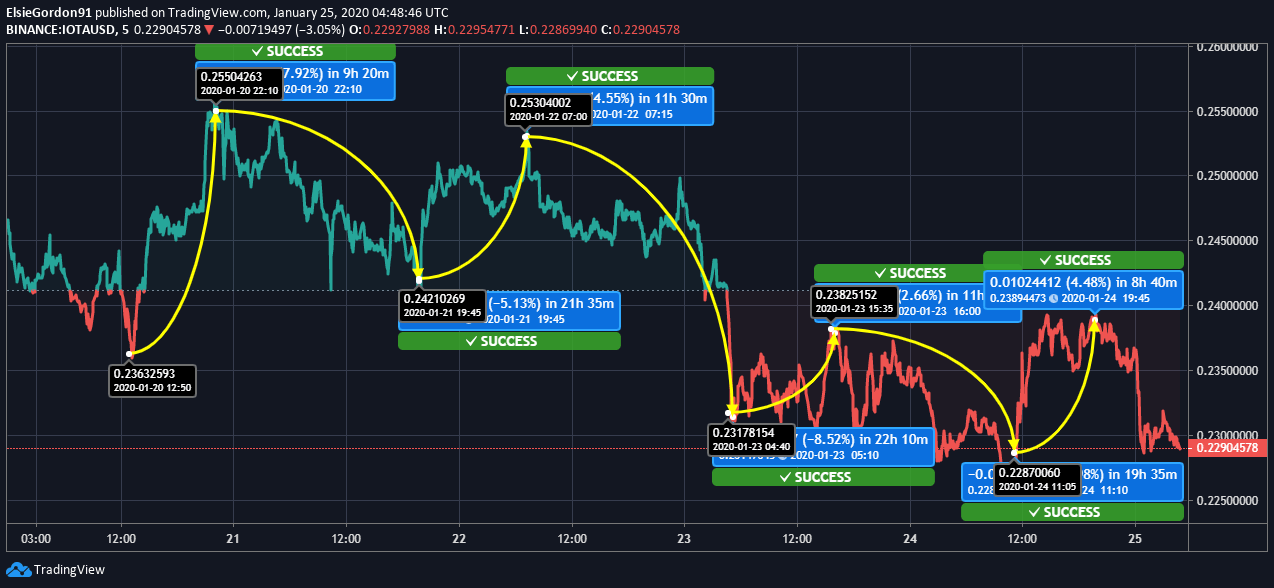 The bears pushed the price downwards to $0.2287 yesterday showing a downward variation of $3.98%. On the same day, the price managed to recover to the tune of 4.48% at $0.2389. With the bears showing a stronger presence today, IOTA price has again fallen to $0.2290; the fall is at 4.14%.

IOTA price has been undergoing continual bear pressure, which has not let the coin have a stable price momentum since the beginning of 2020. It has to be seen in the coming days whether IOTA price can come out of the bearish grip. Analysts are banking on the future potential of the coin and expect to show a stable momentum during the year.

Current investors should let the short-term bearish trend pass and continue to hold on to their investments from a long-term perspective. Day traders can continue trading even in this volatility but by approaching the same with caution.


Warning: sprintf(): Too few arguments in /home/lawyerm9/public_html/coinnewsspan.com/wp-content/themes/deus/functions/images.php on line 269