Zerodha is one of the biggest discount brokers in India, having an active customer base. Zerodha was established on 15th August 2010 and is authoritatively recognized as India's first prominent discount broker. Nithin Kamath established Zerodha to overcome the hurdles he faced during his decade-long stint as a trader. Besides, by bringing in a competitive pricing model, Zerodha is likewise recognized as a pioneer in technology, especially for traders in India.
About Zerodha
Zerodha is the leading and most popular discount brokers available in India; it has the largest trading volume growth and has more number of customers. The name Zerodha is obtained from an English word Zero and Rodha from a Sanskrit word meaning barrier.

Zerodha was established in the year 2010 August, by Nitin Kamath, who is a professional trader for more than 10 years. His sole mission is to solve the problem faced by the traders and the investors from India and established this brokerage firm, which soon became one of the leading brokers in Indian broking.

Zerodha is headquartered in Bangalore and has its franchise offices in several major cities like Pune(Maharashtra), Hyderabad (Andhra Pradesh), Chennai (Tamil Nadu), Ahmedabad (Gujarat), Vijayawada (Andhra Pradesh), Salem (Tamil Nadu), Hubli (Karnataka), Kanyakumari (Tamil Nadu), Coimbatore (Tamil Nadu) and Kochi (Kerala).

Among several discount brokers that are available in the country, This brokerage is one of the first firms to have its online presence. As per our Zerodha review, any user can open an account online with Zerodha; they can walk into any of the franchise offices and avail their services. Zerodha allows its traders and investors to trade in Indian share markets such as NSE, BSE, and several others. Moreover, Zerodha reports that it has a turnover of Rs.7000 crores that account for 2% of the total turnover of NSE.
Zerodha Features
Zerodha is considered as one of the leading top brokerage firms in India. Below given are the few features of Zerodha –
Currently, Zerodha's disruptive pricing features and internal technology have made them the greatest stockbroker considering active retail customers.

Additionally, Zerodha runs various open online community initiatives and educational activities to assist retail investors and traders.

Zerodha's Fintech fund and incubator, Rainmatter, had invested in various fintech startups intending to develop the Indian capital markets.

The organization has been acknowledged for the 'Retail brokerage of the year 2018' award given by the National Stock Exchange, 'Young Entrepreneur of the year (Startup) 2017' award by Ernst and Young and 'Retail broker of the year 2017' award given by Outlook Money.

For Intraday traders, the brokerage charges are much lower when compared with other brokers offering the same service, which is a major advantage.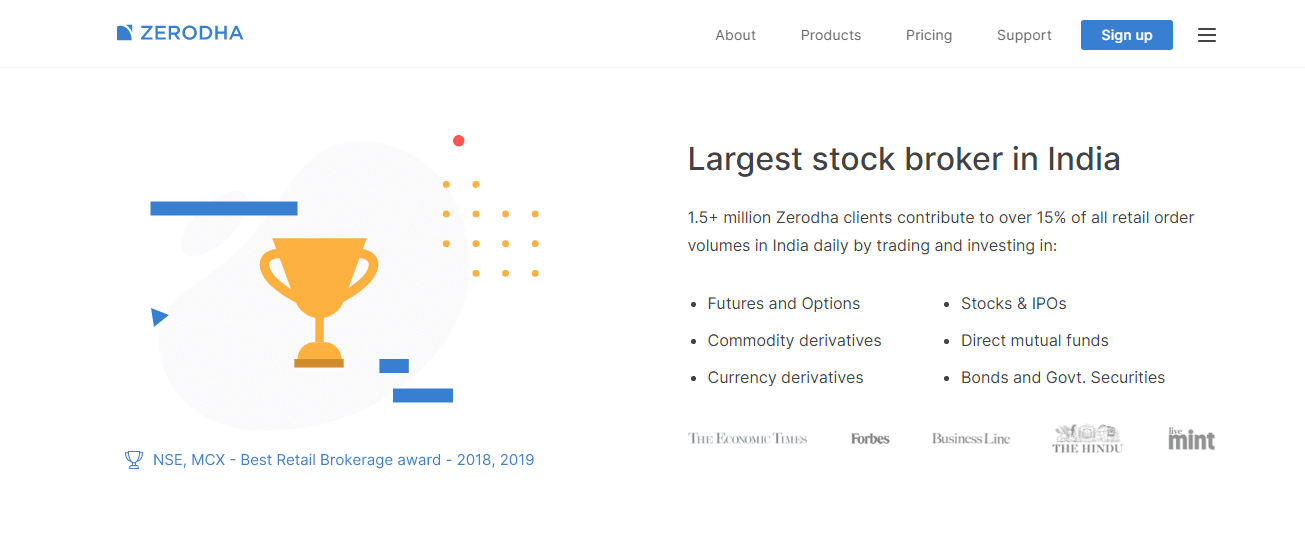 As per our review, Zerodha is one of the leading discount brokers in India with more than 1.5 million customers add to over 15 percent of retail order volumes in India by investing and trading in
Futures and Options (F&O)

Stocks & IPOs

Currency derivatives

Commodity derivatives

Direct mutual funds

Bonds and Government Securities
What makes Zerodha unique?
As per our review, it helps its clients to purchase and sell stocks,

futures & options

, like currency, equity, and commodity. This electronic trading platform is offered free of cost to its traders, and it claims that it has been profitable since starting from the first year of its services.

One of the most important features of Zerodha is it offers low-cost trading services; this low brokerage charges offered by Zerodha decreases the breakeven point for the trades. Consequently, this increases the trading frequency and its overall revenue. Besides, the account opening and the brokerage charges are quite reasonable.

Zerodha provides most of its services online, and there is no physical presence needed. This decreases the operational cost and helps Zerodha to expand its business.

As per our Zerodha

review

, this trading broker does not offer add-on services such as tips, relationship managers, research, and it does not spend its money on advertisements.

In a nutshell, we can say this brokerage is a trading company having an online presence, that leverages the technology to provide trading services to traders and investors.
Is Zerodha safe for long-term investments?
Zerodha is one of the leading discount brokers that offers several services for its traders within a short time. It has become one of the most favorite

online brokers

for several thousands of traders for over a decade.

Zerodha has surpassed all big traditional brokers aside and is a preferred, online discount broker. Presently, one of the biggest stockbrokers in India is Zerodha, and it has more than 15 lakh traders on its platform.

As per our Zerodha review, few people might consider Zerodha for long-term investments; it offers several outstanding features for its traders and has built trust for over a decade. Besides, the account opening process is hassle-free, and It has become one of the most preferred online trading brokers for several Lakhs of users who use this platform.
Is Zerodha a Reliable Stockbroker?
As per our Zerodha review, we can say that the Zerodha trading platform is safe and reliable. Since its Inception, this brokerage has not faced any major violations or setbacks from SEBI or other exchanges. It is considered as a profitable company having no debts or liabilities.
Below given are the few points explaining why Zerodha is a reliable broker for traders and investors –
As per our review, since there is no borrowing in any form, Zerodha is considered as a

Zero-debt

financial trading services company.

Less than 5% of Zerodha's capital is lent to the traders in any form; hence there is no credit risk.

Zerodha funds invested in the business are more than 25% of all the trader's funds pooled together.

Zerodha is a profitable venture as a business and has enough resources to withstand a downturn in the economy.

Further, Zerodha partners itself with Central depository services limited (CDSL). Its main function is to hold the securities in a certified or uncertified form for enabling the book-entry transfer of securities. Hence, when it comes to the security of the shares that are available in the

Demat account

with Zerodha, the trader need not worry. Moreover, the stockbrokers can be considered as the agents of depositories.

Besides, the trader's stocks are held by central depositories and not by brokers' depository participants. Moreover, if there is some problem with Zerodha, the trader's stocks in the Demat account are secured with CDSL. To conclude, Zerodha is legitimate, and it is a reliable stock broker for trading and long-term investments in the share market.
How to open your trading & Demat account with Zerodha?
Opening a Demat account or trading account with Zerodha is hassle-free and fast according to Zerodha reviews.

If the trader has all the required documents, they can open an account and start trading within one hour.

Some of the documents required to open a Zerodha trading account and Demat account with Zerodha are Aadhar card, pan card, two passport size photos, and canceled cheque or passbook of a savings bank account. If you keep all the documents ready, the account will be opened in no time.

If a trader wishes to open a Zerodha trading account and Demat account with Zerodha, they should go to the website of Zerodha and click "open an account" and

register

all the details as requested by the platform.
Opening an Account
As per our Zerodha review, Zerodha account opening process is quick and easy. Opening an account with Zerodha normally takes 3 to 5 business days. Indian residents, as well as non-resident Indians (NRI), can open a Zerodha account.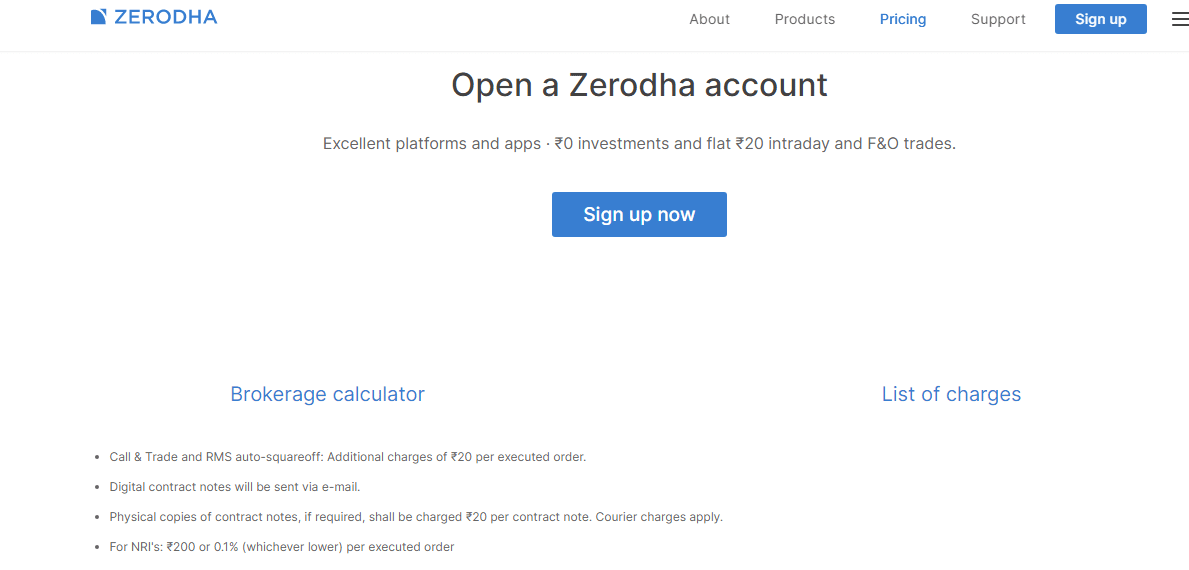 Account types
Two kinds of accounts can be opened with Zerodha:
Demat account and trading account, used for equity and currency trading

Commodity account used for commodity trading
Pricing
Zerodha's Pricing is given below:
Free for equity investments and charges flat Rs.20 for intraday and F&O trades
Free equity delivery
Free brokerage for equity delivery investments in NSE, BSE
Intraday and F&O trades
For Intraday traders, this brokerage calculates flat Rs.20 or 0.01 percent (whichever is lower) per executed order over commodity and currency trades as per Zerodha review 2023.
Further, all mutual fund investments are free of commissions, and DP (Depository Participant) charges.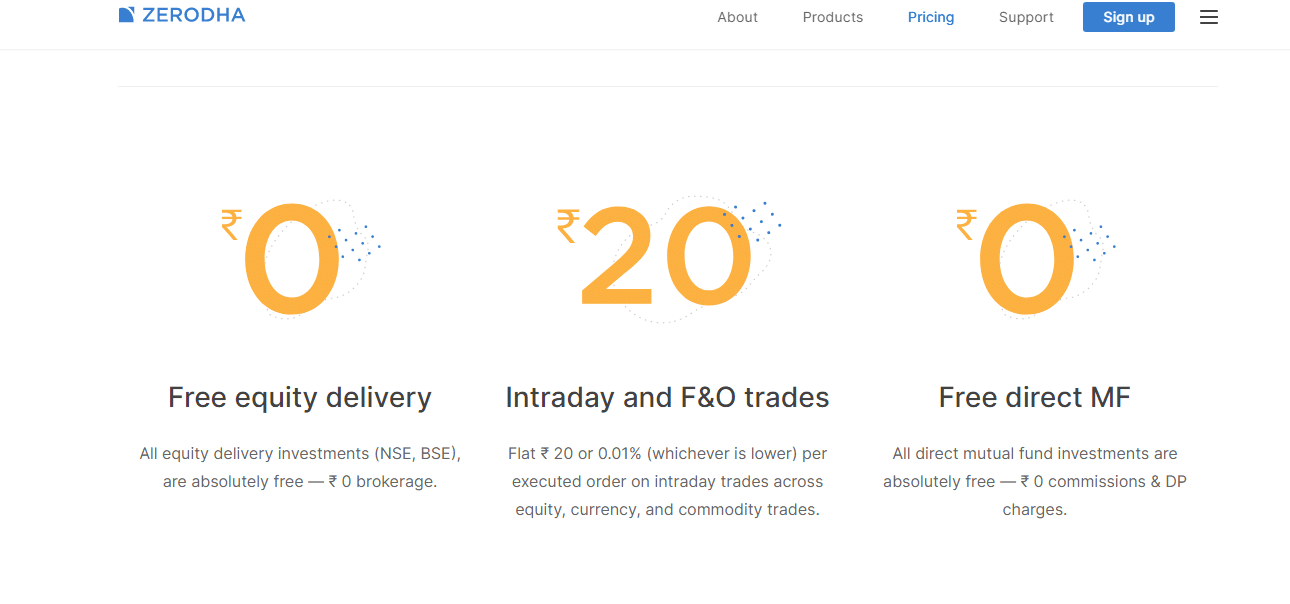 Deposit funds
According to SEBI guidelines, the trader needs to keep separate balances for the Equities and Commodities accounts, so Zerodha brokerage has two distinctive bank accounts to expedite this. There are two distinct modes to deposit funds to the Zerodha account.
UPI
The trader can transfer funds quickly from any bank account using UPI without any charge. We get to know from Zerodha reviews that the trader needs to ensure that all UPI transfers are done from the payment gateway so that the funds are added to the Zerodha account instantly.

Instant payment gateway
The trader can transfer funds directly from the Zerodha trading platform, like Kite/Pi using the instant payment gateway facility. This comes at a brokerage charge of Rs.9 plus taxes per order, with the advantage of instant credit.
Withdrawing funds
The trader can place a withdrawal fund request by signing into Console or from Kite.
Withdrawal requests for EQ/Currency are processed from Monday to Friday at 8:30 PM.
Withdrawals for commodities are processed from Monday to Friday at 8 AM. Requests placed after the stipulated times are handled next working day.
All withdrawal requests need to be placed only online and may take 24 hours to be credited to the bank account.
Besides, withdrawal requests placed on the second and fourth Fridays will be credited by Monday because of banks being closed on the second and fourth Saturdays.
Products offered by Zerodha
1. Kite 3.0 (Web-based Trading Platform)
Zerodha Kite Web, which was launched in November 2015, is a web-based HTML 5 lightweight and quick trading platform that can be utilized for trading on tablets, mobile, as well as on an internet browser. Kite was developed internally by Zerodha.
From the day of its launch, it has experienced different updates. At present, Kite 3.0 web platform is offered by Zerodha.

As per Zerodha reviews, Zerodha Kite Web offers full market watch, broad charting with more than 100 indicators, 6 chart types, advanced order types like cover and brackets, millisecond order placements, and substantially more for trading at BSE, NSE, and MCX.

Besides, Kite Web 3.0 is accessible for free for all its clients.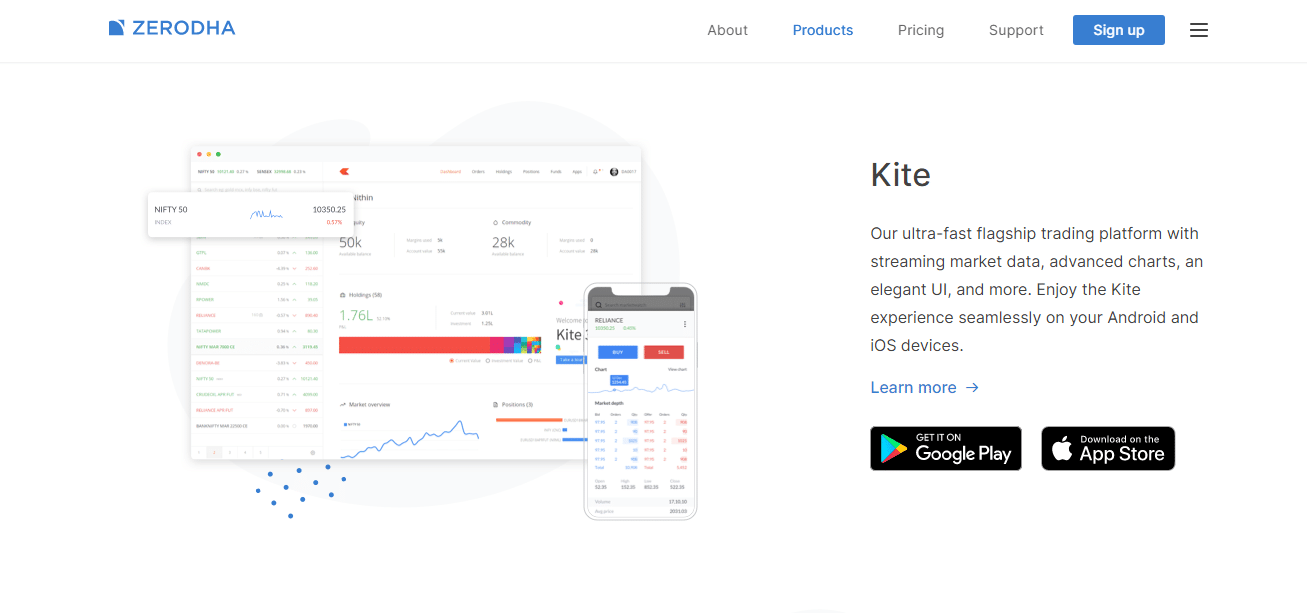 2. Console – Reporting Dashboard
Console

can be described as the back-office platform of Zerodha brokerage. Further, it is a trade and reporting dashboard where the clients can view and screen all their investments, stocks derivatives, mutual funds, etc.

Likewise, users can get access to different reports, get account statements, place withdrawal requests, and download contract notes. Moreover, consoles additionally offer analytics tools like a trade book and heatmap.

Moreover, console crunch several billions of rows of historical trade breakdowns to monitor corporate activities, splits, transfers, and several more to calculate the most precise profit and loss statements (P&L) for the trader's portfolio.
3. Zerodha Coin – Mutual Fund Investment platform
Zerodha Coin is a mutual fund investment platform of Zerodha, which was launched in April 2017. Coin permits individuals to invest resources into Direct Mutual Funds. This implies that the trader can make a commission-free direct investment in a Mutual Fund.
It offers savings of 1.5 percent on commissions each year. Besides, mutual funds are deposited in the Demat account connected with the Zerodha trading account.
Over the last few months, 100,000 plus customers have invested over Rs 2000 crores in direct mutual funds and have saved several funds in commissions that they would have generally paid in a standard mutual fund platform.
4. Kite Connect API
Zerodha helps to build a powerful trading platform for new startups with its simple HTTP/JSON Application Program Interface. Zerodha can build an investment app and showcase it to their customers.
5. Kite Publisher
With the help of Kite Publisher, embedding a few buttons on apps and websites will allow users to execute the trades. Moreover, the Kite Publisher buttons can be incorporated into the website by adding a few HTML and Javascript lines. With the help of Kite publisher, 1.5 million clients of Zerodha can use the trade buttons on the app or the website based on the Zerodha review to execute the trades.
6. Varsity
Varsity is an education initiative offered by Zerodha for its customers and all others for free of cost. Besides, Varsity is the biggest online stock market exchange training book on the globe, which covers everything from the fundamentals to advanced trading. Easy to learn, this brokerage also provides an assortment of stock market exchange topics for the benefit of its users.
Free Market Alerts of Zerodha
Zerodha brokerage allows the user to create strong market alerts on the cloud for F&O, stocks, and options and several more for free.

Moreover, alerts stay on the cloud waiting to be triggered either today, tomorrow, or months from now, even when the trader is away. The trader can get notifications through

Kite web

, email, and mobile.

The trader can set basic alerts or write advanced triggers that can combine multiple alerts with the Sentinel trigger language and editor.

Besides, more than 20 data points can set alerts on OHLC, last traded price, bids, and offers, and several more.

The user can set alerts on 80,000 stocks, commodities, F&O, bonds, derivatives, and more across exchanges.
Zerodha Kite Web – Web-Based Trading Platform
This brokerage implements in-house created mobile trading platforms, known as the Kite and Coin. On Kite, the trader can trade with assets aside from mutual funds. In case the trader wants to trade with mutual funds, they need to utilize Coin.

From the Zerodha reviews, we found that Kite Web is an HTML 5 based browser empowered trading platform that stands as a part of the overall system of remote trading platforms.

These are platforms that are offered by Zerodha over different operating platforms and devices.
It has the following features –
Multilingual Platform
Lite Weight & Low Internet Requirement
Accurate Search Results
Live Charts
Multiple Segments
Single Click Order
Critical Analysis
Watchlist
Short-cut Key Function
Zerodha Kite Mobile Trading App
About Zerodha Kite App
Zerodha is one of the leading and best discount brokers that offer several trading services for its traders. Zerodha kite mobile app is developed with all the important features which ensure the traders have smooth and great trading experience.
Kite app has all the technological features installed in it, and it is easy to use. This app can be used to manage the trading experience through a financial intermediary.
Zerodha kite app has been developed by keeping the latest features, which include customer support for any issues. Compared to other booking apps that have their operations in a mobile app, this Zerodha kite app is known as the best. Several people use this app to have great trading experience.
How to Download Zerodha Kite Mobile App?
We found from the Zerodha reviews that the Zerodha kite app is free to be downloaded from the Google play store. Besides, to access the Zerodha kite app, the trader needs to have an account with this brokerage. To use this app, there are no brokerage charges and it is free of cost. To set up the trading account, below given are the list of important documents that the trader needs to submit to create the Demat and trading account –
Aadhar card
Pan card
Rs.300 towards account opening charges
Kite Android / Kite iOS (Mobile Trading App)
Kite iOS is a smartphone application for Android and iOS. Traders can trade and monitor commodities and stock markets in India using the Kite Mobile application for free.
Moreover, with live streaming data from stock exchanges like BSE, NSE, and MCX, Kite Mobile App is an exceptional trading application accessible in India. These applications can be found in Google's Play Store and Apple App Store by the name of 'Kite by Zerodha.'
Zerodha's system of remote trading platforms includes Kite Android and Kite IOs, which are both excellent mobile-based trading platforms and comes stacked with the features like Kite Web as both the platforms have the same user interface and development stack such as –
In-Built Search
Interactive Charts
User Experience
Push Notification
Advantages of Zerodha App
Some of the advantages of Zerodha Mobile App are given below –
Zerodha account opening process is very easy, and to

start trading

, the user should have an account ID and password provided during the time of registration, by the Zerodha kite app. Zerodha app works well with smartphones, and it also offers Web services to the traders.

Zerodha app does not have any middleman; when there are times, that middleman is necessary to execute the trades. Having the latest technology, the traders can execute the trades independently. Also, there are no middleman charges and account opening charges.

As per our review, one of the major advantages of using the

Zerodha app

is, it allows faster transactions because of its latest technology. It also offers an option of net banking by which the traders can get an instant transaction advantage.

With the advent of the latest technological improvements, the traders need not wait for a longer time to execute the trades. With the Zerodha app, traders can use net banking and proceed with online trading to execute the trades that can be performed immediately.
Partner Platforms of Zerodha
This brokerage allows the trader to further their trading and investment experience with their partner platforms such as –
Thematic investment platform
Algo & strategy platform
Options trading platform
Bonds trading platform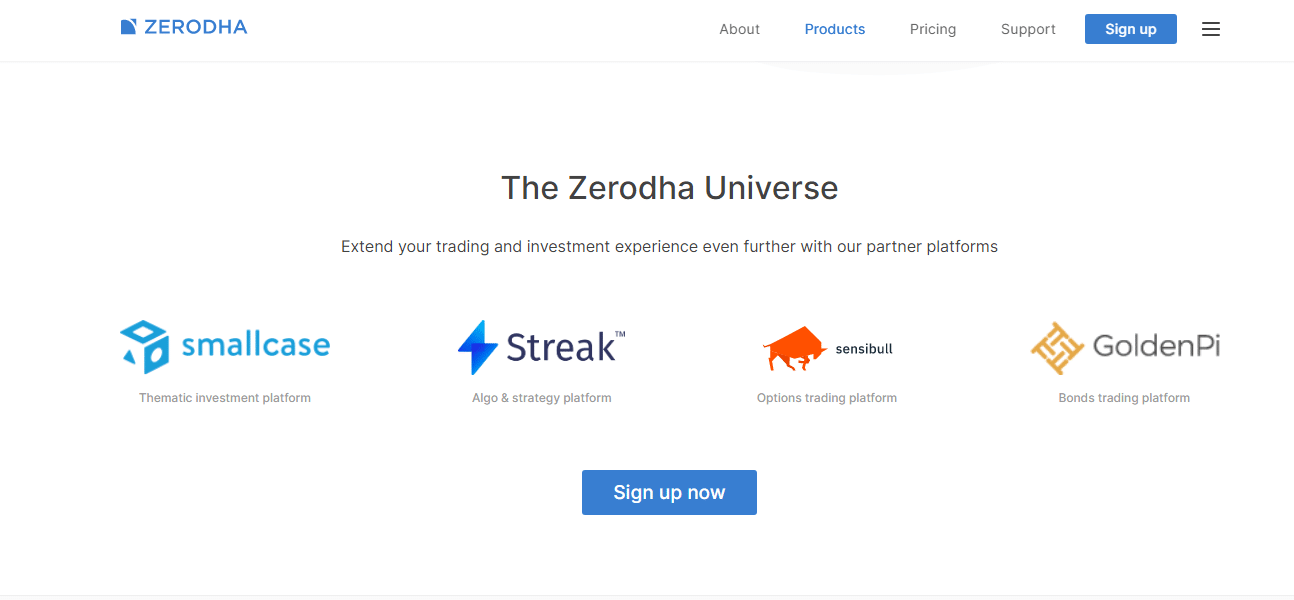 Zerodha Sentinel – Cloud-based Price Alert Tools
Sentinel is a cloud-based tool that enables Zerodha clients to set up price alerts on stocks, futures, and options. The exclusive feature of Sentinel is that, like similar price alert tools that are dependent on the machine and possibly trigger when the PC is on, here the price alerts can be activated anytime, even when the PC is off. Moreover, notifications are sent on Kite and email each time, when a price alert is triggered. With the help of Sentinel, a trader can set real-time price alerts on stocks, bonds, derivatives, etc over exchanges. Zerodha Utilities cover the following
Zerodha Brokerage calculator
Margin calculator
Holiday calendar
Partner Products from Zerodha
Zerodha not only offers traders access to its trading platforms and tools but also helps the traders access several products developed by its partnered companies. Using the Zerodha platform and the tools, the trader can execute trades efficiently. Zerodha's tool can be integrated along with the Zerodha kite platform. Some of the trading tools and platform offered by partners of Zerodha are –
Smallcase: This is a type of investment platform that helps the users to invest in a ready-made portfolio; which consists of stocks that are created with an idea, or theme, or strategy. The trader can select several stocks in small cases, such as the top 100 stocks, insurance, electric mobility, etc. for a trader who wants to invest as per their investment strategy and to invest in a single click.
Streak: It can be described as an end to end cloud-based platform used by retail traders to develop algorithms without using code and they can backtest it on the historical data and execute it in the live market. It also offers features like alerts, manages positions, and time information.
Sensibull: It can be described as an options trading platform that provides strategies to users based on the market view. Moreover, users can compare different strategies, evaluate the profits, understand various risks, and then execute trades on the platform. Besides, it allows traders to create customized options for trading strategies.
StockReports+ : This offers exhaustive research and analysis on more than 300+ stocks, industries, and markets. This tool is offered by Thomson Reuters; and offers in-depth information and also analysis of more than 1500 Indian organizations and ratings for businesses and stocks.
Over and above, Zerodha, one of the leading discount broker, has started educational initiatives to improve and help the financial literacy of the traders and to increase the financial knowledge of the people around trading markets.
Referral program of Zerodha
Zerodha offers a Referral program for its clients. They can refer to their family and friends to get free access to their paid products. The trader can earn 300 reward points for every referral. The trader can redeem the reward points by gaining access to various platforms and tools in the Zerodha Platform.
Call and Trade
The call and trade feature is offered by Zerodha, which comes at the brokerage charge of Rs.20 per executed call. The Instant Payment Gateway is appropriate for more than 21 banks and will be charged Rs.9 per transfer. There are DP charges of Rs.8 per transaction for delivery-based equity selling.
If the registering party applies for a trading Demat account opening, at that point zerodha brokerage calculate charge of another Rs.300 per annum should be paid, with regards to annual maintenance charge for the same.
However, this brokerage does not demand any yearly maintenance charge regarding trading accounts and there is additionally no mandate for registered clients to keep up any minimum margin amount.
Zerodha Tools
Among its products, there are tools for bracket and stop-loss order. By utilizing this product, the traders can place stop-loss order and even drop them at the perfect time. Besides, the trader can likewise make cover orders so that they can get higher intraday averages.
Also, there are various calculators for traders. The SPAN Calculator will assist the trader to calculate and find out the margin necessities for the investments.
Additionally, the Brokerage Calculator will enable investors to know all agreement note charges and break even points to plan investments and trade more efficiently. The B and S choice calculator will assist investors to calculate the fair value of equity options.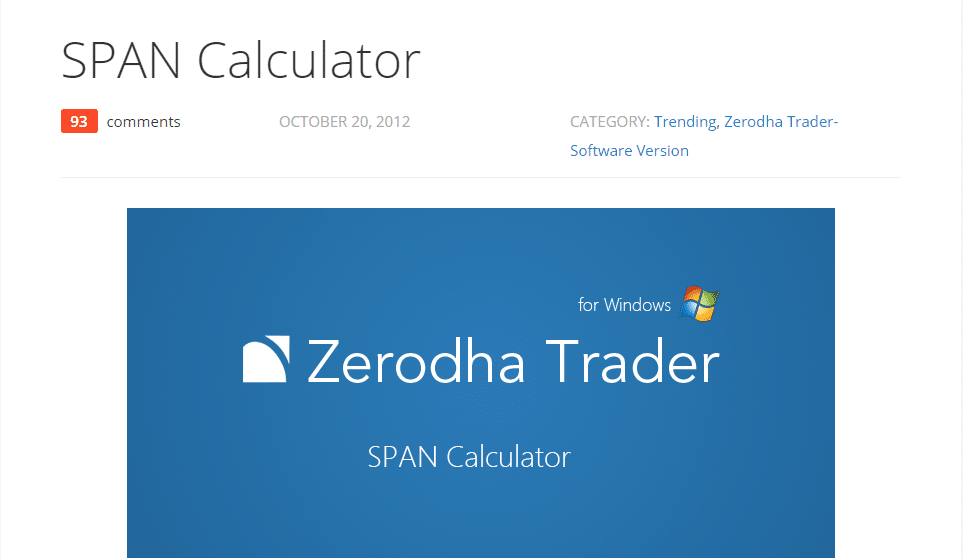 Zerodha Hidden Fees
There are a few hidden fees charged by Zerodha, which are discussed below –
Zerodha offers Call and Trade features at an additional expense of Rs.20 per each call.
An extra charge of Rs.20 per trade for every executed order types for MIS/BO/CO positions which are not squared off by the client.
Moreover, digital contract notes are sent through email. Physical copies of the contract notes can be requested at an extra charge of Rs.20 per executed order. Courier charges are extra.
Trade SMS alerts (which are optional) are charged at Rs.1 for Equity Futures and options, and Currency trade alerts and 0.50 paise for Commodity trade alerts.
This brokerage charges an instant payment gateway for more than 22 banks, Rs.9 for each fund transfer.
Rs.8 for DP charges for delivery-based equity options selling for each transaction.
Standard transaction charges, NSE charges, and statutory levies are charged.
Zerodha Drawbacks
Few of the drawbacks concerning this brokerage are discussed below:
Zerodha is a completely tech-based firm with no physical presence. This can appear to be a problem for the traders who are inclined toward the traditional way of trading.
This brokerage does not provide any kind of research and advisory.
Zerodha's account opening procedure is slow and not entirely online.
Zerodha covers only the Indian market.
Zerodha does not offer investor protection.
Great Till Cancelled (GTC) and Good Till Date/Time (GTD) orders are accessible only for commodity trading, not for the equity options section.
For Bank Nifty (for weekly settlement), CO/BO or trailing stop loss is not available.
In the equity cash segment, margin against shares is not available.
An extra charge of Rs.20 per trade per executed order for MIS/BO/CO positions which are not squared off by the client.
Call and Trade are not free; it can be accessed at an extra expense of Rs.20 per each executed order.
Trading software is not available for Mac and Linux operating frameworks.
As Zerodha does not provide banking, a 3-in-1 trading account is not available.
Lifetime free AMC Demat and trading account opening charges are not provided by Zerodha.
Wrap up
We conclude from our in-depth Zerodha review that this broker is a well-settled discount broker in India. Considering the advantages, Zerodha has low charges. The web and mobile trading platforms are good. Besides, there are many research tools the trader can use. Zerodha charges low fees and no inactivity fees are charged to the clients. Zerodha has earned the trust and respect of its clients by offering safe and technologically advanced trading services. Either you are a beginner or experienced trader, Zerodha supports all, by offering educational materials for their use, which can be added as a major advantage.
FAQ
1. Is Zerodha trustworthy?
Zerodha is one of the leading discount brokers in India providing and offers free equity delivery and has trust and credibility when compared to other trading platforms. Zerodha is registered with SEBI, NSE, BSE and it is regularly audited by these regulatory authorities, which shows it can be trusted.
2. Is Zerodha good for beginners?
Zerodha offers a wide range of features and functionalities for the traders. We can say that it is a good platform for beginners, and they have also added several indicators and features that can be used by the traders effectively.
3. Is Zerodha free?
Zerodha offers no brokerage charges, free mutual fund investment, and equity delivery trading. Besides, Zerodha charges flat Rs.20 per trade or 0.03% whichever is the lower cost, per executed order. There are brokerage charges to trade in Intraday, equity, Futures and options, commodity segments, and currency. Even though Zerodha provides equity delivery, commission-free trading, the customer needs to pay other charges which include government taxes, Demat account transaction charges, and Demat account opening charges (AMC) yearly charges of Rs.300.
4. Why is Zerodha better?
Zerodha offers several outstanding features for beginners and experienced traders. It offers several applications free of charge, where the traders can leverage these applications to execute the trades and generate profits. A bit of caution, while trading the user should consider volatility and market fluctuations that should be taken into account.
5. Is Zerodha legit?
As per our Zerodha reviews, we can say that Zerodha is a leading discount broker in India, and it is a legitimate stock brokerage. It is registered with CDSL and several other stock exchanges in India. Further, Zerodha comes under the regulations laid by RBI and SEBI. It has a decade of track record in the trading business, and it is a genuine broker in the business having more than 15 lakh customers and it contributes to 15percent of the total market trading volume.
Zerodha
Pros
Greatest stockbroker considering active retail customers.
Zerodha runs various open online community initiatives and educational activities.
It provides services identified with online trading, 24/7 support.
Cons
Zerodha covers only the Indian market.
Zerodha does not offer investor protection.
In the equity cash segment, margin against shares is not available.
Zerodha is a completely tech-based firm with no physical presence.
Zerodha does not provide any kind of research and advisory.