Currency exchange is one of the most volatile financial instruments in the global trading landscape. Forex traders are always prone to the high risk of losing money due to the rapidly changing trading conditions. Despite its unpredictability, forex trading is still one of the most profitable markets in the world. The complex nature of this market demands some technical guidance and professional assistance from a broker. LiteForex is one of the world's popular forex brokers and a name most associated with the success of beginners in the trading community. In this review, several factors of LiteForex that make it a good broker have been explored. From its competitive spreads, diverse services, and trading capabilities to its regulatory limitations and transaction costs, this LiteForex review has covered all grounds for assessing the broker in an unbiased way. The following review helps beginners foraying into trading multiple financial instruments and for experienced traders seeking the next level of trading experience. 
What is LiteForex?
LiteForex is an online broker offering its services to customers from different parts of the world. As a company, LiteForex was founded in 2005 under the title LiteForex Investments Limited. This company has more than a decade of experience maintaining the trade order quality of multi-domain financial services to its customers from around the world. As of 2020, LiteForex has over 500,000 clients who trade with the broker actively daily. The company is headquartered in the Marshall Islands and has been operating from there. The LiteForex group also holds its branch offices in Kenya, Tanzania, Myanmar, Nicaragua, Indonesia, India, Ghana, Iran, Vietnam, Nigeria, and the Philippines. 
Traders must make a note that LiteForex Europe Ltd is a separate business entity. It operates independently and is not adhered to by the LiteForex group. This company operates as an exclusive broker for LiteForex's European clients. It offers its trading services to countries in the European Union. LiteForex Investments Limited, on the other hand, is an established global CFD and forex broker. 

How to Trade with LiteForex 
Like other forex brokers, LiteForex offers its services through online communication only. It starts with opening a new LiteForex account and making a minimum deposit to select a trading account type. To open a trading account, users need to fill up an online registration form available on the company's website. A KYC-based verification is conducted online, which activates the account. It takes around 2 days to get the account verified and activated. For clients in some countries, the verification period may extend to 5 days. 
Trading Instruments
After opening a new account, LiteForex traders get access to around 56 forex currency pairs for trading. The company also supports the trading of 6 commodities and 16 cryptocurrencies and holds licenses to provide trading services for some 37 US-listed equity CFDs. To keep the portfolio diverse, 11 index CFDs can be traded with the company. The overall list supported by the company comprises 126 instruments, categorized across multiple asset classes. These instruments are quite suitable for new retail traders. Advanced traders may find this list inadequate. The company is actively expanding its trading capabilities and is currently advertising on its homepage that it supports over 145 assets. Since LiteForex's tradable assets grow continuously, more assets are expected to be added to its bandwagon in 2023 and beyond. Every trader would like to get access to a broader range of financial instruments with this company. 
The review finds that among the 126 assets maintained by LiteForex Investments Limited, currency pairs are the most popular trading assets among all account holders. The company brokers the trade for major forex pairs as well as minor forex pairs. It also helps its clients trade exotic currency pairs. Regarding the commodities, the review also discovered that clients get access to gold and oil commodities, which come with consistent liquidity. The stock indexes traded through LiteForex are CFDs on major global indices, most of them included in the US30 list of Dow Jones. Bitcoin and other Popular cryptocurrencies are also traded by the company, thereby becoming an alternative to the traditional forex markets that pose a high risk of economic loss. 
Unique Trading Features
As a registered financial service provider, LiteForex Investments Limited offers a plethora of tools and brokerages to its clients. It facilitates their successful trading with an exclusive economic calendar tailor-made to meet the goals of the clients. It runs an updated news blog on the world market to notify every risk warning to its clients. It has a margin calculator and a Fibonacci calculator for executing accurate trades. The company gives its client additional access to the expert support of Claws & Horns. According to the reviews, this analytical agency is a leader in providing best-in-class analytical tools to its users. As a part of its features, LiteForex also offers promotions and contests. But, it is currently not offering any welcome bonus or sign-up promo codes to its clients. A promotional offer for procuring a rebate on the deposits and fees is available. 

Trading Accounts
To cater to a wide range of clients, LiteForex has two primary accounts for live trading – ECN account and Classic account. In addition to these accounts, an Islamic forex account is also available.
Demo Account:

Like every other broker, LiteForex offers its clients demo accounts to help them test its features and services. These demo accounts are quite functional and simulate the trading strategies of the users accurately. There is no risk involved in using a demo account. The sign-up process for these accounts is straightforward and does not require any verification, which is why they get opened in less than a minute.

Classic Account:

The LiteForex Classic account is designed for beginner traders. It does not charge any interest on the surplus funds, and no commissions are charged on their earned money. The MT4 and MT5 trading platforms are made available for these account holders. 

ECN Account:

Professional traders and investors can use the ECN account and perform real-trading through LiteForex's Electronic Communications Network. This account offers a 2.5% interest rate on surplus funds but provides an unlimited duration on trades and transactions. The trades can be directly delivered to liquidity providers. However, this account provides access to the MT4 platform only.

Islamic Account

: An forex Islamic account is designed to support the halal trading options of Islamic clients in the Middle East and other parts of the world. This account is available to traders who are prohibited from getting involved in trades that have interest rates due to their religious beliefs.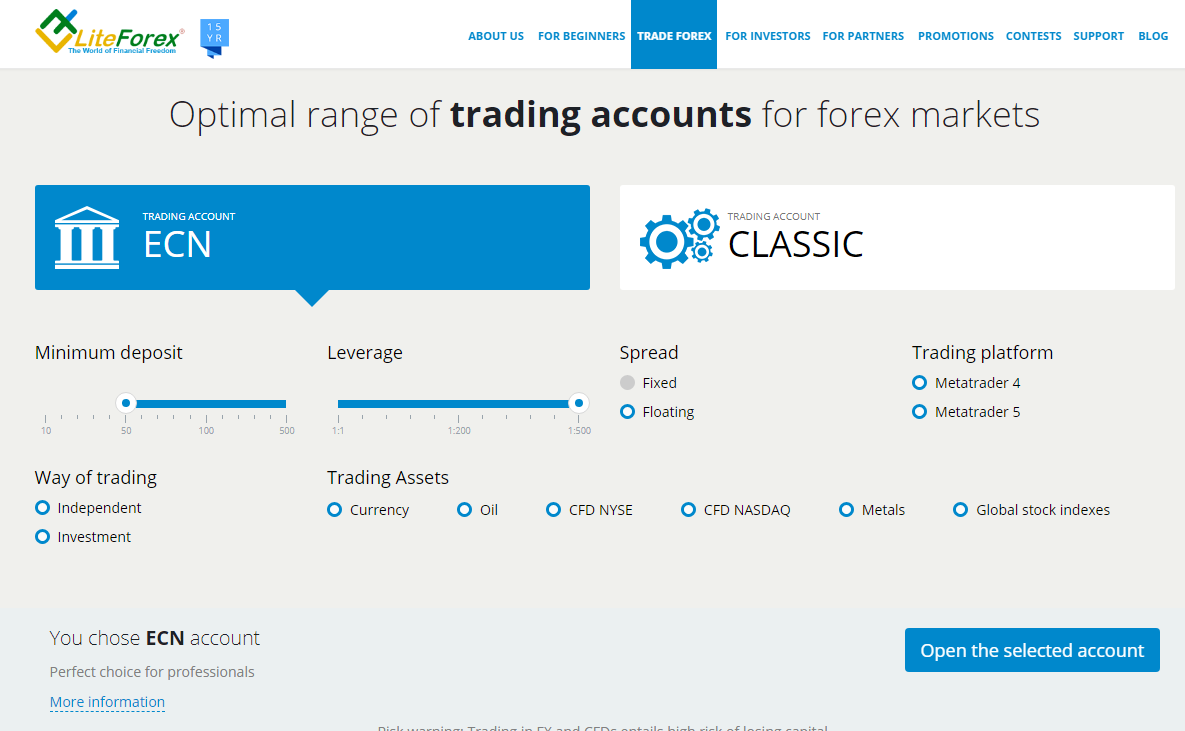 LiteForex Review – Type of Accounts
With regards to multiple user reviews, the Classic account is much more simple and profitable than the ECN account. However, large volumes of trading units can be executed from the ECN account only. However, there is a high risk of losing money while trading with the ECN account. All the LiteForex trading accounts correspond to different web servers, making it impossible to switch the account type after its opening. Hence, clients are compelled to delete the existing cent accounts to open different account types.  

LiteForex Review – Spreads and Payment Processes
The spreads and commissions offered by the company are based on a unique fee structure. According to online trader reviews, the EUR/USD spread starts very low at 0.0 pips for the ECN account holders. The commission for this spread is $10.00 per lot. This commission is likely to increase to $30.00 per lot if the currency pair performs exceptionally. The spread commissions on commodity CFDs are in the range of $0.50 and $20.00 per trade. The commission on cryptocurrency trades is set at $0.50. Equity CFDs can be traded at $0.25 commission per share. For the commission-free Classic account, clients get elevated floating spreads, which start at 1.8 pips.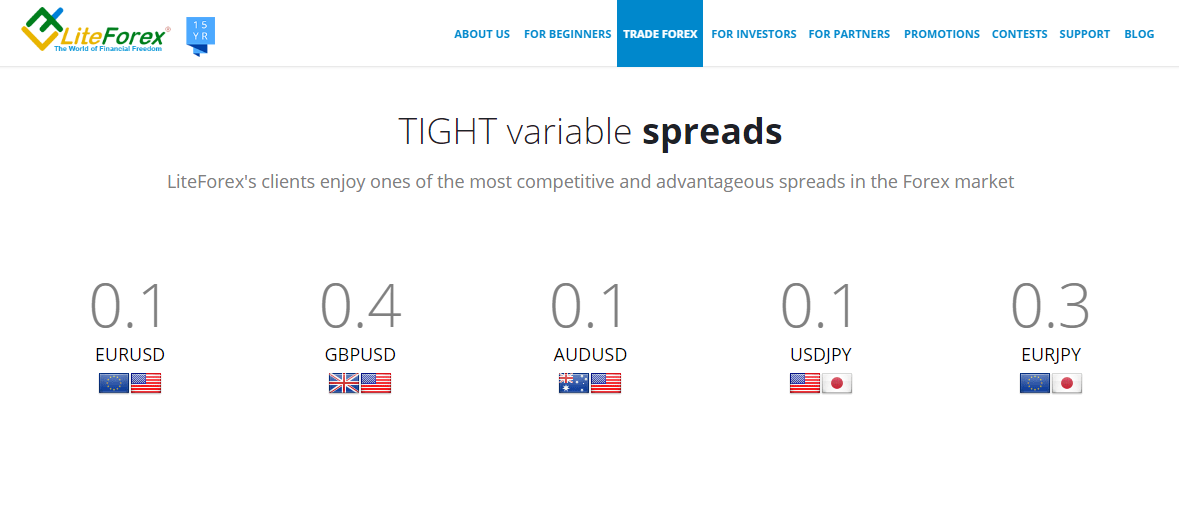 LiteForex Review – Spreads
Online reviews indicate that swap rates are applicable on overnight positions while trading in normal market hours is swap-free. Similarly, the clients are subjected to corporate actions such as splits, dividends, mergers, etc., which impact the value of index CFDs and equities. The swap-free portfolios of clients have adjusted accordingly, and the broker remains transparent in its pricing environment. The company also maintains its archive to track and record the average spreads, which get updated every week. There are separate trader agreements signed to charge zero inactivity fees, which is why LiteForex is preferred over other brokers. The LiteForex waivers on deposit, withdrawal, and foreigner recharge is also an additional advantage. Several assets may get overpriced in due course of trading, but the broker's cost structure remains acceptable. Clients can also view the historical data on spreads to analyze their trades.
The reviews revealed that LiteForex makes money from the fees included in the spread. Each spread has a specific fee assigned to it based on the account and the asset being traded. The Classic account holders get charged with a spread-based fee while the ECN account holders get charged based on commission. The overall commission is charged at an average of $5 per lot. LiteForex's spreads are quite competitive, but some major forex pairs get a spread of 2 pips, which is considerably high. Some major indices also begin at 1 point spreads.
The reviews also revealed The company offers maximum leverage (1:500), so new users can choose the suitable leverage while signing up for the account. These options help them make perfect money on their trades. Details of the leverage margins are available on the broker's website.
Deposit and Withdrawal
According to the client reviews, LiteForex clients can top up their funds directly into their accounts using their credit cards or debit cards. VISA & Mastercard are the supported card systems. A bank transfer is also available to deposit money. Online payment gateways and wallets such as Skrill, Neteller, CentrePay, and WebMoney are also available to deposit money instantly. The clients can choose from options such as Yandex, Alipay, and Dengi. The broker offers its services at a minimum deposit of $50, and all payments are usually processed within 24 hours from the request time. Clients can use cryptocurrencies such as Bitcoin to add money to their accounts. Every financial transaction made with the broker must be above a $10 deposit. For bank deposits/wire transfers, the minimum deposit should be at least $100.
In regards to the review, an automatic withdrawal service of LiteForex has been evaluated on its ability to execute withdrawal of up to $100 of clients' funds every day. Every withdrawal is processed to the bank accounts within 24 hours through e-wallet apps such as Skrill, Neteller, and Perfect Money. However, some charges are applicable on every withdrawal, depending on the provider. It is important to note that clients cannot use PayPal for the withdrawal of money from their LiteForex account.
The crypto charging of Lite Forex accounts can be done by using Bitcoin, Bitcoin Cash, Ethereum, Bitcoin Gold, Monero, and Litecoin. Additional payment systems to deposit or withdraw money include QIWI, M-Pesa, Boleto Bancario, Africa Mobile Money, and AdvCash. The company also offers promotional benefits to high-performing clients by reimbursing their deposit fees. Lite Forex scores high for offering several options as payment processors, which is excellent for clients who may risk losing a part of their money due to additional charges.

Lite Forex Review – Pros & Cons
Based on multiple authentic online reviews, here's an overview of the benefits and drawbacks of trading with Lite Forex:
| | |
| --- | --- |
| Pros | Cons |
|       A well-regulated and licensed forex broker.  |       Regulatory limitations on certain countries.  |
|       A unique social trading platform.  |       Customer support unavailable on weekends.  |
|       Copy-trading services are available. |       PAMM accounts unavailable.  |
|       90% positive broker reviews.  | |
|       End-to-end automated trading available.  | |
|       A wide range of tools and assets offered.  | |
Platforms
LiteForex provides its traders access to two trading platforms – MetaTrader 4 and MetaTrader 5. Both MT4 and MT5 trading platforms have been globally recognized as effective trade tools. MetaTrader 4 is being offered by LiteForex since web-based platforms through the WebTrader interface. To facilitate mobile trading, these platforms are also available as a mobile app, allowing clients to start investing at their convenience.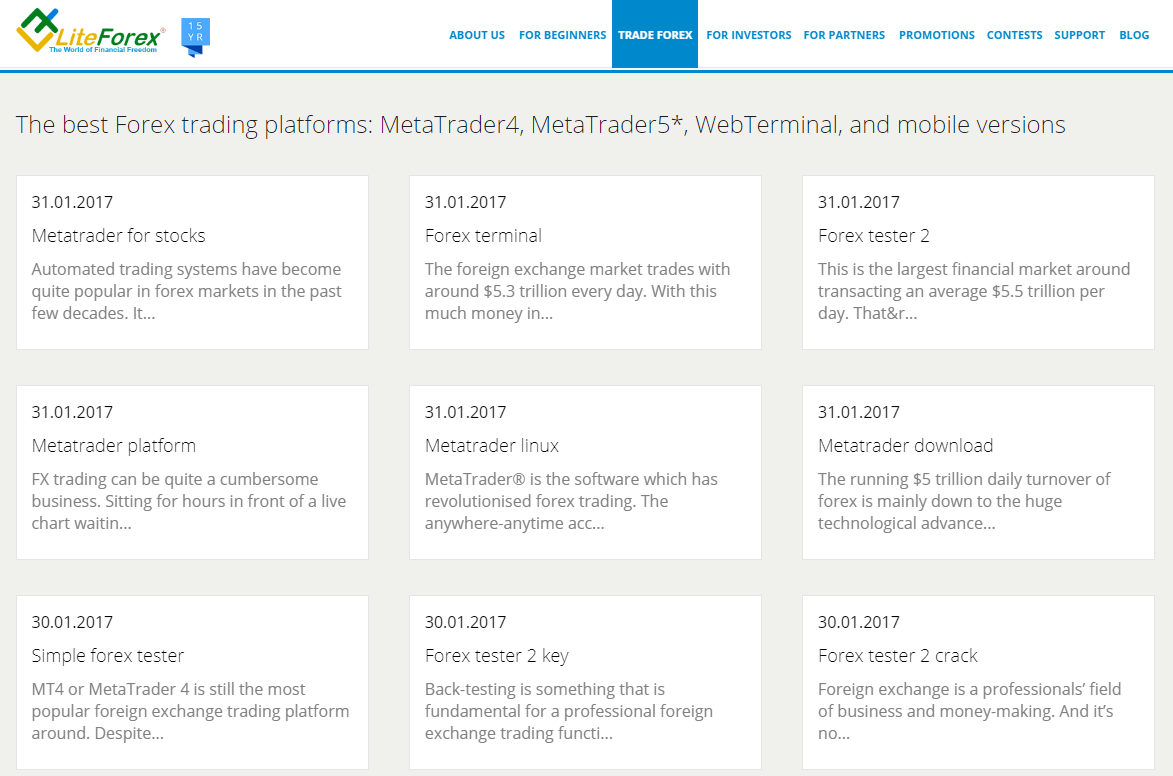 LiteForex Review – Platforms
As per the reviews,m MT4/MT5 platforms are downloadable and user-friendly. The web-based app of MT4 is best for customizations. The first advantage of using these platforms is getting access to multiple charts. A  line chart or a candlestick chart improves the client's understanding of the trade and the trading conditions. MT5 has more indicators compared to the MT4 trading platform. The advanced MT5 analysis tools and a built-in economic calendar are quite useful in the forex market, where there is always a high risk of losing money. The platform provides trading signals across 21 timeframes, and its Depth of Market feature adds value to the trades. MT4 is much easier to use and still the most popular platform among LiteForex clients. It is best used to implement and share innovative trading strategies.
The reviews also revealed that the basic versions of the MT4/MT5 trading platforms are more useful and easy to adopt. Clients can get trained to use their upgraded versions from a series of tutorials and guides. No third-party add-ons are currently available on the MT4/MT5 offerings. The existing tools may leave many traders incomplete, creating a sub-standard experience. Another downside is that the clients may choose either of the accounts – MT4/MT5 – for investing.

LiteForex Review – Customer Support 
To support its clients, the technical assistance of these trading platforms is available online. These platforms can be used 24/7 and are free to use in every country in the world. LiteForex customer support services are limited to several factors. A forex market may permit trading only between the specified hours. The support staff is unable to deliver timely results under such conditions. If clients consider trading stocks at the weekends, then there is no customer service at their disposal. As a result, their profit margins get lowered, and the trade profitability reduces by being active only on weekdays. Changes in the standard trade hours are immediately reflected in the broker's services. A market news trading blog keeps the traders updated on their respective server times. 
A good customer support team provides access to experts through e-mail, live chat, and telephone communications. The company has the rights reserved on the access to these live chat rooms through the website. The company's official e-mail [email protected] is more responsive than their phone number, which is 88007072963. The customer support team can also address clients' issues on internal fund transfers and admin controls. LiteForex supports social trading on Facebook and Twitter. It also helps clients share their social trading on Instagram, LinkedIn, YouTube, Telegram, and other social media channels. 

Is LiteForex Safe? 
A regulatory review of this broker is positive. Certainly, LiteForex is not a scam. If LiteForex Investments Limited were a scam, multiple market regulators would not have registered it. Modeled on a Cyprus investment firm, the company provides its services through safe and secure platforms. The website is protected with multiple firewalls. The web servers are isolated. SSL-secured and encrypted channels protect the data going in and coming out of the website and the platforms. LiteForex provides a VPS hosting service through its website for managing trades in the absence of on-premise servers. Unlike other brokers, LiteForex is not reliant on an internet connection. 
LiteForex Investments Limited and LiteForex Globe Services Ltd are registered in the Marshall Islands and regulated under the Marshall Islands Business Corporation Act (registered account number –  63888). The company is officially headquartered at a registered address on Ajeltake Road on the Ajeltake Island in Majuro, Marshall Islands MH96960. The broker accepts traders from Canada, Australia, the United Kingdom, Thailand, Singapore, South Africa, India, Hong Kong, Germany, France, Sweden, Norway, Denmark, Italy, and the United Arab Emirates. It is also available in Saudi Arabia, Luxembourg, Kuwait, Qatar, and most other countries. However, the broker is not safe for trading in the United States, Israel, and Japan.
Final Thoughts on LiteForex
Concerning the findings from this review, LiteForex is a good broker for forex markets. The Marshall Islands-registered broker has been in the industry since 2005, and its continued presence shows why it is arguably the first in the list of reliable forex brokers in the world. The review finds this company a key player and a well-established component in the industry. The review also notices that it practices respectful ways of investing capital and generating capital entrance thresholds. It is the first broker to allow the lowest minimum deposits in the market. The overall review on LiteForex is positive, as the company is enabling its client to get acquainted with the complex Forex trading landscape. From its live trading features to its competitive spreads, the broker ranks high on almost every review parameter. Through its top-quality trading services and evolving asset lists, LiteForex is expected to keep being attractive for traders.