eToro is a leading fintech startup, popularly known as an Israeli social trading broker. Established in 2007, eToro is a multi-asset platform that offers CFDs, stocks, and crypto-assets. It is regulated/authorized by multiple regulatory bodies across the world like Cyprus Securities and Exchange Commission (CySEC), Financial Conduct Authority (FCA) in the United Kingdom, Australian Securities and Investments Commission (ASIC) and FinCEN. eToro is operating in the UK as eToro UK Ltd, one of the rapidly developing social investment brokers than other trading brokers UK.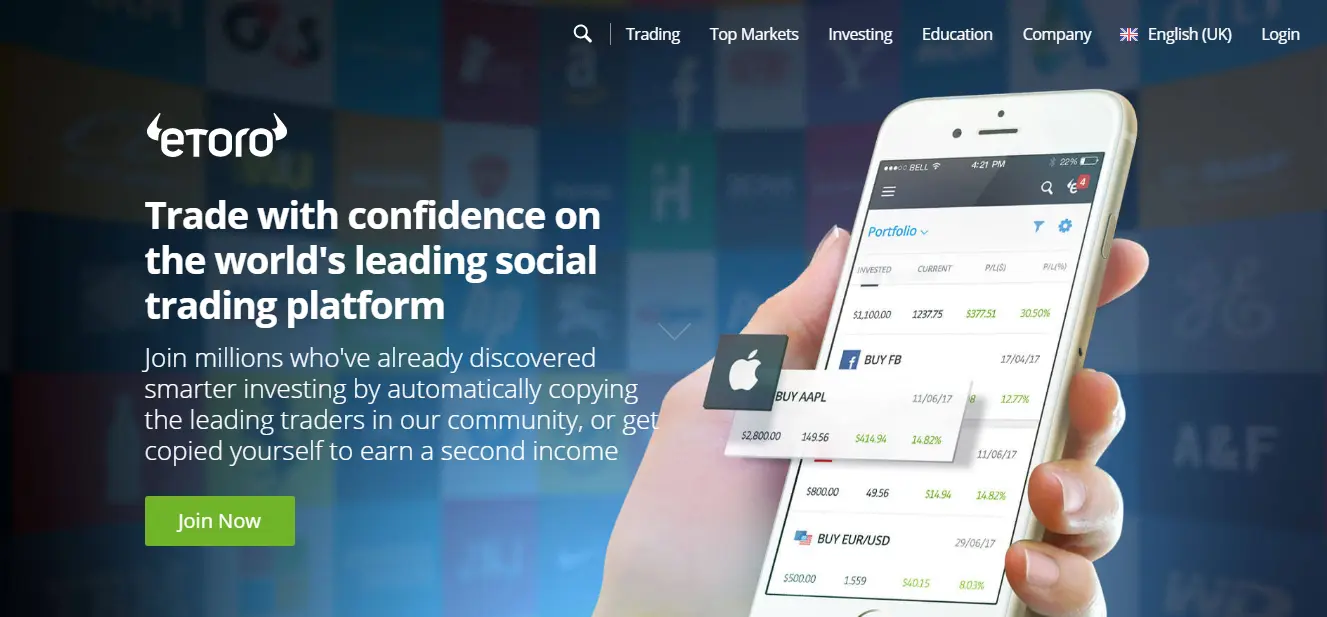 Background
Established and located in Cyprus, eToro trading focusses on social and copy trading, which has brought in rapid development for the company. Currently, eToro has over 295,000,000 customers around the world.

It is privately owned, promoted partly by investments, like the VC of Commerzbank, Commerz Ventures Gmbh, and there are also the US, Chinese and Israeli investors among the owners. eToro is led by the well-known founder and CEO of eToro, Yoni Assia.

According to the eToro review, this trading broker has its office in the United Kingdom known as eToro UK Ltd, which is one of the rapidly developing investment brokers.

It does not publish any financial statements to the public; hence it is difficult to investigate its financials.
Who can use this platform?
If the trader had been looking to invest in individual currency or looking for new ways to make their investment decisions, eToro UK is the right choice. Those who want to invest can find interesting ways to potentially invest and earn money on an investment for a short period.

Moreover, the trader should keep in mind that trading is based on volatile market conditions, and they should carefully invest only that amount of money where they can afford to lose. eToro shows these as disclaimers through their website so that they wanted to know the trader to know the nature of investing, which impacts them.

If the trader is looking to invest in the long term, they find eToro's CopyPortfolios an interesting option, where they can find low-fee options on this platform compared to other forex trading platforms.

Further, the social feature is the most important and interesting feature. The trader can use this feature to know about cryptocurrency investing if they want to invest in them.
Features of eToro
Below given are the few features offered by eToro that are discussed –
Customers can execute copy trading with ease.

CopyTrade permits retail account holders to imitate the trades and trading techniques of the best customers, automatically and continuously. Although other brokers have a similar capacity, none have incorporated it with social media communication just as eToro has.

The eToro trading platform is well-customized for those who know the fundamentals of forex and digital currency trading.

Customers can utilize a chat and ticket system to fix trading issues, make inquiries on accounts, and solve different problems. Adequate help on the FAQ database is there for the traders.

Opening an account on eToro requires 200 dollars (50 dollars for Australia and the U.S).

A word of caution, traders should note that CFDs are complex instruments and come with a high risk of losing money quickly because of leverage. Further, 75% of retail investor accounts lose money when trading CFDs with this provider. You should consider whether you can afford to take the high risk and understand how CFDs work and whether you can take the high risk of losing your money.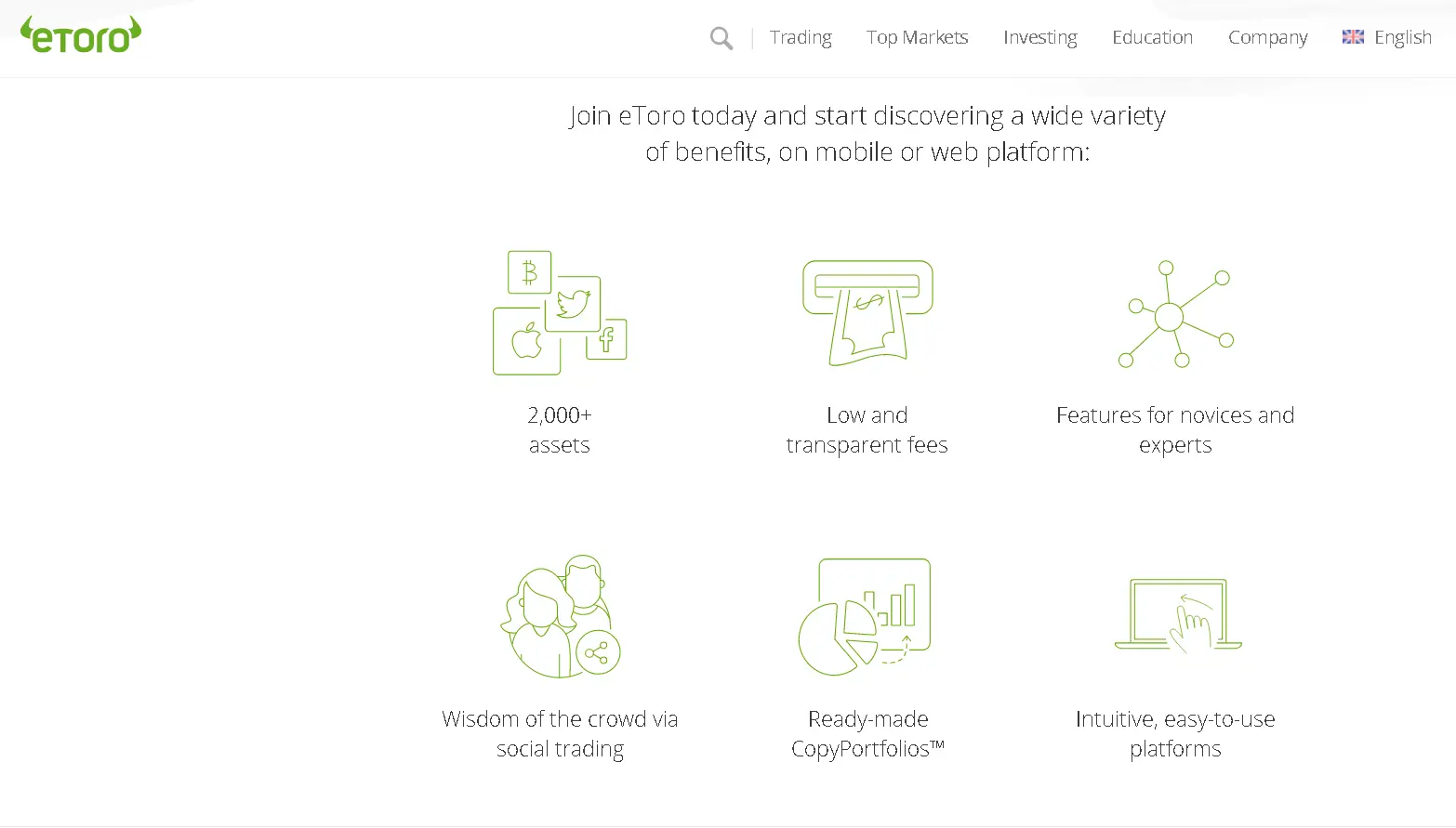 Benefits
eToro is one of the leading and most popular online broker, and it offers the traders some of the benefits which are stated below –
eToro also offers charting facilities that are available through each asset screen.
eToro offers an in-depth learning area where the users can learn about the features, functionalities, and the various tools offered by the platform.
This broker offers a newsfeed where the users can tap the latest news that is available on social media, and they can also see how other users are viewing their favorable assets.
This system offers several unique offerings for the users and for those traders who are looking for profit by trading, yet they do not have the skills or confidence to do it alone. These traders can choose to copy the trader function, which is an excellent method to get introduced to the trading markets. When they are more confident, users can make their own investment decisions and trade on the platform.

eToro offers advanced charting and research facilities for the experienced traders based on eToro reviews, where they can use this and make more money on the trades by attracting more followers.

Besides, the concept of social trading is well worth following and by offering a demo account, this platform can be a risk-free option for the traders.
Opening an Account
Below given are a few pointers to open an account with eToro –
Opening an account with eToro is very easy and simple and the trader needs to sign up on the platform if they want to open an account and they need to provide the necessary information.
The next step would be to verify their account with their name, phone number, a government-issued ID, and proof of address. Once the account is verified, they can log in to their account and start trading and cryptocurrencies by using the eToro.
Funds can be deposited in the user account by using an electronic transfer from their online bank account or by using a domestic wire transfer. The platform has plans to add several funding options shortly.
One of the simplest ways to fund the account is to use an online transfer. The user can add a new bank account via plaid, a third-party provider that connects the bank account directly to the eToro. Furthermore, the user can also use a wire transfer even though they need to deal with fees associated with the bank.
The minimum investment for using online banking transfer is $50; for the first deposit and other future deposits. To fund their account through Wire transfer, the minimum amount is $500 and the maximum funds that can be added to the eToro account in one day are $10,000.
Account types
eToro offers a simple account type, just one live account. New users can try the platform via a demo account by using virtual cash.
Login
eToro has an optional two-step login framework which makes onboarding a very easy and quick process.
Deposit and Withdrawal
As per our eToro review, eToro offers multiple options to deposit funds which include credit cards. Nevertheless, there is a withdrawal charge.
Payout
The payout system of eToro cannot be compared to any of the binary options brokers. Further, Payouts can be scalable based on the performance of the asset, and the leverage applied. Traders should analyze and understand the risk involved in each trade for this reason.
The spreads offered by eToro are more competitive and it ensures that they are very tight. eToro recently reduced the cost of the spreads offered on Australian markets which include AUD currency pairs. Few of them are reduced to 300%.
eToro trading platform also includes risk management features like stop-loss, which will be helpful to the traders, so that they can control their risk involved. It is the major difference from traditional binary options, where risk can be known with complete accuracy.
Web Trading Platform
eToro's web trading platform is simple, user-friendly and adorned with the latest designs. It is accessible in English, Spanish, German, Italian, Russian, French, Greek, Polish, Arabic and Chinese.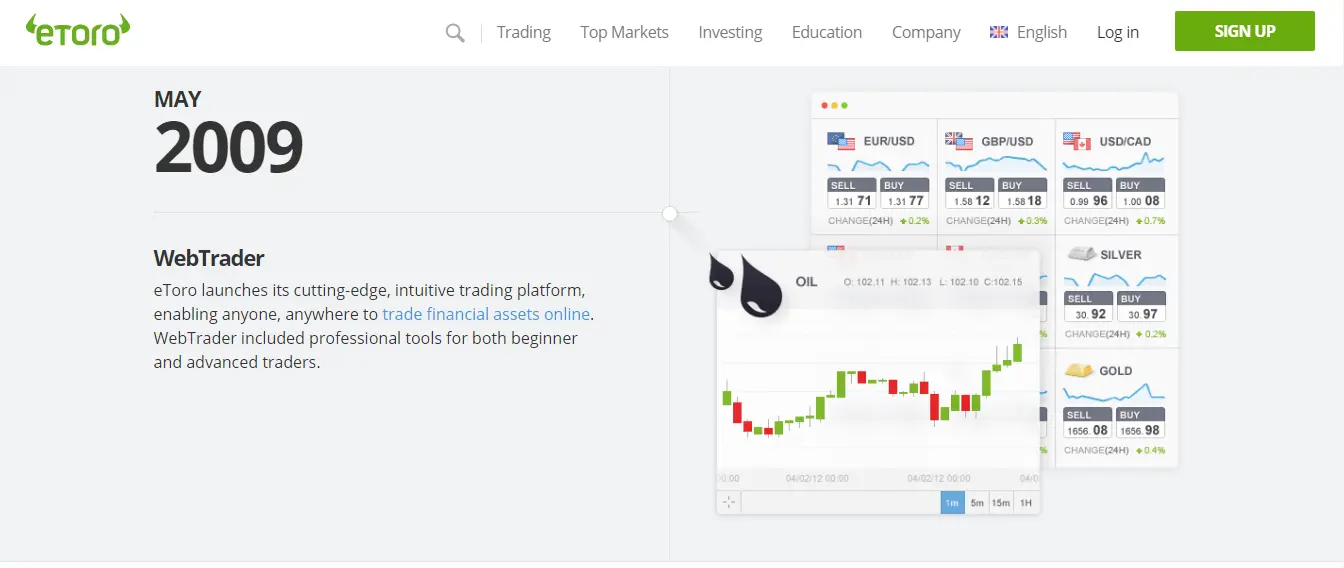 MetaTrader 4 not Supported
The absence of advanced technology may be a more serious issue for more advanced merchants. eToro does not allow clients to attach third-party algorithms or software, like MetaTrader 4 Expert Advisors, into the information feed since they offer no VPS hosting or forex API interface. Equipped with wide spreads, a small product list and the absence of customization could send highly skilled customers to other brokers.
Desktop Experience
The social trading platform, Openbook of eToro is web-based and easy to use. Novices, as well as more experienced traders, can work in it without much effort, even though the system has only one version.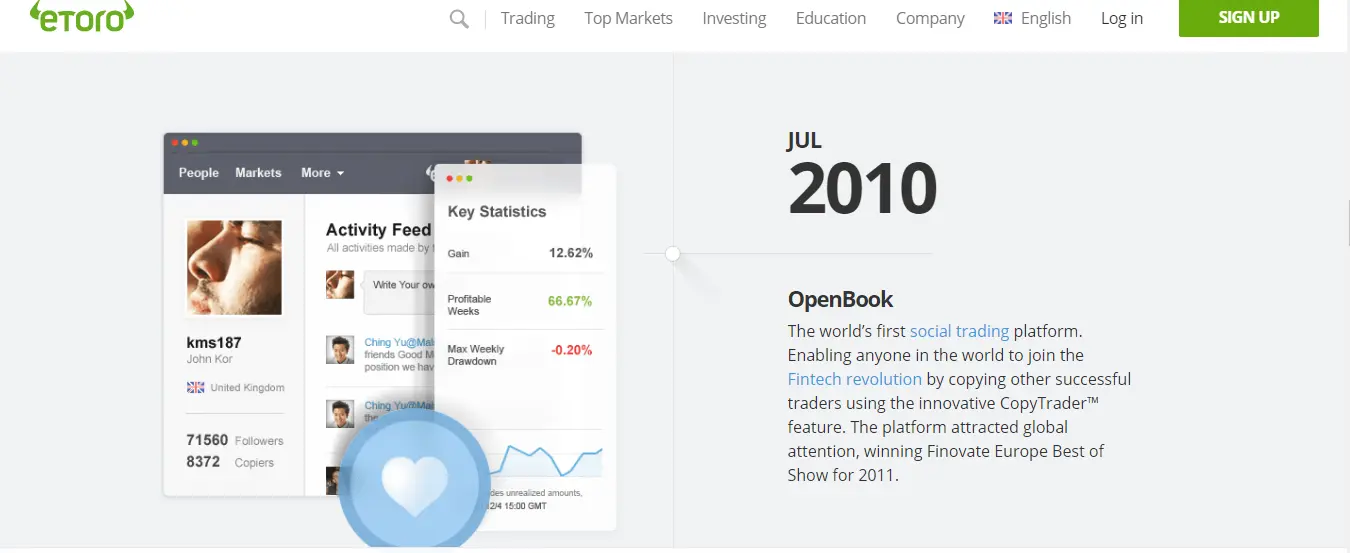 Charting is full-featured with over 60 indicators and several drawing tools. The charting platform does not have the back-test functionality, even though the platform has performance information from Copy Portfolio and CopyTraders.

The news feed opens into a social forum with customer posts, yet it is not very informative and updated as per eToro review.

Moreover, watchlists can be altered and saved while the order entry needs risk management capacity. The broker offers no MetaTrader or third-party options.
Mobile Experience
The Mobile platform has similar functionality as the web trading platform. It executes mobile explicit intuitive functions like good touch interactions or push notifications.
Further, eToro mobile versions for android and iOS permit simple syncing between platforms with efficient menus. The indicator menu has been limited to five basic kinds, while the order entry is similar to the web version.
Watchlist incorporates no customer positioning information, in contrast to the web version, denoting a weird omission in eToro's business focus. Clients can set custom price alerts while receiving push notifications about market affairs and account problems.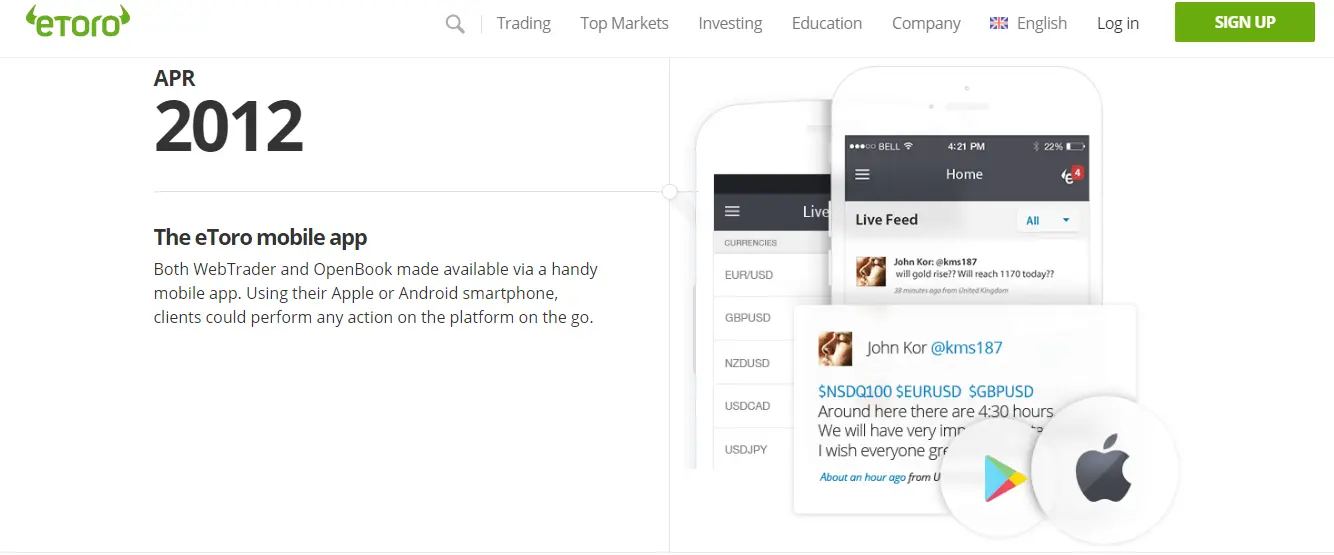 Special Features
eToro is not much focused on its strengths like social and copy trading, in-platform social assessment information, automated client and portfolio copy trading. They give negative balance protection like other forex brokers with negative balance protection to high-profile customers as an incentive since it is not required under ESMA rules. Further, the absence of a volume discount program shields the platform from being less expensive. However, the organization offers an eToro Club program that offers some discounts and additional services as per the account size.
Partner Programs
Besides offering typical referral and introductory bonuses, this broker also offers several partner programs that are available only in Europe currently. Some of them include –
It offers affiliate partnerships which are made on one to one basis, where the user can earn money by referring their friends or others to become eToro's affiliate.
It offers a Broker program, if you are a broker, then you will get premium customer service and payouts.
The traders can also earn through the "Popular investors" program. The trader can also earn money by becoming a popular investor.
Security
As per our eToro review, eToro's security features consist of phone-based two-level verification and standard SSL encryption. Disclosure on fees is easy to read and extensive, which increases transparency. A word of caution, traders should note that CFDs are complex instruments and come with a high risk of losing money quickly because of leverage. Further, 75% of retail investor accounts lose money when they are trading CFDs with this provider. You should consider whether you can afford to take the high risk and understand how CFDs work and whether you can take the high risk of losing your money.
eToro Wallet
eToro has introduced its blockchain wallet for both iOS and Android, which will presently be accessible in 31 U.S. states. The platform presents different diverse cryptocurrencies in the U.S. and other countries.
The eToro Wallet uses a different mobile application where clients can deposit and withdraw real cryptocurrencies that are owned by eToroX, which acts as the caretaker of their private keys and broker.
eToro allows its U.S. customers to access cryptocurrencies only. Those outside the U.S. can trade in CFDs, forex, stocks, and digital currencies.
Investment Products
This broker's product catalog is small, with 47 currency pairs, and 19 commodity/index CFDs. It also covers over 1,500 shares and 77 cryptocurrency CFDs. All instruments can be exchanged on the long or short side, yet clients are advised to read through the fine print before investing. A word of caution, traders should note that CFDs are complex instruments and come with a high risk of losing money quickly because of leverage. Further, 75% of retail investor accounts lose money when trading CFDs with this provider. You should consider whether you can afford to take the high risk and understand how CFDs work and whether you can take the high risk of losing your money.
Commissions and Fees
eToro offers a competitive spread per side for the shares, and now also allows commission-free stock exchanging. However, weekday overnight holding cost is 24 cents for every 1,000 dollars of leveraged long exposure. This expense significantly triples by the weekend and no overnight fee is charged for non-leverage long exposure.
The minimum withdrawal amount is $50.

From eToro reviews. we found that it allows traders to open a free stocks investing account with 0% commission, no markup, no ticket fee, no management fee.

eToro levies inactivity fees of $10 per month after 12 months of no trading activity.
It offers a VIP club membership with five levels running from gold to diamond for traders who keep up balances between 5k – 250k dollars. Based on the level, benefits differ from a dedicated account manager to discounted deposits and withdrawal fees, access to private signals, and other exclusive assets which are among other VIP account benefits.
Besides, eToro's Popular Investor program has four levels, ranging from cadet to elite where the traders are eligible to get different advantages starting from spread refunds to a monthly payment and a management fee for individuals who arrive at elite status.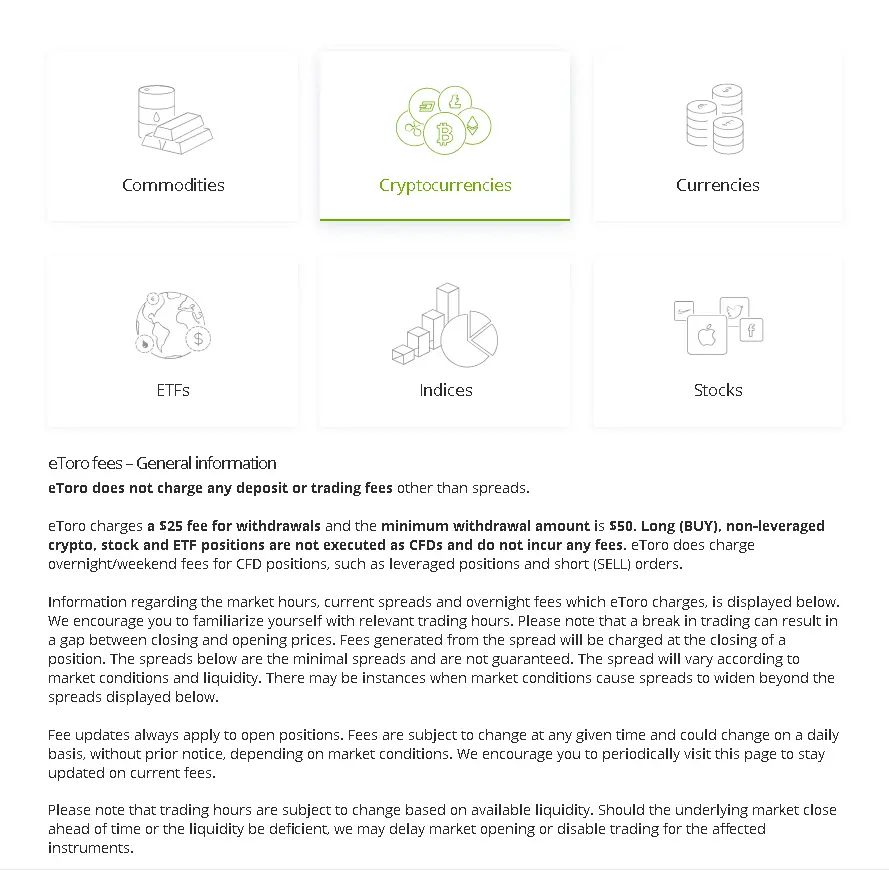 eToro Fees
Fees for Cryptocurrency trading
As per our eToro review 2023, the expense for trading crypto to fiat at eToroX is 5 percent which is based on the eToroX charge of 1 percent in addition to a 4 percent Simplex charge. When changing over from crypto to crypto is just 0.1 percent with a minimum trade size of 20 dollars and a limit of 10,000 dollars per transaction. Regarding crypto exchanging costs, spreads at eToro go from 0.75 percent on Bitcoin (BTC) to as much as 4.5percent on crypto-assets like Miota (IOTA).
Additional Charges
This broker charges 25 dollars in addition to bank or credit card charges for withdrawals, which is one of the highest charges among European brokers. Furthermore, no withdrawals of less than 50 dollars are allowed. Long (BUY), non-leveraged crypto, stock and ETF positions are not executed as CFDs and do not charge any fees. eToro does charge overnight/weekend fees for CFD positions, such as leveraged positions and short (SELL) orders.
Cryptocurrency tools
Additionally, It offers trading over various cryptocurrency CFD sets, clients can discover crypto trading ideas and copy other individual crypto traders, and also can copy groups of trades. For investors hoping to trade crypto assets, eToroX offers the eToro Mobile wallet application that acts as overseer utilizing a multi-signature which almost matches the brand's forex mobile application.
Manual Trading
eToro offers its traders to trade manually. Completely automated trading frameworks are not allowed, which implies the trader who copy the trade from another trader, can be certain that they are setting each trading manually. This is important to know that other social trading platforms generally grant both discretionary (manual) trades and automated methodologies, while eToro's system comprises exclusively of manual trading.
Non-trading fees
According to eToro review, eToro's non-trading charges are high. Suffice to say, inactivity charge exists with this broker. Besides, there are no deposit, account and custody fees. eToro withdrawal charges and currency conversion charges are very costly. It charges a conversion charge when the trader withdraws or deposits cash from his account in currency apart from USD.
Copy Trades
CopyTrades is the most important social trading feature. Moreover, an eToro risk metric is likewise given. There are huge amounts of statistics, like trades every week, normal holding time, performance on charts, news feed comments and profile description. eToro allows its users to connect with millions of investors on its platform. It allows users to copy the best traders on its network, quickly and simply. Creating and managing a CopyTrade portfolio in eToro is a simple and transparent process.
A word of caution, traders should note that CFDs are complex instruments and come with a high risk of losing money quickly because of leverage. Further, 75% of retail investor accounts lose money when trading CFDs with this provider.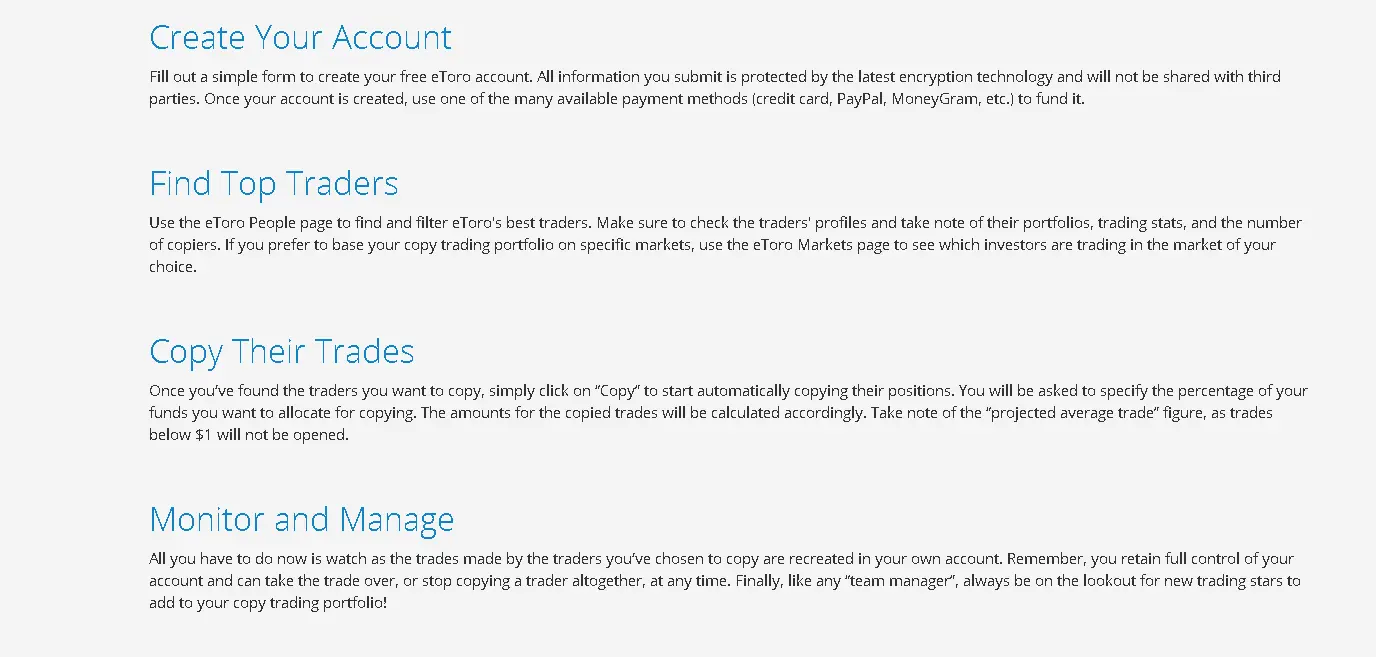 eToro outlines a few important points to consider before copying:
The minimum amount to invest in a trader is $200.
The maximum amount of traders you can copy simultaneously is 100.
The maximum amount you can invest in one trader is $2,000,000.
The minimum amount for a copied trade is $1; trades below this amount will not be opened.
If you close a copied trade manually, the funds from this position will be credited back to your copy balance (the amount allocated to copy that person that is not invested in open positions).
CopyPortfolios
One inventive instrument product offered by this broker based on eToro reviews is CopyPortfolios.

Copy Portfolio helps investors to minimize long-term risk, trigger growth opportunities, and create a wide array of investments.
It allows traders to invest in two kinds of Copyportfolios – Top Trader Portfolio and Market Portfolio.
Once a trader invests in a CopyPortfolio, his capital is managed by the experts at eToro who help the trader earn maximum benefits.
Drawbacks of eToro
Its process of withdrawal of funds is done through similar methods utilized for making the initial deposits like e-wallets, wire transfers, and credit cards. Moreover, they take a day to process and charge $25.
As per our eToro review, it does not utilize the MetaTrader. Rather, it uses a proprietary platform.
eToro's trading platform freezes now and again. Additionally, educational tools are restricted.
Moreover, there is no live chat or phone support; only a web-based ticketing framework. Client queries are answered through the mail. This becomes a big hurdle when clients need help immediately.
eToro levies inactivity fees of $10 per month after 12 months of no trading activity. eToro's annual financing rates are high compared with different brokers.
When traders need instant help to sort out a trade, the eToro does not provide any solution. This is an important reason for driving client complaints.
Because of the MiFID guidelines, it does not provide its customers with any sort of incentives or bonuses.
It does not offer guaranteed stop-loss or extra coverage through private insurers.
Wrap up
More experienced traders and professionals looking to allocate money to alternative copy-based procedures are bound to comprehend the dangers and make a cautious move when required. The client support process of eToro needs to be improved. Additionally, it has a tight product range that incorporates stocks and CFDs. Also, non-trading expenses are high. To summarize, we can use eToro for social trading and stock trading based on eToro review. Retail and professional clients looking for a more extensive scope of brokerage services, good client support, and the competitive process can explore other alternatives.
FAQ's
1. Is eToro trustworthy?
It has been there in the market for more than a decade, intending to help traders so that they can earn profits when they are trading. Currently, this platform offers several tools and a good user interface for investors who are interested in trading. Also, it offers a social trading platform which is a new concept when compared to traditional trading. It is monitored and regulated by CySEC and FCA, which shows that it is not a scam and a legitimate one. The platform is very good for experienced traders.
2. Can you make money with eToro?
Yes, we can make money with this trading platform, where it helps the traders to copy the trading strategies of other traders who are successful by using this platform. The traders can buy and hold stocks, and they can copy the popular investor's strategies so that in doing so, they can increase their profits. The trader should keep in mind that they should not invest what they cannot afford to lose.
3. Is eToro good for beginners?
It is very helpful for new traders where the copy function helps them to pick a popular investor and they can copy their winning trade strategies to get more profits. They can also use Social trading for traders who do not have any experience in trading. In the same way, beginners can also copy the trades of experienced traders, which is a rather quick and easy way of using this platform.
4. Is eToro copy trading worth it?
A bit of caution, copy trading is not a definite way for a guaranteed way to make money, If the trader is looking to make more than an annual return of 20%, then they can try this platform. There are few traders who are looking for a hundred percent return, they need to use high leverage where they should be very careful because of the heavy risk involved.
5. Is eToro a Scam?
Few people think that eToro is a scam because the trading platforms are different when compared to other platforms. From trusted eToro reviews, we can say that it is a licensed brokerage that is registered by the Cypriot Investment Firm and they are also regulated in Europe by the Cyprus Securities and Exchange Commission. In the UK, it is regulated by the Financial Conduct Authority; it has been recently licensed in the United States.
eToro
Pros
Customers can execute copy trading with ease
Adequate help on the FAQ database is there for the traders.
Opening an account on eToro requires 200 dollars
Customers can utilize a chat and ticket system to fix trading issues
Cons
eToro does not utilize the MetaTrader trading platform.
eToro's trading platform freezes now and again
eToro does not provide its customers with any sort of incentives or bonuses.
eToro does not provide its customers with any sort of incentives or bonuses.