IOTA News
IOTA Records Over 10% Spike and Reclaims 5-Month Height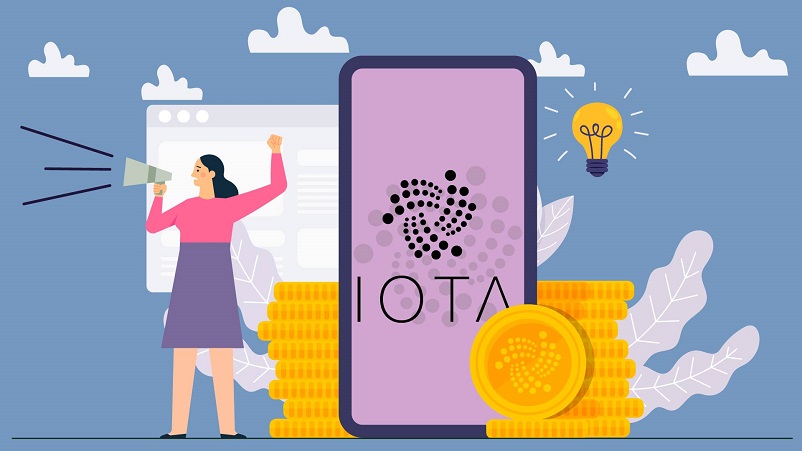 IOTA, after its first upgrade to IOTA 2.0 Testnet, had a very clear target of providing constant updates. In this regard, Pollen Testnet v0.2.2 is released with a wallet. This update includes improvements in message and transaction validation, optimization of API, synchronization processing, and developed dashboard.
With these upgrades and developments, IOTA is now breaching 5-month resistance above $0.303, and the price trend of IOTA/USD is surging above 61.80% Fib Retracement level. With the price back to trading around 30 cents, the coin is capturing its place amongst one of the top 25 cryptos of the market and is ranked at the 21st position.
IOTA Price Analysis
IOTA is drawing a clear ascending channel on the 24-hourly chart, and since the mid of the ongoing month, the coin is fairly trading above 61.80% Fib Retracement level. IOTA on a 24-hourly chart is retaining complete support from 50-day and 200-day daily MA at $0.241 and $0.217, respectively.
With a constant bullish streak after the massive sell-off in March, IOTA is close to breaching the YTD high above $0.35 if it continues to move with the same traction. Moreover, important to note that IOTA is the only crypto in the top 25 that is exhibiting beyond 10% change in the past 24 hours while the rest of the market is almost trading in the red.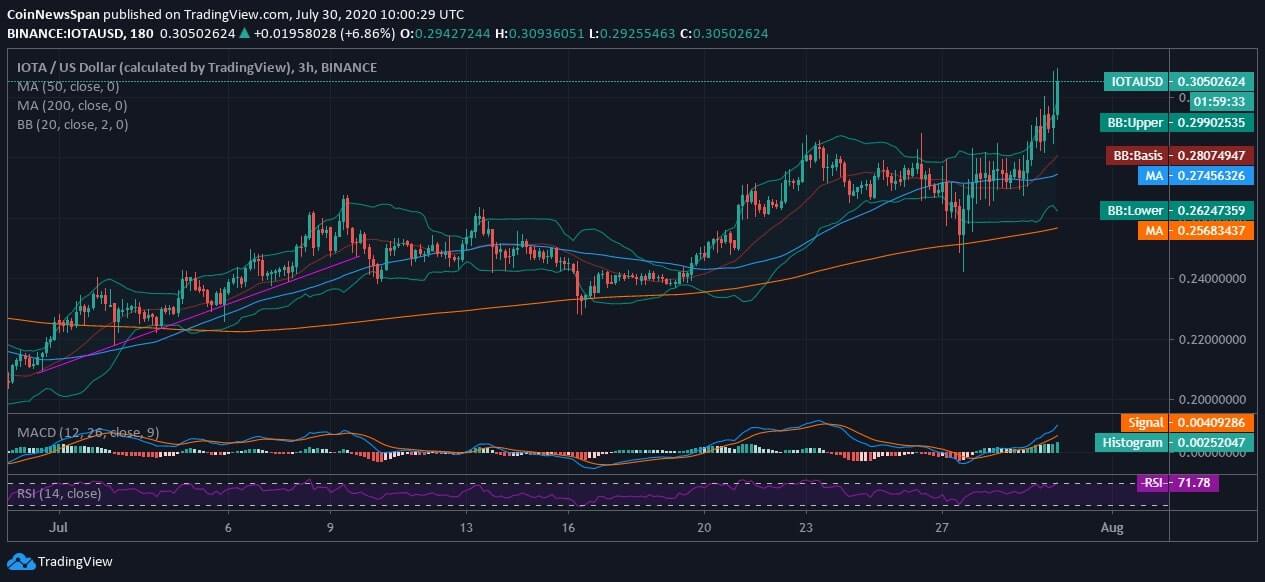 On the 3-hourly chart, IOTA, after retesting support around $0.24, is back to trading at $0.305. With a fresh high towards the end of the month, the coin has reclaimed a 5-month high as well. Comparing the 3-hourly price movement of IOTA with that of 24-hour price movement, we see that the coin is retaining complete support from daily MAs here as well.
Additionally, due to intraday bullish crossover, IOTA is drawing a positive market sentiment when the rest of the coins are refraining from the same. Bitcoin is still trading close to $11k at $10.9k but has no superficial intraday change. The price trend of the currency is already hitting the upper 20-day BB, and the bands are gradually widening on the 3-hourly chart, and therefore, moderate volatility is projected.
The other technicals laid also confirm the positive market sentiment that is rightly captured by IOTA. In this regard, the MACD line is crossing above the signal line, and the RSI is hinting towards the overbought nature of IOTA due to recent spike, and it lies at 71.78. The gain in intraday momentum has rightly led to a positive closing of the ongoing month. The support and resistance to watch out for lies at $0.25 and $0.35, respectively.