An Overview of AxiTrader
AxiTrader was founded in 2007 and has its head office in Sydney Australia; it is the Forex and CFD brokerage wing of AxiCorp Financial Pty Ltd, which was established in 2001 in the same country. AxiTrader linearly developed into one of the leading financial brokerage companies in Australia, which further led to extensive market supremacy in the commonwealth of Australia as well as in other financial markets around the globe. 
Here our experts give you in-depth updates & their views on AxiTrader broker on this 2023 AxiTrader review. Further, the firm also launched its London branch in 2012, China branch in 2015. In China, AxiTrader entered into a partnership with China Union Pay to help its Chinese clients process payments easily and directly to AxiTrader. Later, when their trade volume surpassed the 100 Billion Dollar mark, AxiTrader stretched its corporate brand to Germany Latin America and also to the Middle East in 2016.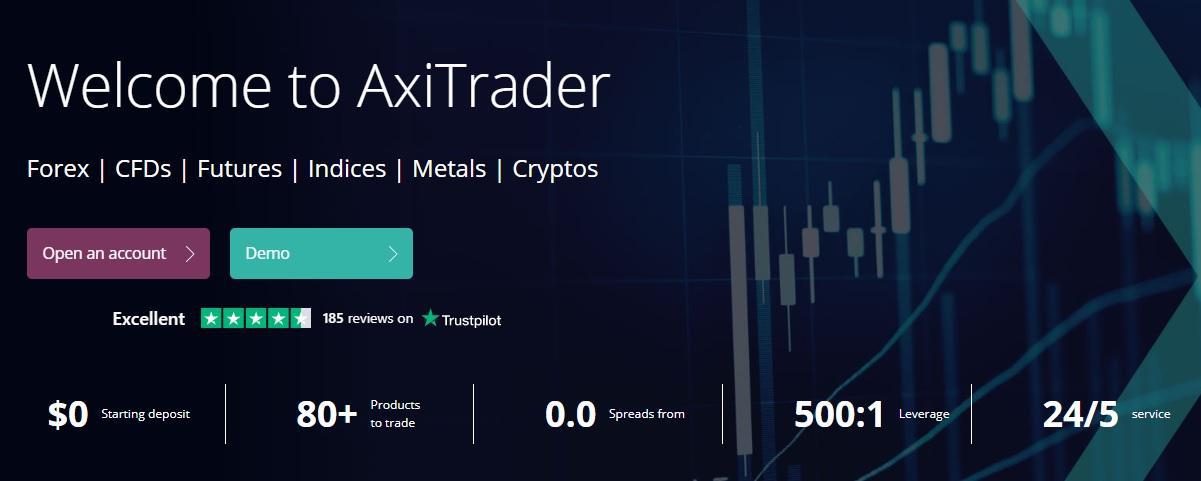 AxiTrader Disclaimer:-
CFDs are complex instruments and come with a high risk of losing money rapidly due to leverage. 69.6% of retail investor accounts lose money when trading CFDs with this provider. You should consider whether you understand how CFDs work and whether you can afford to take the high risk to let your accounts lose money through CFD trading. AxiTrader does not endorse any third party broker. Do not consider this AxiTrader review as investment advice.
Ever since the inception of the AxiTrader trading platform, the firm became a sector-leading financial brokerage firm in the Australian retail Foreign Exchange market. Currently, AxiTrader Broker ranks among the top Forex Brokers and financial brokerage firms not only in Australia but also in other markets. To find out more about what other online trading platforms like AxiTrader offer, click here. With its strong foothold in the UK, the firm is currently trying hard to capture the European retail trading market. 
Compared to others, financial brokers like AxiTrader offer regulations by numerous top-tier financial authorities worldwide like the Australian Securities and Investments Commission (ASIC), Financial Conduct Authority (FCA), and the Dubai Financial Services Authority (DFSA). This is the primary reason why this trading platform is considered safe as compared to other financial brokers. MetaTrader-broker AxiTrader offers its traders several trading options like currency pairs, CFDs on indices, metal, commodities, equity indices, social trading, and also crypto trading in Bitcoin across its standard accounts as well as professional trading accounts.
Further, the trading platform also offers several trading packages like MetaTrader 4 NextGen add-on for users who make a min deposit of $1000. Users need to open an account with AxiTrader which offers fast execution. Beginners can practice trading with a demo account, micro account. Users need to maintain the minimum margin requirements in their accounts. AxiTrader provides negative balance protection for forex spot and CFD trading. This facility is applicable only for customers from the European Union.
License and Ordinances of AxiTrader
AxiTrader is the sister concern of AxiCorp Ltd, which is AxiCorp Financial Services Pty Ltd, which holds an Australian Financial Services License (AFSL 318232), ACN No is 127 606 348, and NZBN is 9429042567608. The trading platform is not only regulated and authorized by the Australian Securities & Investments Commission (ASIC) but also has a derivatives issuance license of New Zealand with a 518226 FSP number. Further, AxiTrader also received its license for Financial Service in 2018 from the Financial Markets Authority (FMA New Zealand).
The United Kingdom branch of AxiTrader has a registered number of 06378544 and is listed in Wales and England. AxiTrader Broker is a popular trading name of AxiCorp Limited in the UK, and the Financial Conduct Authority (FCA) reference number is 509746 with a recorded address as 55 Baker Street, London, W1U 7EU.
The AxiTrader Dubai branch was established in 2018 and is controlled by the Dubai Financial Services Authority (DFSA). Users of AxiTrader can easily go through the firm's legal documentation via its official web version, which includes agreements for average spread betting, merchandise schedules, client's agreement, and trade execution policies among numerous others.
To maintain online security, AxiTrader does stringent compliance checks as per the standards of various regulatory authorities, AxiTrader keeps client funds in segregated trust accounts in top tier banks. The client funds of the UK enjoy coverage from the Financial Services Compensation Scheme (FSCS) of over £50,000 in a highly unlikely case when AxiTrader becomes bankrupt.
Trading Requirements of AxiTrader Trading Account
AxiTrader understands that providing too many trading account options confuses many potential traders, so to make the registration process easy, AxiTrader provides only two account types, one being the standard Meta Trader 4 account, also known as market maker account, capable of matching the trading orders internally. And the other comprises an Electronic Communication Network (ECN) based MetaTrader 4 Professional account, which connects traders to a global financial market of liquidity providers. There is a specific fee structure for each account type.
Both the accounts provide mostly similar types of trading features except the AxiTrader spread along with the cost of trading and related trading conditions. Both the accounts provide over 80 different financial trading assets like Foreign Exchange (FX), costly metals (Gold, Silver), and CFDs, further AxiTrader also provides a market-leading minimum deposit of just $1 which makes the firm highly competitive in the financial market. 
The broker also provides numerous payment methods to withdraw and deposit funds like bank wire transfer from users' own bank account or other accounts, debit card, or credit card payment and via other online payment gateways. Even though the trading company provides a very competitive fund deposit price, the recommended min deposit is $200 for trade purposes. No fees AxiTrader charges for deposits and withdrawals done via bank transfer. A withdrawal request is processed fast with no withdrawal fees and funds are credited to the client's bank accounts in 1-2 business days. Also, there are no inactivity fees or trading fees. Financing costs on swap rates or overnight positions, however, apply. The currency conversion fees are low.
AxiTrader Risk Warning:- CFDs are complex instruments and come with a high risk of losing money rapidly due to leverage. 69.6% of retail traders lose money when they trade CFDs with this provider. You should consider whether you understand how CFDs work and whether you can afford to take the high risk of letting your accounts lose money through CFD trading.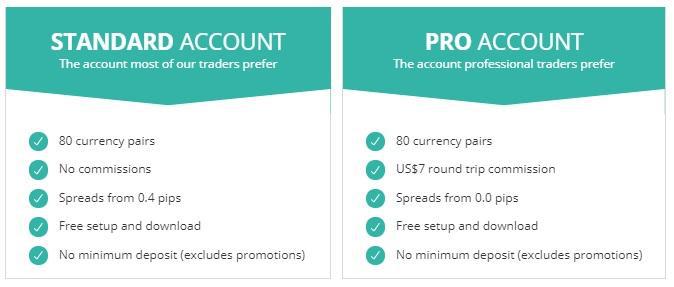 Listed Features of Standard and Professional Account
| | | |
| --- | --- | --- |
| Features | Standard Account | Professional Account |
| Initial Setup Cost | Free | Free |
| Spreads | Starting from 0.4 Pips | Starting from 0.0 pips |
| Commission fees | Nothing | 7$ USD |
| Minimum Trading size | 0.01 lots | 0.01 lots |
| Minimum deposit | $0 | $0 |
| Investment Products | 140+ forex pairs, metal CFDs | 140+ forex pairs, metal CFDs |
| Pricing | 5 digit pricing | 5 digit pricing |
| Mobile trading | Yes | Yes |
| MT4 NextGen | Yes | Yes |
| Margin/Leverage | Up to 500:1 | Up to 500:1 |
| Base currencies | AUD, CAD, CHF, EUR,GBP, HKD, JPY, SGD, USD, NZD | AUD, CAD,CHF, EUR,GBP, HKD, JPY,SGD,USD, NZD |
| Demo account period | 30 days | 30 days |
| EA compatibility | Yes | Yes |
| VPS | Free | Free |
| Myfxbook Autotrade | Free | Free |
| PsyQuation | Free | Free |
| PsyQuation Premium | Free | Free |
AxiTrader Trading Platform
When we look at what forex trading platforms or software applications like Axi Trader offer, we realize that this broker does not provide a wide choice to its clients.The firm uses the all-time popular trading platform, the Next Gen MetaTrader 4. Like other trading platforms, AxiTrader did not develop their proprietary trading application just to fulfill the needs of a minority of traders. AxiTrader does not charge any inactivity fee.
AxiTrader's Mobile App
However, AxiTrader provides a splendid mobile trading application based on AxiTrader review 2023 on any Android and iOS mobile device. Traders can download it for free from the Google Play store and iOS web-store, respectively.
The mobile trading applications are designed and developed by their internal team of software developers as well as tested by skilled traders before making them available for consumers through the web store. The primary reason why the AxiTrader Forex trading platform prefers to use the popular MetaTrader 4 is that the application is built for traders of all experience levels. Traders can opt for similar order types and order time limits as AxiTrader's web platform.
The application is extremely user-friendly, and numerous world-class trading tools and graphs are available, which makes it ideal for all forex and CFD traders. Further, traders can also use social-based trade communities like Auto-chartist and Myfxbook Autotrade, which is a Forex trading platform specially designed for new traders to follow the successful trading history and trade track record of other experienced traders.
AxiTrader Comes With These Additional Features
Many enhanced features of MetaTrader 4 have been made available through MT4 Next Generation which gives traders access to the following features: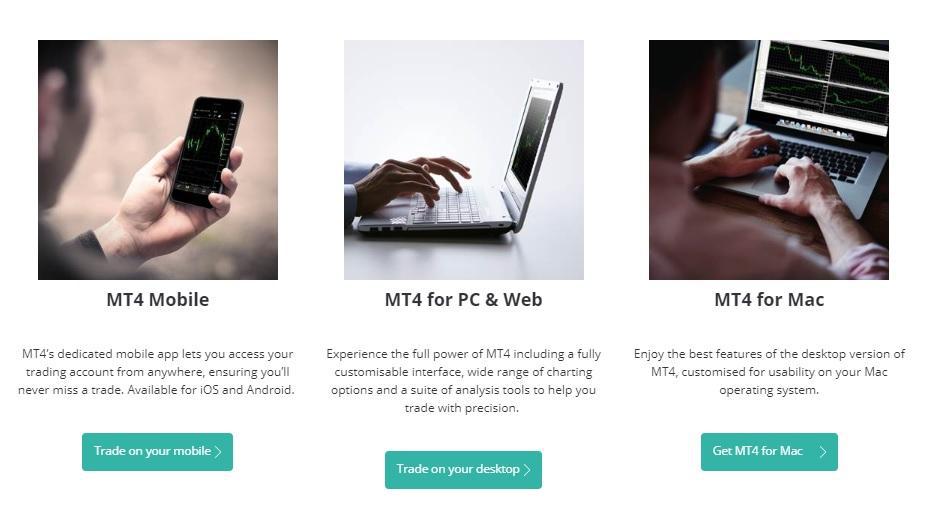 Sentiment Analysis:

Sentiment analysis helps to eliminate nearly all trading mistakes of a human trader. The feature also helps a new trader to learn trading techniques of other skilled traders to gain more profits regularly and understand real-time market condition and drifts

Forex and Other Financial Market News Updates:

The next generation of widely popular exchanging applications the Meta Trader 4 allows users to observe and follow other traders via social networks and the latest market news feeds.

Financial Calendar:

Traders can keep themselves updated about major financial market events like rate and trade reports, which considerably impact forex markets.

Session Graph: Unlike any other calendar, the session graph of the NextGen MT4 platform helps keep track of the global financial market sessions before opening and closing, which directly impacts liquidity. Users get access to major markets in London, New York, and Tokyo through the session map.
New Terminal Window:

Users can receive market alerts, group market role templates, and manage One Cancels the Other (OCO) order to improve the trading experience on international trading markets.

Correlation Trader: According to our AxiTrader review, this feature reduces mistakes from money administrative units and finds new possibilities by spotting market correlations.
Alarm Manager:

Users can receive customized financial market alerts which help traders to avoid the chance of missing trading opportunities.

Automated Trade Journal:

Users can activate the automatic recording of trade analysis reports to improve market research before live trading on Foreign Exchange markets.

Mini Trade Manager: The mini trade manager helps traders to efficiently deal with complex exchanging events to bring guaranteed profit on every trading session. The manager acts as the perfect trading coach.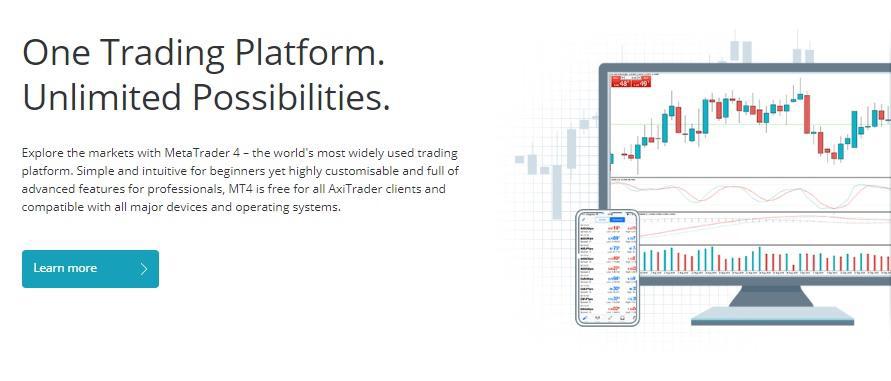 AxiTrader Comes With Some Distinctive Advantages
AxiTrader is rated the most dependable MT 4 forex firm based on the following five advantages:
Lowest starting Spreads from 0.0 pips

Advanced MT 4 application with updated features

Award-winning world-class customer service

Extensive variety of Forex markets

Influential leverage up to 400:1

No trading fees

Negative balance protection for EU clients

Personalized account managers available

AxiTrader Offers Tight Spreads
AxiTrader offers ECN based broker tight spreads which simply means that the firm does not use a dealing desk instead connects all the traders in their platform to the centralized Electronic Communication Network (ECN) to trade directly with global financial liquidity pools, which consists of approximately 14 global top-tier banks. As per our AxiTrader review, AxiTrader offers different types of trade accounts to its traders and does not charge any inactivity fee.
Opening an Account
The account opening process is simple and user-friendly. To open an account with AxiTrader, all you need to do is – answer a few compliance questions, complete your application, submit a color copy of your ID card, share your phone number, email ID, a utility bill, or driving license, and then go ahead to fund your account. Users do not have to share personal details like the history of bank transfers, transactions, account details, or any bank statement, etc. After opening an account, you can access the account through the AxiTrader login! If you have any issues when trying to open an account, you can get in touch with customer service through phone support, email address, or live chat. Remember many retail accounts lose money when trading in the financial markets. So, do your own research before investing.
Key Highlights of Each Account
Some of the primary highlights of each account include the following:
No Stringent Minimum Deposit Requirement

Scalping

Hedging

MT 4 Software

Smallest Trade Size of 0.01 Per Lot

5 Digit Quoting

Free Demo Software for 30 Days

No Guaranteed Stop Loss

Micro Account: Users of the micro account can trade micro-lots (1,00 units of base currencies)
MetaTrader 4 Standard Trading Account: These types of trading accounts are specially designed for less-experienced traders and are not market maker's accounts.

Further, the account includes no commission fees, deposit fees, trading fees, which makes this account very lucrative for beginners.

MetaTrader 4 Professional Trading Account (Pro Account): This type of trading account— Pro Account is developed for experts as well as for the moderate traders, trying to minimize spreads while trading. AxiTrader does not increase the spread in Pro Accounts but alternately started nominal commission charges of $7 round trip (USD) per standard lot. If users face any problems, they can contact customer care through live chat, phone or email support.
AxiTrader Offers Outstanding Customer Service and Trust
In 2014, many financial investment reports claimed AxiTrader to be one of the top-notch and most trustworthy forex broker brands in the financial market. Further, in 2017, this claim was made concrete when Investment Trends, a private financial research firm of Sydney, Australia, awarded AxiTrader with the highest rating for overall client satisfaction. AxiTrader's world-class customer support (through live chat, phone or email) and numerous awards can be attributed to its supremely salutary management. It has received many awards at the UK forex awards.
The 24/7 customer support team of AxiTrader is only closed on weekends when the financial market is closed, but when the Sydney market is closed, client support is provided from London and Chisinau. Client support can be reached via email, phone call, or live chat. A dedicated multi account manager is provided to all the traders operating an account. The account manager assists the traders with the training of trading and other market information, and also helps them improve their trading style. The manager assists the traders with the training of trading and other market information.
Wide Variety of Trading Assets
AxiTrader trading platform provides its customers with a wide range of options like more than 80 currency pairs, and over 140 cross pairs. Customers of AxiTrader can trade in classic forex pairs like AUD – USD, GBP – USD, and EUR – USD. They can also use minor, exotic, and cross pairings to have more movement due to thin liquidity to possess more profit by taking advantage of the market opportunities. Besides, we get to know from AxiTrader review that forex brokers like AxiTrader offer wide range of financial assets, which include:
Cryptocurrency trading

– AxiTrader allows its users to trade in Bitcoin, Litecoin, Ethereum, Dash, and Ripple where CFDs on the BTC & USD pair at 10:1 leverage can be traded easily.

Broker fees AxiTrader charges for social trading, precious metals, hard commodities like gold and silver is zero. The commission margin fees AxiTrader charges are kept nominal at 1% only. Users need to maintain the minimum margin requirements in their accounts.

Non-renewable energies like the United States and UK crude oil with a conventional boundary for a spot at 4% and futures at 1%

Soft Commodities like Coffee, Soybeans, and Cocoa with a commission margin between 1% to 3% only

Most economical includes the Indices with a commission margin of just 1% only.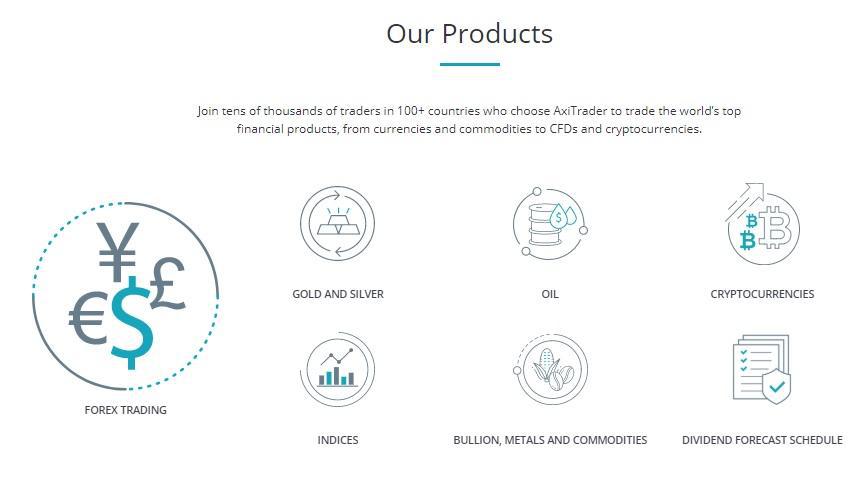 AxiTrader Leverage
The financial brokerage firm AxiTrader offers humongous leverage levels of 400:1 to its customers that can only be exceeded by some of the gigantic financial trading firms of the market. The leverage depends on the user's geographical region as well as on the AxiTrader branch that will regulate the user's registered account.
Since AxiTrader has to maintain compliance with the stringent ordinances established by the Financial Conduct Authority (FCA), clients of AxiTrader UK or Europe are offered with slight conditional leverage. For retail investment accounts, the Financial Conduct Authority (FCA) allows a maximum of 30:1 leverage on major currency pairs and 20:1 leverage for minor or exotic pairs. We found from our AxiTrader review that for trades clients wishing to join this online broker outside of Europe and the UK, the firm follows strict regulations set by the Australian Securities and Investments Commission (ASIC) with AFSL 318232, which allows magnificent leverage of 400:1, which provides plenty of trading strategies for the novice and even for standard traders.
AxiTrader understands that forex and other trading CFDs are very complex financial assets. Many retail investor accounts lose money when trading CFDs. Unless a trader is highly proficient in understanding market signals, a leverage level of 100:1 is more than sufficient for a standard trader. Still, those highly skilled in financial trading and those traders looking for higher leverages can opt for a splendid new application called Forex Broker Table.
AxiTrader Offers Its Trading Services Across the Globe
Forex traders from South Africa, Hong Kong, New York, Solomon Islands, Guinea Bissau, Northern Mariana Islands, Marshall Islands, Central African Republic, Benin, Bermuda, Bhutan, British Virgin Islands, Saudi Arabia, Greenland, Grenada, Gibraltar, Greece, Cayman Islands, French Polynesia, Burkina Faso, Cape Verde, Western Sahara, Yemen, Zambia, Sri Lanka, El Salvador, Nicaragua Niger, Barbados, Belarus, Equatorial Guinea, North Korea, Mauritius, Mayotte, Mexico, Micronesia, Puerto Rico, Latvia, Lebanon, Lesotho, among many other countries have tried this platform. They recommend it for its rewarding trading environment, smooth browsing experience, and user friendly dispute resolution process. AxiTrader charges no deposit fees.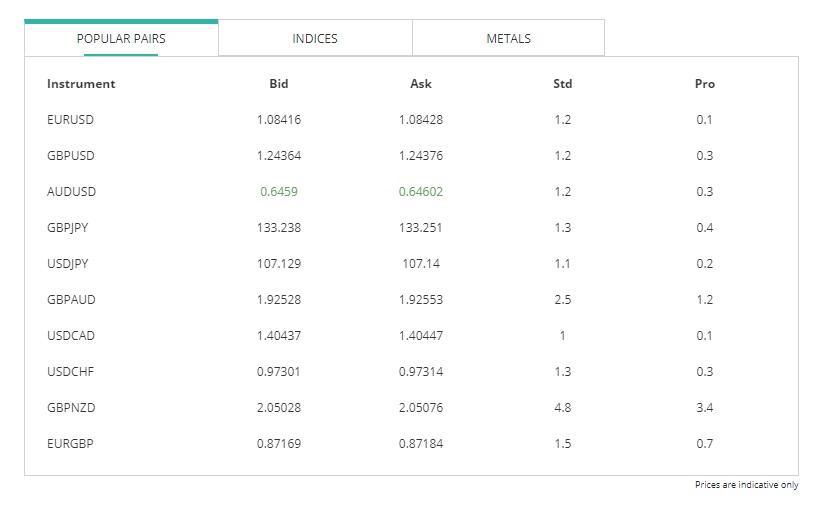 Intuitive tools available in AxiTrader which gives it an upper edge over its competitors:
Autochartist:

One of the finest trading features of AxiTrader is the most popular Autochartist trading tool, which constantly scans the financial market and automatically places trades considering all the vital trading parameters like resistance and support levels. The complete version of the Autochartist is made available to all registered AxiTrader accounts as a complementary trading tool. The Autochartist software comes with a default convenient Meta Trader 4 plugin for seamless user experience. Further, the software includes continuous market scanning mode, Fibonacci model analysis, technical analysis, performance statistics, and volatility analysis, monitoring of price movements among various other features to assist traders in a profitable trade.

Virtual Private Server (VPS) of AxiTrader: AxiTrader facilitates its clients with their world-class Meta Trader 4 Forex Virtual Private Servers (VPS) hosting service axitrader.com, using which their trading clients can always remain online to make their trades interruption-free and further free from any connectivity issues or technical issues. The VPS tool is very important for those traders who are using computerized trading strategies.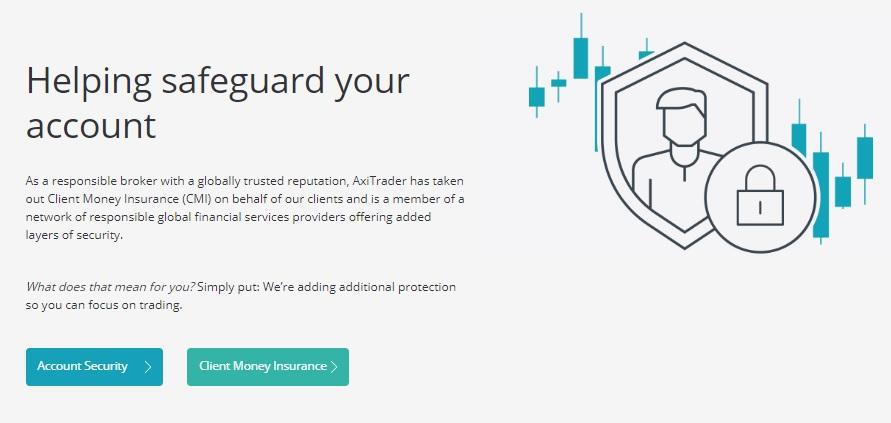 Economic Calendar: Our experts find an economic calendar from AxiTrader review that covers financial market pointers, priority-based business events, and news announcements.

The easy-to-use economic calendar is extremely simple and includes filters to navigate through its long list of features such as historical data chart analysis, market data analysis, chart patterns, business event impact, risk management, and also a section to visualize time, volume, event description, actual consensus, country, and precious financial assets values.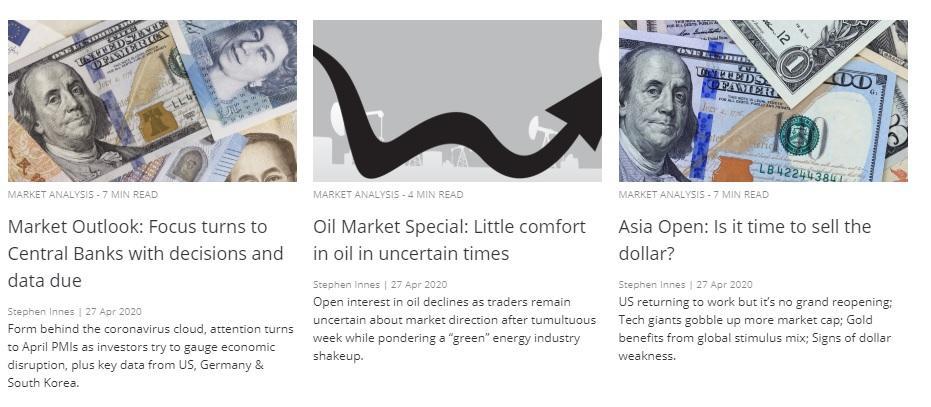 PsyQuation Updated Premium Version

:

AxiTrader clients are offered with a premium updated version of PsyQuation software for free. This version of PsyQuation provides more powerful trading indicators with effective trading signals that are continually updated for more extensive financial forecasting and to provide an institutional level, quantitative standards. PsyQuation software is built to provide traders with business perspicacity by synchronizing the software directly to their respective MT 4 account. Experts at PsyQuation firmly believe that their uniquely designed set of tools allows traders with any trading experience level to better "discover trading strategies that work." The PsyQuation group is controlled by Gerling and Company and is licensed under the Australian Securities & Investments Commission (ASIC).
Some Additional Features of PsyQuation Software
PsyQuation software provides some more features to enhance a trader's trading experience are as follows:
Almost real-time equity arch provides traders to help observe risk capital and regulate trading risk better. Many retail accounts lose money when trading in the financial markets.
PsyQuation Score: users can compare their trading strategies with that of other traders to improve trading skill and strategies, and learn more trading ideas.
Trading Tool Kit: Users of PsyQuation are provided with a set of tools like order flow sentiment indicator specialized for institutional traders to help them with their ongoing trades.
Conclusion
As per our AxiTrader review, AxiTrader online broker is controlled and strictly monitored by many monetary global authorities, like Financial Conduct Authority (FCA) in the United Kingdom, the Australian Securities and Investments Commission (ASIC) in Australia, and the Dubai Financial Services Authority (DFSA) in Dubai to name a few. Moreover, customers of AxiTrader UK are also protected by the Financial Services Compensation Scheme (FSCS) as a mandatory element of the Financial Conduct Authority (FCA) governing terms, which safeguards the client's money in case of trading broker liquidation or insolvency, which is up to £50,000. If beginners as well as expert traders would like to access the online financial trading world, AxiTrader makes it available for them. The market analysis section is quite popular among traders.
AxiTrader's mainstay MT 4 trading software brings a very competitive technical solution to trade through the financial market to make a respectable profit for traders in every trading session. Founded in 2007, AxiTrader offers flexible leverage, which becomes a high gain option for a trader. AxiTrader also provides world-class customer service with extensive free education material like video tutorials and research tools to all their registered traders to learn about trading strategies. If you would like to start trading and earn money, AxiTrader can be very useful.  
Risk Disclaimer:- CFDs are complex financial instruments and come with a risk of losing your money rapidly due to leverage. 69.6% of retail investor accounts lose money when trading CFDs with this provider. You should consider whether you understand how CFDs work and whether you can afford to take the high risk of losing your money. AxiTrader does not endorse any third party broker. Do not consider this AxiTrader review as investment advice.
FAQs
1.  Is trading safe in AxiTrader?
Ans: AxiTrader exists as a registered financial business wing of AxiCorp Financial Services Pty Ltd, also known as AxiCorp, which is governed by several monetary global authorities. AxiTrader is a regulated broker approved by the Dubai Financial Services Authority (DFSA) in Dubai. The firm holds a 4th category license that features retail permission and is not permitted to keep customer financial assets or money.
2. What trading application does AxiTrader provide for trading?
Ans: AxiTrader does not provide any proprietary in-house developed trading software to their users instead offers free of cost download and installation of the market-leading trading application the MT4 across most popular devices and operating systems which includes Windows, Android, Mac, iPhone/iPad as well as cloud-based WebTrader application.
3. Does AxiTrader provide an investor password?
Ans: Yes, AxiTrader does provide an investor password for users to log into a MetaTrader 4 account in read-only mode, which allows them to closely monitor a real-time trade but does not facilitate them to place or close a trade. Investor password is commonly used by clients to monitor their trading account if it is being handled by somebody else. If you have any issues, you can get in touch with the customer care through phone support, email address, or live chat.
4. How can I determine my version of MetaTrader 4?
Ans: The version of MT4 trading application can be confirmed by clicking on the top right-hand side help section and then selecting the about section which displays the latest version of MT4 running on the device.
5. How much money can I make using AxiTrader?
Ans: According to our AxiTrader review, AxiTrader is not a get rich scheme. Expert advisors of the trading platform recommend all their customers to research and analyze the financial market before investing any amount of money. It is further recommended to use a demo account for trading before starting a live trading session. Yet further, it is also recommended to use the amount which a trader can afford to lose. Many accounts lose money through overindulgence.
6. What funding methods does AxiTrader accept?
Ans: Traders using the AxiTrader trading account can use diverse funding methods, deposit options and withdrawal options including Moneybookers/Skrill, direct bank transfer from his bank account or other accounts, Neteller, debit card or credit cards, and BPay. AxiTrader also allows B2B fund transfers from two separate companies, so a trader can easily transfer his/her trading account from another brokerage firm to AxiTrader. A client of AxiTrader can enjoy the possibility of having financial account base currency in GBP, CHF, USD, EUR, or PLN as well as deposit funds in these major currencies also. Besides, the online trading platform has no mandatory minimum deposit requirements, and traders are free to deposit any amount. AxiTrader has no charges for a bank transfer, no inactivity fee, trading fees, or withdrawal fees.
AxiTrader
Pros
Invest cost is very less
Lighting Fast Execution
Zero deposit/withdrawal fees
No inactivity fees
Multiple payment options like bank transfer, debit cards, credit cards, etc.
Cons
Limited research tools
Email support service is slow
No Guaranteed Stop Loss