Introduction
Saxo Bank is an investment bank from Denmark. It has id HQ in Copenhagen. It provides online trading and investment facilities to the users. It was founded in 1992. Several worldwide financial authorities such as the Danish FSA and the UK FCA have acknowledged Saxo Bank. It caters to the global customers and has its authorized subsidiaries across the world in the form of legal entities. The services offered and the fees might vary subsidiary to subsidiary depending upon the services and products available to trade such as forex. This Saxo Bank review will try its best to cover every region served by this site along with its fees, and offerings.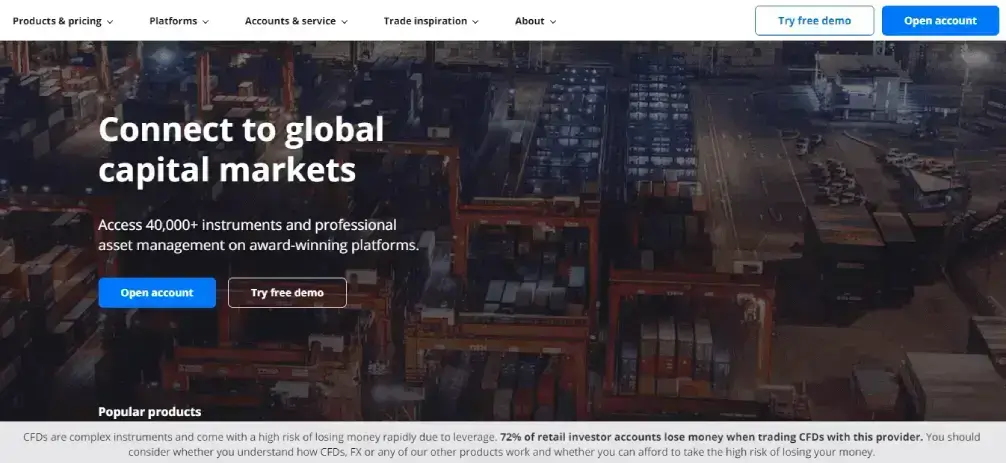 It has been in a market for over two decades now, and it certainly has a reputed market position. It is considered as a safe trading platform as it is supported by known and reputed financial authorities, it has a long and credible track record, and the platform itself has a banking past. It is also user friendly with its easy UI/UX design, demo account feature (so that you do not end up losing money due to lack of knowledge), a wide range of products like forex, currency pairs, and web/mobile/desktop versions. It has a competitive spread on multiple asset classes. It does not endorse or recommend any products or services, which creates a link to a third party website.
Saxo Bank pros and cons
Its experience is smooth, easy, and driven by a well-streamlined trading platform. The research material provided by Saxo Bank is commendable. Its customer service is active, and its research team regularly provides trade feeds. Our experts found from the Saxo Bank review that it provides traders with a wide range of product portfolios, currency pairs so that each Saxo trader gets a product to trade as per his/her needs.
If there are many advantages of having an account and trade through it, there are a few disadvantages too. Such as, it charges high trading fees on bonds, options, and futures. Know more about other best forex brokers charges here. The minimum deposit that needs to be made to open a live trading account is relatively high (ranging between $600-$10,000 depending upon account type and country). The deposit amount depends on the country of residence of the user. Plus, live customer service through chat is not 24*7.
Here is the given List of Pros and Cons:-
| | |
| --- | --- |
| Pros | Cons |
|       Credible trading platform |       Comparatively higher minimum deposit |
|       Deep and wide research |       No live chat and 24/7 customer service |
|       Wide range of products (like forex, stocks,etc) and currency pairs |       High fees on trading bond, options, and futures |
|       Demo account facility | |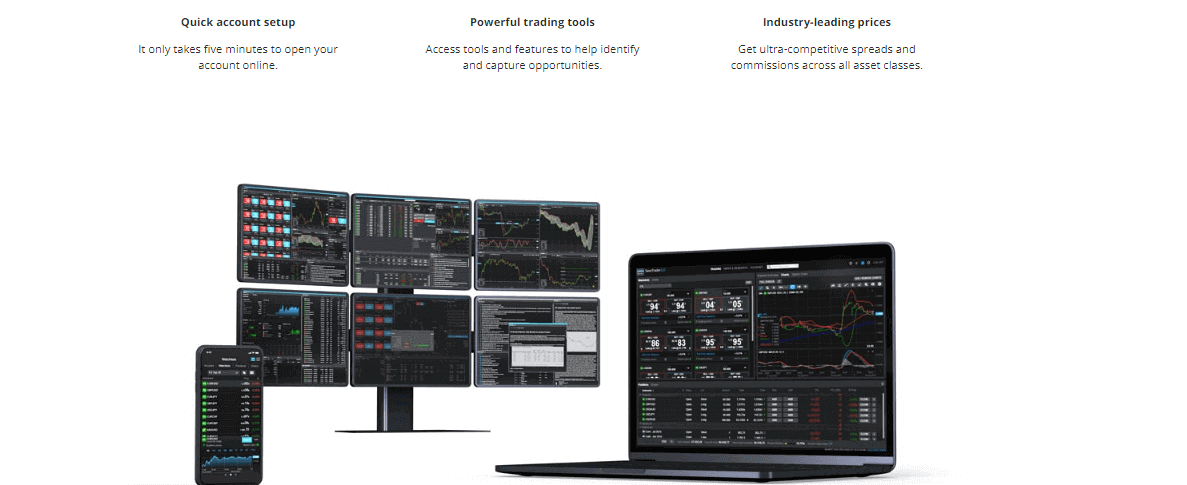 Saxo Capital Markets: Saxo Bank review
Saxo Capital Markets is trusted for

over 20 years

.

It is one of the world's first online trading platforms UK, making global markets available to everyone.

It is an

award-winning platform

with an institutional-grade execution and powerful features.

It has over 860,000 clients with 120 partners who place around 125,000 trade/day.

24/5 customer support from 18 local offices spread in multiple countries.

The account opening process is secure and safe. Traders have a facility of Demo accounts to brush up their trading skills and stand less chance of losing money during live trading. It does not endorse or recommend any products or services, which creates a link to a third party website.

Benefits of using Saxo Bank:
It is a popular and leading trading platform which has

10 subsidiaries

across the world. It is supported by reputed names in the finance industry. With facilities like demo accounts and research material, it is liked by many traders.

This trading platform provides a wide product portfolio to traders.

Customer service is available in multiple languages.
Spreads & Commission Structure:
It charges high trading fees for stocks. The US stock trading of $15 is the highest. The trading fees on other products like equity, forex, equity, or trading CFDs of the average range. If you are trading in the future, bond, and option on it, the fees are quite high when you trade in fewer volumes.
Commissions charges at this website vary as per the volume of trade. In the case of forex on Saxo Bank trading, you will have to pay a lesser commission if your trading volume is higher. A typical commission 0.005% on the first $50 million tradings in that month.
Fees Structure at Saxo Bank
Trading fees:
Fees of Saxo Bank vary from country to country, but France, the UK, Norway, Australia, Denmark, Singapore, the UAE, Russia and Hong Kong have similar fees.

It has a transparent and typical fee structure. Clients can easily understand it.

Its fees vary depending upon the account type. A Saxo account is for those who are looking for higher services in return for higher fees.

Volume-based fee structure

. Minimum fee. If traders wish to trade in stocks on margin or short sale basis, trading CFDs is a better option.

Saxo Bank's fees on mutual funds are zero. It does not charge anything to trade with mutual funds. However, traders will have to pay the regular annual maintenance fees charged by the issuer of the fund.

Sao Bank trades in mutual funds in specific countries only – Poland, Germany, and Denmark.

Its bond fees are on a higher side. Traders have to

pay 0.2% fees

and commission based on trade volume and a minimum fee of €80. Options fees & future fees are high too. CFD fees at Saxo Bank are average. Then there are crypto fees and SaxoSelect fees.
Non-trading fees:
Apart from the trading fees mentioned above, it charges non-trading fees too.

If you have UK based accounts, you might have to incur £25, if your account was inactive during the recent quarter. In case you have an ISA and SIPP account, that is not chargeable.

For traders out of the UK, the charges will be $100 for keeping the accounts inactive for six months.

Those who trade in bonds, stocks, or ETFs, have to pay custody fees. 0.12% will be cut annually on the open trade positions or a €5/monthly. In case your trade assets are in different denominations than your account currency denomination, you are subject to currency conversion fees.
Saxo Bank review: Main features and highlights
It serves these regions: The UK, Singapore, France, Japan, Denmark, Switzerland, Australia & SA. The broker operates in multiple countries, except a few. It has 10 subsidiaries operating from multiple locations. All these subsidiaries are authorized.

Traders have to pay fees for being inactive. Almost every trader has to pay fees for keeping accounts inactive for one quarter of the year. Fees vary depending upon the country of residence, and the account type.

No withdrawal charges.

The minimum deposit amount at Saxo Bank is $600 for a

classic

account. For VIP accounts and premium/platinum accounts, the amount is different.

Account opening at Saxo takes 1-3 days (including verification process)

Deposit with a credit card is possible, electronic wallets are not accepted.

It supports 19 base currencies

A demo account is available (so that you do not end up losing money due to lack of knowledge).

Trades in a wide range of product portfolios and currency pairs including ETF, Mutual Fund, Stock, Bond, Forex, Futures, CFDs, Options, Crypto, SaxoSelect. There are some regions where Mutual funds services are not provided by it.
~ SaxoSelect: SaxoSelect is for those who do not want to trade or manage portfolios manually. SaxoSelect is a blend of mutual funds and Robo advisory. Traders can choose strategies and portfolios. Here the minimum investment of $20,000 is typically made to initiate live trading. Traders have to face fees ranging between 0.5% to 1%.
~ Deposit and withdrawal: Withdrawal and deposit are user-friendly on Saxo Bank. Plus, it is free of charge.
~ Research material: It has a huge knowledge base on its platforms. Registered users have access to it. Traders can access it from web-based, desktop platforms, and mobile apps too.
It also runs a separate page named tradingfloor.com. This page will provide traders with more market insights and statistics. You will find news, equity research, analysis, opinions, Saxo Bank reviews, and more from its strategists, trade signals, etc.

~ Account opening: The account opening procedure of Saxo Bank is completely digital, easy, and user-friendly. However, the account verification process of Saxo bank may take longer as compared to other trading platforms. Saxo Bank serves in almost every country. Go to the official Saxo Bank website and register yourself to know if you are eligible or not (if Saxo Bank serves your country or not).
How much should I pay minimum as a Saxo Bank deposit?
In the United Kingdom, the minimum deposit amount required for a classic account to start is $600. Premium/platinum or VIP accounts may have different deposit criteria; again, it depends on the country of residence too.
Minimum Deposits
The minimum deposit amount has to be $600. It varies as per the country though.

In the case of Denmark, there is no minimum deposit amount.

For the United Kingdom, the minimum deposit amount is 500 GBP

In Singapore, the traders have to deposit a minimum amount of 3,000 SGD

For Malaysia, it is 3,000 SGD.

Australia based Saxo Bank trading account will have to deposit a minimum of 3,000 AUD.

If the trader has a Saxo Bank account in China 2,000 Renminbi has to be deposited.

A Hong Kong based Saxo Bank trader will need to deposit 2,000.

Norway based trading accounts will need a minimum deposit of 10,000 NOK. In the same way,

United Emirates – 10,000 USD

France – 2,000 EUR

Czech Republic – 10,000 USD

Slovakia – 10,000 USD, and

Netherlands – 2,000 EUR.
Account base currencies
Saxo Bank allows users to choose from 19 base currencies. Traders can open several sub-accounts to trade in different currencies. This is a unique feature by Saxo Bank. This feature is important to avoid conversion charges. Those who wish to trade in multiple currencies can open multi-currency bank accounts at a digital bank.
Account types
Saxo Bank provides its traders with three types of trading accounts. (If you are the UK based account):
Classic account – where a minimum of £500 deposit has to be made.

Platinum account– a minimum of £50,000 deposit amount has to be made.

VIP account– £1,000,000 of the minimum deposit has to be made.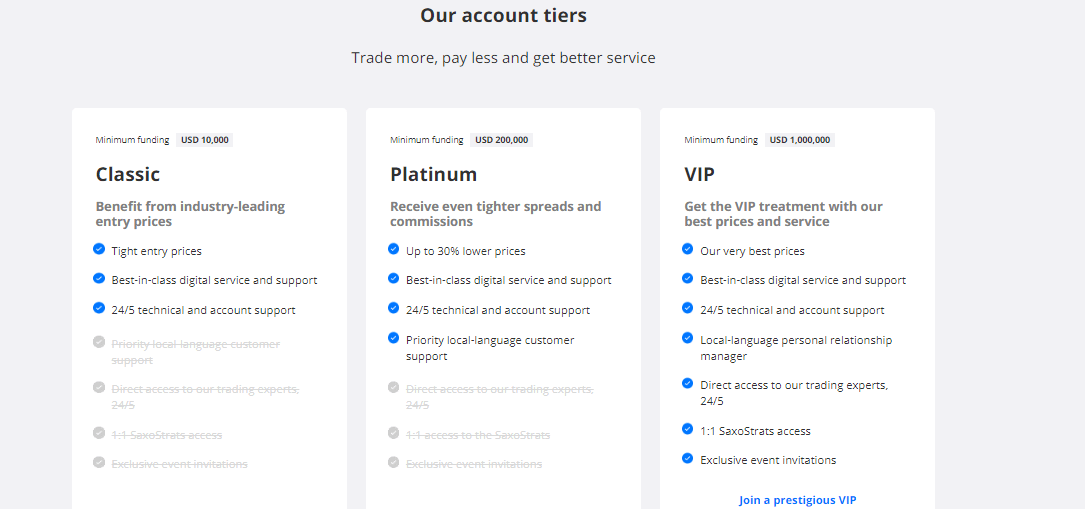 Platinum and VIP accounts allow traders to enjoy a more friendly pricing layout, and traders can consult with their dedicated customer service person. If you are from the United Kingdom and you hold ISA /SIPP accounts (which are tax-efficient), you do not have to pay any charges. Saxo Bank also provides facilities for corporate accounts.
Saxo Bank review: How to open Saxo Bank account
As we have seen about opening a Saxo Bank account is easy and completely digital, hence user-friendly. Online registration on this trading platform hardly takes 10 to 15 minutes. However, account verification may take longer.
Saxo Bank traders can open an account it in the following three steps:
Submitting an online application

Approval from the platform

Funding
While registering on Saxo Bank, the user will also submit his/her identity proof authorizing his residency status and personal information.

Once Saxo Bank approves your accounts, you will have to make funding so that you can start trading live. The process of funding might take around one to five working days depending upon the method of payment of financing.
~ Different account types: Saxo Bank has four types of accounts:
Classic: Deposit amount varies as per country

Platinum: A minimum deposit of $500,000 has to be made.

VIP: Deposit of minimum of $1,000.000.

Premium:

From the Saxo Bank reviews, we found that for a Premium account minimum of $100,000 deposit has to be made.

Premium account allows users access to free news and research material.
Platinum and VIP accounts holders enjoy advanced customer support, IP address linked logins, more secure and tighter spreads.
~ Different payment methods: It accepts multiple payment methods, except wallet payment. Bank transfers can take between 1 to 5 business days. The majority of European clients need to transfer money to a Saxo Danish account to perform an international bank transfer. If you are using a credit/debit card, the money will be credited to the traders' accounts instantly. However, you will have to pay charges of around 0.5-2.5% to the card operator.
Stock transfers are done through the transfer of a stock portfolio. This process might take more time as it has to be processed by the current portfolio holder of yours.
In terms of withdrawals, it sends an amount either to your bank accounts or a broker account. Withdrawal is free of cost.
~ Saxo Bank withdrawal: Withdrawing from this broker is as easy as depositing in it. Withdrawal at Saxo Bank is free of charge, and users can withdraw only through bank transfers.
How long is the withdrawal process of Saxo Bank?
As we have seen above, an account holder Can withdraw from Saxo Bank only through bank transfer. And it should not take more than a couple of business days to get the amount reflected in the accounts.
~ Portfolio and fees: We get to know from Saxo Bank review that this broker provides a transparent portfolio and fees to its users. One can download these reports from the dashboard. Reports will talk on your profit/loss statement, balance amount and charges paid, fees incurred etc.
~ Login and security: As mentioned, it has only a one-step login system. But, if you hold VIP accounts, a more secure login process can be enjoyed where your IP address is linked to the Saxo Bank login path. We have to accept that if Saxo Bank provides a two-step account login to the users, it would be more secure.
~ Search feature: The search function available on the platform functions quite well. On searching for a particular keyword or word, one gets all the relevant data and answers related to it. The search box also has a dropdown button on its right side to make searches more accurate.
~ Web trading platform: It has a web trading platform which is called SaxoTraderGO; it is a user-friendly broker that provides features favored by professionals such as advanced order panels. However, the platform doesn't have a two-step login, which is crucial in terms of safety.
In terms of look and feel, SaxoTeaderGO is a great platform. It is a user-friendly, interactive, and customizable platform. Both beginners and professionals can use this platform with equal ease. Just like SaxoTraderGO, It has a desktop platform named SaxoTraderPRO.

~ Mobile based trading platform: It has a mobile app too. It is as easy and interactive as it's a web-based platform. Even the look and features are almost similar. Its mobile app can be run on iOS or Android platforms (just like any other movie app). In the case of mobile platforms or mobile apps of Saxo Bank, you get an extra security layer of biometric authentication though it does not make it more secure as compared to two-step verification.
The desktop trading platform:
Its desktop-based trading platform is quite popular in the market for its design, ease, customization, and navigation.
The desktop trading platform of Saxo is called SaxoTraderPRO, and we found from Saxo Bank reviews that it appears just like web and mobile-based versions. And as the name suggests, SaxoTraderPRO comes with extra features and advanced settings and customizations. With PRO traders can create their trading ecosystem and run six different trade windows simultaneously.
Markets and product portfolio
Saxo offers a wide range of products to the trade. In complex investment assets such as options, forex, and trading CFDs, It provides broad selection options. The platform provides an equally competitive range of trading products in traditional asset classes such as stocks, ETFs, bonds, forex, etc. However, it needs to improve its crypto and mutual fund line-up.
Forex: Saxo offers one of the currency pair selections in the market with 182 pairs available to trade.
Stocks and ETFs: Saxo Bank traders have an open ground when it comes to trading in the stock market. Saxo Bank traders can deal in both big and small stock markets/exchanges.
Funds: Mutual funds are a recent addition to the Saxo' Bank's portfolio. Saxo traders from selected countries can trade in them, not all. And even the numbers of mutual funds to trade are less as compared to the trading platforms. Saxo allows its accounts to invest in funds published by credible market names like Pinebridge, BlackRock, etc. It has a total of 17 MF providers.
Options: For options, Saxo Bank traders have a huge market available. They can trade in CBOE or Euronext, along with stock exchanges like the SEHK. Options trading on forex, stock, or contracts is done. It provides around 23 options markets.
Futures: With this, a large portion of futures markets allows you to trade assets like bond, commodity, index, currency, and stocks.
Bonds: Saxo trades in both government and corporate bonds and the range goes up to 40,000 bonds.
CFDs: CFDs are a type of complex instrument product and they come with a high risk of trading. Which means users can lose rapidly in it.

As per the Saxo Bank reviews and reports on the internet, 72% of trading accounts on this platform tend to lose money when trading CFDs.

Trade if you can shoulder the high risk and can afford to lose your money.
Cryptos: It can trade crypto currencies like Bitcoins and Ethereum via ETN instruments.

~ Customer service: Its customer service is active through emails, and phone calls, in multiple languages. The trading platform gives a positive experience in this area too. There is a chat or on the platform which can be used for live support, however, it cannot be available 24*7.
~ Education: If you're a new Saxo user, the platform has a huge knowledge base to help you understand it's functioning and trading. Clients can join webinars, watch informative videos, attempt for a demo account, etc.
Demo trading account is to practice your trading habits or strategies and check your level of expertise before you start live trading.
~ Regulation and Licensing: As we have seen above, it has 10 subsidiaries spread across the world. All these are authorized by the respective local bodies. It is a reputed brokerage company in Europe.

~ Safety: Saxo Markets UK Ltd is regulated by a known financial conduct authority, including the top-tier financial conduct authority. It is a fully-licensed bank with protection against negative balance situations. It is not listed on any stock exchange, be it Hong Kong or United kingdoms.
Saxo Bank Review: Conclusion
Saxo Bank is over two decades old trading platform serving multiple countries across the world. The ease of use and market reputation adds to its popularity. It provides complex trading services and high-risk trading options based on Saxo Bank review, through a simple trading platform. Saxo trading allows users to trade in a number of portfolios with active customer service and easy withdrawals. Plus it provides a competitive spread on multiple asset class.
FAQ
1. Is Saxo Bank regulated by credible authorities and is it safe?
Ans. Yes, it is. Danish FSA, the United Kingdom Financial Conduct Authority or the Swiss Federal Banking Commission, are supporting this trading platform. Each subsidiary of Saxo is authorized.
2. How am I protected at Saxo Bank trading?
Ans. Trading in any market is subject to high risk due to market volatility. However, the platform one trades on has to be credible. It serves globally via 10 different subsidiaries. It offers retail trading accounts from the EU with negative balance protection for forex spot and CFD trading. It is an old platform with a good market reputation.
3. Explain Leverage at Saxo Bank?
Ans. Forex is typically traded on margins, where every brokerage firm has its own leverage. It leverages based on a tiered margin methodology. It has a maximum leverage of 1:30. It complements the other regulated brokers in the EU.
4. Does Saxo Bank provide a bonus?
Ans. It has a competitive spread on multiple asset classes, and it does not allow the platform to give active bonuses. This is applicable significantly to forex trading as it is commission-based.
5. What are the safety and security measures taken at Saxo Bank?
Ans. Saxo Bank's web-based platform comes with high-security features. Traders share their crucial data on the platform while opening an account. This data has to be stored with the utmost security. According to Saxo Bank review, Platinum and VIP account holders enjoy advanced customer support, IP address linked logins, more secure and tighter spreads.
Saxo Bank
Pros
Credible trading platform
Deep and wide research
Demo account facility
Cons
Comparatively higher minimum deposit
No live chat and 24/7 customer service
High fees on trading bond, options, and futures