Oanda Corporation is one of the leading pioneers of online forex brokers, which was established in the mid-1990s. The organization is said to be established by Dr. Michael Stumm and Dr. Richard Olsen. Oanda is a forerunner in currency information, offering CFD trading, corporate foreign exchange payments, and exchange rate services for a wide range of investors and organizations. OANDA Corporation is a registered Retail foreign exchange broker and Futures Commission Merchant with the Commodity Futures Trading Commission as per OANDA reviews and is a member of the National Futures Association.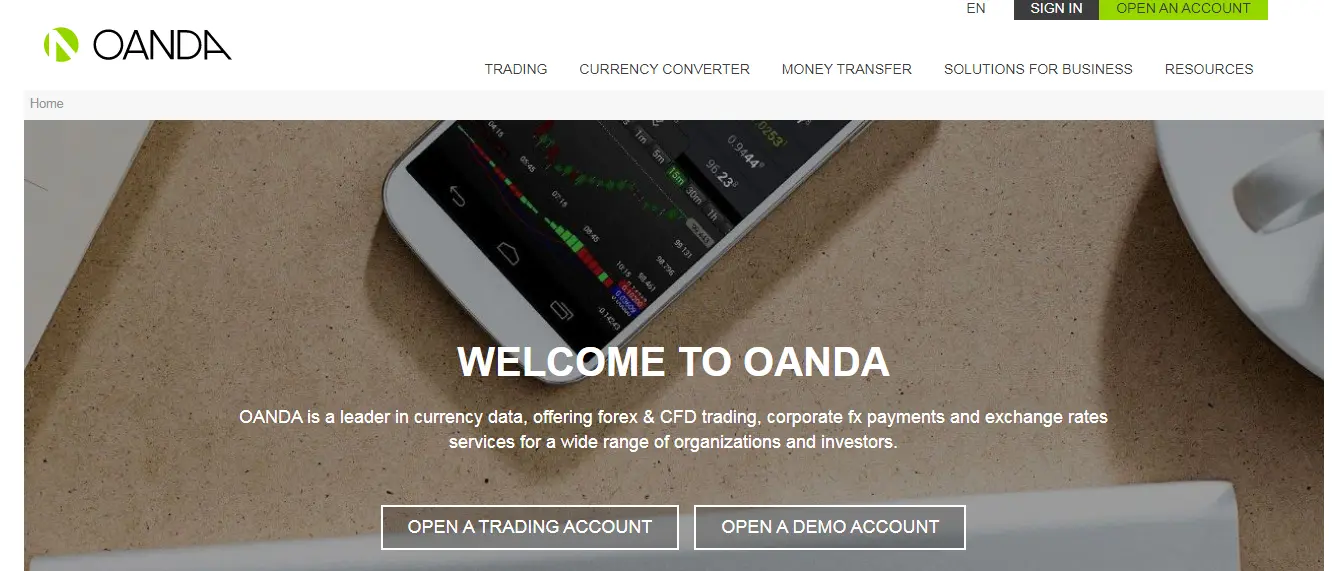 Background
Oanda was established in 1996, with offices in Toronto and Canada; Currently, Oanda works across over eight global financial centers, servicing customers in more than 196 nations. It is licensed in major six regulatory jurisdictions, which include the US, Canada, UK, Japan, Australia, and Singapore.
CVC Capital Partners (CVC) Asia Fund IV, a private investment and equity advisory firm that managed 70 billion dollars in May 2018, declared the acquisition of the entire outstanding equity of Oanda, which was subject to regulatory approval.

Around its journey, it has received numerous industry awards based on OANDA review, such as, "Best Customer Service" and "Best FX Retail Platform" in 2018.

Also, the firm acknowledges U.S. customers, yet constrains their trading to forex.
Features
Oanda offers currency pairings over 70 plus major, minor, and extraordinary forex sets to select from, including CFDs for commodities, precious metals, stock indices, and bonds.
Oanda's trader has two choices concerning trading platforms. Either they can go with their web-based exclusive version, "Oanda Trade," or choose to go with the highly famous Metatrader4 group of product offerings. Moreover, Mobile trading is supported for each platform protocol decision.
OANDA Europe Margin Rates differs according to its asset classes, they offer maximum leverage limits. Further, a list of margin rates is applicable for each asset class which can be seen on Oanda Europe margin rates page.
Several industry sources evaluate that Oanda servers process more than one million transactions every day and thereby, records almost 20 percent of all industry traffic, achieving a significant milestone in fifteen years.
The traders can use Oanda's proprietary desktop platform and its software just like meta trader 4. Moreover, the developers of Oanda, regularly implement the software updates on the platform.
Additionally, customer deposits are separated from operating capital in leading international bank accounts; also, one standard account for all customers comes with a free demo account to practice trading.

There is no minimum amount to open an account and with as little as $1 as per OANDA reviews, the trader can test and develop day trading strategies.

More than 30 CFDs are offered in bonds, indices, commodities, and precious metals.
Coming to spreads, they are competitive, which is as low as one pip for EUR/USD, site posts market spreads on current assets. Leverage is 50:1 for significant sets and 20:1 for others, moreover, Leverage on CFDs varies by the asset.
Traders can enter and exit positions directly from a chart, this feature can be found in both meta trader 4 and on the Oanda trading platform.
All rights reserved for its features and functionalities by Oanda.
| | |
| --- | --- |
| Advantages | Disadvantages |
| Low Fees | No Metatrader5 |
| Easier account opening | Only FX and few CFDs |
| No minimum deposit | Higher withdrawal fees |
| Easier to use web trading platform | customer service needs to be improved |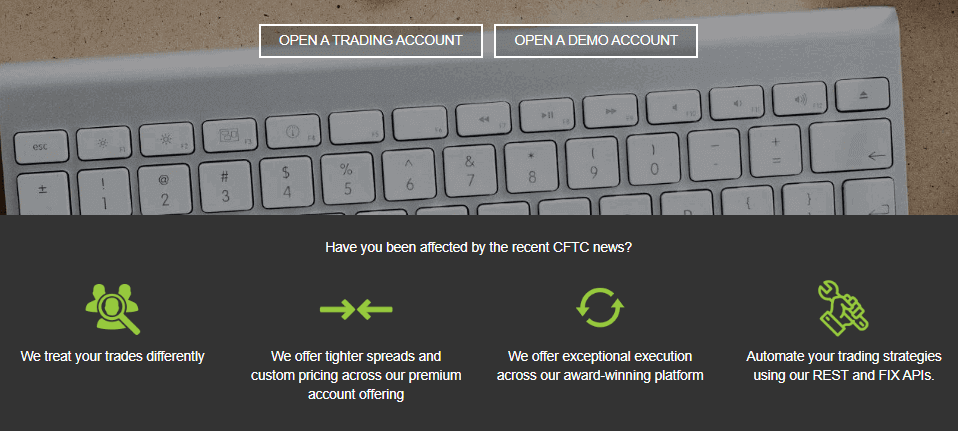 Oanda Regulation
As per our Oanda review, Oanda's insightful approach for dealing with regulation should bring comfort to the minds of clients. It had received more international awards and it is good to note that in customer's OANDA reviews, the clients are content with the standard of regulatory oversight. Besides, Oanda is regulated in the below countries –
US – Commodity Futures Trading Commission (CFTC)
Australia – Australian Securities and Investment Commission (ASIC)
UK – Financial Conduct Authority (FCA)
Canada – Investment Industry Regulatory Organization of Canada (IIROC)
Japan – Financial Services Agency (FSA)
Singapore – Monetary Authority of Singapore (MAS)
Advantages
As a day trader, Oanda offers a range of diverse products. With Oanda, the trader can get access to 71 currency sets, 23 metal CFDs, 8 commodity CFDs, 16 stock index CFDs, and 6 CFD bonds.
The trader can use Oanda's desktop software and platforms like MetaTrader 4.
Traders can enter and close positions directly from direct chart trading. The trader can find this feature in both Oanda's and the MetaTrader 4 trading platform.
One of the most important features offered by Oanda is that it charges no minimum account size. This allows the trader to open accounts with a meager amount of 1 dollar, making it perfect to test and create intraday methodologies.
Oanda is regulated by several regulatory bodies around the world. This limits Oanda to stay within rules and guidelines, which are designed to protect the traders. This helps to reduce worries over scams and frauds.
Oanda offers a free demo account for its traders. It is easy to download the MetaTrader 4 demo account. The traders can look at the current exchange rates. Besides, the trader can practice with ensured stop loss and a lot more.
Investment Products
Oanda offers a wide range of products which include bonds, indexes, precious metals, commodities, and forex. Even though it offers a wide range of products, they lack in certain classes. Oanda offers only 52 CFDs. Other leading forex brokers offer somewhere in the range of 1,000 to 10,000 CFDs to select from.
If you are an intraday trader, Oanda offers a diverse range of products where the trader can select from any of the assets. By trading with Oanda, they can get access to 16 stock index CFDs, 71 currency pairs, 8 commodity CFDs, 23 metal CFDs, and 6 CFD bonds.
Account Types
Oanda provides a single, standard account, which requires no minimum deposit. Moreover, traders with high capital might find it disappointing due to a dearth of extra advantages. In any case, it means everybody gets the opportunity to profit from more than 70 currencies and precious metal pairs, in addition to trades of any size. CFDs are complex instruments and come with a high risk of losing money rapidly due to leverage. 74.5% of retail investor accounts lose money when trading CFDs with this broker. You should always consider whether you understand how CFDs work and whether you can afford to take the high risk of losing your money.
Demo Account
As per our review, there are impressive OANDA reviews about its demo account along with the impressive benefits that OANDA offers for its account. Oanda's FxTrade demo account is accessible as long as the trader needs to sharpen his technique and to build strategies for trading.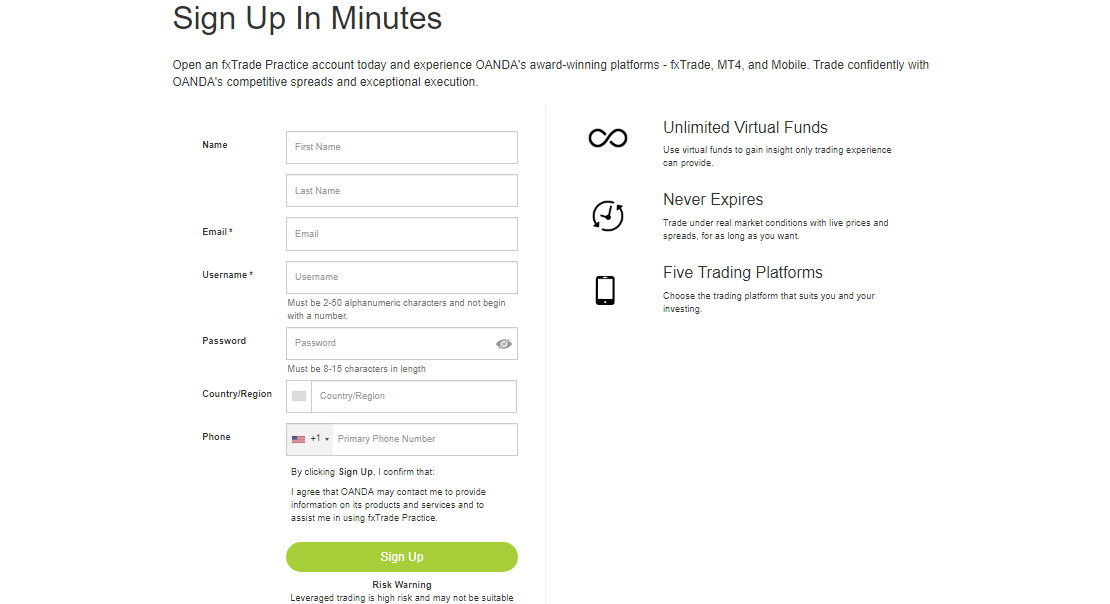 Deposits and Withdrawals
Credit cards, debit cards, cheques, or wire transfers can be used to fund the trading account with Oanda. Besides, withdrawals will be as required by International law. Withdrawal requests will be quickly processed if the personal identity information required by international law is present on the document.
Payment Methods
Oanda offers several payment methods for the traders, who are looking for simple ways of depositing and withdrawing the funds. Traders can deposit and withdraw the funds with the below-given methods –
Bank wire transfer
PayPal
Credit & Debit cards
The website of Oanda guides the users through the process, and they can also contact the customer service in case if they need any help or they have any withdrawal problems.
There are also other options available depending upon the trader's location. Traders who are in China can use China Bpay, and UnionPay and they can check the website for further clarification.

From the customer's OANDA reviews, we can see that the traders are satisfied with the present money transfer methods offered by this broker.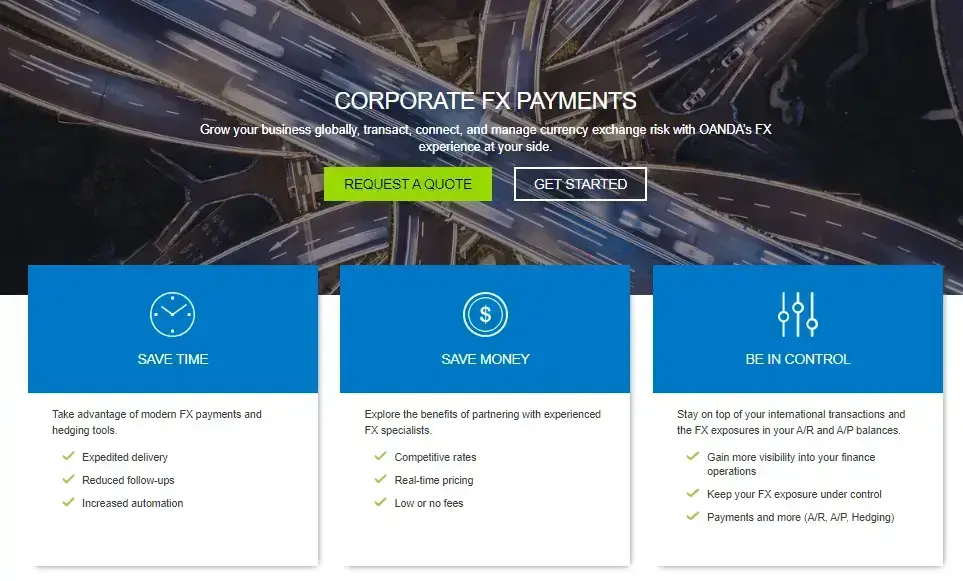 Commission
Like most of the online forex brokers, this broker does not charge any commission for their trading services. Rather, what traders pay is a spread dependent on real-time market values. Based on the currency traded, spreads begin from as low as 1.1 pips. Moreover, spreads for indices are even lower, beginning from as low as 0.5 pips. Traders are forewarned that during times of high volatility, the spreads tend to be widened. There are three plans accessible for traders, like –
The best feature of this plan is that it gives customers a free 30 days trial. New customers are asked to utilize this plan to access Oanda's API for requesting a limit of 1000 exchange rates equal to 190 currencies.
The Premium Plan offered by Oanda costs 400 dollars every month. They also get daily ask rates, average and mid bids, and rates for more than 190 precious metals and currencies amongst others.
Advanced plan costs 750 dollars for which customers get unlimited monthly quotes, high and average rates, period low, access to sales engineers for extra integration support, phone support, among other benefits.
Withdrawal fees
We get to know from the OANDA review that it charges no withdrawal fees for the first transfer every month for debit cards while PayPal is free for EUR, USD, and GBP transactions. Then again, bank transfers cost a minimum of 20 dollars for both international and domestic, and the subsequent debit card withdrawals during the month cost 15 dollars each.
Minimum Initial Deposit
One of the best features of this broker is, Oanda does not require a minimum initial deposit. This broker guarantees the day traders to trade with limited capital. Additionally, Oanda's minimum lot size is one unit of the base currency of the quote. Also, they offer Nano lots and a lot size calculator.
Inactivity Fees
Oanda's trading fees are clear and highly competitive. Besides, Oanda presented inactivity fees last September 2016. This will affect those traders who have not placed any trades for the last two years.
Spreads and Leverage
Here, spreads offerings are highly competitive. For currency sets, the EUR/USD set can be as low as 1 pip. Besides, spreads for CFDs change by asset choice. Also, Oanda offers an online tab on its site that gives details about the prevailing spreads on the assets offered, each changing progressively. Concerning leverage, the standard of 50:1 for majors and 20:1 for exotics applies to currency sets, while leverage for CFDs might widely vary based on the sector of the market.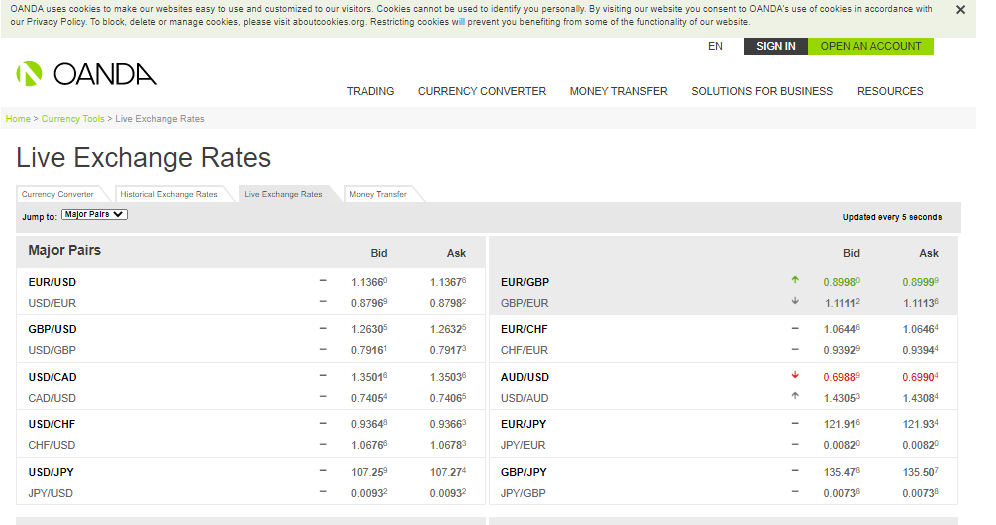 Is Oanda safe or a scam?
Oanda is regulated and authorized by several government agencies because of its global presence and it covers various jurisdictions.
We can also say that this broker complies with the international standards and the client's fund is added to the segregated account which is safe if the company goes insolvent.
The trader should be well aware of the fact that the regulated company is very safe to trade with and its actions are strictly monitored and complied with the regulatory guidelines.
Trading Platforms
We found from OANDA reviews that it has two basic types of trading platforms, the OANDA's MetaTrader4 (MT4) trading platform, and the FXTrade WebTrader. Moreover, the best MT4 forex brokers are highly respected by the online trading network for its sophisticated features and advanced trading tools. Concerning FXTrade WebTrader, it needs JAVA to run. Since it is online, traders can log in the platform from anyplace on the planet as long as they have a net connection.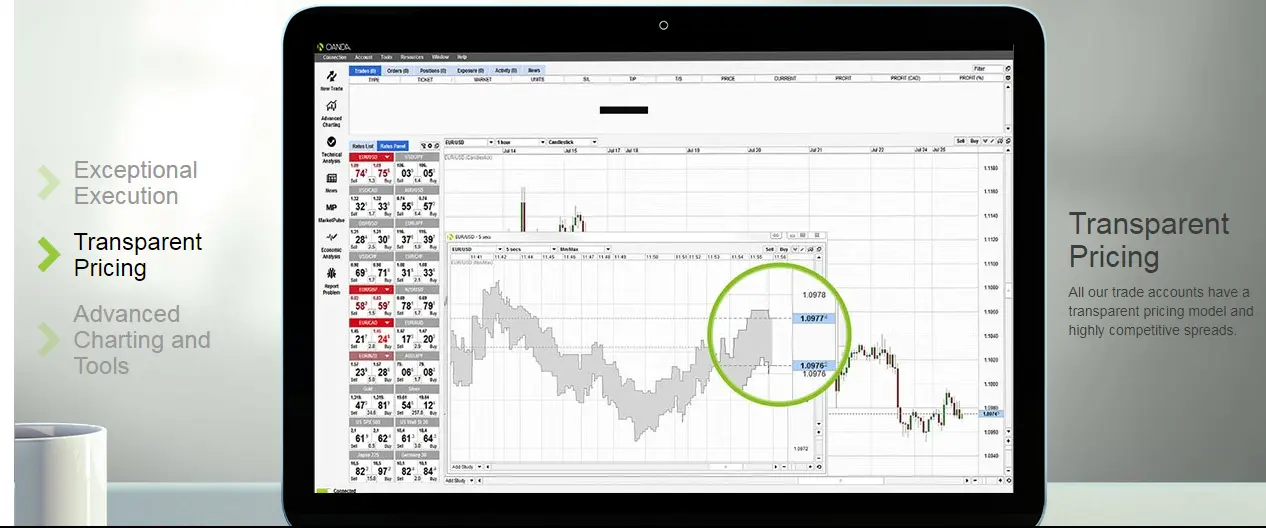 Below given is a table of comparison regarding the features of the trading platform between Oanda and Interactive Brokers platforms
| | | |
| --- | --- | --- |
| Features | Oanda | Interactive Brokers |
| Desktop platform | Yes | Yes |
| Web platform | Yes | Yes |
| Proprietary platform | Yes | Yes |
| Social/ copy trading | Yes | No |
| MT4(Meta trader4) | Yes | No |
| MT5(Metatrader5) | No | No |
| Ctrader | No | No |
FxTrade
Regarding FX trade, it is an essential segment of Oanda. In general, the framework is well structured and simple to use, offering a huge number of analytics and tools.
FxTrade API Libraries
As per our Oanda review, a membership to Oanda implies that the trader can explore automated trading. Further, Application program Interface python tutorials are also available online to assist the trader with benefiting from the best forex trading API tools. Automated trading permits the trader to execute several trades than is done physically. It likewise implies that the trader can be active in any number of markets from commodities to Bitcoin CFDs to binary options.
For Developers and experienced traders, the FxTrade API libraries can help the following –
Can access present and past market information
Access past transactions
Risk-free testing
Stop-loss, entry orders or obtains profit
Trade requests
MetaTrader 4
For traders who don't like the Oanda's desktop platform, they have the choice of the MetaTrader 4 (MT4) download. This includes watch lists, advanced charting, plus trade automation through an "expert advisor" (EA) plugin. The trader can save chart profiles and layouts. Additionally, the traders can draw swap rates and live monthly exchange rate charts within the platform.

Mobile App
If the trader is always on the move, having the option to enter and leave positions from the mobile or tablet can be extremely useful.

Traders looking for mobile and iPad OANDA reviews will be excited with the functionalities of the FxTrade mobile trading platform.

 Also, it integrates with a wide range of devices from the iPhone to Windows Phone 8.
The FXTrade mobile trading platform offers a significant amount of functionality into the platform. Moreover, the mobile application offers similar functionality which is similar to the desktop application. Additionally, traders can access Oanda's complex order types, trading instruments, and account analytics all from their Mobile phone.
The mobile platform additionally includes charts that have price overlays, indicators, and adaptable presentation styles and the capacity to directly trade from the chart, just like a desktop application. Some of the other features include economic analysis and news feed.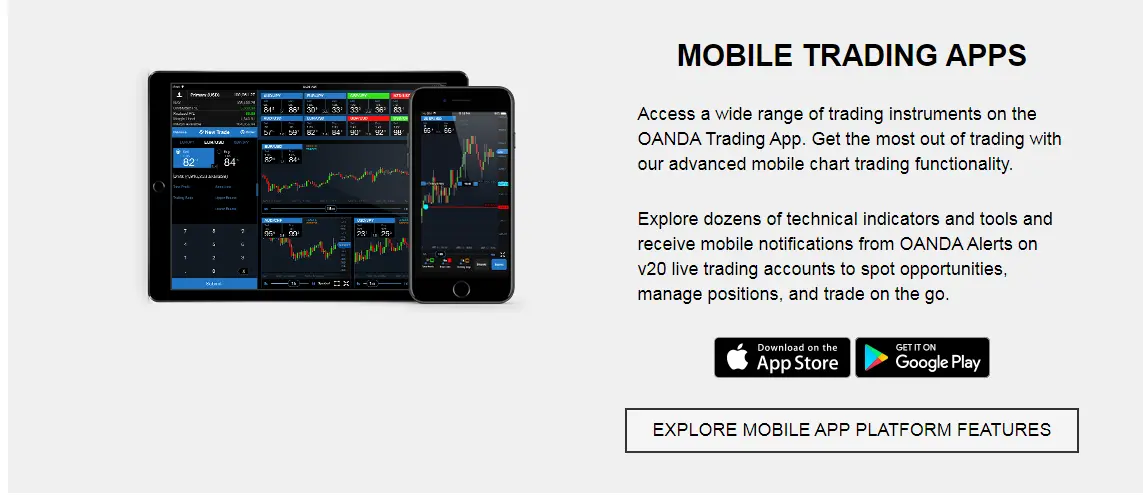 Trading tools
Oanda had partnered with MotiveWave to offer traders, the professional charting analysis Software. Further, this technical analysis and professional charting platform offer over 250 indicators/built-in studies and 30 built-in trading methodologies. This superior and simple-to-use software is a powerful tool for every trader.

This instrument is powered through Autochartist; this tool offers a short synopsis of the markets. An email is sent to brokers before they start analysis for the day. Market Reports give a technical standpoint of the forex markets for the following 48 hours.
Execution Speed of Orders

Oanda's servers are probably the quickest on the planet with 98 percent of trades executed under 0.07 seconds from August 2013 and August 2014. They make sure that there are no re-quotes with the orders executed at the market process and also ensure that there are no automated rejections occur.
Technical Analysis Tools
OANDA utilizes the latest technology trading application with a smooth UI, enhanced charting tools and full visibility in pricing to permit more customizable options to suit trader's needs. Additionally, the application takes into consideration easy mobile navigation from a single screen.
Besides, OANDA has added the capability to hide empty candles from the "settings menu" and to change the shades of the candles. Besides, cross-hairs are currently connected to the main graph chart.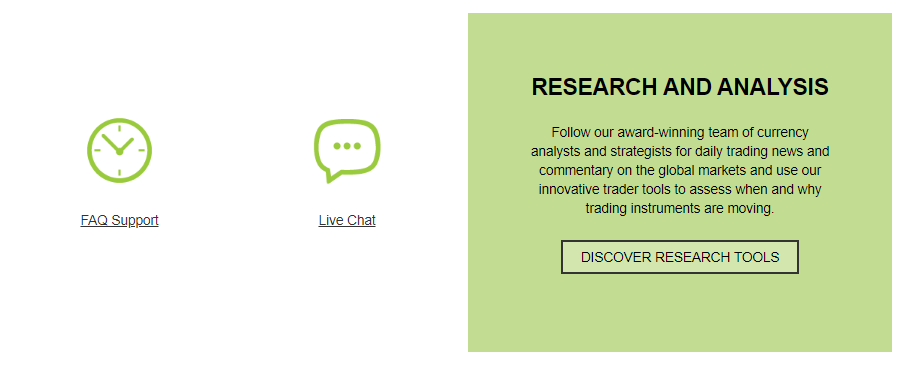 Charting
Oanda presents incredible charting tools. Also, the broker charts are easy to edit, very responsive, and the trader can use over 70 technical indicators.

Oanda's Academy
What makes Oanda different from others is their wider range of research and trading tools. Their offering outperforms many retail trading platforms.
Webinars
Here you will find online videos that cover a large group of subjects, from 'Getting started in Trading' to more developed topics like 'Fibonacci Retracements and Clusters: An Advanced Look at Trend Formation.'
Interviews
Oanda's academy offers interviews from experienced traders as they discuss a wide range of subjects, from trading plans to methodologies.
Tutorials
Tutorials can assist traders with an entire scope of topics, which also includes how to trade Bitcoin, identifying co-relations and reading data feeds. Moreover, the trader can figure out how to begin scalping and compare the latest live spreads. All these will help increase intraday trading profits.
Newsfeed
The newsfeed is accessible on the Market Pulse, News, and Economic analysis pages. Traders can explore these pages from the trading platforms. Additionally, there is a currency heat map, which is an extraordinary visual chart displaying FX pair changes in percentages. The traders can utilize the Forex Order Book tool, which is a 24-hour outline of open orders and positions held by Oanda's customers.
Research
It has a lot of research tools according to OANDA review, yet they are spread over five different pages. Few of them are given below –
Technical Analysis – Several technical analysis tools are backed by Autochartist
Algo Lab – an integral tool for API trading

News – In addition to MarketPulse articles, a news feed by Dow Jones Newswires, a noticeable third-party information supplier.
MarketPulse – Analysis is written by Oanda's research team. Additionally, it includes an economic calendar.
Economic Analysis – It shares the analysis of significant economic events. Moreover, there might be an overlap with MarketPulse, as the same number of articles can be found there also.
Oanda Labs – it shows the tools created by Oanda's developers. Besides, these tools are normally based on technical analysis such as candlestick pattern analysis.
One of the major advantages of Oanda is, research tools are accessible in several languages.
Below table gives a comparison of Oanda with Interactive Brokers with regards to research-
| | | |
| --- | --- | --- |
| Features | Oanda | Interactive Brokers |
| Forex News | Yes | Yes |
| Weekly Webinars | Yes | No |
| Autochartist | Yes | No |
| Currency Pairs | Yes | No |
| Economic calendar | Yes | Yes |
Customer Support
As per our OANDA review, Customer service at OANDA is accessible 5 days a week from Sunday (1 pm EST) to Friday (6 pm EST). The client support can be reached through live chat, fax, email or phone. To assist its customers, Oanda has an office in the following regions –
Bayfront, Singapore
London, UK
Tokyo, Japan
Chicago, USA
Toronto, Canada
Drawbacks
Even though Oanda offers several benefits, it has few drawbacks too. Let see a few of them.
In the Oanda platform, traders cannot access single-stock CFDs or cryptocurrencies.
Oanda Accounts do not have slippage or negative balance protection.
Few of Oanda's news and research resources are only accessible by launching external web applications or pages.
One of the major drawbacks of Oanda is it does not offer Metatrader 5 (MT5).
Even though Oanda comply with regulatory standards, deposit protections and additional slippage could benefit the day traders, especially in unstable markets. Moreover, more should be done in terms of negative balance protection.
In a business where time is essential, Oanda's occasionally slow customer assistance could frustrate and hamper highly active traders.
On the bright side, Oanda offers a huge number of trading and educational resources, from webinars, online courses to news sources. Nevertheless, these assets are fairly disorganized and are just accessible after launching external site pages. This could hinder the user's trading experience.
Oanda is not an ECN (Electronic communication Network) broker, it is a market initiator and a few people find lower spreads with ECN brokers.
Wrap up
Oanda is best for experienced traders with huge capital. It has a restricted product portfolio based on OANDA review 2023, as just forex and CFDs are accessible. Customer care is moderate, and bank withdrawal expenses are slightly high. Moreover, with features like automated trading capability, real-time pricing, and no minimum deposit requirement and trade sizes, we can see the reason why Oanda is desired by the traders. One of the added advantages is that Oanda is a long-established and regulated broker. Besides, Oanda is suited for casual investors, advanced traders who like to associate through API, and who use automated trading frameworks on MT4.
FAQ's
1. Is Oanda legit?
Oanda was founded in 1996 and it is regulated by 61 jurisdictions, by making it a safe and low-risk broker for CFDs and Forex trading. Besides, it offers research tools, market analysis, and news for its traders.
2. Is Oanda a good broker?
Oanda is an online American Forex broker and it is regulated by several regulatory bodies. It discloses its financials since it is regulated and authorized by top-tier bodies such as, the US retail foreign exchange dealer(RFED) and the UK financial conduct authority. All these shows that Oanda is a good broker.
3. Which is better, forex com or Oanda?
When we compare forex.com and Oanda, each of the broker's research capabilities, trading tools, and mobile apps are very good. Forex.com offers good trading tools for good trading experience, and Oanda offers research which is very useful for its experienced users.
4. How long does it take to withdraw from Oanda?
According to the OANDA review, the withdrawal time depends upon the payment processor utilized by the user. Paypal processing times are faster which takes one business day, and the bank wire transfer takes up to 7 business days. Oanda relies on old payment methods and does not support modern methods.
5. Is OANDA good for beginners?
The education system offered by Oanda offers the beginners with an introduction to trading and several other features. Further, the asset selection offered is great, and the trading platform is user-friendly. This feature supports the new traders by choosing Oanda the best choice for beginners.