Plus500 is an industry pioneer providing CFDs (Contracts for Difference) and trading facilities for forex, cryptocurrency, ETFs, options, commodities, and indices. Plus500CY Ltd offers a Plus500 trading platform that is authorized and regulated by the Cyprus Securities and Exchange Commission (250/14). The company is authorized and regulated by the Cyprus Securities and Exchange Commission (CySEC) to offer CFDs in various products. Subsidiaries of Plus500 are approved and directed by various regulators, including top-level controllers like the Financial Conduct Authority (FCA) from the UK.
What is Plus500?
Plus500 is one of the most popular and leading online brokers based on the Plus500 review, which helps the user to trade in commodities, CFD shares, and Forex.

By using Plus500, the trader can trade using the innovative webtrader, and also by using orders the user can automate their trading activities.
The user can start trading with Plus500 with a minimum of $100. Additionally, they can try various trading possibilities without any risk. With the demo account offered at $40,000 virtual funds, the trader can test the reliability of the broker.
Plus500 broker is regulated by the financial conduct authority, which is the official regulatory body of England that ensures that the brokers deal with the client funds safely. Moreover, Plus500 UK holds several segregated accounts compared to other UK trading brokers, where the trader is ensured that their money is secure.
Background
Plus500 has a 10 years track record and was established in 2008. Additionally, Plus500 is listed on the Main Market of the London Stock Exchange, which is a major advantage with regards to security.
Beginning from 9th March 2018, the largest owners of the organization were big investment banks and asset management organizations, such as Morgan Stanley and JPMorgan.
Brighttech Investments is considered as the biggest owner, having a stake of 9.99 percent. Additionally, one of the founders, Alon Gonen, was also amongst the largest owners through Sparta24 Limited.
A bit of investment advice, CFDs are complex instruments and come with a high risk of losing money rapidly because of leverage. 76.5% of retail investor accounts lose money when trading CFDs and forex with this broker. You should consider whether you know how CFDs work and whether you can afford to take the high risk of losing your money.
Features
Plus500 is one of the leading online brokers and it is listed in the London stock exchange. Let us see some of the important features of this broker –
Plus500 is regulated by top tier international financial authorities, which includes the Australian Securities and Investments Commission (ASIC) and the UK's Financial Conduct Authority (FCA).
The organization offers access to extensive product lines.
As per our Plus500 review, it does not charge commissions on any of its trades. All expenses are confined within the spread for over 2,000 trading instruments which are offered on Plus500's WebTrader platform.
It has a wide range of tradable instruments, which includes 50 forex sets, options, stock indices, with a minimum deposit to open a live account. Plus500 allows new market participants with videos to learn more about online trading.
Plus 500 is part of the FTSE 250 Index of leading mid-cap listed companies who have licenses in important financial hubs including, the United Kingdom, New Zealand, Australia, Singapore, and Israel.
For trading in Plus500 in its product offering, users can select from its web-based, and mobile trading platforms.
It offers deposit and withdrawal services which are good. The traders have several options, the process is free of charge and simple. Moreover, the traders can also trade with options on a few CFDs, stock, and stock index.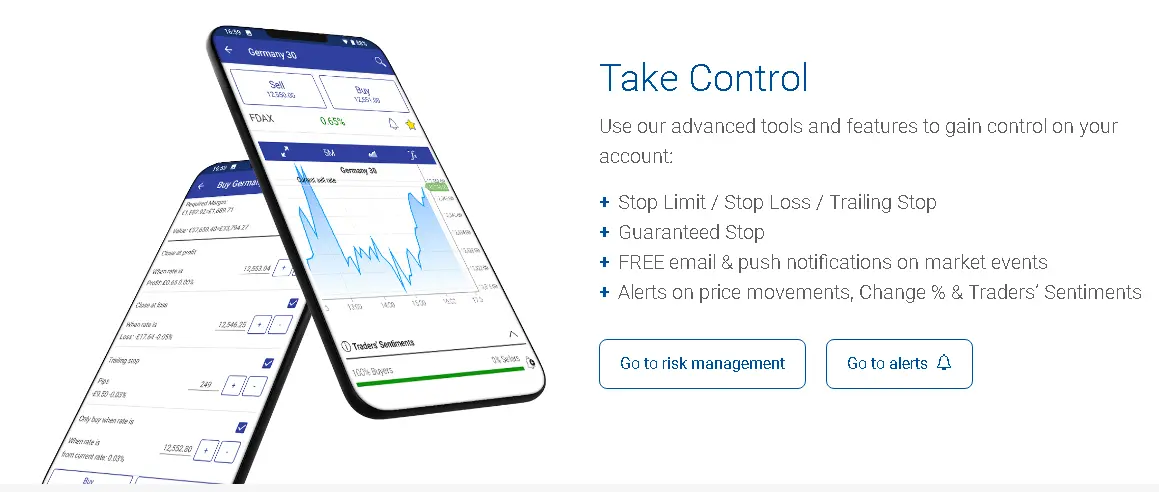 Is Plus500 Safe to Use?
It handles the trader's money and their user data like passwords and credit card details with the utmost care to protect the customers. It offers security and risk management features to safeguard the data from hackers.
Plus500 is protected by SSL (secure socket layer technology) which immediately transfers sensitive data to a secure environment by a way of encryption.
It offers two-factor authentication, even though the trader submits their username and password during login. The necessity to provide two-factor authentication is to confirm user identity. Besides the confirmation code is sent through email, phone, or an app and it expires within minutes.
Plus500 holds the trader's deposits in segregated trust accounts which are sorted out according to the regulatory requirements. This offers protection to the client funds in case Plus500 goes bankrupt.
It provides various tools to help the traders to manage their risk factors. Some of them include stop-limit / stop loss, trailing stop tools, and guaranteed stop. Additionally, Plus500 provides alerts on market events and price movements for its traders.
Is Plus500 reliable?
As per our Plus500 review, we can say that Plus500 is a safe and reliable broker. The regulatory authority like the Financial Conduct Authority ensures that it stays that way. Since they insist on keeping the client's money safe in a separate account, the trader need not worry about the safety of the account. Besides, the trader can try this trading platform risk-free by using a free demo account. If you are comfortable with the trading broker, you can proceed with signing up and start live trading.
Advantages
Plus500 is listed on the London Stock Exchange and is also regulated by more than one top-tier financial authority, which includes the Australian Securities and Investments Commission (ASIC) and the UK's Financial Conduct Authority (FCA). Let us see few advantages of this broker –
The user can open a demo account free of charge within a few minutes which is 100% online, where the trader can trade with the virtual funds offered by the broker and there is no risk of using real funds.
When compared to other brokers, plus 500 offers lower fees for the benefit of its traders.
It is considered as a safe broker because it is regulated with various regulatory bodies.
One of the major advantages is, the company is listed on the London Stock Exchange.

There are several good Plus500 reviews about the software being user-friendly and it is the preferred trading platform for advanced traders.
Who can use Plus500?
Plus500 is an industry leader that provides CFDs (contract for difference) and leveraged trading. It offers more than 2000 instruments in its portfolio.
Some of the portfolios offered by Plus500 are commodities, cryptocurrencies, ETFs, Forex, indices, options, shares, and all the trading instruments offered by Plus500 are leveraged.
Consequently, we can say the platform is most suitable for advanced traders rather than beginners, as the CFD trading offered by this trader is more advanced when compared to traditional trading. Moreover, the leveraged trades can lead to greater losses that cannot be handled by a beginner.
CFD is a highly complex asset and it is also known as a derivative product, hence utmost care should be taken when dealing with this type of security or asset.
Plus500 can be considered as a suitable option if you are looking for a brokerage firm that is licensed and authorized to operate in various jurisdictions, then Plus500 is the right choice.
Further, we highly recommend this brokerage who is looking for a broker with good spreads and commissions without hidden charges and with a trading platform easy to use.
If you are looking for features such as comprehensive educational resources, free VPS, and advanced trading platforms like MT4 or MT5, this brokerage will not suit your needs.
Account opening process
Plus500 account opening process is easy and quick.

We get to know from Plus500 reviews that the user needs to go to the broker's home page to register, and after the verification process, the registration process is complete.

 The trader can start with the demo account by trading with virtual funds.
To start trading with a live account using real money, the trader needs to go through the verification process and they need to provide certain details such as full name, proof of Identity, phone number, email, and proof of address.
These documents can be uploaded in the trading platform to complete the application process, the trader will also need to identify and verify their source of funds by adding a minimum deposit of $100.
By using this platform, the traders can apply for a Plus500 professional account. Moreover, it offers client money protection and negative balance protection which is highly beneficial to the traders.
Minimum Deposit
The minimum deposit required by the brokerage depends upon the mode of depositing the funds. For credit and debit cards, electronic payments the platform charges the minimum deposit of $100. For wire transfer, the trader needs to deposit a minimum of $500 to start trading.
Platforms
Plus500 deploys WebTrader platform and a proprietary trading platform.
The trading platform is accessible from anywhere. One of the reasons why this platform is unique is that it stays consistent in all versions. Users can switch between the platforms with ease without having to re-assemble.
It offers a free demo account that can be utilized for an unlimited measure of time. The demo account is particularly important for new or inexperienced users who are looking to venture into trading or try out their trading strategies before investing.
Plus500 Website
As per our Plus500 review, Plus 500 website is very organized and user-friendly which makes it an enjoyable trading experience for new and experienced users. Moreover, the site is accessible in 32 distinct languages; and the traders are systematically redirected to their preferred webpage to their preferred language, regardless of whether they had been browsing earlier in some other language. Users can switch back to another language whenever the need arises.
No Automated Trading
Special features are not provided by Plus500. Further, it does not allow for automated trading through expert advisors or any other trading algorithms for that matter. As per our Plus500 review, it does not give back-testing functionality or enable its customers to manage external funds through MAM or PAMM trading platforms. The organization essentially furnishes a streamlined WebTrader platform alongside similar mobile trading applications for iPad, iPhone, and Android gadgets where customers can place a trade and monitor them.
Plus500 WebTrader
This platform allows traders to use their demo account for an unlimited period. This feature is not usual for CFD suppliers who ordinarily limit their demo account for 2–3 months. The live and demo account have real-time streaming quotes and they offer up to 1:30 leverage.
Further, Webtrader permits single click activities for opening and closing trades, setting entry and stop limits, setting the limit and stop-loss, placing direct orders, and charting, where no downloading is needed.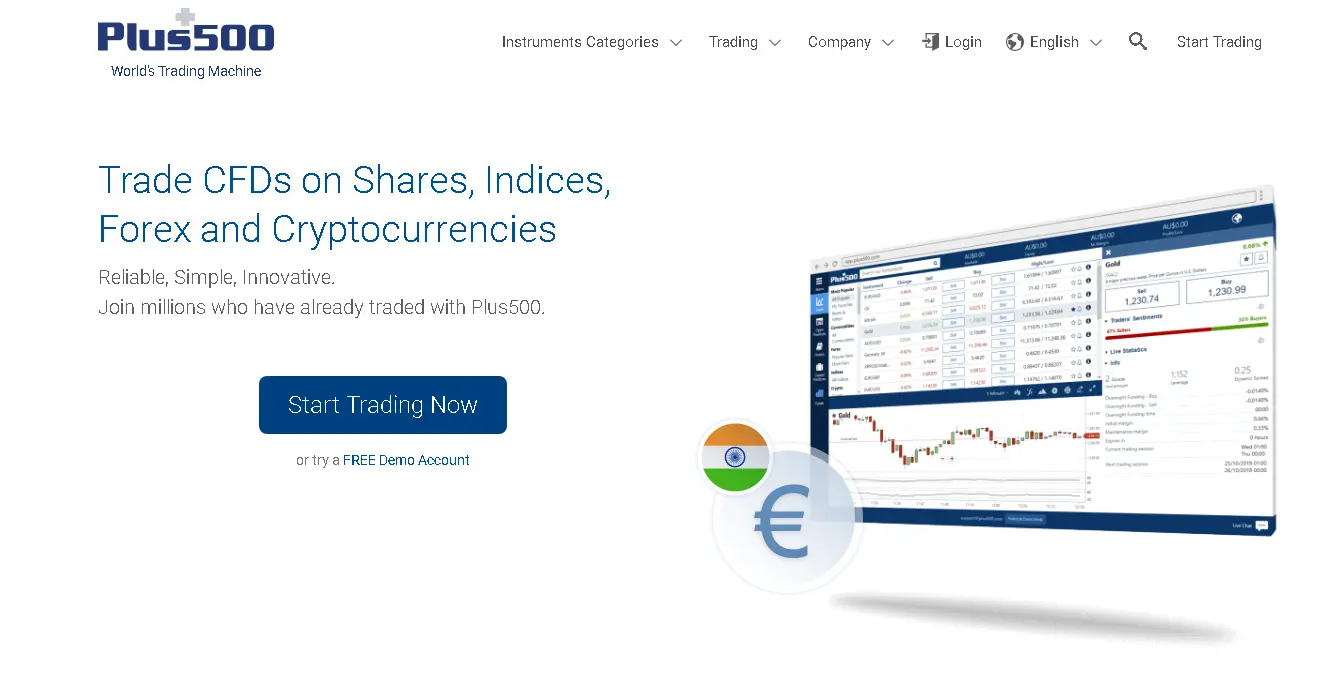 WebTrader Experience
As per our Plus500 review, Plus500's WebTrader platform is a streamlined trading platform that is steady and simple to access from any browser. Suffice to say, WebTrader has a simple and functional interface that allows the trader to make watch lists, analyze the technical charts, and supervise trades.
Moreover, the technical charts can be extended to full screen and offer over 100 specialized indicators that the trader can apply to various time frames.
However, compared to other brokers, it does not offer the MetaTrader4 platform option which would give the users greater functionality and adaptability.
Mobile Experience
Plus500 mobile applications comprise all the functionality compared to other mobile trading apps. Traders can access Plus500's conditional orders, account details, 2,000+ trading instruments, charting all including 100 plus technical indicators from the iPhone, Android, or iPad mobile applications.
Its security measures comprise fingerprint unlock, in addition to other things, to open the application. Moreover, the charts can be extended to full screen to give greater clarity during the technical analysis.
As per our Plus500 review, traders can deposit and withdraw money from the mobile application. Besides, few traders will be worried about the absence of improved safety measures, particularly since these applications give an immediate line of access to funds account.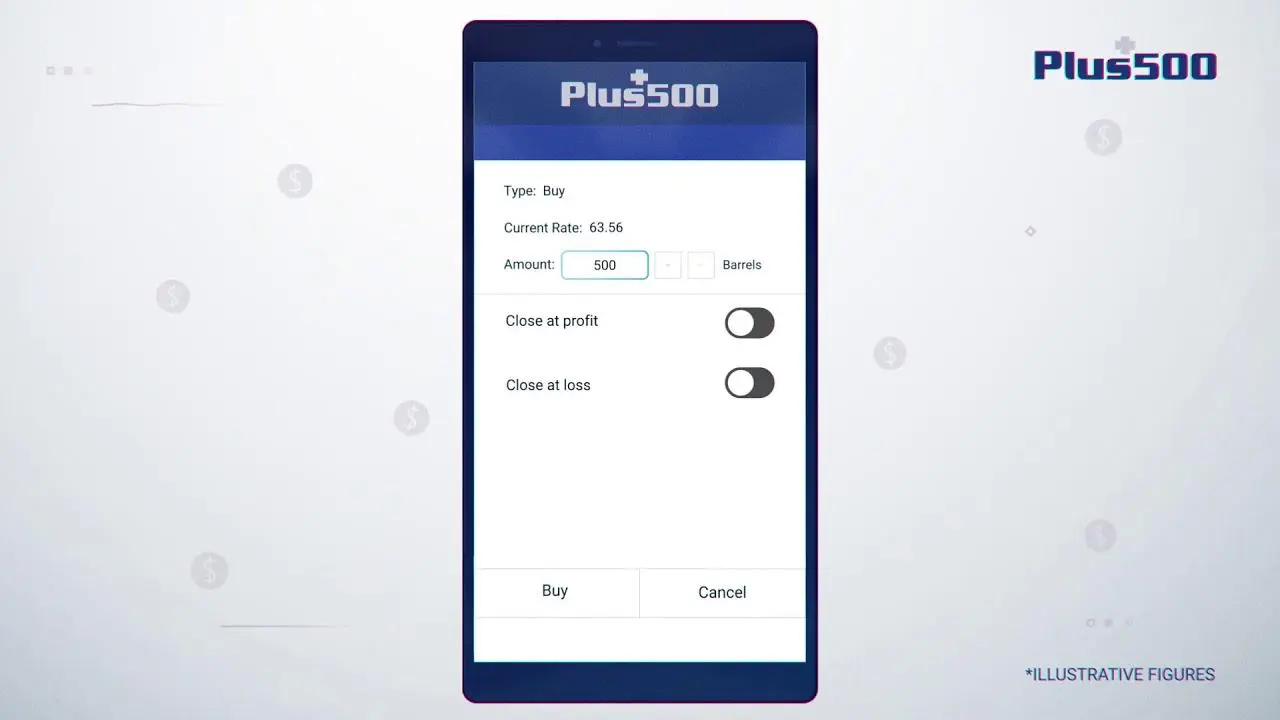 According to Plus500 reviews, it offers trading instruments with their CFD and forex services, which include cryptocurrencies, indices, shares, options, commodities, and ETFs.

We can find a complete list of trading instruments on its site through the trading Instruments button in the main navigation bar. This list comprises 27 indices, 65 forex sets, 10 cryptocurrency pairs, 20 commodities, and 81 ETFs.
Moreover, options are classified into popular options, in addition to 23 different classes, like Alphabet, Germany 30, and the USA 500. Further, shares are segmented into popular shares from 21 different nations.
A bit of investment advice, CFDs are complex instruments and come with a high risk of losing money rapidly because of leverage. 76.5% of retail investor accounts lose money when trading CFDs and forex with this broker. You should consider whether you know how CFDs work and whether you can afford to take the high risk of losing your money.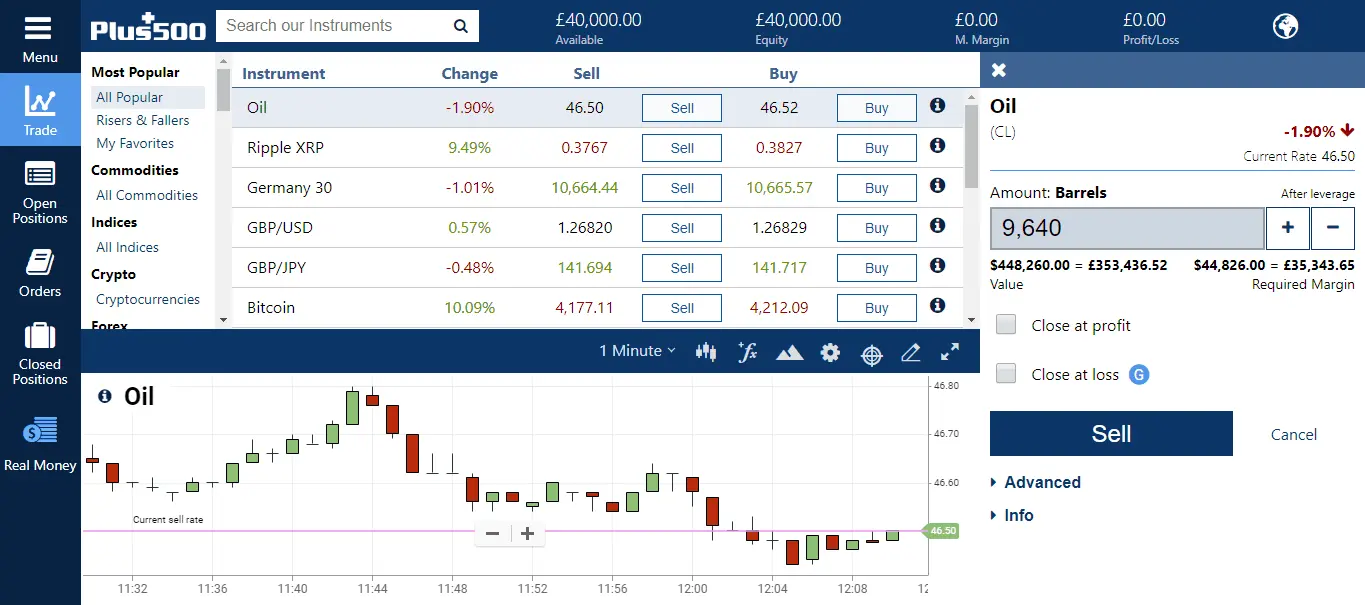 Crypto Trading
Traders having interest in cryptocurrency will be excited to know that supported cryptocurrency sets on Plus500 are, BTC/USD, ETH/BTC, LTC/USD, BCH/USD, NEO/USD, ETH/USD, IOT/USD, XRP/USD, XMR/USD, and EOS/USD. Moreover, there is support for sets that include Ethereum, Bitcoin Cash, Bitcoin, NEO, Litecoin, IOTA, Monero, Ripple, and EOS.

As per our plus500 review, like most forex and CFD suppliers, it offers crypto trading restricted leverage.

Over and above, the leverage on the cryptocurrency trading is constrained to shield brokers from the instability that can cause extreme losses.
Few noteworthy benefits of trading Bitcoin or other cryptocurrencies with Plus500 are their Traders Sentiment instrument which is included predominantly on every digital currency page. This instrument shows what percentage of traders are purchasing and selling every cryptocurrency so that the user can consider patterns before buying.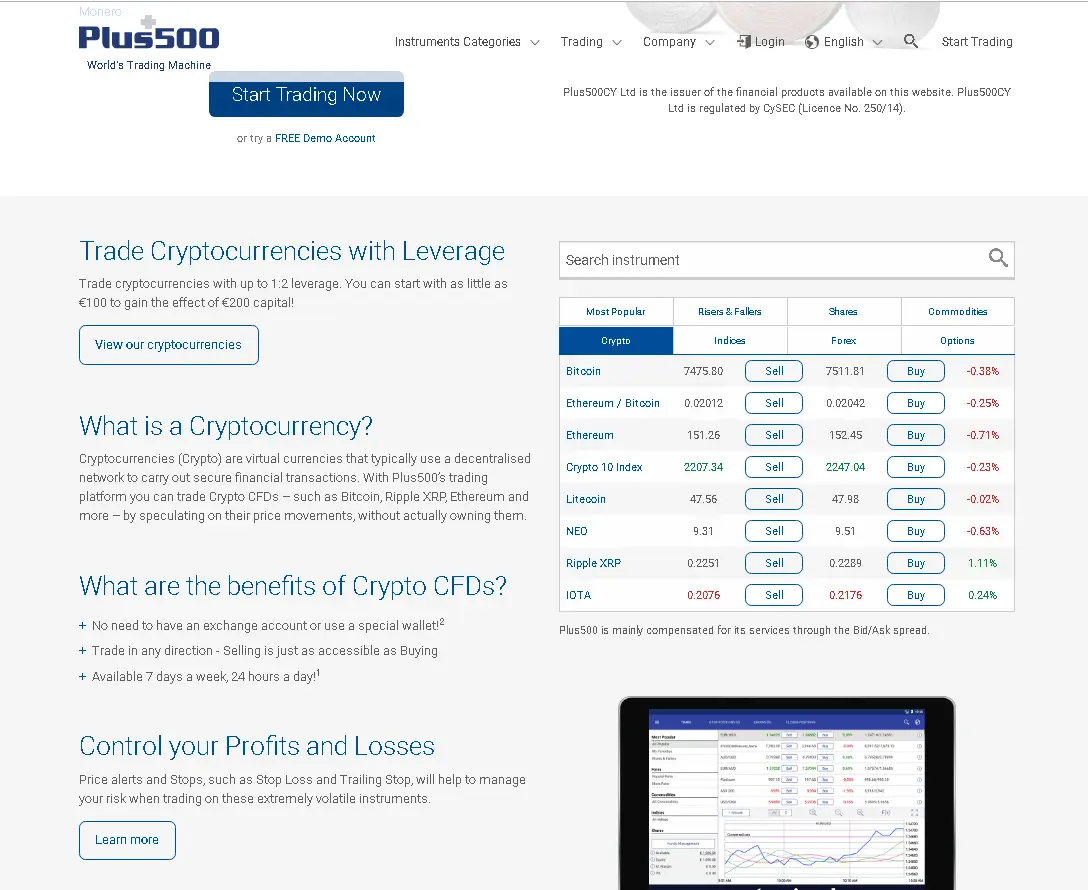 Plus500 Fees
Few of the services from Plus500 incur no fees or commissions. There are zero charges from Plus500 related to real-time forex quotes, deposits, withdrawals, live share CFD prices, rolling positions, opening or closing trades, or dynamic graphs and charts. But users might have to pay some fees for exceeding the maximum number of monthly withdrawals
The user might have to pay fees when transferring money to and from their Plus500 account2. These charges are levied on rare instances by users' payment issuer or bank, and not by Plus500.
This broker makes its profits through the Buy/Sell (Bid/Ask) spread. So, when a trader opens a position, they actually "pay" the spread. This spread is not an additional charge or fee to be paid by the traders; it is incorporated into the Plus500 quoted rates itself.
76.4% of retail investor accounts lose money when trading CFDs with this provider. You should consider whether you can afford to take the high risk of losing your money.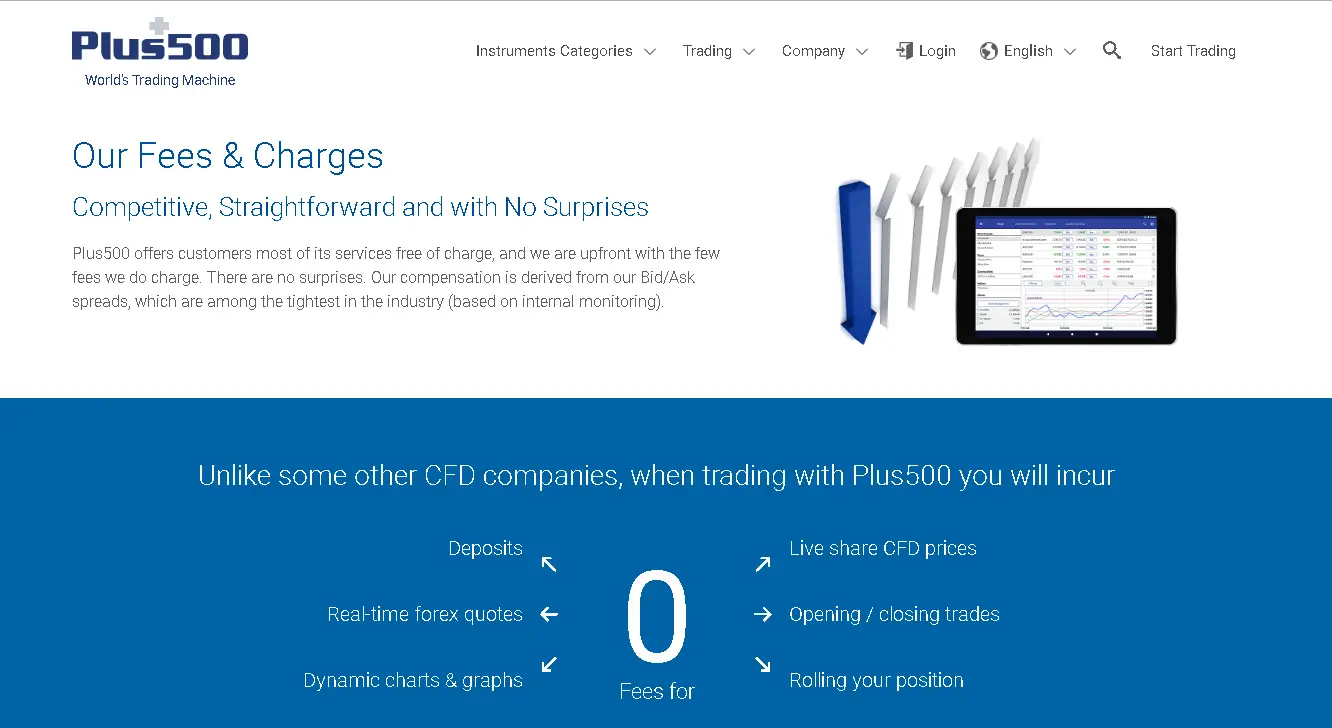 however, charges additional fees on these main occasions.
Overnight Funding
Currency Conversion Fee
Guaranteed Stop Order
Inactivity fee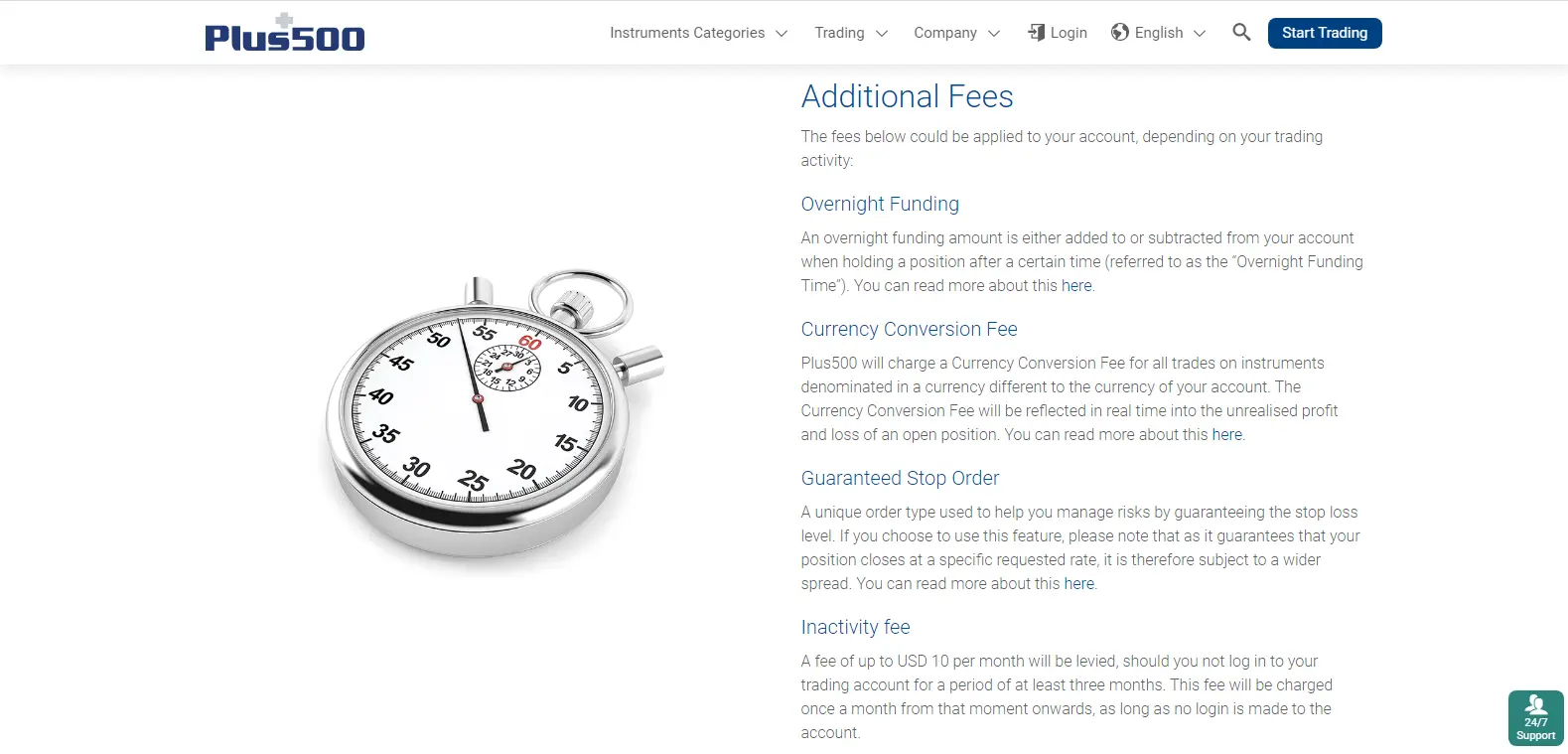 Plus500 – is it Suitable for Beginners?
The CFD and forex trading provided by the platform is much more advanced than traditional trading; hence the platform is not suited for beginners. Moreover, leveraged trades can bring about more losses that have been calculated initially.
Even though CFDs seem to be an incredible financial instrument, they are highly risky and are most appropriate for experienced traders.
Succinctly, beginners should keep away from CFDs as they include a lot of research, and expertise identified with limiting leverage and selecting the right trade positions.
Plus500 Demo Accounts
This broker offers a demo account, which is completely risk-free, as there is no chance of losing money. Plus500 account are free, and the user can choose the kind of account while registering. The difference between the demo and the real account is that the trader in the demo account cannot use real money. Everything else, from the trade conditions to the platform setup remains the same.
Plus500 Account Types
Plus500 suggests its customers open a single trading account and the organization maintains the right to close other opened accounts. Even though Plus500 permits to add an account, customers will not be able to move assets between the accounts; the accounts would function separately. The minimum deposit to open an account with this broker is $100.
Non-trading Fees
Plus500's non-trading charges and withdrawal charges are normal according to Plus500 review 2023. Traders can proceed with five free withdrawals each month. Besides, bank transfer withdrawals are consistently 6 dollars. Exceptionally, inactivity charges are very high; following 3 months there is a 10 dollars quarterly charge.
Education
Several brokers provide courses, digital books, videos, quizzes, and more support to help their clients learn about the sectors in which they are investing. Nonetheless, Plus500 provides none of these services. This broker provides one lawfully required "Key Information Document" (KID) which outlines the fundamentals of each accessible instrument and the risks related to trading with it. The KID has summary data on equities, options, indexes, forex, ETFs, cryptocurrencies and commodities.
Security
It handles a lot of sensitive information, like personal identification documents, bank and credit card details. All information is submitted on the organization's website or platform and is encrypted during the process. There is a chance that the client data being transmitted paves the way to be misused or to be intercepted by hackers.
Research Tools
Plus500 does not have more information, yet it offers very little information with regards to analysis, research, commentary, and tools. The organization gives little in-house research videos or articles and there are no news feeds on the website. Moreover, they do offer an Economic Calendar where most of the other websites offer on their site.
It provides customizable charts, where it helps traders to conduct technical analysis on any of the instruments while considering trading.
Also, it provides the Traders "Sentiment" indicator that shows traders what level of Plus500 customers are purchasing an instrument, similar to the EUR/USD currency set, and at what rate they are selling it.
Risk Management Offerings
Plus500 offers various risk management tools for its traders. Equity and Total position value can be seen from the Account Snapshot page which can be accessed from the main trading window.
Moreover, traders can also ensure 'Close at Profit' [Limit] or 'Close at Loss' [Stop loss] value levels for exclusive instruments which can restrict the trader's risk. This is an important feature we generally search for and one not offered by most of the CFD suppliers.
76.5% of retail investor accounts lose money when trading CFDs and forex with this broker.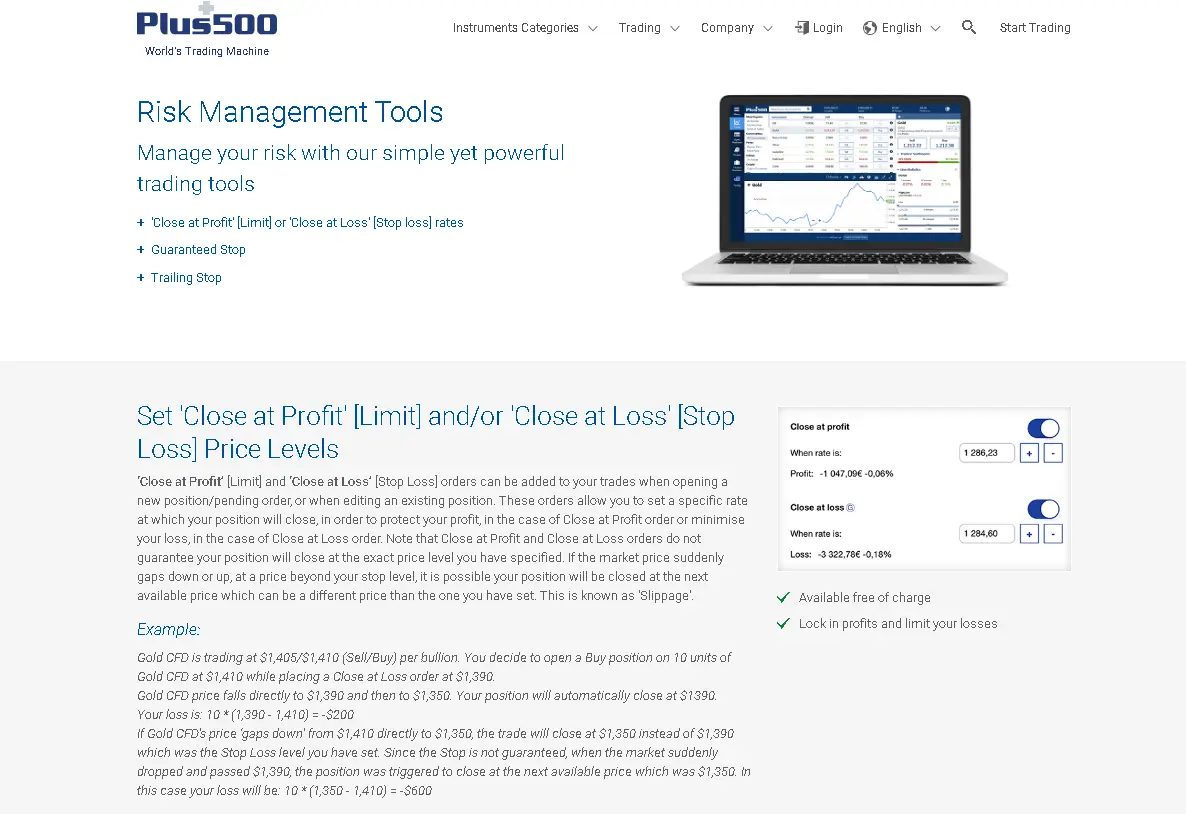 Additional Features
The Plus500 site can be viewed in 32 different languages and users might be consequently redirected to the website in the language they prefer, which is one of the major advantages when compared to other brokers.. This language switch is intended to make the traders more comfortable and ensure a good trading experience.
Plus500 is best for the cost-conscious user. Moreover, this broker has extremely focused spreads, which minimizes expenses.
Additional features like MT4, auto-trading, and expert advisors are not accessible. More experienced traders who want to enter and leave their trades physically may find the functionality tradeoff worth the lower costs.
Alerts for Traders
To assist traders to minimize their losses and make apt trading decisions, Plus500 offers the support to set up a range of alerts. Moreover, alerts are free and easy to set up and can be utilized on all devices.
Alerts can be set up through the main trading screen by clicking on the alert button. The traders can likewise view, edit or remove the alerts through the alerts tab that is given on the application menu.
The trader needs to specify the details of the alert, including values and will consequently receive a notice in real-time when those conditions are met. The alerts can also be sent by email, push notifications or through SMS messages.
Economic Calendar
Almost several brokers offer an economic calendar on their trading website, so does Plus500. The information on the economic calendar originates from Dow Jones.
For every event, we can view the time, nation/currency affected related instruments, title of the event, and rates for actual forecasts. Moreover, at the top of the calendar, the trader can change the view to a corporate events calendar.
Margin Trading
Plus500 trades are proceeded with margins, so traders must comprehend the margin estimations. Traders should keep in mind the margin prerequisites, which will differ for each financial instrument. Besides, Plus500 offers simple guidelines for these margin calculations in the FAQ section.
Customer Support
Plus500 offers professional, dedicated, and multilingual customer support in 16 different languages. Customer support is offered 24/7 by live chat and email. The traders can call customer service and clarify their doubts. Customer service can be reached through live chat, email, and WhatsApp. The traders can find the link of customer service on the website, besides offering an FAQ section, it also provides answers to frequently asked questions for opening an account, deposits, withdrawals, verification and several more.
Few Thoughts of Concern
Brokers on Plus500 are not given various choices with regards to executing their trades. They can place and screen their trades physically on Plus500's web-based or mobile trading platform. This platform is focused on those individuals who simply need a structure for executing trades.
As per our Plus500 reviews, it is most appropriate for traders who mean to carry out most of their research and analysis somewhere else. Guaranteed stops are accessible on certain business sectors; moreover, they come with and shall not be added to earlier opened trades.
Customer instruction materials are generally missing from the Plus500 platform and the trading platform which is accessible is light when compared to Plus500's rivals.
CFDs are complicated instruments and accompany a high danger of losing money quickly because of leverage. Before proceeding, one should think about whether they are ready to take the risk of losing funds or not.
The Plus500 trading platform is simple to use. However, they lack the latest trading tools and features and offer just the basics. Also, copy trading is not provided, which are offered by several brokers in the market currently.
76.5% of retail investor accounts lose money when trading CFDs with this provider. You should consider whether you can afford to take the high risk of losing your money.
Limitations
It has a constrained item portfolio– gives only CFDs, which have high financing rates. Some standard research devices similar to recommendations, news feeds, fundamental information, are absent on the Plus 500 platform.
Financing rates of Plus500 are published only on the trading platform, and the estimation technique is not straightforward.
Plus500 can change the rates without caution. This can impact the trading fees without question if the trader tends to hold positions for a longer time.
Wrap Up
Plus500 can be a perfect decision for less-experienced users as the platform is clear to make sense and intended to make the trading experience smooth and hasslefree. Plus500 has a straightforward, simple-to-utilize mobile trading platform that is particularly well structured. Moreover, the account opening procedure is completely advanced and digital. Spreads are combative and Plus500 has various innovative solutions like cryptocurrency CFDs. Concerning pricing, it offers few spreads that were priced competitively, while spreads on different sets are not. Lastly, Plus500 is not an appropriate choice for high-volume or active traders.
76.4% of retail investor accounts lose money when trading CFDs with this provider. You should consider whether you can afford to take the high risk of losing your money.
FAQ's
1. Is Plus500 any good?
It is one of the leading online brokers established in the year 2008, with more than $1 billion in revenue, it has developed drastically to become one of the most popular online brokers for forex and CFD trading. It has passed strict regulatory controls and it offers great customer service, charges competitive fees, and offers a good trading platform that is easy to use.
2. Can you make money with Plus500?
The traders can certainly make money by using this trading platform; there are several good Plus500 reviews and testimonials that are offered on the internet, that the traders are making money by trading CFDs on the platform.
3. How do I withdraw money from Plus500?
When a trader wants to withdraw money from Plus500 it offers various methods such as credit and debit cards, PayPal, Skrill, and bank wire transfer.
4. What is the minimum deposit at Plus500?
The minimum deposit needed by the platform is $100 for debit & credit cards and electronic wallets and for bank transfer, it is $500.
5. Is Plus500 regulated?
It is regulated by the UK financial conduct authority which is the main regulator for Plus500. Additionally, this broker is regulated by the Cyprus Securities and Exchange Commission, the New Zealand Financial Markets Authority, the Australian Securities and Investments Commission, the South Africa Financial Services Board, the Monetary Authority of Singapore, and the Israel Securities Authority.