Firstrade Review 2020

Firstrade is an online trading broker that offers the capacity to trade Stocks, Mutual Funds, ETFs, and Options at free of cost. This broker offers good features compared to other trading platforms, such as zero minimum balance and commission-free trades. Firstrade can be a good choice for traders who are looking to invest in stocks or Mutual funds at the lowest prices. Further, this broker offers various trading options, like Navigator, the options Wizard which also includes a mobile application for the benefit of its traders. Few Pros and Cons of this broker are discussed below –
| | |
| --- | --- |
| Pros | Cons |
| Zero contract fee on options trades | No Forex, crypto, futures options or futures trading |
| Mutual funds are commission-free | Limited functionality in web and mobile platforms |
| Commission-free for stocks, ETF and options trade | Customer support is not available 24/7 |
| Customer Support for traditional and simplified Chinese and English accounts | Slightly high margin rates |
| Streamlined trading experience | Can trade only in US markets |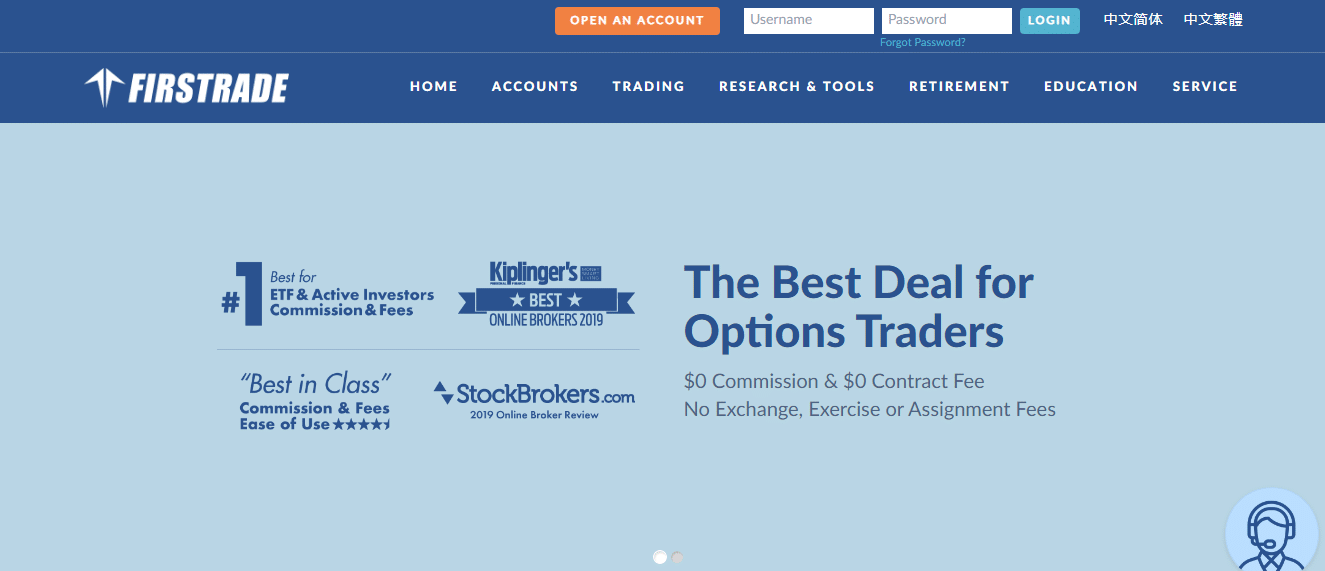 Background
Firstrade started its journey from the area of Flushing, Queens, New York. The local network was made up of considerably immigrants from China. Firstrade was one of the first discount brokers and has stayed consistent throughout its options contracts costs and its fees.
The organization started as First Flushing Securities in 1985. It continued to develop, to a great extent by coordinating operations on the web. By 1997, the organization was renamed as Firstrade Securities, Inc. Later, it launched Firstrade.com as one of the leading online trading platforms.
Features
Firstrade likewise offers a wide range of accounts, which includes various types of IRAs, and also joint taxable and individual taxable accounts, custodial accounts and Coverdell Education Savings Account (ESA). Also, the user can have access to Morningstar stock reports, among other useful research tools, so that the trader can get an insight of picking up the right investments.
This discount broker currently offers a few virtual trading options, which include a supportive mobile application. It is a good choice for active traders and options investors who need a simple order entry platform having more option spreads and zero costs.
One of the main advantages of using Firstrade is its Securities lending program. If a trader is looking for additional income, they simply need to lend the stocks to other financial establishments, which could lead to bigger profits if they have bigger accounts. Also, there are no restrictions currently on the account holders; the trader can sell their stocks anytime.
Firstrade offers zero commission charges practically on all trades, which comprise of stocks, ETFs, options, and mutual funds. Even though there is a large number of products available such as stocks, ETFs, bonds, funds, and options, the trader cannot trade futures, futures options, forex, and cryptocurrencies.
This broker offers education tools and research; the traders can get the most use from Navigator and Options Wizard. Further, Navigator requires the trader to set up a Firstrade Premier account, which requires a 10,000 dollars minimum account balance.
Firstrade accounts are protected by the Securities Investors Protection Corporation (SIPC) for up to 500,000 dollars in cash or/and securities. Firstrade goes beyond and offers Firstrade Online Protection Guarantee for its traders. The organization will cover 100 percent of any loss the trader experience because of unauthorized activity in their online trading account.
The trader can trade stocks, bonds which include corporate bonds, U.S. Treasuries and agencies, and certificate of deposits. They can also trade exchange-traded funds along with over 11,000 mutual funds.
Firstrade offers an exclusive service called Upcoming IPOs. This service provides the trader with a monthly list of forthcoming IPOs. The monthly list includes the organization and symbol, the market it trades in, price, number of shares, expected IPO date and the offer amount.

Advantages
Firstrade is a leading broker that offers commission-free trading in stocks, ETFs, and options. Earlier, Firstrade was the only commission-free broker to offer retirement accounts. Firstrade does not charge any per-contract fees for an options trade, which is rare among online brokers.
Several brokers have a selection of mutual funds with no transaction fees, yet they charge somewhere in the range of 5 dollars to 49.99 dollars for purchasing or selling shares of funds that are not on their list. Firstrade does not do this. Moreover, Firstrade does not charge a trading fee on any of the several mutual funds it offers.
Firstrade Navigator enables the trader to see their positions, their balances, and trade all on one screen, with drop-and-drag customization of market-related data, tracking, and charts.
Additionally, Firstrade offers its traders the extended hours of trading like Premarket, regular hours and aftermarket trading for its traders.
Additionally, a restructured advanced screener helps in narrowing down the investment decisions by categorizing high-yielding quality stocks, Large-cap development stocks, small-cap funds, and several others. Options Wizard permits advanced analysis of potential gains and losses from options trading and over 40 complex options techniques.

Credits
In recent news, Firstrade had received high ratings from Kiplinger's Personal Finance, which named Firstrade as the best online broker for 2019 for active traders because of their low commission fees. In option, Firstrade added NICE Actimize SaaS to safeguard its platform to protect against illegal tax avoidance.
Security
Firstrade protects its investors for 500,000 dollars and it is regulated by the SEC and FINRA. However, the trader will not receive notifications for negative balances and Firstrade is not listed on the stock exchange. This broker has only one step authentication for login, which implies there can be a cybersecurity issue since most of the online trading platforms use two-step identification factors.
Offerings
Firstrade covers a wide range of investment options, and the organization offers an easy to use interface and extended hours of trading. The tools and resources offered to investors by the company are very helpful for beginners and active traders.
Firstrade customers will not have the option to trade forex, cryptocurrencies, futures, and futures options on its platform. Also, there are advanced features for options trading permitting the traders up to four legs for every spread.
Investment products of Firstrade comprise of –
Dividend Reinvestment Plan (DRIP)
Exchange-Traded Funds (ETFs)
Bonds/CDs/fixed incomes
Stocks
Options
Margin investing
Mutual funds
Securities Lending Income Program

Opening an Account
At Firstrade, new investors can open a brokerage account online, but it sometimes takes time to set up. Moreover, it might take up to 3 days to open an account because of the slow verification process. All US customers can open an account, but with a few restrictions. For US customers, they need to give verification documents of their citizenship and residency.
Types of Accounts
Regular investing
International accounts
IRAs
Business accounts
Custodial accounts
ESA educational planning
Cash management accounts
Firstrade's Premier accounts offer selective advantages to the individuals who qualify. In case if the trader is a Firstrade investor with large investments, they will qualify for below accounts –
Blue (10,000 dollars or above)
Gold (50,000 dollars or above)
Platinum (100,000 dollars or above)
Besides, targeted representative assistance is the best advantage of Firstrade's Premier accounts. Savings accounts, home equity lines of credit, mortgages are not offered.
Premier Services
Firstrade Gold Account is a service-based account for traders whose account balances are 50,000 dollars or more. Further, it includes the features of the basic service. It likewise offers dedicated customer support, reduced charges for internal asset transfers, copies of personal checks, account verification letters, and stop payment orders.
Platinum Account service is for account balances of 100,000 dollars or more. Some of the features are its dedicated customer support, waive fees for internal asset transfers, copies of personal checks, account verification letters, and stop payment orders.
Platforms
Firstrade's platform delivers, easy, simple to use trading experience for its traders. Firstrade's online trading platform, Firstrade Navigator, is accessible only to Firstrade Premier Clients, which means the trader should have an account balance of a minimum of 10,000 dollars. Indeed, even without Premier status, clients can access the platform's streaming present quotes, watchlist through the website. Even though the streaming list is easy to use, there is no optional field to customize the trader experience.

Trading Technology
Recently, Firstrade has developed its trading platform, Firstrade Navigator for active traders. Moreover, Navigator is accessible for desktop users who are applying through email. The procedure to get access to the platform is a bit difficult, yet users on an iPad can access it through the App Store without the application procedure. Real-time data and streaming quotes are accessible on online Navigator and mobile platforms. Firstrade is the best choice for smaller traders if their essential concern is to keep commission costs as low as possible.
| | |
| --- | --- |
| Pros | Cons |
| Good Search function | No two-step login |
| User- friendly | |
Firstrade Navigator
Firstrade Navigator is a very much structured and powerful framework with a great deal of significant data that can be instantly accessible, enabling the users to get down to details. Further, it is entirely customizable and has a collection of widgets that can be embedded in the dashboard. Stock charts and studies are additionally included. Moreover, Firstrade offers lots of videos, where traders can access to diversify their education.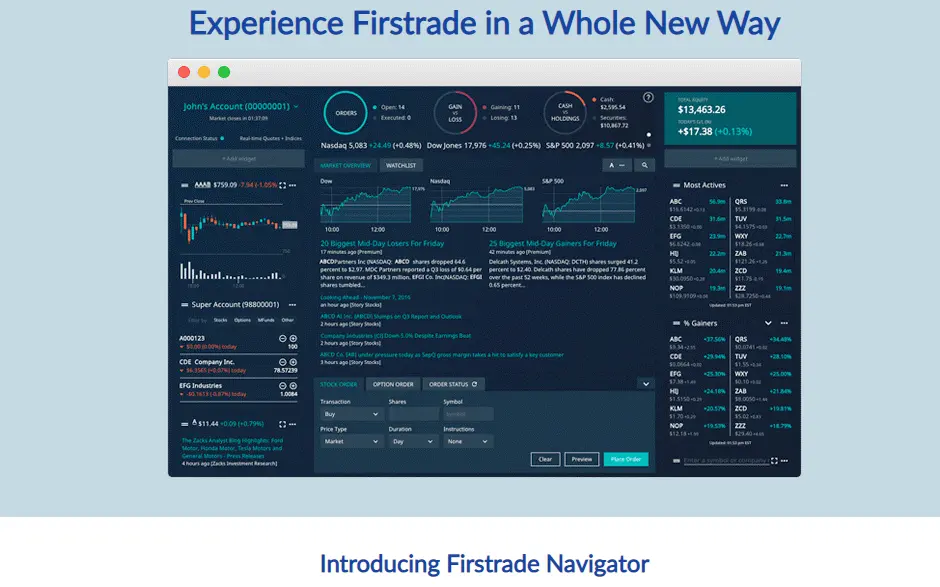 Firstrade's platform offers the following –
Manage and trade from one screen
Advanced technical charting
Customizable widgets
Adjustable layouts
Position simulator
Helpful graphs
Guides and podcasts available for education purposes
Mutual Funds
On the Firstrade website, there is a screener on the profile page for Mutual funds. The trader can use the mutual fund screening tool to display all the products available. The traders can purchase and sell mutual funds for free. Suffice to say, there is a short term redemption expense of 19.95 dollars that applies to any mutual fund shares held under 90 days.
Options Wizard
Options wizard provides comprehensive analytics for options traders. The Options Wizard includes the following –
One of the distinct areas where Firstrade stands out is the options trading. Additionally, the website offers various instruments and information resources to help options traders. One of the essential offerings on the platform is the Options Wizard.
This instrument gives the trader instant feedback on value and the probability of success of any options trades the trader makes. It utilizes sophisticated analytics that changes market data into significant information.
The Options Wizard gives a professional evaluation in options and analytics. This incorporates trend indicators, strategy checklists, support and resistance levels, technical and fundamental rankings, over 65 technical indicators, profit and loss simulations, and over 40 complex options procedures.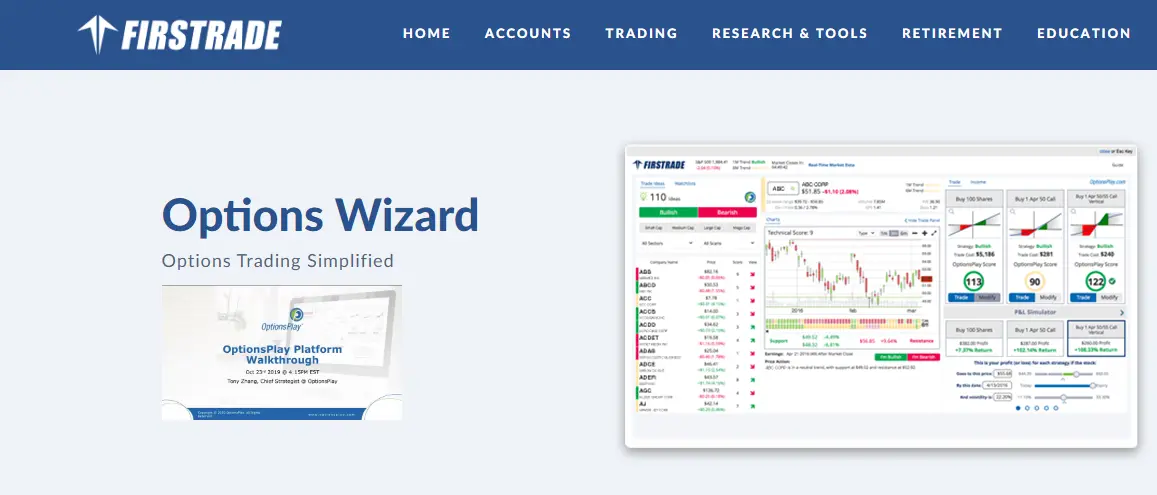 Mobile app
Firstrade's redesigned mobile app was launched last July, which presently includes a consolidated portfolio dashboard, intuitive swipe actions, and updated research with advanced charting abilities.
Firstrade offers a mobile application that is easy to use for trading and offers Face ID recognition for login. Further, stock watch lists sync with the changes the trader makes on the platform and can check ongoing streaming quotes on the application too.
The Mobile application immediately synchronizes with desktop platforms, and clients can trade, transfer funds between accounts, see order history and can create a watchlist to keep up with trading opportunities. The Mobile application is available for users on both iOS and Android.
The traders can monitor the portfolio's performance effectively with the Firstrade mobile trading application, which offers an expert option when compared to a desktop. The traders will be seeing advanced charts, equity ratings and fundamental data, complete dashboard and advanced research and good trading interface.
The traders can see options and charts within the application, along with 19 other stock charts. Sometimes, the stock charts are hard to read and not too many alerts can be set-up.
The mobile application's order entry features and watchlist are coordinated with the online Navigator platform, which created a good user experience. Additionally, streaming news and analysis from Briefing.com, Morningstar, and Benzinga are not accessible inside the mobile application and there are no screening tools and other research tools are also not available.
| | |
| --- | --- |
| Pros | Cons |
| Variety of order types | No price alerts |
| User-friendly | Mutual funds and bonds are not added |
| Good Search function | No two-step login |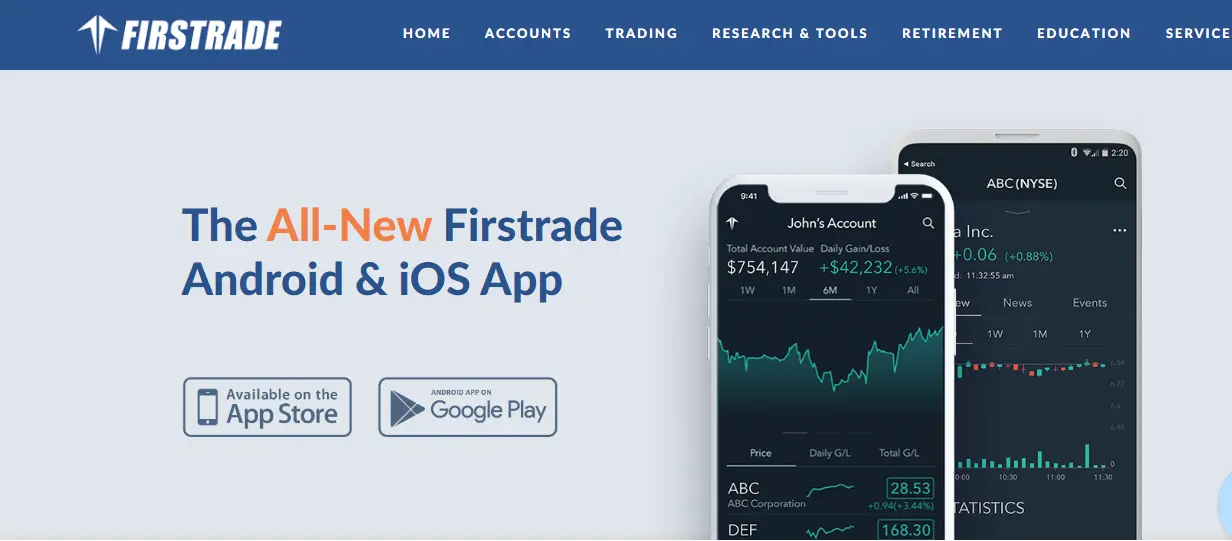 Account Minimums
To sign-up and use the Firstrade account, there is no minimum requirement. Besides, to use the Firstrade Premier and navigator platform, clients should have an account balance of 10,000 dollars. Clients can see the balances and positions in the account through the dashboard, which incorporates customization of news, tracking, and charts. One of the best features of Firstrade is that it offers commission-free trading.
Funding, Payments, and Withdrawals
Users can deposit with an ACD fund transfer, wire transfer or cheque deposit. There are no withdrawal charges for ACH transfers, however, if the trader uses wire transfer to withdrawal, they will be charged 30 dollars for domestic and 50 dollars for international withdrawal.
All options, stock, and ETF trades have zero commission charges. Traders can also lower the securities cost by lending their shares for daily income through Firstrader's program.
Firstrade offers trade-off for lower-cost trades. Traders need a premier account if they need to take advantage of lower costs.
Firstrade likewise charges high margin rates compared to other brokers. Also, there are fees for various account transactions, like higher charges for ACAT transfers and wire transfers.
Account fees – Annual, Transfer, Inactivity
Zero annual fee
75 dollars full account transfer fee
55 dollars partial account transfer fee
Zero inactivity fee
Commission and Fees – Comparison with other brokers
| | | | |
| --- | --- | --- | --- |
| Commissions & Fees | Firstrade | TD Ameritrade | E*Trade |
| Minimum Initial Deposit | Zero | Zero | 500 dollars |
| Online Option Orders | Zero | 0.65 dollars per Contract | 0.65 dollars per Contract |
| Online Mutual Fund Trades | Zero | 49.99 dollars | 49.99 dollars |
| Options Trades | 0.50 dollars per contract | 0.65 dollars per Contract | 0.65 dollars per Contract |
| Online Stock Orders | Zero | Zero | Zero |
| Broker-assisted Stock | 19.95 dollars | 25 dollars | 25 dollars |
Upcoming IPOs
One of the best features offered by this broker is Upcoming IPOs, where it mentions the name of the company, symbol and the date when the IPO is expected.

Countries they Serve
Firstrade is open to international investors. Apart from U.S customers, it also acknowledges customers from Japan, China, South Korea, Taiwan, Hong Kong, Macau, New Zealand, Singapore, and Mexico.
Chinese Language Options
Firstrade's platform supports native Chinese, which can be accessible in simplified and traditional Chinese.
Referral program
Firstrade offers its clients a free stock for themselves and for a friend they refer to the platform. Further, the company says, One out of each 100 gets an opportunity to get a free stock in Apple, Facebook or Microsoft.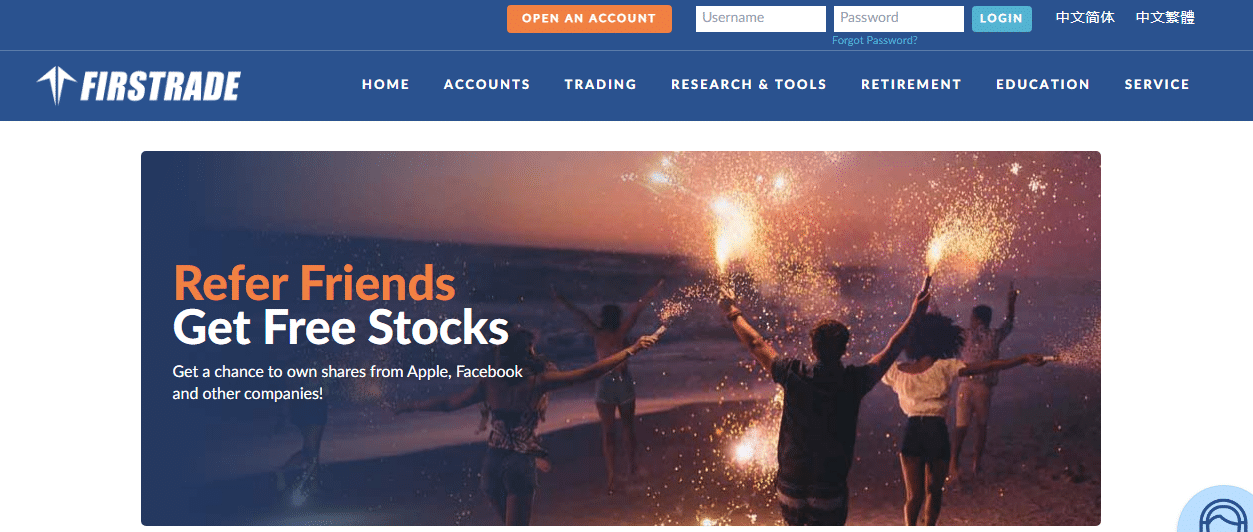 Streaming Watchlist
One of the first lines of options available through Firstrade is the streaming watchlist. Traders will be able to respond to market situations instantly with Firstrade's real-time streaming quotes, which is compatible over all browsers.
Dividend Reinvestment Plans (DRIPs)
Firstrade allows its clients to sign-up for the DRIP program. Once it is done, they are automatically registered in the DRIP of any stock that offers the plan. Moreover, qualified stocks must be valued at around 4 dollars per share and incorporate domestic securities. Traders can sign-up for the DRIP program whenever they want to and also can cancel the participation at any time.
Advanced Screener
This tool allows the trader to streamline their investment decisions using predefined screening criteria. The traders can look out for high return stocks, value-priced small-cap stocks and stocks of any other criteria.
Tax Center
This broker offers a dedicated tax page. It gives significant information and dates for investment purposes. The page lets the user print tax documents. Also, it offers access to normal tax documents for its clients. It additionally offers tax topic discussions, which include wash sales, capital gains, short sales, and several other informative topics. Moreover, this platform provides a financial calculator that will help the users in their investments.

Analysis, Charting, and Research Tools
Firstrade has numerous tools for screening, research, and testing. The best one is the mutual fund and stock screening tool; however, it can be used only on the web browser edition. If the trading requirements are too complicated, then entering the trades is simple through the screening tool.
The trader can look for different ideas for options and analyze trades or spreads by comparing them with real-time information.
Charting is accessible on the browser and mobile application version. Furthermore, browser screens have fundamental charting abilities that cannot be customized. If the user signs up for navigator through Firstrade Premiere, charting can be customized utilizing MultiCharts under TradingView.
Even though there are few portfolio analysis tools and accounting features offered by Firstrade, it does not have advanced features as compared to other online brokers. Moreover, investors can screen their positions and watchlists while downloading account statements and history in real-time.
Education
Several videos and links can be found inside Firstrade's knowledgebase. This offers trading strategies and a good understanding of accessible markets. Firstrade has videos and articles covering trading strategies and a broad range of business sectors. For beginners, the material will give an introduction to most of the points though very little can be found there.
News and Research
Firstrade provides its clients with a well-adjusted research experience, which is dependent on Morningstar as its essential supplier, an offering that outperforms the deep discount competitors. Firstrade provides just a single third-party research report for stocks and ETFs. As compared to its competitors, this is an important feature, as its competitors do not provide such a research report.
| | | |
| --- | --- | --- |
| Research Feature | Interactive Brokers | Firstrade |
| Stocks | Yes | Yes |
| ETFs | Yes | Yes |
| Mutual Funds | Yes | Yes |
| Pink Sheets / OTCBB | Yes | Yes |
| Fixed Income | Yes | Yes |
| Screener Stocks | Yes | Yes |
| Screener ETFs | Yes | Yes |
| Screener Mutual Funds | No | Yes |
| Screener Options | Yes | No |
| Screener Bonds | Yes | Yes |
| Portfolio Builder | Yes | No |
| Portfolio Allocation | Yes | Yes |
Customer Service
Firstrade offers several service options, which include live chat with a registered representative from Monday to Friday, 8 A.M to 6 P.M ET, or the trader can use Firstrade Chatbot, named Sammi.
Sammi is the new AI Chatbot accessible to Firstrade customers. It can respond to some fundamental questions but the trader will be connected to various areas of the site for more answers.
Also, client support is accessible in simplified and traditional Chinese, with customer care executives who talk both Cantonese and Mandarin. For others, the users should depend on the FAQ area of the site or they can send an email to Firstrade's support group.
Drawbacks
Active investors might be frustrated as Firstrade offers no forex, crypto, futures options. However, retirement investors have more options to build and manage their portfolio with this broker.
Firstrade customer service needs to be improved. Moreover, other brokers have several branches, for example, eTrade online trading broker offers 30 branches while Firstrade has none.
Firstrade's online chat is less than satisfactory. Firstrade gives only automated answers through online chat.
Firstrade trading platform does not have full-features as its competitor platforms. While Firstrade enables the trader to trade straight from the account dashboard, its trading platform does not provide more proficient features like their competitor brokers offer for their customers.
Firstrade advanced tools and options are only accessible in the Navigator platform, which requires a premier account. This requires a 10,000 dollars minimum in an account. Moreover, there are essential devices accessible for the free account, traders will not be able to customize or see complex charting tools with the basic account.
Moreover, Firstrade customer support can be accessed during business hours only compared to other online brokers. There are no branches for this broker except headquarters in New York.
Firstrade does not have Robo-advisory options. If a trader needs help, they need to consult a third-party advisory. This option does not assist much with risk management.
Wrap up
Firstrade is a trend-setter in commission-free trading with zero amounts as commissions on trading stocks, options, and ETFs. Additionally, Firstrade does not charge per-contract fees on options trades. Moreover, local Chinese speakers will be attracted to Firstrade's platform, which is accessible in both simplified and traditional Chinese. If traders are interested in US markets, then it is best to make use of this trading platform. Else, the traders might have an inadequate product portfolio which covers only the US market.
Firstrade
Pros
Zero contract fee on options trades
Mutual funds are commission-free
Commission-free for stocks, ETF and options trade
Customer Support for traditional and simplified Chinese and English accounts
Streamlined trading experience
Cons
No Forex, crypto, futures options or futures trading
Limited functionality in web and mobile platforms
Customer support is not available 24/7
Slightly high margin rates
Can trade only in US markets