Banxso Review – The Insider's Guide to Banxso
What is Banxso?
Banxso is a commission-free and leading, reliable forex and CFD trading platform. The firm is regulated and licensed under the FSCA (Financial Sector Conduct Authority), which makes it safe to trade different assets on this platform. It covers a wide range of financial instruments, such as forex, stocks, commodities, indices, and cryptocurrency.
Banxso is a well-reputed trading platform that has made investing simple, safe, and quick for all traders. It is trusted globally and offers great trading services with competitive prices, additional tradable assets, and a transparent fee structure.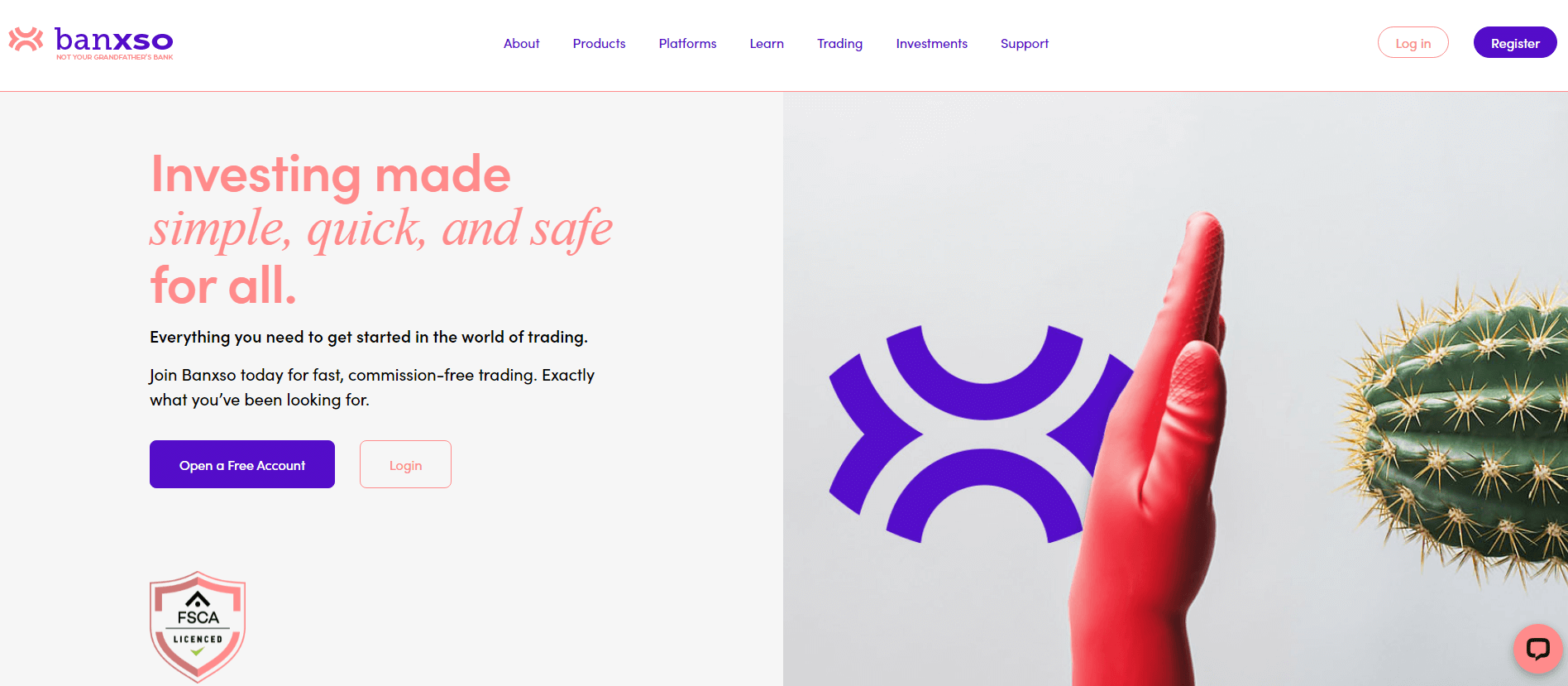 Features of Banxso 
Banxso has designed its trading tools, resources, and strategies in such a way so that it can provide its service to a wide range of traders across the globe. The platform has created high-technology AI-based trading systems and algorithms that give traders an advantage over other forex trading platforms. Apart from being honest, fair, and transparent with their clients, Banxso has other reasons why traders must choose this platform, and they are –

Trading Market on Client's Terms –

Banxso is critically designed so that traders can have their fingers on every pulse of the financial markets. There is a wide range of advanced financial tools, along with real-time access to analyze the opinions of the platform by trading experts. These services and tools, along with the updated diagrams and charts, help in making an informed decision at the correct time.

Cutting-Edge Technological Developments –

Any current technological development that takes place in the online trading market is carefully noted by Banxso. The advanced trading tools enable traders to get an in-depth view of geopolitical and economic factors that affect the financial markets. With trading patterns and a summary of price movements that affect the assets, the traders are able to make predictions on the market's movements.

Speedy Trade Execution and Lower Spreads – Banxso provides one of the fastest trade execution and low spreads. The network of liquidity providers and prime brokers has created a smart pricing engine that ensures the platform offers the lowest possible spreads to its traders. One can always benefit from Banxso's reliable trade order execution and low spreads and increased profitability from each

trade DMA

.
Low Commissions –

The

robust nature of analytical tools and data enable investors and traders to select from thousands of stocks to purchase and sell and create a diverse financial portfolio. Traders that register with Banxso are most likely to benefit from the low-cost stock dealing and also get three months of commission-free trading.
Is Banxso A Regulated Broker?
Banxso is a commission-less, regulated, licensed, and safe forex broker in multiple jurisdictions. With the increasing demand for investment and trading platforms, many brokers are providing easy and fast trading options. This has led to the establishment of many trading platforms across the world and has made it quite challenging for traders to choose a reliable and safe broker.
One way to determine the reliability of a forex broker is to check its regulation. Banxso is both regulated and licensed by one of the leading financial regulatory bodies in South Africa, the Financial Sector Conduct Authority (FSCA), and any trade outside the European Union. The following countries will be considered unauthorized; Canada, Nigeria, Australia, India, Iran, Cuba, Israel, Iran, Ghana, Mongolia, Syria, Yemen, Panama, Cambodia, New Zealand, Pakistan, the United States, the United Kingdom, the Philippines, and North Korea. 
Pros and Cons of Banxso 
| | |
| --- | --- |
| Pros | Cons |
|       Regulated and licensed broker |       It does not have a wide coverage |
|       Offers multiple financial instruments for trade |       MetaTrader 4 trading platform is unavailable |
|       Supports both desktop and mobile platforms, including MetaTrader 5 |   |
|       Enriched with educational resources with webinars and personal coaches |   |
Is It Safe to Trade with Banxso?
Banxso has high overall customer satisfaction, impressive platform features, diverse educational resources, and programs. Perhaps the most praiseworthy aspect of Banxso is its safety features. When it comes to safety, Banxso puts the security of its clients on their priority list. Here is how the platform makes their clients feel safe while trading at all times –
Excellent Customer Support – For any problem or query, the customer support team is always ready to help. Banxso has a robust customer support team that provides excellent service.
Complete Transparency – Banxso is 100% transparent with its fees. There are no hidden fees, and the platform ensures that traders know about any changes in the fee structure before listing them on their website.
Segregated Accounts – The safety of clients' funds is the topmost priority, and it ensures that all trades and investments are carefully supervised and monitored by regulators so that traders can invest with utmost confidence. In addition, client funds are kept in segregated accounts, which means that the platform can never make any use of these funds for their purpose.
Equal Opportunity for All – Another safety measure is the provision of equal opportunity for all kinds of traders, both beginners and experienced. New traders that have just stepped into the trading world may not feel confident in trading if the minimum deposit required by the trading platform is set at a high level. To build confidence, Banxso does not require any minimum deposit to start trading. New traders can start trading with as low as a USD 10 deposit, and the platform would provide them with the same services and care. 
Assets Offered for Trading 
Banxso provides over five assets to trade, such as forex, indices, stocks, commodities, and cryptocurrency. Beginners and experienced traders find these asset offerings more comprehensive as the broker continues to widen its asset base. Here are the assets offered for trading at Banxso –
Forex
Forex or Foreign exchange is a good market for new traders to enter and a reliable asset for those who are more experienced in trading and investment. The platform has an impressive training center that helps traders develop trading skills required for forex trading. 
With low entry-level liquidity, diversity, and flexibility, the forex platform can be used to the trader's advantage. One can enter the forex market with any amount of investment and gain potential returns on the same low investment. Banxso, like forex trading, functions 24 hours, 5  days a week. As for liquidity, forex markets are quite liquid, which means trades can be placed quickly with lower risks of volatile movements, along with the added advantage of Banxso's low spreads. 
Stocks
Banxso is a great platform for beginners that want to learn more about trading strategies and global markets. Stock prices are extremely volatile, and this poses a great opportunity for stock traders. With the price movements, traders try to maximize their profits, but most of them that are average or new in this market lose money. The main objective of Banxso's stock trading is, thus, to improve the chances of traders making, intelligent trades. 
Indices
Trading indices enable traders to focus on the potential of the regional and global markets instead of individual stocks. Banxso indices help build a diversified portfolio by focusing on global trends and news instead of small details. Indices trading works just like forex and stocks, but since indices are a weighted average of the assets, they need a wide view of the market.
Commodities  
Banxso also allows trading in different kinds of commodities. Based on the client's trading style and preferences, they can trade energy, agricultural goods, and metal. While these sorts of commodities react significantly to market fluctuations, each of these items carries different opportunities of generating profits through timely purchases and sales. Details of the commodities have been mentioned below –
Energy –

The commodities include crude oil, gasoline, electricity, natural gas, and wind power, among others. They can be broadly divided into two groups – renewables, like wind, solar, power, biomass, and geothermal, and non-renewables, like fossil fuels, oil, coal, and gas.

Soft Commodities –

Agricultural goods are known as soft commodities. These include corn, sugar, wheat, soybeans, rice, coffee, cotton, and cocoa, among others. Note that the soft commodities market is more stable compared to the energy market.

Precious Metals –

Metals have always been a part of valuable commodities throughout history. Precious metals, like gold, platinum, copper, and silver, grow in value even in unstable times and are considered one of the most reliable assets of all time. 
Cryptocurrency
Cryptocurrency has witnessed great momentum in different sectors, including trading and investment. As people are shifting to the use of cryptocurrencies, more platforms, including Banxso, are bound to introduce crypto as an asset in their platforms. However, keep in mind that the volatility of digital currencies can be quite intimidating to new traders in the crypto game. While Banxso considers the personal preferences of the traders, it still encourages people to use the crypto option only after they have taken necessary precautions in trading crypto.
Banxso, as a crypto broker, believes that crypto is a great investment instrument supported by the most cutting-edge tech systems in the market today. The platform allows traders to trade crypto without owning it. This is done through CFDs, and this method is extremely beginner-friendly, so any trader can trade cryptocurrencies. 
Order Types
The broker offers a wide variety of advanced order types that are accessible through mobile and desktop platforms on the go. Currently, Banxso provides these order types for trading forex and CFDs.
Market Order
A market order, essentially, instructs the brokers to buy and sell trading instruments at the best available prices. There is no particular price fixed while trading with market orders, but in case there is no liquidity, the market orders are executed at the next best price available when the order is placed.
Limit Order
A limit order is when the brokers buy and sell trading instruments at a particular price or higher but without any guarantee that the order will be executed. This order type enables traders to mention how much they would like to buy and sell the asset for. They can also specify an expiry time for the limit orders or leave them at the default setting called GTC or good till canceled. GTC means that the order remains open till executed.
Stop Order
A stop order is placed when the market is in a less favorable position. Stop-loss order is the main reason for using stop orders. It is extensively used to manage risks, allowing traders to limit their losses and exit the trade if the market moves against them. 
Demo Account 
Banxso offers a demo account that carries some benefits. Essentially, a demo account gives new traders a sense of how the software and financial market work. Demo accounts do not provide the same outcome as seen in live trading, but there are several other things new traders can do while testing out the software with a demo account to learn about the user interface and check the system.
All traders need to do is enter their name and email ID, and create a strong password to access Banxso's demo account. Once this is complete, they need to select the type of asset they want to trade. With a demo account, traders can familiarize themselves with the functionalities and features of Banxso with digital money without any risk of losing funds.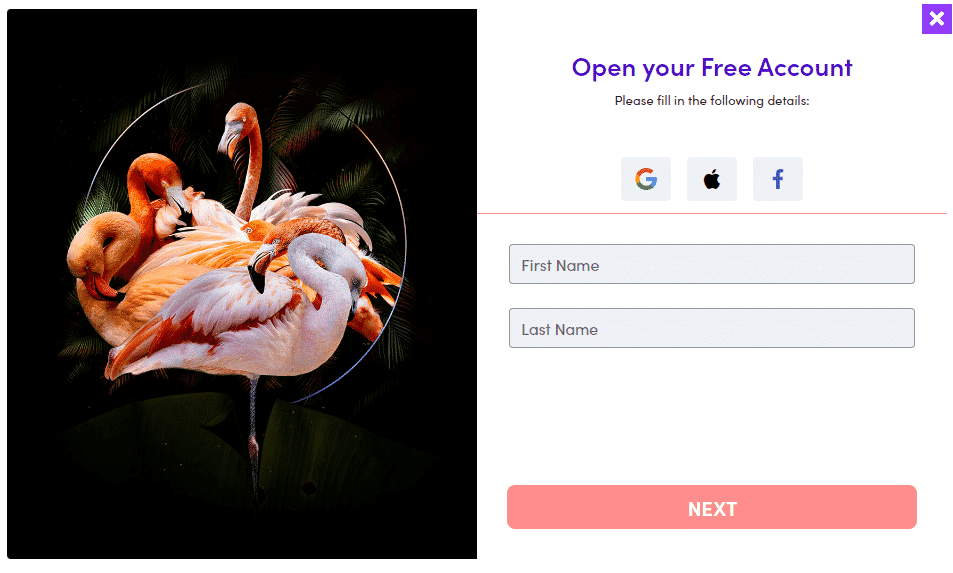 Account Types
Banxso offers only two types of accounts – Demo account and Live account – both of which can be used without any minimum deposit. There are two trading platforms at Banxso to choose from, MetaTrader 5 and the Mobile platform, that can be accessed through both Demo and Live accounts. The accounts have similarities, but they differ in some trading features.
The Demo account allows traders to experiment with the platform, and the main objective is to give them a chance to learn about trading strategies. On the other hand, the Live account requires more personal details in order to start trading with Banxso. It is compulsory to enter the financial details of the user to open a Live account as the platform is strictly regulated by FSCA. 
Account Opening Process
The account opening process at Banxso is quick and easy. The online mobile app can be downloaded and installed instantly. Once the account is ready, the traders can start with either a demo or live trading account depending on their preference, but there are KYC requirements that need to be fulfilled. Here is how traders can open an account at Banxso –
Visit the Banxso official homepage and click on Sign in to register with Banxso.

Enter basic details, like name, contact details, date of birth, and address, and press Submit.

While this is sufficient to create a demo account, a live account would require some more information.

Enter the financial details as asked by the broker since it is mandatory to provide financial status and press Submit.

The platform takes no more than 2 minutes to verify the trader's information. Once the verification is complete, traders can start trading without any minimum deposit. 
Trading Platforms
There are two trading platforms at Banxso – MetaTrader 5 and the mobile trading platform. The MetaTrader 5 (MT 5) is a multi-asset, technologically equipped trading platform that allows comprehensive trades. One of the best features of this platform is its algorithmic feature that runs automated trading using special robots, known as EA or Expert Advisors.  The EA runs automatically, and it is driven by algorithms. It analyses quotes and performs trading operations. MetaTrader 5 also enables users to implement strategies and automates trades. The platform has a multilingual interface that enhances the trading experience by eliminating linguistic barriers.
The mobile app supports a plethora of trading functionalities and features, offering a comprehensive set of analytical tools and educational resources using technical indicators and graphical objects. Traders that use the mobile app can also monitor the status of their accounts and check their trade history on the go. 
Education
The main aim of Banxso is to help traders become successful with their rich educational resources that include online courses, trading ideas, and several webinars hosted by industry experts. The traders get full access to these materials at Banxso and hone their investment and trading skills. The materials are designed to make every user a better investor and help them browse through financial markets with total confidence and ease.
The personal coaches at Banxso answer all questions that users could have about trading and give practical advice on trading profitably. The coach not only analyses the user's trades but also questions their reasoning behind certain trading decisions. The personal coach offers one-to-one conversations and revises trading plans with the trainees, helping them stay focused on their trading goals.
Apart from personal coaches, there are many webinars conducted on the Banxso trading platform, covering a range of topics. The webinars provide detailed and clear answers to their user's queries. They are interactive and allow easy exchange of opinions without hesitation or interruptions. Sharing views with one another allows traders to gain insights into the functioning of the markets and the whole art of trading. 
Banxso Review – Customer Support
One of the factors that determine the quality of a forex trading platform is its customer support. When looking for the best financial platform, it is important to check the quality, responsiveness and effectiveness of the customer support team. Banxso's customer service responds promptly, and traders have multiple channels through which they can get in touch with the support team. The various channels include –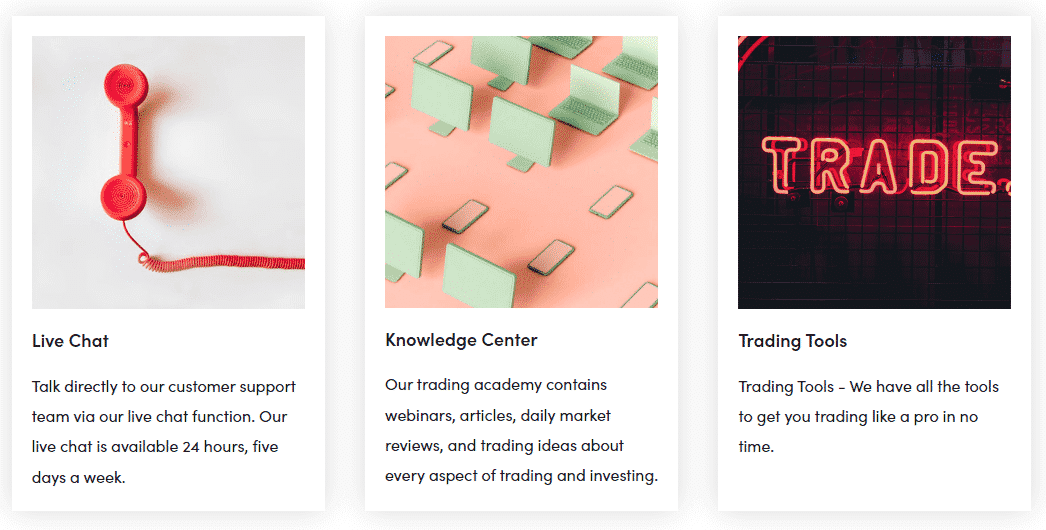 Email Address – Send requests for any query or support to [email protected]. The platform requests senders to mention their full name in the mail, along with other contact details. The team typically reverts with an effective solution within a day.
Human Support – Users can contact Banxso in person. They can personally meet with their representatives at the local embassy – Byls Bridge Office Park Building 14, Block B Corner Olivenhoutbosch Road, Jean Ave, Centurion, 0157, South Africa.
Live Chat – Users can directly communicate with the team through the live chat feature that is available 24 hours, all five working days.
Telephone – Banxso support is also available through telephonic support. Users can contact Banxso at +27-080-099-7915 to share their trading problems with the support team.
FAQs
Is Banxso Safe?
Banxso is one of the best forex brokers offering a range of instruments. It provides an excellent trading environment for all kinds of traders with a wide product offering and an extremely accessible platform with many features, including the MetaTrader. Banxso emphasizes research, educational materials, and customer support service. 
Is Banxso Suitable for New Traders?
Banxso believes in serving all its users equally. It is suited to all types of traders, including beginners and experienced traders. There are two trading platforms offered at Banxso, Mobile and MetaTrader 5 platforms, both of which are beginner-friendly. As there is no requirement for a minimum deposit to start trading at Banxso, anyone with any level of income can register on the platform. Banxso promotes an egalitarian environment where every trader gets an equal opportunity.