Cyprus-based online broker NAGA Markets Ltd was founded in 2015 and is regulated and authorized by the Cyprus Securities and Exchange Commission. In a very short span of time, NAGA has emerged as a leading name in the ever-evolving area of social trading. This broker currently has more than 500,000 accounts, and its customers can invest in over 500 instruments, including cryptocurrencies, indices, forex, commodities, etc.
What is NAGA?
NAGA Markets Ltd was established as a Fintech company in the year 2015, which offers access to global markets by using decentralized technology. By offering the much-needed support to the traders and investors, it helps them to get a wide exposure globally.
As per our review, NAGA markets ltd was established and regulated by Cyprus laws, and it is governed by laws according to the European legislation, which allows access to trade cryptocurrencies, financial markets, stocks, and also virtual goods which supports all major worldwide markets.
A bit of Caution, CFDs are complex instruments that come with a high risk of losing money rapidly due to leverage.78% of retail investor accounts lose money when they are trading with CFDs with this broker. The trader should consider and learn how CFDs work and consider whether you can afford to take the high risk of losing money.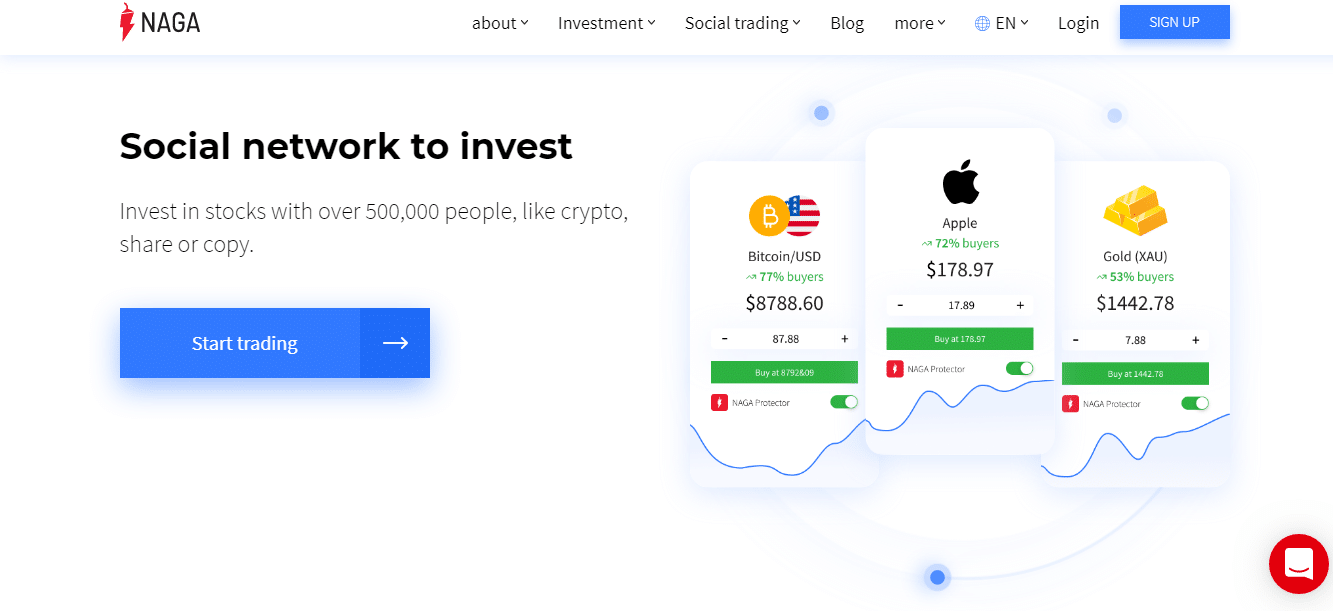 Background
NAGA Group AG was founded by Yasin Qureshi and Benjamin Bilski in 2015 with the aim to decentralize financial technology and make the best market tools accessible to everybody.
In October 2015, NAGA launched its top-notch social trading platform, NAGA Trader.
In June 2016, Swipestox (now NAGA Trader) along with NAGA Markets brokerage recorded the first real-money transaction.
Launched in July 2017, NAGA Group's Initial Public Offering (IPO) was profoundly successful and was the fastest IPO in Germany along with the NAGA stock (N4G) listing on the Frankfurt Stock Exchange. Later, it was identified as the most successful IPO of 2017; N4G reached an ROI of 260% based on the issuing price.
NAGA has its very own cryptocurrency known as NAGA Coin.
NAGA has led the world's 18th largest token sale in 2017, with more than 63,000 subscribers, reaching >$50 million just a few months after the company's debut on the Frankfurt Stock Exchange.
How to open an account on NAGA TRADER?
The route to opening an account on NAGA TRADER is through opening a trade account with any recognized brokers who are the partner with the platform. Why? Well, this is because the platform is like a junction between many brokers. After this point, with the help of your selected broker, you can easily take care of your funds and copy trading experiences.
Although there are several recognized brokers in the market today, the most recommended one is the Naga Markets. Opening an account with the Naga Markets opens up a range of services and benefits for the user. When a user opens an account with the Naga Markets, the person is given default access to NAGA TRADER, Naga Wallet, Naga native Coin (NGC), Naga Virtual, Naga Stocks, and Naga Wealth. The Naga Markets operate on CFDs, ETFs, Forex, Equities, Futures, cryptos, and commodities.
NAGA TRADER supports these brokers- OneFinancial, FXCM, IB, BlackBull Markets, ThinkMarkets, BDSwiss, Portex, FPMarkets, GKFX, and AxiTrader. The list of brokers keeps on growing as the platform keeps on connecting new ones.
Features
NAGA provides its exclusive browser-based website, NAGA Trader. This has features like an AI trading assistant known as CYBO, and themed asset management through NAGA Portfolios.
This broker additionally offers a wide scope of trading tutorials and webinars, describing how to use their website.
Customers can trade on a wide assortment of asset classes with NAGA, which includes,

47 forex sets
13 cryptocurrencies
11 indices
681 stock CFDs
4 commodities
22 futures and
17 ETFs

As per our NAGA reviews, it offers clients several methods to withdraw and deposit funds. This comprises credit or debit cards, cryptocurrencies, wire transfer, Skrill, Neteller, Trustly, GiroPay, and NAGA Card.
The NAGA trading platform is backed by TradingView. It can be accessed over several devices and offers features that are generally suited for novice traders.
Besides, once logged in, withdrawals can be made through the Secured Client area, and are subjected to a charge of 10 USD / EUR / GBP.
NAGA offers its users to trade and download from the MetaTrader 4 trading platform.
Experienced traders can enjoy a wide range of trading indicators and sharing functionalities. Moreover, from the testing side, the platform does not allow the trader to trade from the chart or see trade levels about price, which might be a concern.
As per our review, CFDs are complex instruments and come with a high risk of losing money quickly due to leverage.78% of retail investor accounts lose money when they are trading with CFDs with this broker. The trader should consider and learn how CFDs work and consider whether you can afford to take the high risk of losing money.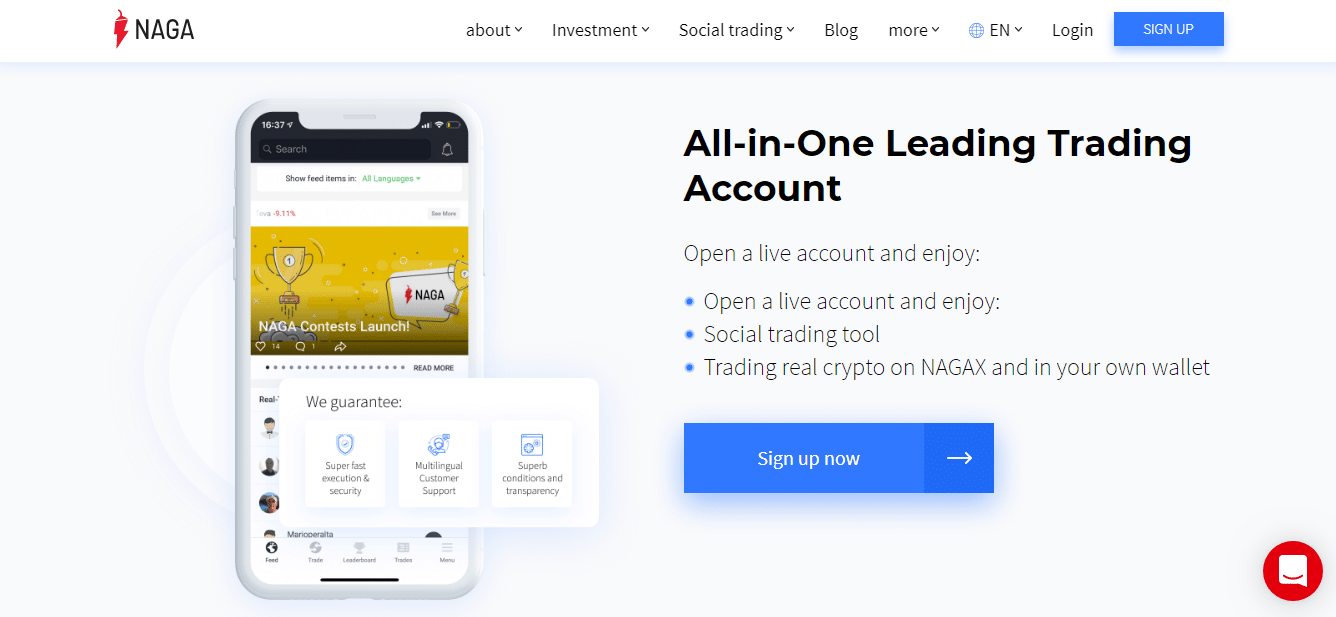 Is NAGA safe or a scam?
The team behind the development of NAGA, have taken all the necessary steps to be more transparent in its operations. It is not only regulated but also it is a public listed company. Naga is authorized by CySEC and a well-known technology company which has its operations in Germany. All rights reserved by the NAGA trading platform.
NAGA is a well-known trade mark of the NAGA Group AG, which is a German-based fintech company and it is publicly listed on the Frankfurt stock exchange. This brings a level of stability as a strong operational and establishment base. Besides, this broker is backed by a Chinese fund known as FOSUN; which makes it a reliable and trustworthy firm in any predicament.
Additionally, one of the entities located in SVG, offers global expansion to NAGA, so long as it is regulated and authorized by the European legislation. Hence it can be considered as a safe platform even though it is registered in another country.
As per our NAGA reviews, this website has high-performance standards, and it is more reliable as a public company. It complies with the necessary regulatory requirements that are set by MiFID. The trader's funds are always isolated from the company funds and it is covered by a compensation plan in case NAGA brokers go bankrupt.
A bit of Caution, CFDs are complex instruments and come with a high risk of losing money rapidly due to leverage.78% of retail investor accounts lose money when they are trading with CFDs with this broker. The trader should consider and learn how CFDs work and consider whether you can afford to take a high risk of losing money.
How NAGA is Unique?
NAGA comes with the following distinctive features
1. Charting tools: Users can view live prices, outline patterns and create personal templates – all powered by TradingView™.
2. Market Sentiment: Keeping oneself updated about the prevailing market sentiment is of prime importance. NAGA helps its users explore the community's favored assets to trade and streamline their first trade.
3. NAGA Protector: Users can secure their profits and limit their risks with NAGA Protector. It protects your investments automatically.
4. Cross-Platform: The NAGA website is accessible on all mobile devices and web browsers.
5. Multi-currency Accounts: The platform allows all types of investors to choose from five fiat currencies (USD/EUR/GBP/PLN/CHF) or four crypto-based trading accounts.
6. Ultra-low fees: NAGA offers exceptionally low trading fees for all 500+ instruments.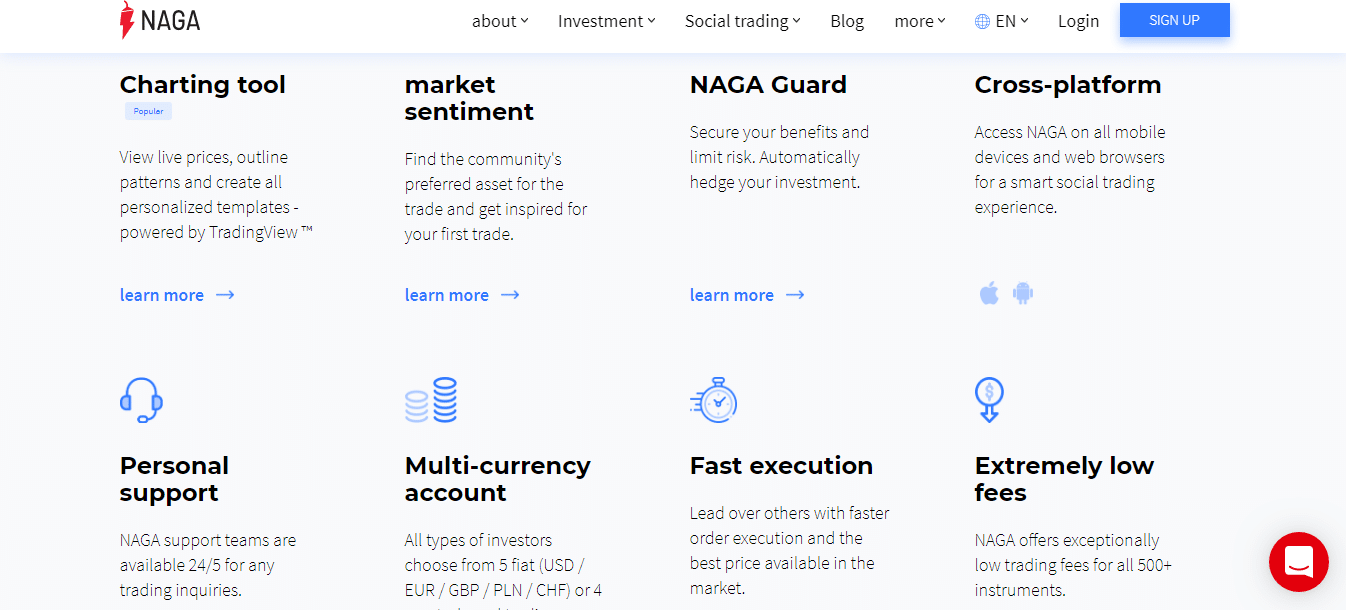 8. Social: NAGA simplifies investing by empowering masses to trade the global markets with ease.
9. Transparent: By operating in full transparency, NAGA ensures that traders get all the benefits of social and copy trading; all profiles are made available to everyone to see, follow, and copy.
10. Client-oriented: NAGA is constantly working to improve the social trading experience of its clients with new tools and features.
11. Responsible: NAGA strongly advises its traders not to trade with money they are not prepared to lose. It recommends the use of its smart risk management tools and various educational materials.
Supported Countries
NAGA acknowledges clients from over 200 nations. By keeping their worldwide customers in mind, the website at present supports eight languages including, English, German, Spanish, Czech, Polish, Hungarian, Italian, and Portuguese.
Similarly, client support language comprises of English, Arabic, Italian, German, Czech, Polish, and Spanish. A list of nations that have limited access to the website includes Canada, Belgium, Iran, China, Japan, Israel, Sudan, North Korea, Yemen, and Syria.
Compliance
NAGA's compliance with CySEC regulation brings assurance for potential customers. Its participation in the Investor Compensation Fund ensures that customers will be compensated to around twenty thousand Euros if the broker goes bankrupt. Another confirmation is the segregation of accounts, which makes the broker handle the finances of the customers separate from their funds. This enormously brings down the danger of potential fraud.
Lower Spreads
NAGA offers its customers a spread of 1.2 on EUR / USD, below the 1.5 margins. The size of the spread is particularly important since it decides the cut the broker gets from the potential profit that a customer may get. Even though it might appear to be insignificant in a single trade, over some time, small differences may add up to a larger sum. Succinctly put, the lower the cut, the higher will be the profit.
Commissions & Fees
NAGA provides a commission-free model; when trading with most of the instruments, which includes forex, commodities, cryptocurrencies, and futures. Moreover, profits are earned from the spreads, which are competitive, with currently USD/Euro spread cited at 1.2 pips.
Current Spreads are displayed on the site. Furthermore, the commission on stocks is 0.20 percent and on ETFs is 0.10 percent. It can be possible, to begin with, a basic account that demands no minimum deposit.
As per our review, CFDs are complex instruments and come with a high risk of losing money rapidly due to leverage.78% of retail investor accounts lose money when they are trading with CFDs with this broker. The trader should consider and learn how CFDs work and whether they can afford to take the high risk of losing money.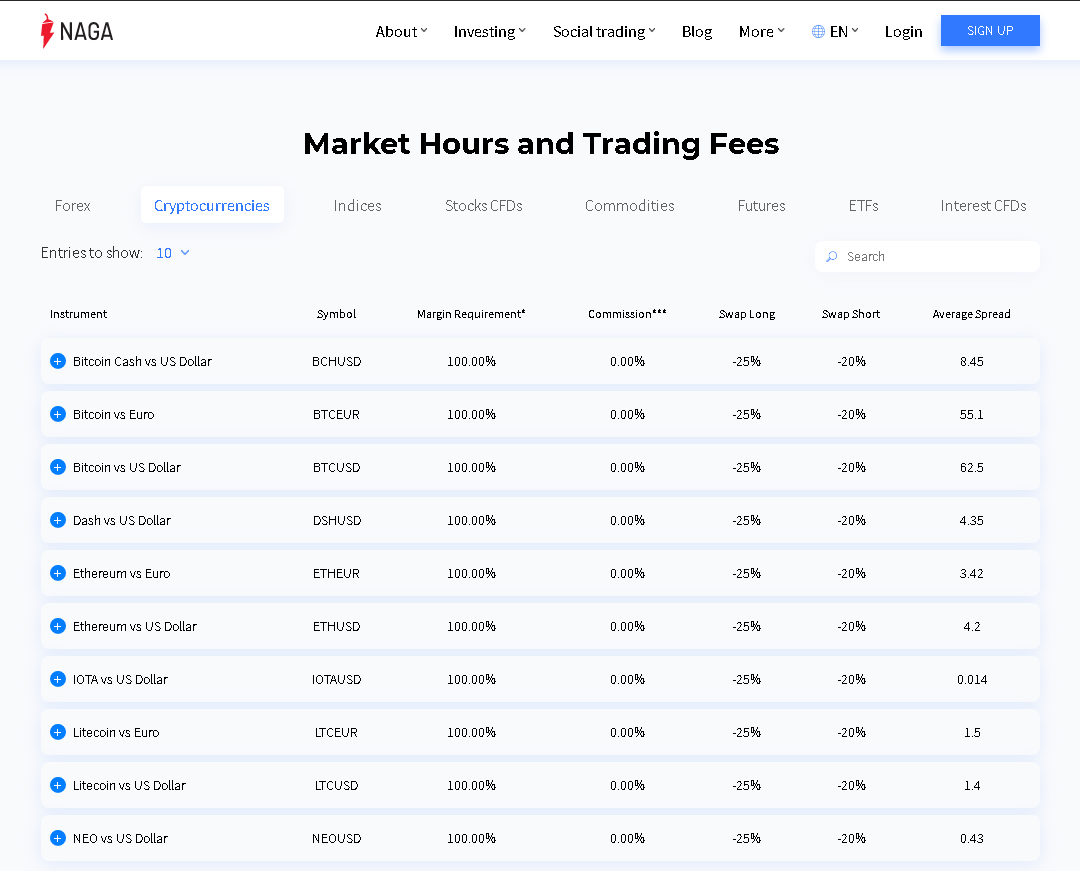 Social trading platform
As per our review, one of the most important features of NAGA brokers is the social trading platform that they offer for their customers. Potential customers can approach various brokers who they may want to follow and decide to auto copy their trades.
Such a website enables traders to invest their funds in trades they trust, which might bring them profit. Customers can have a look at how many followers a trader has, the number of trades he has completed and the size of the trader's P&L. This is not a typical feature among brokers and should be seen as an advantage.
Clients can see charts, but functionality is exceptionally restricted with no capacity to trade directly from it. However, through this broker, the trader can access

NAGA Card
NAGA Wallet
NAGA Coin
Crypto-Exchange
Auto Copy services
News Feed
Social trading leader board
AI Trading Robot, CYBO
NAGA Trader TV
Webinars
Support
Also, advanced traders can use NAGA MetaTrader 4 for mobile trading applications
NAGA Messenger
NAGA offers the world's first trading messenger. Clients can share the analysis of other traders and invest funds with a single click. In Messenger, the three available kinds of chats are –
Personal chats – traders can add different traders and directly message them through a private chat on NAGA
Group chats – traders can create a group and invite other investors to discuss the recent market trends, news or predictions about any of the 500 plus instruments available at NAGA
Public chats – traders can join public channels that are managed by experts and interact with similar individuals around the globe
Flexible Leverage
NAGA Markets ltd provides similar leverage for all the account types, 1:200. Moreover, it should be taken into consideration that for the US and Japan, there are limits on the extreme possible leverage that might be offered by brokers like 1:50 and 1:25 respectively.
Moreover, a high leverage of 1:200 should be risky. From one perspective, it expands the trader's purchasing power, however, on the other, it might increase the risk of losing money. That is the reason why the trading sector is moving increasingly towards limiting the maximum possible leverage.
Account Types
As per our review, NAGA Markets offer one Dynamic Account Type, by empowering traders to open situations more on 100,000 units of a primary currency as low as 0.01. Moreover, it permits flexible leverage with a limit of 1:200 on most forex instruments. It additionally offers brokers more than 700 CFD instruments through this Dynamic Account. Presently, NAGA Markets is creating other account categories for its traders.
CYBO
The most unique feature, the CYBO, makes NAGA unique and helps customers in providing market knowledge with the help of a robot and helps in investing.
CYBO is a Smart Trading Tool and comes with a few advantages –
CYBOs are so-called Robo-advisors which significantly improve the trading experience. They are intended to automatically pick and pursue the best successful traders on the platform.
CYBOs are equipped with active risk management and armed with a range of trading parameters and algorithms to catch the best trading opportunities and reduce error rates.
By depositing at least €1000, NAGA offers its clients with the choice of making their very own CYBO.
This implies that there is no need for checking the past performance of a successful trader before choosing to invest in the trades; CYBO will do that for the trader automatically.
This significantly saves more time and removes the probability of emotional trading which may incur significant costs, particularly for inexperienced traders.
NAGA enables traders to create their own personalized investment strategy with the help of CYBOs.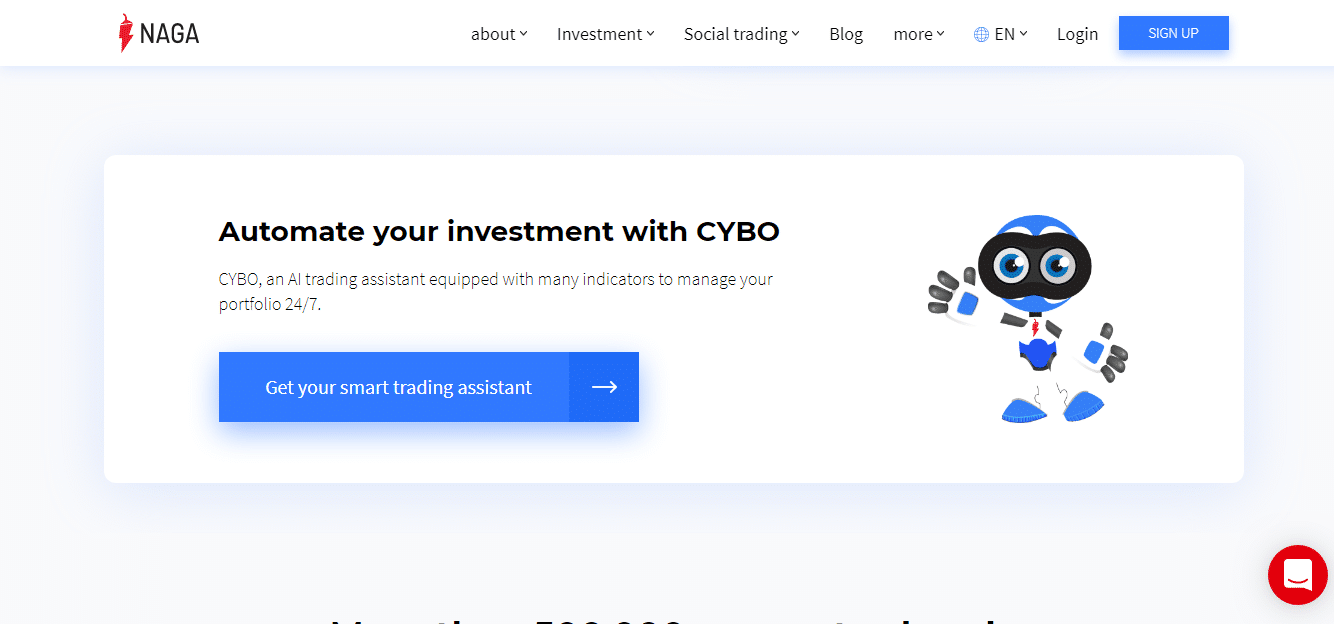 High Minimum Deposit
The minimum amount of deposit required by NAGA for the most basic account is €500 which is very high. Even though customers might be guaranteed by the broker's authenticity, since it is CySEC regulated, it is still a huge amount that may drive novices away; who is not prepared to commit to such a huge amount. The minimum withdrawal amount charges are also high on the NAGA website. All rights reserved by NAGA trading platform.
As per our review, CFDs are complex instruments and come with a high risk of losing money rapidly due to leverage.78% of retail investor accounts lose money when they are trading with CFDs with this broker. The trader should consider and learn how CFDs work and consider whether you can afford to take the high risk of losing money.
Negative balance protection
As per our NAGA review, the most important feature of NAGA is, it offers negative balance protection for its traders. It is described as an automated adjustment of account balance going to zero, just in case, it goes into negative because of the market conditions. NAGA offers a stop-loss feature that has been designed to restrict the loss of traders in any market position.
Even though Forex accounts are highly considered as leveraged, which might increase the risk of losing more than the invested amount, this negative balance protection implies that the traders of NAGA markets will not lose more than the deposited amount. You can also know more about negative balance protection from our latest guide. This negative protection is offered globally; even though outside the European Union is not compulsory.
If something happens to the traders funds like frauds, and the company is unable to do anything to prevent it, there is an investor compensation fund which is known as the "Cyprus investors compensation fund" which is available to UK and EU traders. The level of cover is offered up to 85000 pounds or 20000 euros of the trader's fund, accordingly.
Trading Platform
As per our review, NAGA Markets website provides the most prominent trading software, MetaTrader 4. It is an incredibly user-friendly interface, empowering both new and experienced traders to trade effortlessly and with comfort. Besides, with more than 50 technical indicators and interactive charts in 9 distinctive time frames, MetaTrader offers everything for experienced traders. MetaTrader 4 is accessible on Windows, Android, macOS, iOS and Web versions.
Mobile Trading
Additionally, NAGA offers an excellent mobile trading application, which is accessible free for Android and iOS devices, to make the trading easy and simple.
The user can stay updated about all the trading activities through the 'news and app feed' feature. Through this feature information about stocks, new trends on the social trading network, tips on the trading decision making, and overall mass trading inclinations.
Next comes the 'swipe copy' feature. This allows the user to peep into what trades other traders are setting their eyes to, and the reason behind their reasons, the ongoing performance, details of the trader, details of the position, and so on.
Naga Protector Feature also is a useful tool. It helps in opening the Stop Loss and Take Profit settings that further help in understanding the value, and the Risk and Return ratio of each trade.
There is a provision to save any trade to 'watch later' stage by swiping right. All those trades that do not interest you can be swiped left.
The trades that interest the user can also be copied and saved for viewing later.
With time, the intuitive nature of the platform picks up the inclinations and the preferences of the user based on the trading behaviors and makes suggestions based on the same.
NAGA Reviews – Mobile Trading Application
Demo Account
As per our NAGA review, when compared to other brokers in the trading sector, traders of NAGA are assured that the website offered for trading is very easy to navigate and the software is easy to use. By using this website software, the trader can minimize the human errors caused by emotions such as loss or greed that affects the trading decision of the trader.
Keeping this in mind, NAGA offers its traders unlimited demo accounts for free, which is very helpful for the traders. This demo account is very easy and it can be opened with an email, by providing full name, and phone number. The money offered by NAGA is virtual cash, and hence there is no high risk involved because the losses and profits are only virtual.
When the traders switch from a demo account to a live account they are entitled to switch back anytime and vice versa. The trader can run both a demo account and the live account at the same time, which helps the trader to sharpen their trading skills and test the trading strategies on a demo account where they need not deposit any real money.
NAGA Coin (NGC)
The NGC is a decentralized digital currency for investing and trading in virtual goods, financial markets, and cryptocurrencies. Moreover, all activities in the network go around NGC, from serving as the essential form of fees and guarantee to fill in as the primary base currency for any transactions.
Additionally, NAGA Markets offers a wide range of CFDs on cryptocurrencies including major cryptos like Bitcoin and Ethereum, just as other well-known cryptocurrencies. For example, Litecoin, Dash Coin, and Ripple. Besides, NAGA Markets offers CFDs on cryptocurrencies with exceptional adaptability and variations.
Earning by Copying
It is very challenging to become a top trader, which requires an impressive trading experience and the correct tools. Regardless of whether the trader is new, NAGA offers the chance to create trading methodologies and benefit from different beginners.
NAGA wallet
April 2018 NAGA Wallet Launch
NAGA's cutting-edge cryptocurrency wallet was launched in April 2018. It supports all major crypto and all ERC-20 tokens.
Utilizing a single NAGA account gives the trader fast access to trading stocks, commodities, and forex.
A NAGA Wallet is a wallet where the trader can store NAGA coin and all other different cryptocurrencies. The NAGA wallet brings together crypto power to one platform and opens up the financial related markets to 2 billion unbanked individuals throughout the world.
Moreover, the NAGA Wallet is associated with the NAGA Credit Card that enables the trader to utilize cryptocurrencies to pay for anything.
With the NAGA wallet, the trader gets immediate access to the environment and can interface the wallet with NAGA Trader and trade forex, stocks, forex, commodities, and cryptos.

NAGA Card
With the NAGA Card, traders can keep their funds safe and have access to an in-depth analysis of the whole market, which includes a risk assessment to decide whether a cryptocurrency is a good purchase or a sell.
Switex
As an energetic gamer, the traders can likewise utilize Switex, a network of people to stay updated and connect about their preferred games. The number of NAGA Coins the traders procure through Swipe Stocks can be utilized to buy in-game things on Switex.
Switex is the first legal market eco-framework to introduce gaming items as trading instruments. Moreover, it permits game developers, publishers, gamers to profit reasonably.
Switex has entered the games market with around 1.8 billion gamers.
NAGA Academy
The NAGA Academy provides guidance on online trading through webinars, videos, and tutorials. It also conducts offline training through workshops, seminars and classes in financial trading, virtual goods trading/economy, fintech technology, and cryptocurrencies.
This offering by NAGA Academy can be obtained by utilizing NGC or some other crypto and fiat cash through the NAGA Wallet. The learners have the freedom to pick their favored course based on their preferences.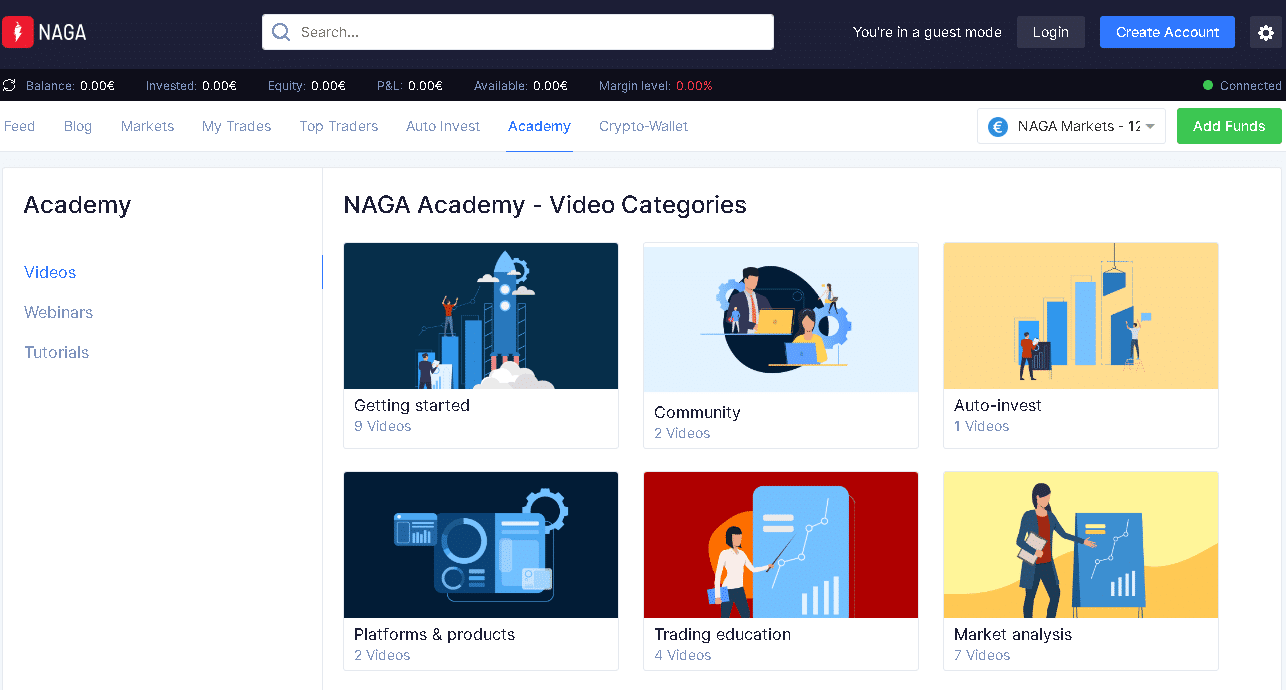 Account Base Currency
Few brokers allow the traders to fund their accounts only in USD like, when the trader tries to fund their account, they are allowed only to deposit their funds in USD. NAGA offers several currencies for the traders to choose from such as, EUR, PLN, GBP, CHF, USD, and several more. This helps the trader to fund their account based on their base currency and this also helps them to match the currency of their credit card or bank account. This is also important to avoid bank charges and currency conversions which are unnecessary on the trader's deposits and withdrawals.
Leverage offered by NAGA
NAGA's leverage depends upon the regulation the trader falls under any of the instruments. Leveraging in Forex can be described as the ratio of the user's funds to the required size of the credit offered by the broker. The size of the leverage generally exceeds the capital invested by several times, yet for some countries, there are limitations to the amount of leverage a trader can use for trading, which comes with a high risk.
Below given are the few levels offered by NAGA –
European Union traders are permitted to have a maximum leverage 30:1 on the major Forex pairs, as per ESMA/MiFID laws.
Non-European Union traders are offered leverage up to 1000:1
Customer Service
As per our NAGA review, Multi-lingual client support is accessible 24 hours every day, 5 days per week, through phone, email, and live chat. Also, the organization runs online social media accounts on Twitter, Facebook, and Instagram, providing a faster way for its clients to connect.
Response time is quick, and the staff is proficient and supportive.
Informative blogs related to trading with NAGA specifically makes it simple for new clients to trade on the website.
As per our NAGA review, NAGA Markets provides supportive client care. It gives first-class support and helps their clients. The devoted customer care division helps customers during the week, over 5 local languages through live chat, land-line phone, and e-mail.
Advantages
The mutual sharing and the learning feature of the platform beat all the other trading platforms.
Another aspect that stands out is the copy trading feature.
The platform strives to make the trading and investment process simple for the traders (both experienced and new). It does so with CYBO (the artificial intelligence-based trading and investment robot advisor), and NAGA portfolio feature.
The mobile app of NAGA TRADER is very effective and feature-packed.
The web platform, on the other hand, is a step ahead of the mobile app and offers full-fledged trading.
The fact that the interface is user-friendly attracts all kinds of users to the platform. The variety of trading instruments is another point that the users can enjoy.
The mix of social media network structure with the trading platform gives NAGA TRADER an edge over others.
It is a neat arrangement to have the demo users and demo accounts separated from the LIVE users and their accounts. It saves from so much of possible confusion.
The NGC based bonuses are also an interesting twist to the trading platform.
Limitations
Trading in the NAGA website by copying or following or replicating the trading strategy of other traders includes higher levels of risks, even when following or copying or replicating the leading traders.
Moreover, the account opening deposits are very high. For instance, to open a crystal trader account, traders need a minimum deposit of EUR 100,000.
No service to traders from Canada, USA, Iran, Cuba, etc.
Comparatively higher trading cost
Moreover, there are several hidden costs, like a maintenance fee for accounts that are not active, (after six months), yet the organization will email this to the customer, with a month's notice, before enforcing this.
Wrap Up
Those who are used to the Metatrader may find the transformation a little tricky to get a grip on, as the improvements are targeted to attract the new generation of traders and investors. The blend of social media network with the investment and trading platform is like a new source of fresh air that connects all kinds of masses. The open platform that allows the user to connect with anyone and learn from anyone is certainly the new age fun-based trading platform.
NAGA TRADER's trading features are second to none. They are highly competitive and are highly user-friendly. The fact that the new users can also gain the confidence of trading by copying trades from the established ones is a great way to encourage mass participation. After the long-detailed review, we can confidently give you a green signal to participate in this unique trading platform that is designed for the millennial as well as the traditional investors and traders.
NAGA is developing fast and getting known as a reliable firm, offering a wide scope of tradable instruments with incredible social trading opportunities. The data offered on the site makes NAGA more appealing to new or less-experienced traders. The mix of news and updates through the blog, education for clients, good customer support and simple copy trading, will attract more new traders. Moreover, it is important to note that before deciding on an investment, traders should do their research and check the terms of the legal documentation very carefully, as their investment might be at high risk.
FAQ's
1. Is NAGA regulated?
Yes, NAGA is one of the leading and established brokers, regulated by CySEC (Cyprus Securities and Exchange Commission).
2. How does NAGA earn money?
This broker earns money through the spreads, commissions, and swaps on specified tradable asset classes.
3. How to deposit money in the NAGA account?
Depositing funds in the trader's account is very easy and it is quick. The funds can be deposited to the user's trading account through wire transfer, credit or debit cards, Neteller, Skrill, cryptocurrencies, Giropay, NAGA card, and Trustly.
4. What is the minimum deposit for this broker?
The minimum deposit amount to deposit in the trading account of NAGA starts at $250, and it varies with the deposit methods used.
NAGA
Pros
NAGA provides its exclusive browser-based trading platform.
It offers a wide scope of trading tutorial & webinars.
NAGA offers clients several methods to withdraw and deposit funds.
The NAGA trading platform is backed by TradingView.
Cons
Comparatively higher trading cost
Several hidden costs.
No service to traders from Canada, USA, Iran, Cuba, etc.
The account opening deposits are very high.