Vanguard Review 2020

Vanguard is one of the world's biggest investment organizations, offering a huge choice of high-quality low-cost ETFs, mutual funds, consultation, and related services concerning investments. Here, institutional and individual investors, financial experts, traders, can profit from the stability, size, and experience that are offered by Vanguard. By the end of April 2019, Vanguard managed more than 5.6 trillion dollars in worldwide assets. Additionally, Vanguard has 189 funds in the United States and 225 funds in worldwide markets.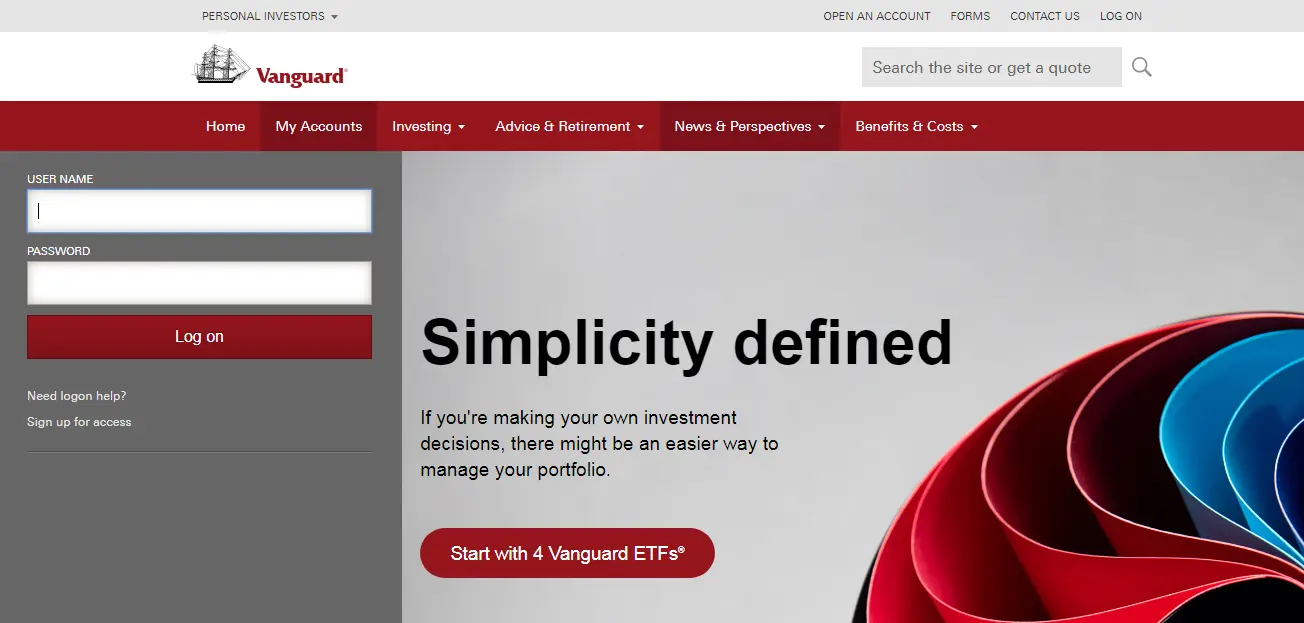 Background
Vanguard ownership has a unique structure. Moreover, the company is owned by its assets and is established as a not-for-profit entity.
Vanguard specializes in low-cost investing. The organization has gained a good reputation for the low-cost ratios that investors pay for exchange-traded funds and index funds.
For investors looking for long term investment, Vanguard has a wide range of selection and services for its clients.
Features
Vanguard is a US stockbroker established in 1975. The organization is regulated by the Financial Industry Regulatory Authority (FINRA) and the Securities and Exchange Commission (SEC).
Vanguard will be the right choice for customers who are looking to invest their money into the organization's funds including Exchange-traded funds (ETFs) without commission.
Additionally, Vanguard enables the trader to trade different securities, although it is not a perfect fit for active traders. It is most appropriate for long term investors who are not making more number of trades every month.
Besides, Vanguard is useful for retirement investors with large account balances while it is less appropriate for beginners or active traders.
Even though Vanguard offers a huge choice of low-cost ETFs and mutual funds, their online website for individual trading needs further improvement.
Recently added features include no commission for online transactions on around 1,800 ETFs, lower investment minimums for almost 40 of its lowest-cost index funds, and an extended lineup of low-cost, proprietary, and socially responsible exchange-traded funds.
Vanguard is best suited for –
Retirement or long-term investors
Low-cost investments
ETFs and Index fund investors
Investors holding large account balances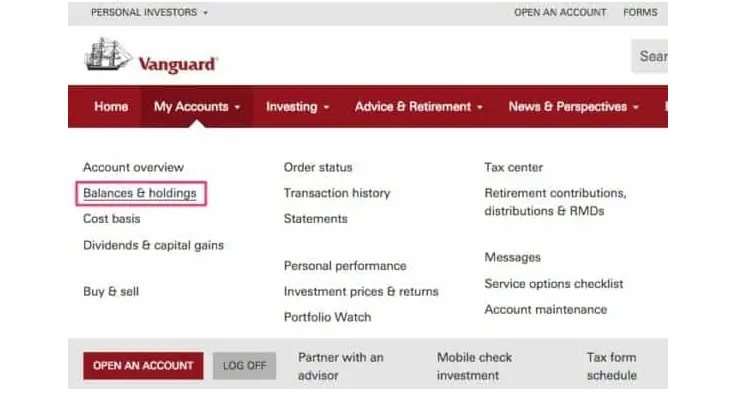 Advantages
Large account balances qualify for discounted and free trades. Moreover, approximately 1,800 commission-free ETFs are accessible.
Vanguard provides good educational materials for long-term planning.
Vanguard trading fees are normal. The fee structure is straightforward, however, the fees are dependent on the trader's account balance.
Vanguard provides various services depending on the trader's investment account balance. The higher the account balance, the higher will be the discount.
Treasury bonds are free of charge. Moreover, new issues, apart from municipal bonds, are likewise free.
If a trader trades non-treasury securities on the secondary market, there will be a trading fee of 2 dollars per 1,000 dollars face value with a 250 dollars maximum if the trader invests an amount below 500k dollars. If the trader invests in more than 500k dollars, the commission is 1 dollar per 1,000 dollars, with 250 dollars max.
Moreover, Vanguard has funds that specialize in short-term savings, retirement, college savings, and for all investing situations possible. These assets are famous to the point that a finance magazine as of late selected 24 mutual funds of Vanguard for its Money 70 list of best Mutual funds.
Vanguard provides free mutual fund and ETF trading for some of its products including its own ETFs. Besides, it does not charge account opening and inactivity fees for its customers. Everything is digital and the mobile trading platform has a great design and is more user-friendly.
Commissions
Vanguard charges no commission charges for trading ETFs and mutual funds. Moreover, Vanguard charges average stock fees, yet the ETFs are free. The commission for stocks is 7 dollars per trade for the first 25 trades every year and 20 dollars per trade from that point onwards. Moreover, margin rates are on the higher side.
Account types
Vanguard offers different types of account for its customers –
Individual Brokerage Account
Business Accounts
Education Savings Account
Trust Account
Joint Brokerage Account
Individual retirement accounts
Vanguard Personal Advisor Services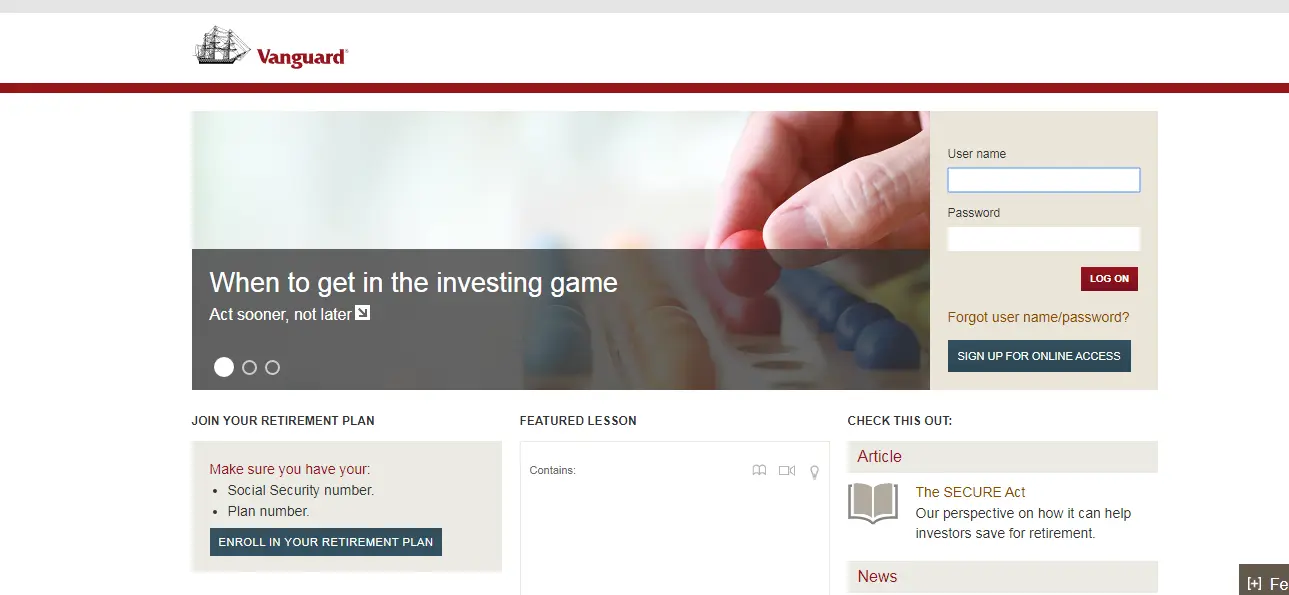 Types of Investment Accounts
Mutual Fund
This account is used for investing in Vanguard mutual funds apart from retirement accounts. Moreover, there are no tax advantages, but the trader can withdraw cash whenever needed and there are no restrictions on the investment amount.
Vanguard offers over 120 mutual funds. These incorporate bonds, money market, REIT and stock mutual funds. Also, the trader can choose between actively and passively managed funds.
Furthermore, Vanguard offers what it calls as Admiral Shares. They are mutual funds with lower expense ratios. In any case, to benefit from Admiral Shares, the trader should explicitly meet certain criteria.
When the customer has a brokerage service account, they can invest in ETFs offered by Vanguard. These funds are much similar to mutual funds, yet are traded daily on an exchange, similar to stocks.
Besides, Vanguard ETFs have no transaction costs and the normal fund expense ratio is just 17 percent; the industry average is 53 percent.
Apart from mutual funds, Vanguard has become a significant player in the ETF markets, presently offering 1,800 distinct ETFs with no fees on commission.
Vanguard offers tax-sheltered accounts for retirement. The most popular IRA accounts are the cost-effective and simple Target Retirement Funds. For investing in these funds, the trader needs to choose the number of years they have until retirement and Vanguard decides the suitable fund for their age.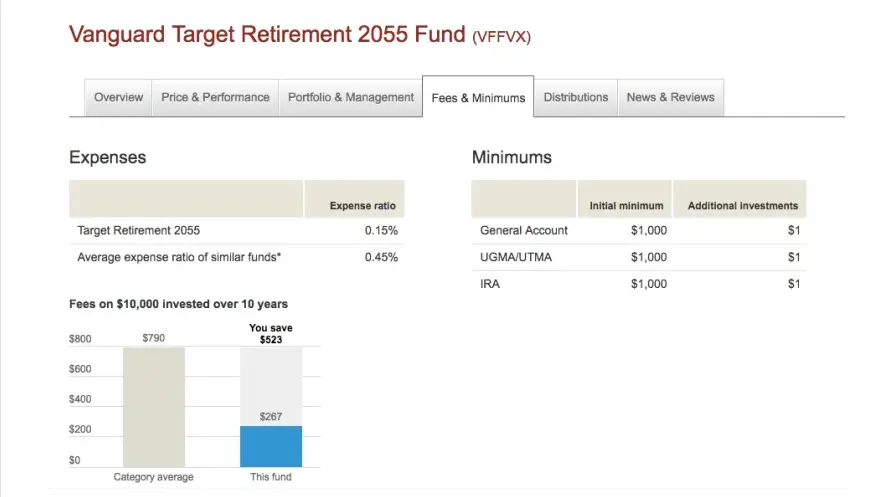 If the customer already has the Brokerage services account, they can also open an options account. Moreover, Vanguard charges 30 dollars in addition to 1.50 dollars per options contract. If the customer has Flagship Services (accounts over 1,000,000 dollars) at that point, the cost of the option is only 8 dollars in addition to 1.50 dollars per contract. Vanguard is generally suitable for the options trader who may require help with options trades.
Brokerage Services Account
A customer can open a Vanguard Brokerage Services account and buy individual stocks, bonds, mutual funds, and CDs from various organizations. Further, a Brokerage Services account costs 20 dollars every year and offers the trader access to any mutual fund or stock.
529 College Savings Accounts
If a customer is looking for their children's future school expenses, Vanguard offers a 529 Plan. 529 investment plans, allows the customer to save for college expenses based on tax advantage.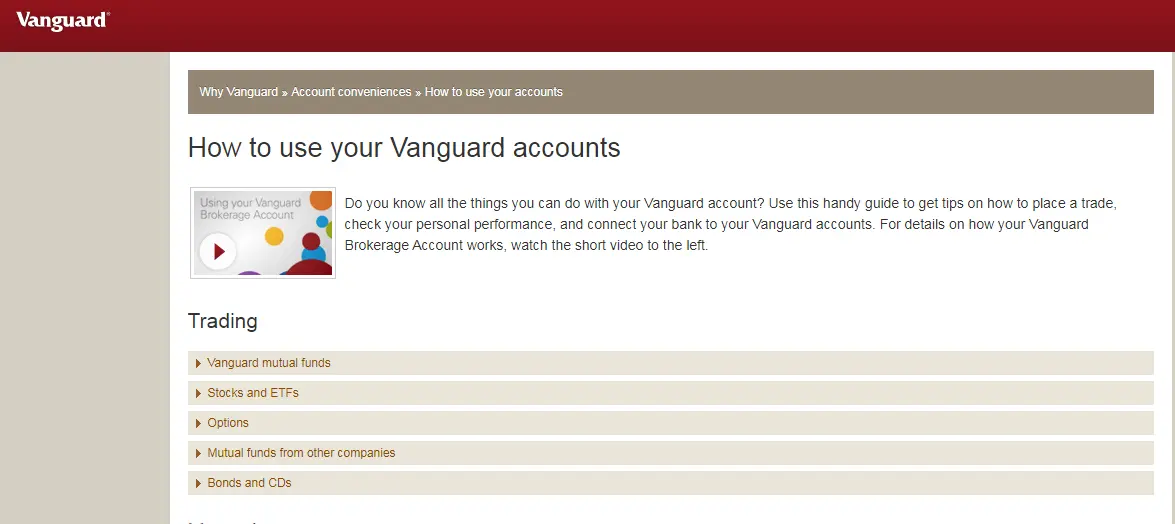 Other Accounts
Traditional and Roth IRAs
Vanguard gives the investors the choice of opening either a
Traditional (Pre-tax contributions)
Roth IRA (post-tax contributions)
By using the Roth IRA, the trader can find it as an effective investment method when combined with low-cost mutual funds.
Vanguard presents both fixed-salary and variable annuities. Further, Vanguard has probably the least rates in the business for annuities. This is presumably because the organization does not have full-time sales reps selling the product, which in turn passed on as a discount to the trader.
Individual and joint accounts
Vanguard enables the customer to save money in taxable accounts by investing either in bonds, stocks, mutual funds or CDs.
Deposit fees
Vanguard does not charge deposit fees. US customers can utilize ACH, checks, and wire transfers to deposit money in the account. Credit or debit cards and electronic wallets are not offered.
Withdrawal fees
Vanguard does not charge withdrawal fees. Yet, if the client uses ACH withdrawal, US domestic wire transfers cost 10 dollars. If the client has more than 1 million dollars in the account, there will be no fees for wire transfers.
Non-trading fees
Vanguard offers its clients low non-trading fees while it charges no inactivity fees. Additionally, there are no withdrawal fees if clients use ACH transfer.
Account fees
The broker charges no inactivity, closing or transfer fees. It applies 20 dollars yearly account service fees for all investment accounts and IRAs.
Stock trading costs
Vanguard stock trading costs differ by assets invested in their funds and ETFs. Some of the costs are given below –
Less than 50,000 dollars, vanguard charges 7 dollars per trade for the first 25 trades every year, 20 dollars subsequently.
50,000 to 499,999 dollars – charges are 7 dollars per trade
500,000 to 999,999 dollars – charges are 2 dollars per trade
1 million to 4,999,999 dollars – for first 25 trades every year are free, 2 dollars subsequently
5 million dollars and up – for the first 100 trades every year are free, 2 dollars subsequently.
Web trading platform
Vanguard has a web trading platform. It offers a two-step login and there is a clear fee report. The trading platform is simple with search functions.
Mobile Trading Platform
Vanguard offers its clients a user-friendly and well-structured mobile trading platform. Needless to say, it does not have price alerts and the trader cannot trade with bonds and options with it. Moreover, it does have a good search function.
Similar to the web trading platform, Vanguard has an in-house created mobile trading platform known as Vanguard Investors. Besides, the application is accessible both on iOS and Android. The mobile trading platform is accessible only in English.
Moreover, Vanguard offers mobile applications for iOS, Android and Kindle Fire devices. The design is simpler to use than the website. Vanguard offers the traders the "Vanguard" mobile application on the Google Play Store and Apple App Store.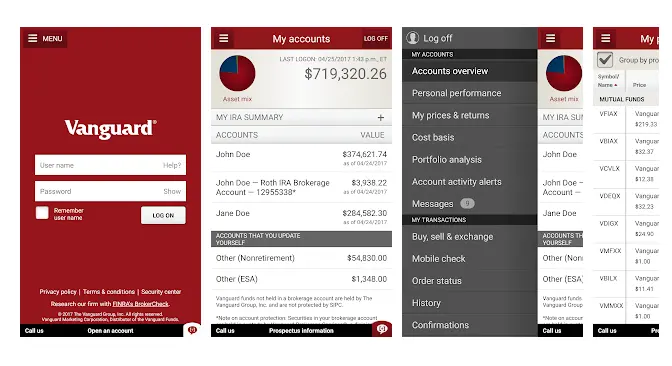 Personal Advisor Services
Traders can use a managed account service if they need any help to manage their investments. The traders will get recommendations from an expert and Vanguard's Robo-advisor technology. After adding the financial goals, this advisor recommends a portfolio that is rebalanced automatically. The minimum investment is 50,000 dollars and has a yearly 0.30 percent charge.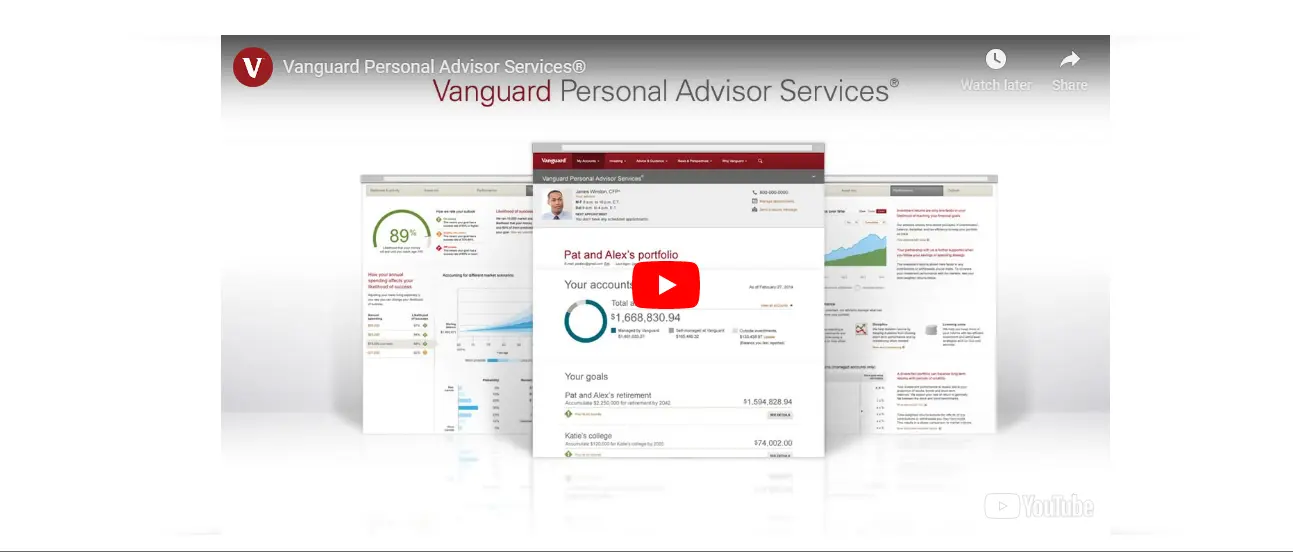 Newsfeed
The news feed provided by Vanguard is good. The trader can view it easily, but it does not have visual components, charts or pictures. It is offered by third-parties such as Associated Press or MT Newswires.
Education
Vanguard offers reasonable quality educational videos and articles. Also, there are high-quality webinars that are interactive. On the other side, there are no demo account and the trading platform tutorial videos are absent. The traders can utilize Vanguard's –
Webinars
General educational videos
Quality educational articles
The general educational videos and the archive webinars have great quality content, mostly focusing on beginners. The general topics include information related to bond, yield curve, etc.
Education offered by Vanguard is genuinely basic, with the objective of long-term investing. They occasionally organize webinars for their clients that focus on long term investment.
Research
Vanguard provides its traders with sharp research, intending to help address the necessities of retirement plan sponsors and institutional investors. It was created by experts who keep working in combination with industry experts and leading academics.
This research offered by Vanguard provides insights on technical knowledge and client experience. It also provides knowledge on the difficulties the trader faces currently along with trading ideas, information on asset fundamentals and several more. Moreover, it is very user-friendly.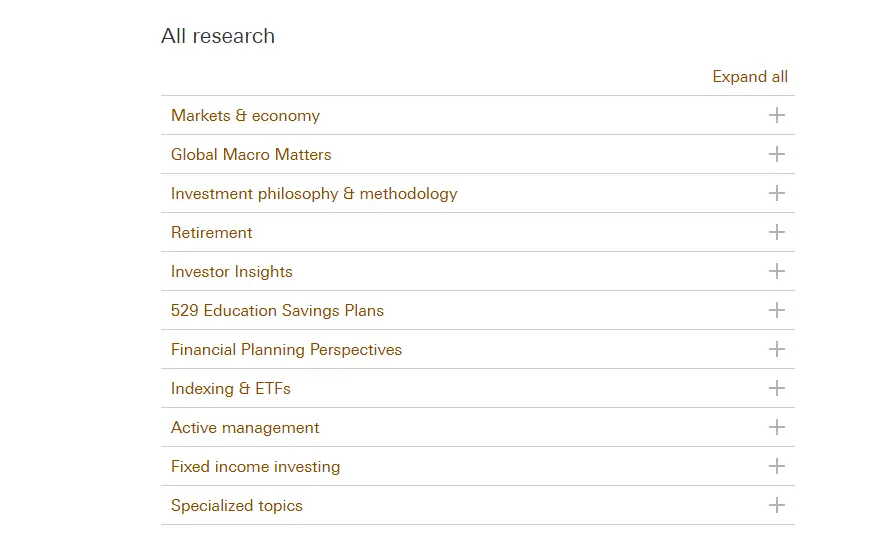 Stock Screener
Vanguard provides a stock screener, which is an exclusive ETF screener. The Mutual fund screener is simple and focuses on finding Vanguard funds. Moreover, options research is constrained to option chains, which are fundamentally less educational than chains on other broker chains. Charting is very fundamental and incorporates no technical studies or customization.
Alerts and notifications
The trader can set price alerts for ETFs, stocks, and mutual funds. Moreover, only email alerts are accessible and setting them will take a bit long time.
Portfolio Watch
Vanguard offers a portfolio analysis tool for free to its customers. The trader can gain insights on various asset allocation, overall expenses of taxes, and also watch out for risks related to their portfolio. Vanguard's summary section will provide traders automated recommendations to change their portfolio.
Customer Service
Vanguard has good customer support. It gives quick and relevant answers on every single accessible channel. On the other side, it does not have 24/7 service; live chat is also not provided by this broker. The customer support can be contacted only through Email and telephone. Besides, services are categorized and based upon the trader's balance. The phone services are open from 8 am-10 pm Monday through Friday only.
Drawbacks
Vanguard offers various low-cost ETFs and mutual funds, which can be purchased online. This broker does not offer in-depth education and trading tools, which would be a drawback for traders.
Most Vanguard retirement funds and the Vanguard STAR Fund have a minimum investment of 1,000 dollars, and several other Vanguard funds should have a minimum of 3,000 dollars. Besides, the initial minimum purchase of 1,000 to 3,000 dollars will be high for some beginner investors.
Account service fees can be avoided if the trader signs up for email delivery of fund prospectus and account statements; or else, the trader needs to pay 20 dollars yearly fees.
Stock trade commissions are measured on the basis of the assets the trader had invested in index funds and ETFs. Investments with less than 50,000 dollars should pay 7 dollars per trade for the initial 25 trades and 20 dollars per trade subsequently. Moreover, accounts that are under 50,000 dollars in assets face high trading fees from Vanguard.
Vanguard is the best broker when used for ETFs and Mutual funds. Apart from this, the services are simply basic. However, the vast majority of traders use Vanguard just for the low-cost indexed mutual funds and ETFs.
Generally speaking, the usability of customer support has consistently been effective and direct. However, Vanguard offers client assistance Monday through Friday, not 24/7.
Wrap up
Vanguard is one of the largest US stockbrokers managed by top-level regulators. Despite the fact that Vanguard is a good choice for long term fund investors, it cannot be considered as a good choice for stock traders except they have a large amount. Even though this broker offers lower fees on trading stocks, it has a few drawbacks too. The product portfolio covers just the US market and the research tools are exceptionally fundamental. Financing rates are likewise high when the customer trades on margin. One of the advantages relating to Vanguard is that there are low non-trading expenses and no inactivity fee is involved.
Vanguard
Pros
Vanguard enables the trader to trade different securities,
Vanguard is useful for retirement investors with large account balances.
Vanguard offers a huge choice of low-cost ETFs and mutual funds
no commission for online transactions on around 1,800 ETFs, lower investment minimums for almost 40 of its lowest-cost index funds
Cons
This broker does not offer in-depth education and trading tools.
Vanguard offers client assistance Monday through Friday, not 24/7.
Vanguard is the best broker when used for ETFs and Mutual funds. Apart from this, the services are simply basic.