Forex.com trading platform was established in 2001 and is popularly known as the global market leader in forex trading. It is regulated by top-level controllers, like the UK Financial Conduct Authority (FCA), US Commodity Futures Trading Commission (CFTC), and Cayman Islands Monetary Authority (CIMA). Forex.com is regulated in several other nations worldwide through its affiliates. It offers a strong trading platform for the new as well as experienced traders. Forex.com's parent organization is GAIN Capital Holdings; the company trades on the NYSE under ticker GCAP. Since the parent organization is listed on the stock exchange and provides financial statements, regulated by top-notch regulators, it adds to Forex.com's credibility as a reliable platform.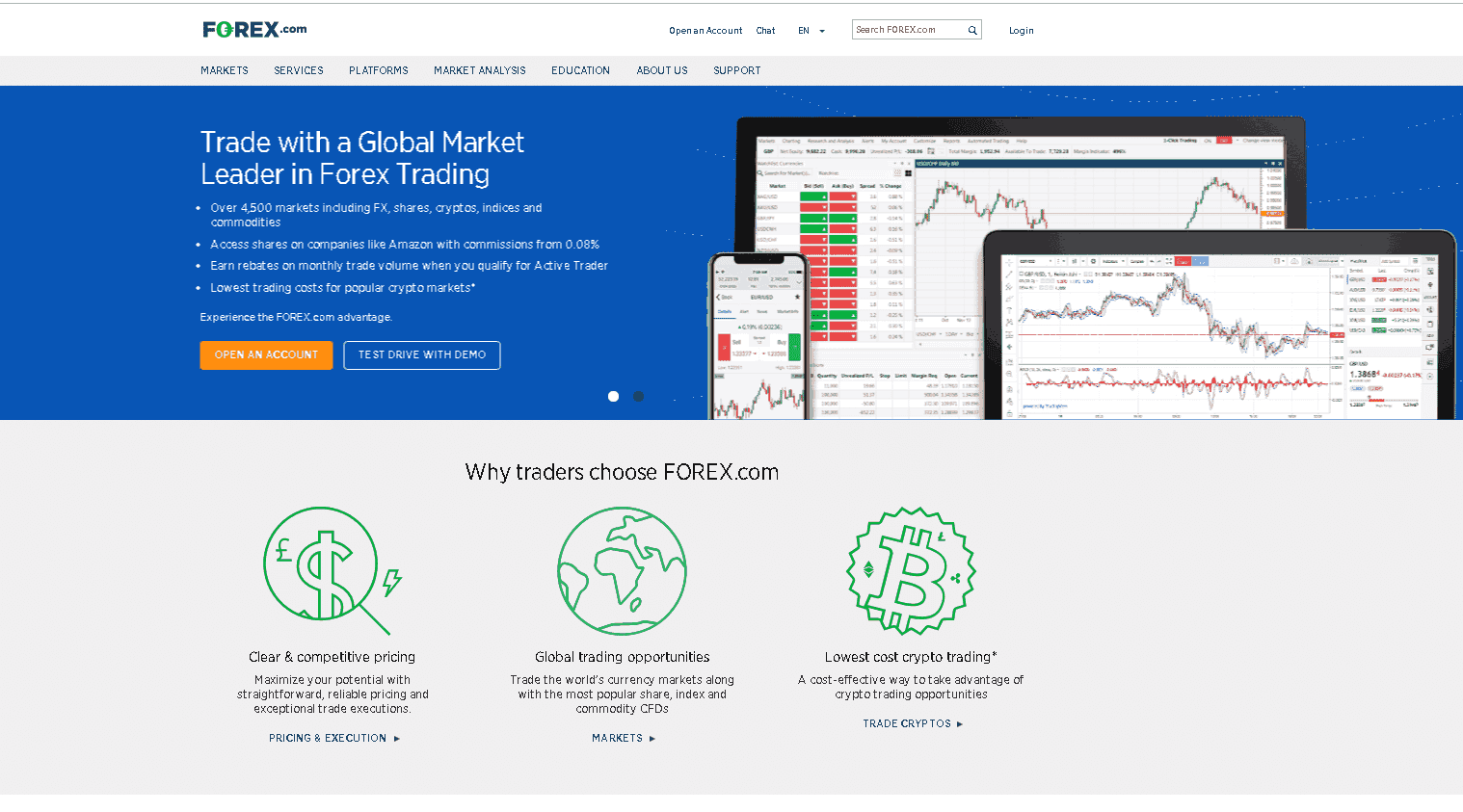 Get to Know the Background of Forex.com
Forex.com is a well-known brand of GAIN Capital, which is a US-based investment organization. It is significant to note that a strong parent organization decreases the risk of the organization to go bankrupt.
Forex.com is regulated in the U.S, U.K., Canada, Japan, Singapore, Australia, and the Cayman Islands. Considering the regulatory laws of each country, the range of products may also differ. For example, CFDs are not accessible to U.S. customers; however, they are accessible outside the U.S.
Forex.com offers support in various languages for the benefit of its customers. The clients can select from several languages like,

English
Arabic
German
Polish
Chinese
Japanese
Hungarian
List of Sailent Features of Forex.com
Forex.com has transparent pricing, even though it offers different kinds of accounts. For example, in one account, traders pay the spread on each trade. Other accounts charge a commission however, the spread is lesser. Forex.com offers its traders an average spread to these kinds of accounts.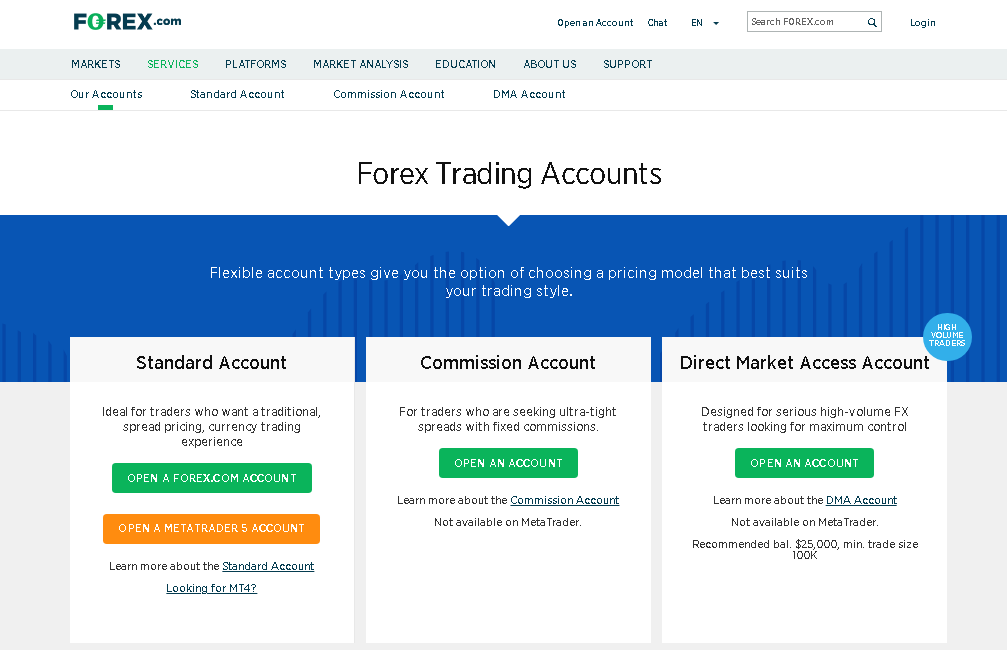 Ensured stop losses are provided like other forex brokers with guaranteed stop loss, however, at a cost. Average stop losses help in controlling risks, yet are dependent upon slippage which may cause a negative balance during fluctuating market moves.
Customer funds are kept isolated from the funds of Forex.com; this helps in safeguarding customers' money, considering when the organization has finance-related issues.
Additionally, no insurance is offered by the organization regarding the safeguarding of funds. This is an exception to Canada, where Canadian customers' funds are safeguarded by the Canadian Investor Protection Fund.
Fully functional demo accounts are offered for free, which gives the prospective customers time to evaluate the pricing structure before investing the real capital.
When Forex.com encrypts client's information, not much is offered as a way of extra security like two-factor authentication or fingerprint technology.
Forex.com provides the traders to trade in options like CFDs, binaries, and spot forex, in more than 4,500 markets. These are offered through GFT which is presently part of FOREX.com. GFT is located in the UK and is a worldwide pioneer in online trading.
Moreover, traders can select from over 50 currency sets, CFDs in 10 global commodities and indices. The broker also provides a list of equities, rates, and bonds.
A bit of Investment warning, CFDs are complex instruments and they come with a high risk of losing money quickly because of leverage.70% of retail investor accounts lose money when trading CFDs with this provider. You should consider whether you understand how CFDs work and whether you can afford to take the high risk of losing your money.
Advantages
Let us discuss some of the advantages offered by this broker –
Forex.com pricing is very transparent, even though it offers various types of accounts. It provides average spreads for all the types of accounts it offers.
As per our Forex.com review, we can say that it is the best trading platform for intermediate traders and beginners, as its main focus is on trading education, by offering startup tutorials and a demo account which is valid for 30 days.
Forex.com's minimum deposit to open an account is $100, or the currency equivalent, but it recommends the traders to deposit a minimum of $2,500 for the traders to maintain adequate excess margin balance. Further, this broker does not charge fees on incoming deposits irrespective of the type, but the banks which are involved would charge fees for transactions.
Account Types
This broker provides various account types on its platform such as Standard, Commission, Demo account, and Direct Market Access (DMA). These account types can be accessed through their mobile app as well.
Standard Account – Most of the traders will opt for standard account type, since it is the easy way to start trading. This standard account features easily-understood spreads and fast trade execution which are competitive when compared to other brokers. This account is the only type that is available to use with MetaTrader 4.
Commission Account – This account is widely used by experienced traders who want tighter and reduced spreads in combination with flat and low commission fees. The trader needs to pay $5 commission per 100K traded, and this account is not available for use with MetaTrader.
Direct Market Access Account – This account is for high volume and experienced Forex. traders. This account payment scheme is based on commission; the minimum balance for this type of account is a minimum of 25000 dollars and the minimum trade amount should be $100,000.
Commissions and Fees
Forex.com is initially an individual market participant broker. This implies they do not interface customer orders with the market prices offered in the market. Rather, Forex.com marks the cost up marginally, by creating a bigger spread. This is how they generate income.
Forex.com drops behind global brokers in the pricing department, with several brokers offering tougher spreads and lesser commissions to traders, even though they have small accounts.
Commission account and standard account traders may likewise profit from the Active Traders Program. The program is available to any person, who opens an account with 25,000 dollars or trades 25 million dollars a month. Besides, the program is not available to DMA account holders, as these accounts already have volume-based fee discounts.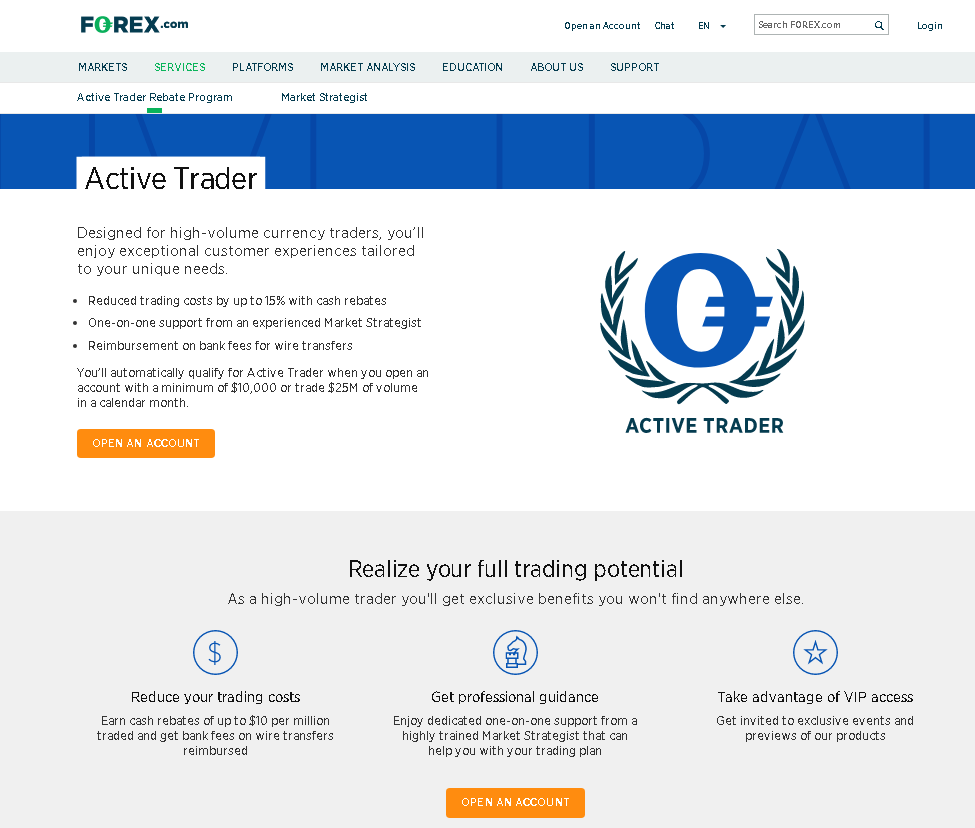 Regarding other fees Forex.com, a bank account with less than 10,000 USD dollars and trading inactive for over a year are susceptible to 15 dollars a month inactivity fees. Moreover, accounts having 10,000 dollars are absolved from inactivity fees.
Here are no extra fees Forex debited by Forex.com for deposits. Besides, for withdrawals, ACH payments and cheques are free. Moreover, U.S. wire transfers below 10,000 dollars incur about a 25 dollar charge, and all other wire transfers are 40 dollars. Wire transfers more than 10,000 dollars are free.
Investment Products Available at Forex.com
According to FOREX.com reviews, Customers from the U.S. have access to 80 forex sets, and also unleveraged gold and silver.

Customers outside the U.S.do have access in addition to all the forex sets, CFDs on stocks, indexes, and commodities. In the U.K, Cryptocurrency trading is accessible.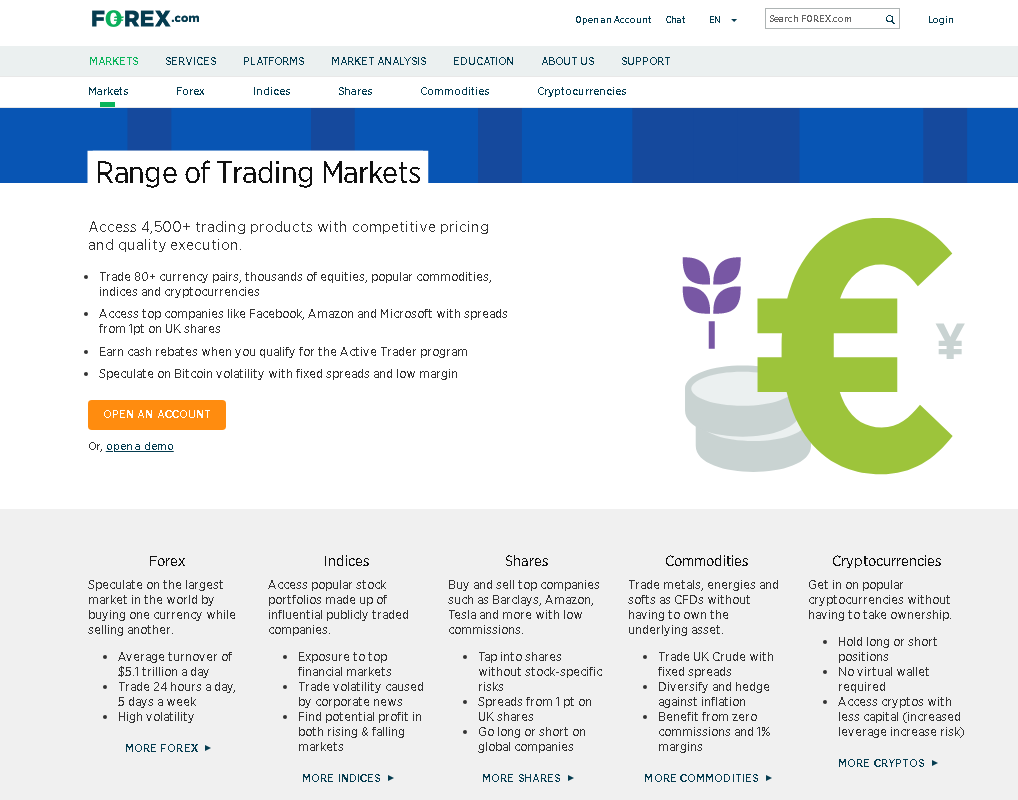 To open an account Forex.com requires just $50.
Moreover, the minimum trade size on any currency is 1,000 dollars. Hence, opening an account with $50, 20:1 leverage is required to take the smallest position feasible. Suffice to say, leverage influences the risk factor.
This broker offers more than 4,500 CFD instruments on its top-class platform, which includes Web Trading and Advantage Trader web and desktop, along with 500 symbols on MetaTrader5 (MT5) to support trader.
Know About Metatrader Suit of This Broker
Currently, Forex.com's platform suite is perfectly well established and its interface is very user-friendly. This broker additionally provides the complete MetaTrader suite, which includes both MT4 and MT5. All the industry standards for forex trading have been upgraded in MetaTrader5 which now covers over 500 markets including equities, FX, cryptos, commodities & indices.
Traders can now support their trading decisions with 38 technical indicators, 44 analytical objects, 21 chart timeframes, an integrated economic calendar, a market search function, five full daily candles, and an improved strategy tester.Forex.com lets traders benefit from various opportunities to trade which are enabled by MetaTrader5.
Forex MT5 trading opportunity – Traders can now also opt for the multiple MetaTrader apps which help them to optimize their trade strategy.
A bit of Investment warning, CFDs are complex instruments and they come with a high risk of losing money quickly because of leverage.70% of retail investor accounts lose money when trading CFDs with this provider. You should consider whether you understand how CFDs work and whether you can afford to take the high risk of losing your money.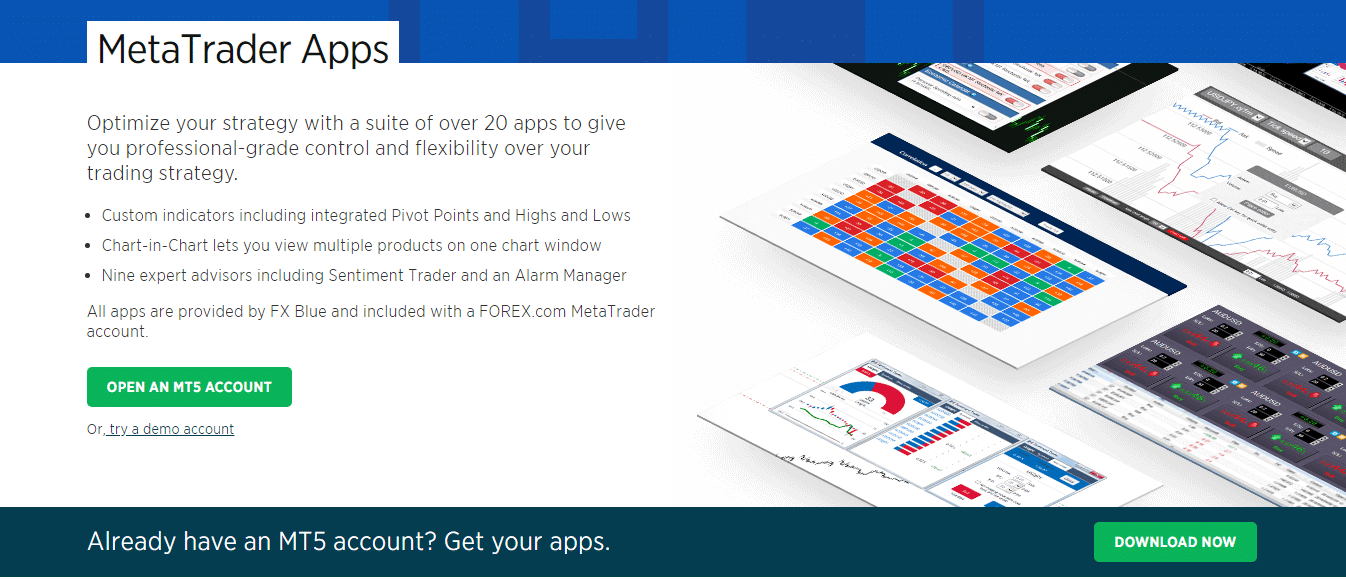 Advanced Trading Techniques
As per FOREX.com review, it is a leading platform for Advanced Trading, and it is most suited for experienced traders and accompanies a powerful charting package stacked with an enormous selection of technical indicators and drawing tools.

These comes with –

Highly customizable dashboards and trade preferences
Powerful charting tools, 80+ technical indicators, extensive drawing tools and more
Advanced traders analytical tools including integrated trade strategies with 100s of predefined templates to choose from

Moreover, technical analysis tools include Autochartist, an automated technical analysis, which scans the business sectors for emerging and completed patterns and also for trade ideas. Additionally, more experienced traders by using the automated trading center can develop automated trading frameworks. Other trading brokers also provide these types of advanced trading techniques, get more details of each top broker's trading techniques here.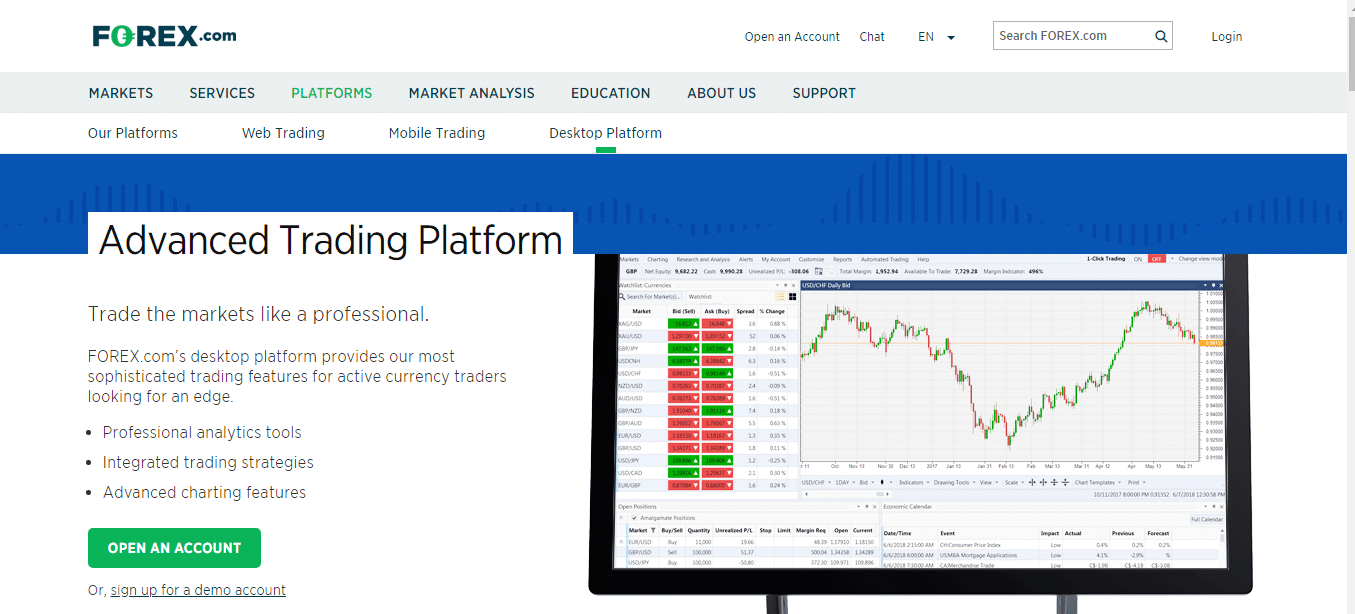 Forex.com Demo Accounts
Forex.com, like most of the brokers, offers a demo account. The primary difference between the demo account and the live account is that there is no risk related to trading in a demo account because the trader uses virtual money.
The demo or practice accounts help the trader in getting comfortable with the kinds of trading, familiarize with the platform, and the trading tools offered on Forex.com.
Besides, the trader can use demo accounts for the entire 30 days following the signup, so that the trader can sharpen the trading skills. Currently, Forex.com does not offer the alternative of renewing the demo account, something which a few brokers offer.
Placing orders
The trader can place several order types such as –
Market
Limit
Trailing stop
Stop-loss
One-cancel-other (OCO)
Additional Features Which Makes It More Popular
As per trading forex reviews, Forex.com also offers few additional features for the benefits of its users. For example, it provides in-depth educational material through its learning center. Also, there is a self-study course titled "How to trade forex" and several trading concepts are given elaborately for the benefit of beginners and other technical topics for experienced users.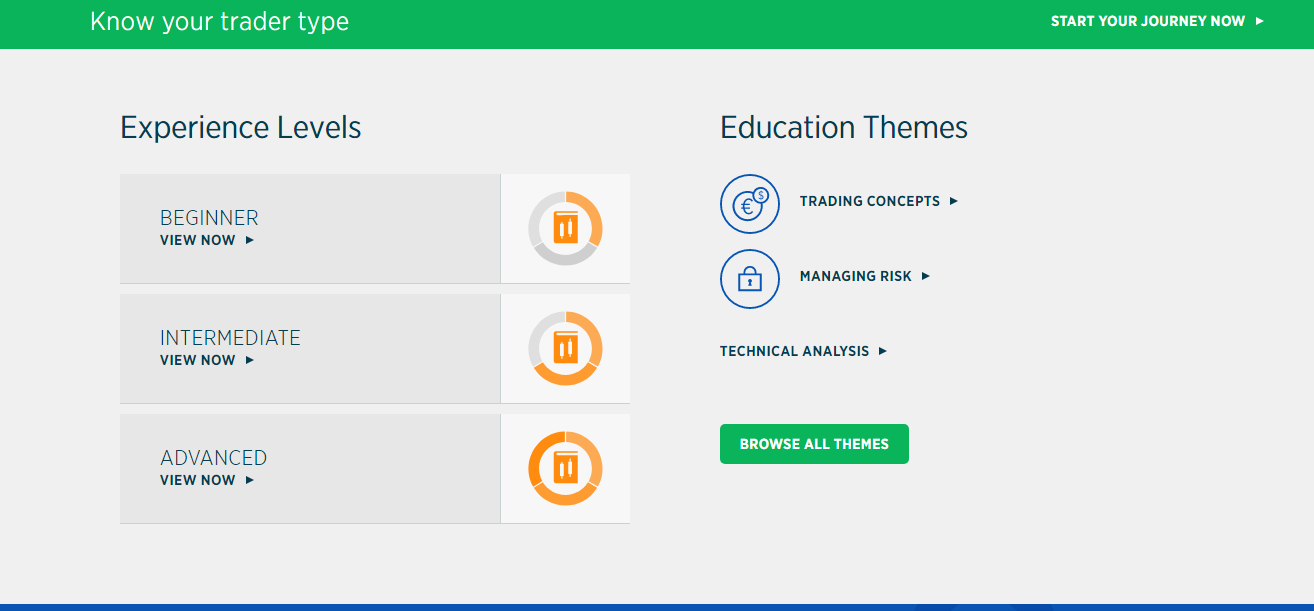 Various Trading Platforms Available at Forex.com
Trading platforms of Forex.com suits the active day trading experts and the periodic longer-term trader. The trader needs to select between,
MetaTrader 5 (MT5) or advanced trading platform for a desktop experience
Web Trader for a browser-based trading experience
Select the Forex.com or MT5 mobile application for trading on portable smart gadgets.
Inside the platform, the users can access news, charts, economic calendars, see positions, trades or order history, research reports, access trade signals, and also the market research insights from forex.com analysts.
FOREXTrader PRO
We get to know from FOREX.com reviews that FOREXTrader PRO is one of the leading platforms provided by this broker.

Further, it can be altered so that users can maximize their profits. It is accessible through web download and a full suite of mobile solutions which includes the iPhone and iPad. Additionally, it is open to Mac clients. Besides, users can choose 80 currency sets, CFDs, metals and commodities.
FOREXTrader PRO presents advanced charting features, permitting traders to trade directly from the graph they are researching, by a click of the mouse. This helps to alter orders and manage trades at extraordinary speed, moving with the current market.
Moreover, preset indicators can be altered to match the trader's needs and trading style. Additionally, expert analysis is provided by Forex.com to inspire the traders to stay aware of key market-driving data, which includes trade ideas and integrated insights.
Advanced Traders Charting Feature for Better Understanding
Forex.com's Advanced Charting feature helps traders chart the forex markets like a professional. All leading charts of Forex.com are powered by TradingView. It also enables users to –
Identify the opportunity by easily placing trades, viewing positions and orders on the charts
Use drag and drop order modification
Amplify their technical trading by choosing from its 50+ indicators, advanced drawing tools, and 10 chart types
Create layouts that are responsive to device and browser size. No time is, therefore, wasted in readjusting.
Test drive Forex.com's platforms and tools for 30 days
A bit of Investment warning, CFDs are complex instruments and they come with a high risk of losing money quickly because of leverage.70% of retail investor accounts lose money when trading CFDs with this provider. You should consider whether you understand how CFDs work and whether you can afford to take the high risk of losing your money.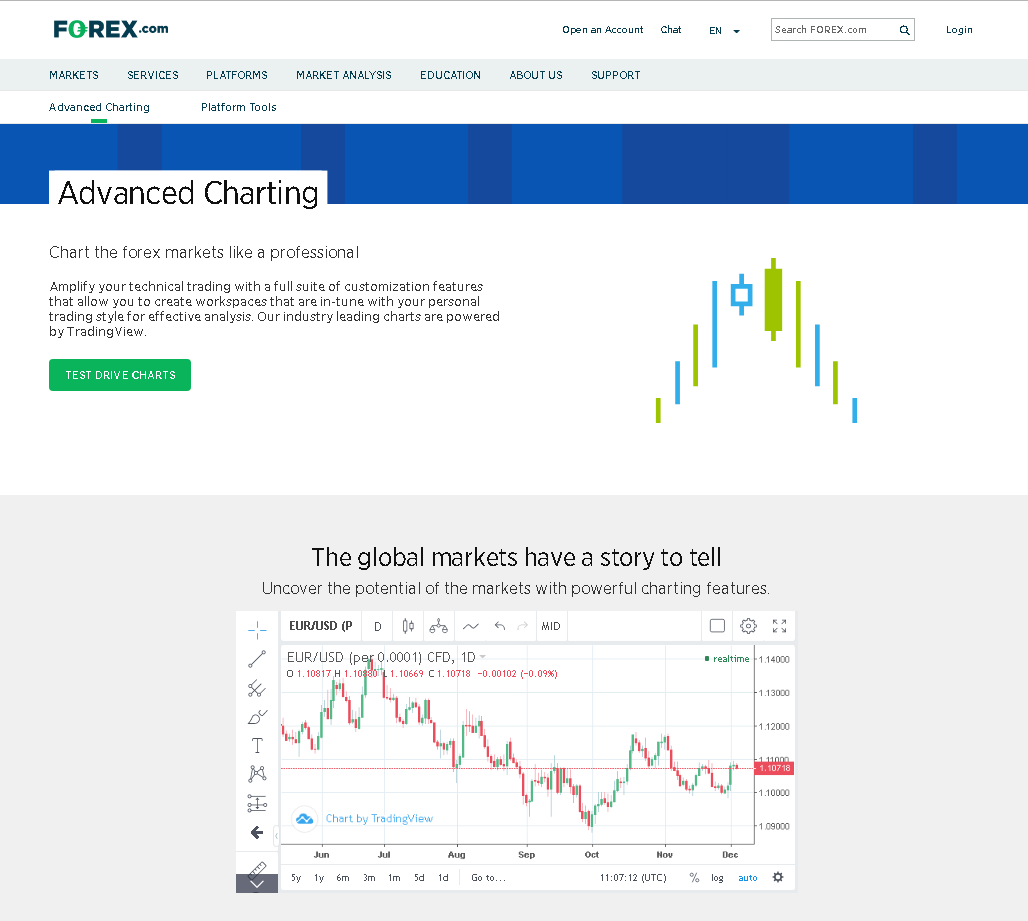 Get to Know Desktop Experience of Users
Forex.com provides two desktop platforms, MetaTrader 5 and the Advanced Trading Platform.
Suffice to say, there are not many drawbacks to these platforms. There are lots of indicators and drawing tools and it is most functional to make quick trades if there is a necessity. Besides, an account Forex.com can be incorporated with NinjaTrader, a leading third-party trading platform.
Further, Forex.com's desktop platform is similar to the web platform in functionalities, such as price alerts, reports, and order types.

By checking FOREX.com reviews, we get to know that the desktop trading platform can be customized.

The trader can compile and save their format. On the other side, it is not much user-friendly and feels obsolete. Moreover, it was difficult to explore the platform and felt excessively overcrowded with functions.

Forex.com Mobile Experience
Forex.com mobile application is fully functional, giving traders access to all their account data. Moreover, the trader can withdraw or add funds, can view their trade history, access news, create watchlists, and view charts for their mobile application. It is simple to explore and set up.
Forex.com allows full trading capabilities with multiple order types
The charting feature in the mobile app is one of the disadvantages one can think of. Besides, there is a restricted number of normal indicators accessible, like RSI, MACD, and moving averages. Yet, drawing functions are well developed, and technical tools are absent.
Additionally, full order functionality is accessible, which includes conditional orders and the capacity to effectively place stop losses and profit targets at the hour of trade.
Forex.com offers integrated news, market commentary, and analysis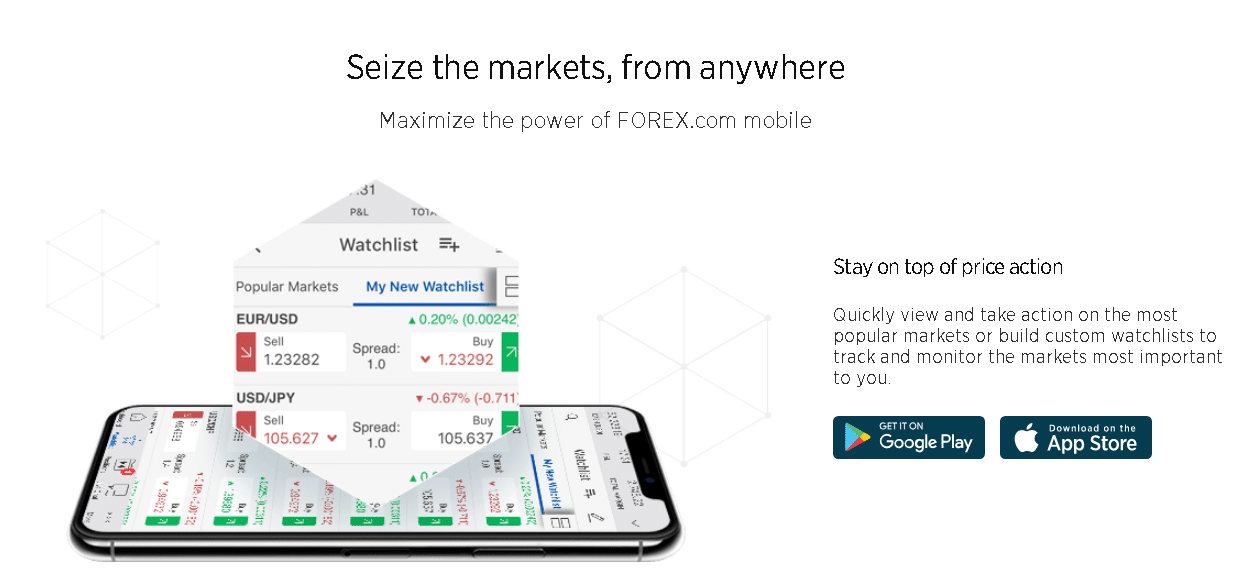 Web Trading
Forex.com's web trading platform comes with intuitive design and rich features which help traders to gain maximum control over their trading strategies. Below are some of the distinctive features:
Smart trade ticket which helps manage risk effectively by setting orders based on P&L, price or pips Pre-defined and customizable layouts
Powerful charts with integrated one-click dealing
A personalized platform which allows traders to create layouts to suit their trading style and easily access them from any computer or browser for future use
Introducing Brokers Program
Like several competitors, forex.com presents an "Introducing Brokers" program. By this program, those who introduce prospective clients to the forex.com will earn cash as those new clients trade. Moreover, there are various compensation models to select from, and each is bountiful. Also, there is an easy-to-use partner portal that makes it easy to track the growth.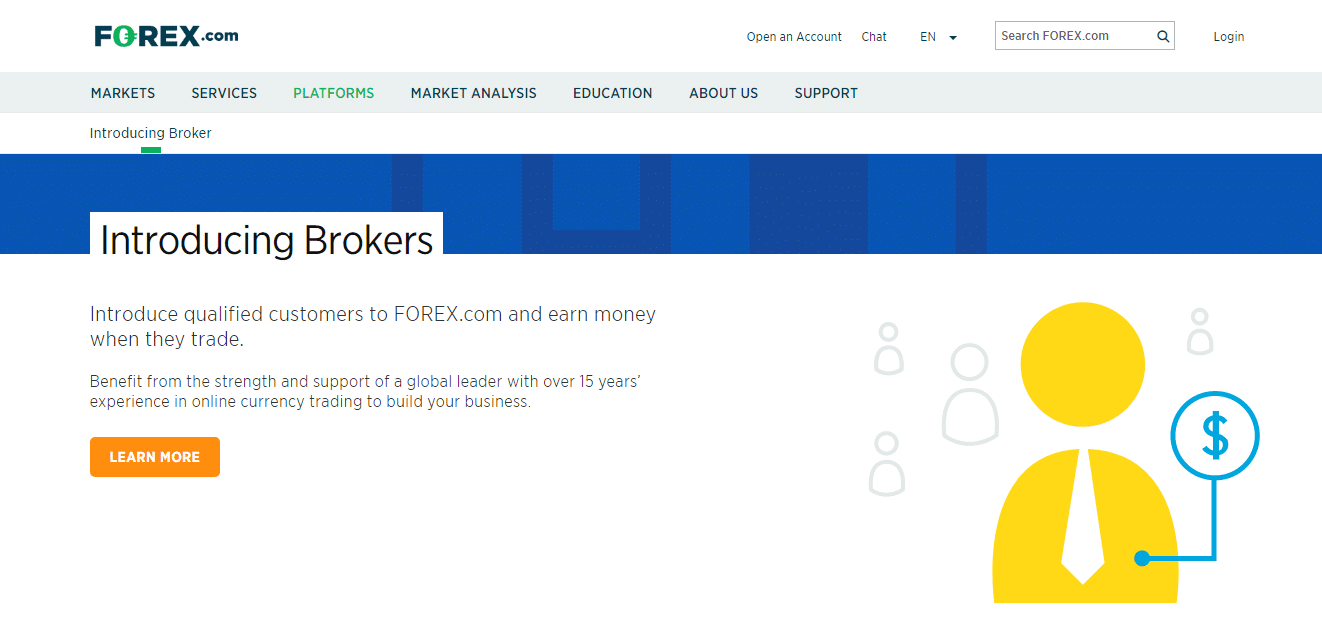 Get Complete Market Analysis Here!
Forex.com keeps traders abreast of market opportunities by offering in-depth market research Tools and analysis. Various news channels, real-time trade signals and research tools from Recognia and Autochartist, automated pattern acknowledgment modules from Trading Central, and various blog updates from FOREX.com's global research group are on the whole accessible. Besides, FOREX.com offers an exceptional premium package with trading from Faraday research which costs £720 yearly.

Its market analysis section includes Pivot Points, Economic Calendar, and also Live Trading Sessions as per the FOREX.com review 2022.

Pivot Points help traders determine significant daily, weekly and monthly support and resistance levels.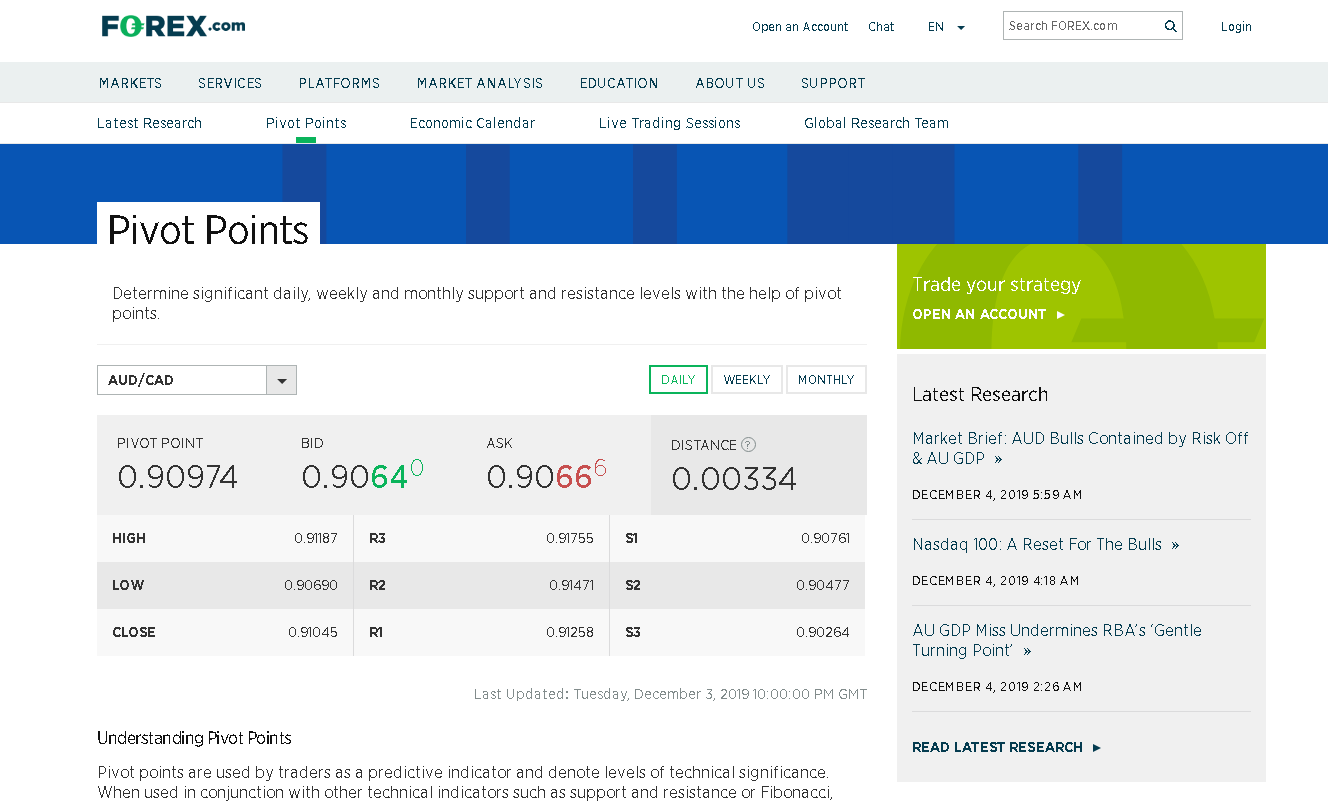 The Economic Calendar allows the users to view important economic events by time period, currency, market impact.
Forex.com's Live Trading Sessions include 30-minute webinars presented by its team of global analysts along with Live Q&A sessions.
The experts share real-time insights, technical analysis, market commentary, actionable trade ideas and other support to the users. Users can select the time of the session as per their convenience.
70% of retail investor accounts lose money when trade CFDs with this provider. You should consider whether you understand how CFDs work and whether you can afford to take the high risk of losing your money.
Forex.com Tech Support and Other research tools
The automated analysis tools offered by this broker are Autochartist and Recognia. These special tools identify chart patterns and highlight trade opportunities for traders. This helps the trader spend less time analyzing and more time in trading.
FOREX.com offers actionable trade opportunities, identified patterns, in-depth volatility analysis, and intraday technical analysis. All of these are included free in the FOREX.com desktop and web platforms.
The Recognia Technical Analysis shares with its traders short-term trade ideas with pivot points, support and resistance levels. It also provides clear, detailed explanations of opportunities visually displayed on charts and a diverse range of indicators that help to identify opportunities.
Customer Service
Customers have various ways to contact Forex.com, which includes live phone support and online live chat support. There is a wide range of extensive study materials, tutorials, and FAQs on their site.

From FOREX.com reviews, we found that its customer service also offers Phone and online live chat support are accessible to both present and prospective customers.

Besides, social media support is not accessible, even though they have active social media accounts where they post company and market analysis information.
A chatbot is the chat support for this broker. This restricts the inquiries that can be asked and reduces the probability of discovering answers to anything past the simplest questions.
Customer service also offers telephone support, which is the fastest method to have questions addressed. There is a menu to select from the beginning of the call. Moreover, waiting times can be dependent on call volumes, yet during a normal day, the client needs to wait for a few minutes to be connected with an agent.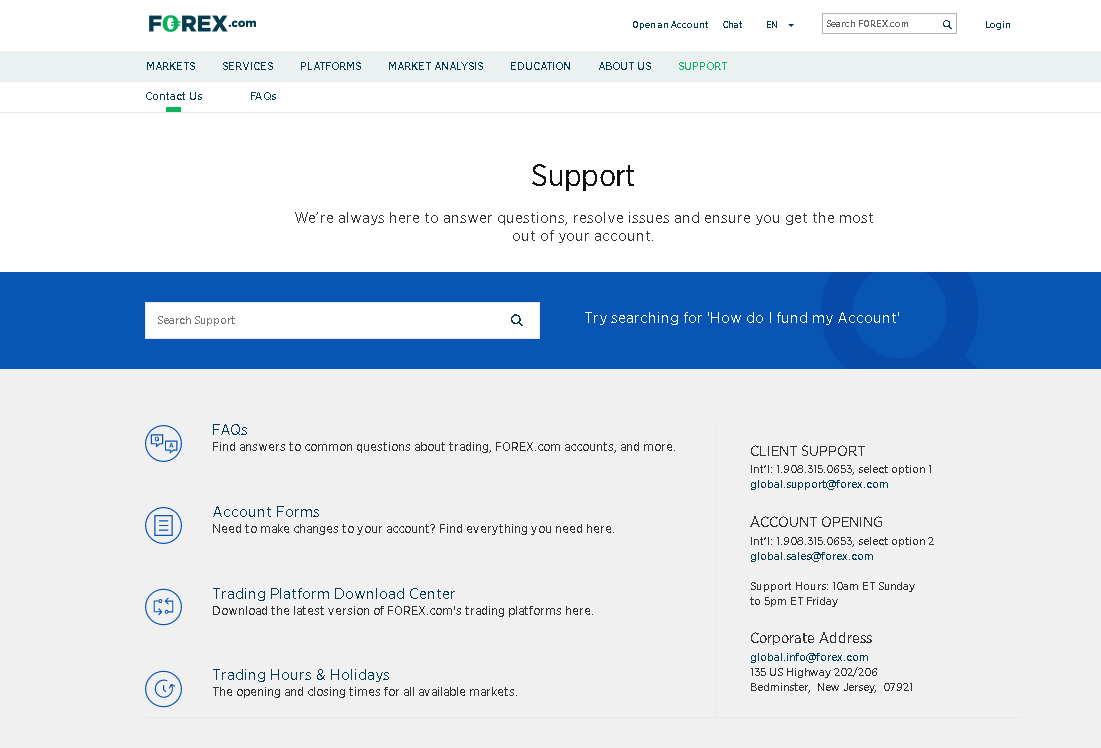 Limitations
Higher spreads than global brokers
Forex.com does not offer negative balance protection for its clients
Sometimes, charting mode technical indicators in mobile apps are difficult to access
While trading in the futures market, binary options and spread betting options are not available
The web version of the platform is not well-suited with various programs because of the dependence on a particular plugin
70% of retail investor accounts lose money when trading CFDs with this provider. You should consider whether you understand how CFDs work and whether you can afford to take the high risk of losing your money.
Wrap up
Generally speaking, we conclude from FOREX.com review that it is a trusted and user-friendly broker offering remarkable services on tools, platforms, competitive pricing, and research. While client service is yet to be improved, FOREX.com delivers an incredible service to its clients of all experience levels. On the brighter side, it offers low forex fees, high-quality research tools, various currency pairs, and educational tutorials from beginner to experienced traders. The website also includes trading tools and trading-related information to speed up the trades. A broker of this type can be suitable for experienced traders and beginners might be at risk of losing money quickly.
FAQ
1. Is Forex.com regulated?
Forex.com is regulated in the U.S, U.K., Canada, Japan, Singapore, Australia, and the Cayman Islands. Considering the regulatory laws of each country, the range of products may also differ. For example, CFDs are not accessible to U.S. customers; however, they are accessible outside the U.S.
2.What makes Forex.com so popular for trading?
Some of the top features based on FOREX.com reviews include integrated research, economic calendar, alerts, signals from trading central, market updates, and news. It is easy to see between charts, prices, and open positions. Moreover, managing and trading positions inside the mobile application are direct, because of its fluid user UI and minimalist plan.
3. In which countries Forex.com is legal?
Forex.com acknowledges traders from Australia, Canada, France, United Kingdom, Thailand, United States, Hong Kong, South Africa, Singapore, India, Sweden, Germany, Norway, Italy, Saudi Arabia, Denmark, United Arab Emirates, Luxembourg, Kuwait, Qatar, and several other nations.
4. Is Forex.com offer any Newsfeed?
One of the best features given by forex.com is the news feed. The news feed is of excellent feature and it is written by Forex.com's research team. Moreover, it can be read on the Market Analysis tab. It can also be filtered dependent on various news classifications.
Forex.com
Pros
Forex.com has transparent pricing, even though it offers different kinds of accounts
Ensured stop losses are provided,
Customer funds are kept isolated from the funds of Forex.com;
Fully functional demo accounts are offered for free,
traders can select from over 50 currency sets
Cons
Higher spreads than global brokers
Forex.com does not offer negative balance protection for its clients
Sometimes, charting mode technical indicators in mobile apps are difficult to access
The web version of the platform is not well-suited with various programs
While trading ,binary options and spread betting options are not available