XM Vs FXTM – A Comparison of the Top Trading Platforms
Before going into a comparison and analysis of XM vs FXTM, a look at the two in isolation will be in order.

XM
XM Global Webtrade is a well-known Forex and commodity trading broker with a platform optimized for both seasoned and professional brokers and traders and beginners. Those testing the waters in trading can start with a demo account with $100,000 in virtual currency, while expert traders can start straight away on the trading software real account.
XEMarkets, based in Cyprus and currently known as XM, was founded in 2009 and is regulated by the Cypriot financial supervisory authority CySEC. It is also registered in the UK as a financial services provider and is regulated by the British Financial Conduct Authority.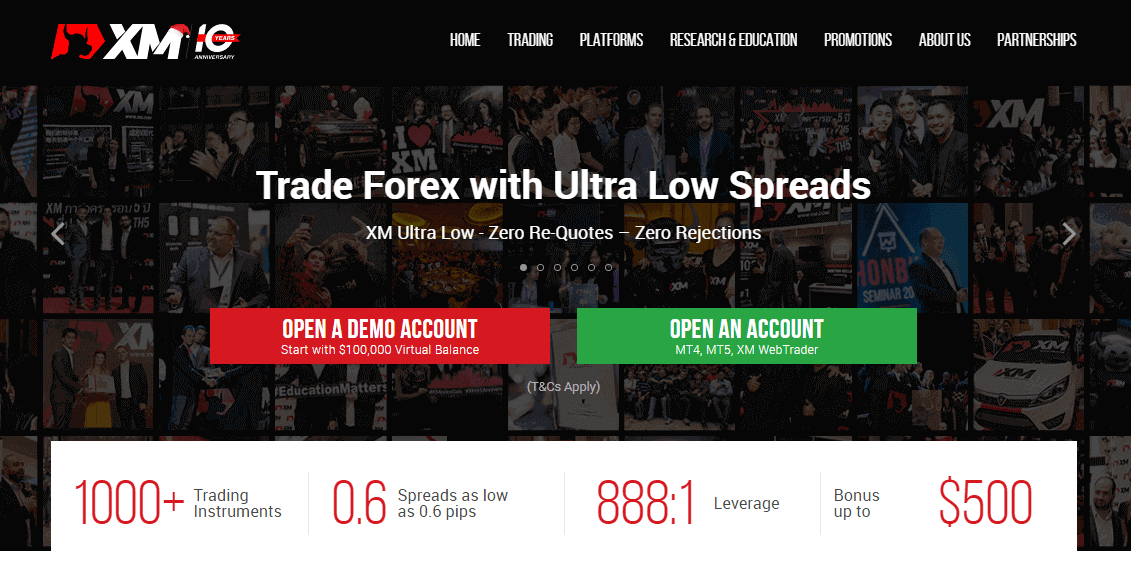 XM Forex Trading Platform
The highpoints of the XM group include no hidden fees and zero commission, auto trading, and fast transaction times, with most executions taking less than a second. Currently, there are over 1.5 million clients with XM from 196 countries around the world. XM app focuses on excellent customer service and a personalized approach regardless of the volume of trades or investment goals.

FXTM
Also known as "ForexTime," FXTM is a reputed Forex and CFD trading house established in 2011. Since the time it was started, FXTM has grown exponentially and is now a corporate entity with three bases of operation – the UK, Cyprus, and Mauritius. FXTM is also an STP broker – Straight Through Processing – where clients' orders are sent directly to the Forex markets.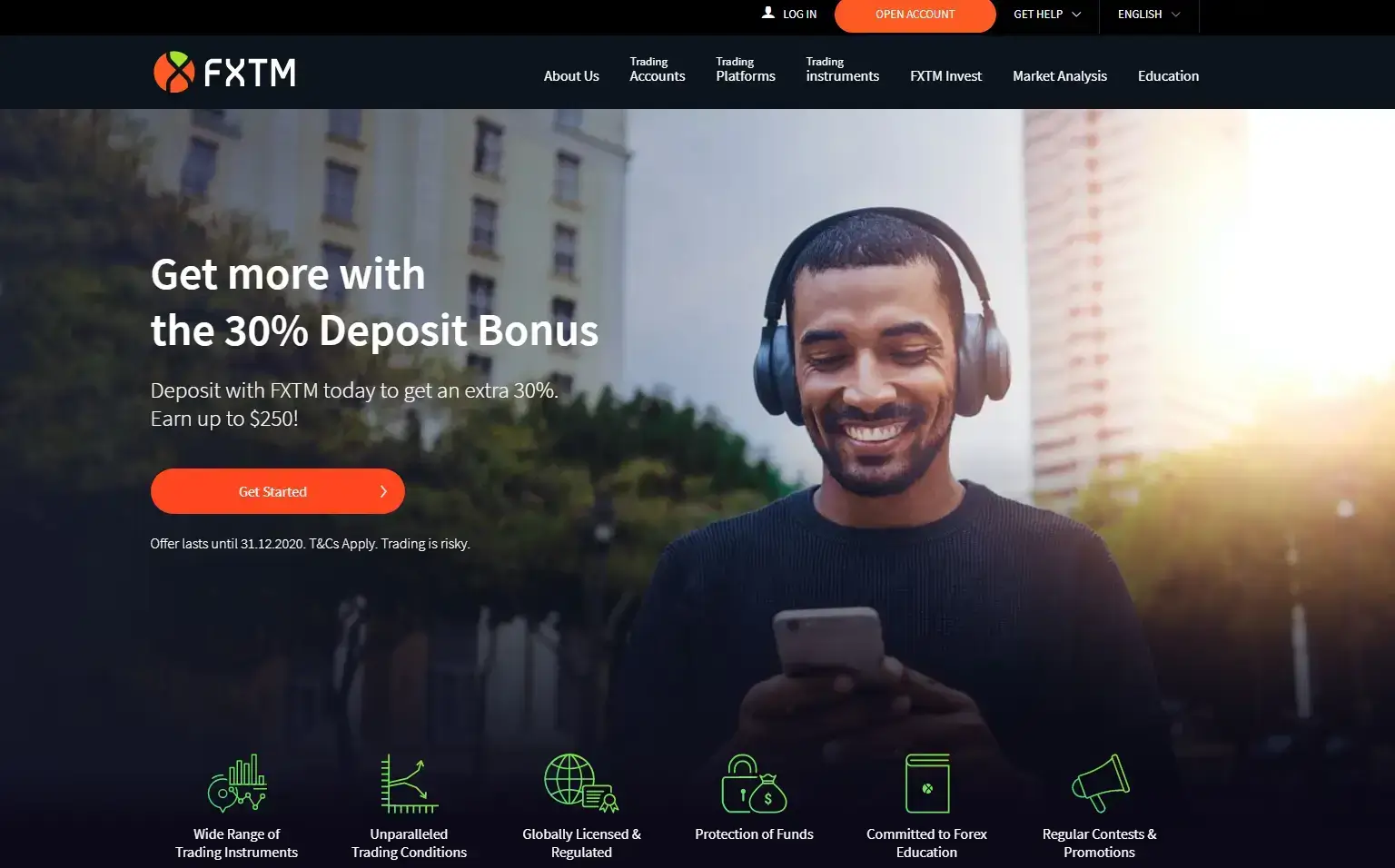 FXTM Forex Broker
ForexTime or FXTM clients can trade in Forex currency pairs and crosses as well as precious metals and commodities such as gold and silver, natural gas, and crude oil. Traders' activities also cover the areas of major equity indices, CFD, cryptocurrencies, and most American stocks and shares. The FXTM platform also allows direct trading in stocks that are not linked to money when trading CFDs, thereby enabling a trader to be a direct owner of stocks when buying them.

XM Vs FXTM
How do XM and FXTM hold up against each other? A detailed analysis will be made against certain parameters.

Security of Capital
XM Regulation
XM Group is a brand of Trading Holdings Ltd., which is and is wholly owned by Trading Point of Financial Instruments Pty Ltd (XM Australia) under License Number 443670 and Trading Point of Financial Instruments Ltd (XM Cyprus). Even though CySEC – Cyprus Securities and Exchange Commission – (License number 120/10) and ASIC have several statutory requirements for firms regulated by them, they are not as strict as those prevailing in the USA or UK. Licensed & regulated UK forex brokers have to deposit customer funds in accounts that are segregated from the operating capital of XM.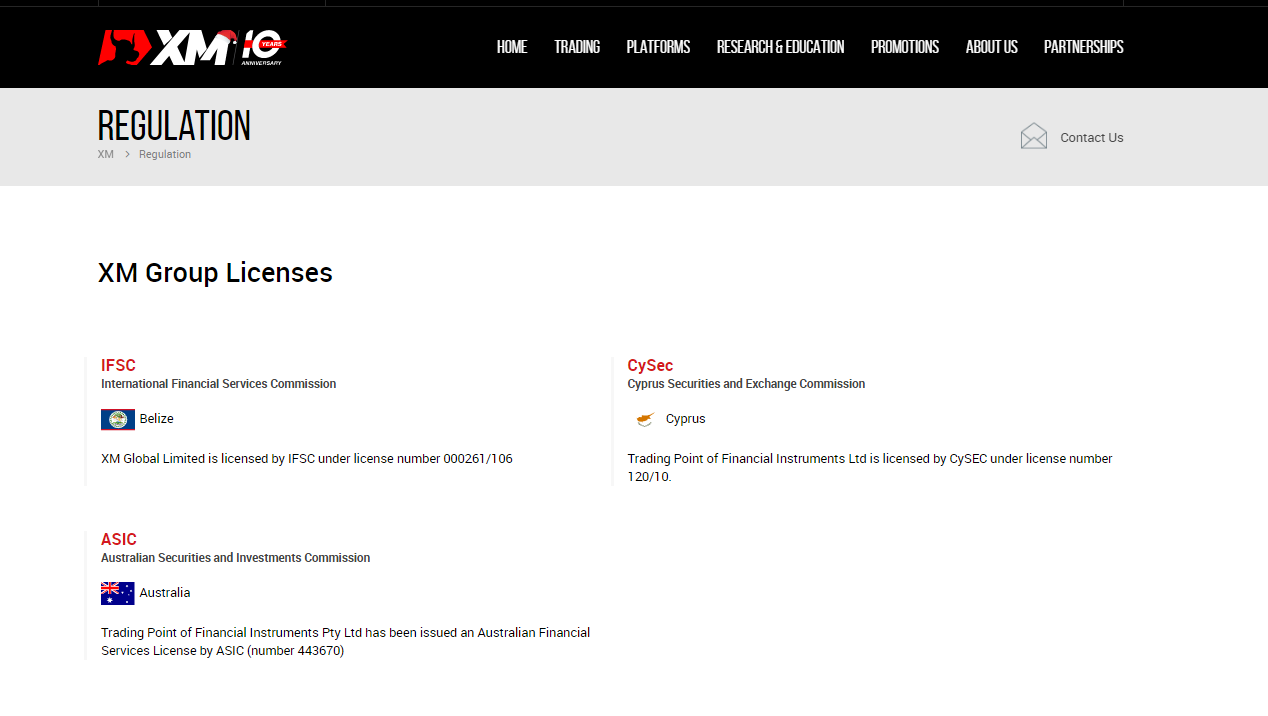 XM Regulations
However, on the brighter side, all companies regulated by Cyprus Securities and Exchange Commission laws are covered by compensation schemes that offer an additional guarantee to customer money. Deposits up to EUR 20,000 per client are guaranteed by the Investor Compensation Fund of Cyprus. Australian brokers, though, do not fall under any compensation package.
The XM Group, licensed by the International Financial Services Commission, is also a part of the Belize-registered XM Global and Trading Point of Financial Instruments UK Ltd authorized by the Financial Conduct Authority FCA in the UK. XM has also applied for authorization with the National Futures Association (NFA) before its launch in the USA. Its License number is 000261/161 of the International Financial Services Commission.

FXTM Regulation
FXTM has three different corporate branches based in three different countries and has very strong and robust levels of regulation in several jurisdictions. ForexTime Ltd is registered with the Financial Conduct Authority of the UK, licensed by the Financial Sector Conduct Authority (FSCA) of South Africa, and regulated by the Cyprus Securities and Exchange Commission.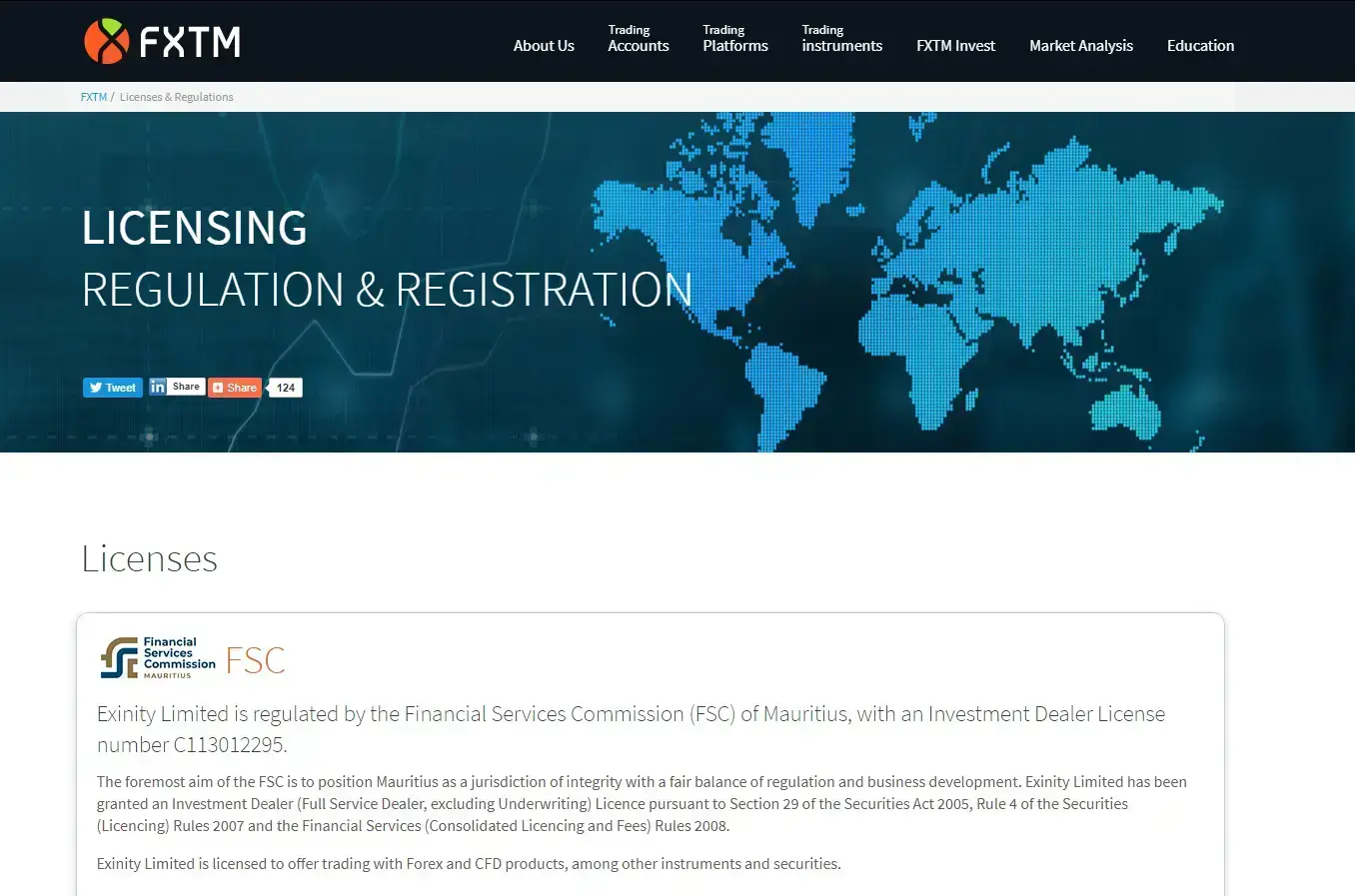 FXTM Regulations
Further, Exinity Limited – www.forextime.com – is regulated by the Financial Services Commission of the Republic of Mauritius and has an Investor Dealer License. ForexTime UK Limited is regulated by the Financial Conduct Authority too.
This multi-jurisdictional setup is a huge benefit for the broker. It can now tweak its offerings and services depending on where the trader is located, thereby opening exclusive trading opportunities. It has to be4 understood that acquiring regulation and operating permissions from different controlling bodies is no mean feat and that FXTM has done so is indeed admirable.
From the security angle, the jury is still out on the XM vs FXTM case!

Trading Platforms
Both XM and FTXM offer clients the MetaQuotes platforms, the MetaTrader MT4 and MT5 – MetaTrader 5.
MT4 is an acclaimed trading software with several features and functionalities. There are several trading tools and options, a wide range of over 50 built-in technical indicators, Expert Advisors (EAs) for guidance, the latest charting packages, and elaborate options for back-testing. Traders can access customized trading options and create Expert Advisors so that the software does all the work automatically without human intervention. The MT4 platform is available on the desktop, the web, and mobile apps so that you can trade anytime, even on the go. Further, on the MT4 MultiTerminal, brokers can manage multiple accounts simultaneously from one interface (PAMM).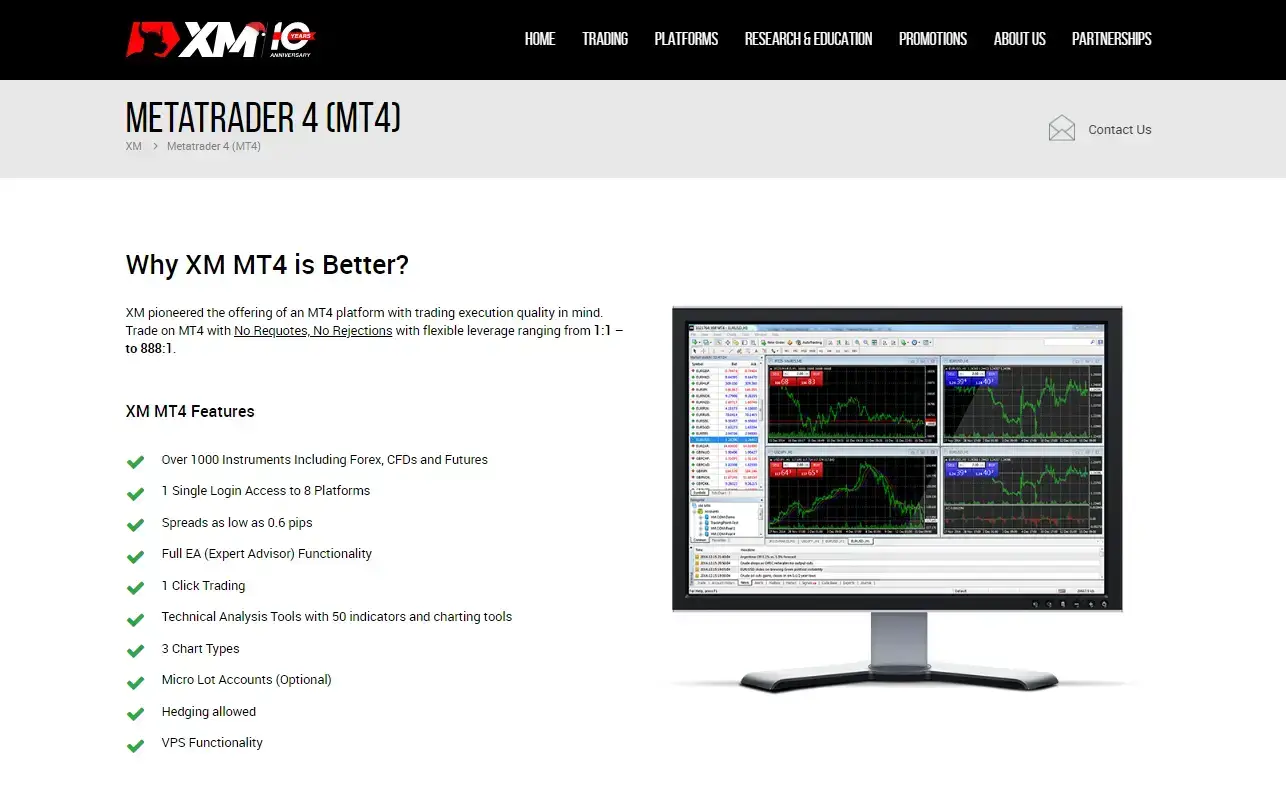 XM MT4
XM and FXTM also provide the MetaQuotes MT5 platform to traders where hedging functions have been added and its other features updated. Hence the preference of traders for MT5 has significantly increased.
What goes for XM is that it has introduced free Virtual Private Server (VPS) services to all its old and new customers who deposit a minimum of $5,000 and trade at least 5 round-turn lots in a month. The advantage of VPS is that it allows trade executions round the clock, 5 times a week. There is no end date for this VPS promotion.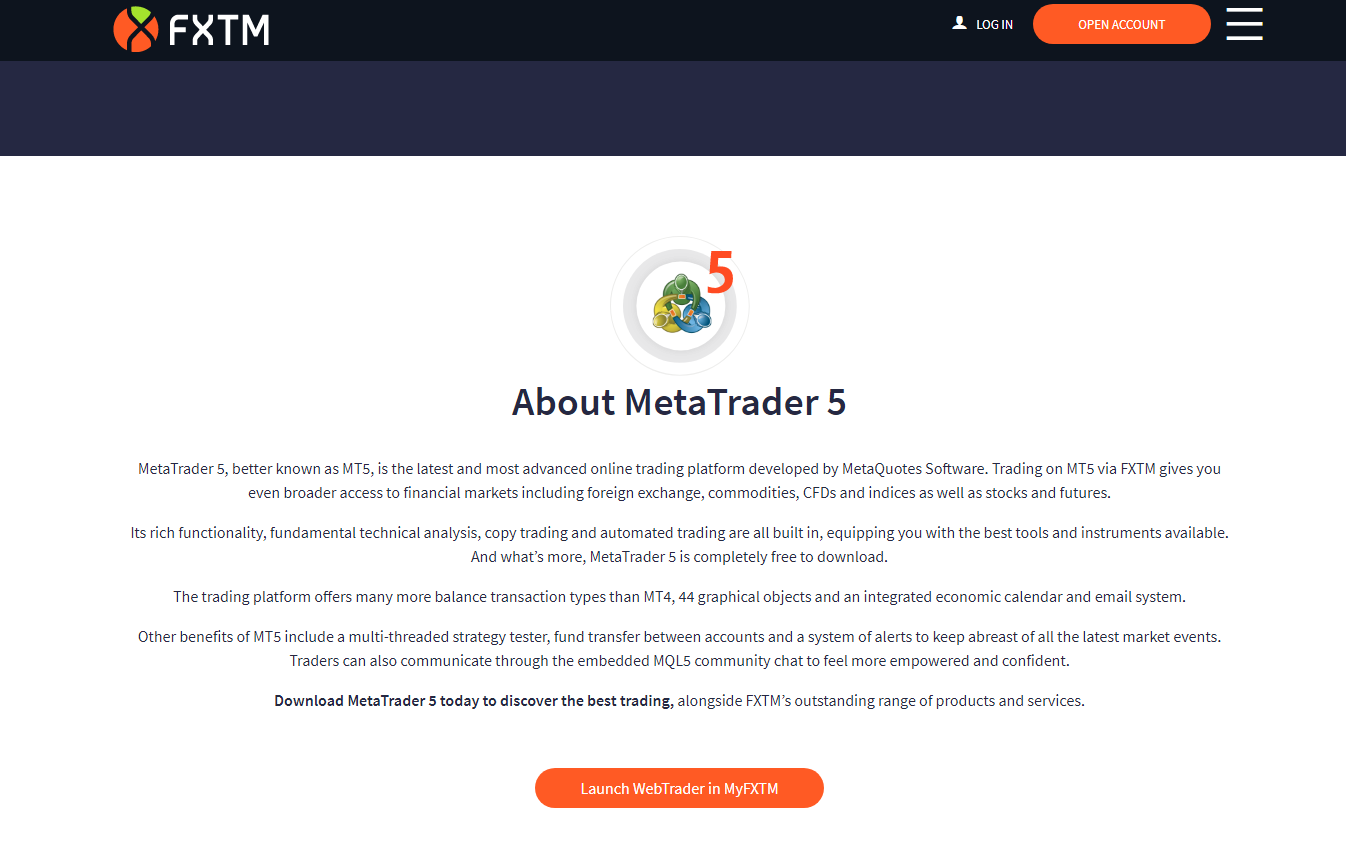 FXTM MT5
There are some add-ons on the XM platform. New clients get a $30 non-deposit trading bonus. A two-tier deposit bonus offers a 20% bonus up to $5,000 and a 50% deposit bonus up to $500. Finally, the Loyalty Program has XM points for every lot traded, which can be redeemed at any time for a credit bonus.
Overall, in XM vs FXTM, while both the traders are on the MT4 and the MT5 trading platforms, XM provides a few additional services like the VPS.
Hence, there is not much to choose between the two in trading platforms MT4 and MT5.

Account Types
XM Accounts
XM offers four account types – Micro Account, Ultra-Low Account, Standard Account, and Zero Account. All account types permit 200 open/pending positions for each client. Opening of an Islamic account is permitted.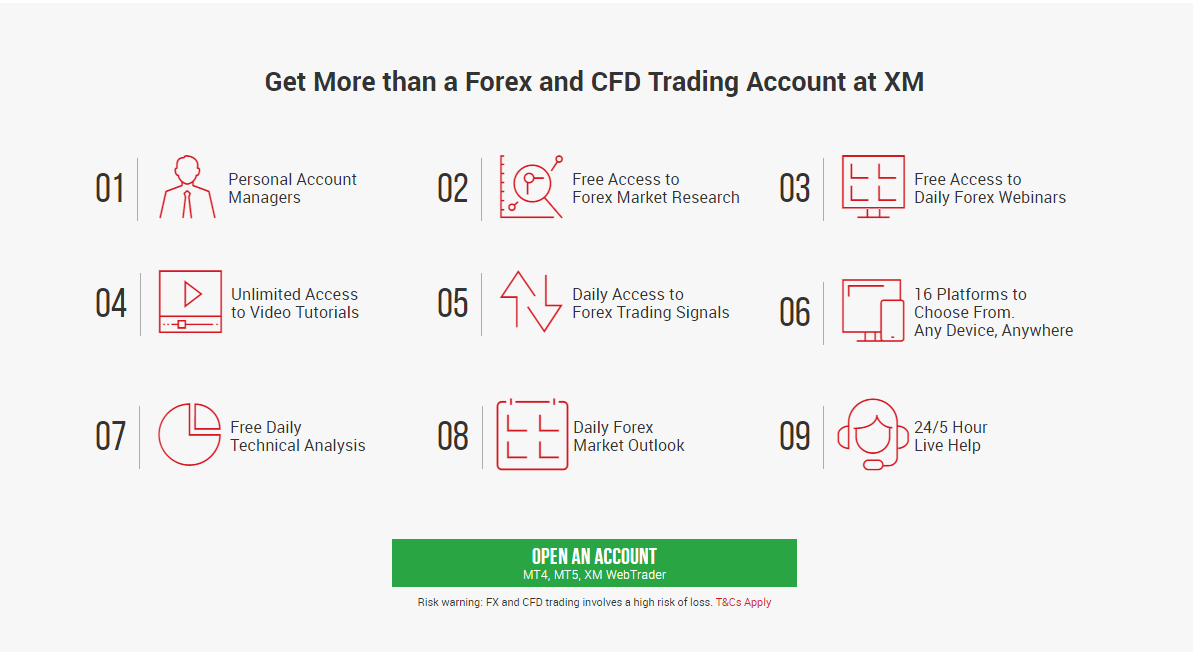 XM Account Features
Micro Account:

The base currencies for a micro account are

USD, EUR, GBP, CHF, AUD, JPY, HUF, and PLN. A micro lot is 1,000 units of the base currency, and the minimum deposit fee is $5.

Ultra-Low Account:

An ultra-low account has EUR, USD, GBP, AUD, ZAR, SGD as the base currency. A minimum deposit of $50 is required. 100,000 units of the base currency is the equivalent of 1 standard lot, and 1 micro lot comprises 1,000 units of the base currency. XM does not allow all entities of the group to have an ultra-low account.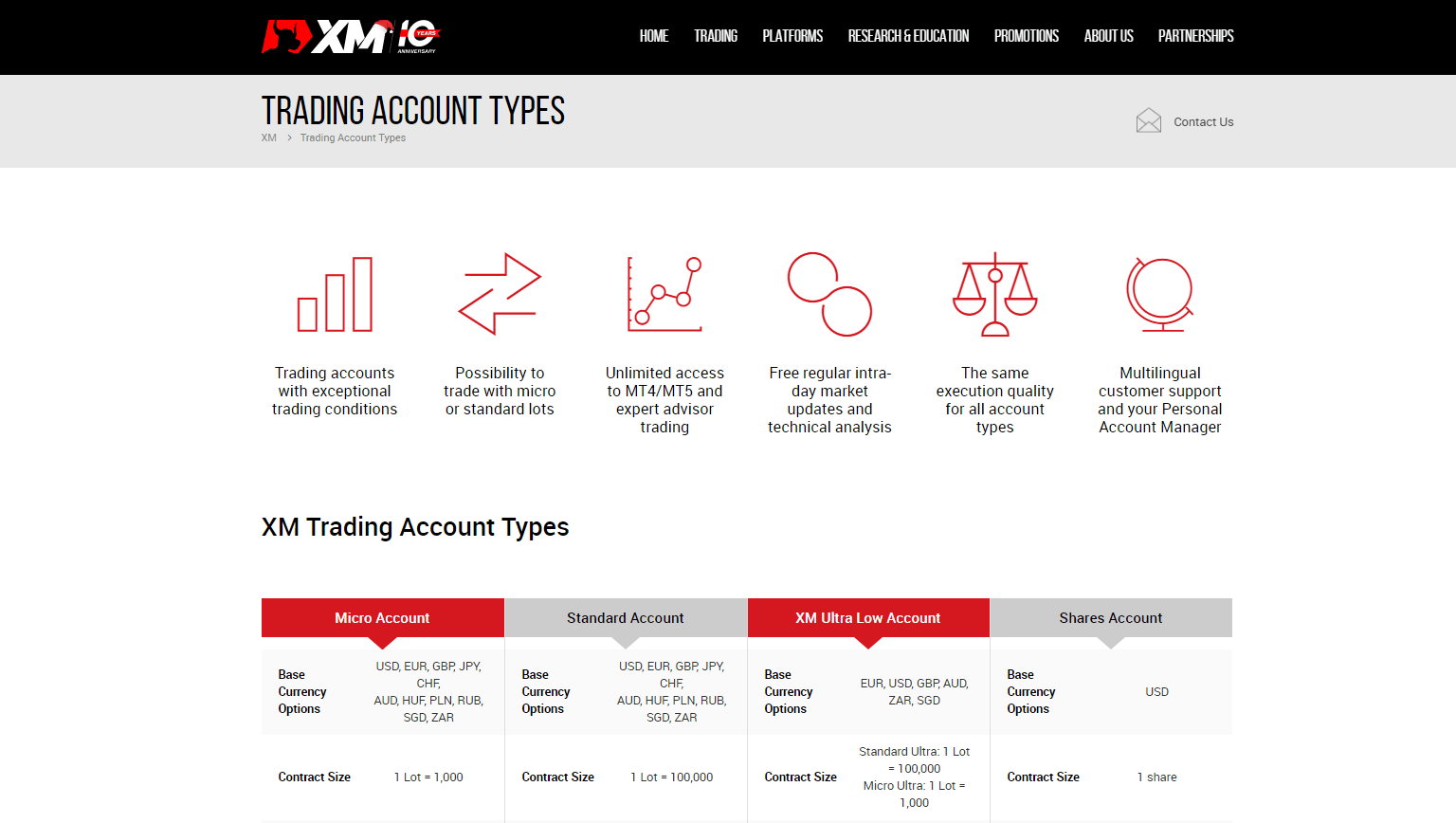 XM Trading Account Types
Standard Account:

Standard accounts use USD, EUR, GBP, CHF, AUD, JPY, HUF, and PLN as the base currency. The minimum deposit for traders is $5. 100,000 units of the base currency make 1 standard lot.

Zero Account:

JPR, EUR, and USD are the base currencies for a zero account on the XM platform. A minimum deposit of $10 is required. As in the standard account, 100,000 units of the base currency is one standard lot.
Traders, therefore, have a wide choice of accounts on the XM platform. On the flip side, diversity is rather limited in account types, with the micro account, zero accounts, and standard account being almost similar. Further, some country brokers like the USA and Canada-based brokers cannot open accounts due to licensing restrictions. An Islamic account can also be opened. PayPal, a very common gateway for reliable forex brokers, is currently not supported on XM. Finally, XM applies negative balance protection to all accounts.
FXTM Accounts
The following account types are available on FXTM for Forex brokers.
Standard Account:

The base currencies for the Standard account are EUR USD and GBP. All financial services commission is displayed prominently. The account can be operated without the SWAP option. Other features of the account include fast actioning, narrow floating spreads, hedging, and fixed leverage for each instrument.

Cent Account:

It is so named because the units of currency are the UK pennies, USD cents, and Euro cents. Lots of single cents are available. Other features of Cent Account for Forex brokers are quick execution, fixed leverage for all instruments, and narrow floating spreads.

ECN Zero Account:

The ECN zero account is characterized by fixed leverage for each instrument, permission for scalping and hedging, and narrow floating spreads. ECN zero does not allow re-quotes or SWAP options.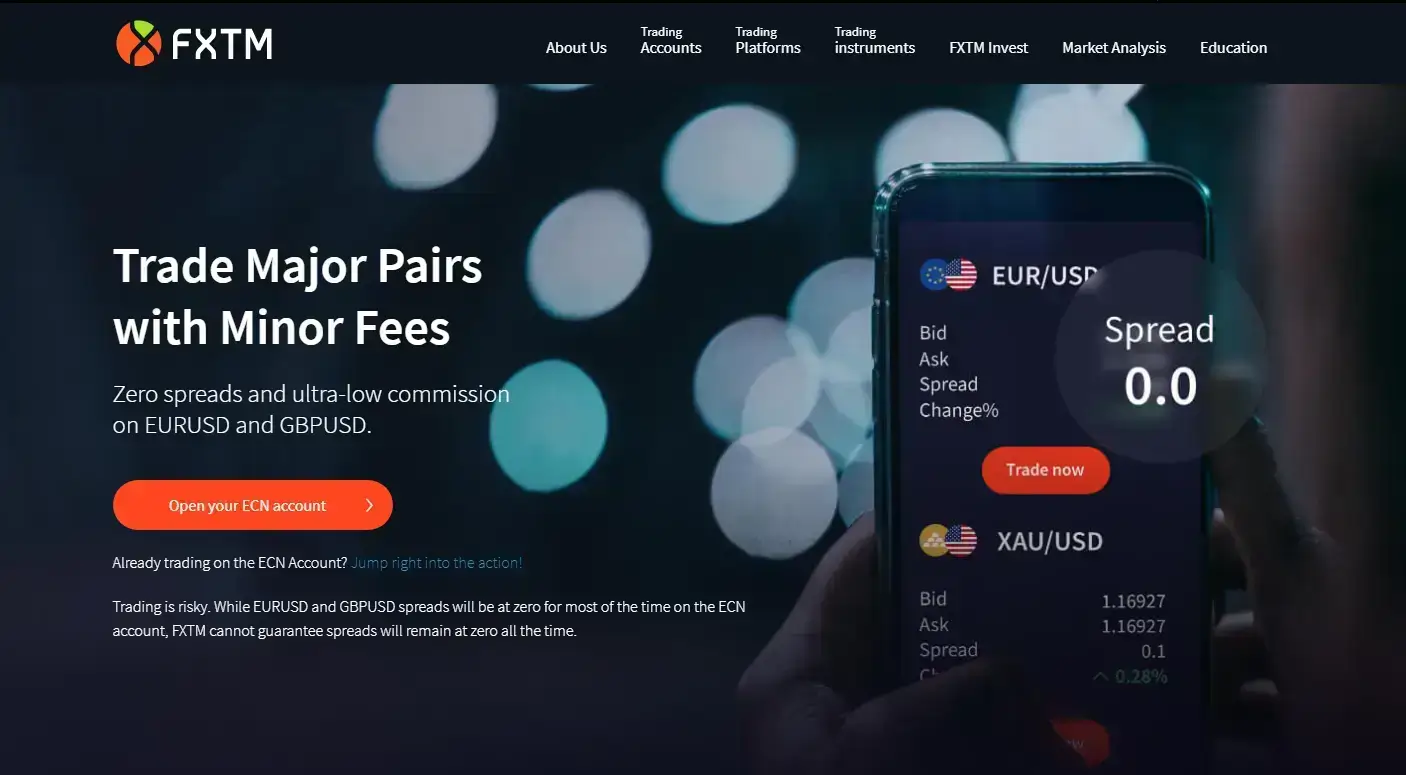 FXTM Accounts
ECN Account:

Base currencies are EUR USD and GBP. The spreads in an ECN account start from 0.11 and commissions from $4 only. While scalping and hedging are permitted in an ECN account, SWAP options are not available.

FXTM Pro Account:

This is a commission-free account with quick market execution without requotes and is a SWAP free account. Direct benefits to traders are fixed leverage, zero last-look pricing, and access to providers with high liquidity.

Stock CFD Account:

This is a commission-free account with more than 170 US shares on offer. The base currencies are GBP, USD, and EUR. Hedging is permitted, and an account can be opened without SWAP. The fixed leverage ratio is 1:5.
While FXTM offers a wider choice of accounts, as in FXTM XM comparison, there are certain drawbacks. Bank account withdrawals in FXTM have a relatively higher fee, and there is not much clarity on the charges for large trades. Moreover, FXTM does not offer cryptocurrency trading. On the positive side, FXTM provides negative balance protection for all accounts.

Commission, Fees, Spreads, Leverage
The commission rate is generally low in Forex trading and at par with the average for the industry in CFD trades. Spreads can be very low at 0.1 points for ECN account options. Standard Account spreads are higher but are very competitive. Under such circumstances, how does a Forex broker comparison – FXTM or XM stack up against each other. However, based on the market conditions, spreads that are floating can increase during day trading.
XM Rates
XM's Zero account is ideal for Forex trading as it has instant execution without requotes or rejections compared to another Forex broker. But XM lags in Forex broker comparison when factors like active traders and pricing for the budget are considered.
Spreads and Commission:

As per the XM Group website, the average spreads on the currency pairs EUR/USD is 0.1 pips. Hence the effective spread is 0.8 pips after taking into account the $7 per round-trip commission. The Micro and the Standard account have average spreads of 1.6 to 1.7 pips for the same pair and are not such effective options in XM vs FXTM.

Account Option:

XM offers commission and fees depending on the type of account and the chosen global entity. While the Micro and Standard accounts are commission-free, they are rather expensive. The commission-based Zero account, on the other hand, is more competitive.

Shares Trading:

Apart from Forex and investing money when trading CFDs, XM offers a Shares account that requires a $10,000 deposit. It is primarily for those who want to invest money to trade shares directly without leverage. This account is restricted to select entities in the Group.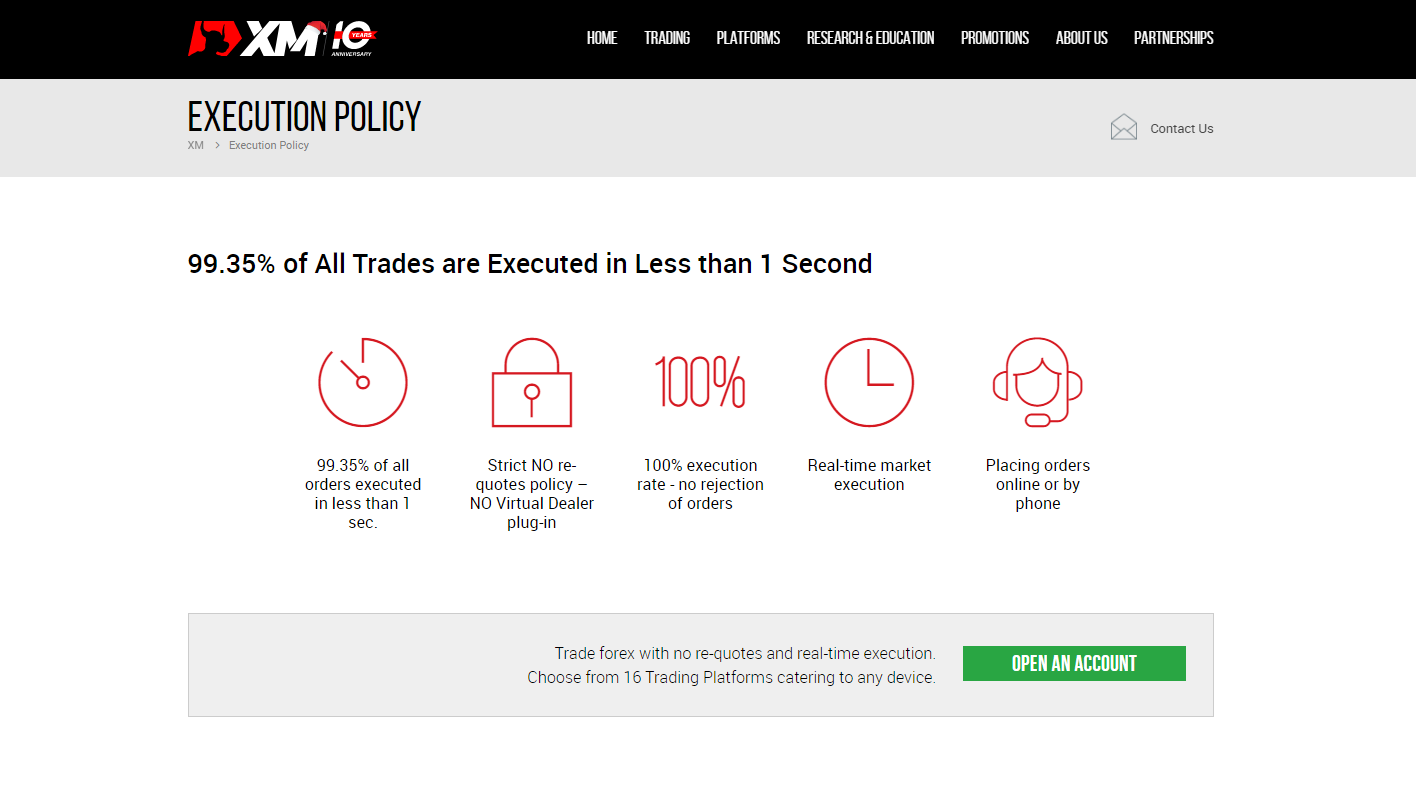 XM Execution Policy
Execution Method:

XM is the sole dealer that is the principal market-maker in all trades it executes. This allows XM to execute up to $50 million in currency at a time with 200 simultaneous open positions. This is an edge for XM as a broker over others.
FXTM Rates
Fees:

Some additional fees come to the fore, like the inactivity fee, which you will not get in an XM vs FXTM comparison. The application of an inactivity fee can make choosing FXTM an expensive proposition. This inactivity fee is levied when the account has been dormant for extended periods.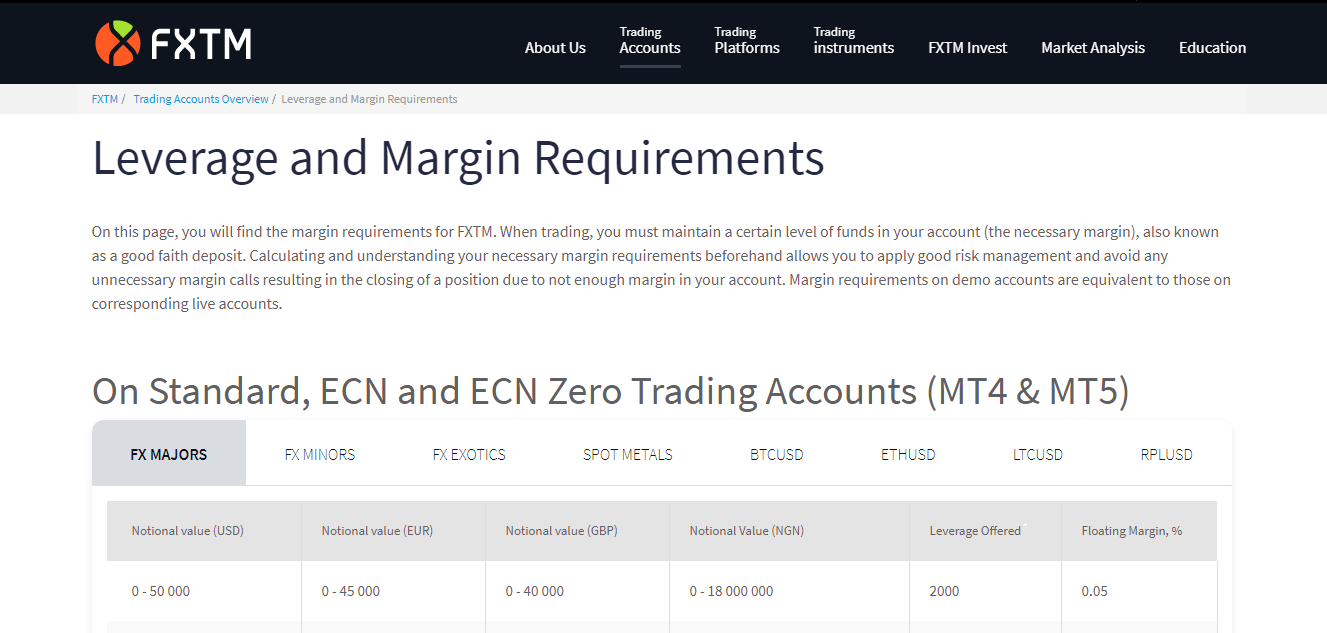 FXTM Rates
Leverage:

The rates of leverage depending on the trades being considered. For most major currency pairs in Forex trading, the leverage is at 1:30, including EUR/USD. For the lesser traded currency pairs, it is 1:20. These include AUD/CAD, EUR/NOK, EUR/AUD, NZD/USD, EUR/PLN, and USD/SGD. For metals leverage, it is 1:10 for XAG/EUR and XAG/USD and 1:20 for XAU/EUR, XAU/GBP, and XAU/USD. The leverage on CFD US shares is 1:5.
Leverage is not a standardized benchmark. The trading platform sets leverages based on the track record of a broker and previous trading record, extent of customer loyalty, and many more.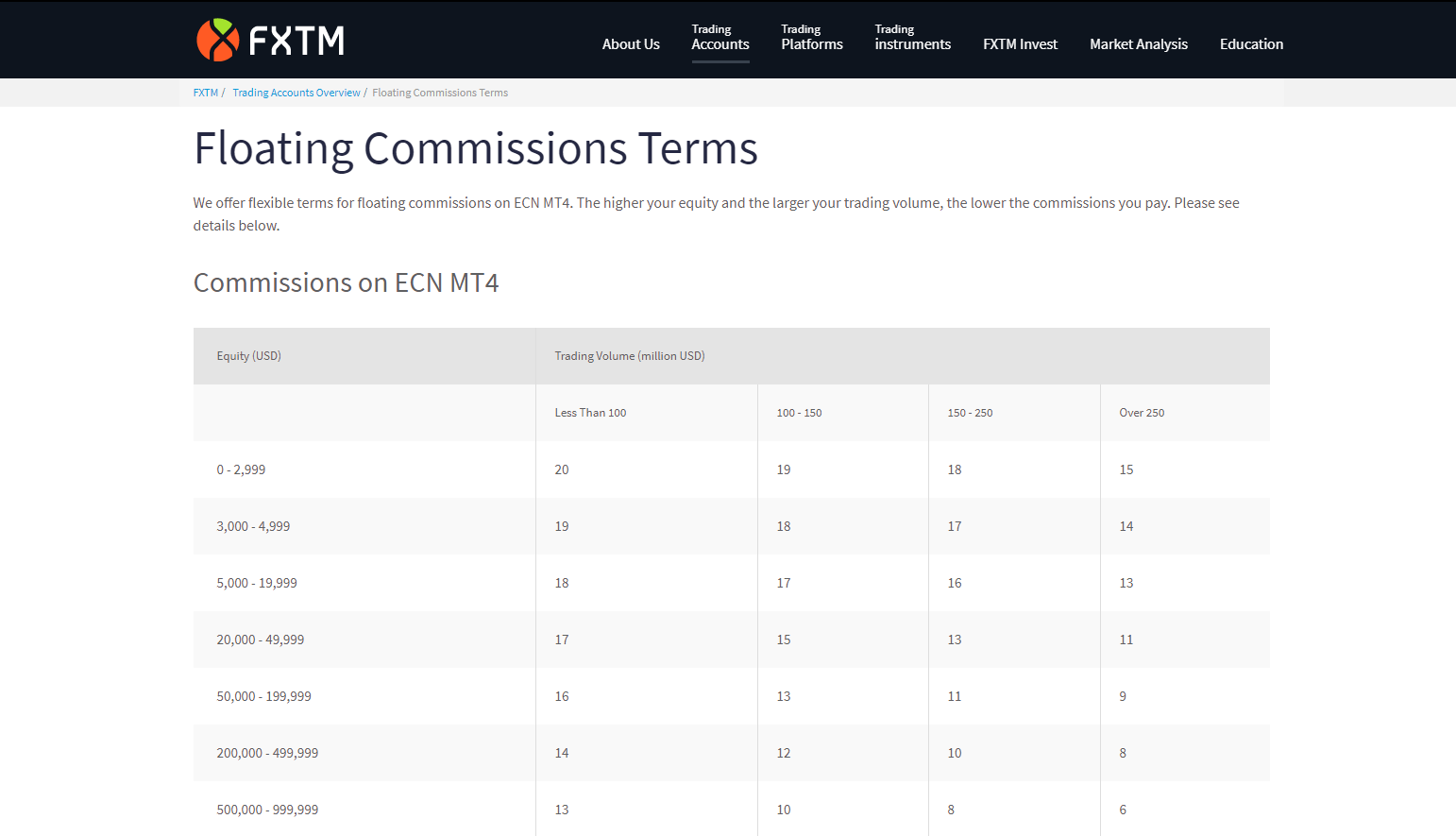 FXTM Commissions
Spreads and Fees –

A FXTM XM comparison shows that FXTM retail investor accounts have commission-free minimum spreads of 1.5 pips in the Cent and ECN Zero spread account. This is lower at 1.3 pips in the Standard account type. Portfolios of $25,000 and more are eligible for a 0.0 pips Pro account. The commission chargeable ECN MT4 retail investor accounts of FXTM offer a competitive spread of 0.1 pips for a commission of $4 and $20. Commission-free money when trading CFDs is present in an unleveraged account. For choosing FXTM or XM, the latter has a more competitive cost structure. While all the accounts of XM are commission-free unleveraged trading in shares is based on commissions.
A Forex broker comparison between the two shows that risk management is the same, and both charge swap rates on overnight leveraged positions. Retail investor accounts lose money when trading when corporate actions adversely affect equity and index positions such as splits, mergers, and dividends. Both Forex brokers are untouched by this possibility. Deposit and withdrawal fees are not applicable even though third-party charges associated with payment processors exist. Overall, XM ECN broker has a preferable trading environment for all traders regardless of whether a beginner or a professional. FXTM is mainly a platform for high-value clients willing to take high risk. In such circumstances, retail investor accounts lose money, especially beginners, due to the complexities of the platform.

Deposits and Withdrawals
The convenience of deposits and withdrawals are key to any trading platform. When you invest money in a trading account, there are a couple of things to be ensured. One is to never get into high-risk transactions, and second, to make sure that the trading platform is safe and secure. Often retail investor accounts lose money when trading because the clients' funds and capital cannot be conveniently deposited and withdrawn.
Here is a comparison of what FXTM offers against XM.
XM Deposits/Withdrawals
Trading account holders have to follow KYC norms and submit an official identification document like a passport or driver's license. Proof of address has to be given too. After the account is registered, clients' funds have to be deposited, which is $5 for Micro and Standard accounts and $100 for Zero accounts. There are several ways to deposit funds like wire transfer, local bank transfer, major credit cards, and other electronic payment methods. You can deposit in any currency, which will automatically be converted into the base currency of your choice. All withdrawals are completed and made in 24 hours, and this is very fast when an XM vs FXTM comparison is made.

XM Deposits/Withdrawals
Another area where XM excels is in its Demo account. Users can open a demo account with a few details and get to know the intricacies of trading with a virtual balance of $100,000. This XM account is very useful as it offers beginners a real-time feel of a trading platform. An Islamic account can be opened on XM.
FXTM Deposits/Withdrawals
From the website, it is seen that FXTM offers several withdrawal and deposit options, all focused on Forex brokers' convenience and investor protection.
FXTM Deposits/Withdrawals
Deposits
Deposits can be made on FXTM in the following ways – Visa, MasterCard, Maestro, Neteller, and Skrill. While all deposits are free of commission, some methods are instant, and others have a two-hour processing time.
The minimum deposits vary as per account type and are as follows:
Standard Account £/$/€100

Cent Account £/$/€10

Stock CFDs Trading Account £/$/€100

ECN Account MT4 MT5 £/$/€500

ECN Zero spread account MT4 MT5 Account £/$/€200

FXTM Pro MT4 MT5 Account £/$/€25000
Withdrawals
The details of withdrawals in a trading account for an FXTM broker is as follows: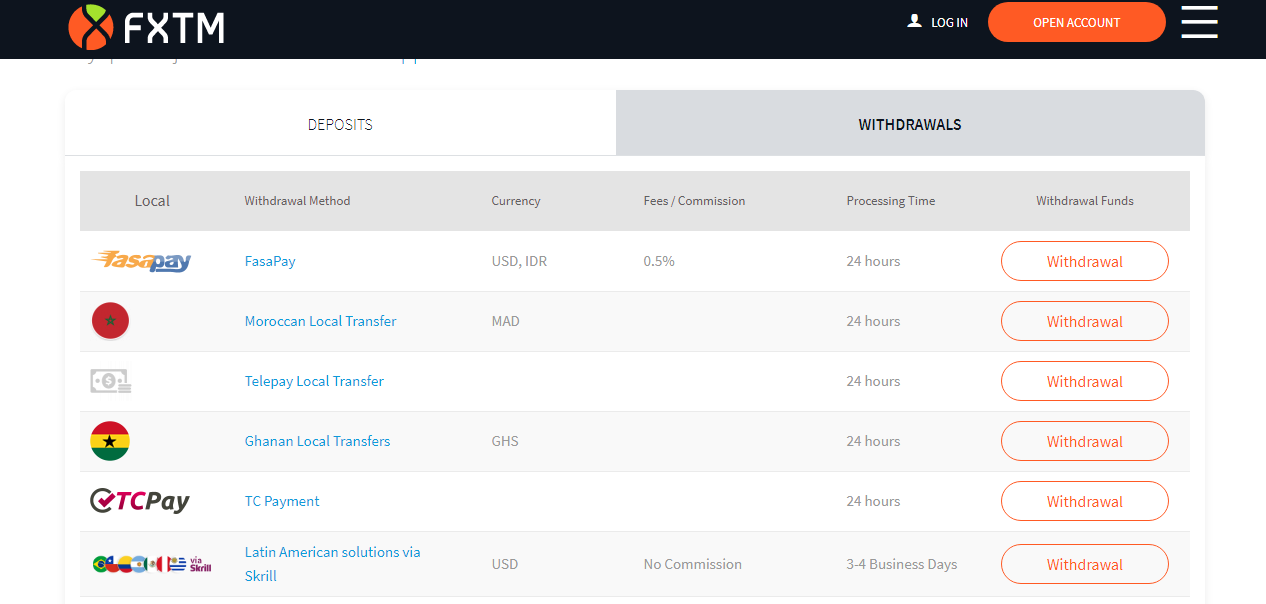 FXTM Withdrawal Options
Visa, Maestro, and MasterCard are processed on the same working day, and the money may be withdrawn in USD, GBP, or EUR. The commission and withdrawal fee for a broker is set at 2EUR/3USD/2GBP.

Neteller withdrawals are also processed in 24 hours, and money can be withdrawn in USD, GBP, or EUR without commission.

Skrill withdrawals have same-day commission-free processing for a trading account as given on the website.

Bank transfer on the Metatrader 4 and 5 trading platform is processed in a day in specific currencies GBP or EUR. The fees for bank transfers are 10EUR or 5GBP in FXTM.
Forextime or FXTM often asks for more information from brokers before authorizing a withdrawal. If this is not submitted quickly, the withdrawal in a trading account can take longer than stipulated on the website.

Demo Account
Beginners who want to make it big as professional brokers have a demo account to pick up the ropes and hone their trading skills without specific investment advice and training from others. But Demo accounts are only available on the Standard, Cent, ECN, and ECN Zero Accounts.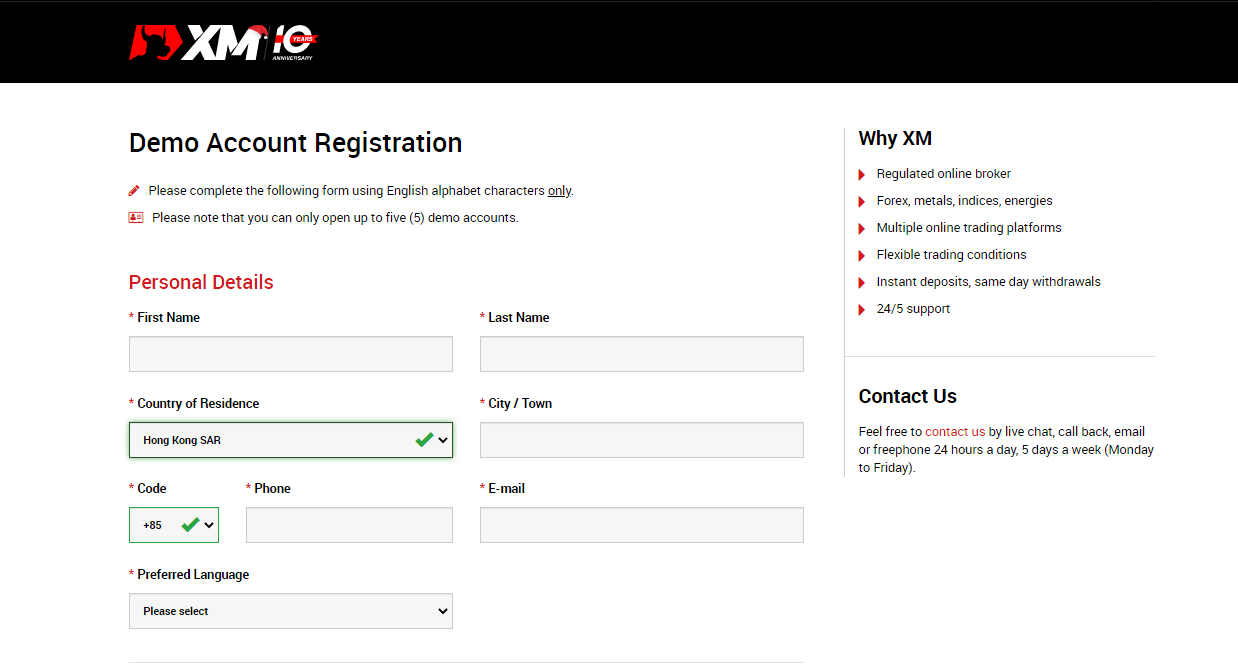 XM Demo Account Registration
Mobile Apps
In the XM vs FXTM mobile apps for brokers, it is seen that the FXTM mobile apps provide a wider and more sophisticated option for a broker to trade on the go. Here is an analysis of one vs. the other.
XM Mobile Apps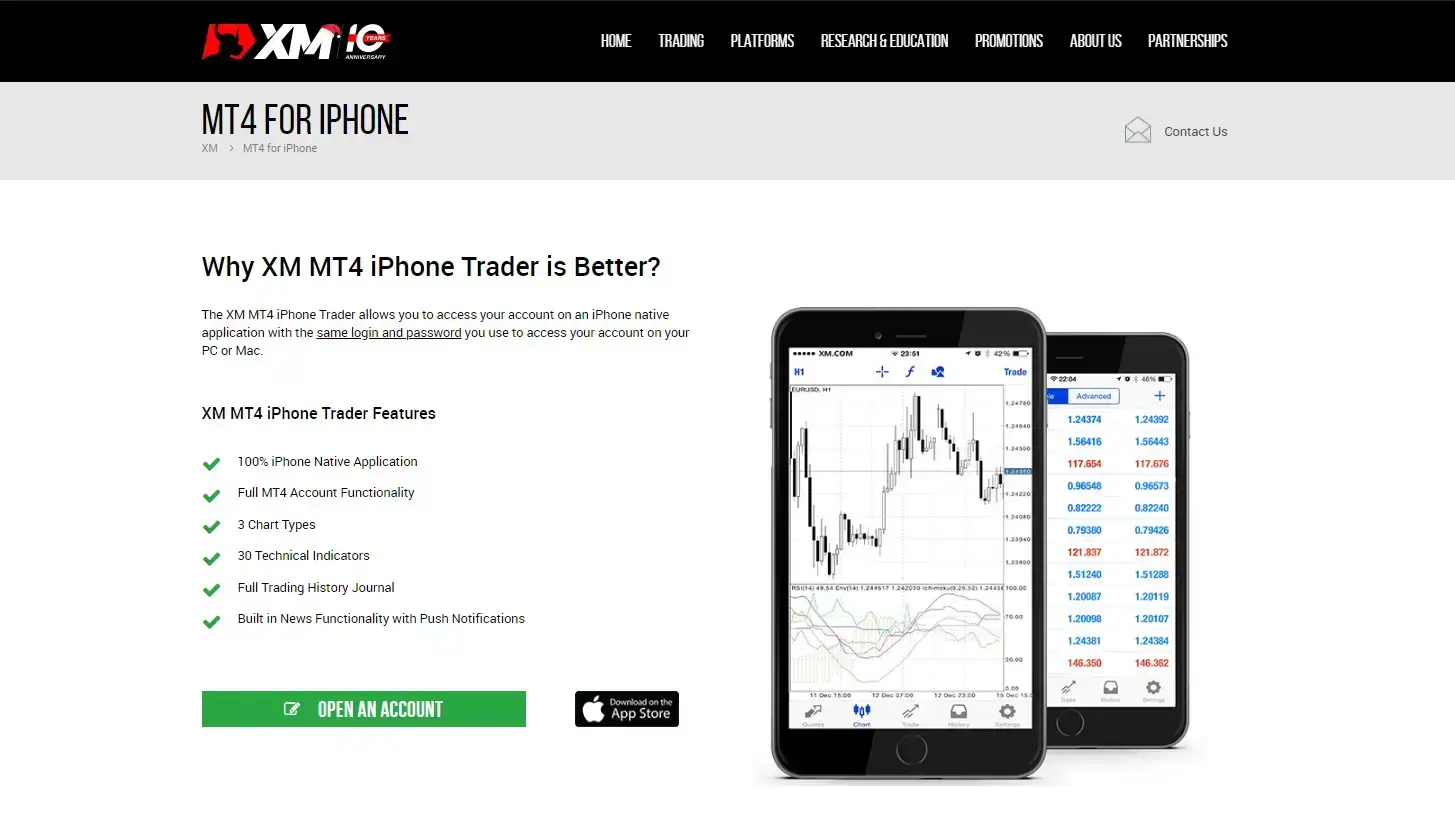 XM MT4 on iPhone
XM mobile app is available on both Android and IOS. Hence the app can be downloaded on all devices such as Android phones and tablets and Apple iPhone, and Apple iPad. Access to the app can easily be done through fingerprint scanning of a trader while on the go. Both the operating systems have high-end features and allow simple monitoring and trading. On the desktop, both in PC and Apple Mac, a broker can avail of one-click trading.
FXTM Mobile Apps
The FXTM mobile app is more elaborate and has two versions of it.
In the first, a broker can trade on the Metatrader 4 only and is available for download in both Android and IOS formats. It gives any broker access to all the functions of the MT 4 platform so that a trader does not lose money when trading on the go. On the flip side, it can be disappointing for a broker who wishes to move on to the MT 5 platform but has to stick to MT 4.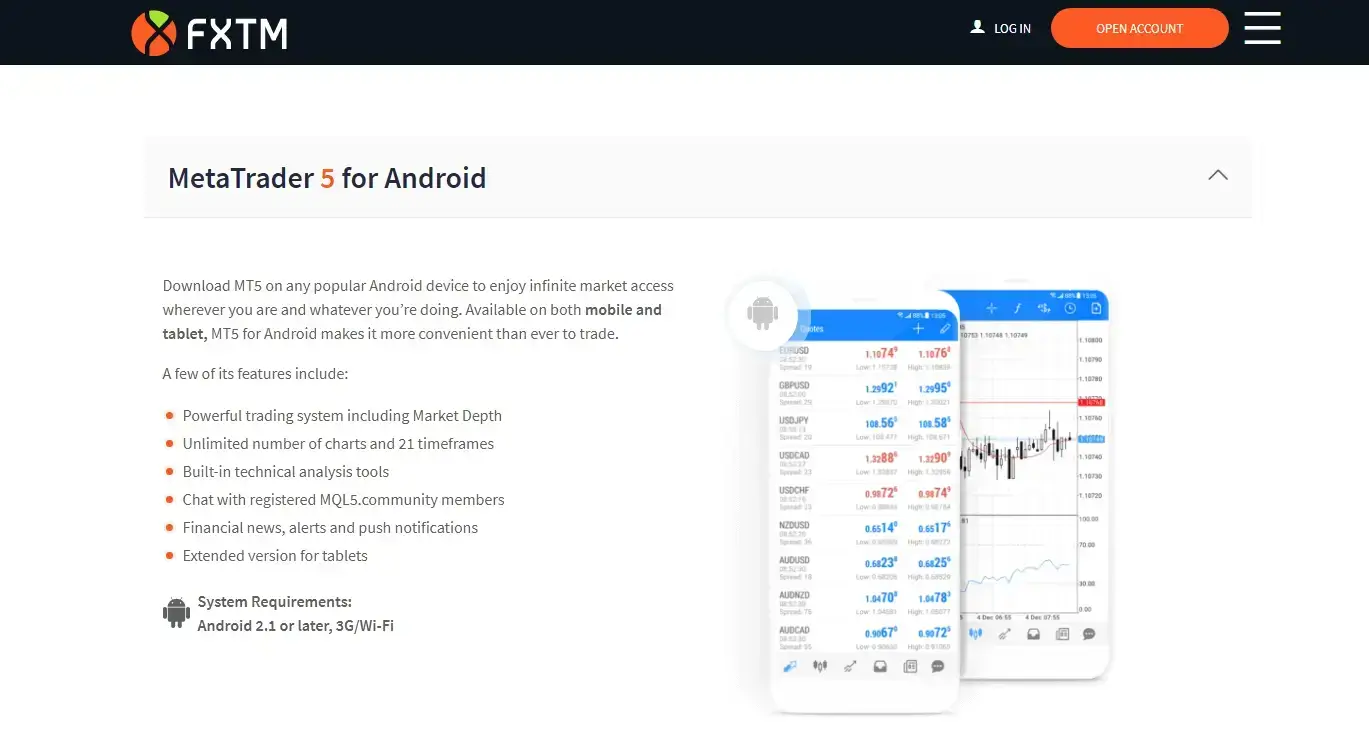 FXTM MT5 for Android
The second app on the FXTM is also available on Android and IOS and is known as the MyFXTM trading app. There are several features provided by FXTM to Forex brokers. These include a trading dashboard, permission to modify and close positions quickly, more than 250 financial instruments, updates in real-time, single-click trading, and advanced charting tools. A broker can get a rich and meaningful trading experience on the FXTM mobile app. It compares favorably in an XM vs FXTM analysis.

The Verdict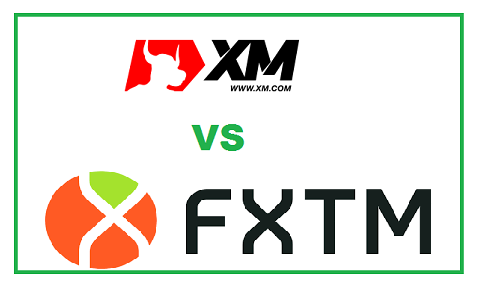 XM Vs FXTM
The XM vs FXTM verdict remains evenly distributed between the two. Each broker has a well-regulated trading environment with top security provided to client capital and over 3,000,000 traders in 180 countries. FXTM has an edge in higher leverage of brokers' capital and a superior choice for high-frequency traders. XM stays ahead in overall asset selection and cost of capital structure.