Overview
Fortrade is yet another brokerage firm that came into existence in the year 2011 but got its license from the FCA (Financial Conduct Authority) in the United Kingdom in the year 2014. The platform aims to provide CFD (contracts for difference) and Forex trading platforms to various clients settled all over the world (except for a few countries where it is not regulated). To get an FCA (Financial Conduct Authority) license, every broker has to comply with some of the strictest eligibility requirements along with the mandatory need to produce proof of financial stability. Therefore, when Fortrade has begun operating as a CFD broker, it means that it has undoubtedly gone through all these requirements to establish itself as one of the leading brokerage firms. Also, to get the FCA license, the brokerage firms need to keep a minimum of €730,000 on hand; this amount should not be clubbed with the clients' funds, which needs to be kept separate.

The Fortrade trading platform operates in 15 different languages, thereby providing a hassle-free trading environment for both the novice and the experienced traders. CFDs trading gives opportunities to the traders to venture on the asset price even without having the ownership of the accounts.
 Features Fortrade Broker
Here are some of the amazing features of the Fortrade platform discussed for the traders' easy perusal, which is the onus of doing this Fortrade review. After going through Fortrade reviews, the users will gain an insight into whether or not they should invest in such a brokerage firm or whether or not this brokerage platform matches their requirements.
~ Multiple types of assets:
Fortrade offers multiple types of assets and trading instruments ranging from currency pairs, stocks, agricultural products, energy products, precious metals, and treasuries for trade. This, in turn, widens the scope of online exchanging that the brokerage firms like Fortrade aim to achieve. Users can checkout over its 70 currency pairs and much more.
~ No discrimination in account types:
This is yet another amazing feature that the clients of Fortrade are open to enjoy. According to Fortrade reviews, at Fortrade, no discrimination is made based on account types, and as such, there is no need to create separate accounts and make deposits separately. In fact, no special privilege is given to users for more deposits. Fortrade believes in inequality, and that is what it brings forwards through this feature, which treats every trader equally, be it a beginner or an experienced one.
~ Demo account feature:
This feature is something that only genuine & good forex brokers can provide. Therefore, if this feature is considered a parameter for genuineness, then Fortrade is undoubtedly a genuine broker. A demo account requires investing zero money and the real trading experience options available. This also mitigates the unnecessary losses that the clients face when they are new to trading. The Demo account is virtually funded but exposes the trader to real-time trading with all the necessary trading tools that are required to place a trade. This gives the traders a golden opportunity to learn trade tactics without risking their money.
~ Fortrader Mobile trading:
This is perhaps the most convenient feature that the traders enjoy. The brokerage firm has come out with a free trading option with the Fortrader mobile application feature that is available for easy download from the Apple App Store or Google Play Store. Hence it becomes very easy and convenient for the users to trade anytime and from anywhere as they do not have to carry their laptops everywhere. With just a swipe on their mobile phones, they can easily place their trades. This software is also accessible from the iPad and other tablets.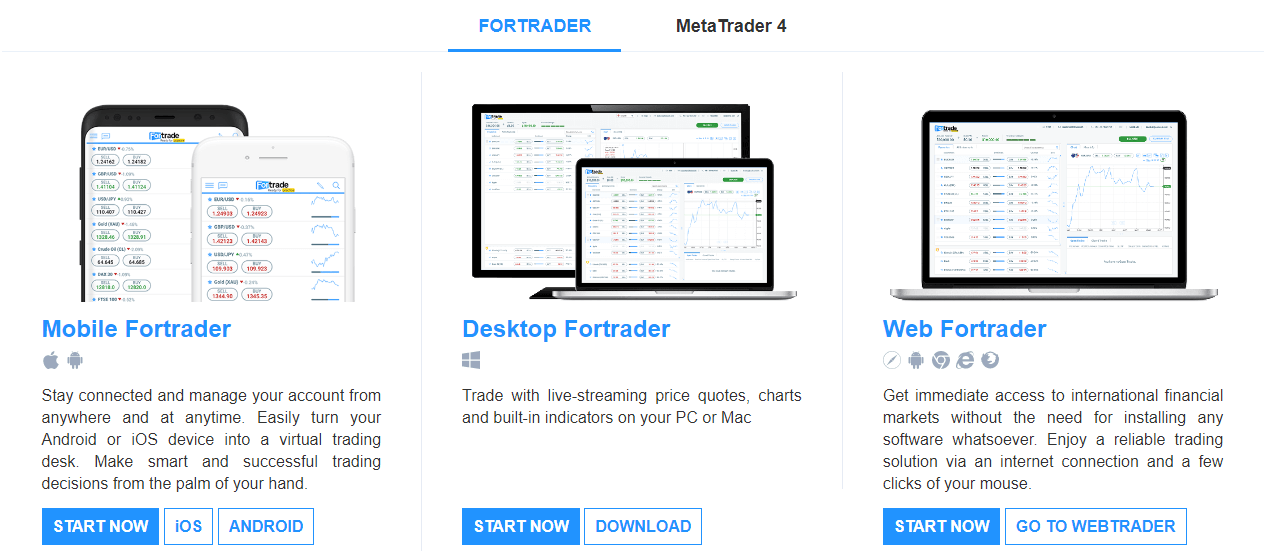 ~ Minimum deposit:
In this online trading platform, the minimum deposit requirement of $100, that needs to be deposited into the trader's account to initiate trade. This, in fact, serves the purpose of the working capital that is mandatory for every trade as so for the online trading CFDs as well.
~ Traders' education:
Fortrade considers the traders' education as the topmost priority. From Fortrade reviews, we get to know that there is a separate section on the official website of Fortrade. It is dedicated exclusively for imparting various trading insights for both the novice user as well as for the experienced traders. Various webinars are occasionally arranged by the brokerage firm in order to familiarize the investors with the platform. There are also provisions for ebooks and other trading course materials that the user can easily get from the platform itself to get themselves acquainted with how online Forex and CFD exchanging take place.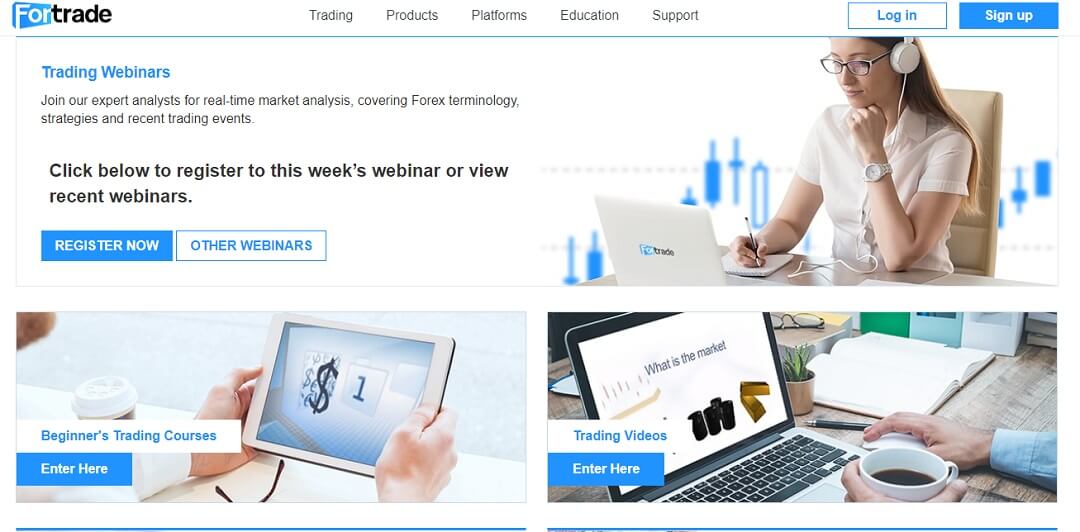 ~ Easy registration:
The registration process at Fortrade is pretty simple and easy. As per the Fortrade review 2023, the whole process gets completed in a few minutes if you follow the right steps. All that the traders need to do is visit the official homepage of Fortrade and fill up a registration form by feeding in some personal details, and they are done. Document verification is not required in the very first step. It is required when the investors min deposit funds to their accounts as the next step to start trading online.
~ Excellent customer support:
An online broker cannot be trusted if it is not backed by a robust customer support team that can be contacted at any time of the day to address issues faced by the clients while operating on the platform. Fortrade has an amazing customer support team that can be contacted at any time of the day via phone calls, emails, live chat etc. Even if all these mediums fail, the customer support team is quite active on social media platforms. Therefore, the clients can also post their queries in the comment sections, which would be responded to instantly as the customer care representatives also scan them regularly.
Benefits of using Fortrade
In this part of the Fortrade reviews, we shall discuss why customers should trade via the Fortrade forex trading platform, what are the benefits that this platform provides, that is not generally available to other platforms. Here's to why Fortrade?
~ Simple trading:
With myriads of trade options and digital resources available, both the trading CFDs and Forex tend to become of utmost confusion, especially if the investors have no previous trading experience in online trading and using software like Fortrade. But with Fortrade, things become much easier with its easy-to-use features based on Fortrade reviews that let even the novices enjoy online exchanging without any fuss and hassles. The user-friendly, yet top-notch technology that the platform utilizes gives the investors a powerful trading environment where the traders feel at peace and place their trades in the most hassle-free ways.
~ Helps the traders to grow:
Fortrade considers its customers' success as its own. Therefore, this platform provides all the necessary resources that are required to educate the users regarding the trade strategies, market trends, process of placing trades so that it yields the maximum profits etc. The platform arranges for trade webinars, Fortrade also offers ebooks and other resources on its website, which are too completely free of cost so that the investors can get them right away from the platform itself.
~ Secure and reliable platform:
When it comes to online brokerage firms, all that it matters is whether the firm is reliable or not. For Fortrade, this never has been an issue as the broker is regulated by the FCA or the Financial Conduct Authority in the United Kingdom and the National Bank of the Republic of Belarus (NBRB), as well as IIROC. Also it is regulated by Fort Securities Australia Pty Ltd (T/A Fortrade Australia) which is licensed and regulated by the Australian Securities and Investments Commission (ASIC). Therefore offers a legit platform that cannot be questioned. Due to this reason, the investors feel at peace while trading via this platform with full confidence that their funds are safe and secured.
~ Low deposits and zero commissions:
Fortrade does not require high deposits in order to get started on the platform, which in turn mobilizes a large count of customers to give it a try on the Fortrade platform, even if they know very little about CFD trading and Forex trading. The min deposit, competitive spreads, high leverage ratios like 1:200, along with the amazing promotional offers and bonuses, are some of the amazing benefits that Fortrade comes up with for its customers. Also, there are no commissions charged by the platform that reduces the traders' expenses immensely.
~ Unlimited market access:
Fortrade offers its investors unlimited access to trade anytime and from anywhere. With the advent of modern-day technologies, getting access to the markets anytime and from anywhere is no longer rocket science, and Fortrade has proved it once again from Fortrade review. This fully scalable trading platform enables the users to monitor the global derivatives and financial services markets and then capitalize on the price movements anytime and anywhere.

~ Amazing speed:
In online Forex and CFD trading, even a single millisecond can make a huge difference in making or breaking a trader's fortune. Therefore, online brokerage firms ought to deliver a high-speed transaction when it comes to placing effective trades. With Fortrade, the investors can rest assured with the speed of processing transactions. We get to know from Fortrade reviews, orders are processed instantly as and when they are received, and the users enjoy full control over their portfolios with just a single swipe on their mobile phones, which is the best part of trading via Fortrade.
Pros and Cons of Fortrade
Pros
Cons
      It is a well-regulated brokerage firm.
      Cryptocurrency trading is not available at Fortrade and so is Cannabis trading.
      It is a 100% legit platform wherein the traders can trade in peace.
     

Fortrade offers only one account option.

      The payout and withdrawals are handled with utmost care.

 And Also its doesn't charge any withdrawal fees.

 
Is it a Fortrade scam Platform?
No, Fortrade is not a scam. As such, it is 100% genuine. Fortrade is licensed by one of the strictest regulatory bodies, FCA, or the Financial Conduct Authority in the UK that guarantees its legitimacy. Moreover, regulated brokers never manipulate market prices, so that way, Fortrade being a regulated broker is 100% legit. When any withdrawal request is sent to Fortrade, this is honored. It is also a fact that if anytime ForTrade violates any regulatory rules, their regulated status would be stripped without any delay.
All the payments funded to the Fortrade forex trading platform are held in a segregated bank account, and for this, Fortrade uses the tier-1 banks to keep their clients' funds safe and secure.
When are withdrawals processed on Fortrade?
The processing time for the withdrawals on the Fortrade forex trading platform depends on the trading mode of withdrawals and the amount. Generally, it takes 2 weeks for the amount withdrawn to reflect in the trader's account.
How do I withdraw money from Fortrade?
Withdrawing money from the Fortrade account is pretty simple. All that the investors need to do is, log in to the respective Fortrade account by feeding in the necessary credentials that he used while filling up the registration form. Next, the trader needs to click on the drop-down menu on the right-hand side of the screen and click in the "withdrawal" tab, here the trader needs to specify which mode of withdrawal to choose and mention the amount that he wants to withdraw. Sometimes this section needs a little more account information from the trader in order to verify his trading account details with the recorded details. Depending on the mode of transfer, the withdrawal would take the processing time accordingly. When trading CFDs with this provider, some retail investor accounts lose money. So, it would be best to consider whether you could afford to take the high risk of losing your money.
How to Begin Trading with Fortrade?
To begin trading with Fortrade, the foremost thing that is required for the investors is to get themselves registered on the Fortrade platform, which is pretty very simple and takes less than 10 minutes to complete all the formalities. As the Fortrade platform is regulated by the FCA or the Financial Conduct Authority in the United Kingdom, it requires the traders to provide some more details like uploading some photo identity on the platform that would be later used to verify their details.
~ Registration:
Our experts get to know from Fortrade reviews that registration is absolutely free, and for this, the traders need to sign up on the official homepage of Fortrade that directs them to a form that needs to be filled up by feeding in some personal details like full name of the trader, full address, valid email address, valid phone number, etc. A strong password should protect these details. After feeding in the details, not the investors need to upload the scanned documents with a photo like a passport, utility bills, or bank statement. But make sure that the utility bills or the bank statements should be recent and not more than 6 months old.
~ Working capital:
After the trader's account has been registered, he would be sent an auto-generated email address to confirm his registration on the Fortrade platform. After this, the trade needs to minimum deposit some funds, which should serve as the working capital to initiate trading. For this, the trader can use any of the various modes of payments allowed by Fortrade like credit cards, bank transfers, wire transfers, Neteller, Skrill, etc. Alternatively, the traders can sign up for a demo account that is virtually funded with $10,000 that the investors can use as a working capital without risking their own real money, however small the amount be. This mitigates the risk of losing and also exposes the users to real-time trading so that they can get some basic concepts of real trading before they actually get into the world of online trading.
~ Start trading:
Now the traders have the liberty to start trading over the Fortrade platform with the fund which they have credited their account with. But before placing a trade, the users need to set the criteria as per their trading preferences, and if their preferences vary, they have to set their criteria accordingly. The broker will match the criteria with the available market conditions and opportunities. Once they match with the set criteria, a trade is placed on behalf of the customers, and profit is earned accordingly. The users can withdraw these earned profits any time they want by filling in the withdrawal details and the mode of payments. Generally, in Fortrade, the withdrawal request needs 2 weeks' time to start processing and reflecting in the traders' account, which is sometimes complained against by the investors.

Wrap up
Thus, after doing this Fortrade review, we concluded that Fortrade offers an intuitive trading platform that is focussed on making online trading simple, fast, and user-friendly. It provides the right platform for both the new investors as well as the experienced traders. The low deposit fees, myriads of digital resources to gain trade insights from, free demo account to practice trade without risking own money etc., attract the newbies, whereas the professionals gain from the numerous trading solutions that this platform provides.
The platform helps their clients grow, which is an important virtue that most brokerage firms do not possess. Prioritizing the clients' profits and welfare over the respective profits is something that has taken this platform to great heights to date. Moreover, Fortrade provides a secured and licensed trading environment that is regulated by FCA, due to which the traders can trade at peace via this platform. Fortrade is fairly transparent with no hidden commissions or fees and therefore causes no conflicts of interest, which is the best part of this platform. While trading CFDs with this provider, some retail investor accounts lose money. So, it would be best to consider whether you could afford to take the high risk of losing your money.
FAQs
1. Can Fortrade be used before actually it is paid for?
Yes, there is a demo account feature allowed on this platform, that can be tried before investing on this broker. For this, the customer needs to open a demo account on the Fortrade platform, which is virtually funded but exposes the user to real-time trading to gain some insights into how online trading is done without risking real money.
2. What are the different modes of payments accepted by Fortrade?
Fortrade accepts various modes of payments according to the traders' discretion. The various modes of payments include credit cards, bank transfers, Neteller, Skrill, e-wallets, bank wire transfers, MasterCard, Visa, etc to name a few.
3. How many languages does Fortrade support?
Fortrade supports a total of 15 languages that include English, Spanish, Croatian, German, French, Polish, Italian, Slovene, Dutch, Portuguese, Russian, Arabic, Swedish, Albanian and Macedonian.
4. Is Fortrade considered to be a good broker?
Yes, Fortrade is considered as a good broker, by the top tier financial regulators like the Financial Conduct Authority or FCA. It allows trading CFDs and Forex.
5. Can you make money with Fortrade?
Yes, as per our Fortrade review, the Fortrade platform is absolutely meant to earn profits. The official website of Fortrade has a lot of customer testimonials that implies that they are greatly satisfied with the services that the Fortrade offers. For this, the users need to educate themselves thoroughly, use the demo account to plan their real trading strategies, which will immensely enhance their chances of earning huge profits. But it is recommended never to trade with funds that the users cannot afford to lose.
6. Is Fortrade the market maker?
No, Fortrade is just a brokerage firm and not a market maker. The definition of a market maker goes like this, "an entity that can speed up trading by purchasing the stocks and commodities of the buyers even when they are not lined up", which is definitely not something that Fortrade is up to.
Fortrade
Pros
Fortrade offers multiple platforms for trade like Web Fortrader, iOS Fortrade app, Android Fortrade, Desktop Fortrade, MetaTrader4, Desktop MetaTrader4, and Mobile MetaTrader along with a myriad of options available to trade.
It is one of most productive online trading platforms.
Cons
Withdrawals generally take 2 weeks to initiate processing.