Overview
AAATrade is an online financial investment firm that was founded in 2013 and is situated in Cyprus. It deals with a plethora of services related to financial retail, cryptocurrency exchange, and liquidity supply. The state of the art AAATrade website (aaatrade.com) provides an online trading facility on multiple complex instruments like CFDs by widespread and influential Metatrader 5 trading platforms, according to AAATrade reviews. AAATrade platform provides the best-in-class trading fees and includes free essential trading software tools and educational study materials to assist users in trading and making money efficiently.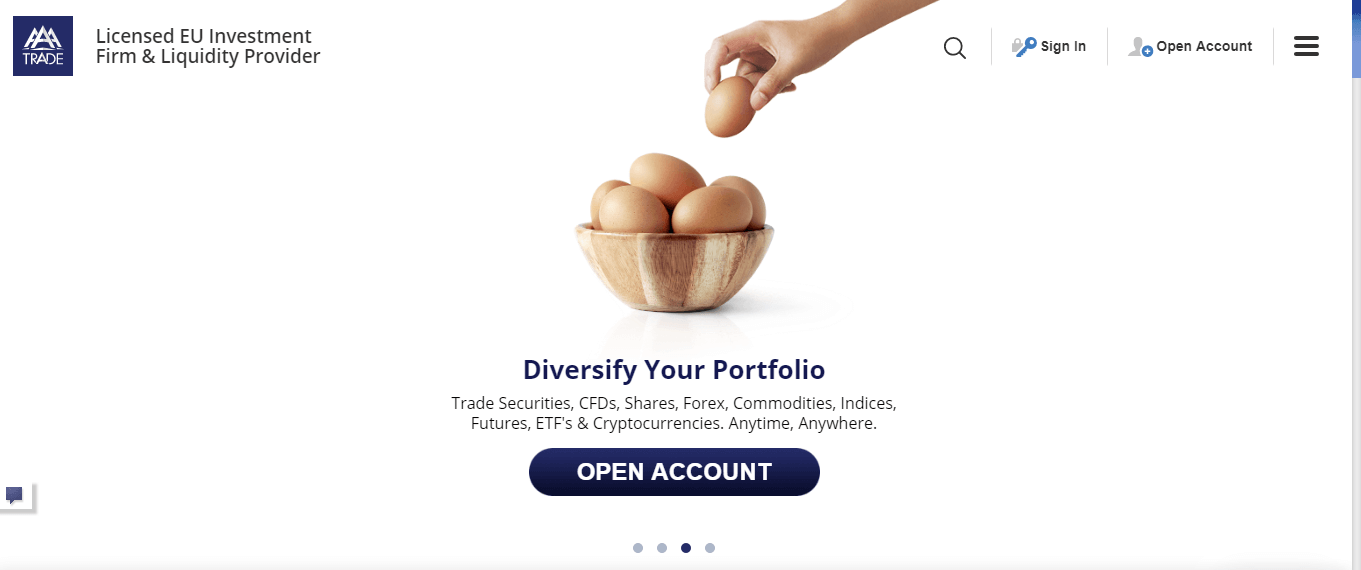 Clients of AAATrade can access No Dealing Desk (NDD), a trading brokerage model that provides direct access to the trading markets without any broker interference. The platform also serves as a liquidity provider to several premier institutions by providing competitive service and modern technologies.
This broker financially supports the United Nations International Children Emergency Funds (UNICEF) as a measure of its social accountability and supports the Vatican museum's museum to preserve some traditional historical works of talents.
Although numerous financial stock-broker stations provide lucrative trading offers, a trader needs to decide on the most dependable enterprise and the specific that outfits investors' trading requirements. Consequently, this broker also supports its customers in choosing the best forex brokers by reviewing and checking detailed statistics.
What is AAATrade?
The AAATrade enterprise is an accurate (Straight Through Processing) STP broker and a registered liquidity provider with fast delivery, efficient online trading tools, and crystal clear trading terms & conditions.
This forex broker is based on Cyprus and was established in 2013 with an ambition to motivate its customers to participate in the trade as well as help premier institutions to contribute to global financial markets by their advanced technology and world-class customer service. Even though the online financial investment firm is relatively new to the market but it has blossomed to grow into one of the rare finance asset firms that offer over 1,000 CFD and more than 60,000 result-driven assets to trade.
As per our AAATrade review, it supplies vast opportunities to invest in several accounts via CFDs on Shares, Commodities, Forex, Indices, ETFs, and numerous cryptocurrencies (Bitcoin, Bitcoin Cash, Litecoin, Ethereum, Ripple) in addition to various other opportunities to expand and promote the portfolio.

This forex trading broker also provides free educational materials, tutorials, webinars, and other educational tools along with customer support. This helps new investors to analyze powerful tools for calculating trading strategies and managing high risk throughout the trading session while simultaneously reducing the chances to lose money. Many retail investor accounts lose money when trading in the financial markets.
This broker also supports its growing global community of investors, employees, customers, brokers, agents, and business partners; further, AAATrade supports charitable organizations like UNICEF, Vatican Museum, and many more.
AAATrade Review – Is AAATrade a scam or safe broker?
AAATrade is a Cyprus investment company that complies with the required laws and regulations of the regulated financial services companies which come under the CySEC Authority. Further, its regulatory procedures are operating under the MiFID II directive, which is an EU authority, to supervise its operations inside the EAA.
The regulatory body CySEC makes sure that the specific requirements to the license holders are met, and it regularly ensures that the compliances and its regulations are met as a part of it. The client funds are held in segregated accounts and this commission needs the forex brokers to hold a minimum of €1,000, 000 as a proof for good financial standing.
To guarantee the client's funds, all CySEC regulated organizations are the members of the Investors Compensation Fund (ICF), which are entitled to pay compensation to the clients for up to EUR 20,000 in the event if the broker goes bankrupt. However, as per recent research, clients cannot report to the Cypriot Financial Ombudsman in case of any discrepancies.
AAATrade customer funds are deposited with well-known Swiss banks based on AAATrade review and also through the company's straight-through processing model (STP), which means the traders can trade directly in the markets, which implies there are no intermediaries or any hidden fees or commissions.
Simply put, AAA Trade Ltd is a highly regulated broker that provides its client's assurance, security, and safety of a completely regulated trading ecosystem.
AAATrade Trading Platforms
As per our AAATrade review, their proprietary trading application is available for customers through desktop or mobile devices via their state-of-the-art WebTrader application or online cloud version of WebTrader, which is remarkably easy yet powerful software, with vast capabilities. The cloud-based application enables users to trade on several devices directly from a web browser; by using progressive analytical features and trading tools. The software also provides access to cryptocurrency services, which are specifically aimed at crypto currency trading. Overall, the UK trading platforms deliver a supremely fabulous trading experience with all the necessary tools for professional as well as novice traders to analyze the financial market.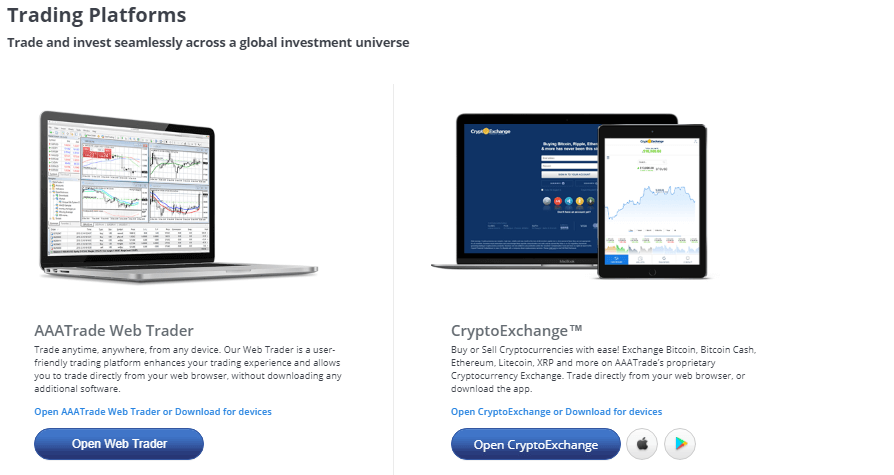 The desktop version of WebTrader software, also known as the MT5 platform comes equipped with a plethora of trading features and software tools. The application is designed and developed with the help of software engineers and expert traders who included many sophisticated trading features and analytical tools.
Here is a list of various features of MT5 as per AAATrade reviews:
The software comes equipped with a customizable interface, which includes layout, colors, and tools. Users can also choose to view their preferred assets and diagrams.

The MT5 software includes features like expert advisors (EAs) that use automation while trading forex and CFD.

The MetaTrader 5 forex brokers software features 3 kinds of graphs, namely: line, bars, and candlesticks graphs, which display more than 21 timeframes from a single minute to the whole month.

The software also comes preloaded with 38 technical pointers to assist traders in the trading environment.

The MT5 includes 44 analytical and drawing soft tools to analyze graphs and effectively invest money in a trading session.

Its software comes equipped with an

economic calendar

for fundamental research and analysis.

The platform also alerts traders via pop-ups, email, and SMS.
Trading in Android & iOS smartphones
As per our AAATrade review, customers of AAATrade exchange can enjoy a superior trading experience from the comfort of their couch by exceptionally crafted Android and iOS apps. The mobile apps allow traders to access an extensive range of financial markets and opens an opportunity to trade over 60,000 assets anytime. The mobile apps also provide a broad range of trading and learning tools like webinars, tutorials, live market events, and trading insights for traders of all levels.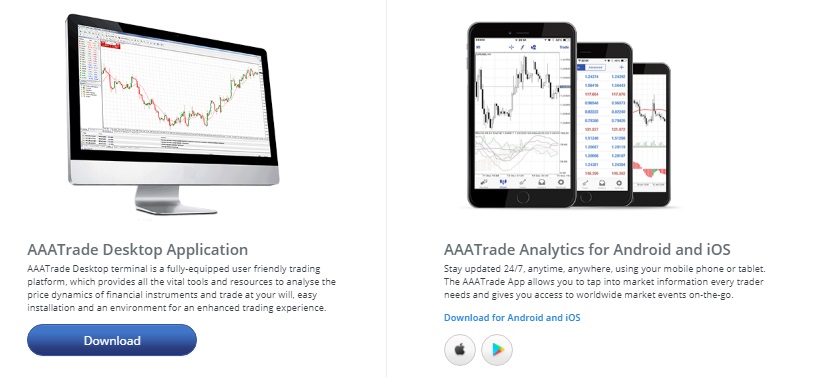 Features of AAATrade
AAATrade includes numerous exceptional features as compared to its immediate market rivals. Some of the features are as follows:
The trading platform includes the option of a personalized account manager for the client.

This platform offers dedicated customer support for its traders. The

customer support team is available 24×5. Users can e-mail at [email protected].

Personalized tutorials and training in CFDs and Forex trading to make sure that traders do not lose money. Traders need to learn the technicalities of trading as many retail investor accounts lose money while trading in complex instruments like CFDs and Forex.

Exceptional customer care service which includes live chat facility in many different languages

Free tools to analyze the trading signals and the high risk prevalent in the current market scenario

Email and mobile updates and news feeds

Users can choose from numerous training packages, which are inclined towards teaching users to trade efficiently with all rights reserved.
Risk Disclaimer – This broker offers CFD products, which are complex instruments and come with a high risk of losing money rapidly due to leverage. 72.83% of retail investor accounts lose money when trading CFDs with AAATrade. You should consider whether you understand how CFDs work and whether you can afford to take the high risk of losing your money.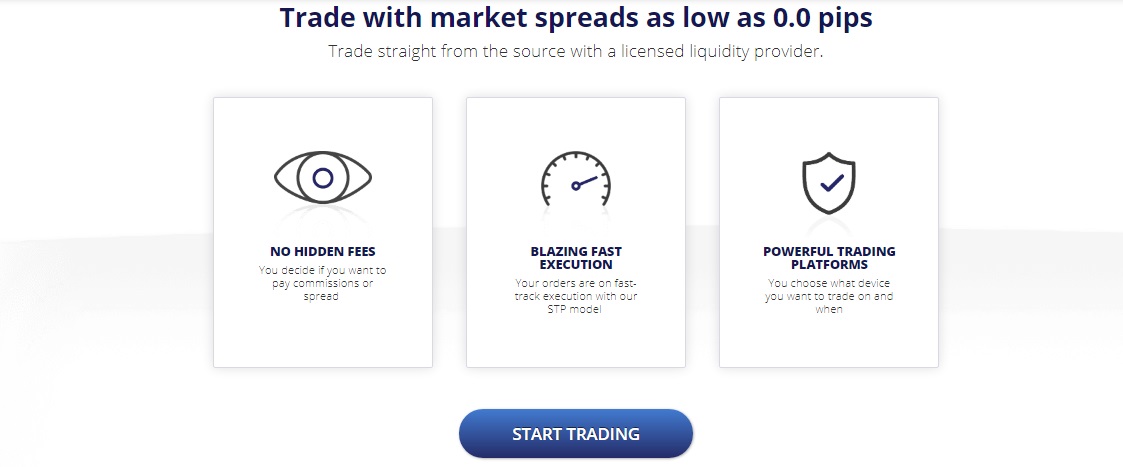 Deposits and Withdrawals
According to AAATrade broker review, for opening a trading account, the traders should add a min deposit of $500 to their trading account.

Even though other Cyprus-based brokers offer the traders a low min deposit, considering the min deposit of $500 we can see that these brokers are targeting high volume and institutional traders.

For withdrawing funds, they need to simply select the payment methods they would like to withdraw their funds, fill all the required details, and click submit.

AAATrade does not charge withdrawal fees for withdrawing through credit cards, debit card, and e-payment methods, but it charges 10 Euros as bank fees for any withdrawal that are transferred via bank transfer.
Account opening process
The account opening process with AAATrade is very easy and simple. To open a trading account, the traders should need to register on the platform using their email address. The next step is to fill up the client questionnaire, followed by uploading their identification documents for the verification process.

By filling the questionnaire, it helps the broker to assess the trader's experience level and their knowledge about the financial markets.

If the trader does not pass the questionnaire, the website will direct the trader to open a demo account, and the trader should go through a 7-day weight period, before the test to be retaken. This broker also requires the trader to take a selfie by holding their passport or ID by writing a note covering the following – telephone number, email, date, and signature.

Additionally, the trader needs to submit a copy of a recent bank statement, utility bill, bank reference letter, local authority tax bill, internet bill, or landline telephone bill, etc., should be uploaded. When the submitted documents are accepted, the verification process is completed within a few minutes.

The team will review these documents. The traders are informed through email when all the information has been verified.

After passing the questionnaire, the trader can open an account with this broker. Based on the questionnaire filled up, the team will advise the traders which accounts or investment products are more suitable for them.
Security
To ensure the safety and security of its client's funds, the trading platform places its client funds in separate accounts in reliable banks, which helps them to ensure that their trader's money is safe and is not used for other purposes apart from trading. AAATrade does not charge any hidden fees; the traders can directly work on the trading platform without the intermediaries. The broker's platforms and applications such as MT4, MT5, webtrader, offer protection against hackers and guarantee good performance. They make sure that the software is complex, and with constant monitoring of the platform, it ensures the safety of the traders' personal information.
Trading conditions on AAATrade platform
The recommended min deposit on AAATrade exchange:

Open an account with AAATrade; it is mandatory to invest a min deposit of $500. As the target market of AAATrade is limited to premier institutes and serious high-volume traders, the platform charges a hefty investment amount during the initial registration.

Spreads & Commissions:

AAATrade offers fixed spreads, with no commissions for ordinary accounts. Professionals are allowed to trade via raw spread on chargeable commission, which is relatively good and the lowest in the industry. It also offers a 5% to 10% commission rebate to users as per their account balance.

Leverage:

This broker allows a maximum

leverage level of 1:200, which is an industry-standard ratio. Nevertheless, experts at AAATrade recommend users to exercise extreme caution while trading on margin as it involves high risk. So, consider whether you can afford to lose money before investing.

Users should pay heed to this as a high risk warning

What assets can be traded with AAATrade?
AAATrade platform has an impressive selection of tradeable instruments that can gratify most traders and set their trade session as per the trading conditions of the market. The range of choice is divided as follows:
Shares: users are free to trade on some of the largest trading firms of Europe, Asia, or the United States.

Foreign Exchange: AAATrade traders are free to invest in any small or big

currency pairs

and can use any financial market in the world.

Precious metals: traders can buy gold and silvers in the form of CFDs.

Exchange-Traded Funds or (ETFs): users can also invest in ETFs as it can be a lucrative option, as stated by AAATrade experts.

Futures: traders can take advantage of popular financial services markets by trading CFDs.

The margin call level on trading CFDs is 50%

Bonds: users of the AAATrade platform can also invest in Bonds from other popular markets like the US, Europe, and Asia.

Cryptocurrencies: AAATrade software includes a section for the exchange of cryptocurrency products and also offers few selected digital currencies like Bitcoin, Bitcoin Cash, Litecoin, Ethereum, Ripple, etc. The minimum trade size for crypto pairs differs depending on the exact instrument.

The platform has all rights reserved for its features and functionalities.
Risk Disclaimer – AAATrade offers CFD products, which are complex instruments and come with a high risk of losing money rapidly due to leverage. 72.83% of retail investor accounts lose money when trading CFDs with AAATrade. You should consider whether you understand how CFDs work and whether you can afford to take the high risk of losing your money.
What are the funding methods of AAATrade?
AAATrade broker being a premier online investment firm provides numerous features to its customers based on AAATrade review 2023, which includes a variety of deposit methods that can be easily selected in the preferred trading platform. Some of the methods are as follows:
Bank Transfer
Credit or Debit Cards
QIWI
Crypto Wallets
Skrill
Neteller
FasaPay
UnionPay
The min deposit required to start trading in the AAATrade platform is 500$, which also depends on the service level a trader chooses, but as AAATrade targets, only serious high-volume traders and leading institutes the initial 500$ is valid to all basic facilities, however, premium services will involve higher capitals. This broker applies a nominal transaction fee to the net amount received by them, but withdrawing money via credit/debit card and e-payment is free of cost and offers several currency pairs. Yet there are still some fees that may be incurred as some payment providers charge some transaction fees. This broker aims to process all the withdrawal requests in 24 hours.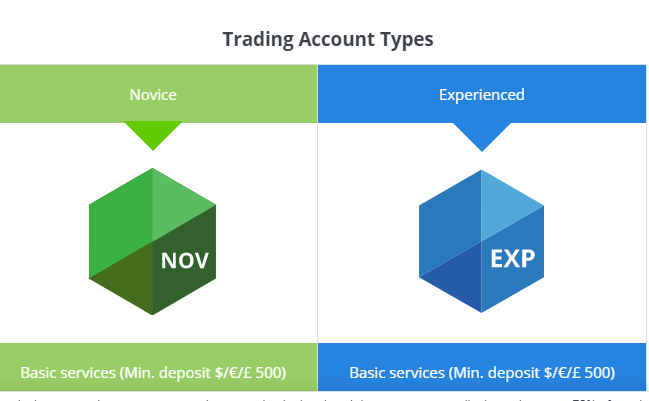 Beginner Account
This is a standard account which is considered for new forex and CFD dealers. Further, the account offers competitive spreads with zero commissions charge; they are is divided into 3 account types :
Basic Services: Initial minimum deposit of 500$ is required

Advanced Services: Initial minimum deposit of 25,000$ is required

Premier Services: Initial minimum deposit of 100,000$ is required
Skilled Account
This type of account is preferred by qualified forex and CFD traders; it offers remarkably tight spreads with low commissions rates. It is divided into 3 account types :
Basic Services: Initial minimum deposit of 500$ is required

Advanced Services: Initial minimum deposit of 25,000$ is required

Premier Services: Initial minimum deposit of 100,000$ is required
| | |
| --- | --- |
| Bitcoin Era | Other Trading Robots |
| Credit/Debit card via bank wire transfer | 10+FC |
| Commercial MT1xx(Payment via OUR)* | 25+FC |
| Commercial MT1xx(Payment via BEN) | 10+FC |
| Credit via credit cards | 3%+FC |
| Credit via different payment | 5%+FC |
| Credit/debit via Cryptocurrencies | 0.2% Min Fee |
| Internal Fund Transfer | 2.5 |
AAATrade Pros and Cons:-
Pros
Structured broker

Percentage Allocation Management Module (PAMM) accounts

Allows admittance to trade over 60,000 instruments from over 60 different exchanges

Tradable CFD assets above 1,000

Tutorials on market analysis and trading
Cons
Does not allow residents or passport holders of the USA, Iran, Algeria, American Samoa, Bosnia and Herzegovina, Sri Lanka, Trinidad and Tobago, North Korea, and numerous other countries to avail its services.

Variable spread accounts

Initial registration fees of $500 are required for trading.
What are trading tools available with AAATrade?
Portfolio Management:

This company provides personalized account managers for the client's assets.  These account managers are skilled professionals from several backgrounds such as economics, business, finance, etc. The company also develops policies based on the user's trading needs.

Market Analysis:

This broker provides daily updates so that the traders can experience fine-tuning of trade settings before trading.

News:

AAATrade shares podcasts and news related to the finance market.

Economic Calendar:

The financial calendar is available on the website(aaatrade.com), which displays dates, times, global events, and impacts analysis.

Live TV: Live TV presents tutorials and technical investigation videos on particular trading instruments.

Customer service
Customer support is available through email, phone, and live chat. It also provides a list of phone numbers on the contact page, that provides direct customer service that is offered through the phone in 26 countries.

Further, email support is available through the contact form which is available on the website, and the queries asked by the users are replied immediately. Users can also reach out at [email protected]. Also, it offers a live chat option that can be easily accessed through the website.

This broker is very active in social media accounts such as Twitter, Facebook, and LinkedIn. In this way, it is very convenient for traders to get in touch with them. There is an extensive FAQ page provided on the website which answers many common questions that are needed answers.
Conclusion
AAATrade is a fast-growing online financial brokerage company that grants online trading opportunities to traders across the globe. The company provides more than 1,000 forex, CFDs, and cryptocurrencies for dealing, with its MT5 Software application that is made available on different trading platforms like web, desktop, and mobile. AAATrade is a well-regulated corporation with strong positions in trading markets and financing opportunities. The user of AAATrade can directly trade from the market popularly known as the Systematic Transfer Plan (STP) operated model, which includes no interference of the so-called dealing room and includes no hidden cost. The AAATrade platform is handy, advanced, and suitable for all traders with varying trading styles and skill levels.
FAQs
1. Is AAATrade a trustworthy platform?
Yes. AAATrade is a Cyprus investment firm and this broker is managed and controlled by the Cyprus Securities and Exchange Commission (CySEC). The CIF License number of AAATrade is 244/14.
2. How safe is my data and funds with AAATrade?
AAA Trade claims that investor's data and funds will never be negotiated with any 3rd party vendor as the firm takes security very seriously. Further, AAATrade boasts of holding a PCI merchant level D license for their servers and is also supported by QUALYS, to certify the highest level of online balance protection and data safety in place. The online safety and data security features of AAATrade are further enhanced by some of the biggest cybersecurity partner firms and reputable payment systems like Visa, MasterCard, Maestro, QIWI, Skrill, FasaPay, Union Pay, and Neteller.
3. What is the maximum leverage provided by AAATrade?
As per our AAATrade broker review, this broker fundamentally offers a sole commission-free standard account with fixed spreads and including leverage up to 1:200 on MetaTrader 4 platform, which is considered an industry standard.
4. What are the deposit methods of AAATrade?
As per our review, AAATrade provides the following deposit methods to its clients: credit cards or debit cards, bank transfer, and e-wallet payment like WebMoney, Яндекс, Qiwi, Skrill, Neteller, etc. It accepts numerous pairs of fiat currencies; a few popular among them are GBP, USD, and EUR.
Risk Disclaimer: AAATrade offers CFD products, which are complex instruments and come with a high risk of losing money rapidly due to leverage. 72.83% of retail investor accounts lose money when trading CFDs with AAATrade. You should consider whether you understand how CFDs work and whether you can afford to take the high risk of losing your money.
AAATrade
PAYMENT OPTIONS - 9.3
SUPPORT - 8.8
USER EXPERIENCE - 9.6
REPUTATION - 8.5
SECURITY - 9.4