Overview
UFX Global Limited is one of the leading forex and Contract for Differences (CFD) brokers in the online financial trading industry. UFX was established in 2007 in the Republic of Vanuatu and is a trading name of Reliantco Investments Limited (Address: T19, 1st Floor, Tana Russet Plaza, Vanuatu).
The head office of UFX is situated at Govant Building, near Kumul Highway, P.O. Box 1276, Port Vila, Vanuatu. UFX has a branch office in the Czech Republic also. According to UFX review, UFX is operated by its certified partner MassInsights Technology that reports to an EU certified trade register. This market maker follows the Straight-through-Processing (STP) business model that provides traders with an easy-to-use trading application for CFD trading. CFDs are derived securities that allow traders to speculate on the price of assets without actually holding them in their accounts. 
UFX trading platform provides its customers with an advanced, trusted platform for trading forex, CFDs on indices, shares, commodities, ETFs, futures, crude oil, and cryptocurrencies. UFX broker has earned an optimistic reputation ever since its inception in 2007. Traders are requested not to get confused with UFX Markets (a scam broker which is no longer functional).  
Many broker reviews conclude that over the years, the financial trading firm has provided a reliable, secure, and progressive trading environment to all its customers. Forex broker UFX further permits traders to connect their accounts with automatic crypto trading robots like Bitcoin Trader and also provides a reliable customer care team as a key offering.
UFX has also received positive ratings from prominent accounting firm PricewaterhouseCoopers (PwC). PwC had reviewed the product offerings and processes of UFX and had found it conforming to the standards of International Standard on Assurance Engagements (ISAE) 3402. 
On this development, UFX Managing Director Dennis de Jong said, 
"We are thrilled and honored to receive this positive rating for Reliantco from such a prestigious, leading firm as PwC. PwC's recognition enhances our commitment to excellence and ongoing development of cutting-edge technologies while remaining transparent with our clients."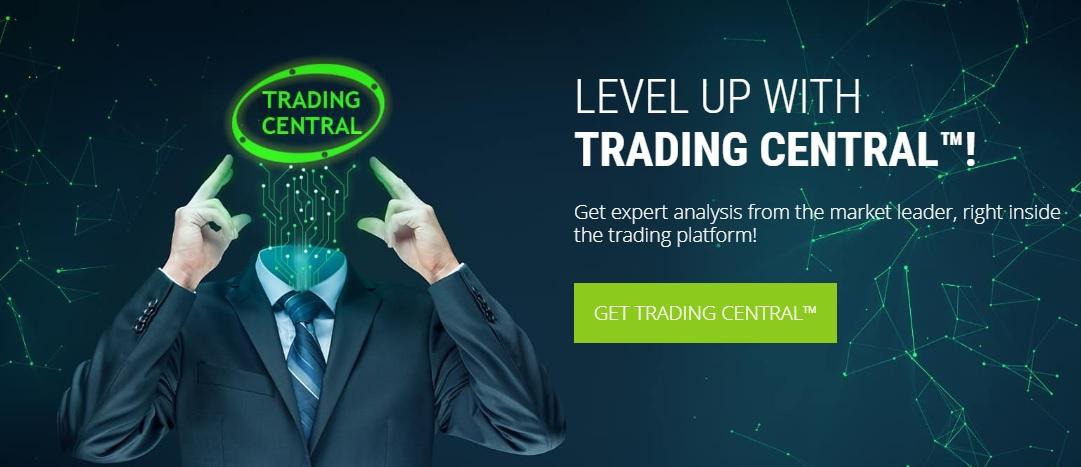 The Legitimacy of UFX
UFX Brokerage is an international brand governed by the Financial Services Commission of Vanuatu (VFSC) and Cyprus Securities Exchange Commission (CySEC); the firm was established in 2007 and operated under license number 14581. It is owned by Reliantco Investments Limited. As per UFX review, the brokerage firm is transparent and reliable as it provides all the essential information on its official website. Aside from regulation, the UFX broker also offers trade settings, innovative trading features, risk administration, company strategy, risk disclosure, AML policy, website security, with terms and conditions. The financial trading firm also boasts about its world-class cybersecurity protocols, which secure both traders' information, and ensures safe transactions on every trading session. According to our UFX review, UFX takes some stringent security measures that include dual firewall, SSL encryption, proxy servers, antivirus, anti-malware algorithms, and armed security protecting servers.
Risk Disclaimer: Do not consider this review of UFX as investment advice. Please do your own research and analysis before investing. CFDs are complex products that acquire a high risk, and many investors lose money when trading CFDs. Traders should take risks only as per their risk appetite and not go beyond it at any point in time.
Markets and Instruments of UFX
UFX allows its customers to trade a variety of assets like commodities, stocks, currency pairs, indices, and ETFs. Customers have a flexible choice of application, like the in-house designed and developed UFX Web Trader platform and MetaTrader 5. The firm also provides cutting-edge software and attributes like MassInsight technology and Trading Central.
UFX provides traders a wide range of more than 500 instruments for trading, comprising currency pairs, commodities, indices, stocks, and ETFs. Users of UFX also have the flexibility to trade cryptocurrencies if accounts are synchronized via auto-cryptocurrency trading platforms like Bitcoin Trader. Further, UFX offers fixed spreads through all accounts, which are comparatively higher than its competitors. For e.g., GBP USD spreads- 5 pips. 
Nevertheless, as UFX functions as an STP (Straight-Through-Processing) broker, traders get benefits like the significantly higher speed of trade execution with better trading conditions and removal of unnecessary conflicts between traders and brokers. CFDs are complex products that acquire a high risk, and many retail investor accounts lose money when trading CFDs. Traders should consider whether they can afford to let their retail investor accounts lose money.
Trading Platform Offered by UFX
UFX can be ranked above all other financial trading industries when it comes to trading applications. The corporation offers multiple platforms, which include the smart in-house developed UFX trading platform, which is accessible as an offline desktop application as well as an online internet-based trading system and the most widespread MetaTrader 5. The broker also offers MassInsight technology, which comes as an extra feature in the platform. It offers a live stream of news announcements, market sentiments, market openings, and market events. For traders depositing more than 1,000$ initially in their accounts, UFX provides the Trading Central as a leading financial research providing platform.
MetaTrader 4 Platform
MetaTrader 4, popularly known as the MT4 platform, is one of the most popular forex and CFD trading platforms in the trading industry. Around 80% of the broker in the trading market has effectively accepted MetaTrader4. Further, the application is also popular among those traders who prefer a web-based interface since the application offers an innovative range of forex trading tools and trade settings as per the current trading conditions. The MetaTrader4 software comes with an advanced charting package and a large library of technical pointers. The software also backs multiple orders, automated trading via skilled advisors, and supports multiple languages for users to effectively customize the interface.
ParagonEx WebTrader 4.0
Apart from MetaTrader 4, another alternative trading application based on UFX broker reviews that customers of UFX can access is ParagonEx Web Trader 4.0. The especially capable online application is also a web-based versatile tool that requires no software installation or online download. ParagonEx has an extensive range of financial graphs and also displays real-time financial market news. The latest version of the ParagonEx WebTrader adopted by UFX is the latest 4.0 version which uses the ground-breaking MassInsights Technology to provide traders with statistics about the effective financial market drifts. Further, ParagonEx WebTrader 4.0 Software was awarded many prestigious awards by industry reviewers for its supremely refined user interface and advanced trading tools.

Mobile Trading
UFX understands that modern traders are more inclined towards portable computing devices now, so for consumers who choose to trade on the move, the firm has provided free mobile trading options for Android and iOS mobiles. UFX mobile trading brings mental peace and tranquillity to traders as it eliminates the thought of missing the trading prospects. 
Further, UFX mobile trading apps facilitate traders to grab trading opportunities and trade in the global finance market directly from the comfort of their computing device or other portable devices like iPads. Yet further, the apps also come equipped with MassInsights Technology and abundant cutting-edge trade soft-tools. Users of UFX can download the trading apps for free directly from the Apple App Store or Google Play store, respectively.
The UFX trading platform has received numerous awards from industry experts like:
Finest Forex Trade Tools (2016 & 2017) – MassInsights™ Technology – United Kingdom Forex Awards

FX Broker of the Year (2016 & 2017) – The European Global Banking and Finance Awards

Best Trader Loyalty Programme 2016 – UFX Rewards and FX Report Awards

Best Trading Platform 2016 – MassInsights™ Technology – FX Report Awards
Account Fundamentals & Account Types
The account opening process at UFX is rather simple and straightforward. After a user agrees to "Sign Up" from the drop down menu at the official website, the UFX interface prompts traders with a few basic compliance questions. Some of the questions include personal details, active email address, active mobile phone number, and type of account a user wants to register for trading. 
Once the information is provided, the user is allowed to log in to the trading software, to provide UFX with a piece of more detailed information to verify a trader's identity. After successful registration, traders can fund their accounts through any of the funding methods and then start trading.
Some of the identity proof and documents which are required for registering accounts with UFX are as follows:
A scanned colour copy of the user's passport, driving license, or other government-issued identification documents

Scanned copy of a government ID, a utility bill like telephone bill, internet bill, or bank statement, which proves the exact residential address of the trader

A scanned copy of both sides of the customer's credit card
After successfully uploading the documents mentioned above, the UFX compliance team cross verifies all necessary documents submitted for review. UFX then informs the trader if any identity proof is absent, unreadable, or inappropriate.
UFX provides numerous account options to its customers for registering an account. The account requirements of each account differ from one another.
~ Micro Account for Trading
A recommended 100$ minimum deposit is mandatory 

24/5 customer support team is available to assist traders with any problem

Video library access is made available

Daily news feeds are free

Daily market reviews with latest updates
~ Mini Account for Trading
A recommended 500$ minimum deposit is mandatory

24/5 customer support team is available for all traders

Free access to video library and tutorial is available for customers

Day-to-day recommendations with reviews and personal coaching for less-experienced traders
~ Standard Account for Trading
Standard Account require 1000$ minimum deposit

A 24/5 customer service team is available for all traders

Daily recommendations, reviews, and exclusive updates

Free personal coaching

Free access to the video library and tutorial is available
~ Gold Account for Trading
A recommended 5000$ minimum deposit is mandatory

VIP support with 24/5 hour live support is available for all traders

Daily recommendations reviews and exclusive updates

Access to MT4 platform

Free personal coaching and alerts

Free access to video library and tutorial is available
~ Platinum Account for Trading
A recommended 10,000$ minimum deposit is mandatory 

VIP support with 24/5 hour live support is available for all traders

Daily recommendations reviews and exclusive updates

Access to MT4 platform

Free personal coaching and alerts

Free access to video library and tutorial is available
~ Islamic Trading Account
The minimum deposit of 10,000$ is mandatory 

24/5 customer service team is available for all traders

Free access to video library and tutorial is available for customers

Regular recommendations and reviews are available

Free personal coaching and SMS alerts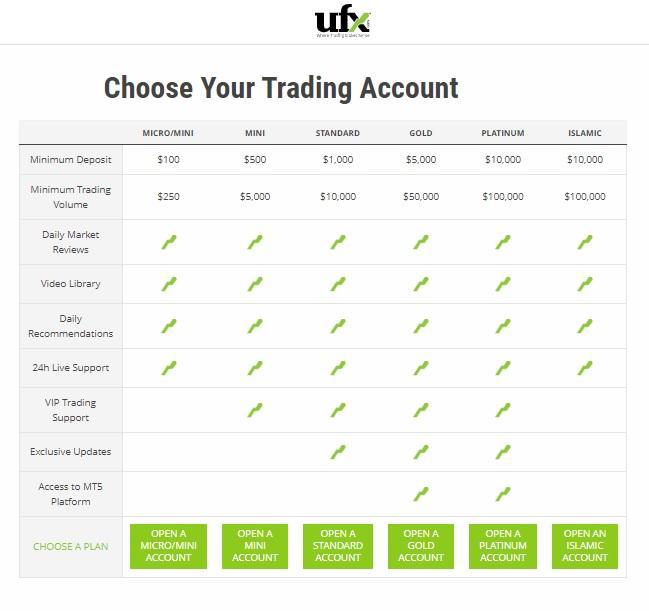 Fund Deposit & Withdrawal
We get to know from UFX review 2023 that to simplify depositing and withdrawing funds, UFX has offered support through several funding methods. This includes the transfer of client funds by credit cards or debit cards, e-wallets, and direct wire transfer to the bank account. Major credit card companies similar to VISA, Master Card, Diners Club, Maestro, and American Express are taken by UFX. For e-Wallets, users are presented with popular digital wallets like Skrill, Neteller, Sofort, and Poli. Further, UFX has a fixed minimum amount for deposits traders make and withdrawals they intend to get back, which is 50$ and 70$, respectively.
Usually, a withdrawal request with UFX is processed very fast. Traders may receive the funds within 3 business days. But the time taken depends on the payment methods used.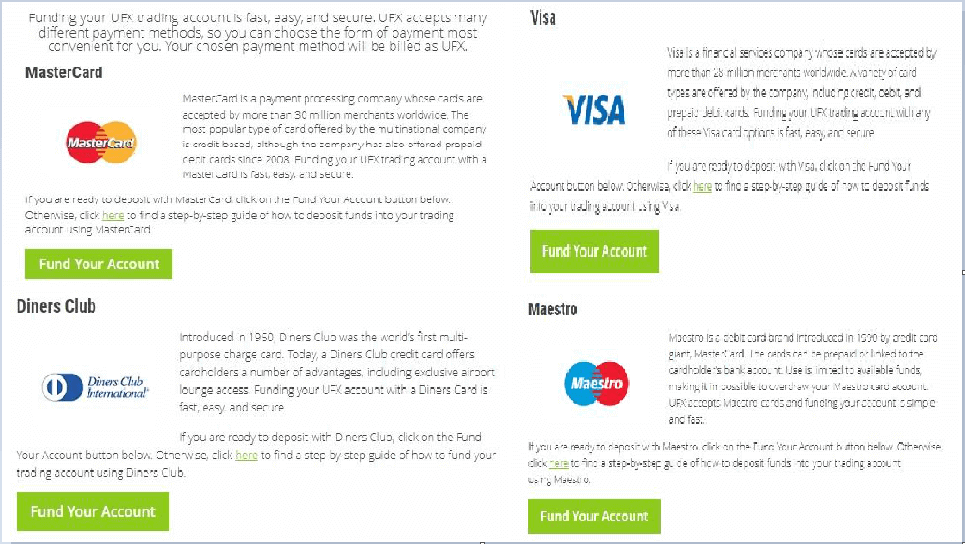 Features of UFX
~ Education and Resources: UFX accouches high-quality educational resources, tutorials, and financial market analysis to its customers free of cost. Unlike other financial intermediary firms, UFX has arranged to equip its customers with a range of cutting edge software applications and innovative tools that can help traders to make a guaranteed profit and fulfill their trading purposes. 
First, a daily market and financial research section and a financial calendar that displays a prediction of all the upcoming events are available on the brokers website. Besides, the broker also extends MassInsight technology that shows a live stream of market situations, trade conditions, and trader behavior. UFX also provides Trading Central, an industry-leading provider of financial investigation, market studies, and investment research.
~ Market Research & Analysis: Financial trading firm UFX provides a wide range of support for business research over its online application as well as on its website. These standard software tools include an economic calendar and human trading inputs to its exclusive MassInsights technology, which interprets client's sentiments. MassInsights decodes sentiment information in numerous ways which extend way beyond the conventional buying and selling. The application displays percentage shifts in a user's trading, including sudden turnarounds, sharp studs in volatility, and abnormal points started by traders on a particular asset, and other human sentiment-driven indicators. UFX further intensified its research in 2017 by appending contents from Alliance Signals, a trading name of iSignals based in Switzerland.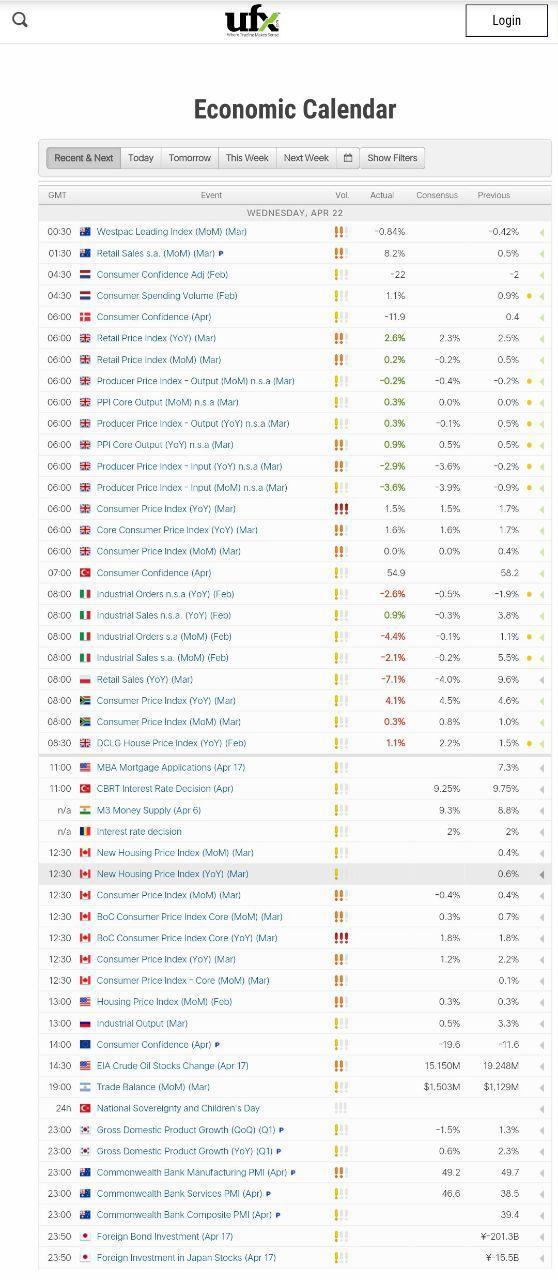 ~ Platforms & Tools for Trading: UFX Provides the MT4 software application suite from MetaQuotes Software Corporation, which earlier developed the widely acclaimed MT4 and MT5 platforms for windows and Mac-based computer, Android/iOS mobile, and web. UFX also extends its own exclusive web-based forex trading platform, ParagonEX, which includes a very simple and user-friendly interface design. Users of ParagonEX are facilitated with the capacity to sort beyond six accessible asset classes using various filters like market fluctuation filters and filters for notification of regular market change or risk warning. Traders are also offered with innovative trading features to add personalized preferences to the default "My Assets" watch list folder, which automatically adds instruments every time a unique position is started.
~ Assets & Instruments: With the UFX trading platform, customers are free to trade in fiat currencies (GBP, USD), commodities, ETFs, indices, forex pairs, and stocks. Further, the broker provides more than 60+ currency pairs, 7 kinds of market indices, 10 ETF funds, 29 kinds of stocks (including Coca Cola), and 7 other types of commodities. The margin requirements vary depending on the instrument the user is trading. Most other forex brokers and market makers also have varied margin requirements and trade requirements.
~ Fees: UFX does not charge any trading fees, financing charges, maintenance fees for a trading account or money transfers, deposit fees, withdrawal fees, or transfer fees. But it has all rights reserved in matters of inactivity fees. It may charge $100 as an inactivation fee if a client account stays inactive for more than 45 days. The inactivity fee may differ depending on the type of account and trade requirements.
~ Bonuses: At the time of writing this review of UFX, UFX  does not offer any bonuses and raises to its customers. However, we do believe that in the future, the trading platform will offer bonuses to its clients regularly.
~ Customer Support: UFX has an exceptional customer support service available 24/5 via email, contact form, live chat, and phone call. The UFX European customer care hub is operated by the German Financial Supervisory Authority (BaFin) with an operational license number of 80164620. Customer care executives can be reached via the web-form, by voice call, or via live chatting option.

UFX Pros and Cons
Pros:
UFX is a global brand governed by the VFSC and the Cyprus Securities Exchange Commission (CySEC). It is not a United Kingdom Financial Conduct Authority (FCA) regulated firm.

The firm offers numerous account types like a Islamic account for traders to comply with the Sharia law.

UFX offers a demo account for trading.

Robust charting in the web application powered by NetDania.

The firm offers two licensed trading applications, which is also available on mobile devices.

UFX offers top-notch software trading tools like MassInsight technology and Trading Central.

Offers 30 cryptocurrency CFDs for trading.

UFX has risk management features like stop loss limits, price alerts, negative balance protection, and limit orders.

Client funds are protected via the Investor Compensation Fund (ICF). 

UFX provides you personalized account managers who provide expert advice and help you manage your accounts, funds, etc. You can also learn to prepare and maintain a balance sheet and trade as per your investment objectives. All call recordings with your account manager are preserved for future reference/training.
Cons:
The firm does not provide any welcome bonus to its clients.

MT4 is not extended to micro and mini account holders.

Wide spreads are available for all foreign exchange accounts.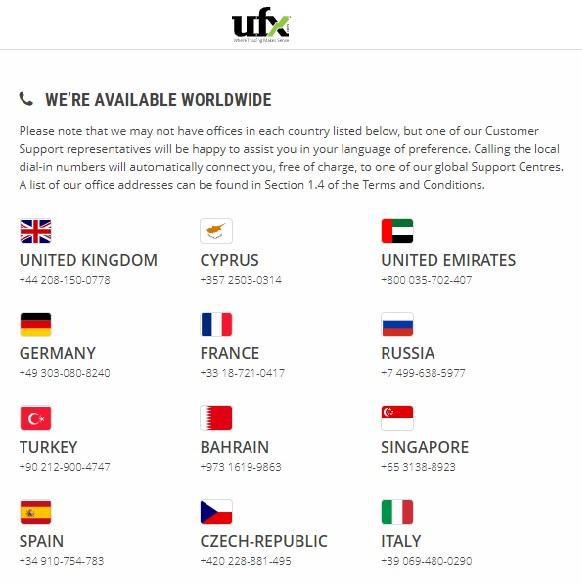 UFX also offers its services to traders in many countries including, South Africa, Saudi Arabia, Czech Republic, European Union, etc.
Conclusion
UFX is a leading online financial broker specializing in currencies, stocks, commodities, forex pairs, and indices. The broker is regulated by Vanuatu's VFSC and adheres to high business standards. Traders are requested not to get confused with UFX Markets (a scam broker which is blacklisted by Forex Peace Army). 
According to UFX review, the firm also contains a wide variety of commodities through an in-house trading application as well as via MetaTrader5. Backing our analysis, we can conclude that UFX is a reliable online trading broker with an outstanding reputation. It has a track record of offering splendid financial trading proficiency. UFX trading platform also provides a broad range of forex pairs and has effectively increased its variety of CFDs across Single-Stocks, ETFs, and Cryptocurrency CFDs.
In 2018, UFX provided a splendid crypto currency trading experience, which was as good as market-leading company Swissquote. Conceivably the major drawback that our team of expert advisors could conclude was UFX's pricing choice; UFX provides only fixed spreads over all their accounts. The fact that spreads offered to all its allowed accounts are usually high, makes UFX a little less flexible as compared to other top forex brokers who offer variable spreads keeping beginners as well as experienced traders in mind. 
Nonetheless, users who are more sensitive to trade execution would find the Gold and Platinum accounts more favorable, as the fixed spreads available in these accounts are comparatively cheaper than other accounts. This helps the trading firm to manage all segments of traders. CFDs are complex products that acquire a high risk, and many investors lose money when trading CFDs with the company. Anyone should take risks only if they can risk capital, or else they are more at risk of losing money.
FAQ
1. Is UFX a legit trading platform?
Ans. Yes, we can affirm that UFX is a legitimate online financial trading broker and not a scam broker in any way. Further, the broker is controlled by the Vanuatu Financial Services Commission (VFSC) and Cyprus Securities Exchange Commission (CySEC). Its active license number 14581. Furthermore, the firm also guarantees traders with state-of-the-art cybersecurity protocols to maintain the safety of their client's funds for a stress-free trading experience.
2. Is UFX a proper fit for day trading?
Ans. Yes, UFX is a market maker in day trading as CFD deals can be opened or closed at any time. For day trading, it is recommended to look out for a broker that offers its platform and instruments for day trading.
3. How to register a trading account with UFX?
Ans. In order to register an account on UFX, the user has to complete a brief sign up process by choosing from the drop down menu on its official website. The user needs to go through compliance checks by answering a few basic questions. Besides submitting a scanned copy of ID and residential address proof, the user has to provide a full name, email, phone number, and create a strong password. 
Further, UFX offers a wide choice of accounts, which includes Micro, Mini, Standard, Gold, Platinum, and Islamic accounts. The minimum deposit requirement for the Micro/Mini account is $250. The Islamic account, popularly known as swap-free accounts, follows Islamic Sharia law and hence are interest-free accounts.
4. Is there a mobile app for trading on the go?
Ans. Yes, UFX provides the MetaTrader 4 mobile app, besides its excellent ParagonEx mobile app, and both have convenient iOS and Android versions available for free to download from the Apple iTunes store and Google Playstore, respectively. The ParagonEx mobile app is also popularly known as UFX Trader, which highlights numerous account features among many like watch list syncing, option for setting stop losses, demo trading mode, economic market notifications, and financial news updates.
5. How can I reach the customer service team of UFX?
Ans. The customer service team at UFX is available 24/5 through live chat, web contact form, and via the telephone. In terms of localized telephone service, UFX includes support delegates in 23 different nations. With such comprehensive support coverage around the globe, it is easy to explain how UFX has won so many honors such as "Best FX Broker for 2016 and 2017" and "Best Value Forex Broker."
6. How can I withdraw money from my UFX account?
Ans. Traders may select any payment method as per their choice like direct bank wire transfer, transfer via credit or debit cards, Skrill, Neteller, ELV, SOFORT, giropay, iDEAL, Neosurf, China UnionPay, CashU, Qiwi, WebMoney, POLi, and Paysafecard.
UFX
Pros
UFX is a global brand governed by the most prominent regulatory body of Vanuatu (VFSC)
The firm offers numerous account types like Demo account, Micro Account, Islamic account (for traders to comply with the Sharia law), and more
Robust charting in the web application powered by NetDania
Provides demo account for trading
Cons
The firm does not provide any welcome bonus to its clients
MT4 is not extended to micro and mini account holders
Wide spreads are available for all foreign exchange trading account