AvaTrade Review 2020
AvaTrade is the leading and automated online brokers, founded in the year 2006, having its headquarters in Ireland. In fact, AvaTrade is regulated by the Central Bank of Ireland and other top-notch financial authorities. Currently, AutoTrade operates in 11 countries all across the world, including EU, Australia, Japan, South Africa, and the British Virgin Islands. It provides multi trading platforms for Forex options trading, CFDs, and cryptocurrencies to over 200,000 clients settled worldwide, who place nearly around 2 million trades every month. The onus with which this online trading platform was created, is to empower people to place trade confidently. The platform is designed in such a way as to allow clients from all levels and backgrounds to unleash their true trading potentials confidently. Go through this full AvaTrade review to know all the details about this online broker.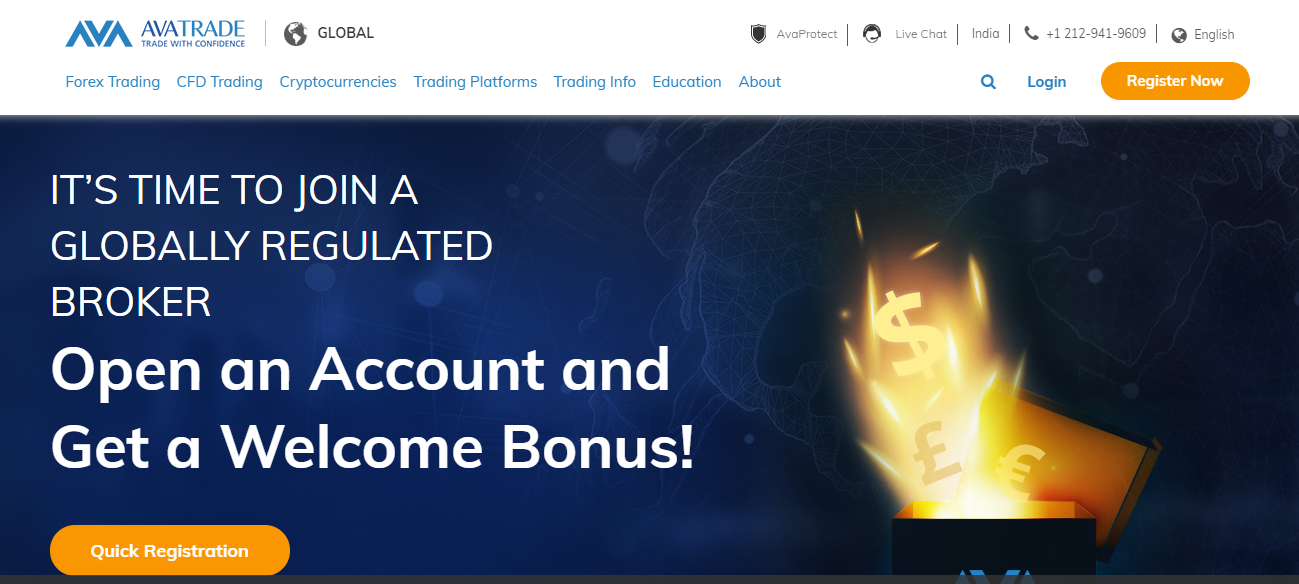 What is AvaTrade?
AvaTrade is the most popular and leading international Forex brokers, and it is a part of the AVA group of companies. It was founded in the year 2006 and it is one of the oldest online brokerages that are presently available. AvaTrade offers several beneficial features like trading platforms, mobile app, MT4 integration, and many deposit and withdrawal methods for its traders.
Ava trading has several offices around the world, which are located in Australia, Ireland, Japan, and the British Virgin Islands. AvaTrade is the most respected and largest online brokerages around the world and it accepts traders from several regions and trading accounts from various types of currencies.
Recently, this broker has announced its major partnerships with English Premier League champions Manchester City and has underlined the brand's visibility and growth.
Features offered by Avatrade
As per our Avatrade reviews, the AvaTrade platform comprises some of the exciting features that most other platforms like this do not support.
Manual trading platforms: The Ava Trade platform offers two manual trading platforms that expose the traders to place trades more often, thereby increasing their chances of winning often. The two-manual platforms are compatible with the mobile browsers and are named as MetaTrader 4 and AvaTrade. There are also automated trading options allowed on the AvaTrade platform, and the most widespread auto-trading feature is named as the Zulu Trade.
Avatrade contact – The Ava Trade platform is backed by a robust customer service team that resolves all the queries that the traders bring into their account. The customer service team can be connected via live chat, phones, or emails, and the traders can communicate with the team in any of their preferred languages, which is the best part of this platform. Clients can also get in touch with the customer support team via social media platforms like Facebook, wherein the customer service representatives regularly check in the comments and respond to them instantly through live chat.
Moreover, traders who make an initial deposit of $1000 or more to get started with the AvaTrade platform are assigned a dedicated account manager to guide them through placing their first trades. They will also keep the traders informed about how these platforms work or will give them regular updates about the market conditions.
CFD trading: Apart from allowing cryptocurrency trading, AvaTrade also offers CFDs and Forex options trading. In fact, AvaTrade was one of the first few online brokers to have introduced CFDs and Forex options trading.
Risk Disclaimer – Trading with CFDs and Forex Options entail High risk and could result in loss of your capital.

Benefits of Avatrade
As per our Avatrade review, with AvaTrade the clients benefit from easy deposit and withdrawal methods, tight spreads, multilingual customer service all across the world, immediate execution of positions, 1000+ trading tools and instruments, and gaining access to live liquidity features through other various platforms. Here are some of the amazing benefits that Ava Trade provides its users discussed for the traders' perusal.
Multiple Trading Platforms: AvaTrade offers multiple platforms to trade like MetaTrader 4, or MT4, (MT5 is going to be uploaded soon as heard recently; however, the news is still not confirmed), DupliTrade, AvaOptions, WebTrader, and the AvaTradeGO mobile app. Besides, these traders also enjoy real-time online updates to gain a competitive advantage over other online brokers and also to mitigate the high risks associated with online trading.
Global Sponsorships: AvaTrade is the proud global partner and subsidiary of the premier league champions of 2018-19, the Manchester City that adds to the global reputation of this online broker.
Comprehensive Education: The Demo mode feature allowed on the AvaTrade platform, helps the first-time users to learn the various online trade strategies and also to test these trade strategies in a risk-free environment. In Demo account, traders have unlimited access to online video tutorials, articles, eBooks, and economic indicators that help them immensely to sharpen their trading strategies and abilities. AvaTrade also hosts regular webinars with experts and professionals to help the traders to cover all the important aspects of online trading.
Worldwide Regulations: AvaTrade operates in various countries and complies with the regulations of those respective countries. The platform tips the scale of the top Forex brokers of the world. Ava Trade EU ltd is primarily regulated by the Central Bank of Ireland and licensed throughout by the E.U. In Australia, it is regulated by ASIC, in Japan, it is regulated by the FSC or the Financial Services Commission and FFAJ or the Financial Futures Association in Japan. In the British Virgin Islands, it is also regulated by the BVI Financial Services Commission. Whereas, in Canada, it is regulated by the IIROC or the Investment Industry Regulatory Organization of Canada.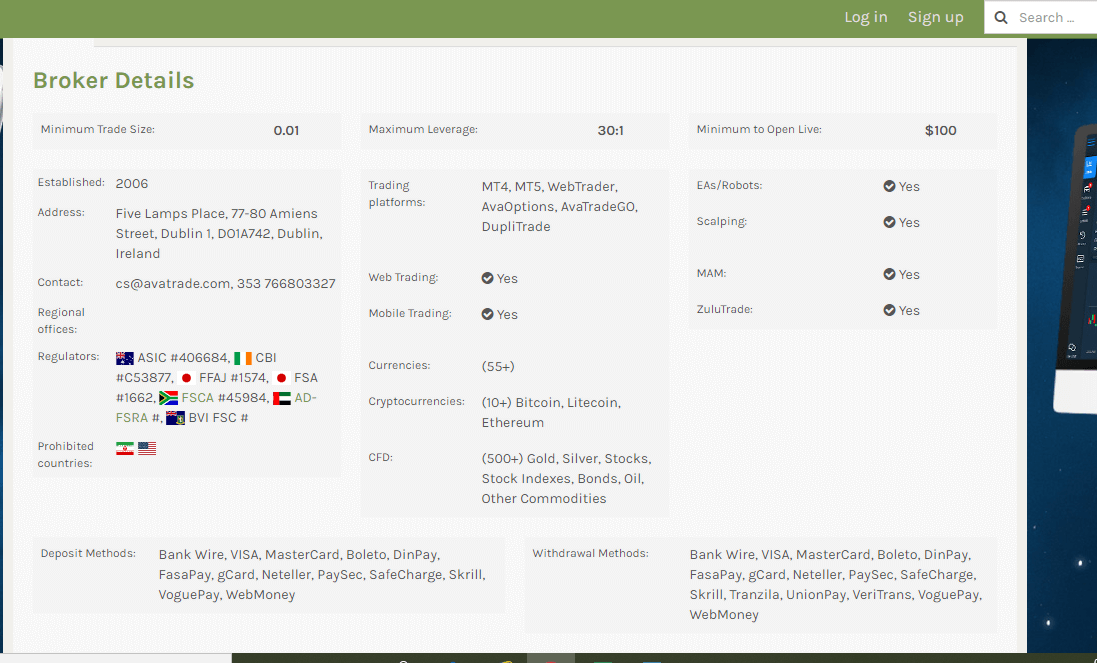 Pros and Cons of using AvaTrade
| | |
| --- | --- |
| Pros | Cons |
| Allows trading CFDs, forex and cryptocurrencies | Only Metatrader 4 available, no Metatrader 5 |
| Regulated by the Central bank of Ireland, therefore it is outwardly legit. | Not much research functionality available. |
| AvaTrade offers some of the unique social trading features | There are some hidden fees like inactivity fees for accounts that remain stagnant beyond a certain period, and administration fees, which are slowly revealed after the users register with the AvaTrade platform. |
| AvaTrade offers excellent educational offerings to keep its users updated about the recent appenings in the crypto and forex world. | |
Demo Account
One of the most advantageous features offered by AvaTrade is it offers a demo account. We highly recommend this demo mode for the new traders to practice and to get a hang of the platform. It is the best way to train the skills and to determine the ideal trading instruments and various strategies that can be practiced without using real money. The Demo account offered by AvaTrade shows the real-time market prices and the conditions. Also the demo account is valid only for 21 days. However, the validity of the account can be extended by contacting the customer service or the account manager of AvaTrade.
What is the minimum deposit for AvaTrade?
The minimum deposit required to get started with the AvaTrade platform is $100 in case the deposits are made via debit or credit cards. But in the case of bank transfers, the minimum deposit is $500.
How long do AvaTrade withdrawals take?
Generally, it takes 24 hours to initiate the processing of a withdrawal request. For this, the users need to fill up a withdrawal request form, after which the details would be verified with the database of the broker, following which the request would be initiated within 1 business day and the entire requested amount would reflect in the user's account within a few days. For e-wallets, the amount is reflected within 24 hours, whereas for debit or credit cards, it takes a maximum of 5 days for receiving the payments into the users' accounts. For wire bank transfers, it takes around 10 business days to receive the payments.
Is AvaTrade safe?
AvaTrade is one of the leading broker with a market capitalization worth $17 billion, which is not something that we could normally see in Forex trading. This fact definitely contributes to the credibility of the broker. Being registered in Ireland, AvaTrade complies to the stringent E.U. regulations, which yet again adds to the safety and reliability of the platform.
AvaTrade assures its users the highest security and highest standards of data encryption, through some of the top-notch I.T. experts who always keep these users updated about the recent developments taking place in the I.T. world.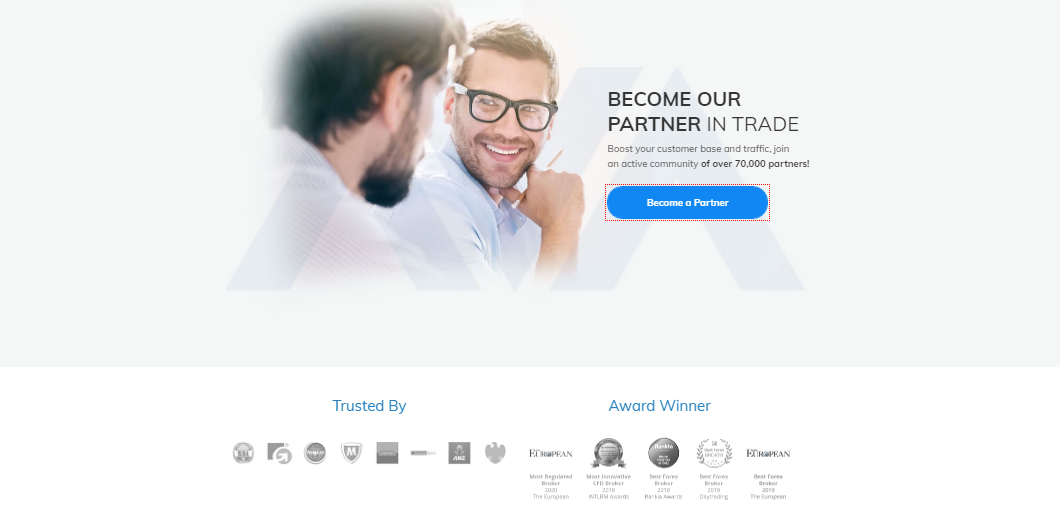 Moreover, some of the leading customer review websites rated AvaTrade with a trust score of 93 out of 99 for customer support. The platform is authorized by 3 tier-1 regulators, which implies high trust, 3 tier-2 regulators, which implies average trust, and 2 tier-3 regulators that implies low trust.
Options trading platform
Avatrade provides a web-based AvaOptions platform; as the name suggests, it is used for options trading. The options platform's interface allows the trader to manage and spot the options trades in one account and they can trade the options in more than 40 currency pairs, including precious metals, and also it includes risk management features as well. Besides, the desktop platform offers advanced stop and limit orders, a customizable interface on both call and put trading orders and overnight support for one year.
Mobile App
AvaTrade provides an easy to use and useful mobile app for Android and IOS phones. The traders need to download the app from the Google play store and the Apple app store, log in to their account and they can view their account details and can execute a wide range of trades.
Further, the AvaTrade Mobile app also extends its support to multiple accounts simultaneously, which includes MetaTrader 4 accounts. By using a mobile app, the trader can access the features at their fingertips which include faster trades, charting, and watchlist.
If the trader does not like the proprietary AvaTradeGO platform, it also supports the MT4 mobile app. When compared to the desktop platform, mobile app features are limited, the traders can use either a desktop or laptop, but they can use a mobile app on the go.
Trading Instruments
Apart from considering certain features about the safety of funds, regulatory oversight, and the fee structure, the trader should consider important features when they are choosing a new CFD or a Forex brokerage and what are all the assets they are offering for the traders. Several traders might be looking to trade one single asset like CFDs or forex on individual shares and stocks. However, advanced and experienced traders might be looking for diversification of assets; which implies a wide range of offerings across commodities, Forex, industries stocks, etc.
Below given is the list of AvaTrade instruments that it offers for trading –
It offers over 55 currency pairs which include exotic currencies in Forex.
In commodities, it offers 19 commodities with several features.
It offers 20 indices, all equity indices which are offered from several developed nations including China and the global cannabis index.
It offers more than 500 major individual stocks from the UK, Germany, the USA, France, and Italy highlighting the most popular offerings.
In options, AvaTrade offers 46 currency pairs which include precious metals like gold, highlighting the most popular one.
AvaTrade offers five major exchange-traded funds
It also offers two major government bonds that can be traded
It offers 14 major cryptocurrency pairs which include the top five cryptocurrencies offered by market capitalization.
Order Types
AvaTrade platform offers three different order types for its traders –
Market order – this market order is executed at the present market price
Limit order – this order sets a maximum price where the traders are willing to buy the asset or a minimum price where the trader is willing to sell the asset. This order will be executed at a limited price.
Stop order – the major advantage of the stop order is it limits the losses. If the market price falls below the stock price, this order will become a market order once the price has reached.
AvaProtect – it is a type of order that acts as a sort of insurance policy against losses, that results from trading operations that are made during the specific period. This kind of order comes with additional fees and the losses resulting from the trades will be reimbursed to the user as long as they occur during the specific period covered by the order.
What is AvaTrade leverage?
In financing terms, "Leverage" refers to the ratio between the positional value and the investment required. Users can open a leveraged trading account at the AvaTrade platform to gain the following advantages over others.
Leveraged trading enhances the initial capital of the traders.
It Increases the profit potentials, but then there are also associated risks owing to the volatility of the crypto market.
It Increases the market exposure of the traders, which is very important to earn a significant amount of profits and also to capitalize on market investments.
AvaTrade leverage also mitigates high risks and capital losses that have resulted from other trading positions.
However, the leverage at the Avatrade trading platform varies by the nature of the asset, and the traders' domiciled country. But for the European traders having a professional account with AvaTrader, higher leverage may be possible.
How does the AvaTrade trading platform work?
Registration: To get started with the AvaTrade platform, the users need to first register themselves with the platform by opening an Ava Trade login account with the platform. For this, the users first need to visit the official website of AvaTrade and fill out the application form available thereby feeding some of the personal details like full name, address, phone number, and a valid Email Id. Next, the users would need to verify these details by uploading certain valid documents in support of the details that they have entered on the application form.
Click on the 'upload documents' section and add either of the following documents:-

A colored photocopy of a valid I.D. issued by the government, like a driver's license or passport. The ID must have your name, photo, and date of birth mentioned clearly, and they should match with the details that you have provided on the application form.
Likewise, for address verification, the users need to upload any of their utility bills, which should not be more than 6 months old.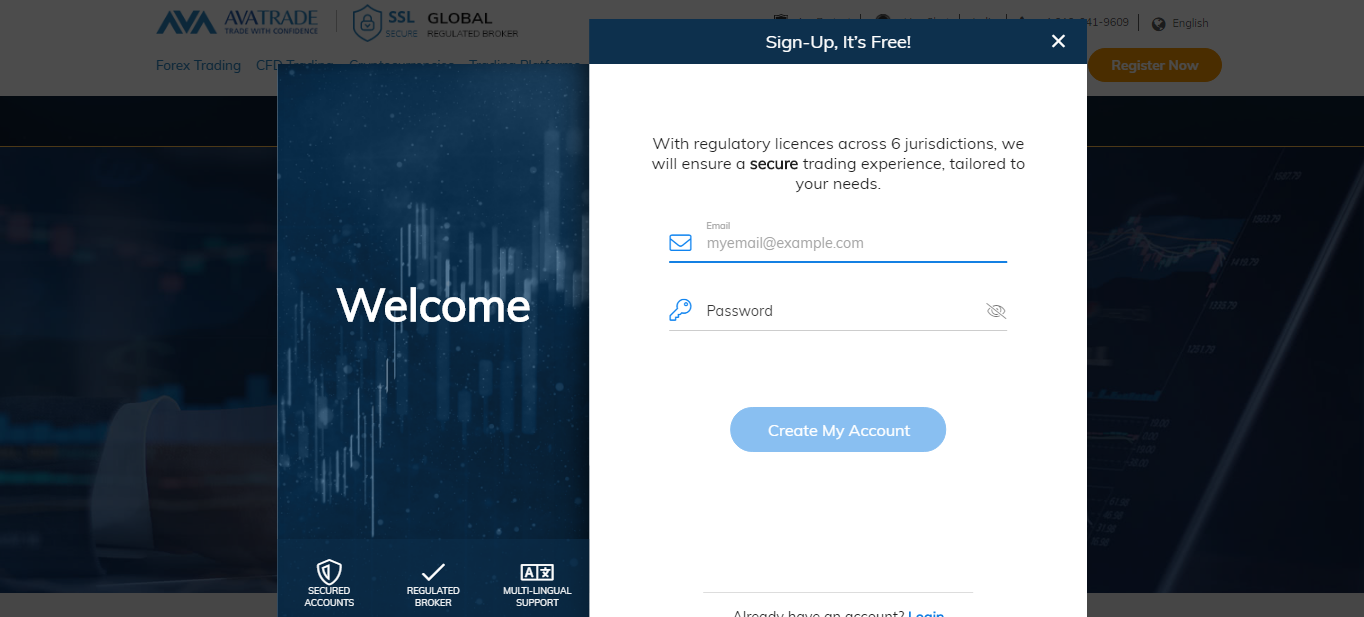 Apart from these individual accounts, Corporate accounts are also available on the AvaTrade platform. However, Corporate accounts need more documentation like the Corporate Board Resolution, Memorandum, and Articles of Association, Certificate of Incorporation, Shareholders Register, etc that the users need to upload on the platform.
Funding: After the users register their account on the AvaTrade platform, now it is time to fund their account in order to get started with some real trading. But always remember that the base currency pairs (like EUR, USD, GBP, or AUD) of your account cannot be changed once the account has been set up. But then, you can always add an account with another base currency pairs sometime in the future if that needs to be done.
Traders way Login – the traders can easily open either a live account or a demo account. After registration, the trader will receive their account details and information regarding how to start trading through email.
GBP can be used as one of the base currencies exclusively by the residents of the U.K., while Australians can have AUD as their base currency. However, U.S. residents cannot use this AvaTrade platform as it does not have any regulated broker to partner with.
Start Trading: After the users are done with funding their Avatrade account, now they can participate in the live trading on the platform. AvaTrade also allows its users to try their hands on trading, initially with the demo mode that is virtually funded but has all the necessary tools as in real trading.
This way, the clients can gain an insight into real online trading before they actually try online trading with their real money. This mitigates the risks of losing money because of the ignorance about how online trading is done via these brokers like AvaTrade. Once the traders gain confidence in online trading, they can switch to real trading at their own discretion.
Cryptocurrency Trading
By using the AvaTrade platform, the traders can trade some of the top-rated cryptocurrency 24×7. The traders can start to trade with cryptocurrencies with a minimum of $100 and the trader can get leverage up to 20:1.
Besides, AvaTrade also offers competitive swap rates and it also offers the ability to go short or sell a cryptocurrency which might lead to potential profit when the price decreases. Moreover, profits are not possible in this situation if the trader trades in an exchange.
Unlike when trading crypto in an exchange, there is no risk of wallet hacking or theft, and there is no need to have a cryptocurrency wallet, which will be confusing and time consuming for new traders.
By using AvaTrade the trader can trade Bitcoin, Bitcoin Gold, Bitcoin Cash, Ethereum, Litecoin, Ripple, EOS, and Dash.
Presently the limit is $600,000 for BTC pairs, $250,000 for XRP, and $400,000 for ETH, and also there is a limit of $200,000 for LTC and BCH, and $50,000 for EOS/USD and BTC/USD.
AvaTrade Regulation
AVA Trade Ltd is regulated by the B.V.I. financial service commission.
AVA Trade EU Ltd is regulated by the Central Bank of Ireland.
Ava Capital Markets Australia Pty Ltd is regulated by the ASIC.
Ava Capital Markets Pty is regulated by the South African Financial Sector Conduct Authority (FSCA).
Ava Trade Japan K.K. is licensed and regulated in Japan by the Financial Services.
Ava Trade Middle East Ltd is regulated by the Abu Dhabi Global Markets (ADGM), Financial Regulatory Services Authority (FRSA).
Testimonials from Users
"Didn't have much trust in cryptocurrencies brokers, and apart from that, I wanted to trade forex as well. Under these circumstances, AvaTrade was a real find. They have various assets: fiat currencies, CFDs, and cryptocurrencies as well. Even though most assets quotes stop for a trading halt on the weekends, cryptocurrencies still can be traded on Saturday and Sunday."
"Avatrade is a kind of a brokerage that can be trusted. That was, actually, the only reason why I've to choose it. Almost all brokers are the same; that's true. I mean, in general, details, of course, may vary. However, the only thing that's HIGHLY varied is regulations and client support. Avatrade is extremely good in this regard; it's regulated in the E.U., Australia, South Africa, and so on. It's a critical question for me, as I see it, as it's the most important for every trader. How can I trade with a brokerage, if there are doubts in its reliability? I don't know how you deal with this, but I can't trade in such conditions, so my choice was obvious – AvaTrade, regulated and, as a result, trusted brokerage."
"For me, the fact that AvaTrade company was founded 15 years ago and has got licenses all over the world – that was the crucial fact to choose this particular broker. I've had enough of excuses from my other broker why they can't execute my orders fast enough (market conditions), why funds transfer can't be completed in a week bank-side troubles), why they can't offer decent support (the policy is to reply within 24 hours) – no more excuses with AvaTrade. Market conditions, banks, policies are totally the same, but here withdrawals arrive the same, or next day, the order gets executed fine; support works fine. I recommend trying it!"
"It's the best broker I've ever tried; I'm extremely satisfied! No new-fashioned custom platform with dirty hacks built-in that customers will never know of, any personalized news feed, and nothing they don't need—regular brokerage with regulated trading platforms. AvaTrade just offers good service. Their support service is 10 out of 10. Managers are very friendly, and their support team is very fast. Flash-speed executions. One of the best brokers for sure."
"AvaTrade is a nice regulated brokerage. You might know that in every jurisdiction, a broker must have a special license to work. This broker has managed to acquire such a license in all major jurisdictions, which makes it a reliable partner, in my opinion. I also think that some traders like me will appreciate the variety of trading assets with a dozen different cryptocurrencies available there as well. Good attitude from customer support and their helpfulness is yet another advantage. Spreads and commissions are about average, withdrawals are not immediate, but normally take under two days to get completed."
Wrap Up
The AvaTrade trading platform offers competitive spreads to its users, but that depends on the type of account that the users have registered into. It allows traders to get started with online trading with a mere deposit of $100.
AvaTrade is the leading trading platform that offers competitive spreads to its users, but that depends on the type of account that the users have registered into. This broker allows clients to get started with online trading with a mere deposit of $100 in their account. From applying the top-notch cutting edge technologies to offering multilingual customer service to the client to imparting comprehensive education to the users along its offices spread worldwide, the AvaTrade platform is undoubtedly the perfect choice for those who are keen to earn some passive incomes via the online brokers like AvaTrade. The platform provides complete peace of mind to the traders to trade confidently.
FAQs
1.Is AvaTrade Legit?
Yes. Avatrade is a legit trading platform allowing forex and CFD trading apart from cryptocurrency trading. The AvaTrade brand is well regulated across the world, including in Europe, South Africa, and Australia, where various regulatory bodies regulate them.
2.What is the minimum amount of deposit required to start trading via AvaTrade?
The minimum deposit required to get started withAvaTrade is $100.
3.Is Spread Betting available via AvaTrade?
Yes, AvaTrade allows Spread Betting for the Ireland and U.K. residents. U.K. residents can enjoy some tax benefits from this Spread Betting as compared to CFD trading.
4. How to make a deposit on AvaTrade?
There are various ways to fund your account on AvaTrade, like you can use your Credit Card, or make Wire Transfers, or even use other forms of e-payment. The users need to click on the Fund your account tab and then select their preferred methods for depositing funds in their account.
5. Is Avatrade Regulated?
Yes, the platform has worldwide recognition and is regulated by the following bodies
The Central Bank of Ireland regulates AVA Trade E.U. Ltd.
Ava Capital Markets Pty is regulated by the FSCA or the South African Financial Sector Conduct Authority.
The ASIC regulates Ava Capital Markets Australia Pty Ltd.
Ava Trade Japan K.K. is regulated by the FSA (No.1662) and the FFAJ (No.1574).
Risk Disclaimer – Trading with CFDs and Forex Options entail High risk and could result in loss of your capital.
AvaTrade
Pros
Allows trading CFDs, forex and cryptocurrencies
This broker is regulated by the Central bank of Ireland, therefore it is outwardly legit.
AvaTrade offers some of the unique social trading features
Cons
Only Metatrader 4 available, no Metatrader 5
Not much research functionality available