FinmaxFX is a Forex and CFDs broker based in Vanuatu. It is operated by Max Capital Limited, licensed by the Vanuatu Financial Services Commission (VFSC) under License No. 41072 and International Financial Market Relations Regulation Center (IFMRRC) License No. TSRF RU 0395 AA V0150.

What is FinmaxFX?
As a pioneer in the fintech industry, FinmaxFX offers trading CFDs for various financial markets. Trading with FinmaxFX, investors can work with the most advanced platform MT5 and automate their trades. Check here more about how forex MT5 works and many more about MT5.
FinmaxFX account holders can start trading with a minimum deposit of only $250. Additionally, FinmaxFX offers a demo account with customised virtual funds to test the broker's features without risk of money.
FinmaxFX is authorised by the Vanuatu Financial Services Commission (VFSC), which is the official financial services administrator of Vanuatu. This regulator imposes strict policies to guarantee the transparency of companies operating in this field, besides, VFSC also follows the international regulations of anti-money laundering.

Features
FinmaxFX is among the most popular online brokers in both Vanuatu and Europe. Its success is the combination of these below features:
FinmaxFX is regulated by both government regulator (VFSC) and international independent organisation (IFMRRC)

According to our FinmaxFX review, all trades are free from the commission charged. The only trading fee is the spreads varying between instruments and is counted automatically in the FinmaxFX platform.

FinmaxFX grants its account holders access to various financial products with the total number of assets of around 400.

FinmaxFX's clients can access FinmaxFX platform from mobile devices, PCs or even directly from the web browsers.

Moreover, the traders can also trade with options on few CFDs, stock and stock index. The selection of payment methods is also diverse. While the deposit is free, traders just need to pay a low fee to withdraw their money within one or two days.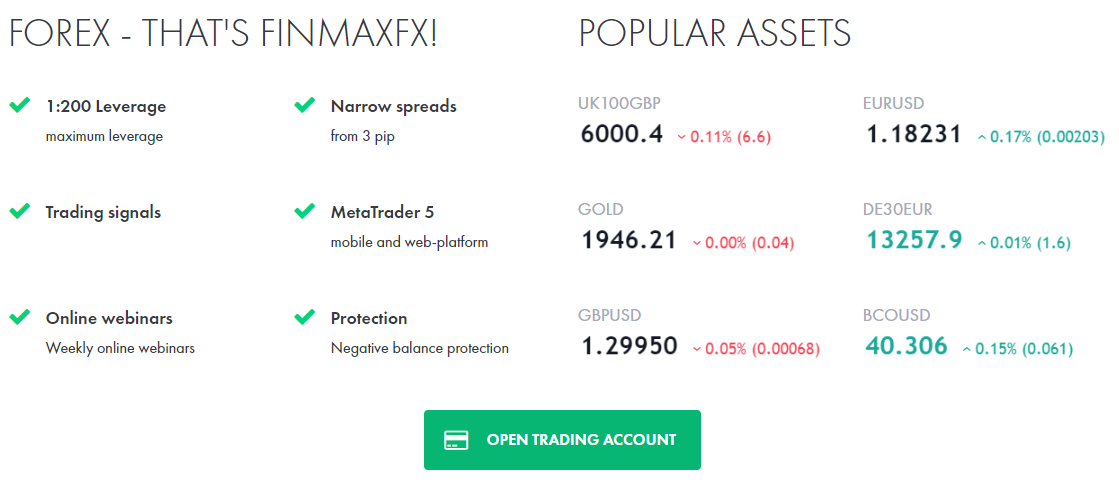 FinmaxFX Review – Popular Assets
Is FinmaxFX Safe to Use?
FinmaxFX publishes the protection policy on its website. This broker may ask its clients for personal information to enhance the platform experience but does not share it with any third party. The only exception is the requirements made by law enforcers.

FinmaxFX platform is protected by SSL (secure socket layer technology) – the most effective encryption for websites data to prevent hackers.

The segregation of funds is also guaranteed at FinmaxFX. The money of clients is always in one piece even if FinmaxFX is insolvent.

FinmaxFX also offers risk-free trades to help new traders from potential losses when they just start trading. Another solution always applied is negative balance protection.
Is FinmaxFX reliable?
As per our FinmaxFX review, we can state confidentially that FinmaxFX is a reliable CFD broker. Not to mention the money-related policies of FinmaxFX but its regulators like VFSC or IFMRRC always ensure the transparency of this broker. Besides, FinmaxFX always offers a free demo account so that traders can experience the features as long as they want. If you are satisfied with the service after trial, you can invest your real money.  Fair and square!

Advantages
And what makes FinmaxFX a better broker than the other? Here are several benefits you can enjoy:
Clients have 5 account types to select and a free demo account with the virtual fund to practice trading.

All trading fees included are public clearly. And in comparison with other brokers, they are generally lower.

Straightforward policies relating to privacy, conflict of interests, complaints.

FinmaxFX uses the most common trading platform for all devices.
Who Can Do Social Trading?
If you are looking for features such as full educational resources, free VPS for trading, and innovative trading platforms like MT5, this broker can meet all of your needs.

FinmaxFX is a broker offering CFD trading – a leveraged investment with nearly 400 underlying assets from different financial markets. CFD is a derivative product and contains extremely high risk. Most traders end up losing when making money from CFD.

However, CFD requires a low initial deposit such as the amount of only $250 at FinmaxFX, therefore, even new traders who have finite budgets can also do the business.

FinmaxFX is a regulated broker and has many solutions to help new traders. Some of them are risk-free trades, supporting specialists and a free education centre.
For these above reasons, social trading at FinmaxFX is a reasonable choice if you want to make money online regardless of your level or your capital.

The process to Open an Account
The registration process is nice and easy. Traders just need to go to the broker's platform to fill in the application form before verifying their account by providing required documents.

These documents are proof of identity (national ID, passport or driver license) and proof of address (bank, credit card statement or utility bill)

This verification step can take up to 1 day, after that, traders can choose their payment method and make their initial minimum deposit of $250.

FinmaxFX Reviews – Stpes of Account Opening
Payment Methods
There are 8 payment options at FinmaxFX. Besides the conventional methods like bank wire or credit card, FinmaxFX also accepts e-wallets and Bitcoin.  While the deposit is free of charge, withdrawal requires fees and up to 2 days of processing. Here are the withdrawal fees applied for a micro account – the lowest account class at FinmaxFX:
Credit Card: 3.5%

Wire: 25USD or 25 EUR

Yandex money: 3.5%

Neteller/OKpay: 3.5%

Perfect Money/Skrill: 2%

Qiwi: 3.5%

Webmoney: 0.9%

Bitcoin: 7%
Account Types
FinmaxFX classifies its clients by the money in their account, each of which comes with a particular set of benefits:
Micro account ($250): Spreads from 3 pips,  up to 30% bonus, 1 webinar with the personal analyst.

Mini account ($1,000): All benefits of the micro account,  2 webinars per week.

Standard account ($5,000): All benefits of the mini account,  up to 50% bonus,  up to 50% deferred bonus for a month, trading signals from trading central.

Premium account ($25,000): All benefits of the standard account, no withdrawal fee, withdrawal within 24 hours, up to 80% bonus, 3 webinars per week, daily market review with analyst

VIP account ($100,000): All benefits of the premium account, spreads from 1 pip, withdrawal within 5 hours, unlimited-time webinar, 100% bonus,  up to 100% deferred bonus for 3 months, 24/7 manager and personal analyst.
Various account types help FinmaxFX meet the demand of all kinds of traders. While newcomers can start with an affordable micro account, a professional can enjoy luxury features and full support at a VIP account.

Trading Platform
The trading platform is the place where traders spend most of their time. Therefore, at the same time, it must deliver all trading features that the brokers offer and also provide tools and functions to help traders analyse the market and make informed decisions.
FinmaxFX deploys MetaTrader 5 trading platform for all devices so clients can access from anywhere.

The most important thing about MT5 is that it provides the same function and tools in all versions. Besides, all data is synced so a FinmaxFX account holder can switch between devices easily.

The demo account of FinmaxFX can also be used in all platforms with the same conditions that FinmaxFX offers in the real one. A new trader should make use of this account to sharpen his skills before stepping into the harsh market.
Web-Based Platform
Webtrader is no different from the PC platform. Traders can experience the same interface without downloading anything. However, since the trading conditions are distinguished between brokers while the web version is not built-in with them automatically, traders have to log in to the brokerage website to access the platform.

Mobile Platform Experience
As aforementioned, MT5 application owns all advanced tools available on the PC version. After downloading, FinmaxFX account holders need to find the Max Capital Limited server of the broker then logging into their accounts.

FinmaxFX develops a global server network so you hardly encounter any connection issues during your trading time.

If you intend to use a simulation account, you can also register directly on the application without validating your identity.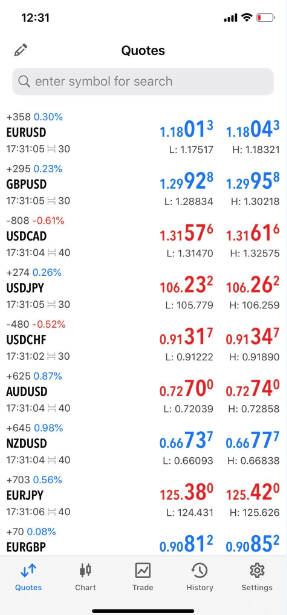 FinmaxFX Reviews – Mobile Platform Experience
You can search for all trading instruments of FinmaxFX by entering their symbols. They are also grouped just as on the desktop version.
No Copy Trading
FinmaxFX does not offer an automated copy trading service. However, clients can still get trading signals from trading central to make their trade more efficient. Trading signals from trading central are a feature offered to clients who have a standard or higher account.

Crypto Trading
New trader generation must be happy to know that they can speculate crypto besides conventional financial markets at FinmaxFX. Offered at the leverage of 1:10, Bitcoin,  Bitcoin Gold, Bitcoin Cash, Dash, EOS, Ethereum, Iota, Litecoin, Neo, Ripple and Stellar are profitably promising digital coins.
However, crypto is a low liquidity market but highly volatile, so you need to treat your orders with care and have a strict risk management plan.
Another thing to consider is the capital since the leverage for the coins is low and minimum purchased volume is required. Let's take Bitcoin as a typical example, the contract size needs to start from 100 while the margin requirement is 10%. As a result, you should prepare a higher budget before heading to this market.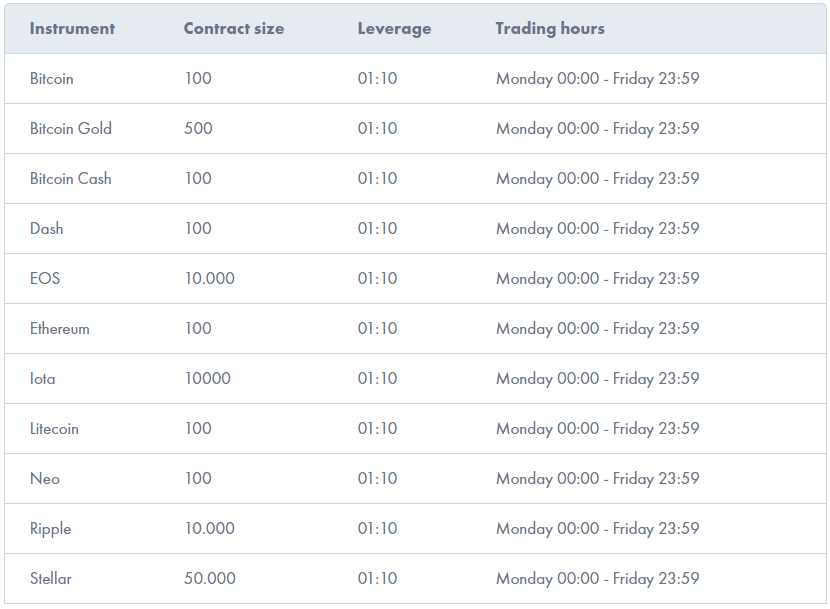 FinmaxFX Reviews – Crypto Trading
FinmaxFX Fees
For trades, clients have to pay spreads just like at other brokers. In return, no commission fee is charged. Each asset has a specific swap fee, you can check it in its specification by right-clicking its symbol in MT5. Swap fees need to be calculated carefully if you want to go for long-termed positions. Accumulated swap can be a significant fee if the position is maintained for weeks or months.

While the deposit is free, withdrawal fees are charged for the mini, micro and standard account.

The broker also charges maintenance fees for inactivity based on the inactive period. This fee varies from 0 to 200 USD/EUR/GBP.

The account balance is subjected to be reduced to zero if 2 conditions are met: the current balance is lower than $5 or equivalent amount and the account is inactive from 1 month.
Besides, payments via currencies different from the base currencies of FinmaxFX also results in conversion fee requirements. This fee depends on the trader's bank.

FinmaxFX Reviews – Fees
Demo Account
A free demo account is available for all clients after they finish registering. Traders can customise the virtual fund within and freely trade with no risk. This account is unlimited in using time so you can make use of it anywhere, anytime. For example,  this place is an ideal place to develop and practice your new strategies. Besides, similar to the real account, the demo account is also synced on all devices so you can take it seriously just like in the live market.

Education
Digital books, glossary and video lessons are accessible learning resources for all clients. These training materials equip traders with the basic knowledge of financial markets, trading plan, risk management and basic analysis. No matter the resource type is, traders always have a progress bar to track their learning.
Moreover, a premium service that this broker offers is the webinar. They are online workshops covering all related topics, hosted by senior traders. The webinar is an effective way to learn to trade because of its high interaction between the lecturer and the students. Besides, traders can rewatch the learning sessions whenever they want since all workshops are recorded.
Additionally, as soon as an individual opens an account, he is contacted instantly by a personal analyst to discuss the trading goals and help him plan the proper routes to them. This analyst is also a senior trader who can give trading advice and get clients to trading groups where they can get acquaintance with other like-minded investors.

Research Tools
This broker dedicates a section for analytic topics. Regardless of fundamental or technical trader, you will find the article you need here:
Financial news: Updates all recent financial news and report

Market review: Forecast the market movements in week by week. Clients who have Premium or VIP accounts are updated with daily review.

Forex strategies: Various strategies with strengths, weaknesses, instruction and comparison

Technical analysis: Predict the change of assets by studying their charts and using indicators.

Trader advice: Experience and viewpoints of senior traders on different topics
Every successful trader is indeed a scholar. They have to study from a lot of materials, news, articles, combine them and draft their own picture. Research tools may be neglected by amateur traders but for those who want to become a professional, they are treasures.

Risk-Free Trade
As losses are inevitable in trading, FinmaxFX gifts its clients a limited number of risk-free trades. For instance, if traders lose their orders, their deposited money is insured by the broker. It's not a surprise if a new trader loses at the very first trade of his career. Therefore, risk-free trade is a way to encourage him to keep calm and carry on, it also reminds him to make a proper risk management plan to avoid big losses in the future.

Additional Features
The platform of the broker is supported in 10 different languages to make it easier for international traders

Economic Calendar is available on the website so traders can track the news, affected instruments and relevant forecast simply

Live quotes of currency pairs, stocks and other instruments are available

The broker also places forex and margin calculators to help traders determine the rates and have better control over their trades and budget.
Customer Support
This broker has a well-trained customer support team, who are available 24/7 on live chat, email and hotline. FinmaxFX is among a few brokers who have multilingual support who can speak 10 different languages. Therefore, if you have any questions, problems or instructions to open an account, deposit or broker policies, just call them by the phone number +44 (208) 089-25-75.
FinmaxFX publishes a complaint procedure to handle clients' issues. Traders need to provide their contacts, account number, problems and the time they happened as well as the broker's employee has contacted them recently for that issue. Since the complaint is a complex procedure and cannot be solved in a matter of minutes, or even days, thus this complaint policy can help both the broker and the trader to deal with the problem step by step, in compliance with the regulation.

Limitations
FinmaxFX does not offer the most competitive spreads in the industry, considering that other brokers can provide the raw spreads from zero; however, low spreads usually come with additional commission fees.

The maximum leverage of this broker is 1:200 – a mediocre ratio. Therefore, traders who want to make many trades during a day should calculate to redistribute their funds properly. Nonetheless, this leverage ratio is considered safe for new traders who lack risk management experience or mid and long-termed traders who don't need too high leverages.

The maintenance fee for inactive accounts forces traders to keep trading continuously. But don't worry, for users who don't trade in up to 2 months, this fee is zero.

Trading services are not available for citizens of 3 countries: the United States, Japan and Canada due to the law of them.
Wrap Up
FinmaxFX provides an extensive trading experience, representing in all aspects. In terms of regulation, FinmaxFX is a multi-regulated broker, licensed by reputable administrators like VFSC and IMFRC. For safety and security, this broker has a complete policy set to protect its clients. FinmaxFX also applies innovative encryption to shield data from hackers.
For trading instruments, it has 8 groups with approximately 400 assets in total, including the newest ones like digital coins. For account types, FinmaxFX divides traders into 5 groups with corresponding benefits and bonuses, so that all traders can have needed support. For deposit, this broker requires only $250 so even traders having limited funds can start investing. Deposit and withdrawal are fast with a diverse selection.
For trading platforms,  MT5 is deployed for all devices to make sure traders can place orders anytime, anywhere. For trading education, FinmaxFX offers both basic materials and research tools to help traders enhance knowledge and make decisions based on logical analysis. This broker makes it clear with clients about fees on trading and other services.
FinmaxFX is an international broker with multilingual staff and website so traders can join regardless of nationality. And last but not least, this broker arms its clients with advanced tools like economic calendar, calculators and trading signals. In general, its strengths overwhelm its weaknesses and make FinmaxFX a worthy choice for all traders.

FAQ
1. Is FinmaxFX any good?
Ans. This is a pioneer among online brokers. It has been launched since 2015 and has developed constantly to become one of the top brokers for forex and CFD trading. This broker also passed strict regulatory requirements on client services, safety policies and the minimum operation fund set by reputable administrative bodies like VFSC or IFMRC to offer online trading services to traders around the world.
2. Can you make money with FinmaxFX?
Ans. Everyone can make money via CFD if they have a good base knowledge, decent trading plan and strict risk management. If you don't have that, FinmaxFX can help you with its education centre and personal support.
3. How do I withdraw money from FinmaxFX?
Ans. You need to verify your account first by uploading the ID and address relating documents. Withdrawal can be made via credit card, bank wire, Yandex Money, Neteller, OKpay, Perfect Money, Skrill, Qiwi, Webmoney and Bitcoin. Keep in mind that you have to pay withdrawal fees and the processing time can take up to 2 days.
4. What is the minimum deposit at FinmaxFX?
Ans. The minimum deposit required for all payment methods is $250. The base currencies are USD, GBP and EUR so if traders fund their accounts with another currency, their banks or payment service providers may ask for conversion fees.
5. Is FinmaxFX regulated?
Ans. It is among a few brokers that are multi-regulated. The main regulator is the Vanuatu Financial Services Commission (VFSC).  Additionally, this broker also has a license from the International Financial Market Relations Regulation Center (IFMRRC). Therefore, traders can rest assured that they are always under protection.