The urge of technologically advanced brokering has given rise to many upgraded broker's platforms. Alvexo is one such trading platform which has been made by fintech and market professionals. Alvexo from the year of its establishment, 2014, has touched the zenith of success in broking with its latest and efficient technology.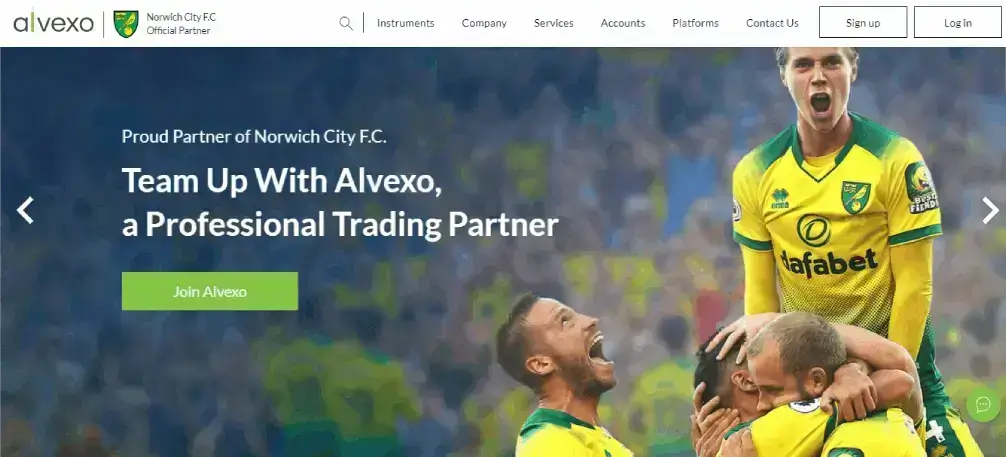 In the coming section of the Alvexo review, the brokering platform has been critically reviewed to deliver a logical opinion on it. In the Alvexo reviews, all the aspects of the brokers have been critically examined, in the context of its efficiency for the traders. So go through our review and get a better insight into the working of the trading platform.
What type of forex brokers is Alvexo?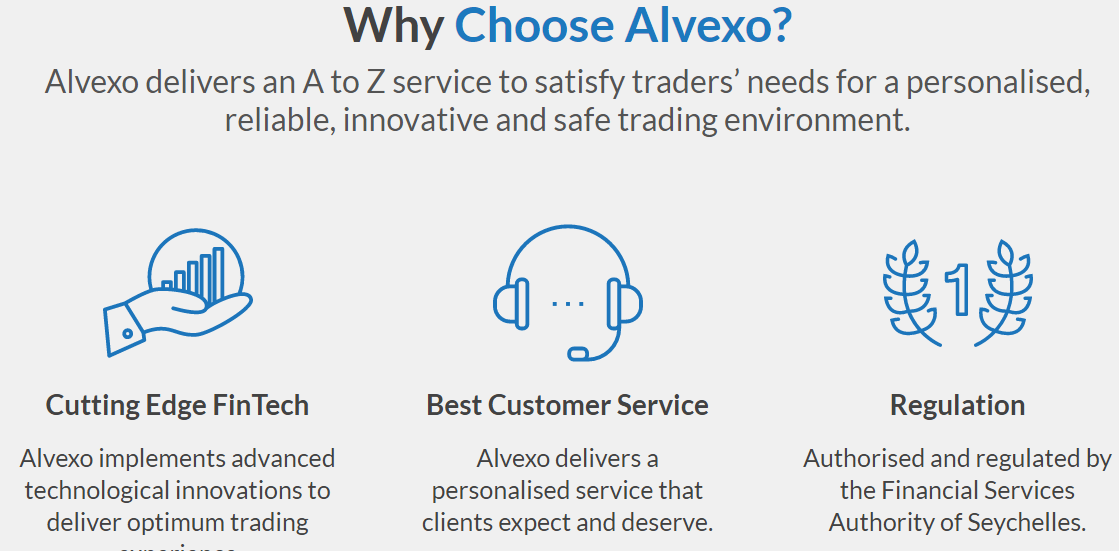 Alvexo was founded in the year 2014 with headquarters at Limassol Cyprus and gained good popularity among the traders in such a short period. Alvexo offers CFD trading for over 500 assets in various categories within the exchange commission. Alvexo has its headquarter at Limassol, Cyprus, while branching offices in Paris, France. The company trading has been established by the VPR financial LTD, which is an investment firm in Cypriot with all rights reserved.
Alvexo charges & fees
Alvexo has been found to have the basic earning in the form of fees, which it charges as commission and spreads from all the offered assets. There are no withdrawal and deposit fees attached to the Alvexo trade system. Exchange commission also has proper regulation on the working of the trading platform compared to other regulated forex brokers and all rights reserved. Its well-versed customer support will make provision more clear for you for trading.
What is the minimum deposit required for Alvexo?
The min deposit with Alvexo depends upon the kind of account chosen. The deposit details have been tabulated below for the Alvexo reviews. Also, the min deposit amount keeps on revising by the company time to time, so it is advisable to talk to its customer support team for a better understanding of provision and requirements –
| | |
| --- | --- |
| Account Type | Deposit |
| Classic | 500 Euro |
| Prime | 10,000 Euro |
| ECN | 20,000 Euro |
| ECN VIP | 50,000 Euro |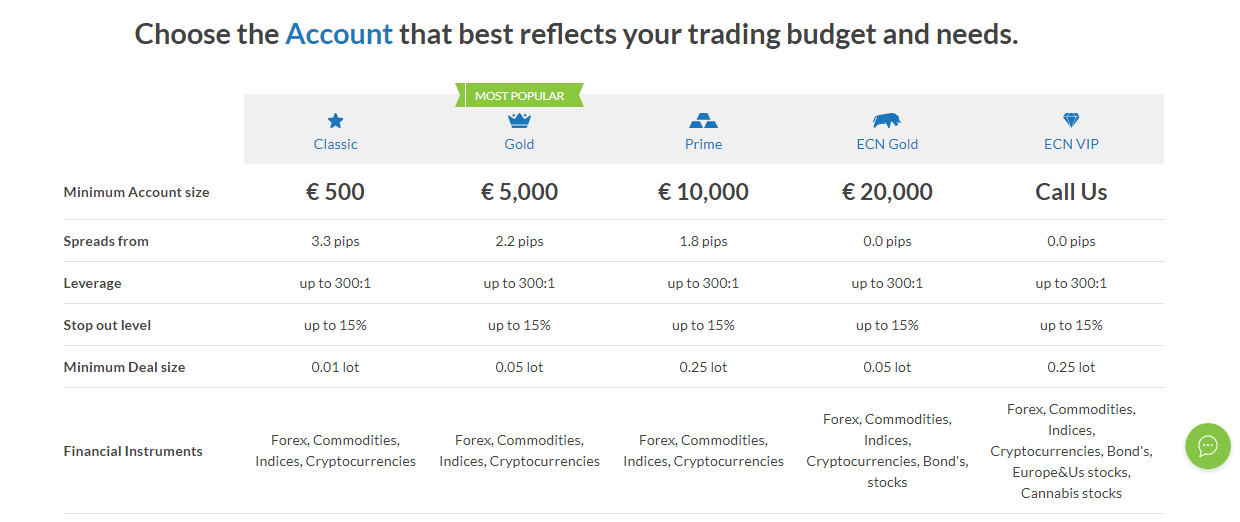 Is Alvexo regulated?
For review, it has been found that Alvexo is regulated by the Cyprus Securities & exchange limited (CySEC), whose account license has been approved by the regulatory authority in the year 2014. As an EU member, the regulation of the European Union like cross border rules applies to Alvexo also. Therefore Alvexo has to comply with the Financial instrument directives of the EU and Anti-money laundering directive 4th edition accordingly. In the Alvexo review 2023, it has found that only CySEC regulates the Alvexo trade system, but the company claims for more approvals, which cannot be authenticated. Vpr safe financial group is a registered company from Cyprus with proper authentication and regulation followed, which implies an Alvexo also.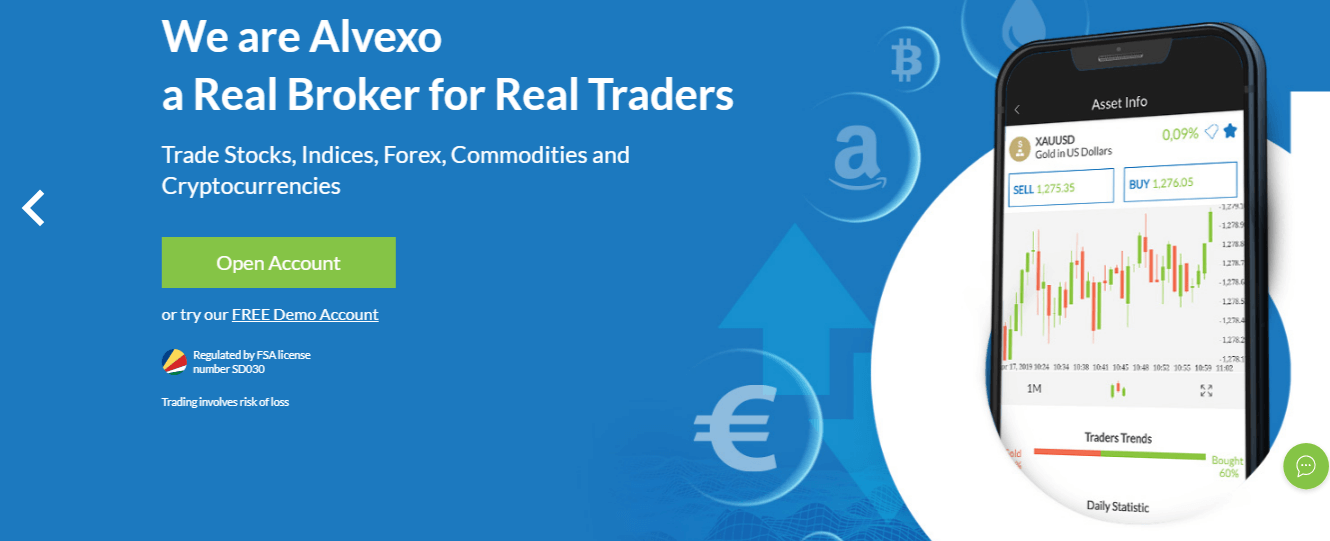 How to open an account with Alvexo?
Alvexo, offers 5 different kinds of accounts, namely classic, gold, Prime, and ECN. All of these accounts required a different amount of size to operate. Brokers also provide the demo account trading option on the creation of accounts—the following steps needed to be followed to register with the Alvexo trade system. Also, to add on for more information, it is advisable to contact their Alvexo team for more clarity on the account.
~ Step 1: Sign up: There is a signup tab at the top corner of the Alvexo homepage for signup. On clicking the same, a form opened. It asks for details, namely name, email address, password, and phone number. After filing the information, there is a need to click on the "create"option. Now you can do the Alvexo login.
~ Step 2: Alvexo trading dashboard: Once all this information is filled up, traders are redirected to the Alvexo trading dashboard of accounts. Members can access trading tickets, charts, and signals apart from trading history, withdrawal, and drawing options for trading.
~ Step 3: Maintenance charge for trading: if the client has not opened the account for more than 3 months for trading, a monthly maintenance charge is levied on it, which is 10 units of the account currency. Alvexo follows the rules and guidelines drafted by a vpr safe financial group for it.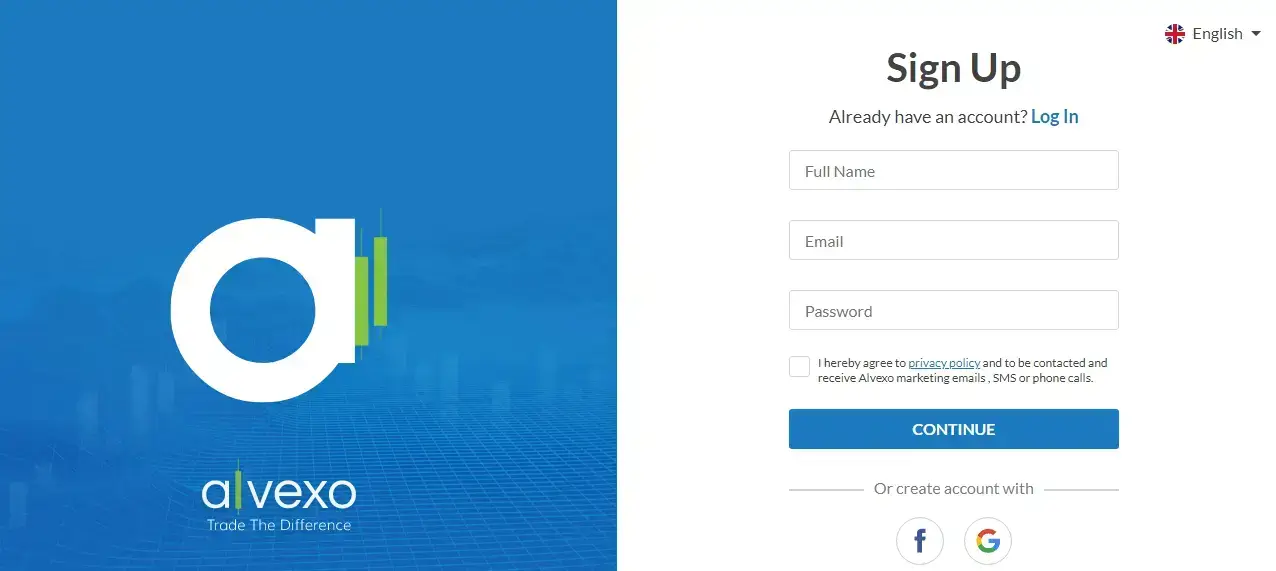 Deposits and Withdrawals in Alvexo!
Alvexo offers Traders to have the option to choose from a variety of methods for deposition and withdrawal of the amount. The user is simply required to login to the trading option and select the deposit fund, for deposit activity, at the top of the dashboard in the menu option.
However, Alvexo offers a limited withdrawal option to the trader account with the strict verification process. The verification process required submission of following documents for trading –
Photocopy ID
Utility Bill
Bank account details
Government-issued ID card
Apart from that, by the EU directive, the brokers required to subscribe to investor compensation funds or CIF for the trading track record. CIF provides a protective covering to the client which states that in the case of any default by the brokering company, Alvexo for an amount up to 20,000 Euro. The regulatory norms followed by the Alvexo required it to maintain the client deposits in a separate bank account with a protection for the negative balance. So the Alvexo offers proper security of the client's fund.
Alvexo com platform has reduced its minimum account size to $ 250, which is a welcome change. One thing to keep in mind is the fact that there is no commission or fees charged by the Alvexo com platform for deposit or withdrawal, so if you charge any amount by intermediaries, you can deny it.
Alvexo Review: Alvexo Forex Trading
At the Alvexo, a total of 450 assets are being traded. These assets include commodities, equity, cryptocurrencies, and forex, which could be traded with minimum deposit. This high range of assets list allows the traders to diversify their trading portfolio. But the spread and commission attached to the assets make it harder for traders to diversify their portfolio.
While you are planning to join with Alvexo forex broker, the " Account generator " feature will help to choose the right kind of account for yourself. Alvexo com feature will ask you certain general information such as –
Investment style
Risk tolerance range
Experience level
Trading Skills level
Based on all these inputs, Alvexo will provide you its recommendation as to which account will best be suited for you with minimum deposit options. Alvexo platform will also advise you on the amount of money you should invest at the beginning. These recommendations have received a lot of positive Alvexo reviews from the traders, and therefore these recommendations are trustworthy. The calls are mostly tailored so that new traders should get an idea on how to begin the trading, while for the experienced level of traders, it assists at an advanced level of skill set.
Review of Alvexo: A comparison chart of various accounts is as follows (In Dollars) with minimum deposit are as follows for the trading platform –
| | | | | |
| --- | --- | --- | --- | --- |
| Account Type | Classic | Gold(VIP) | ECN | Prime |
| Initial Deposit | $500 | $2,500 | $5,000 | $10,000 |
| Minimum trading size | 0.01 | 0.05 | 0.05 | 0.25 |
| Dealing Spreads (starting ) | 3.3 pips | 2.2 pips | 0.0 pips | 1.8 pips |
| Commission | No | Yes – based on volume | Yes – based on volume | Yes – based on volume |
| Leverage offered | 1:2 to 1:30 | 1:2 to 1:30 | 1:2 to 1:30 | 1:2 to 1:30 |
| Trading signals | Free | Free | Free | Free |
| Stop outs? | 50% | 50% | 50% | 50% |
| Margin cells | 80% | 80% | 80% | 80% |
| One to one support | No | Yes | Yes | Yes |
~ CryptoCurrency: In review, it has been found that Alvexo offers a diverse range of cryptocurrency markets. The major cryptocurrency offered is (ETH, BTC, LTC, XRP, and DASH). These cryptocurrencies can be traded as crypto vs. fiat format. The Alvexo platform also provides an option to trade the Litcoin and Bitcoin currency pair with a fair trading policy.
As the trading is carried out in CFD form, so there is no need to hold the actual trading asset or currency pairs. The clients make the profit based on the movement in the price of the underlying instrument. Not holding the actual trading asset is a big advantage in cryptocurrency trading, as there is no need to create a wallet on exchange. Its CFD trading makes it a good option for cryptocurrency trading.
~ Order execution: Alvexo forex broker has been designed to run on STP/NDD platform system, which stands for straight to processing and No dealing desk. These help the traders to access the tight bid offers spread in all major currencies for trading.
The Alvexo webpage platform has a very user-friendly interface with very straight forward execution. Some of the tools are worth mentioning here, such as setting for " stop-loss" and taking profit instructions in cash and price terms for trading. These are simple yet effective tools that make it an easy interface to use and optimize profit for even new traders in trading with an efficient platform.
Alvexo research & Education initiative
In the Alvexo reviews, it has been found that Alvexo has a unique research and education initiative for its traders. Research is mainly oriented around the following features, for trading, namely –
~ Market updates: Market updates mostly include the past one-week market trends and daily and weekly analysis for trading. These are mostly brief content on market trends, but Alvexo professionals and platforms deliver very precise and properly presented documents.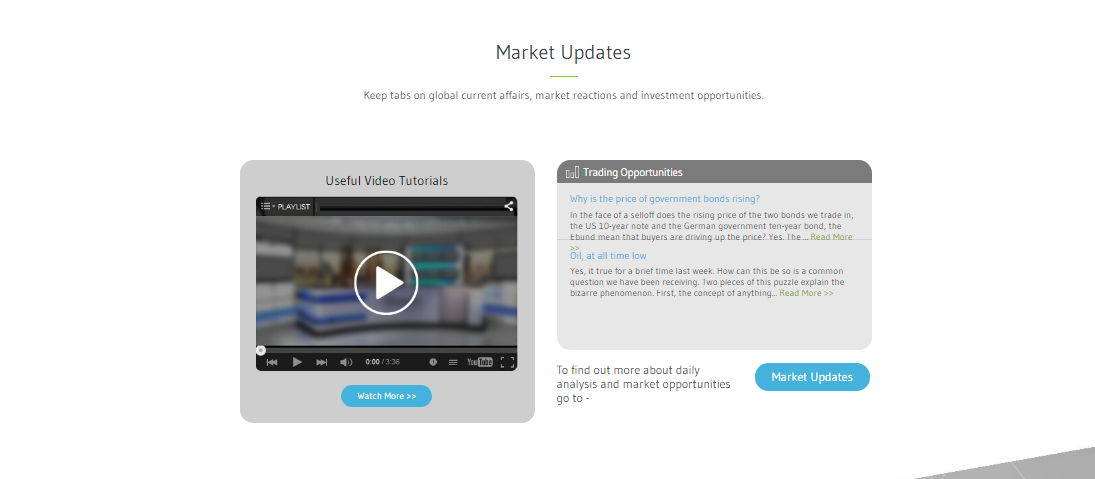 ~ Trading signals: Alvexo provides free of cost trading signals, which are advertised with 82% accuracy. Even with a high rate, trading signals managed to keep their efficiency rate at 79%, which is a commendable rate for a trade system.
~ Economic calendars: The economic calendar has a blank section attached to it. These blank pages can be used to schedule exchanging properly. These features provide more diversity to the trading system also. vpr safe financial group, Alvexo, has this one of the unique features which make it different from its competitors.
~ Trading calculator: It has four trading calculators with a deal ticket and MT4 plug-in. The trading calculator provides an exact calculation of brokerage, profit, and loss with each exchanging made. It could be operated manually also. This feature makes this platform more efficient.
~ Blogs: Blogs are highly relevant to useful topics on trade and market trends for the platform. The blogs have a very eye-catching presentation with the use of different font sizes, colors, and images. This blog provides a regular update to the clients with the happening of the market for a better exchanging experience with this trading system.
Alvexo Trading Academy
One of the unique features of Alvexo, the venture of vpr safe financial group, the trading system is the educational trading academy also for a broker. This user interface is filled with many educational videos and content. All you need is to click on: start trading learning" and open the tab, which is filled with articles and video tutorials. The content is highly educational if marketing material stuffed, attached by the broker, in between could be weed out for trading conditions.
Does Alvexo have a bonus?
From the Alvexo reviews & client feedback, it has been found that, at present, Alvexo, the venture of VPR safe financial group, does not offer any bonus to its traders and brokers. One of the major reasons for not offering the bonus is the fact that the regulating authorities, like Cyprus securities and exchange commission, have prohibited such kind of bonus from trading channels. For more details, it is advisable to contact their customer service for proper knowledge about the broker.
What are the different kinds of accounts available with Alvexo?
Alvexo, the venture of vpr safe financial group, basically offers 5 different kinds of accounts. These accounts, with proper regulation of Cyprus securities and broker assistance, are as follows –
1. Classic: The classic account is the most basic account, which could be opened with a minimum deposit of 500 Euro. The classic accounts show a spread of 3.3 pips. A trader can only trade in Forex, commodity, and Cryptocurrency through this account. The choice of asset is very less for these accounts, which is one of the major drawbacks attached to it.
2. Prime: The prime account could be opened with a minimum deposit of Euro 10,000 and allow a reduction in minimum spread to 1.8 pips. The trading condition is almost similar to a classic account; only the lot size has been increased to0.25lots. Here also there are only a few assets offered for trading.
3. ECN: ECN accounts could be opened with a minimum deposit of Euro 20,000. These accounts provide a diverse range of trading options. Regular ECN accounts offer a spread of 1.4 pips. The commission charged for the trading is $18 per lot with a lot size of 0.05 lots.
4. ECN VIP: ECN VIP account could opt with a minimum balance of 50,000 Euro. These are the only accounts that offer trading in all of the assets. With a high minimum balance and spread, it is tough to afford for new traders.
Pros and Cons of Alvexo Listed Below:-
Pros
Firmly regulated by exchange commission cysec
Well equipped educational resources with broker assistance
Micro lots and CFD trading
STP/NDD brokerage model
Negative balance protective option
Cons
No availability for the USA
Not a member of FSA regulatory, as claimed
Limited payment methods with broker demanding commissions
High commission on ECN account
Lack of transparency to the critical accounts.
No Social trading
Key features of the Alvexo trading platform
Apart from strong trading signals, Alvexo trading has some of the key features which required mentioning –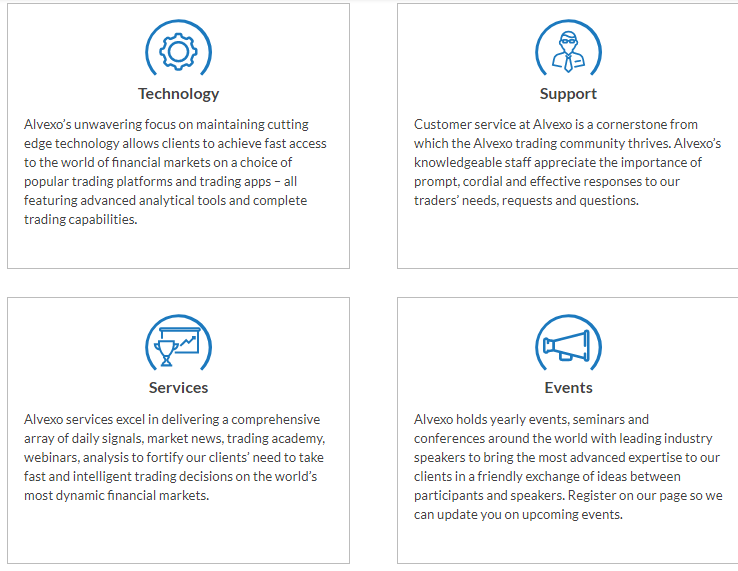 ~ High-quality Financial technology: Apart from MT4 technology, Alvexo has developed its own in house web trader, which is the cloud-based trading platform. The inhouse design has been developed to supplement the MT4 platform. Its high efficiency of the trading system helps in managing the high risk attached with the proper assistance of the broker.
~ Best customer services: Alvexo provides excellent customer service, which is available in multilingual languages. The Alvexo team is highly supportive and makes sure that your all issues get resolved within time. To add on, the new beginner traders also get a call from the account representative, who will outline the full path for the activation of the account. In general, an account representative and broker assist a new trader for a week to explain the market signals with the risk involved in the trading.
~ Regulations: Alvexo is CySEC (Cyprus Securities and exchange commission) regulated. The company's registration number is HE322134, while its license number with CYSEC is 236/14. Whenever you choose a brokerage platform, it is advisable to dig whole information about its administrative body and regulators. Brokering platforms, whose working is not under the supervision of a genuine and valid regulatory body, place the investor's money at risk. And it is a more discretional option not to opt such a brokering platform.
~ The well-developed research department: Alvexo has made a good initiative to provide extensive education material to its traders. When you go to the website, there is an academy section which provides access to various educational articles, tutorials as well as analysis reports. These well-developed research material also helps to mitigate the high risk involved with broker educational options also attached.
It also has an "advance trading section "which has a range of material to help the users to take the trading to the advanced level. The material has been published engagingly and entertainingly to make it more attractive for the clients.
~ Mobile trading: Alvexo has a very easy to use and robust mobile app which is available for both android and IOS devices. You can download the Alvexo app through both google and apple play stores. The mobile trading app of Alvexo is just an extension of the device platform, which provides all the important features required for trading smoothly. In Alvexo, mobile app users have been given the option to modify with work on trading signals, open and close the existing orders and view the real-time profit and loss. Broker assistance is available for the mobile trading app also.
~ MT4 trading platform: As all upgraded technology, Alvexo runs on a highly advanced MT4 trading platform with strong trading signals. On operating the MT4, it could be construed that it is a highly rich platform. It has been designed in a manner which caters the needs of both new and old traders. The broker will also assist you in understanding the working of the trading platform.
Conclusion
After complete the Alvexo review, we conclude that Alvexo is a trading environment more suited for experienced traders. The trading services are comparatively on the higher side. Though the company is regulated by CySEC, this is not enough for its regulatory framework.
On the good side, its daily market signals and news are worth mentioning. Overall with all the techniques and features present, we can conclude that Alvexo is a decent brokering platform that could be better if its features are upgraded.
FAQ
1. Does Alvexo have any deposit or withdrawal fees?
No, Alvexo does not charge any withdrawal and deposit fees. Also, to add on the broker, if you ask for any charge, it is advisable to consult the company for the same.
2. How does Alvexo make money?
Alvexo mainly collects its money from spreads, commission, and the losses of clients as a direct counterparty. It is also regulated with exchange commission cysec, so it follows strict regulation rules.
3. How can deposits into an Alvexo be made?
The deposit requires creating an account and clicking on the deposit option .There are many deposit options available like debit, credit card, or e-wallet. Also, the broker can assist you with proper compliance apart from the customer support team.
4. What is the minimum lot size for Alvexo?
The minimum trading lot size for Alvexo is available for its basic account that is for 0.01 lot size. These lot sizes increase with higher deposit account types to 0.25 lots. Broker assistance will help you to understand all aspects properly.
5. What stops Alvexo trading?
Alvexo has a stop out option which could be exercised at a 50% equity – margin ratio, which is available for classic accounts. The company does not entertain any broker charge.
Alvexo
Pros
Firmly regulated by exchange commission cysec
Well equipped educational resources with broker assistance
Micro lots and CFD trading
Cons
No availability for the USA
Not a member of FSA regulatory, as claimed
High commission on ECN account