Degiro Review 2020

Degiro is a Europe based retail stockbroker that operates across the world. It is renowned to provide remarkably low-cost services being a discount broker. The authorities that regulate DeGiro's financial services include the Netherlands Authority for the Financial Markets (AFM) and the Dutch Central Bank (DNB). The financial firm is registered in Amsterdam at the Chamber of Commerce and Industry.
As per our Degiro review, Degiro aims to offer custom-made and affordable financial services to worldwide investors. The core idea behind this is to perfectly merge technology with financial knowledge. Degiro puts emphasis on the widespread global level access which covers Australia, Japan, Hong Kong, and many other countries apart from Europe and the US. Degiro UK has developed quickly to become one of the largest brokers in Europe.
What is Degiro?
Degiro is one of the leading online brokers from the Netherlands, that offers trading at low prices with good discounts to its traders. It was founded in the year 2008 but again restarted as a stock brokerage firm in the year 2013, exclusively for retail investors. This broker offers access to over 60 security exchange exchanges to its traders.
Traders can buy or sell stocks, mutual funds, bonds, ETFs, warrants, and options by using this online electronic trading platform or they can use the mobile application offered by this broker.
The countries supported by Degiro are Italy, Netherlands, France, Switzerland, Austria, Germany, Spain, Czech Republic, Poland, Portugal, Greece, Hungary, Sweden, Denmark, United Kingdom, Norway, Finland, and Ireland. Traders who are living in these countries are able to use the services of Degiro to trade.
This broker is regulated by the Dutch AFM (The Authority of Financial Markets) and DNB (Den Norske bank); these regulatory bodies approved Degiro to be one of the secured and safe online brokers that are available in the market currently. Besides, this broker has about 400,000 plus traders and also the investment protection feature, which is available for the traders for 20,000 Euros.
Degiro offers affordable and lowest prices that are available for the traders when compared to other brokers. The traders cannot trade derivatives such as CFDs (Contract for Difference) by using the same account where some of the other assets are traded.
Background
Initially, the firm was established as a wholesale broker in 2008. As per our Degiro reviews, DeGiro came up with its online brokerage services in 2013. It was based out of the Netherlands and as part of the expansion, it has covered 18 European countries. DeGiro claims to differ from its peers to quite an extent largely because they embraced change and developed their offering timely. It offers a wide range of asset choices for its users.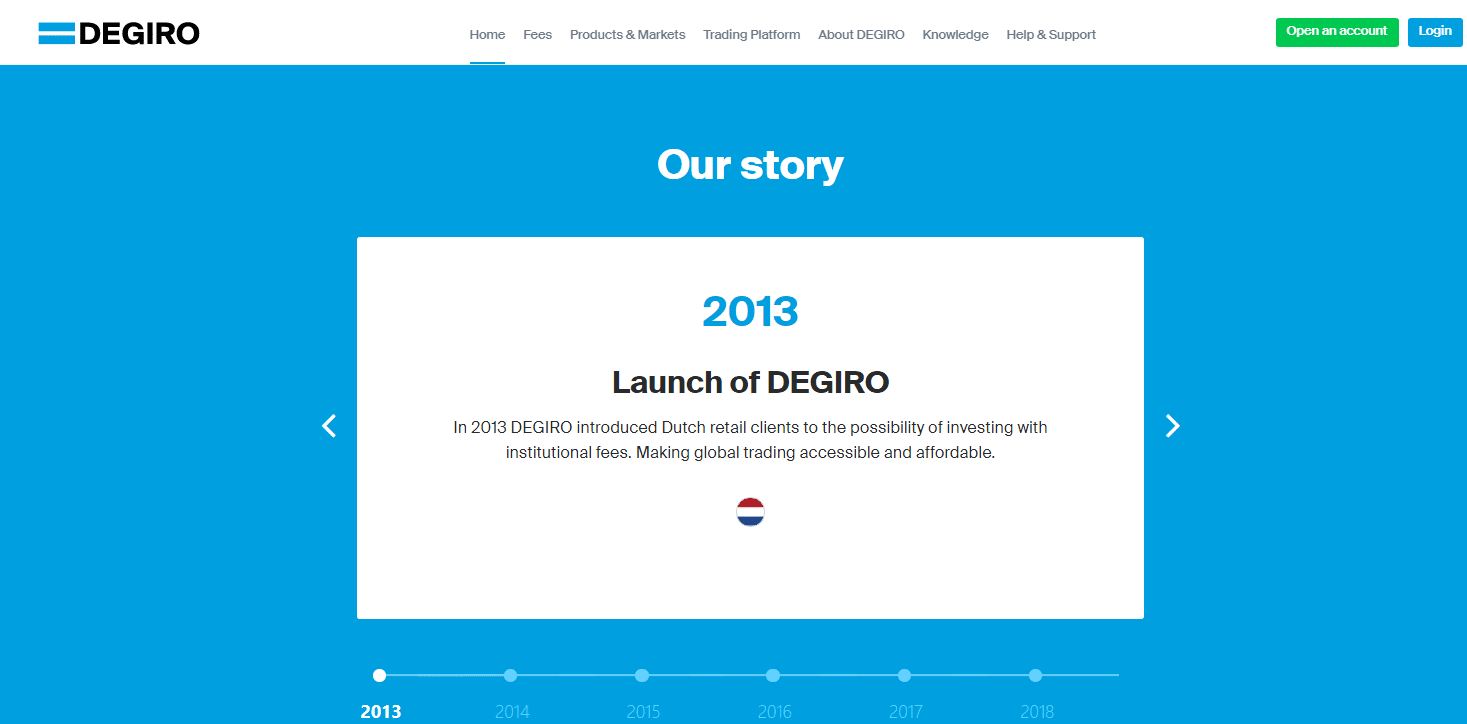 Is investing in Degiro safe?
Many people ask when selecting a good broker, their money would be safe with that broker. To answer this question, the traders should look for two points; the first one should be what would be the background of the broker, and the second one would be what if something happens to the funds with this broker if it goes insolvent.
Considering its background of Degiro, this broker has been established since 2008, which is more than a decade, which shows a good track record. After we have gone through several reviews, we see that several traders are satisfied by using this broker.
As already mentioned, this broker is completely regulated with the Dutch Central Bank and also by the Netherlands Financial Market Authorities. Moreover, it is registered with the financial authorities in the countries it operates, such as the FCA in the United Kingdom.
In case if there is a situation that arises like, the company goes bankrupt. one of the best things is, the stocks and ETFs on this brokerage are exchange-traded, which means if Degiro goes bankrupt, the assets will be safe because the trader is the owner of their stocks and ETFs that they purchase through Degiro.
This broker is secure and has two-step authentication available on the platform, which we highly recommend to keep the account safe, in case your password is hacked.
Waiting list
Since March 25, 2020, this brokerage has introduced a temporary waiting list for new user registrations, until further notice. It has added a waiting list because it is receiving more new registrations during the ongoing high market volatility. Considering the situation, the account creation process is taking more time even though it is uncertain, and exactly when this will be carried out. Also, the trader should be aware that investing in trading is always risky.
Growth
The four major aspects of its growth are:
DeGiro connects European investors with the global markets which are not very frequent practice. The global access gives an opportunity to the clients to fetch profits from diversification of assets.
DeGiro has its game on point when it comes to its trading tools. The brokerage company has been innovative with its tools while developing it. All the platforms under DeGiro are built in-house and tailored according to the needs of a varied range of clients.
As per our Degiro review, Degiro offers its financial services at remarkably low prices. This aspect lures most of the traders, as commission fees play a notable part while getting on a brokerage platform. This has also helped the firm to become one of the largest retail stockbrokers in Europe. Moreover, DeGiro manages to provide its retail clients the same low rates and opportunities that used to only be available to professional clients. Also, the brokerage offers a drop-down of cost calculator, which lets you know The costs that you need to pay when trading.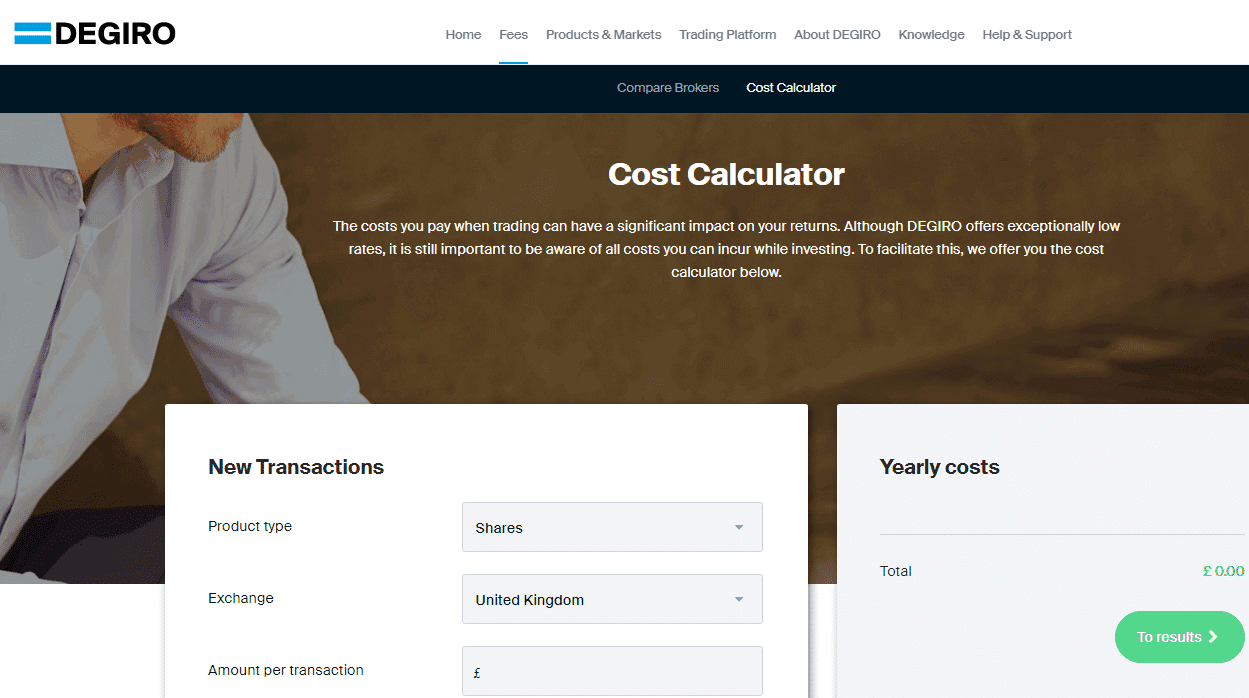 Regulated brokerage service:
As mentioned above, DeGiro is monitored by AFM and DNB. The firm holds a license pursuant to article 2:96 of the Act on Financial Supervision in the Netherlands being an investment firm.
The timeline of the platform has been this:
2013: Launch of DeGiro
2014: Expansion to 9 countries
2015: DeGiro enters North Europe & Italy
2016: Largest broker in the Netherlands
2017: More than 200,000 clients
2018: More than 350,000 clients and 40+ awards
Accounts:
As per our Degiro review, It offers different options of accounts including Custody, Basic, Active, Trader, and Day Trader. In a custody type account, one gets to trade Shares, Bonds, Investment Funds, and Trackers (ETFs) but can't get into Leveraged Products and Warrants. While custody account holders can get Free real-time prices on Euronext exchanges, they can't go short.
Basic account holders, on the other hand, can trade in Shares, Bonds, Investment Funds, and Trackers (ETFs) along with Leveraged Products and Warrants. Basic account also enables free real-time prices on Euronext exchanges with Free dividend and coupon processing.
Active Trader and Day Trader account types offer all types of trading facility, however, their limits vary when it comes to buying on margin.
Moreover, DeGiro has a rapid and simple process for account opening. The process will be fully digital and it requires no minimum deposit.
Account Types
Degiro is one of the leading and most popular online broker and it offers the below-given account types –
Custody account – this account type can be described as an entry-level, which permits the traders to trade investment funds, shares, bonds, and ETFs. Furthermore, custody accounts are open for traders and investors and come with complete real-time prices for free on the latest Euronext exchanges.
Basic account – It includes all the features that are available with the custody account. A basic account also offers the traders to trade on the leveraged warrants and products. Just like the custody account, basic account traders cannot short stocks or can buy on margin.
Active account – this combines all the functionalities and features of both basic and custody accounts with an additional option of being able to buy up to 50% of the available margin and the ability to go short.
Trader account – in addition to all the above-mentioned features gathered from other accounts, this account permits the users to buy up to 100 percent of the available margin; and these account holders can also get access to coupon processing and free dividend.
Day trader account – it allows the traders to trade derivatives and they can buy up to 100% of the available margins, with additional margins that are available during open trading hours.
The above account types offered by this broker cover almost all types of traders and some of them come with their exclusive benefits, and some of them can be tailored to suit the trader's trading requirements.
Placing Orders
There are several types of orders one can choose from. However, all of them are not available for every tradable instrument. Once after you complete the order placing process, you will receive an email regarding order confirmation. This broker does not provide the same via text message. It lacks a price alert function too.
The types of orders include:
Limit
Market
Stop loss
Stop limit
Trailing stop
Day
Good-till-cancelled (GTC)
Deposits
Degiro offers its traders several methods to deposit funds on the platform. Some of them are given below –
Trustly
Bank transfer
Electronic wallet
This broker has several strict rules for bank transfer deposits; which means this broker will accept Bank transfers in the bank accounts linked to the trader's name, that also from accepted countries only.
Few deposits take several processing hours, whereas electronic transfers are instant. Typically, Trustly deposits take 30 minutes to be processed. Moreover, this broker does not charge any fees or commission for depositing their funds.
Account opening process
Degiro functions in 18 European countries starting from Australia to the United Kingdom. Opening an account with this broker is very easy, and it does not require more than 15 minutes. To start trading, you need to add funds to the newly opened account, which might take more time, if the account is not a local account. The opening process is seamless, quick, and fully digital. Besides, the account will be ready for trading in one day.

For the initial registration process, the trader needs to submit the following –
A copy of ID card or the passport
The bank account number where the fund will be added to the account
After the completion of the initial registration process, the trader needs to do three additional tasks before the account gets activated –
The trader needs to complete an appropriateness test
They should agree for real-time price conditions
Transferring the money to their trading account
Degiro Mobile App
Degiro offers a dedicated mobile app that is basic and simple. The traders find the mobile app very straight forward, having an intuitive interface, they can trade in a matter of seconds, which is very important for the day traders for those who want to strike the exact moment for profit.
Further, the mobile app functions the same way as the desktop site. Besides, the traders can turn-on the push notifications and email notifications. Currently, Degiro does not offer price Alerts.
The mobile app has been designed for the traders to trade on the go, by allowing the traders to make trade decisions, wherever they are around the world. In simple words, this app is user-friendly where the traders can easily navigate and trade. Additionally, this mobile app offers,

The trader can quickly open, modify, and close positions.
Updates on real-time trades
Single click rates
Chatting tools
The trader can choose from hundreds of instruments that are offered.
Products and Markets:
As per our Degiro review, with DeGiro, you can possess quite a diversified portfolio as it has a wide range of options including stocks, options, and futures, ETFs, and crypto. However, this broker doesn't offer trading services for CFDs and forex trading.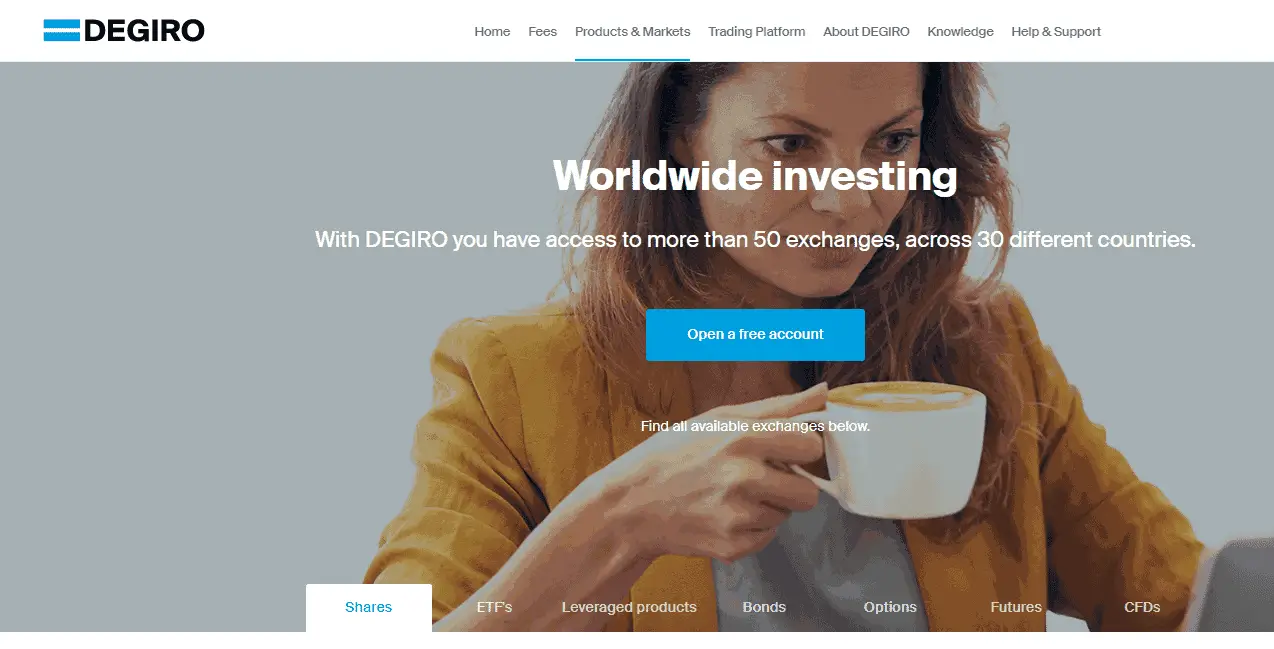 Stocks
DeGiro enables you to experience the biggest international markets as well as the smaller stock exchanges of Europe. A user can get access to 32 stock exchanges on the platform. Penny stocks are also there as a trading option. DeGiro's stock selection is between that of Interactive Brokers and Saxo Bank.
ETFs
DEGIRO gives you access to over 5,000 ETFs. ETFs selections are also between that of Interactive Brokers and Saxo Bank.
Funds
The selection of funds at DeGiro is average as compared to Interactive Brokers. This is because DeGiro provides a bit narrow selection of funds.
Bonds
The Bond game at DeGiro is not at up to the mark as it shows a 'so so' picture here. It compares poorly to IB or Saxo Bank in this respect.
Options
DeGiro gives you 13 options markets, and this is where it looks a bit competitive as compared to Saxo.
Cryptos
DeGiro allows you to trade on the Swedish stock exchange in Bitcoin and Ethereum through ETN instruments.
Fees
DeGiro fees have a luring enough low fee structure for traders as it charges lower fees than the majority of its peers. To the extent that, a few ETFs can be traded for free of cost once in a month.
However, Asian and smaller European stock exchanges have to face higher trading fees. Higher trading fees take place each time you trade. It can be in the form of commissions, spreads, financing rates, and conversion fees.
A few more fees include withdrawal fees or inactivity fees. Degiro while trading, the stock, ETF, and warrant fees are the same and there is no custody fee from this broker
Features:
Traders who do not possess any technical prowess can excel here. DeGiro gives you a pretty basic, yet enough charting tool. It is user-friendly and shows more than 20 technical indicators. One can save these charts too.
Users can find the newsfeed on both the platform the web and the mobile app. It is a basic news panel with short but useful market news.
It has to be quick when it comes to trading. This platform is speedy enough and it responds immediately. You will find a QuickOrder button at the top of every page where you can enter your order quickly and easily.
Real-time streaming prices
Here, major European markets and US exchanges will be available for trading with real-time streaming prices.
Bid / ask spread in the order book
DeGiro also lets you see your orders up to 5 levels on a platform called Euronext. The tool helps to view the depth of the order book.
Here, you can sort your favorite products by creating a list. The platform provides a tool named WebTrader, where one can easily view the favorite products.
Concerning Degiro Login, the trader can select either a one-step or two-step login. Further, if the trader chooses a two-step option, it is available through Google Authenticator.
80% of retail investor accounts lose money when trading CFDs with this provider.
Customer Service
As per our Degiro review, DeGiro provides customer support in many languages with reliable phone support. However, customer service is not accessible 24/7 and it also doesn't provide any chat support. Meanwhile, their phone support is up to the mark and it gives Relevant responses when needed. With that, they are also available through e-mail and it responds to the query email within 2 days. They respond quickly but are available from 7 am to 9 pm on weekdays only.
Learning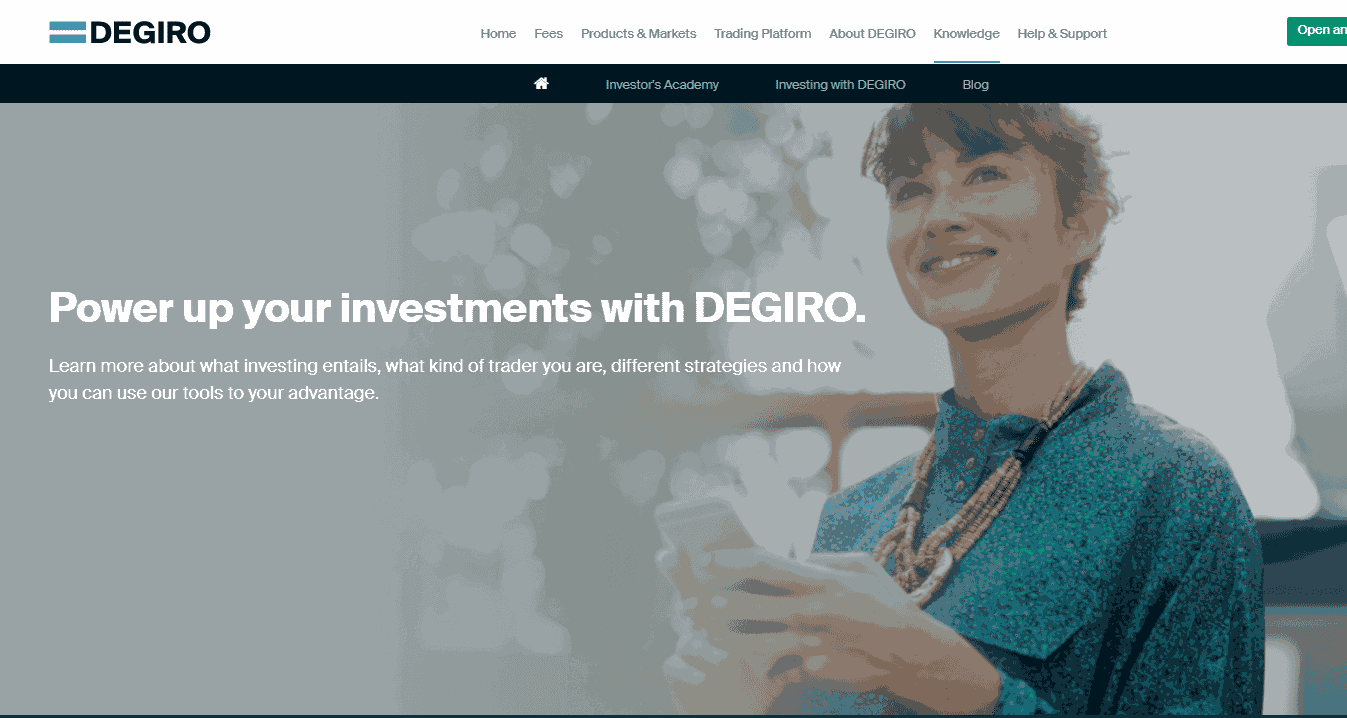 Here, DeGiro can make major improvements moves. The trading platform teaches the tools in Dutch and English only. Also, the set of tools is quite limited here.
Investor's academy
As per our Degiro review, Investor's academy aims to offer knowledge regarding investment. It gives an insight regarding how investing works, which products you can invest in, and what strategies you can use. This section of education holds a total of 10 lessons.
Blog
Here, the blog elaborates on the most traded stocks in the UK along with the most traded sectors. After the first two trading weeks of each month, DeGiro reports the top traded stocks via their platform for each country they are active in. It also shows winners and losers during this time period.
A couple of more ways to learn share trading is it offers tutorial videos and general educational videos. These videos are generally about basic topics like asset classes and order terms.
It also gives an insight regarding the trading platform, for example on how you can buy stocks via the DeGiro web platform. However, they do not provide services like a demo account, webinars, and educational articles.
Advantages
As per our review, when a user opens an account with the platform, he or she gets investor protection for up to €20,000. Not just this, DeGiro holds a Two-step (safer) login process to ensure safety.
Degiro offers services at significantly low rates. In most of the cases it gives you the best on the market.
No special technical prowess is required to use this platform as an investor. The easy interface opens the door of wide range of users for DeGiro.
As per our Degiro reviews, to open an account with Degiro is fully digital, it comes across as a quick and seamless platform.
At DeGiro, you will find quite a smooth process regarding account opening and order placing. This makes it rapid and hassle free platform for trading. Also, No minimum deposit and user-friendly outlook are a major plus.
Disadvantages
Limited research and education
DeGiro fails to impress when it comes to its learning and education part. Limited language options (only English and Dutch) and a lack of demo account disappoints a bit. The trading platform also doesn't offer any webinars or educational articles.
Credit/Debit card not available
For deposits and withdrawals, a user cannot get any credit/debit card here. This makes the platform less feasible.
No price alerts, No Forex, No CFD
In a nutshell, DeGiro's portfolio and fee reports are well organized. They are transparent, and you can easily see what products you own and the fees you paid for the transactions. However, you can't get an access to Forex and CFD markets, while also cannot use debit or credit cards.
Wrap up
Degiro is a good choice for traders who want a simple platform and who do not want to spend a lot of money on fees. When compared to other bigger European rivals, this broker's current fee listings are highly competitive, and opening an account with this broker is quick and fast, which means the account will be ready to use within a day. By offering an integrated and dedicated website and mobile app, this broker is good for traders who want to place several trades. To conclude, it is a great online broker if you want to trade with no minimum deposits or with an activity fee.
FAQ's
1. Is Degiro any good?
Degiro is one of the leading brokers and offers low trading and non-trading fees for its traders. By offering several asset classes, it is considered one of the best online brokers that is available in the market currently. Also, it offers some of the ETFs to the trader to trade for free once a month, which is a good feature for buy-and-hold investors.
2. Is Degiro good for beginners?
As per our review, we can say that Degiro is one of the best brokers for beginners. It offers the lowest fees on the market. It offers a seamless and fast account opening and mobile trading app which is the most advantageous feature.
3. What happens if Degiro goes bust?
Degiro is regulated by top-tier regulators and if it goes bankrupt, the assets will be safe as the traders are the owner of the assets which are brought through Degiro.
4. Which one is the best broker for investors in the UK, Interactive Investor, or Degiro?
When we compare interactive investors with Degiro, Interactive investor is highly recommended for beginners and traders who are focusing on the UK market, while Degiro is highly recommended for buy and hold investors and for the traders who are looking only to execute the trades.