Best Stock Broker in India
Overview
Finding the right stock broker means handing over your hard-earned money to that broker and allowing the broker to make decisions for your Investments. It is a hard decision to make and once done we need to rely on it. There are share brokers who can confuse users with their features and services. Besides, it is very important to choose the best brokerage for a good and hassle-free trade experience. There are several kinds of stock brokerage available in our country and they are classified into two different categories such as discount brokerage and traditional brokerage.
How to choose the best stock broker in india?
Several features should be considered to choose a top stock broker. Some of them are-
A stock brokerage should have a good management team and experts who are having a strong passion for trading

stocks

. By using their experience, they should provide a good experience to the traders. Having a strong management team influences the trading business and largely helps the traders to choose the company.

The next feature is the brokerage charges offered by the stock brokers. For experienced traders, they go in for

lower brokerage

which offers great appeal. The stock broker by offering low charges per trade focuses on scaling their business. Before proceeding with the broker, you need to double-check their track record and the offerings before you are manipulated with the attractive fee structure.

Stockbroking is a complex business and its related technology is also critical and complex. A trader should select a brokerage that has a good reputation and a great track record. They should also offer a reliable and stable platform aside from low fee structure.

A good brokerage should be transparent in their operations, and hence before proceeding with the broker you need to check out their pricing policies on their website in detail. By doing this, the brokerage shows the transparency of the broker and it also helps to avoid last-minute surprises in the future. This is because several share brokers in the industry had been known to charge hidden fees without disclosing them before.
Broker Types
There are two types of stock broker in India like the full-service broker and discount broker.
Full-service brokers offer a number of services for traders along with purchasing and selling of shares like advice, research, retirement, and tax planning. Between the full-service brokers, there are also bank subsidiaries that offer 3 in 1 account like a savings bank account, online trade facility, and a Demat account. Some of the examples are HDFC securities, Kotak securities, and ICICI securities. Some of the full-service brokers offer these services except savings accounts. Few of the brokerage houses which come under this category are Sharekhan, angel broking securities, India infoline, and several more.
The discount broker provides Stockbroking accounts with no frills attached. Also, they provide only the necessary training facilities at a very minimum cost and they can be described as low-cost carriers. This is the most recent trend in India to trade with discount brokers. Moreover, the investor's money is very safe with them; for the reason being the stock brokerages are completely regulated. Discount brokers charge a very low fee per trade than full-service brokers. Some of the prominent discount brokers in India are Zerodha, Upstox, smart trade online, and several more.
List of Top 10 Stock Brokers in India
Let us discuss some of the Best Stock Brokers in India –
1. Zerodha
Zerodha is considered as the biggest stock broker in India in terms of an active client base. Zerodha was started in 2010, and it is a discount broker. This stock broker is officially recognized as the most prominent discount broker in India. It was established by Nithin Kamath who had earlier worked as a stock trader before he started his broking house.
Zerodha is considered as the newest member in the Indian derivative and equity market who have excelled in the art of interweaving technology; along with conventional financial services by giving the much-needed boost to conventional equity and derivative-based trading in India.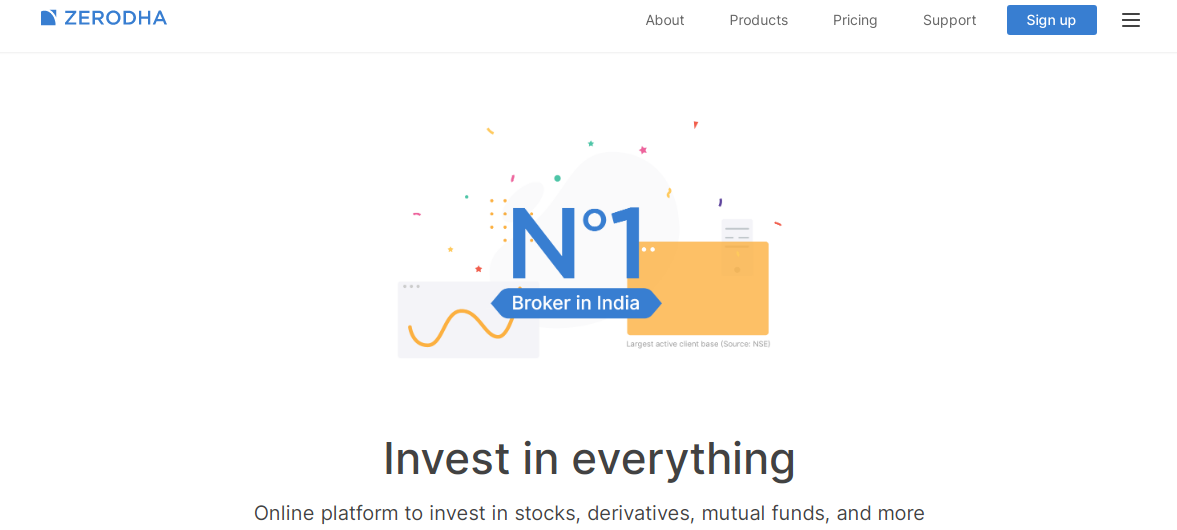 This stock broker furnishes its registered retail traders along with the products related to currency, futures, options, commodity, and equity trading. Zerodha charges Rs. 20 per trade for fixed brokerage for intraday and it offers zero brokerage on delivery orders.
This stock broker offers the best trading platform and tools for stop loss and bracket orders. By using this, the traders can place the stop-loss orders and they can cancel them at any time. Moreover, the traders can also place cover orders so that they might get higher intraday leverage. It charges flat Rs 20 on every trade executed by the trader.
Zerodha is the most popular discount broker and had received the most prestigious award like "the retail brokerage of the year 2018", which was awarded to them by the National Stock exchange and "retail broker of the year 2017" awarded by outlook money and "young entrepreneur of the year startup 2017" awarded by Ernst and Young.
2. Upstox
Upstox is one of the most leading and well-known brokers headquartered in Mumbai, India. It offers a broad range of trading products and services for its traders. This discount broker was formerly called RKSV securities.
Upstox is called as a private discount broker and started its operation in 2011. The company was founded by Ravi Kumar, Raghu Kumar, and Shrinivas Viswanath. This broker offers several trading services at a very low cost. It provides trading facilities on different segments which include equities, commodities, currency, futures, and options.
The trading platforms offered by Upstox offer a number of impressive trading features and functionalities which include technical analysis, charting, and several more. This broker helps its traders to place the orders through its trading platforms with much ease.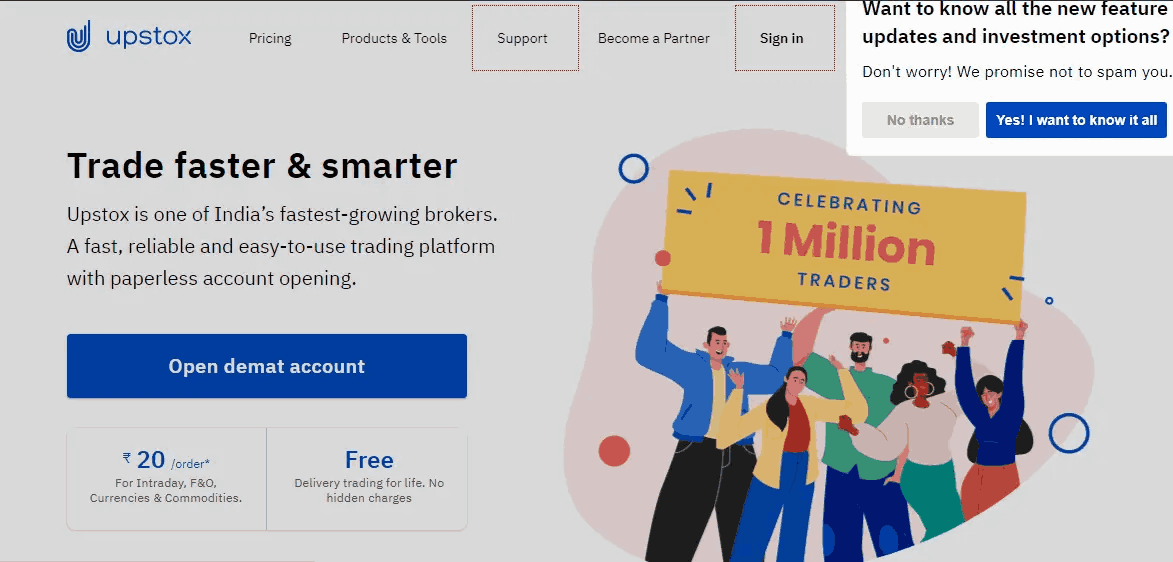 Traders can trade in futures and options, commodities, equity intraday, and derivatives through Upstox Pro mobile app. For the user's convenience, it also offers a fee/brokerage calculator offered by some of its competitors.
This broker does not offer any restrictions such as maintaining the minimum amount as a balance, or maintenance of account status. Upstox offers low brokerage of Rs 20 per trade and high margins up to 28X. This broker does not charge any software fee or account closure fee.
3. ICICI Direct
ICICI Direct is considered as the second-largest retail stock brokers in India, which offers a good trading platforms with a wide choice of investments to institutional and retail customers. ICICI Securities is considered a part of the ICICI group, and this broker offers its services to more than 20 lakh clients through ICICI Direct.
ICICI Direct is a retail trading business which offers investment services through ICICI Securities. This broker is considered as a subsidiary of ICICI Bank which offers many financial trading services to the traders and its investors across the country.

ICICI Direct offers an array of services through its website, and some of its investment products include IPO's, mutual fund, fixed deposit, online equity trading, bonds, NCD, derivatives trading, home loans, wealth products, and several more. This brokers website is considered as one of the most frequently visited investment portals across India.
This brokerage offers a 3 in 1 account which includes ICICI Demat account, ICICI bank account, and ICICI trading account, thereby offering retail stock market investors to invest throughout India.
Besides, the clients can visit any of ICICI direct offices or ICICI Bank branches to get help on various financial products. This broker offers pay-in and pay-out services and problem-free settlements on time. Hence this broker is considered as one of the best broker in India.
4. Angel Broking
Angel broking is the most popular and one of the leading stock brokers in India and it was founded in the year 1987. It is based on a retail stock trading model and offers a modern trading platform and expert advisory services to its traders.
Officially, the angel group is a member of the Bombay Stock exchange and National Stock exchange, and apart from this, a member of two other commodity exchanges like NCDEX and MCX. Also, it is registered as a depository participant with CDSL.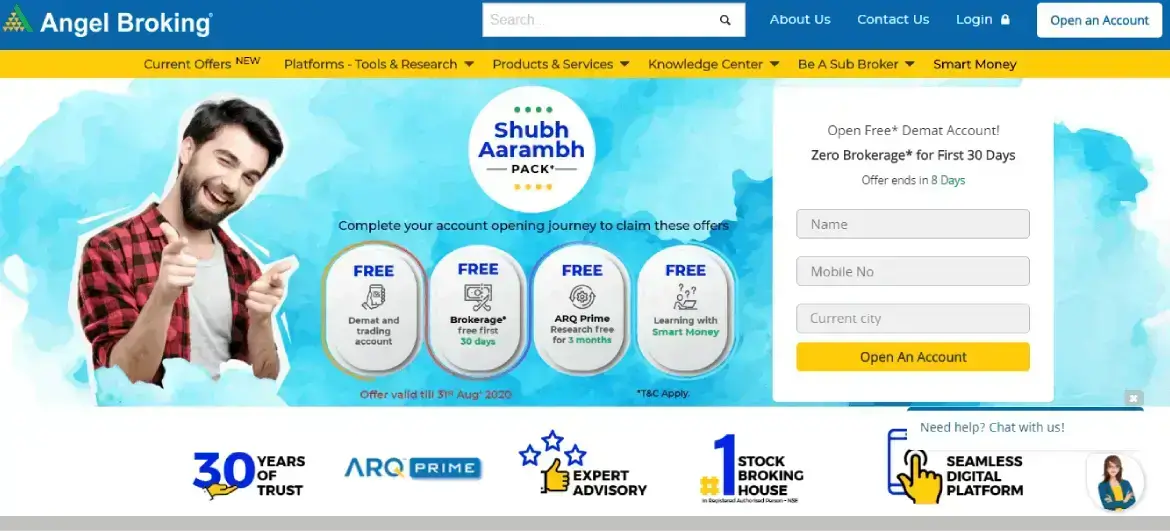 Angel Broking has a nationwide presence in more than 1000 cities. It has a network of more than 8500 sub-brokers and has more than 1 million clients. Angel Broking offerings include commodities, equity trading, mutual funds, portfolio management services, IPO, Life insurance investment advisory, and depositary services. Furthermore, it offers broking and wealth management services and Rs 20 brokerage account. 
As a stockbroking firm, angel broking is considered as the best value for money as it offers innovative products, the latest technologies, trade strategies, personalized services, and good customer service. Angel broking also offers transparent services and ethical practices. Angel broking has also received several honors from the major stock exchanges such as NSE and BSE.
5. HDFC Securities
HDFC securities are considered as one of the most popular trading platforms and top-class Stockbroking companies which provide flexibility in trading, with excellent customer support to its traders. This broker has more than 250 branches, and the trader can visit them if they have any issues, which will be sorted out immediately.
HDFC securities are considered as an equity trading company of HDFC Bank. It offers online trading and also trading through the phone. It is considered as one of the largest online trading platforms which are established in India. It offers a unique 3 in 1 account with features and integrates the HDFC securities trading account with the HDFC bank account along with the existing Demat account.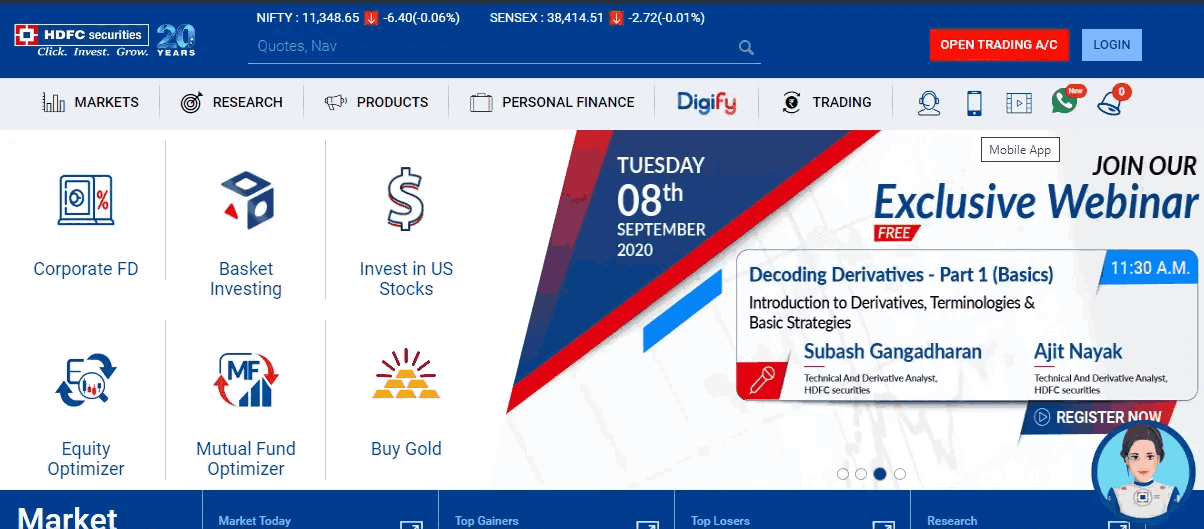 HDFC securities are considered as the best stock brokers in India for cost-effective and qualitative trading that are offered to the traders. Aside from that it also offers flexibility and convenience in account opening for investing.
HDFC securities were founded in the year 2000, and it is headquartered in Mumbai Maharashtra. Initially, the brokerage charges Rs.500 for opening an account, and Rs.300 is charged yearly for Demat account maintenance. For trading account maintenance, it charges rupees 500 yearly.
6. Sharekhan
Sharekhan is considered as one of the biggest full-service brokers in India, based in Mumbai, having a 1.4 million client base. It has currently more than 14,00,000 clients in India and its clients include institutional traders, individual investors, corporates, and NRI's. They provide several investment activities in NSE and BSE.
Originally, Sharekhan is a part of the SSKI group and it was acquired by the BNP Paribas group recently. It has franchises and branches in more than 550 cities in India. They offer their brokerage services through their online trading website and it also has 1850 offices. Besides Sharekhan has its international presence in UAE, Oman, and several other countries.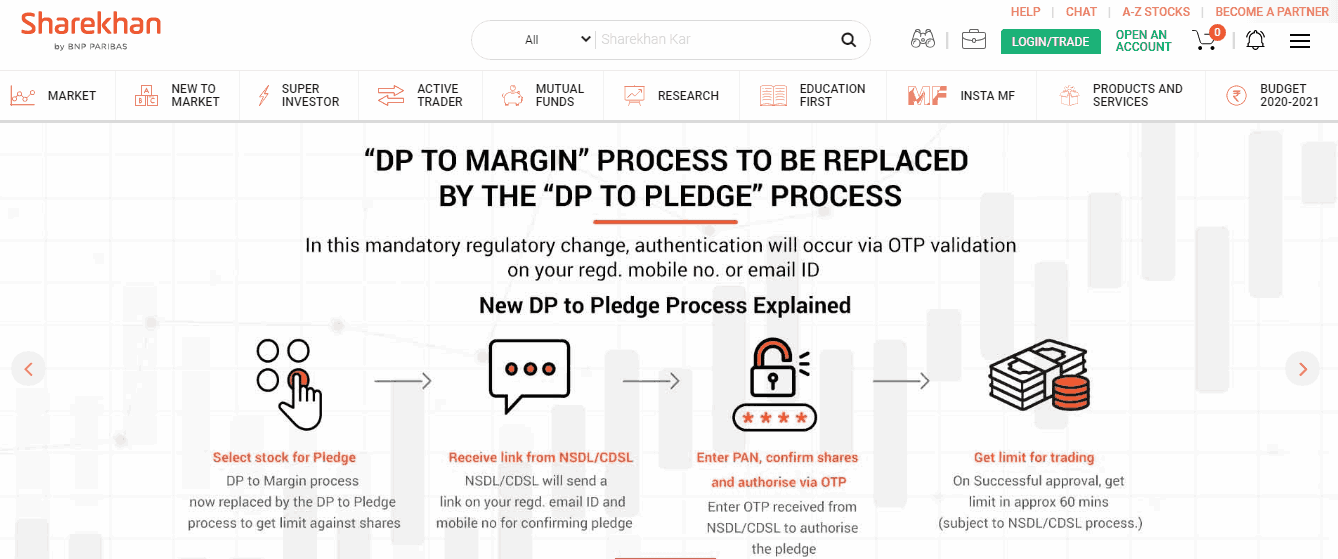 In Sharekhan, the traders can invest in mutual funds and they can benefit from depository services offered by them. Sharekhan also has another sector that offers commodity trading on NCDEX and MCX.
Sharekhan charges Rs.300 only for maintaining the Demat account aside from the above-mentioned charges. This broker does not charge with regards to AMC charges for trading account maintenance charges or minimum margin balance.
Sharekhan offers free online webinars, classroom seminars, and also several workshops to their clients. Their accounts come with both in-person help and online help from the representatives of Sharekhan.
7. 5Paisa
5paisa is one of the most popular and well-known discount brokers based in Mumbai. It is also known as one of the leading brokerages which offer the lowest brokerage in the trading industry. This broker was launched in 2016 and currently, it serves over 7500 retail customers.
5paisa has a daily turnover of INR 1200 Crs which mainly comes from equity trading, aside from this, it has its presence in several parts of India and also around the world. For assisting the traders, it offers the best customer service.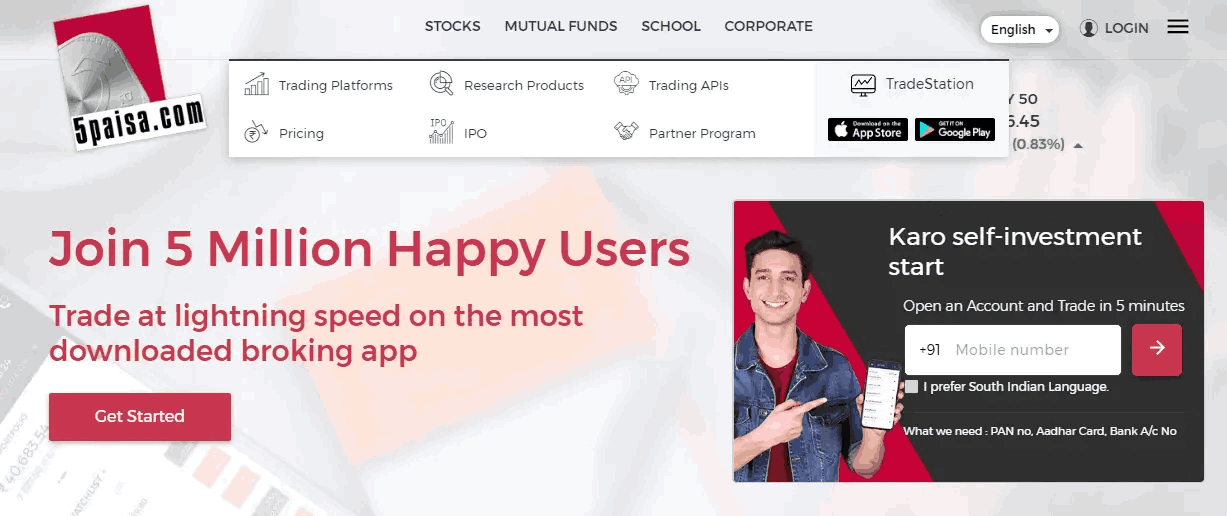 This brokerage charges a flat fee of 10 rupees per order for any kind of transaction over all the asset segments. When compared to other brokers 5paisa charges 45 to 50% lower charge than other discount brokers. For stock delivery, it charges Rs.20 per order under the optimum plan
For opening a trading account, it charges Rs. 650 and the annual maintenance charges are free. There are no account opening charges for opening a Demat account, but it charges Rs.400 yearly for AMC.
This broker offers a mobile app that is a 5paisa app. This is helpful for traders who want to trade on the go. It also helps the traders to execute the orders and can track the current movement of their stocks on the go through their order book, margins, net position, and trade book simultaneously.
8. Motilal Oswal
Motilal Oswal securities were incorporated in the year 1987, and it is a Mumbai based company. They are one of the most reputed names in the financial services world, which offers services in private wealth management, institutional broking distribution, investment banking, retail broking, and several more.
It also offers a number of services in asset management, commodity broking, private equity, home finance, currency broking, and investment banking.
Motilal Oswal network is operating in more than 550 cities and several towns that comprise 2300 locations which are operated by the company's business partners. Motilal Oswal has more than 10 lakh registered users with more than 2200 employees in their team.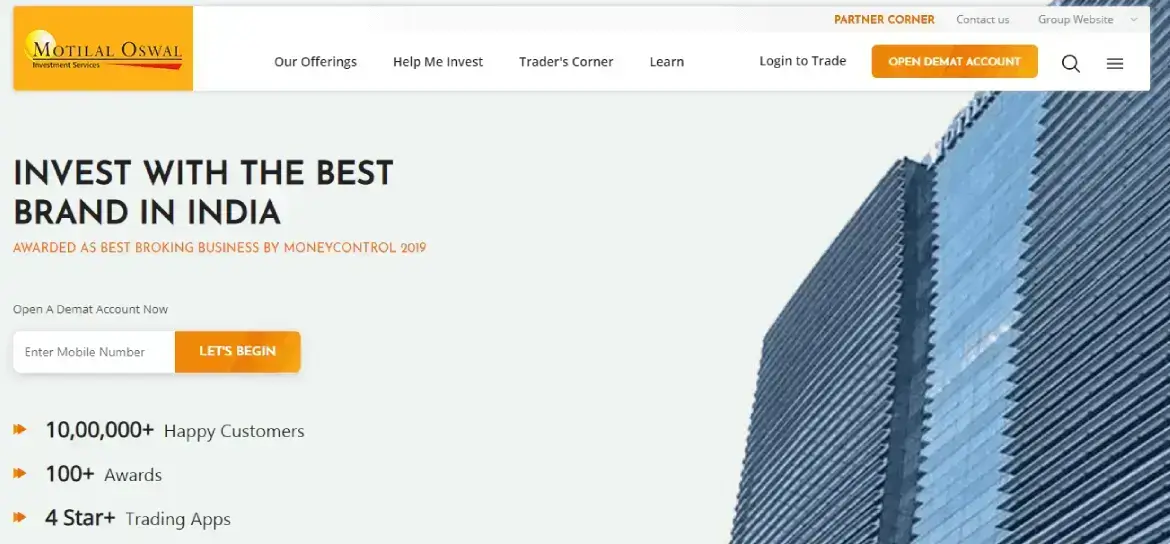 This broker offers a good research team and they invest around 10% of their revenue on equity research. From 2017, this company has had research analysts analysing for more than 240 companies over 25 divisions. From a research point of view, this broker's research reports are very precise.
This broker charges brokerage for the overall trade value of the commodity, equity, futures, trading options, trading currency, futures trading at a charge of 0.05%, and Rs. 70 per lot as a brokerage fee for currency options trading.
Aside from the above charges, they also charge an amount of Rs.300 per year for AMC, which is used for maintaining a Demat account and with a minimum brokerage with a specific amount for trading.
9. IIFL / India Infoline
India infoline was launched as a retail broking firm and it had also launched a 5paisa trading platform. Besides, 5paisa firm had provided discount brokerage charges in the current stockbroking industry where it paved the way to make transactions from a number of traditional ways.
IIFL was first incorporated in 1995, and it is considered a brokerage firm of India infoline group. India infoline is considered as fastest developing financial service solution provider in India. IIFL stock broker charges 0.50% for equity delivery, equity intraday trading, equity futures trading, and commodity options trading. It charges 0.05% for currency futures trading.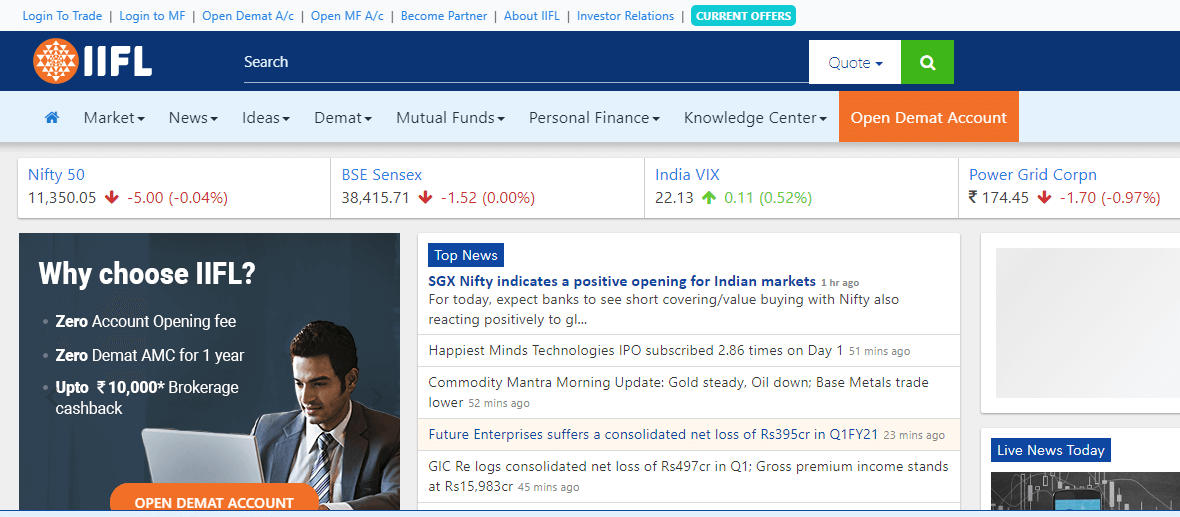 Aside from this, the broking house charges Rs.400 for account yearly maintenance charges, yet traders account maintenance is free of charge. Besides, an amount of Rs. 10,000 is taken from its traders for security.
This broker is awarded as the "best broker with global presence" recently. IIFL has its presence internationally through its subsidiaries in Mauritius, New York, Dubai, Colombo, London, Hong Kong, and Singapore.
10. Edelweiss
Edelweiss broking is one of the most popular and well-known stock brokers in India in the trading sector. They have a client base of around 5,00,000 and they have a mid-sized retail broking business. It is considered as one of the most substantial financial service providers in India, it also offers a wide range of financial services and products to its traders.
Edelweiss not only offers broking services but also provides investment advisories to its traders so that the traders can gain from the various opportunities arising in the stock market and also profit from them.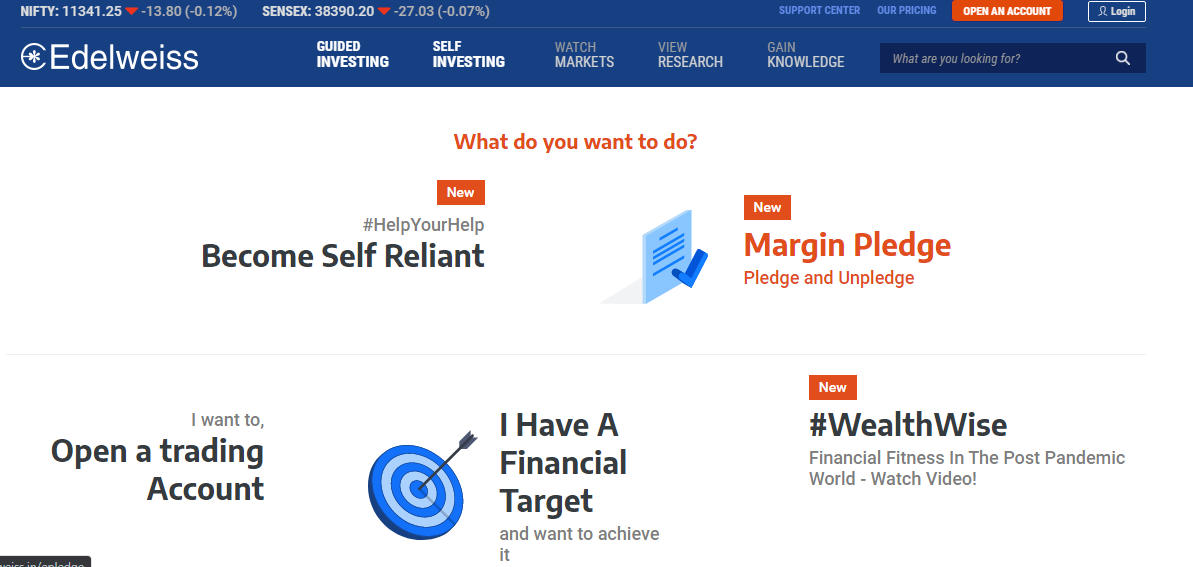 Edelweiss offers its services to corporations, institutions, and individuals. Besides the services and products offered by Edelweiss, it is designed for different customer segments and various asset classes around the country.
Edelweiss has its significant presence in various retail segments and businesses like Life insurance, housing, finance, retail financial markets, mutual funds, and stock markets too.
This broker has received many awards from its journey. In the year 2015, after analyzing the survey report through the economic times, this company is listed as the most promising brands that are available in India.
Wrap up
To conclude, we can say that the above mentioned stock brokers in India have come a long way over the last few years. Not only the brokers buy or sell stocks on the stock market on behalf of their clients, but they also play a bigger role in helping their traders through the whole investment process by offering research-based advice on stocks. The share brokers help the traders to invest in other assets like IPO's and mutual fund schemes. Aside from offering advice in stocks, brokers help the traders to invest in some of the other assets such as gold ETFs, mutual funds and commodities.
FAQ's
1. Who is the best stock broker in India?
Ans. Among some of the best Stock brokerage in India, we can say that Zerodha tops the list from 2019 as the best brokers in India. This broking house is followed by HDFC Bank, Sharekhan, and ICICI Bank.
2. What is the best stock broker for beginners in India?
Ans. Several share brokers in India offer best stock brokerage services along with a good trading platform for beginners by offering lowest brokerage. Moreover, investing in stocks should always be done with great care, concentration, and focus. Presently, we can say that Zerodha is number one among the list of top stock brokers.
3. Is Zerodha the best stock broker in India?
Ans. Zerodha is considered as the most popular and largest stock broker in India and it provides online flat fees of Rs 20 per trade and discounts brokerage charges so that the trader can invest in currency, equity, or commodity and direct mutual funds. The brokerage charges zero brokerage for direct mutual funds and equity delivery trades.
4. Who are the best stock brokers?
Ans. You can say that the Zerodha stock broker offers a best trading platform with various features, functionalities, and educational resources at a low cost. We can say that it is the best stock brokers in India. The trader needs to do online research about the share brokers and they should review their reputation and ratings before proceeding with the stock broker.