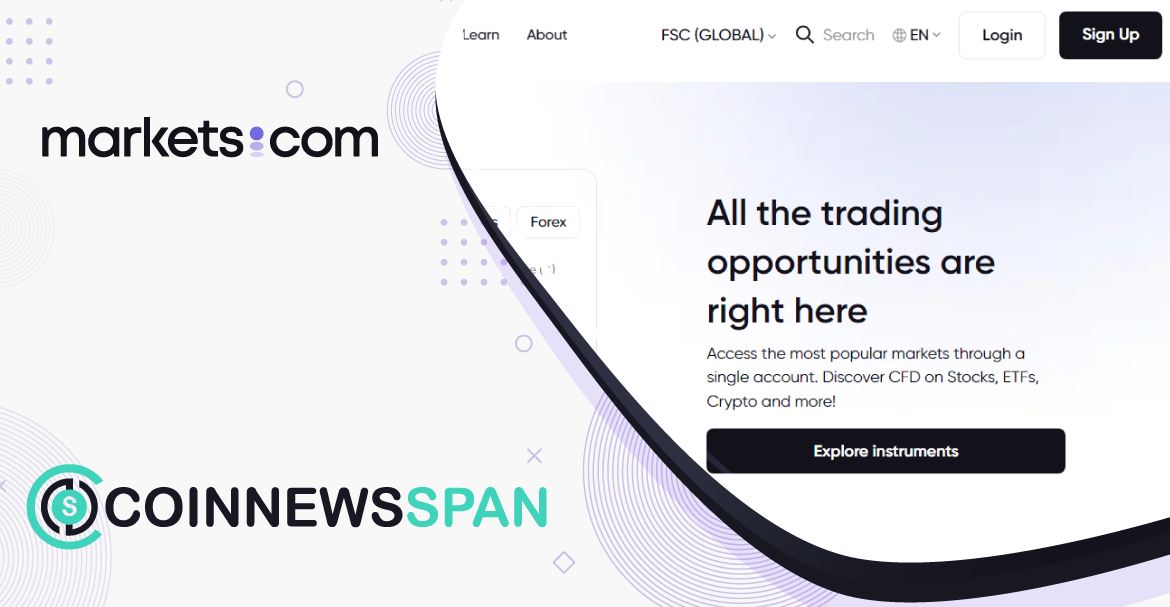 Markets.com is a global online brokerage firm that allows trading CFD and Forex. The CySEC entity of Markets.com is operated by Safecap Investments Limited.
Markets.com is being regulated by financial authorities such as the Cypriot, CySEC, and the UK FCA. Currently, the company is in Nicosia, Cyprus.
The Markets.com website notes that it aims to add an 'X Factor' in trading activity by its state-of-the-art tools and services. It claims to empower the traders with upgraded offerings. Markets.com differs largely from the rest of the brokerage platforms when it comes to the lowest spreads in the market. Also, it provides VIP customer services.
If we dig more about the platform through Markets.com reviews, it charges a reasonable fee for inactivity on the trading platform. Markets.com is regulated in Cyprus, Australia, UK, B.V.I (British Virgin Islands and South Africa). The platform doesn't charge any withdrawal fee while it requires a minimum deposit amount of $100. It supports at least 9 types of currencies.
A bit of investment advice, CFDs are highly complex instruments and come with a high risk of losing money quickly because of leverage. 79.90% of retail investor accounts lose money when trading CFDs with this broker.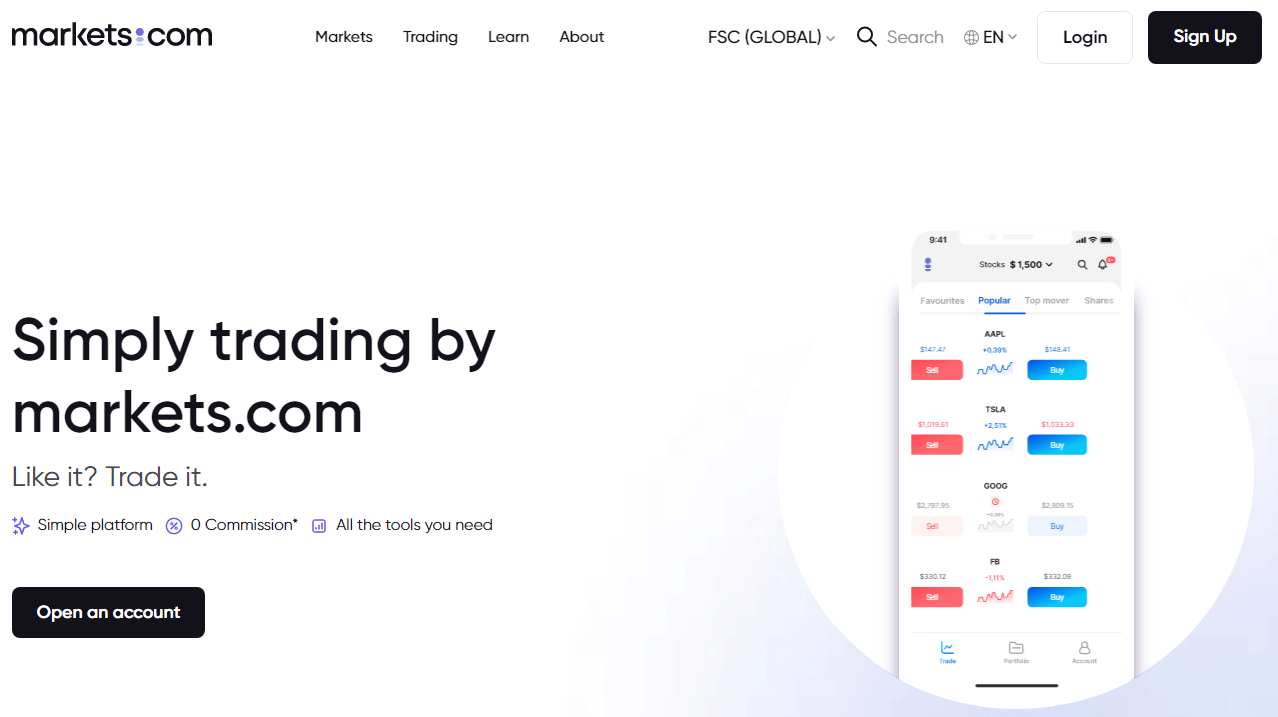 What is Markets.com?
Markets.com is one of the largest and most renowned brokerage firms. It is also one of the fastest developing brokers among forex and CFD providers by offering a user-friendly platform and access to more than 2,200 trading assets, including indices, shares, cryptocurrencies, currency pairs and commodities. Users can trade CFDs, offering leverage up to 1:300 depending on the jurisdiction.
Coming back to regulation, this broker is regulated by several top-tier regulatory bodies which show it is a legitimate broker. Moreover, Markets.com offers its clients excellent customer support in multiple languages while its website can be accessed in 10 languages. As a trader, you can contact the customer service at any time, as the support team is available through phone, live chat or email 24/5. The website also provides an FAQ section as well as an online query form.
Basic Pros and Cons of Markets.com
| | |
| --- | --- |
| Pros | Cons |
| Fast and free deposit and withdrawal service | It does not provide two-step authentication. |
| can use options like credit/debit cards or electronic wallets | Inactivity fee of $10 per month after 3 months of inactivity |
| Helpful research tools | Forex fees are high, while CFD fees are average |
| Tailor-made tools and solutions | |
| Large variety of products offered | |
| Multilingual customer support | |
Markets.com Background
As per our Markets.com review, this trading platform holds a long experience as a broker, as it is operating in its field for more than 13 years now. Markets.com has clients from all over the world. Through the years, the company has managed to grow to become one of the leading brokerage companies in the Forex and CFD industry. It's regulated by the most trusted financial authorities and it delivers a reliable platform for trading.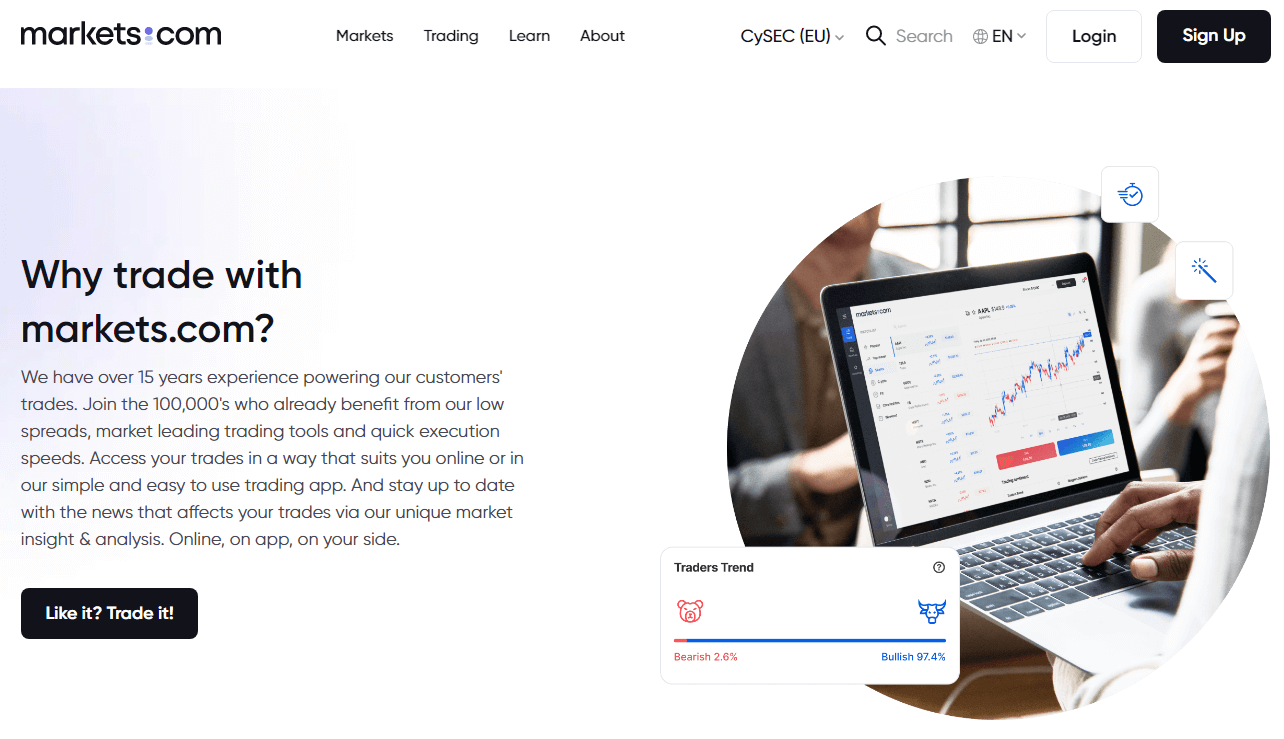 Markets.com Introduction
Markets.com Payment Methods
Markets.com offers several payment methods for deposits and withdrawals. According to Markets.com reviews, by submitting a simple request, the trader can deposit or withdraw their money. Moreover, these payment methods are also available through the mobile application of Markets.com. They accept several payment options for deposits which include credit and debit card – visa, Mastercard, wire transfers and fast wire transfers in local currency. They also accept e-wallets, Skrill, Paypal, Neteller, and several others.
What Can be Traded with Markets.com?
By using the Markets.com platform, the traders can select from a wide range of more than 2,200 assets. Traders have the choice to choose from 56 currency pairs and 27 cryptocurrencies.
Additionally, the cross-asset diversification process is enabled for 23 commodities, and approximately 2000 equity CFDs, which comprise the bulk of the assets.
Markets.com also offers the largest trading opportunities thereby offering 32 index CFDs, 12 blends, and 77 ETFs, and it also offers bonds for the traders.
On the whole, the asset selection offered by the Markets.com is ideal for both retail and professional traders.
Spread betting is also available for clients residing in the UK.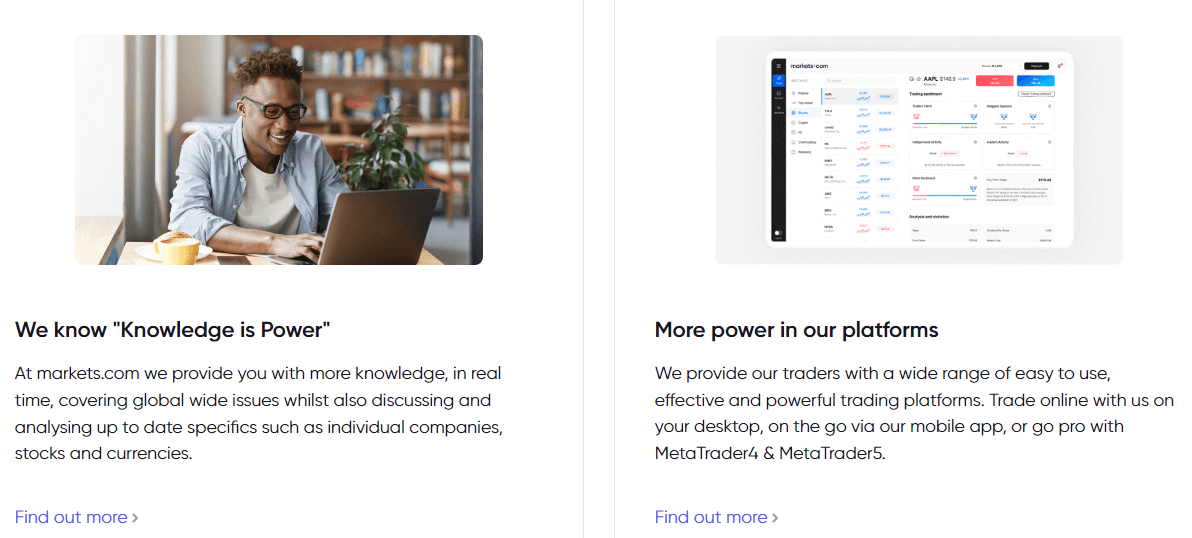 Markets.com Features
Markets.com Mobile App Experience
In addition to providing MetaTrader 4 and MetaTrader 5 for mobile, this broker also offers its proprietary mobile app; Markets.com Mobile, which is a counterpart to the web-based platform. The above-mentioned mobiles apps are all available for iOS and Android devices. Additionally, the Markets.com mobile app integrates many features that are found in the web-based platform, as a result, the display and layout is consistent throughout.
Requirement to Open Markets.com Account
Citizens of the following countries are not eligible to open an account with Markets.com : Brazil, Bahamas, Belgium, Botswana, Cambodia, Canada, China, Ethiopia, Ghana, India, Iran, Iraq, Israel, Japan, New Zealand, North Korea, Northern Mariana Islands, Pakistan, Puerto Rico, Panama, Russia, Serbia, Singapore, Sri Lanka, Syrian Arab Republic, Trinidad and Tobago, Tunisia, Turkey, United States, US Virgin Islands, Vanuatu, Yemen, Hong Kong & Taiwan.
Note: Excluded countries apply. Please verify with the broker's customer support team to ensure that your region is within Markets.com's permitted countries list.
The minimum to open an account is as low as $100. A demo account is also available and comes with $10,000 virtual funds, thus enabling clients to test the platform before depositing their own funds. The process of account opening at Markets.com is fast and easy as it is fully digital.
Fill up personal and financial information
Go through a trading knowledge test
Get your docs/ID verified
The account is opened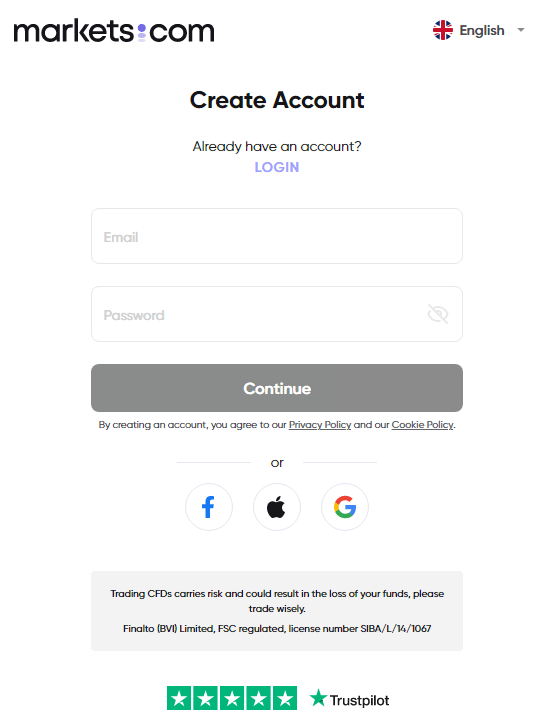 Markets.com Account Opening
Steps to follow while creating an account with Markets.com
The account opening process with Markets.com is simple and fast and this trading platform is suitable for new and professional traders. To start opening an account with Markets.com, the trader needs to click create an account, given on the Markets.com website, which leads them to the registration page.
From that point onwards, the traders will be redirected automatically to the Markets.com trading platform, and they will be asked whether they would like to go for a demo trading account for a live trading account. Registration is completed after the verification process.
Markets.com registration process consists of simple steps, as a trader you need to provide personal information, financial information, tax information, financial knowledge, and trading experience. When this is done, the traders can verify by uploading a proof of residence and a proof of identification document for further process.
Furthermore, the Markets.com trading accounts can be funded using various base currencies including EUR, USD & GBP, with a minimum deposit of 100 EUR/USD/GBP. Retail clients can trade with maximum leverage up to 1:300. Lower leverage limits apply to retail traders under the brokers UK (FCA), Australia (ASIC) and EU (CySEC) entities.
Markets.com Trading Products
The website of Markets.com shows below options for trading:
Forex
Stocks
Commodities
Indices
Bonds
ETFs
Blends
Cryptocurrencies
Cryptocurrency CFDs are not offered to retail clients in the United Kingdom
Regarding cryptos, it gives options, including major coins like Bitcoin Futures, Ripple, Ethereum, and more. Moreover, for CFD trading, Markets.com offers as many options as platforms like Plus500 and eToro. However, Plus500 and eToro are better when it comes to the crypto market.
Traders can manage their investments using Markets.com web-based platform and the Markets.com app. Also, the mobile-optimized site can work on all mobile devices. One can get the app through Google play and App-store.
A bit of investment advice, CFDs are highly complex instruments and come with a high risk of losing money quickly because of leverage. 79.90% of retail investor accounts lose money when trading CFDs with this broker.
Spreads at Markets.com are highly competitive and transparent. One can check the spreads for all the instruments on the Markets.com website under each asset class: https://www.markets.com/.
CFDs
Here at Markets.com, CFD (contract for difference) trading is fully regulated. Trading CFDs stand as one of the fastest-growing investment styles in the world. It reflects the movement of the underlying asset, although you never own the asset. Traders can get profit from the difference between the opening price and the closing price. Also, this broker is the best forex broker with negative balance protection for its traders.
This trading platform offers CFD trading services in the UK, Europe, Australia, Africa, and BVI. Find here more UK's forex broker to get your best trading brokers for Forex, CFD & another trading services. Markets.com' size and scale play a key role to provide a more relevant offering that reflects where a trader stands in the world, including the local regulations.
A bit of investment advice, CFDs are highly complex instruments and come with a high risk of losing money quickly because of leverage. 79.90% of retail investor accounts lose money when trading CFDs with this broker. You should consider whether you understand how CFDs work and whether you can afford to take the high risk of losing your money.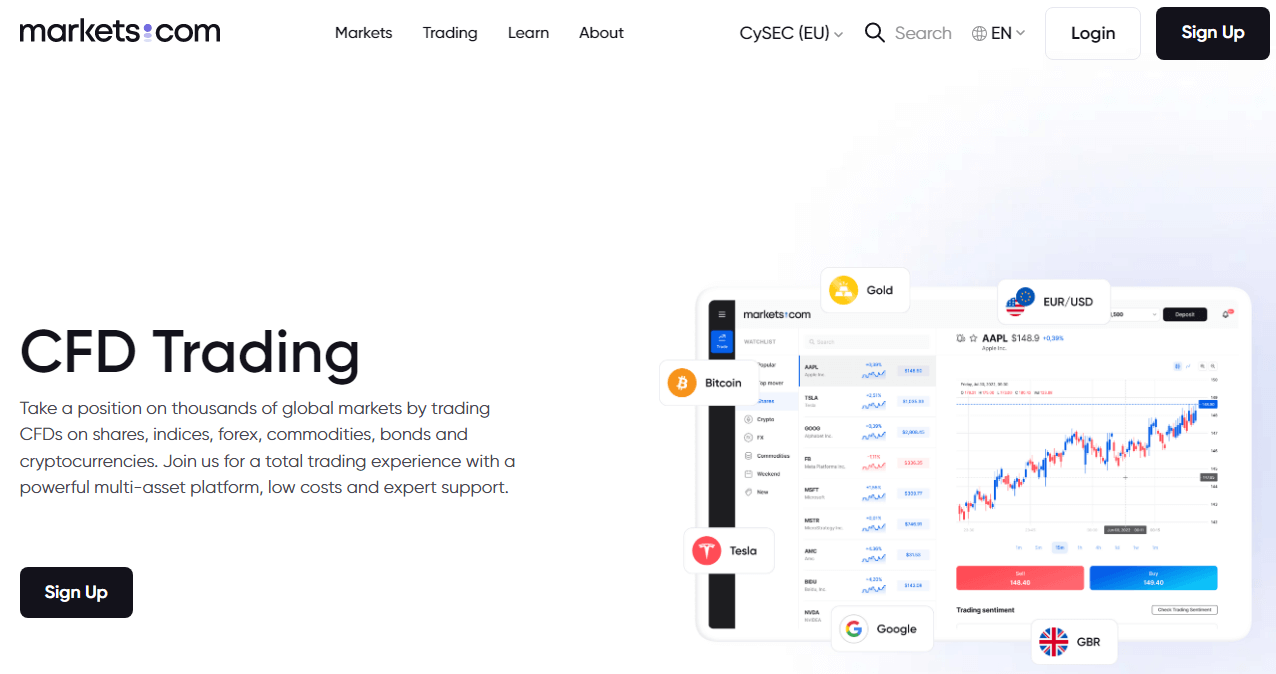 Markets.com CFDs
Placing Orders at Markets.com
A basic set of orders are offered at Markets.com. The platform doesn't come up with sophisticated options. The types of orders include:
Market
Limit
Stop
Pending
Alerts and Notifications
We found from the Markets.com review that many traders like these broker's features. With this, one can set up email, SMS notifications as well as price alerts. However, for order confirmation, there is no notification service.
Tools on Markets.com for Analysis
There are four types of tools for analysis including fundamental, technical, sentiment and X-ray. Here, fundamental tools give you an all-around and in-depth view of the economic factors that may affect your trades. These tools basically contribute to the trade performance with greater transparency of the markets, and the ability to identify and act on trends as they happen.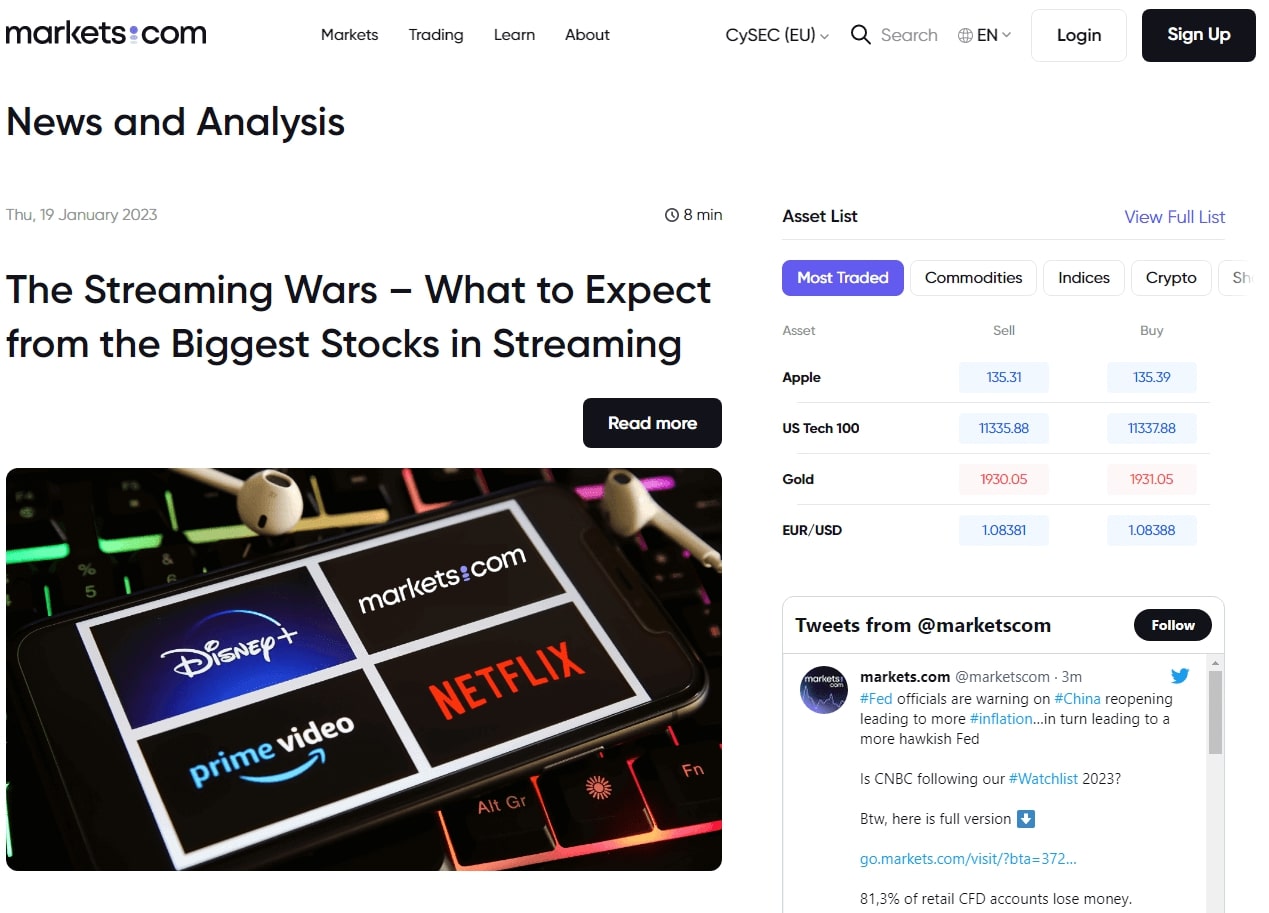 Markets.com Latest Analysis
Fundamental Tools
Events & Trade
Markets.com is an interactive economic calendar for the FX markets which manifests all the big data releases such as central banks, non-farm payrolls, PMIs & more. The proprietary algorithm scans consensus data from over 30 leading economists across the globe. This can provide the results as the markets move.
Dow Jones News
This option makes sure that the traders know the market moves which could impact their decisions. Also, it shows the top 20 most important news events on the world market curated by expert journalists.
Thomson Reuters Analyst Research
This gives you essential information, along with mobile trading insight. The stock report is a company-specific technical analysis that includes an average stock rating supported by indicators and key data. This is basically a downloadable report by Thomson Reuters and available directly from the Markets.com platform.
Advanced Alerts
There are eight different types of alerts, starting from simple alerts to more complex ones. simple alerts will let you know price movements while complex ones can suggest you an expert's change of opinion on your asset.
Financial Commentary
Here, you will find all the news that affects market moves in real-time. Relevancy is a major plus here. Commentary is given by ForexLive.com.
Technical Tools
Advanced Charting
This trading tool allows traders to have an in-depth analysis of their trades. With various indicators and oscillators, it provides traders with the essential tools to carry out technical analysis.
Related Instruments
By using this tool, traders have the ability to identify assets with positive and negative correlation. This feature enables traders to discover new products similar to the ones in their portfolio, but also new ones that traders can use for diversification.
Sentiment Tools
Analyst Recommendations
Here, you can gain knowledge from market experts. A trader can search through top Wall Street analysts and filter them by their star rating, and get their position on the biggest stocks.
Hedge Fund Confidence
This can indicate where Hedge Funds are investing their money. For this, it uses the data from the SEC. Meanwhile, it also shows how fund managers are performing against their peers.
Bloggers Opinion
The platform fetches views of more than 50,000 financial bloggers in this section to figure out where they think the market will go. One can follow their stock picks and get alerts when their position on asset changes.
XRay
Markets.com offers a chance to interact with and ask questions to the experts. This helps the traders to get a market insight on everything that matters to an investor in the markets. This covers vital decision-making news, views, opinions, and trading strategies.
Insider Trades
This tool shows how over 36,000 company insiders' stock holdings fluctuate. By gathering, assessing, and displaying the most recent insider transactions, traders are able to make better decisions concerning their positions.
Trends in Trading
Trader Trends analyses every trade conducted on the platform in real time to provide traders with the most up-to-date market sentiment.
Markets.com Fee Structure
Markets.com has a pretty reasonable fee structure. Here, a trader does not need to pay account, opening, deposit or withdrawal fees. Also, the CFD fees are low. However, the platform charges a fee for inactivity which can be considered reasonable.
We get to know from Markets.com reviews that as far as forex and stock index trading is concerned, spreads and financing rates occupy a major part of fees. Markets.com charges average trading fees for forex. As compared to Markets.com, its peers like Plus500 or eToro charge less for the same. The trading platform seems reliable when it comes to non-trading fees in general. Although, for inactivity, one has to pay $10/month after a 3-month long inactive period.
Markets.com Customer Services and Safety
Markets.com's customer service is reliable enough. Traders consider it a reachable one as it is quick too. It can be reached through several channels but is not available on weekends. One can get in touch with Markets.com using live chat, phone, and email. If one wants to connect via phone, a local phone number can help as there is no need for an international call.
On the other side, the customer service cannot be reached on the weekends, though its availability is 24/5. If we talk about its safety, Markets.com is considered a low-risk platform for trading. However, it doesn't hold any banking license. As the firm is regulated by top-tier financial authorities, it seems safe and reliable enough. It also provides negative balance protection.
Markets.com Learning and Research
Markets.com covers regular webinars and tutorial videos under this section. They also offer a demo account to have hands-on experience regarding trading. The types of videos that fall under this include platform tutorial videos, short videos about trading tips. A few videos are as long as 60 minutes too. Moreover, general educational videos are also part of its education section.
The broker's research has been impressive until now. Markets.com offers helpful trading tools, recommendations, sentiments, economic calendar as well as good quality news flow.
Trading ideas given by Markets.com are also up to the mark. They are clear and indicate both the direction and the target prices to broaden the spectrum of a trader's insight. The platform provides recommendations from top-tier bank analysts (J.P. Morgan, Goldman Sachs, Merrill Lynch, and some others) mostly regarding shares.
These analysts are ranked according to their past performance. Bloggers also get to write about some of the stocks here in sections like Seeking Alpha or The Motley Fool. A trader can also witness how the company's management or its other stakeholders traded with the stock at 'Insider Trades sentiment'.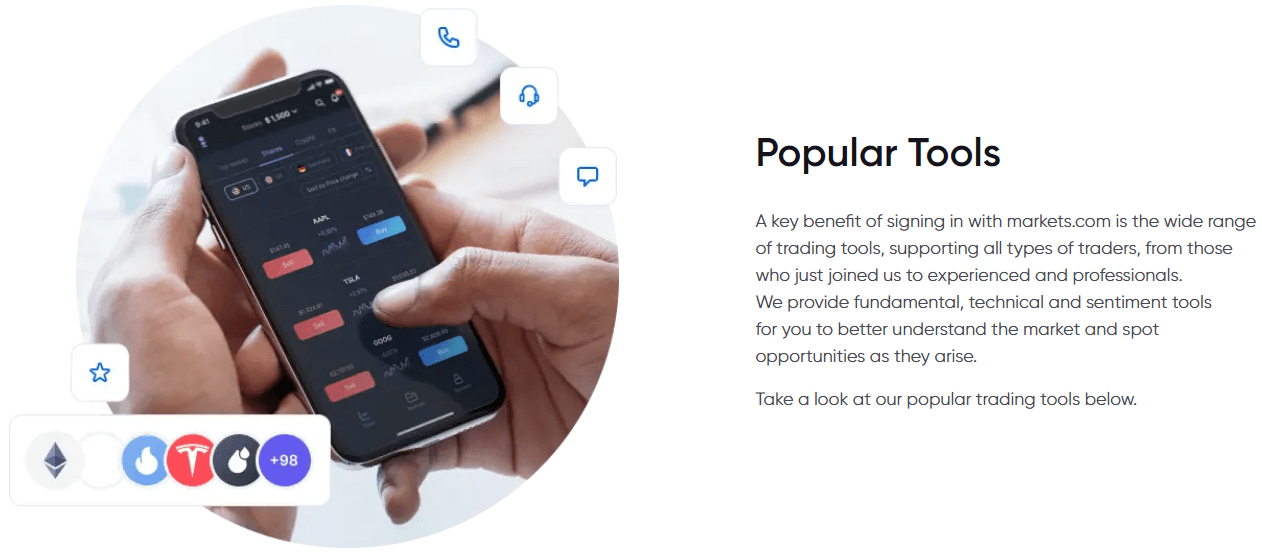 Markets.com Knowledge Centre
Markets.com Review: Wrap Up
Markets.com is one of the decent brokerage companies based on the Markets.com reviews, and if you are interested in CFD trading, it can fit your needs. While it gives an impressive research facility with efficient trading tools than other forex trading tools, its trading fees are high. The platform largely focuses on trading CFDs and Forex trading, also, it has kept its account opening process easy and hassle-free. Multiple top-tier financial regulators, like the FCA and the ASIC, are regulating Markets.com.
FAQs
1. Is Markets.com a Good Broker?
Markets.com is one of the leading online brokers and it is regulated in two tier-1 jurisdictions, which makes it a safe broker or a low-risk broker for CFD and Forex trading. Markets.com's web-based platform is well designed, easy to use, and it also includes an array of features that includes market analysis, integrated research, educational videos, and webinars.
2. Is Markets.com Regulated?
Markets.com is regulated by the British Virgin Islands Financial Service Commission, the Cyprus Securities and Exchange Commission, the Australian Securities and Investment Commission, the Financial Sector Conduct Authority in South Africa, and the UK Financial Conduct Authority.
3. Is Markets.com Suitable for Beginners?
From Markets.com review, we can say that it is a genuine broker offering educational materials by providing a basic introduction about trading, webinars for the new traders. Their in-house research team provides the latest trading ideas and the overall service and product selection make Markets.com a suitable broker for beginners and experienced traders.
4. Is Markets.com Safe or a Scam?
Markets.com is a reliable brokerage firm. Markets.com complies with all regulatory requirements for the protection of funds in all locations of operation. In addition, clients' funds are maintained in separate bank accounts at approved financial institutions.
Markets.com
Pros
Fast and free deposit and withdrawal service
Can use options like credit/debit cards or electronic wallets
Tailor-made tools and solutions
Large variety of products offered
Multilingual customer support
Cons
Forex fees are high, while CFD fees are average
Inactivity fee of $10 per month after 3 months of inactivity
It does not provide two-step authentication