Introduction
Founded in 2009, VantageFX (brand name of Vantage International Group) has been treating the market quite well. VantageFX began its operations in 2009 under the name of MXT Global. It was renamed as VantageFX in 2015. Vantage FX Pty Ltd CAN 140 903 886 is an authorized representative of Vantage Global Prime Pty Ltd CAN 157 768 566.
Vantage FX is equipped with an experienced team with skills and background of finance, forex, and technology. According to Vantage FX review, Vantage FX was founded to help users/investors/traders/customers in reaching their investment objectives and related financial goals through robust trading platforms.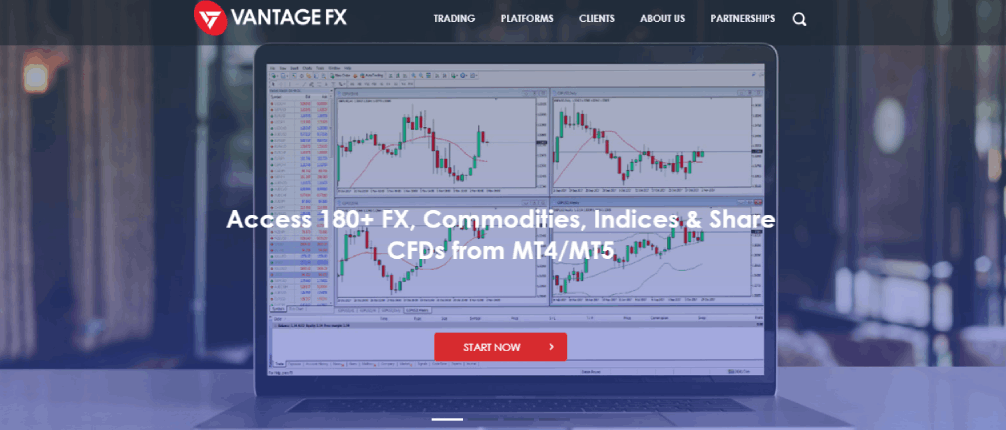 It offers amazing and active customer service, transparency in accessing the forex markets, amazing speed of transaction execution. It has been recognized globally as a secured forex broker or trading platform with its trading servers located in New York and London.
Risk in Trading:
Forex and derivatives carry market risk and hence it is advised to trade in the amount you can lose. Make sure you have read all the market related and legal documents before venturing into any kind of investment or trading activities on Vantage FX or any other brokers.
Credibility & Transparency
When it comes to credibility in trading, yes, VantageFX puts transparency first over any other feature. The years of experience have taught Vantage FX about market volatility and hence, transparency is the perfect solution to deal with the risky forex market. The forex brokers go beyond and above to make sure of customer safety and security. When we compare brokers, we find that Vantage FX makes sure certain ethical trading practices on its trading platform are met.
Vantage FX of Benefits:
During the platform development phase of the broker and even after that, Vantage FX always looks at the trading experience from the customer's point of view. It tries to do all that a forex trader would want from a broker. Vantage FX Pty Ltd CAN 140 903 886 is an authorized representative of Vantage Global Prime Pty Ltd CAN 157 768 566. Plus, it is governed by ASIC.

As said above, Vantage FX is a transparent broker platform with robust rules and regulations. It is a MetaTrader broker offering MetaTrader 4 (MT4) and MetaTrader 5 (MT5) trading platforms. Clients trading on powerful platforms MT4, MT5 can find a good speed of transaction execution. Vantage FX has created a fiber optic network to leverage the forex trading capabilities of MT4, MT5.
The Metatrader 4/Metatrader 5 platform offers traders to deal with investment products like crypto, forex, indices, CFDs and more. The margin requirements for each product differ from one another. It also provides an economic calendar for traders.
Vantage FX also allows its users to access copy trading features like Myfxbook autotrade, DupliTrade, ZuluTrade, and MetaTrader Signals through its Metatrader trading platform. For this Vantage FX has teamed up with numerous  social trading platforms. This feature of social trading gives Vantage FX, an upper edge over its peers.
Besides social trading, traders can also place stop loss and limit orders as per their preferences. Vantage FX also offers negative balance protection.
CFDs are complex instruments and come with a high risk of losing money rapidly due to leverage. Many retail investor accounts lose money when trading CFDs. Retail traders are, therefore, advised to invest in CFDs only when they understand the risks involved. Trade CFDs only if you can afford to take the high risk of losing your money.
As a market maker, Vantage FX offers many other investment features like raw ECN spreads (which begins from 0.0), FX promotion, leverage of up to 500:1, and more. Using this trading platform, traders enjoy the STP/ECN execution, without a dealing desk. The platform leverages expert and known liquidity providers to make sure its users get access to the broad market liquidity resources.
Vantage FX has a news feed option known as Market Buzz. Besides news pieces from third party news sources, the feed also offers sentiment indicators, analyst views, and news analytics.
Is Vantage FX regulated?
As the company is regulated by authorized institutions like Australian Securities and Investments Commission (ASIC) and Cayman Islands Monetary Authority (CIMA), it follows certain standards that are considered as a benchmark globally. Search standard practices ensure clients of the credibility of the broker. Plus KPMG audits Vantage FX with a strict policy and makes sure the broker is in compliance with the required financial and legal rules.
We found from Vantage FX review that to add that extra element of security than the rest of the brokers, Vantage FX handles client funds a bit differently than other brokers. It segregates all the funds of the traders in account under top tier banks like the National Australia Bank (NAB). National Australia Bank is an AA rated financial establishment in the country and is considered as one of the most secure banks worldwide. Vantage FX is also regulated by the Cayman Islands Monetary Authority (CIMA). It has an Australian Financial Services License (AFSL 428901).
Liquidity Partners of Vantage FX:
As far as the liquidity of the clients' funds is concerned, VantageFX Com has partnered with 14 liquidity partners. These partners include big names like JP Morgan, Credit Suisse, Bank of America (BoA), and others like Goldman Sachs. It has an overall 30 liquidity partners.
VantageFX Review: Signing Up:
Any online broker we'll always have to make sure that the design and the UI/UX of the platform are user-friendly. It is one such trading platform that provides a simple navigation and registration process. When it comes to opening an account, yes, it is very easy to open trading accounts with Vantage FX. One can get registered and start live trading in minutes. The Vantage FX account opening process is as simple as filling an online application.
The trader needs to submit some documents like a colour copy of his driving license, government ID, a utility bill or bank statement and their name, email address and phone number. To open an account with Vantage FX, the trader needs to undergo a few compliance checks by answering a few compliance questions. Once the documents are submitted, the verification process is initiated. The Vantage FX trading account is created and the login details are shared with the trader. The trader can then deposit the funds through any of the available deposit options (credit cards, debit cards, crypto wallet, bank wires, etc) and start trading in the global market. The platform does not charge any deposit fees even if the deposit is made by credit/debit card.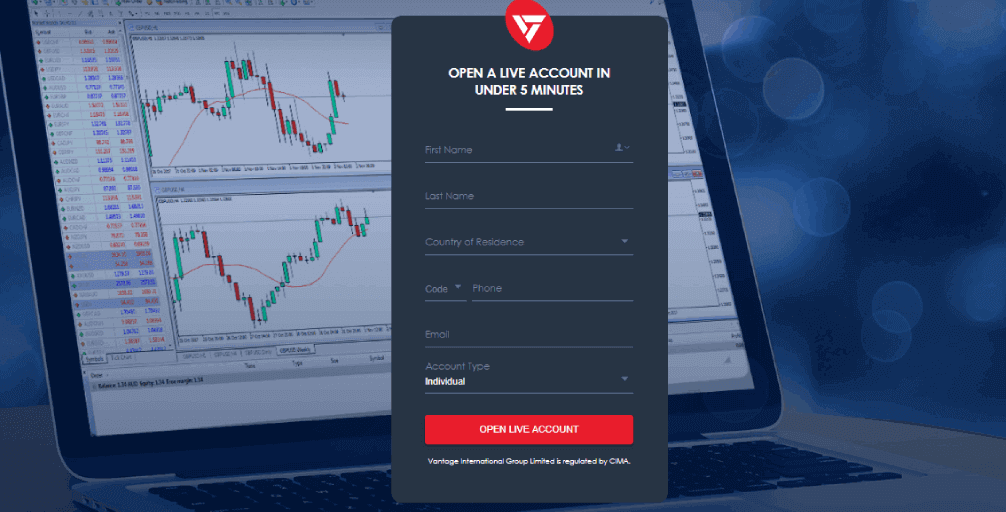 Licenses of Vantage FX:
Australian Securities and Investment Commission (ASIC) regulates Vantage FX. It is FX's leading forex broker operating from Australia. It adds to Vantage FX's market value and credibility. The broker boasts of the highest standards for legal compliance from Australian Securities and Investments Commission.
Vantage FX has a track record of providing its clients an extra secured trading environment as it offers them with a Professional Indemnity Insurance. Vantage FX Pty Ltd CAN 140 903 886 is an authorized representative of Vantage Pty Ltd CAN 157 768 566. Plus, it is governed by ASIC. Vantage FX is regulated by the Cayman Islands Monetary Authority (CIMA).
VantageFX provides its services to traders in countries like Hong Kong, French Polynesia, Luxembourg, Singapore, Thailand, Germany, United Kingdom, Gibraltar, Greece, India, Denmark, Australia, Latvia, Lebanon, Lesotho, Saudi Arabia, British Virgin Islands, Puerto Rico, Benin, Bermuda, Bhutan, Greenland, Grenada, South Africa, Equatorial Guinea, Nicaragua, Niger, Sweden, Cape Verde, Northern Mariana Islands, United Arab Emirates, Barbados, Belarus, Guinea Bissau, Marshall Islands, Qatar, Solomon Islands, Mauritius, Mayotte, Mexico, Micronesia, Italy, Western Sahara, Yemen, Zambia, El Salvador, Burkina Faso, Norway, Kuwait, Sri Lanka, France, and many more.
VantageFX's services are not available in Canada, United States, Central African Republic, Lebanon, Japan, Russia, Guinea-Bissau, Somalia, Burundi, Afghanistan, Iraq, Democratic Republic of the Congo, Libya, Egypt, Iran, Tunisia, Syria, Venezuela, Ukraine, Yemen, Belarus, South Sudan, Burma, Zimbabwe, Spain, Eritrea, North Korea etc.
VantageFX Offers Three Kinds of Trading Accounts

:

Vantage FX traders can open an account on the platform through different account options and each account, yes, can be easily opened. Vantage FX does not charge any inactivity fee for any of the account types. It also does not charge any fees for trading in any of the available order types and provides the perfect trading conditions.

~ Standard STP Account: This type of standard account is perfect for beginner traders looking to make money in the financial markets. New users need to deposit 200 USD only to begin. Those who are in search of direct trading and easy approach to the market insights, without paying any commission, usually go for this type of account. This standard account uses STP execution. This account holder can deal with multiple base currencies like CAD, SGD, AUD, GBP, NZD, EUR, USD, and a couple of more currencies. Standard account also has no inactivity fee.
For a stand STP account, users need to deposit 200 USD as the minimum amount.

A minimum trade of 0.01 lot has to be placed.

Standard STP Accounts' leverage is up to 500:1.

The STP spreads begin at 1.4 pips.
~ Raw ECN Account: If you are an experienced trader who is seeking more profit, then Vantage FX's commission based RAW ECN accounts are apt for you. Commission based RAW ECN accounts of Vantage FX offer deep liquidity and sharp spreads. A RAW ECN account accepts the ECN execution and offers the same currency denominations as standard STP accounts. Some features of a commission based Raw ECN account are:
Trade size has to be a minimum of 0.01 lot.

The spreads for Raw ECN start from 0.1 pips.

The commission is $3.00 per lot/side.

We need to maintain a minimum balance of $500.
~ PRO ECN Account: PRO ECN Accounts offer advanced features to the professional traders who deal in high volumes. A PRO ECN account has limitations in terms of which currency can be traded.
A PRO ECN allows trades in EUR, USD, CAD, GBP, and AUD.

The spreads start at 0.0 pips only.

Trade has to be a minimum of 0.01 lot.

The rebate of $2 is not applicable here.

Trade commission is mere $2.00 per lot/side.

The leverage is of up to 500:1.

And the least balance to be maintained at $20,000.
However, no matter which kind of account, Vantage FX trading platform offers you access to MetaTrader 4, MetaTrader 5, mobile trading app, Web Trader, and more. Vantage FX mobile trading app can be accessed on any Android and iOS device. The OS compatibility gives it an advantage over its peers. As per the Vantage FX review, all the users across all three types of accounts have access to 20 commodities, 13 indices, and 40 currency pairs, 17 commodity CFDs.
One more feature that Vantage FX provides is that a trader can change the type of account anytime in the future date. The trader needs to make sure that he has the minimum account balance required for account opening.
~ Demo Accounts: Similar to other best forex brokers for beginners, Vantage FX (VantageFX.com) does provide a demo trading account to its traders to practice trading activities and understand the platform operations. Opening up for a demo trading account does not take more than half a minute. 
In case you already have a live account with it, you can enjoy unlimited access to MT4 and MT5 platforms through demo accounts in the desktop trading platform. This advantage is given to make sure all the users feel confident while using the desktop platform. If you have a new strategy for trading forex or instruments from other asset classes via desktop trading platforms, you can test it using a demo account in a risk-proof environment. You can get access to crucial data such as prices on Vantage FX (on request). But be sure to take heed of every risk warning that the desktop platform prompts. The mobile apps of brokers are quite intuitive in nature.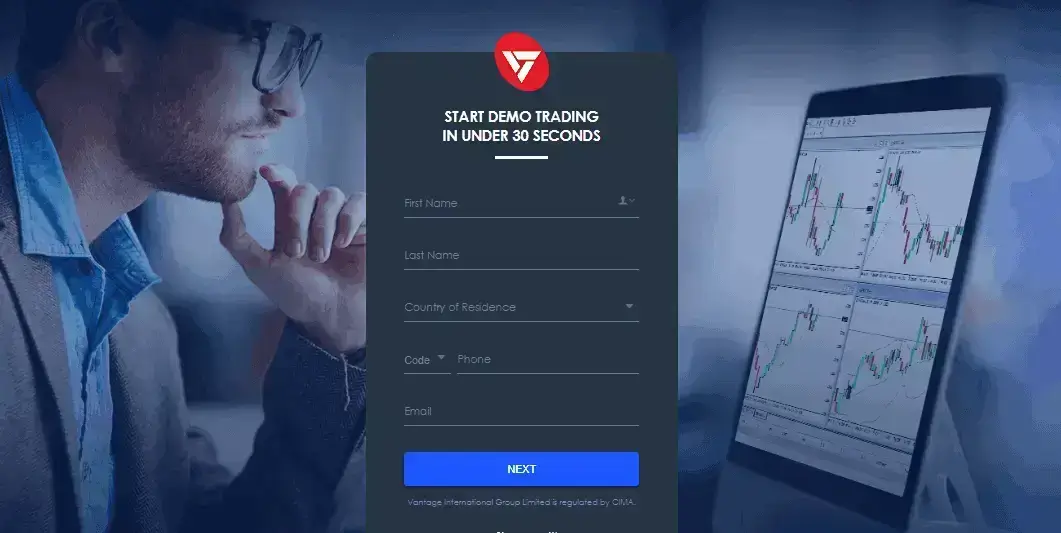 ~ Islamic Accounts: Vantage FX serves Islamic Accounts with a few exclusive features for Muslim traders by offering them a swap-free account. The Islamic Account is customized for the forex traders who do not pay or accept any swap rates (as mentioned in Islamic law) The account types follow all the related legal compliances of Sharia law and the company is certified by the Sharia Supervisory Board.
This is the USP of VantageFX or VantageFX.com as it is the only known forex broker with an official Sharia compliance.
How to Make a Deposit and Withdrawal Request at Vantage FX?
The deposit and withdrawal system at Vanguard FX is very simple and straightforward. Depositing money in your VantageFX account is free of cost. Traders can use multiple funding methods to make payments. Credit card, debit card, bank wire transfer or bank transfer, BPAY, Moneybookers, FasaPay, Neteller, POLi payments, China Union Pay, Skrill, etc are some of the payment methods accepted.
Withdrawing money from this company into one's bank accounts is as simple as depositing money via a credit/debit card. One can expect the requested amount directly in the bank account. No withdrawal fees are charged by this broker even if it is a bank withdrawal. All withdrawal requests are processed within 1-2 business days.
How Do I Withdraw Money From Vantage FX?
The withdrawal process at Vantage FX is easy and simple.
Trader has to log into Vantage FX client portal

Chose withdrawal option from the client portal

Chose the withdrawal method

Enter the amount you wish to withdraw.
~ Overall Bonuses: Active traders at Vantage FX forex trading platform can avail an amazing feature on the broker as per which the account gets an 8.88% bonus on the balance amount in the account. Traders who shift their trading accounts to Vantage FX broker or create a new account with the company earn extra cash of 8.88 percent on the present account balance.
In order to enjoy this extra cash in your account, you need to make sure your trading volume is positive. As regards the trading volume for an account, yes, Vantage FX has a pre-decided minimum trading volume target which needs to be met. This target varies as per the account type, whether your account is a RAW ECN or Standard STP account.
~ Bonus on Signup: Vantage FX has the provision for a welcome bonus. At present, Vantage FX offers in total eight forex offers along with an 8.88% of the cash bonus on the balance amount. Traders might enjoy trading features and bonuses like Smart Trade tool, free forex, rebates, active Trader program, MT4, MT5 trading platforms etc. 
Besides the sign up bonus, Vantage FX also offers a deposit bonus. After the traders sign up and have made their first deposit, they are also eligible for a Deposit bonus. The deposit bonus offered by Vantage FX is a good feature to attract beginner traders.
~ Forex Rebate Program by Vantage FX: It is a transparent program where traders can see the earned rebates which they can withdraw or re-invest whenever they want. To enjoy these benefits traders need to make a min deposit of $1,000. If this deposit is made you can earn up to 10% of the rebate on the deposit amount.
This rebate cash is sent to the traders' MetaTrader 4 live account. This benefit is applicable to Standard STP Accounts.
~ Trading Platforms Available on Vantage FX: As far as trading platforms are concerned vantage FX prefers MT4 & MetaTrader 5 platforms. When you are looking to trade forex, these are the most respected trading platforms. The platforms are active 24 hours, 5 days a week, and work in 32 languages. You can operate these platforms via PC on OS like Windows and Mac (Apple), and mobile apps, etc. The mobile app of Vantage FX is more popular than the mobile apps of its competitors.

~ Vantage FX Reviews: As per broker reviews in prominent review sites like Trustpilot, Forex Peace Army, the priority of Vantage FX revolves around forex trade. Traders can trade in over 40 forex pairs where they can enjoy up to 500:1 leverage. Vantage FX offers traders to access indices from 10 global stock exchanges.
As far as commodities trading is concerned the platform offers 20 lots of precious metals, margins from 1% on soft commodities markets, and a leverage of up to 100:1 on energy markets. If traders are looking to indulge in cryptocurrency trading on the Vantage FX trading platform, they can enjoy leverage of up to 5:1.
The variety of stocks CFDs in Vantage FX is better than other forex brokers. The stock CFDs include prominent firms listed on the US, UK, Hong Kong, and Australian markets. 
~ The Meta Trader Interface: If you are seeking ECN trading, you can enjoy features like automated trading, and expert advisors along with free forex VPS assuring the 24*7 activity of the Metatrader 4 platform. Traders also get to see upcoming events that might impact the market.
Conclusion
This is a legit trading platform built especially for those who seek a secured and faster trading platform to deal with forex. However, this review is for informational purposes only and should not be considered as financial advice or investment recommendation.
Vantage FX is based out of Australia with a core focus on forex; however, it also offers trades in other assets like crypto, CFDs, commodities, etc. The platform holds a strong reputation in the market. Plus, you can trade 40 currency pairs.
Risk Disclaimer: CFDs are complex instruments and come with a high risk of losing money rapidly due to leverage. Before trading CFDs, consider whether you understand the risks involved and if you can afford to take the high risk of losing your money. Many retail investors lose money when trading CFDs. Risk capital only if you can afford to lose it. Take note of every risk warning that the platform prompts. There are minimal chances that the lost funds may be compensated.
Traders can deal in the market through three account types with various benefits of their own. The demo account facility is made available by the platform. User reviews and analyst views for Vantage FX found all over the internet recommend using this forex platform. This is definitely a reliable forex platform. For any doubts or queries you can visit the FAQ section on the main website or contact the customer care via live chat, email or phone. This review is for informational purposes only and should not be considered as financial advice or investment recommendation.
Vantage FX Pty Ltd CAN 140 903 886 is an authorized representative of Vantage Global Prime LLP CAN 157 768 566. Plus, it is governed by ASIC. Vantage FX is also regulated by the Cayman Islands Monetary Authority (CIMA), the Financial Conduct Authority (FCA), and Securities Investment Business LAW (SIBL) number 1383491.
FAQs
1. What are the Trading Tools used on Vantage FX?
Ans: When it comes to the tools for trading, yes, Vantage FX offers quite a few.
Vantage FX offers a SmartTrader Tools Package for those who trade using the MT4 platform.

This Smart Trader Tools package is free of cost for those with a minimum deposit of $10,000.

Besides Smart Trader tools, this broker offers Pro Trader Tools which are powered by third party content provider Trading Central.

To access the Pro Trader Tools tools in Trading Central traders need to make a $1k minimum deposit. Besides these tools, Vantage FX provides research tools, correlation matrix, research material from third party content provider Trading Central as well.

As per our review/research, the tools provided by Trading Central to Vantage FX are very helpful for traders.

Alarm Manager

Forex trading signals.

Technical analysis/Market analysis.

Active Trader Program to enjoy a cash rebate if the deposit amount criteria is met.

Forex sentiment indicators

Different chart types

Economic calendar
2. Do Vantage FX's Spreads make sense?
Ans: Yes, Vantage FX spreads are worth investing in. It has tried its best to offer traders with the most competitive services on the platform. Be it low spreads, or any other features.
3. What are the educational or research materials available?
Ans: Vantage FX understands that online brokers or online mobile trading apps are not a usual matter for every trader. Hence, Vantage FX mobile trading app offers its users a huge knowledge base to educate on forex trade and improve trading skills. FX Vantage also conducts webinars and has video tutorials with trading ideas.
4. How is the Vantage FX customer service?
Ans: Regarding customer service while trading, yes, Vantage FX stands out among other market makers. Customer service or client satisfaction of any trading brokers or platform depends on various factors. Right from the user-friendly design to free services to high profit earning possibilities, everything is counted. The Vantage FX support team for clients is very prompt.
No matter on which page you are on the platform or mobile trading app, there is a live chat button to connect you to the customer support vantagefx.com in real-time. Besides live chat, you can also reach the help customer support team via phone support or email support. You may receive a reply to your query within 24 hours. There is a fax facility too. If you are in Sydney or Melbourne, you can visit the Vantage FX head office. It also has its office at George Town, Cayman Islands. The Contact Us section of Vantage FX website has the address and phone numbers properly shared as per client area.
5. What is Vantage FX IB?
Ans: This program offers clients an opportunity to earn recurrent revenue, rebates, and more from the trading activities of their clients.
You join the IB program.

Start referring clients and monitor rebates of your referrals/day in Vantage FX's IB Portal.

Earn up to $8/lot on your clients' trading.