TradeStation is a platform that provides online electronic brokerage services in the U.S. and all across the brokerage industry. The brokerage firm is a wholly-owned subsidiary of Monex Group, Inc, a leading Japanese online financial service provider listed on the Tokyo stock exchange. TradeStation offers its services through its award-winning TradeStation 10 desktop trading platform, website, and trading app. According to the TradeStation review, the platform holds experience of more than 30 years and it provides access to the required data with a trading strategy.
Backdrop
The company was founded by Cuban-born brothers William "Bill" and Rafael "Ralph" Cruz.
Till 2001, the firm was a trading software company while since 2004-05, it has transformed into a self-clearing equities and options firm, and eventually, it became a self-clearing futures firm.
As part of its transformation, it was renamed to TradeStation with a new TradeStation logo. At present, the platform enables traders to cope up with today's ever-changing global financial scenario. It has an overall rating of more than 90%.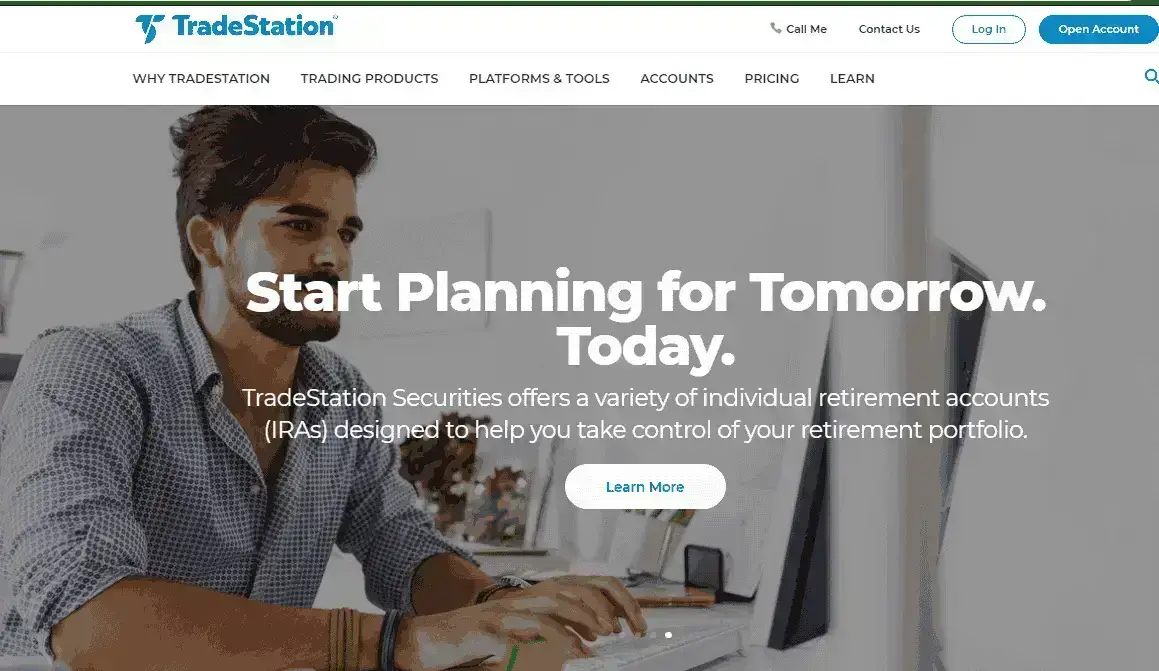 What is TradeStation?
TradeStation is based in Florida; it is an online brokerage service and began its operations in 1982. TradeStation is popularly known for its electronic trading platform and analysis software. Since its inception, It has grown as one of the most leading and well established platforms that are available in the brokerage industry. Since 2011, It has been owned by the Monex group of Japan.
TradeStation offers its services mainly to active traders and institutional trader markets. Further, it offers a supportive investment trading platform, which offers real-time trading, investment options, the ability to automate, optimize the trades, monitor. The trader also has the opportunity to create customized features.
TradeStation offers individual retirement accounts (IRAs) and traditional broker accounts. Traders can take advantage of both types of accounts, which allows trading of multiple investment types- stocks, mutual funds, foreign securities, bonds, futures, stocks options, forex trades, stock and ETF, and different order types.
Features
As per our TradeStation review 2023, TradeStation offers around 14 different types of accounts in order to facilitate a wide range of investors.

The platform also comes with highly trained, fully licensed brokerage professionals who can provide personalized support and personal finance strategies.

 Moreover, low-cost commission pricing plans which are more simplified, are also a part of their services.

Its users can hold easy access to a majority of the leading U.S. based exchanges and market centers.

A user can find fully customizable market monitoring, charting, and analysis tools in order to identify the market trends on the platform.

Its TradeStation 10 desktop trading platform, website, and trading app can be used with iOS and Android devices which are synchronized to their online accounts in real-time. Notably, technical analysis and statistical modeling of forex trading strategies stand as a major plus point of the platform.

By using the TradeStation platform, the trader can trade options on equities and futures.

Its Client Center is where you can access your account, profile info, tools, etc.

TradeStation Salutes: The TradeStation Salutes program provides 100% free stocks, options trades, and ETFs to active military personnel and veterans.

Prompt customer service.

Multiple payment options like credit cards, debit cards, bank transfer, crypto wallet, etc.

Enables trading of cryptos like Bitcoin, Bitcoin Cash, XRP, Ethereum, and Litecoin.
Additionally, With TradeStation, Traders Can Trade Trading Products of Any Asset Class:
Stocks:
It happens to be something that is more than just a flashy software. Stock traders need to have a genuine sense of trend in the market to get into the exciting ride of stock trading. As regards stock trading, TradeStation traders can trade in the stock market in real-time with ease. So, if you want to make money in good amounts use TradeStation.
Trading stocks options and different order types at this broker is quite easy as the platform holds an easy interface. Moreover, the service is lightning-fast with real-time market data packages. In a single window, it tracks price alerts for many symbols. It also gives quick access to major U.S. exchanges and market centers. TradeStation has a vast research pool based on hundreds of historical and real-time technical and fundamental market data.
ETFs
As regards ETF trades, TradeStation allows the investors to dive into trading of indices, sectors, commodities, options, futures, and crypto currencies (Bitcoin, Litecoin, Ethereum, Bitcoin Cash, and XRP). With this, one can get exposure to stocks, ETFs (2,000+). It also gives exposure to different industry sectors and brings in diverse trading opportunities with low fees.
Crypto
While cryptocurrency trading is the most-talked-about thing these days, finding a suitable platform for cryptocurrency trading is not an easy job. Here, trading platform TradeStation comes to the rescue as it enables trading of coins such as Bitcoin, Litecoin, Ethereum, Bitcoin Cash, and XRP. The NMLS ID number of TradeStation Crypto Inc. is 1843762.
It comes across as a trusted crypto trading platform with result-oriented trading strategies. It provides more liquidity and more accessibility. It connects to venues like exchanges, OTC desks, and other sources into a consolidated pool.
Mutual Fund
It covers an extra mile here, as it provides well-known fund managers to benefit from their Mutual fund experience.TradeStation Mutual fund offers more than 2000 options for mutual funds to choose from. It helps you manage risk using this platform while giving you a diversified portfolio.
YouCanTrade
Apart from these trading options, trading platform TradeStation intends to empower traders by educating them to trade efficiently. TradeStation University has a lot of educational material. TradeStation Labs offers trader discussions and pre-market briefings.
It holds an educational electronic media publication portal named 'YouCanTrade.'
As per the TradeStation reviews, the portal manifests live trading demonstrations based on various types of markets and trading approaches. These demonstrations are made with the help of experienced coaches in any asset class of your choice.
A few more educational offerings by YouCanTrade are:
Text service: lets you know up-to-date trading strategies

Free webinars: YouCanTrade's webinars cover lessons on placing trades, options trading, available asset classes, watch lists, e books, hot lists, technical analysis, and trading technology. Moreover, its five-day "Master Class" events are also available on YouTube.

Such education video tutorials of TradeStation also include topics like using margin rates, trading stock and ETF and IPOs (initial public offerings), and cryptocurrencies.

Most importantly, you get access to a diverse community of investors and traders and coaching channels. These aspects are likely to contribute to a trader's skills and knowledge.

TradeStation offers a section named 'Market Insight' in its 'learn' menu, where it gives an overall idea of the market. Here, a trader can learn trading strategies as well as backtesting strategies. With that, this option also gets you a few important updates regarding the financial world.
Types of Accounts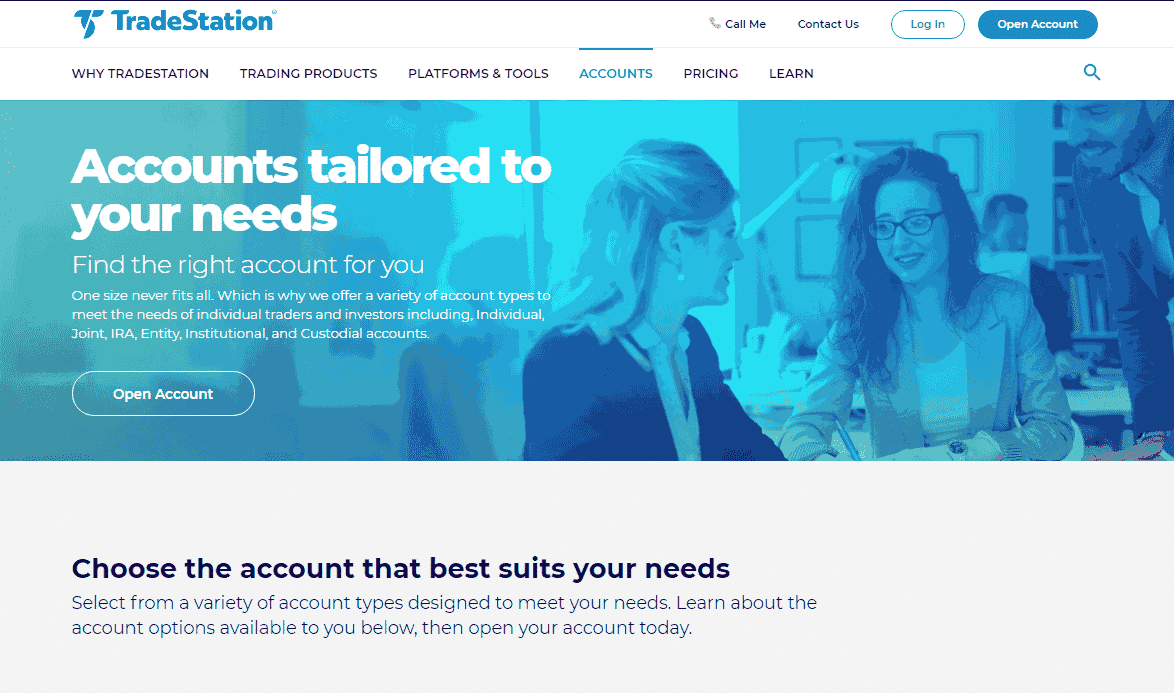 As per our TradeStation review, leverages three main types of accounts as the platform claims that one size never fits all. It gives various options including, Individual, Joint, IRA, Entity, Institutional, and Custodial accounts. Also, regarding equities accounts, the website instructs that a minimum of $500 for cash and $2,000 minimum for margin is required as initial funding.
As usual, the individual account gets you a personal brokerage account. Now, let's have a look at the options available in joint accounts.
Joint with Right of Survivorship: Two people can own this kind of account and in this case, if one account owner passes away, the second account owner can have the rights of the entire account.
Joint Tenants in Common: Not more than 3 individuals can own this type of account. Here, each one gets a particular percentage of the account. With any of their demise, their beneficiaries receive that person's portion of the account. Notably, joint accounts are not available for crypto accounts at TradeStation.
Institutional: Institutional accounts of TradeStation seem to be fit for businesses as they provide tailored solutions. Competitive pricing plans are a major plus here. Apart from that, the platform enables you to operate with almost no limitations and fetches on-demand service.
Retirement: In its retirement account, one can look for flexibility as it covers the traditional IRA, Roth IRA, or SEP IRA. Such an account is designed to meet one's retirement goals. Moreover, the entity accounts seem suitable for corporations, limited liability companies, partnerships, trusts, and sole proprietorships.
Fee Structure:
As per our TradeStation review, when it comes to the fee structure for trading, TradeStation is apt for an active trader. For equity trades, it charges $0.60 per contract while for futures, it costs $1.50 per contract, per side.

To avoid large platform fees, TradeStation traders need to maintain a balance of $100,000. However, these trading minimums vary according to your accounts and securities. ETFs and other equities require $500 or $2000 to trade on margin. Also, funding of at least $2000 is a must to trade in options and futures.

Also, a few more fees TradeStation charges if you hold an IRA. A $35 annual fee will be applied. Plus, the market monitoring tool, RadarScreen, costs an additional fee of $59.95 per month if one doesn't meet the trading threshold.

Here, mutual funds, bonds need to be held at a different brokerage.

Brokerage fees TradeStation charges are not so costly as compared to other online brokerage firms.

$50 IRA account termination fee is applicable.

TradeStation options fees are average.
TradeStation Trading Fees
The trading fees offered by TradeStation are very low.
The trader can choose any one of the three plans for trading fees that are given below

:
Per trade plan – the trades cost is fixed at $5 per trade. This package is recommended for high volume traders.

Per-share plan – this plan consists of the commission $0.01 per share, yet the minimum is $1. This plan is highly recommended for traders who trade in small volumes.

Unbundled pricing structure – In this, the trades are priced as a "per share" option. If the trader trades more than 100,000 shares in a month, gradually the fees are decreased.

The contract fee is highly recommended for very high volume traders.

TradeStation offers commission free trades on ETFs, and equities that are available for residents of the US, if they apply for a TS GO plan.
Commissions Fees
Below given are the zero commissions TradeStation applied for options and futures, stock and ETF.
For trading Stocks, $0 per trade

Options traders can trade 0 dollars, As low as $0.50 per contract

For trading Futures can trade 0 dollars, as low as $0.85 per contract, per side
Recent Launch (TS GO):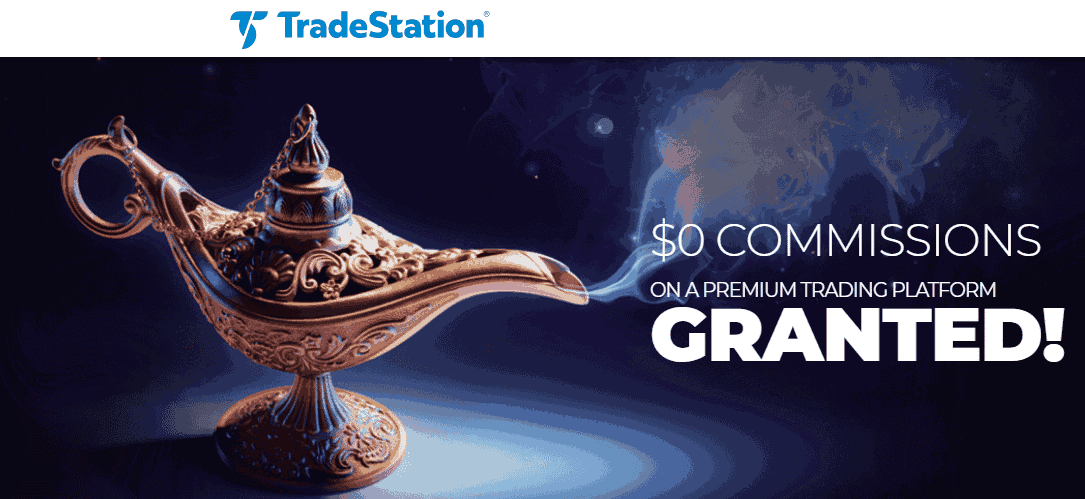 TS GO stands for TradeStation Go and it is the trading platform that allows commission free trading. However, the web platform and mobile app are only options available for TS GO customers, as they are not allowed to use the powerful downloadable TradeStation platform with all its modeling bells and whistles.
Using TS GO, one can trade stocks which also includes OTCBB/penny stocks. Plus, the newly launched service offers ETF trading with no fee. For options transactions, per contract costs $0.50.
Advantages:
Works Perfectly for Active Traders:

As per this broker review, this broker is specially tailored for active traders as on this platform; it is like the gold standard for them.

An active trader must carry out at least 50 options trades per month or trade at least 5,000 shares per month to avoid heavy fees.

TradeStation offers state-of-the-art software that helps to deal with active and rapid trading technology. Casual investors want to make money without taking risks. TradeStation also offers $0 trades to attract casual investors or non professional traders.
Easy Language:

On this, traders need to have a bit of coding knowledge. The technical expertise helps to go smoothly on the platform and TradeStation comes with a simpler coding language named EasyLanguage. It is a kind of a mix of HTML and SQL. Basically, the language helps to understand the price charts to figure out the strategy.
RadarScreen – A Rapid Tool for Updates:

RadarScreen is a tool to fetch data points and it is pretty quick at this. Using it, one can access real-time data on 1000 symbols.
Technical Analysis: The platform is quite impressive and is like the gold standard when it comes to data as it holds more than 40 years of historical data along with 90 years for equities. This technical support and analysis is likely to help investors to gain an understanding of the market easily.
Learning Platform: TradeStation 10 desktop platform provides a thorough insight regarding trading and the trending trading technologies.

This helps users to enhance their skills, trading ideas, trading strategies, charting capabilities along with enriching their portfolio.

The majority of their webinars are free of cost and cover a vast range of topics which include ways to manage/determine trading costs. However, a few learning software are as costly as $149. It has a short learning curve.
Strategy Orders: This tool displays information about trades generated as per a trading strategy.
Benefits
Some of the benefits of using TradeStation are described below:
By introducing TS GO and TS Select plans, the investors can avail commission free trades on options, stocks, ETFs, mutual funds. TradeStation's mobile app (TS GO), and web based platform (TS Select) are one of the most advantageous features offered by this software. Any trade execution costs $10 per trade. TS Select traders have full access to commission free trades and drawing tools.
TS Select traders can avail a reduced cost for options trades and futures contracts. To avail this feature, it charges a little higher fees for options and futures contracts. TS Select needs $2,000 minimum account balance.
One should note that TS GO and TS Select free trades are restricted to 10,000 shares per trade. Traders who are trading on higher volumes can select other pricing plans.
TradeStation mobile trading app is as easy to use as the Tradestation 10 desktop platform.
Below given is the complete details of TradeStation pricing data:
The investors are offered commission free trades when they are using the web trading platform (TS Select) or mobile app (TS GO). Further, options trades are offered at $0.50 per contract.
By choosing TradeStation desktop platform (TS Select), it offers full access and free trades and requires $2,000 minimum account balance. TS Select accounts offer option trades at $0.60 per contract. TS Select needs $2,000 minimum account balance.
Unbundled pricing and Per share are for traders who are trading high volume. They can choose per contract or share commissions or unbundled pricing or commissions fees.
TradeStation charges a transaction fee for mutual funds. Traders may have to pay a transaction fee of $14.95 to buy and sell mutual funds.
Tools and Platforms
It provides two trading platforms based on TradeStation reviews such as TradeStation 10 desktop platform, which is the company's debut product, and Web Trading platform, which is used as a browser-based platform.

It is designed for users who are looking for simplicity. It also offers flexible customization options.

TradeStation desktop platform charting offers more than 40 years of historical data that can be viewed for stock charts.

There are 274 indicators and studies that are offered and it can also be adjusted or reworked according to the user's specification by using EasyLanguage.

Its web based trading is very easy to use and offers its investors a way to manage their active positions, watch lists, open orders, place trades, options orders, and conduct stock chart analysis, with ease.

Moreover, the chart trading functionality offered by this TradeStation is highly superior when compared to other platforms like Interactive Brokers. You can discover more

about the functionalities of other trading platforms like Interactive Brokers from our top 10 forex brokers page.

Options trading can be easily dealt with by using OptionStation Pro, which is a built-in tool within the TradeStation desktop platform.

OptionStation Pro is designed for robust analysis and streamlined trading

.

Options tool features include streaming real-time stocks, custom grouping for existing positions, watch lists, and advanced position analysis among others.

Concerning futures trading, just like options trading, the trader enjoys trading with the TradeStation desktop platform because of its ease of use.

Some of the advanced tools used for equity trading also apply to futures trading which offers a seamless trading experience.

TradingApp Store is a much preferred feature. TradingApp Store is a storehouse of interesting trading apps that can take your investing initiatives to newer heights.

Its mobile trading app is very easy and user friendly when compared to other brokers like Interactive Brokers.

TradeStation simulator has a large pool of historical backtesting strategies.

OptionsStation Pro is an intuitive options analysis and trading platform.

It comes with tools that help traders to build options chains, graph, analyze an options strategy, and place trades accordingly. 

TradeStation Portfolio Maestro is a backtesting tool. It helps traders analyze the  performance of strategies that were executed on a few symbols that constitute their portfolio.

It has multiple research add ons which the traders can access.
Account Opening Process
Opening an account with market makers like TradeStation is easy, fast, and fully digital. On the contrary, the min deposit is $500 and multiple base currencies like Australian Dollar, Hong Kong Dollar, New Zealand Dollar, South Africa Rand, etc. are available for future accounts.
US forex and stock brokers cannot open an account instantly, because of regulatory reasons; yet opening an account with TradeStation is the fastest among US brokers. For the account to be approved, it takes 1 to 2 business days which is similar to other brokers like Interactive Brokers.
For opening an account with TradeStation, the trader needs to go through the following steps –
The first step is to select the account type, where the trader chooses the account type and they can also choose a personal account manager.

The second step would be adding personal information such as name, email, address, date of birth, phone number, etc.

The third step would be to add employment information. The trader needs to offer details about their employer and their employment status.

The next step would be to answer short questions regarding the trader's trading experience level. The trader needs to offer their net worth and annual income.

The final step would be the verification process, and the trader needs to verify their address and identity. For identification, the trader can offer a passport/driving license/national ID, which are accepted. For proof of address, the trader can upload a bank statement or utility bill.

The next time is to deposit funds to the account through any of the available payment methods like credit cards, debit cards, bank transfer, crypto wallet, and more. But it does not allow third party payments.

Has a cash limit of $900,000 per client.

Traders need to have $2,000 minimum account balance.
If the users have any problems during the process, they can get in touch with the customer support team. The broker offers very fast and effective customer service.
Minimum Deposit
The minimum deposit differs by account types. Some of them are explained below:
Equities account has a $500 minimum deposit

Cash account has a $500 minimum deposit

Margin account has a $2,000 minimum deposit

Day traders' account has a $25,000 minimum deposit

Futures accounts have $5,000 minimum deposit
Despite a high account minimum for day trading accounts, it is preferred by most day traders. 
TradeStation Login
TradeStation offers a two-step login process for safety of setting it up. We recommend traders, especially day traders, to use it for additional security.
TradeStation Inactivity fees
Inactivity fee per year is $50 if the trader uses the per trade fee structure. To avoid the annual inactivity fee of $50, TradeStation traders must maintain an average monthly equity balance of $2,000 minimum or make a minimum of 5 trades every year. 
The trader's balance goes down to $2000 minimum

Executes less than 5 trades per year
TradeStation's inactivity fee is $100 per month if the trader uses the per-share fee structure:
The trader holds 10 round-turn futures options and/or futures options contracts

The trader's balance goes down to $100,000

The trader executes less than 5,000 stock trades or 50 options trades per month

The contract fee is highly advantageous for high volume investors or traders.
Customer Service
TradeStation offers its customer service through email support and phone support which can be contacted only on weekdays. The user can contact customer service through live chat, telephone or registered email address. The customer service is available only in English. The telephone support offered by the TradeStation customer service is great and they provide relevant and fast answers. Besides, the live chat function is not available for customers in Europe.
Awards
It is a trading platform that has been consistent at winning awards at least for the last 4 years. As per our TradeStation review, this year, it has managed to get ranked in One of America's "Top 5" Online Brokers Overall in Investopedia's 2019 Best Online Brokers Awards. Also, it was amongst "Top 5" in "Best for Day Trading" Category. Apart from that, TradeStation was ranked America's top online broker for Equity Trading Tools in the 2019 IBD Best Online Brokers Report, an annual survey of active investors carried out by Investor's Business Daily.
Disadvantages
Costly Learning Software: As per our TradeStation Review, It provides most of the educational services free of cost, yet, a few of the courses are a bit expensive. To access the software, it charges $149.
Not Good for Less Active People: TradeStation can be a costly affair for less active traders. The table of contents of the trading platform seems to be specially carved for an active trader who can maintain the frequency of his activities.
Requires Programming: As per our TradeStation review, the platform requires knowledge of the programming language, it becomes less feasible for many traders. One may need time to learn and understand the platform and conform to its trading style. As everyone cannot be a coding pro, the platform remains limited to a few.
Bottom Line
In a nutshell, TradeStation is a kind of trading platform that works better for the active traders and who can also possess technical prowess. The bottom line is that TradeStation is one of the best free trading brokers and overtakes Interactive Brokers and TD Ameritrade in this regard.
If it fits your needs, it has one of the best software to offer you low fees. The mobile trading app is also very easy and user friendly. It is one of the most preferred platforms for day traders when compared to other brokers like Interactive Brokers. It is ideal for day trading. The educational webinars and learning resources are also a major plus here. The TradeStation platform works best for the traders who really want to have notable trading experience, though the coding language may come across as a hurdle.
FAQs
1. How much does TradeStation cost per month?
Ans: Non-professional traders need to pay $99 per month and professional traders need to pay $199 per month to access the platform. The professional investors can make the payments using credit cards, debit cards, wire transfers and more.
2. Is TradeStation a good broker?
Ans: TradeStation offers good technical research and provides traders with quality trade execution, which makes it the best choice for experienced traders. Those having small accounts or less active traders need to pay an additional account fee, but when compared to other trading platforms, traders find the fees competitive and the trading tools offered by the platform are good.
3. How much does it cost to open a TradeStation account?
Ans: The process of opening an account is easy, quick, and it is fully digital. On the contrary, the trader needs to add minimum funds of $500 to start trading with this broker. As per our review, deposit can be made through credit cards, debit cards, bank transfer, crypto wallet, etc. at zero transfer fee.
4. Is TradeStation safe?
Ans: TradeStation is considered safe because it is regulated by the Financial Industry Regulatory Authority (FINRA) and the Securities and Exchange Commission.
TradeStation
Pros
Offers demo account
Easy language
RadarScreen
Technical Analysis
Good Learning platform
Cons
Costly Learning Software
Not good for less active people
Requires knowledge of coding
Charges additional subscription fee
Does not allow third party payments