E*Trade was established in 1982 and is possibly one of the most famous and well-known online investment brokers in the trading industry. Not only their platform is easy-to-use even for beginners, but also they provide resources and tools to assist investors with smart, wise and educated portfolio decisions. Further, it is regulated by top-level regulators like the Financial Industry Regulatory Authority (FINRA) and the Securities and Exchange Commission (SEC).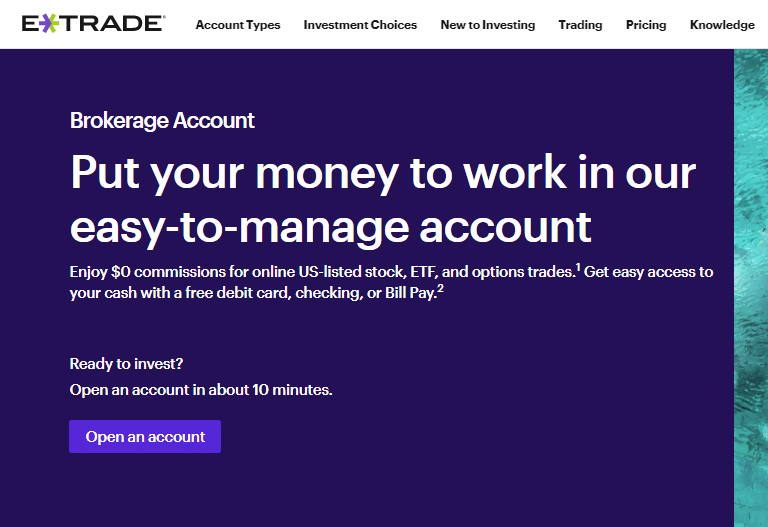 E*Trade Review – Put Your Money To Work
What is E*TRADE?
It is one of the leading financial services companies which provides online brokerage services to its traders at a reasonable price. In 1983, they were responsible for placing the first electronic trade by an individual investor. Since then they are one of the pioneers in the trading industry.
By using this platform, the traders can trade stock, mutual funds, bonds, ETFs, options and futures, and several more.
E*Trade also offers live seminars, which help the traders to learn more about retirement planning and Investments. By offering these resources, it allows the traders to make wise and informed decisions of their money; even if they are a new trader creating their first portfolio.
This broker offers the entire library online, which consists of educational resources that are provided free of charge for the traders. There is a lot of information available on how to build a portfolio, monitor, rebalancing, and analyzing the stock market risk.
Few of Pros and Cons are discussed below –
| | |
| --- | --- |
| Pros | Cons |
|       User-friendly mobile trading application |       Offers forex with limited currencies |
|       Great research tools |       No demo account |
|       Low trading fees |       Only US markets are covered |
Background
E*Trade is a financial service organization that offers online brokerage services to its clients at a reasonable cost. E*Trade was responsible for implementing the first electronic trade by an individual investor in 1983. Furthermore, they have been called as pioneers in the trade industry down the line.
The organization has 30 physical branches across the nation, and also two distinct online trading platforms for services and trading. They offer a mobile app for their clients, in addition to 24/7 phone support, email support and online chatting.

As per our E*TRADE review, it is viewed as a safe platform since it has a good performance history, has a banking background, and is listed on the stock exchange; it discloses its financials and is regulated by top-level US regulators.
Features of E*Trade
By accessing the ETrade website, the traders can trade stocks, mutual funds, bonds, ETFs (Exchange Traded Funds) futures, and options.
Additionally, E*Trade runs live webinars, that assists traders to learn about retirement and Investing. Moreover, these resources permit investors to make wise and informed decisions for their money; even though they are new to trading and developing their first portfolio.
The traders can find the entire library online with educational resources that are offered free to its clients. Besides, the customers can find vast information on building a portfolio, analyzing stock market dangers, rebalancing while monitoring it and several more.
E*Trade is best for –
Free commissions
New investors
Retirement planning
Active traders
Research and information
As per our review, e-trade has three trading platforms, such as E*Trade Web, power e-trade and E*Trade Pro. All Power e trade and E*Trade pro are free and accessible to all customers, either with no activity or minimum balance.
e- trade website also provides free streaming market information, live market commentary, free real-time quotes, analyst research, stock screeners, and several more. From the dashboard, the trader can track their accounts, view market data, create watchlists and make trades that include complex options strategies.
As per our review, ETrade Pro, the organization's desktop platform, is equally noteworthy; it has idea-generating tools such as strategy Scanner and back-testing capacities. Find more about other broker's desktop platform and compare it with E*Trade to get the best platform for you.
For active traders, this website offers Power e trade the result of the organization's acquisition of OptionsHouse a few years ago. This Power e trade offers real-time data, more than 30 drawing tools, over 100 technical studies, streamlined trade tickets, trading ladders, and customizable options chain views. All rights reserved for features and functionalities of the platform.
E*Trade has seen a transformation from a discount investment broker to a full-service investment platform (low-cost) with each possible tool. Few of the important pointers are given below –
No minimum account balance
No transaction fees over 1,300 no-load mutual funds
Traders can trade in 77 international markets
E*Trade Bank offers Integrated checking account

Apple Pay Functionality – New feature
One of the most recent features offered by the E*Trade is Apple pay functionality, exclusively for debit cardholders. It is a simple and efficient payment option which is very useful for end-to-end experience for the traders. Besides the users can use cash option in their account for daily purchases, and they can link directly the E*Trade debit cards to Apple pay to enjoy secure, safe, and card-free payment.
Security
Security is considered as one of the most important features and E*Trade offers the users financial security by Symantec virtual digital security token for traders who have smartphones. It also provides an app that is very effective for traders. It is available in BlackBerry, Android, iPhone, and Windows smartphones.
Who can trade using E*Trade?
E*Trade offers several offerings for both new and experienced traders. If you are an experienced trader who is looking for online and mobile platforms, then E*Trade is the best choice.
New investors might like the E*Trade, which is offered with zero commission trading options, and several selections of commission-free mutual funds which makes diversification of assets simpler and cheaper. It also provides prebuilt portfolios for ETFs and mutual funds that wanted additional help.
For advanced and experienced traders, this platform provides customizable trading tools, and several charting options, a wide range of investment choices that includes options and future stocks. This helps the experienced traders to take their diversification of assets to the next level.
Advantages
Since its Inception, E*Trade had traveled a long way to become one of the pioneers in this field. It offers several account types, tools, and asset classes that empower the traders to invest or trade. Let us see a few advantages of this broker –
E*Trade offers a world-class mobile platform for trading for its users. There are two different mobile apps that are available for Android and IOS. The standard E*Trade app offers accessible features, and also a small learning curve. Intraday traders and buy-and-hold investors can use the standard E*Trade web application.
If you are an advanced trader, you can use the power E*Trade app which offers advanced charting tools and analysis through the smartphone screen.
E*Trade offers exceptional and dedicated customer service 24×7 and it can be reached through live chat, email, and phone, whichever is convenient for the trader.
E*Trade also provides tutorials offering robust tools for educating their clients about how to use the platform. It also offers tutorial videos explaining how to place different types of trades, how to use various screeners, and exploit stock charts. These tutorials are very helpful for users to run the platform quickly.
Investment Assistance offered by E*Trade
E*Trade offers investment assistance through financial consultants, who can help the traders to create an investment plan, choose the investments, and also manage portfolio risk.
If you are a trader and looking for ongoing and active portfolio management, then E*Trade offers capital management, which is offered for the users.
if the trader does not want to deal with the day-to-day responsibilities of portfolio management, E*Trade covers the trader through its capital management managed accounts. The trader should have a minimum of $25000 to use this option, but it will help the trader to actively manage their portfolio of ETFs and mutual funds. This service will also take care of tax management and rebalancing of the portfolio of the trader.
Costs and Fees
As per our review, If a trader is looking for trading in stock, the fees are zero dollars per trade. Over-the-counter (OTC) stock have 6.95 dollars commission fees or the trader needs to execute a minimum of 30 stocks.
Coming to options, the cost is $0.65 per contract. If they are active investors and trade a minimum of 30 options trades per quarter, they get a discount of 0.50 dollars per contract.
Concerning Mutual funds, the platform provides 2,500 options with no transaction fees which is okay as compared to other brokerage companies like Fidelity (3,600 options) and Charles Schwab (3,000 options) who are offering more for their customers.
Starting October 2019, E*Trade dropped its once-high 6.95 dollars trade commission to zero dollars for the online stock, ETFs trades and options. Moreover, options still have a contract charge, yet, that was decreased to 0.65 dollars, with a discounted fee of 0.50 dollars for active traders.
E*Trade offers free ETF and stock trading. Some of the bonds and Mutual funds are also free. Moreover, non-trading fees are low. Besides, the fees for non-free mutual funds are high.
The financing rate of E*Trade is volume-tiered. Further, it applies a base rate and a premium or discount depending on the Invested amount.
| | |
| --- | --- |
| Pros | Cons |
|       Few mutual funds and bonds are free |       Higher fees for non-free mutual funds |
|       Low non-trading fees |   |
|       Free ETF and stock trading |   |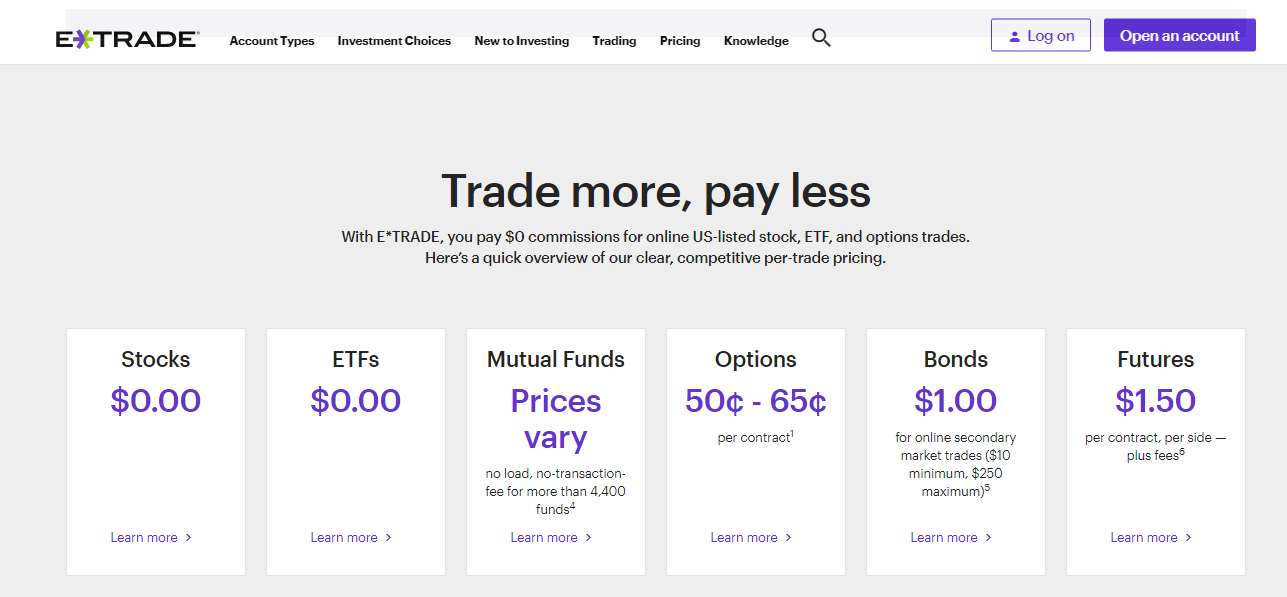 Benefits offered by E*Trade
Some of the benefits offered by E*Trade are discussed below –
It is considered as one of the five largest and leading online brokers in the US serving millions of traders.
E*Trade does not charge any inactivity fees or account maintenance fees.
It offers an advanced trading platform and powerful trading tools for experienced traders called E*Trade Pro. It is available for free to those traders who place a minimum of 30 stock or options trades for a quarter.
E*Trade does not charge any individual retirement account fees and it does not ask for minimum with electronic statements.
Most of the accounts can be opened with a minimum deposit of $500 for the non-IRA account, $0 for the IRA account, and $2000 for the margin account.
One of the most advantages features of E*Trade is, it offers investing advice in-person or through the phone.
This brokerage does not levy surcharges or additional commissions on penny stock trades or larger orders.
It provides research information for investments from S&P, Credit Suisse, Smart Consensus and Morning Star,
One of the most beneficial features of E*Trade offers a wide selection of products such as 10,000 mutual funds, ETFs, 30,000 bonds, and several more; there are no transaction fees for mutual funds.
E*TRADE Forex
E*Trade provides Forex trading for its traders, but unfortunately, it does not offer much. It offers only 9 currencies which are listed, and trading is done on the futures market, and not on the spot market. The traders cannot trade actual currencies, only futures, and contracts. Besides, forex futures can be traded a few months in a year, depending on the currency.
Is E*Trade safe?
If you are a trader looking for a safe and secure platform to invest money, then E*Trade is the best choice. Moreover, E*Trade bank accounts are FDIC insured and they comply with all license and regulation requirements. E*Trade is a SIPC member, which implies that the trader's account is protected for up to $500,000 in securities and cash.
Account Opening Fees
Opening a trade account is free, but the trader should deposit a minimum amount of $500 within 2 months of account opening, otherwise, they will deactivate the account. After making a deposit there are no regular maintenance or inactivity charges irrespective of how much the trader places the trades. This broker charges outgoing account transfer fees which are quite reasonable when compared to other brokers.
Account Opening
E*Trade's account opening is user-friendly and digital for US clients. On the negative side, the account verification process is very slow.
| | |
| --- | --- |
| Pros | Cons |
|       User-friendly |       Slow verification process |
|       Digitalized |   |

Account Types
E*Trade offers the below accounts for its customers –
Individual Accounts
Joint accounts
Business Accounts
Retirement Accounts
Pension Accounts
Education Savings Account
Custodial Accounts
E*Trade portfolios

Account Protection
Securities from the trader's account are protected by SIPC for up to 500,000 dollars, which includes up to 250,000 dollars for cash. Also, E*Trade has "excess SIPC coverage" acquired from London insurers that protects up to 600 million dollars (150 million dollars for each customer), incorporating up to 900,000 dollars in cash. Moreover, this coverage is for the failure of the broker and not for the decline in the market value of a trader's portfolio.
E*Trade has FDIC insurance coverage of up to 250,000 dollars per client if the trader has funds deposited with E*Trade Bank. Also, E*Trade's Complete Protection Guarantee gives zero dollar liability for unapproved use of accounts, which includes transfers, trades, bill paying and ATM use.
Low Minimum Deposit
The low minimum requirement unlocks the platform to investors of all levels and sizes of investment experience, which also includes new and small investors.
Moreover, the required E*Trade minimum deposit is 500 dollars, which needs to be added within 60 days followed by an account verification.
Additionally, the minimum deposit can be more, if the customer trades on margin or use 'E*Trade portfolios,' an advisory service on asset selection.
E*Trade withdrawal fees
According to several E*TRADE reviews, this broker charges no withdrawal fees if the trader uses ACH withdrawal, yet international and domestic wire transfers cost 25 dollars.
| | |
| --- | --- |
| Pros | Cons |
|       User-friendly |       Credit or debit card not available |
|       No deposit fees |       25 dollars fee for wire transfer withdrawal |
E*Trade Fees and Commission
Fund fees
E*Trade fund fees are as high as 19.99 dollars per trade. This is comparatively lower than its competitors. E*Trade does not charge a commission for 4,500 mutual funds. If the trader sells these no-transaction-fee funds, between 90 days after buying, a 49.99 dollars fee is charged.
Bond fees
E*Trade charges low bond fees. Besides, the bond fees change depending on the bond type. For different bonds, such as corporate bonds, the commission is 1 dollar per bond with 10 dollars minimum and 250 dollars maximum.
Options fees
E*Trade options fees are low. Even though the option trading fees are zero from E*Trade, it charges a volume-based fee of 0.65 dollars per contract. For trades above 30, the charges are reduced to 0.50 dollars per contract.
Futures fees
E*Trade's futures fees are volume-based – 1.5 dollars per contract. However, in future pricing, the trader will not get a discount if they trade frequently.
Non-trading fees
E*Trade has low non-trading charges. Also, it does not charge any inactivity or account fee. There is no withdrawal charge if the customer uses ACH transfer.
Portfolio and fee reports
E*Trade website provides a clear portfolio and fee reports. They can be found in the menu- Accounts, in Portfolio's section. Moreover, the trader can easily customize the report by browsing 100 columns, such as net asset value, commission, dividend and so on.
Trading Platform
As per several trade review, E*Trade also provides various options for trading, depending on the trader's preferences. Additionally, there are three types of web platforms to use, which are user-friendly for traders. All rights reserved for features and functionalities of the platform.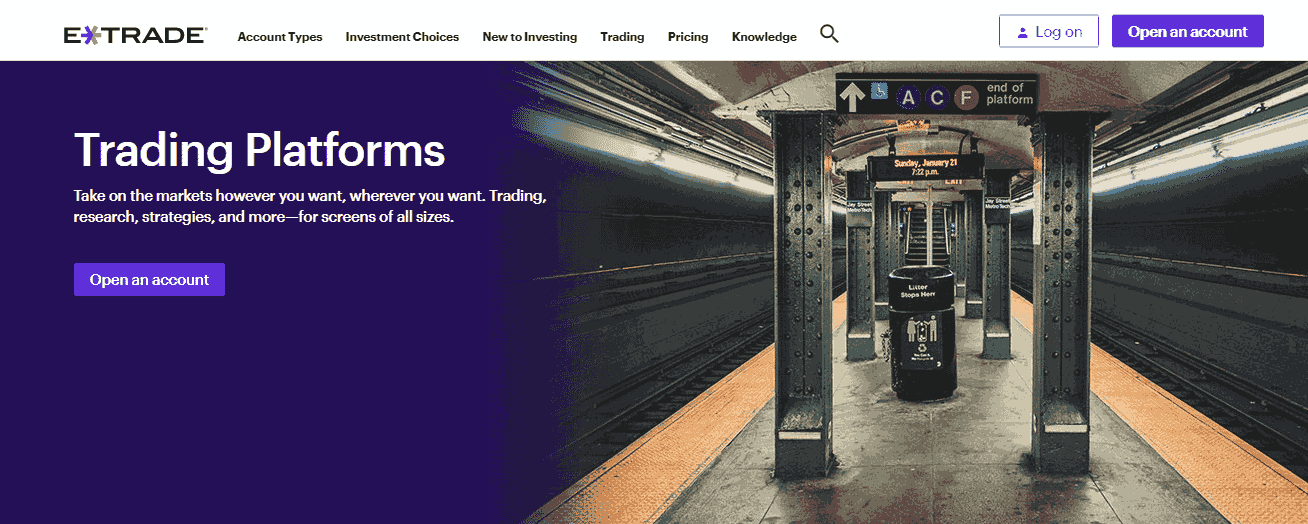 E*Trade Web
As per our review, It is a basic trading platform. It gives access to market commentary and live quotes, in addition to updated and streaming market data. The customer can track his/her accounts, check pending transactions, create watch lists for investments, and can make trades.
Moreover, all the information is streamed live and the trader can do a lot of customization as per their interest. From the same dashboard, they can track the account, portfolio, and can take part in unpredictable trading options.
| | |
| --- | --- |
| Pros | Cons |
|       OptionsHouse integration |       Not for Casual Investors |
|       Wide range of Features |       High cost per trade for low volume investors |
|       Well organized Education |       The Pro version needs either 30 trades a quarter or 250,000 dollars in assets |
|       Up to 600 Dollars for new accounts |       Commissions are bit high |
|       Advanced Mobile app |       Customer service is average |
|       Commission-free options, stocks, and ETF trades |       Website navigation needs to be improved |
|       Extensive research |       Limited Customizability |
|       Large investment choices |       No two-step login |

E*Trade Pro
If the trader maintains an account balance of 250,000 dollars, or more or trades 30 stock or options minimum in each quarter, he can have access to E*Trade Pro. Besides, this Pro version was created for more active traders; it offers more features like a strategy scanner and the capacity to back-test investments.
E*Trade Pro is ideal for active traders, and there is no extra charge to utilize this service.
As per our review, it provides a Pro option for short-term or active traders. It offers the trader more detailed charts and level 2 data. The monthly charges for the Pro option are 99 dollars.
However, if the trader performs 30 trades in the quarter, they get it for free. The Pro version is used by swing trading and day trading communities, who make frequent trades and benefit from the lower commission charges and more detailed statistical information.

E*Trade Mobile App
E*Trade mobile application can be described as a simple and easy-to-use app in the business. Through the application, the trader can rapidly and effectively deal with their account, place trades, get stock quotes and go through charts.
Besides, this application can give live stream level 2 information with no issues and it is extremely simple to navigate around the various segments.
Supporting Power E*Trade Pro assistance, E*Trade exceeds expectations in mobile device support.
The application presently supports these devices –
Apple iPhone/iPad/Apple Watch
Amazon Fire Phone
Kindle Fire
Android Phone and Tablet
Windows Phone
As per our review, E*Trade mobile application enables the trader to manage their accounts effortlessly, place trades, and get real-time news and quotes, which also includes Bloomberg TV.
Further, it offers advanced features like ETF screeners and stock, in addition to options trades. E*Trade application is accessible for Apple Watch too.
Besides, E*Trade's free mobile apps are great, the best mobile application from any online broker. They are accessible in iOS and Android. The mobile trading platform is accessible in French, English, and Spanish.
Few of E*Trade's Pros and cons are discussed below –
| | |
| --- | --- |
| Pros | Cons |
|       Good Search function |       No two-step Login |
|       More number of order types |   |
|       User-friendly |   |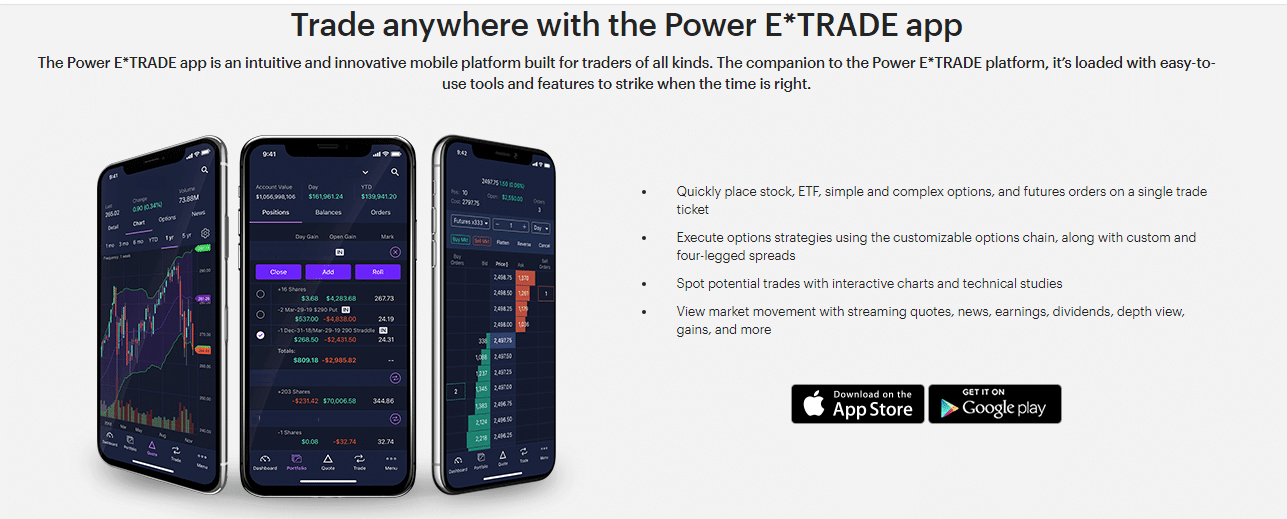 Mobile charting
Mobile charting is a perfect experience on Power E*Trade, where the ChartIQ, the same engine that efficiently runs the charting experience on web-based power E*Trade, is utilized. Moreover, charting remains behind industry standards in the accessibility of technical studies. Only 11 indicators are backed by Power E*Trade Mobile.
OptionsHouse app
The OptionsHouse application is the mobile-based segment of the OptionsHouse by the E*Trade platform. It offers a large number of features. Traders can use the customizable options chain, a selection of a few popular technical charts, streaming quotes, and the latest news. The application can be utilized for trading complex techniques, including four-legged option spreads. Also, the futures traders can trade futures orders directly from the futures option here.
Apple Pay Functionality
Currently, E*Trade offers Apple Pay functionality for E*Trade debit cardholders. This simple, efficient payment choice tops off a good user experience for E*Trade clients. The traders could now be able to utilize the money in their account for everyday purchases. Moreover, the trader would now be able to interface E*Trade debit cards directly to Apple Pay and enjoy secure, safe, and card-free payment.
Research and Market Insight
One of the most important features to consider in the online trading broker is Research and market insights.
E*Trade s website offers a decent knowledge of market insights, allowing the trader to perform extraordinary research before they take a position. Concerning the third party platforms, E*Trade offers access to Standard and Poor's, MarketEdge, Reuters, and SmartConsensus.
E*Trade offers great research tools like strategy building, fundamental analysis, research tools for options trading and several more. Moreover, Research tools can be seen on both E-Trade and Power E-Trade web trading platforms.
Besides, E*Trade web trading platforms are best for researching topics on investments like ETF and stock; the power E*Trade is great for researching complex products, like futures and options.
Information on asset fundamentals
Great interactive chart
Education
E*Trade s website offers an incredible start for beginner investors because of its educational resources. Moreover, investors can view webinars online, on topics like technical analysis, options trades, how to diversify the portfolio, and several more. Further, in-person events are routinely held at E*Trade offices.
Even though E*Trade depends mostly on third-party content providers, it offers a complete learning center that competes with the best brokerages in the business. It covers all investing topics starting from stock trading to retirement.
Additionally, content is efficient in terms of topic, type, and skill level. Finally, nine free webinars are offered every month to clients. Besides, webinars are likewise archived for viewing on request.
The educational materials offered by E*Trade are of good quality and also covers a wide range of topics.
Trading platform tutorials
Good Quality
Educational videos
Charts
The analysis and charts offered by E*Trade have the typical functions and indicators and they can be connected to news and level 2 information.
Technical indicators are incorporated into the charting and the platform comprises all the standard indicators, including moving averages, Stochastics and Bollinger bands.
The level 2 information is given only in the Pro version of E*Trade and enables the trader to make a trade-in under a second.
The platform has great charting tools. The trader can make use of over 30 charting options and more than 100 technical indicators. The traders can easily edit charts in both E*Trade platforms.
Portfolios
E*Trade website provides various types of portfolios, which helps manage the trader's investments. Customers can get support either with the assistance of an expert or E*Trade's Robo-advisor technology. The product range is wide, the portfolios are highly customizable and simple to modify.
Newsfeed
E*Trade offers newsfeed for the benefit of its traders. It is simple to read, furnishes great visual data with charts. Further, it is offered by third-parties such as Morningstar, Briefing.com, and several more. From the first page, the customers can reach Bloomberg TV too.
Customer Support
E*Trade has good customer service that responds professionally and is speedier. Moreover, they do have a live chat option as well. They have self-serving options also, including the FAQ segment and educational content.
Besides, this broker had been improving its phone and online support. Customers with bigger accounts are provided with priority service, professional asset management, and additional guidance.
E*Trade's Complete Protection Guarantee secures any fraud usage of a client's account, records, and offers extra security software when requested.
E-Trade offers good customer service in suggesting relevant answers to its customers.
| | |
| --- | --- |
| Pros | Cons |
|       Live Chat |       Technical Issues |
|       Email |       Response time needs to be improved |
|       Phone support |   |
Drawbacks
E*Trade neither allows credit/debit cards or electronic wallets for money transfers and the portfolio of products covers just US markets. Also, the account confirmation process is slow and there is Forex with limited currencies.
Even though E*Trade is accessible for non-US customers, clients from China, Australia, and Western Europe could start the account opening procedure using a paper-based application form, it does not give a clear guideline concerning its availability in non-US nations.
Concerning the minimum deposit at non-US customers, E*Trade does not disclose any specific country information.
Wrap up
E*TRADE is one of the largest online brokers available on the market based on E*TRADE review 2023, and it is used globally. Besides, E*Trade is suited for small investors who hold and execute a few trades a year. Even though the platform is a bit expensive regarding commissions, the platform is a notable and trusted platform to use. Moreover, E*Trade's educational resources, investing tools, huge choice of no-transaction-fee mutual funds and the latest trading technology will suit different levels of investors. Lastly, active traders will like zero commission, and new traders will benefit from the trader's range of educational resources.
FAQ's
1. Is E-trade any good?
It is one of the best in the class broker for research, active trading, education, futures trading, and IRA accounts. This is because of the overall usability of E*Trade mobile apps. The power E*TRADE platform is the most preferred web-based platform and it is the most sought-after platform for beginners.
2. Is E*Trade good for beginners?
The E*Trade website is extremely informative and easy to use, by helping the beginners to trade on the platform, even though they are trading online for the first time. The traders can have access to loads of free trading tools like E*Trade Pro, mobile app, and E*Trade 360.
3. Can ETrade make money?
The traders can earn money in stocks by purchasing and holding for a while and then selling it for profit. In this way, the traders can trade by using the research materials and studying the market to execute profitable trades.
4. Is E*Trade free?
As already mentioned, opening an account with this broker is free, and the trader needs to deposit $500 as a minimum deposit within 2 months, or else they will deactivate the trader's account. E*Trade does not charge any inactivity fees for regular maintenance fees irrespective of how much ever the user trades.