Tastyworks Review 2020

Established in 2017, Tastyworks is a newcomer in the world of brokerage firms. It is a segment of Tastytrade; an online financial system that was started in 2011. Besides, the platform is designed keeping in mind the active traders who are interested in trading derivatives. Having extremely quick and stable data feeds, this platform supports the trading of options, futures, and stocks. In any case, this Tastyworks platform is not for everybody, as some may find the website's investment alternatives lacking in a few areas.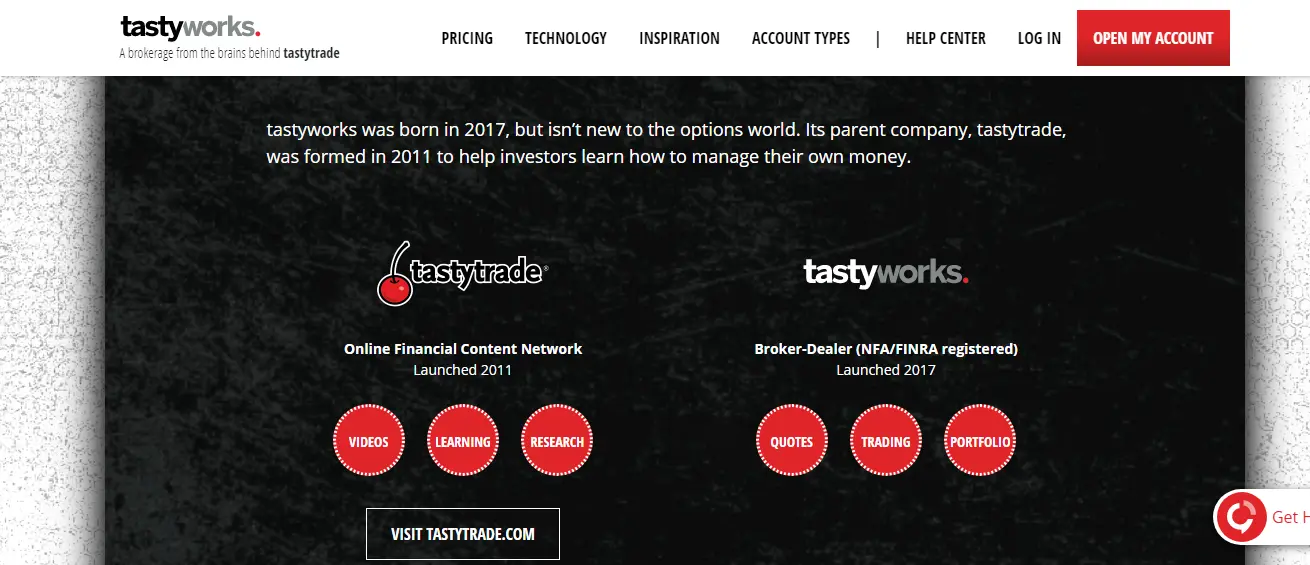 Some of the Pros and Cons are discussed below –
| | |
| --- | --- |
| Pros | Cons |
| Great design that keeps tools easily accessible | No listing of Bonds or CDs Available |
| Best platform for analyzing and placing derivative trades | |
| | Limited portfolio analysis in the platform |
| Supportive educational materials | |
| | Confined only to US options, stocks and futures |
| | Withdrawal fee for bank wire transfers need to be improved |
Features
Tastyworks offers options, stocks, ETFs, futures, and options on futures. Further, it offers cash accounts, corporate accounts, margin accounts, international accounts, trust accounts, retirement accounts, and joint accounts.
One of the advantageous features of Tastyworks is, there is no minimum deposit for cash accounts. Nevertheless, to use margin in the margin account, the trader would require a minimum of 2000 dollars in the account. In this way, it is sensible to deposit a minimum of 2000 dollars to acquire margin benefits.
Tastyworks offers clean, completely customizable and simple to use charts. For these charts, Tastyworks provides 100 different indicators to select from and these have custom settings too.
Furthermore, they have 20 diverse drawing tools to select from. Moreover, these technical analysis features are completely customizable to fit each person.
Currently, Tastyworks has 11 distinctive preset watchlists to select from. Suffice to say, Tastyworks has several extraordinary features, particularly for options traders. They have much normal and simple chain options that can be customized to the trader's needs.
Along with option chain, Tastyworks offers a cool, all the more engaging other option. Tastyworks have this interactive payoff curve, where the traders can select/alter/change different stock or option positions. Directly this shows how the changes can influence the payoff.
Tastyworks platform is the best for Active traders, IRA investors, options traders, low minimum traders, and penny stock traders.
As of late, the Tastyworks team added an analysis feature to their trade tab. The Analysis feature allows the trader to analyze current and potential situations in several different ways.
In an update, Tastyworks added another interface, which is called Active and is designed for the active traders. It allows the trader to order and manage mainly stock and futures positions with intense ease and speed. This aspect makes Tastyworks more desired for stock traders, yet the interface is significantly more helpful for futures traders.
Particularly for less advanced traders, there are preset procedures. Directly from the options chain or the curve, the trader can choose from 20 plus diverse option trading methodologies, similar to vertical spreads, iron condors, straddles, strangles, calendar and several more.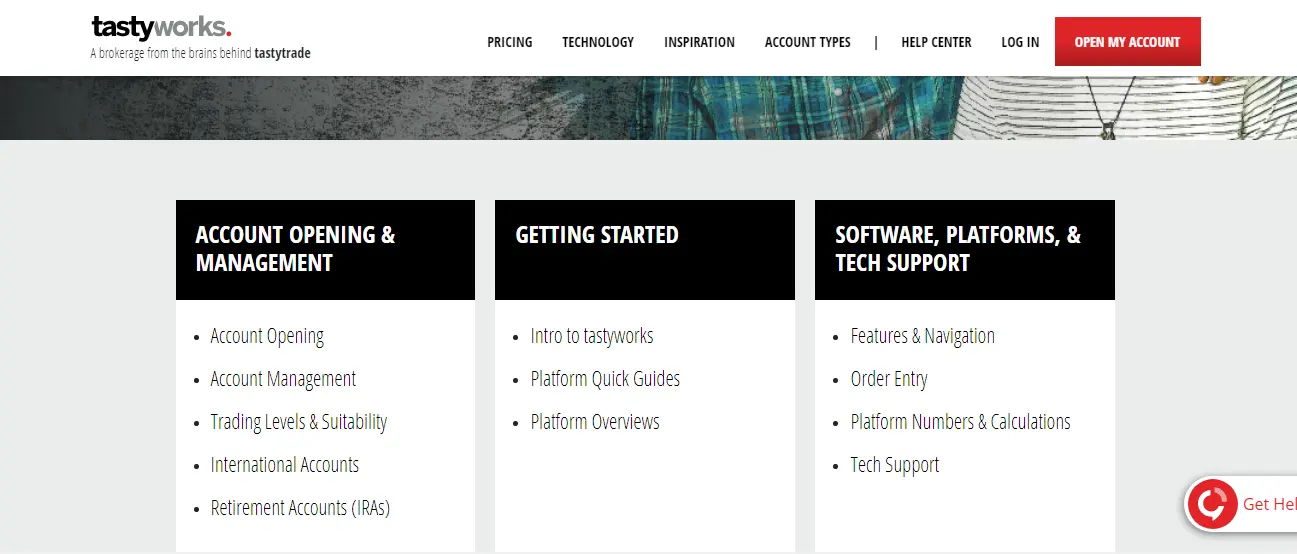 Tastyworks Platform Comparison with other brokers –
| | | | |
| --- | --- | --- | --- |
| Features | Tastyworks | eToro | Forex.com |
| Account fees | No | No | No |
| Inactivity fees | No | Yes | Yes |
| Bank Transfer | Yes | Yes | Yes |
| Credit/debit cards | No | Yes | Yes |
| Electronic Wallets | No | Yes | Yes |
| Time to open an account | 1 day | 1 day | 1 – 3 days |
| Stock | Yes | Yes | No |
| ETF | Yes | Yes | No |
| Forex | No | Yes | Yes |
| Fund | No | No | No |
| Bond | No | No | No |
| Crypto | No | Yes | Yes |
| Demo account | No | Yes | Yes |
Advantages
There are various benefits when using the Tastyworks platform. Few of them are given below –
There are different account options to select from brokerage accounts. Besides, the Tastyworks will offer the trader with everything they need. This kind of account is extremely simple to use and has heaps of features that come with customer service support.

Traders can trade with more than 217 instruments.

Moreover, Tastyworks has no closing charges on stocks and options on futures, which could save the trader a huge sum of cash. While some other online trading brokers may charge the traders huge fees for these types of trades, here, the trader does not need to pay anything at all.

Also, there is a wide scope of customer service options for all traders, which means the trader can contact customer care staff by email, phone or live chat if they need any assistance.
Opening a new trading account with Tastyworks is simple and can take as little as 15 minutes.
Tastyworks platforms can be accessed from a desktop or mobile device.
Besides, Tastyworks acknowledges clients from different nations. Customers can find the list of qualified countries in their platform. Practically all EU nations, generally South and Central American nations, Indonesia, India, New Zealand, and Turkey are qualified.
Safety
This broker is regulated by a top-level US regulator FINRA, which provides a high level of investor protection. On the other side, it has not been listed in the Stock exchange and it does not offer negative balance protection.

Account Opening with Tastyworks
TastyWorks account opening is fast, fully digital and user-friendly. An account can be opened without a minimum deposit.
| | |
| --- | --- |
| Pros | Cons |
| | |
| | |
| | |
Tastyworks Account types
Tastyworks offers two account types for customers – cash and margin account. By using a margin account, individuals can use leverage, which implies that the trader can borrow cash from the broker to trade.
Retirement accounts are accessible to US residents. The trader can select between a traditional, self- employed (SEP), a Roth IRA, or a beneficiary inherited IRA.

Traders can also open a joint account where they can share ownership with another person. Besides, Tastyworks also offers International accounts for its abroad customers.

Moreover, Tastyworks offers trust and corporate accounts for legally established US organizations.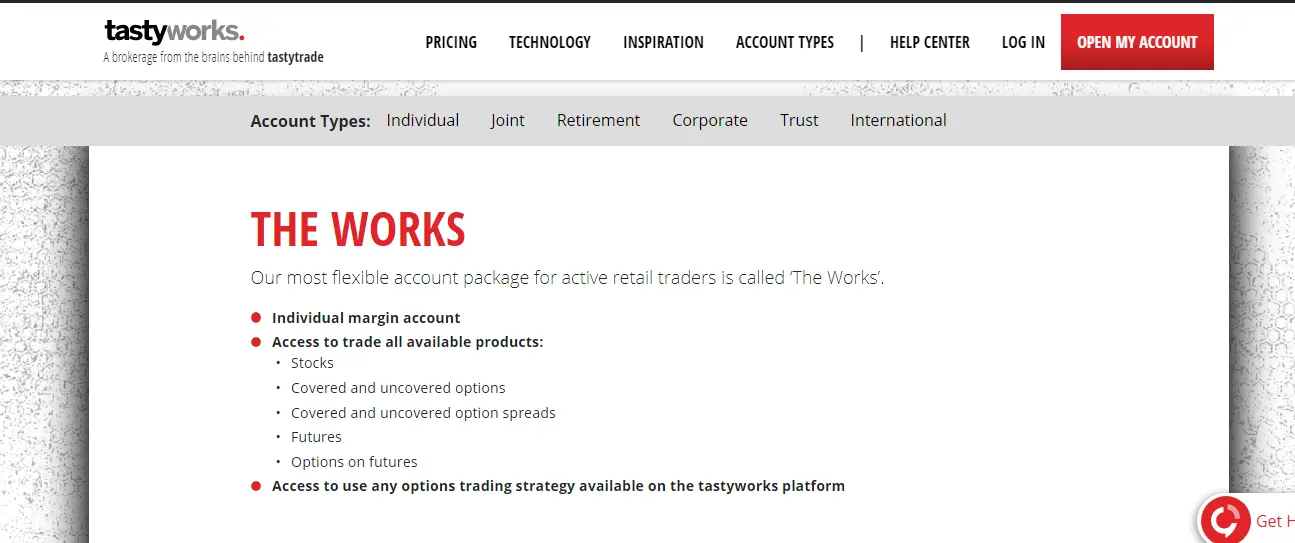 Type of Traders Tastyworks supports
Tastyworks could be one of the best interactive brokers, for active traders who need great technology and who place trades occasionally with a more number of shares or contracts. The platform is designed for option traders as well as account stock traders with options strategies. Even though ETFs are allowed to sell, there are no commission-free funds; and this puts Tastyworks behind its competitors.
| | |
| --- | --- |
| Pros | Cons |
| | Does not have 24/7 Support |
| | No Automated advisory service |
| Good Pricing schedule for High-volume traders | Lack of traditionally managed accounts |
| Allows trading in F&O on futures | |
Minimum Deposit
Tastyworks' required minimum deposit is zero for cash accounts. Besides, for margin accounts, the trader needs to deposit a minimum of 2000 dollars according to industry regulations. Further, there are no on-going expenses, so the trader can open an account and leave it at zero dollars.
Deposit Fees
Another important feature of Tastyworks is that deposits are free of charge. Nonetheless, non-US residents can only use bank transfer, which is known as wire transfer in US banking.
Withdrawal Fees
Withdrawals at Tastyworks costs around 45 dollars for non-US customers and 25 dollars for US customers. Withdrawal of money should be possible the same way as deposits, through wire transfers for non-US residents, in addition to ACH and cheque for US residents. The UI for withdrawal wire transfer is user-friendly and simple to use.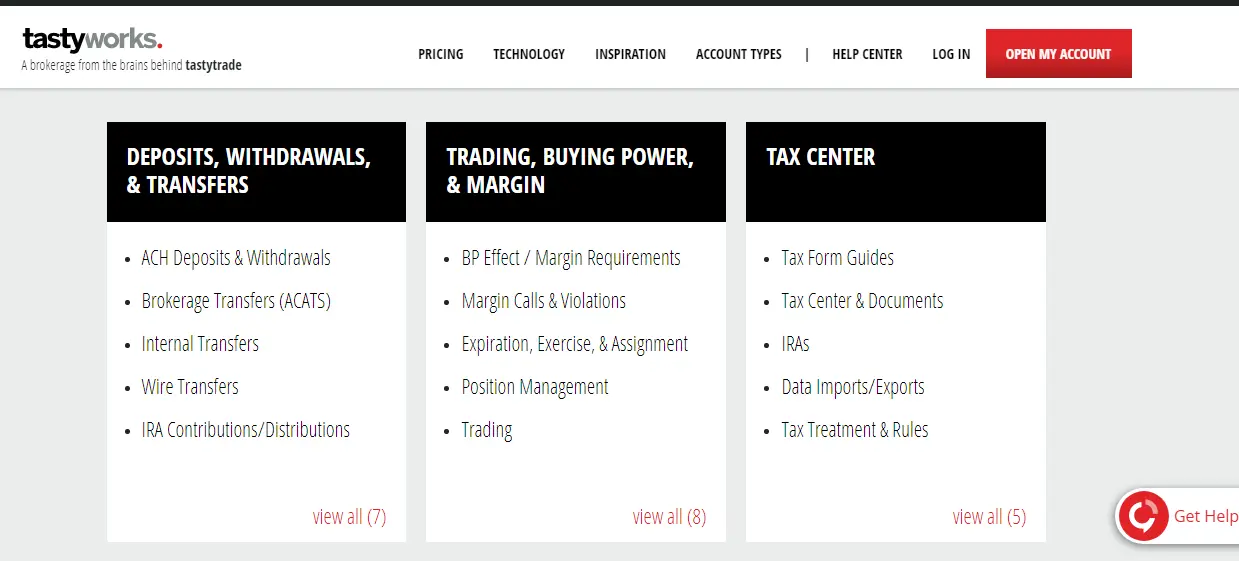 Some of the Pros and Cons of Deposit and withdrawal fees are discussed below –
Tastyworks's Deposit and withdrawal fees need more improvement. Even though there is no deposit fee and it is very user-friendly, traders can use only bank transfer and fees for bank transfer withdrawal is very high.
| | |
| --- | --- |
| Pros | Cons |
| | |
| | Credit/debit card transactions not available |
| | Only one account base currency |
| | |
Tastyworks Pricing and its closing trades
Stock Commissions
In Tastyworks, stock and ETF transactions cost 5 dollars on the opening side (which is for unlimited shares) and zero dollars for the closing side. Moreover, Exchange and regulatory fees are passed across the client. Mutual funds are not offered by this broker; pricing when compared to other brokers, is okay.

Options and Futures
Equity options are 1 dollar per contract on the open side and zero dollars on the close side. There are 10 cents clearing charges per contract. Recently, Tastyworks established an option commission cap of 10 dollars per contract.
Even though Tastyworks does not offer mutual funds, it has future trading. The commission is 1.25 dollars per contract, and the charge is applied on both sides. Moreover, there is a clearing fee of 30 cents per contract, exchange charges can also be applied at times.
Trading fees
Compared to other platforms, Tastyworks trading fees are low. Tastyworks charges 1 dollar per contract for stock options and 2.50 dollars per contract for options and futures for opening a position. Moreover, closing a position on options is free. For futures, it charges 1.25 dollars per contract both for opening and closing a trade. Lastly, stock trading incurs no commission charges.
Non-trading fees
Tastyworks has normal exchange fees. It doesn't charge you a general record expense, an inertia charge, a guardianship expense, or a store charge. On the flipside, Tastyworks' withdrawal charge is very high: it is 25 dollars for US financial balances and 45 dollars for non-US ledgers. ACH withdrawal is free.
Shorting Stocks
Tastyworks needs an initial margin requirement of 50 percent or 5 dollars per share (whatever is greater) to short equity priced above 5 dollars. Besides, for equities below 5 dollars, the initial requirement is 100 percent or 2.50 dollars per share. Maintenance is 30 percent for stocks above 5 dollars and 100 percent for stocks below the level.
Paper trading
Even though Tastyworks is perfect for experienced brokers, beginners will discover huge amounts of information as well. A trade journal is given to assist the trader to write down what worked out and what didn't. For new traders, this instrument is particularly useful when the trader needs to look back and see the methods that led to successful trades.
Tastyworks – Trading Platform
Tastyworks utilizes its trading platform. It offers a user-friendly custom trading platform, accessible in terms of a downloadable program and as a browser-based WebTrader.
Tastyworks is focused on options and futures and stock trades is its next focus. The Tastyworks web trading platform is good for advanced traders, however, it is difficult to explore as a beginner.
The Platform is a well-designed, which can be used effectively with a touch of practice. It is additionally equipped with a strong options trading panel, however, the platform is not customizable. Besides, it is available just in English.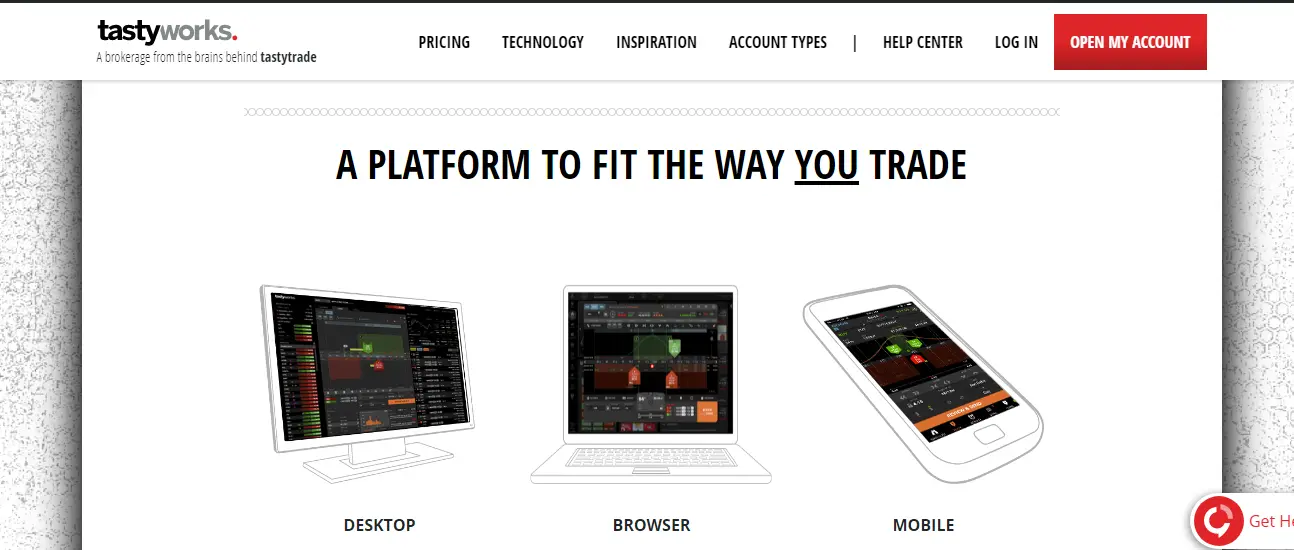 The web trading platform offered by Tastyworks is exceptionally good for experienced traders if they concentrate on options. Moreover, it takes time to learn its different functionalities and it has limited customizability.
| | |
| --- | --- |
| Pros | Cons |
| | |
| | |
| | |
Mobile trading platform
The Tastyworks mobile trading platform is fundamentally the same as the web platform and offers its major functionalities. Moreover, the mobile trading platform is accessible in English for iOS and Android. Moreover, the mobile trading platform is user-friendly and it has a perfect and modern design.
Further, Tastywork's mobile application is intended to limit the amount of data entry the trader needs to do by making use of drag and drop.

Almost every strategy the trader trades on the desktop or web trading platform is available on mobile. Even though the trader cannot open an account through the mobile application, the Tastyworks web platform is mobile responsive and has got account opening abilities.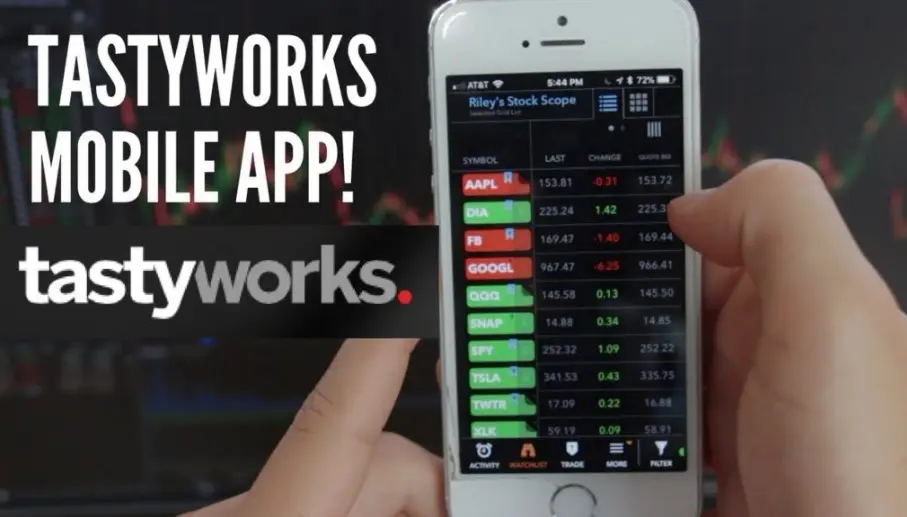 Portfolio Analysis and Reports
Nearly at the top of the page, portfolio statistics can be seen along with liquidity, delta, theta, and purchasing power. For an in-depth analysis of the portfolio risk, the trader can create an account on the Quiet Foundation, which is a registered investment advisor that is run by Tastyworks and Tastytrade. Moreover, there are no charges to the client for the investment evaluation, and the trader can interface other investment funds for a glance at all their accounts.
Curve Mode
The curve mode described on the Tastyworks trading platform is a visual way of setting up the trades, which is completely unique. Moreover, this mode has a drag and drop functionality that permits the trader to visually place each leg of the options trade relative to its current stock price and its probability zone.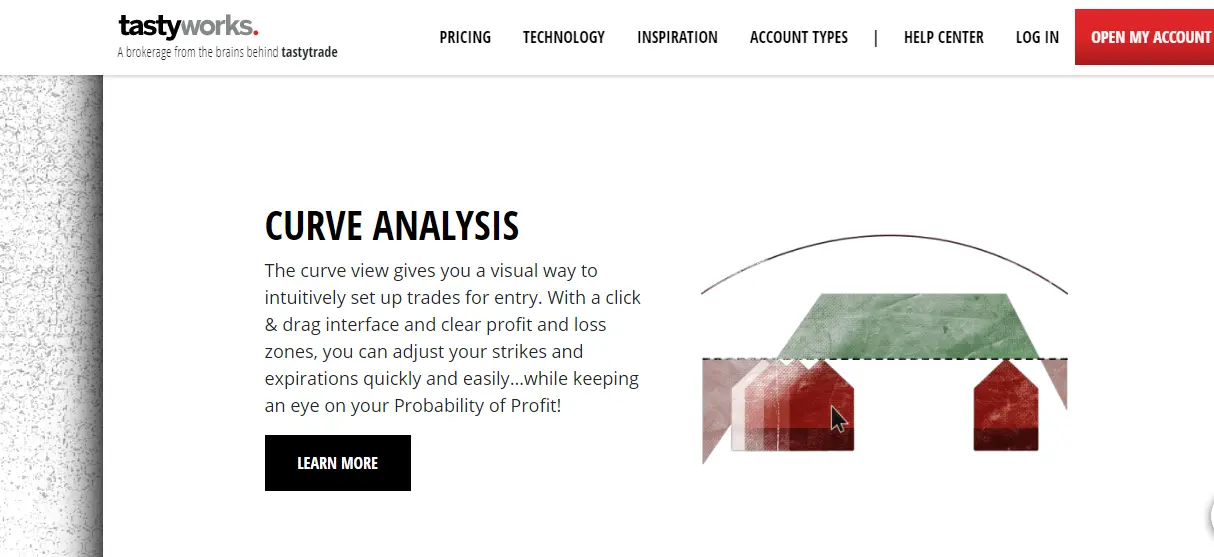 Education
The Tasty trade framework is the place to learn how the active trader's team thinks and works. The trader can watch live video throughout the day, and see additional videos too. Besides, their live events are held everywhere throughout the U.S., which are entertaining and lively, and are free to visit.

The Tastyworks team declared their new digital publication called Luckbox in early March 2019. It is focused on proactive investors who wanted to make better investment decisions dependent on probabilities and risk-taking, and for this, the trader can sign-up for a free charter subscription.
Alerts and notifications
In Tastyworks, it is not difficult to set up order notifications and price alerts. Moreover, the trader can set up alerts for every asset for the price. Also, the client can set up push notifications, emails and text messages, if they are in the US.
Portfolio and fee reports
The portfolio report is well organized and structured. Its default setting is options trading centered on indicating delta and theta values. Moreover, the columns of the table can be effectively customized, and the fee report is clear. Both the fee and portfolio report can be exported to a CSV.
Social Trading
Tastyworks provides a social trading service. The traders can copy and follow the trades of the Tastyworks team. They are extremely active so that they can have more trading ideas.

News and Research
Tastyworks research tools comprise of great charting tools on the desktop platform, trading ideas, and high-quality news stream. Meanwhile, it is option centered and restricted fundamental data accessible.
The majority of the research capabilities focus on analyzing option methodologies. The trader can keep the Tastytrade video feed open to perceive what is happening in real-time. The network's members all publish their trades and the traders can pursue the ones that they like the most to follow.
| | |
| --- | --- |
| Pros | Cons |
| | Limited fundamental Information |
| | |
| | |
Charting
Tastyworks has a complex and great charting tool on its desktop platform. Moreover, the traders can use more than 100 technical indicators, and the chart is interactive as well.
Newsfeed
Tastyworks offers news through its educational platform, Tastytrade. Here, one can have access to a wide scope of exceptionally useful options, futures trading content, and live news coverage. The Tastytrade group runs live trading throughout the trading time every weekday.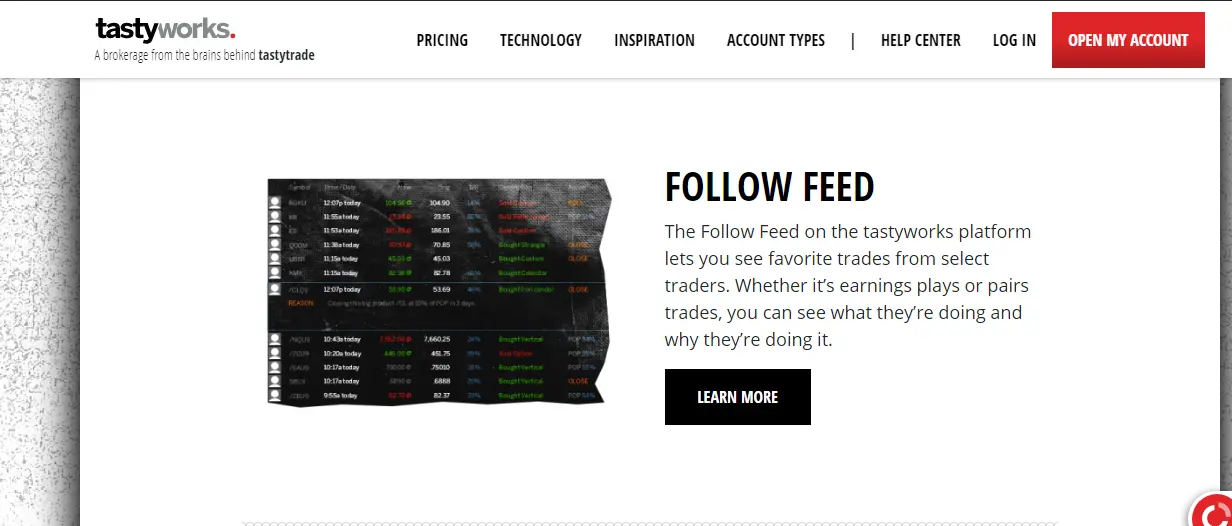 Learning
At Tastyworks, the trader can learn in the following ways –
Platform tutorial videos
Webinars
General educational videos
Quality educational articles
Tastyworks educational resources are accessible through its education-specific platform, Tastytrade. Here, the trader can develop the options trading knowledge from the beginning. Moreover, their videos have great quality and are likewise enjoyable. It is a major advantage when the trader is using financial content.
Live Education Daily
One of the more creative and valuable parts of the Tastyworks platform is daily live education. When the trader logs in, they need to select the Tastytrade icon and a real-time streaming video feed opens up including live shows that are filled with helpful hints and training to improve the trading knowledge and skills.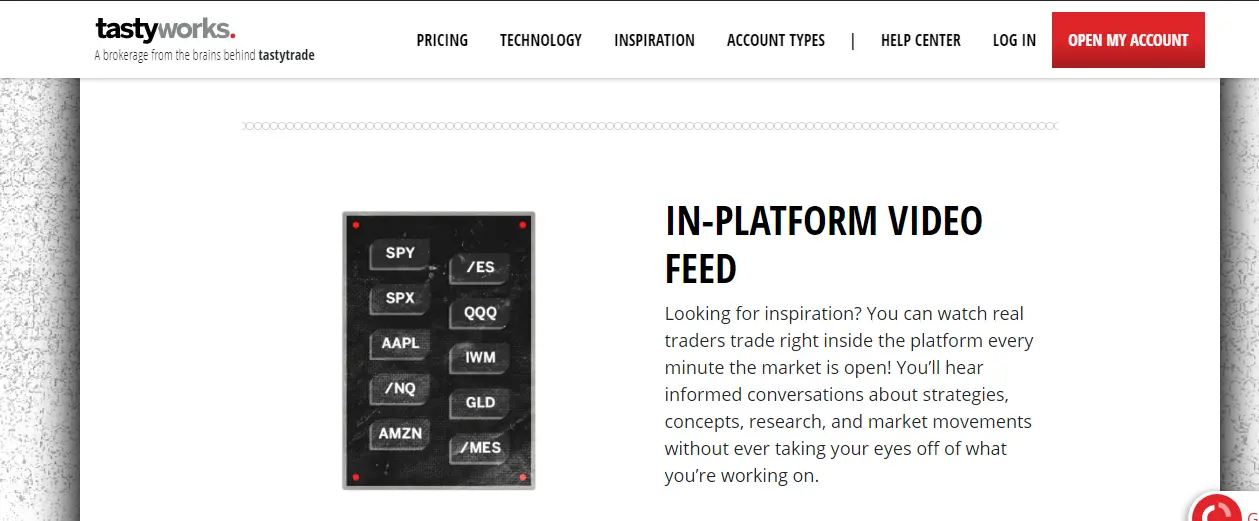 Grid
There is an incredible watchlist called 'Grid.' The trader can have an overview of a wide scope of assets in a single place. Every selected stock has an efficient mini infographic with some key information. Also, this is customized for options trading, as the most visible data points are inferred volatility positions.
In contrast to traditional brokerage firms, Tastyworks has an alternate look and feel from beginning to end. The Tastyworks group needed the trading platform to be trader focused. The Tastyworks Grid is one example that how the platform is designed for traders.
The Grid features significant stocks and shows price changes presently. Regardless of whether the trader needs to see the most recent price changes, everyday changes, or even view more detailed information like unpredictability, it is visible at one glance.
Support
Tastyworks telephone support is okay. The main drawback is that they are available to contact just on weekdays between 7 am to 5 pm.
Tastyworks email support is accessible 24/5. Moreover, the broker additionally offers an email service. Tastyworks has a technology division for IT issues.
Tastyworks supports a wide scope of languages including English, Czech, Spanish, Chinese, German, Italian, French, Polish, Romanian, Portuguese, Slovenian, Hebrew, Hindi, Arabic, and Russian.
| | |
| --- | --- |
| Pros | Cons |
| | |
| | |
| | |
Drawbacks
The traders cannot invest in bonds or Mutual funds. For the more experienced traders, this might be an issue. Besides, even seasoned traders can profit by the low charges and commissions on the investment options accessible.
Beginners could find the account options and multiple features a bit confusing. With constant practice, they can trade in this platform easily and quickly.
Tastyworks mobile application does not work with older devices.
In Tastyworks mobile platform, the trader cannot set price alerts and order notifications, which is a major disadvantage.
Tastyworks search functions are okay. Like the web platform, the trader can search based on the ticker of the asset, yet the trader cannot set up filters for asset kind.
Wrap up
Tastyworks is a good broker for options trading, however, it is somewhat complex if the trader wants to trade only stocks. Trading charges are low, with free stock and average options trading fees. This platform is built for experienced traders, and a bit intimidating for beginners. Moreover, its research and educational tools are great tools for learning. Tastyworks is not a good fit for a passive mutual fund investment but can be a great trading platform if a trader wants to grow his derivatives trading knowledge.
Tastyworks
Pros
Great design that keeps tools easily accessible
Best platform for analyzing and placing derivative trades
Stable platform
Supportive educational materials
Low trading fees
Cons
No listing of Bonds or CDs Available
Not for beginners
Limited portfolio analysis in the platform
No demo account
Confined only to US options, stocks and futures