Interactive Brokers Review 2023

Interactive Brokers is the biggest U.S based electronic brokerage firm, favored by active traders by volume of daily average revenue trades. Interactive Brokers (IBKR) is known for its industry-driving commission's plan, margin rates, and backing for global trading. Interactive Brokers offers one all-inclusive universal portal for its customers, by which they can trade in more than 125 market centers, 31 countries, and 22 currencies. Moreover, customers can deal with a wide variety of choices like stocks, futures, ETFs, bonds, forex and several more. Interactive Brokers has something or the other to offer for seasoned traders as well.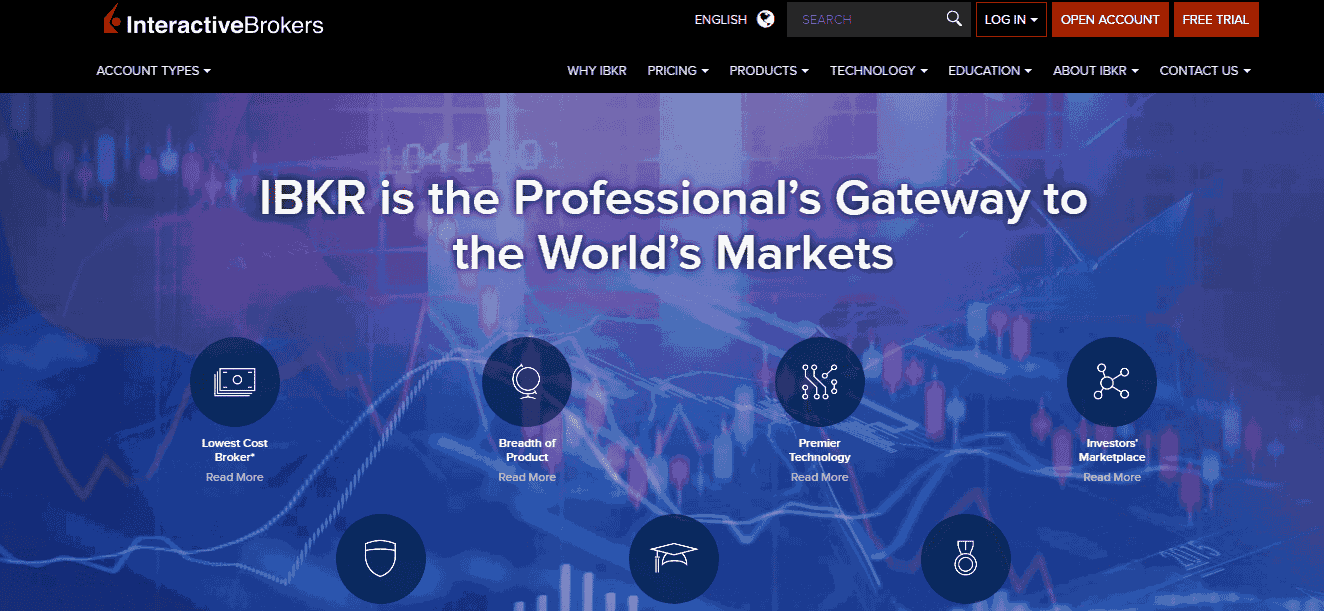 What are Interactive Brokers?
Interactive Brokers was established in 1978, and it is one of the largest and leading US-based electronic brokerage firms by considering its volume and daily average revenue on the trades executed. It is the most preferred platform for active traders, especially for traders who are interested in commodity and forex trades.
Interactive Brokers trading platform mainly serves active traders, sophisticated, and institutional investors around the world. Being the most innovative company, it proceeds to offer several new educational resources, products, and services that are aimed at all types of investors.
Interactive Brokers offer several trading platforms for the benefit of its users; one of the most popular ones that are preferred by the traders currently is Trader Workstation (TWS) that can be operated on a desktop. Trader workstation permits its users to place and monitor trades in real-time, where it helps to maintain a watchlist of their preferred trading asset, and receive notification and alerts.
For the traders who want a more direct approach, Interactive Brokers offers WebTrader, an HTML based platform. However, this platform allows access to some of the features like news feed and technical charting.
Interactive Brokers are regulated by the various financial authorities in the world, which includes top-tier regulatory authorities like, the UK Financial Conduct Authority and the US Securities and Exchange Commission.
What is the background of Interactive Brokers?
Interactive Brokers is a USA-based online trading broker and it is striving in the trading market for more than 40 years, irrespective of several economic crises. Interactive Brokers had managed to be on top of the trading market, which shows its stability and the broker's safety.
Interactive Brokers Group is also described as the holding company of various entities, and it is listed on the Nasdaq Stock exchange. This listing on the stock exchange makes the Interactive Brokers and its operations more transparent, as it publishes financial statements during regular intervals of time.
Being regulated by the UK Financial Conduct Authority and the US Securities and Exchange Commission, and its listing on the Nasdaq Stock exchange, these are the important signs that this broker offers security and safety.
Features
Interactive Brokers is one of the leading online brokers that are doing well in the market. Below given are the few important features that are discussed –
Interactive Brokers has an industry-driving commissions plan, which incorporates the lowest margin rates and exclusive advantages such as acquiring interest on the idle money beyond 10,000 dollars. Casual traders can likewise trade for free.
Moreover, Interactive Brokers offers an extensive selection of investment choices which includes undisputable support for global trading. Another important feature this broker offers is, it offers 65 different types of orders.
By 1994, Interactive Brokers had become a complete full-fledged electronic trading platform. It is rated as No.1 Best Online Broker 2019 and a Top Online Broker for Nine Consecutive Years by Barron's among several awards.
Interactive Brokers offers low margin rates for margin investors that are lowest in the Industry.

As per Interactive Brokers reviews, it provides BlackBerry App for its BlackBerry clients.

The firm offers wide choices on Investments for precious metals, forex, futures, options, penny stocks, mutual funds, bonds, ETFs and traditional stocks as well. Moreover, it offers a Free Trial Account for its clients.
Recently, Interactive Brokers introduced a new order type known as mid-price order that can be directed to various venues including IEX (The Indian Energy Exchange). Besides, it is a floating order that automatically changes with moving markets and searches out quicker fills and price improvement. All rights reserved by the broker for their products and services.
IBKR Lite offers free, non-consolidated market data for US listed stocks, ETFs and real-time streaming data for primary exchanges.
This Broker is best suited for –

Casual and advanced traders
Margin accounts
Penny stock traders
Day traders
Options trading
Research and data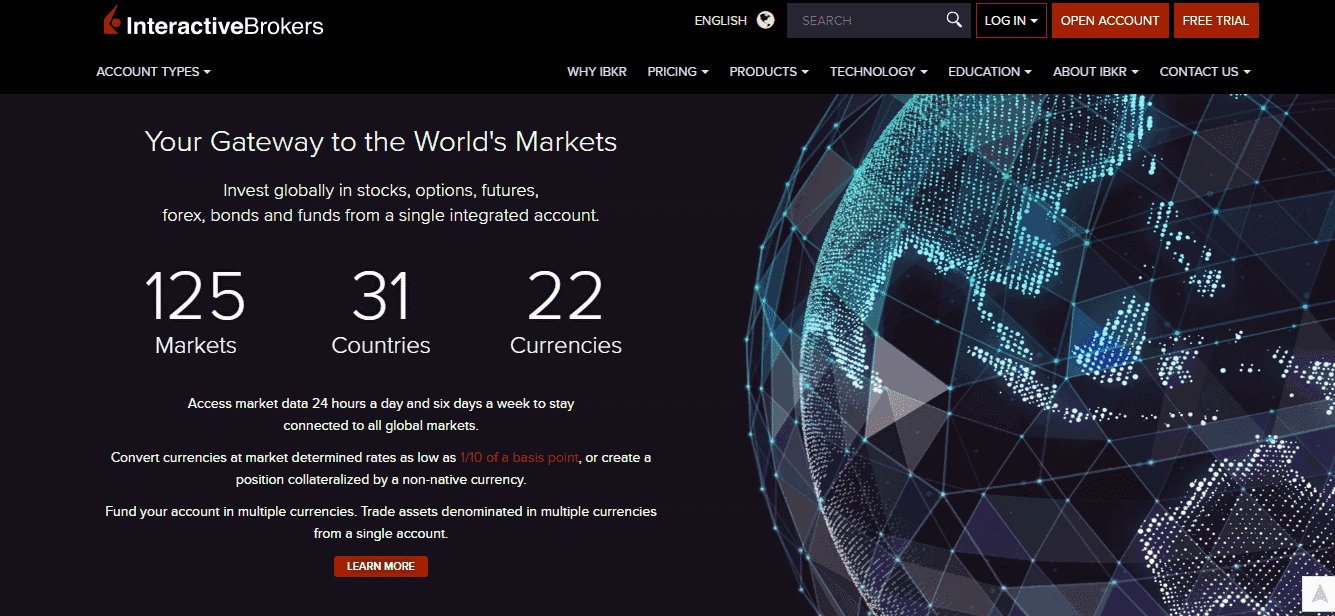 Products
Some of the products offered by Interactive Brokers are –
Stocks
Options
Futures
Forex
Metals
Fixed Income
ETFs
Mutual Funds
CFDs
EFPs
Hedge Funds
Cryptocurrency
Robo Portfolios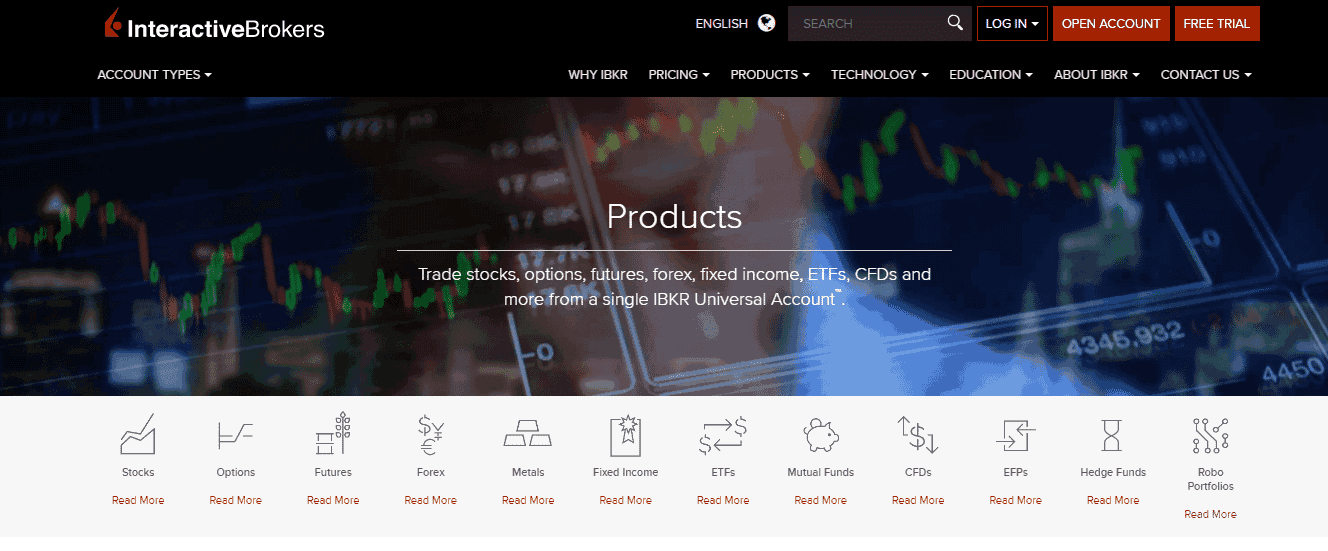 Interactive Brokers Mutual Fund
One of the most important features offered by this Broker are the Interactive Brokers' mutual fund marketplace. It provides its clients across the globe large availability of mutual funds at a very low cost. The mutual fund market place provides access to more than 25000 no-load funds from over 285 mutual fund families, which can be accessed by traders from more than 200 countries. Moreover, it also includes many remarkable fund families which include, American Funds, Alliance, Fidelity, BlackRock, Franklin Templeton, MFS, PIMCO, and Invesco.
Apart from offering a mutual fund marketplace, it also offers exhaustive mutual fund screener to exclude Investments based on commission, family, and type. Currently, Interactive Brokers is one of the biggest mutual fund brokers in the United States offering a massive range of mutual funds that can be accessed from an integrated or a single account. Further, this broker is one of the largest offshore mutual fund marketplace offering several categories of mutual funds that are available to residents around the globe.
Direct Market Access
This platform provides IBKR Pro traders DMA (direct market access) which is one of the most advantageous features. By using direct market access, the traders can directly route the orders to the trading venues without the need for the middlemen. Our traditional discount brokerages do not provide this option, and they act as middlemen for all the orders, selecting where to forward them on behalf of the traders.
Advantages of Interactive Brokers Trading Platforms
Few advantages of the trading platform are discussed below –
As per our Interactive brokers review, it is designed by keeping professional traders in mind.
Traders can maximize their online trading speed and efficiency with their maker-designed Trader Workstation (TWS).
Traders can trade the IBKR account anytime on a mobile device with IBKR Mobile.
Uses HTML-based WebTrader, an easy and simple interface that works from behind a firewall.
Account opening process
Below given are the few steps to open an account with this broker –
The account opening process with Interactive Brokers is completely digital, but it is a bit complex. The trader needs to register online; and the account verification process takes 2 business days, which can be considered as a bit slower process when compared to the usual account verification process from other best forex brokers 2023.
Initially, the trader needs to go through the online registration process, which takes one hour. The trader needs to fill in their basic details and offer the list of documents that are required by the broker.
During the registration process, the trader should provide their personal information such as name, email address, phone number, and they need to answer a few questions about their trading experience. Finally, they need to verify their identity and the country of residence, and they need to upload the below-given documents –
For verification identity, they can provide national ID/driver's license/ passport
For verification of country of residence, they can provide utility bill/driver's license/credit card statement/bank statement
The above requirement is a standard process, which is known as KYC (know your customer) process, which makes sure that the trader is identifiable.
Account types
IBKR offers two types of Accounts –
Individual Investor, or trader
Proprietary trading group
Trader Workstation
As per our Interactive Brokers review, it utilizes a few distinctive trading platforms. Currently, the most well-known is Trader Workstation (TWS), which works on a desktop. TWS enables the user to screen trades side-by-side, keep up watchlists and get alerts.
While comparing with WebTrader, the other desktop platform, it is loaded with rich features. Additionally, it is Java-based, which few clients may find difficult. Moreover, it supports all types of trading, which also includes global assets.
Even though Trader Workstation is not intended for new investors, it effectively positions itself as the best trading platform in the business. Besides, watch lists can incorporate anything from equities to individual options, futures, forex, and warrants. Around 453 data points are accessible for column customization.
For traders who need progressively organized methodology, they can use WebTrader, a platform that is HTML-based. In any case, WebTrader still permits clients to access certain features like charting and news feed.

IBKR broker provides mobileTWS and MobileTrader based on Interactive Brokers reviews, which are smartphone equivalents of TWS and WebTrader, accordingly.

The traders can access Interactive Brokers with these applications on the Android, iPhone, or even BlackBerry. WebTrader will also work with Windows-based smartphones. All rights reserved by the broker for their features and functionalities.

Why do traders prefer Interactive Brokers Over Other trading platforms?
Let us look at few pointers why traders prefer Interactive Brokers over other trading platforms –
Interactive Brokers offer access to a wider market range thereby allowing the traders to buy and sell the assets in more than 135 exclusive markets, so that the trader can easily purchase and sell international funds and stocks.
Interactive Brokers provides a mobile app, offering comprehensive trading features which are similar to the desktop application. If the trader enjoys trading on mobile, then Interactive Brokers mobile app offers a responsive and fully-optimized mobile trading platform.
By using the Interactive Brokers IBKR Pro account, it offers the traders low margin trading and the trader can access the margin trading for 0.75% APR with IBKR pro. Interactive Brokers IBKR lite account rate is 2.55% flat for how much ever the trader borrows and it is affordable.
Interactive Brokers Fees
Interactive Brokers offers its clients two pricing models – Fixed-rate and Tiered.
By using fixed-rate pricing on standard stock trades, the trader needs to pay the fees of $0.005 per share with at least 1 dollar per trade and a limit of 1 percent of the trade value.
Moreover, frequent traders can also benefit from the tiered fees structure, which will drop rates as low as $0.005 per share when they trade over 100 million shares every month with 0.35 dollar minimum per order and a limit of 1.0 percent of the trade value.
Additionally, options contracts are extremely cheap, at a charge of 70 cents per contract with no base and at least 1 dollar per order. Further, some discounts are applied to high-volume investors.
IBKR Lite customers do not pay commission on U.S. based equities, however, they are confined to the web-based client portal and mobile applications. The typical commission plan applies to all the other trades. Besides, Interactive Brokers has not charged a base fee for options contracts; occasional traders need to pay 0.70 dollars per trade.
For Options and Futures investors, ibkr lite offers fixed pricing and IBKR Pro offers either fixed or Tiered pricing.
Interactive Brokers Deposit fee
Interactive Brokers can be less appealing for less active traders. For beginners, the firm requires a 10,000 dollars minimum investment, which is a lot higher than normal. Presently, if the trader is 25 or younger, the minimum amount is brought down to 3,000 dollars and if the trader is investing in an IRA (Individual retirement account) they need to have 5,000 dollars.
Interactive Brokers commissions
Interactive Brokers provides two pricing plans. IBKR Pro for professionals and IBKR Lite for casual investors. Since Interactive Brokers' major clients are professional traders, institutional investors such as hedge funds, it is important to offer the lowest commissions that are available for the traders.
Even though there are several major discount brokers who have recently cut down their commissions, Interactive Brokers did not change their commission model, which they heavily rely on. Instead, they have divided their customers into two types, like IBKR Pro and IBKR Lite. Besides, commissions and fees for IBKR lite traders are free, while IBKR Pro traders need to pay commissions.

According to Interactive Brokers review, for stock trades using IBKR Pro, the standard fixed pricing for US stocks trades runs $0.005 per share with a minimum of $1 and a maximum of 0.5% of the trade value.

Concerning small order sizes like a few hundred shares, Interactive Brokers offers a good deal. For the trader who wants to trade several thousands of shares, Interactive Brokers becomes quite expensive; for example, we can say that IBKR Pro is not a great choice for penny stocks trading.
For options trades, by using IBKR Pro,
The contract price is greater than $.10 or equal to $ 0.65 per contract with a minimum of $1 and there is no maximum.
The contract price is less than $0.10 but greater than $0.05 or equal to $0.50 per contract with a minimum of $1 and no maximum.
if the contract price is less than $0.5 or equal to $.25 per contract with a minimum of $1 and no maximum.
One of the benefits of IBKR Pro is it does not accept any payments for order flow, which is an important element and offers quality order execution. Further, Interactive Brokers leads the trading industry by offering the lowest margin rates, which varies from 1.55% to 0.75% for the traders who hold over $1 million with their brokerage.
Some of the miscellaneous fees charged by IBKR Pro for new and experienced investors are, they need to maintain $100,000 as balance or they need to spend a minimum of $30 as commissions every month. Otherwise, inactivity charges can go up to $20 per month for intraday traders. We highly recommend IBKR Lite for free trading.
If the trader uses IBKR Lite, there are no data fees and inactivity fees. All US ETFs and stock trades are $0, while trading in options they should follow IBKR pro pricing. One of the most important points to note is, IBKR lite is used for low-quality order execution. Just like other brokers who are offering $0, Interactive Brokers by offering IBKR Lite, earns money through its trade flow. To conclude, IBKR Pro is designed by keeping professionals in mind, while IBKR lite is designed for active and casual investors.
Below given is the list of commissions from Interactive Brokers –
For US Stock trading, zero commission and fees
For US-listed stocks options and ETFs, zero-commission trading
No inactivity fees or account minimum is needed
For non-US listed ETFs and stocks, fixed-rate pricing will be applied.
IBKR Pro
As the name suggests, IBKR Pro is intended for experienced traders. Experienced traders might like –
Advanced trading platform
Broker's per-share pricing of 0.005 dollars per share – with a minimum of 1 dollar
Wide range of tradable securities which includes foreign stocks
Very low margin rates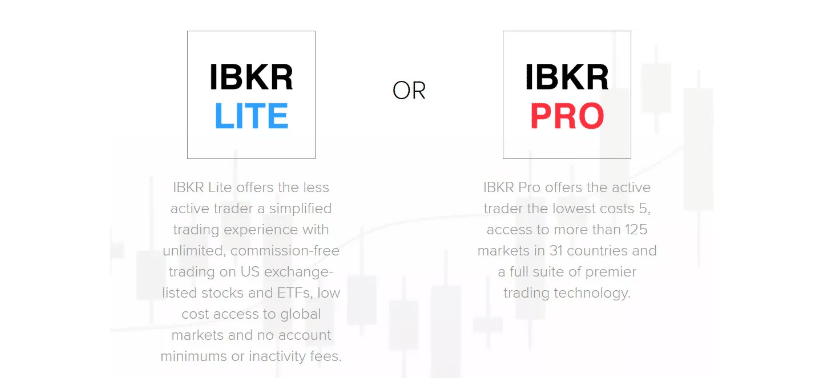 Advanced Trading Tools
According to Interactive Brokers review 2023, IBKR's suite of Option Labs and advanced web-based trading tools help traders to implement optimal trading methodologies. For instance, Probability Lab offers a reasonable method to consider options without complex mathematics, and the Option Lab gives the trader to create a simple and complex multi-step option dependent on the price and volatility prediction.
Order Types and Algos
As per our review, Interactive Brokers' Trader Workstation (TWS) supports more than 60 order types, from the very basic limit order to advanced trading to the complex algorithmic trading. These assist the traders to execute a wide assortment of trading methodologies.
Besides, Order types and Algos help the trader to limit risk, provide price improvement, speed up the execution, permit privacy, time the market and streamline the trading procedure through advanced trading functionalities.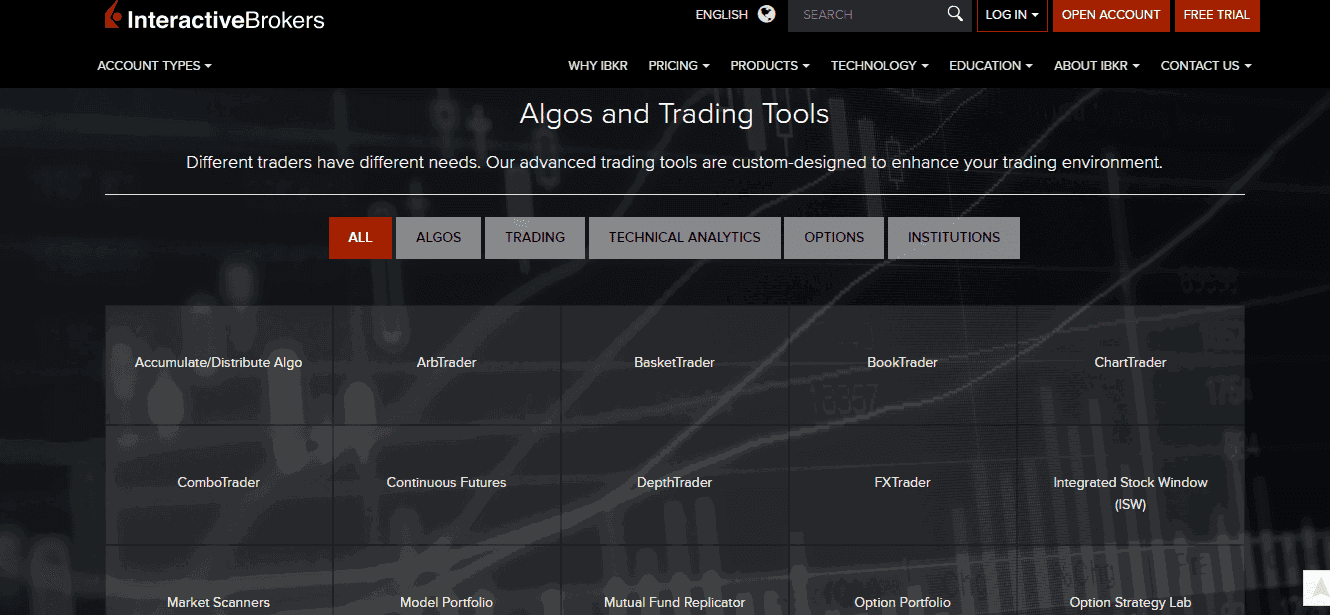 Account Management tools
Interactive Brokers has 4 types of portals for account management-
Client Portal
Advisor Portal
Broker Portal
Compliance Portal
Interactive Brokers Platform
Client Portal
The client portal can be explained as the one-stop place where the trader can check quotes and place trades; can go through account balances, profit & loss, key performance measures, reporting, funding and so on. The trader can click "Ask IBot" to place an order, get quotes, discover information and more. Further, IBot supports speech entry and text.
Desktop Trader Workstation
TWS is the most popular platform designed for active investors and traders who trade various products. TWS incorporates the most advanced trading tools and Algos and offers a library of tools and asset-based trading formats for complete customization.
IBKR Mobile
By using the IBKR mobile application, the trader can effectively trade and monitor the IBKR account from iOS or Android devices.
IBot
With the help of IBot, the trader can place orders in their own words. Succinctly, IBot understands the language content and voice commands and gives instant results without the requirement for special coding or technical jargon. IBot is available on TWS for Desktop, IBKR Mobile, client Portal through the site search and IBot-enabled FAQ browser.
IBKR WebTrader
IBKR Web Trader, a web-based trading platform offers the same functions as the desktop with a simple interface and works behind a firewall.
IBKR APIs
No matter what the experience level of the trader, this broker provides easy-to-utilize Excel API to industrial-strength FIX API. Their TWS API is well-backed with various models that make it simple to get started.
Interactive Brokers Lite
As per our Interactive brokers review, In October 2019, Interactive Brokers introduced a commission-free offering, known as IBKR Lite. IBKR Lite service offers customers commission-free ETFs, and unlimited free trading on US-listed stocks with Interactive Brokers standard pricing on different products.
By using IBKR Lite, there are no inactivity charges or data fees. All US stock options and ETF trades are free, while options trades pursue the same IBKR Pro pricing.
The primary requirements for the IBKR Lite program are lower quality order executions, marginally higher-margin fees than IBKR Pro, and there is no access to the Trader Workstation (TWS) platform. Rather, all trades must be made through the mobile app or website client portal.
Further, pricing is at the low range, particularly margin rates. IBKR Lite permits commission-free etfs trading on the company's client portal.
Customers of IBKR Lite can only utilize the Client Portal and mobile applications, which do not provide advanced order types. Moreover, the order router for IBKR Lite clients organizes payment for the order flow, which is not shared with the client.
SmartRouting
One of the benefits of Interactive Brokers' SmartRouting is, it delivers the best Price execution. Interactive Brokers' SmartRoutingSM scans for the best firm's option, stock, and combination of prices accessible at the time of the order, to quickly execute the order electronically.

Scope of Offerings
Interactive Brokers offers a wide scope of offerings to its clients. Apart from direct access to 125 worldwide exchanges, Interactive Brokers has included a huge stock of fixed income items, including several European corporate bonds and Euro-denominated government securities. Even though they offer over 11,000 mutual funds, the trader can utilize their mutual fund replicator to discover lower-cost Robo advisory assistance called Interactive Advisors.
Sophisticated Risk Management
IBKR offers real-time market risk management and monitoring based on Interactive Brokers reviews to provide complete risk exposure over different asset classes around the world. This continuous data will give the trader an edge to respond rapidly to the markets.
Extensive Reporting
The company's announcements and reports incorporate real-time trade confirmations, transaction cost analysis, margin details, advanced portfolio analysis, tax optimization, and an assortment of other supplemental reports.
Trader's University
Interactive Brokers offer free tutorials exclusively for its clients in the following areas:
Webinars
Courses and Interactive Tours
Trader's Insight
FX Auto Swap Program
The broker had created this component for specific customers who hold large forex positions, offering superior carry costs, when they are holding positions that are not closed on intraday. Suffice to say, this Auto swap program is not intended for and would not profit any customer who holds a single currency balance.
This facility is related to equal and offsetting positions in the forex market. The structure enables customers to profit by participation in the interbank forex swaps market; where the suggested interest rate spreads are commonly much smaller than spreads accessible in the retail deposit market.
IBIS Research Platform
Research and news memberships are accessible through Interactive Brokers Information System (IBIS). Further, separate data services are additionally accessible. The platform incorporates subscription to few research services that are accessible free of charge. Moreover, these services are available to all demo clients and do not require an application to be funded or supported.
PortfolioAnalyst
PortfolioAnalyst is the strong performance reporting tool intended to satisfy the thorough guidelines. PortfolioAnalyst, an online application that allows investors to effectively track, consolidate, and analyze performance over the financial account, which includes credit card, bank, and mortgage accounts held at any financial organization. Besides investors, regardless of whether they are at present customers of Interactive Brokers or not, can utilize both PortfolioAnalyst and Portfolio Checkup for free.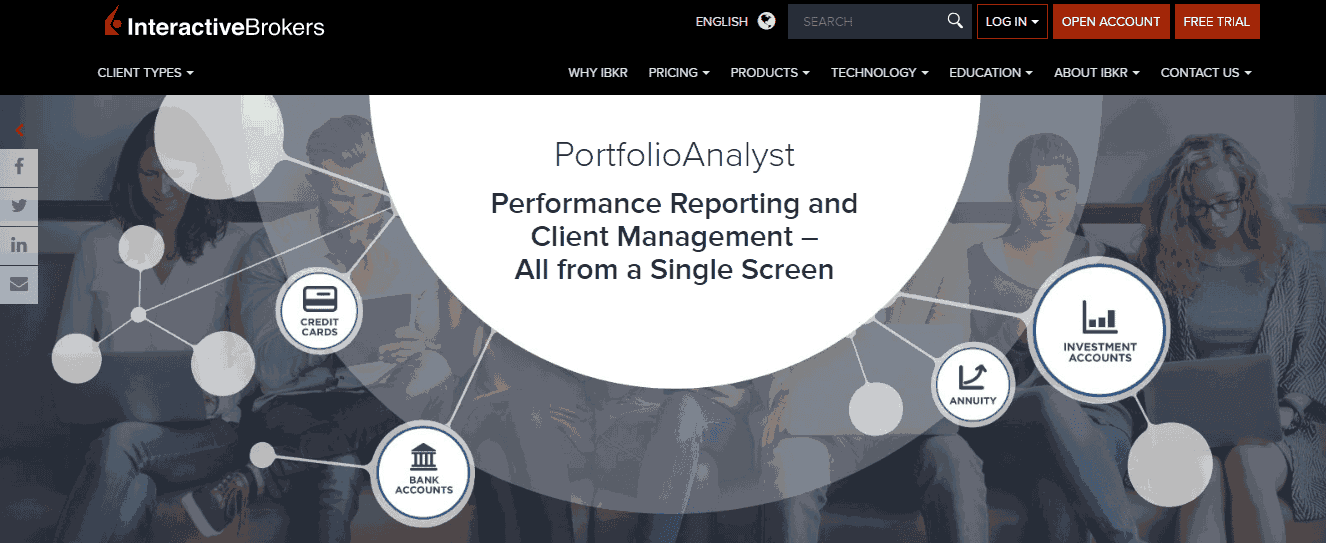 Probability Lab
The Probability Lab provides a practical method to consider options without the complexity of mathematics.

The Probability Lab shows the Probability Distribution for any market according to Interactive Brokers reviews, which deciphers the investor's present conviction over certain results.

The trader can interact with the tool to make their forecast and can find out option trading techniques with the highest risk-balanced return for the forecast.
The Probability Lab App is free for investors to use on their smartphones. When a trader opens an account with Interactive Brokers they will discover a lot of other supportive stock scanners and option trading tools which includes the IB Option Strategy Scanner and the IB Volatility Lab.
Third-Party Integration
The firm helps the clients to integrate their IBKR information with third-party portfolio management, order management compliance software and post-trade allocation.
IBot
IBot offers access to a wide range of data, features, trading tools, and account information. Regardless of whether the trader needs to view a chart, sell an option, find stocks that are progressing, check the account balance, or find support from client services, IBot offers help.
Further, advanced artificial intelligence empowers IBot to react to the several ways that the trader asks for. Scanners, charts, orders, and several more are accessible with IBot.
IBKR Expert's Community
IBKR Trader's Insight is a distinct advantage for the members looking for timely advice directly from industry experts. Besides, the IBKR Quant Blog imparts quantitative experts who have an interest in programming.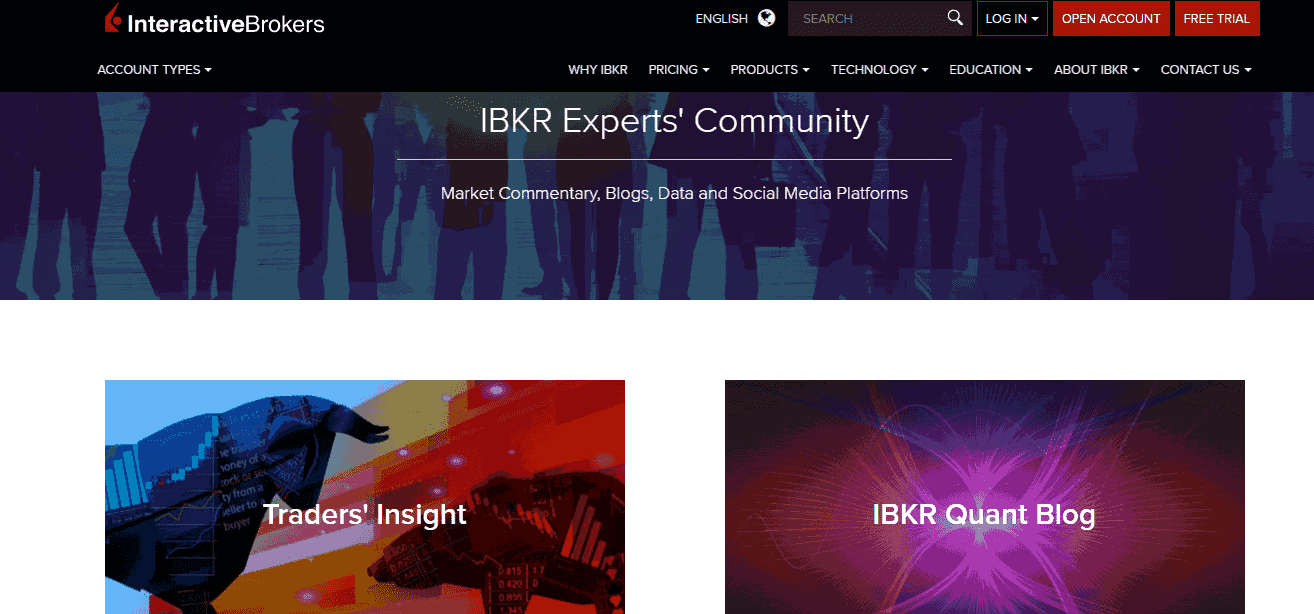 News and Research
Options traders will have the advantage of many built-in tools like Probability Lab, which lets the trader compare the market standpoint with current conditions, recommending techniques to the trader to trade.
Interactive Brokers offers its customers free research from about 100 providers which includes Alexandria Social Sentiment, Zacks, Market Realist, ValuEngine, TipRanks, Dow Jones, and some more.
ESG ratings are accessible from Thomson Reuters, allowing the trader to compare and rank organizations dependent on factors that matter. Moreover, the trader can buy discounted subscriptions for premium research.
Education
The Trader's Academy offers free online seminars on a wide range of topics, starting from TWS for beginners, in-depth clarifications of different trading algorithms that are useful for the trader. Trader's Academy can be accessed from all platforms, including mobiles.
The Broker holds around 250 live webinars a year and has an archive with almost 900 earlier recorded webinars.
The Trader's Insight blog comprises of educational content on tax and retirement topics, along with outlooks for Asia-Pacific, US, Europe, and other different market areas. The IBKR Quant Blog is there for customers who want to trade in the financial markets and write their trading algorithms.
Trader's Academy
Trader's Academy is meant for finance experts, educators, investors, and for students looking for an understanding of asset class, currencies, tools, markets, and functionalities accessible on IBKR's Trader Workstation (TWS), Account Management, IBKR Mobile, and TWS API applications.
IBKR Mobile app
We get to know from checking Interactive Brokers reviews that the IBKR mobile application is accessible to both Lite and Pro clients. It is a Trader Workstation with advanced trading routes, with more than 50 data segments, option exercise, and spread formats, research, news, charting which includes more than 60 technical studies and scanners. Clients can make order presets, with pre-fill order tickets for quick entry. Additionally, presets set up on Trader Workstation are accessible from the mobile application.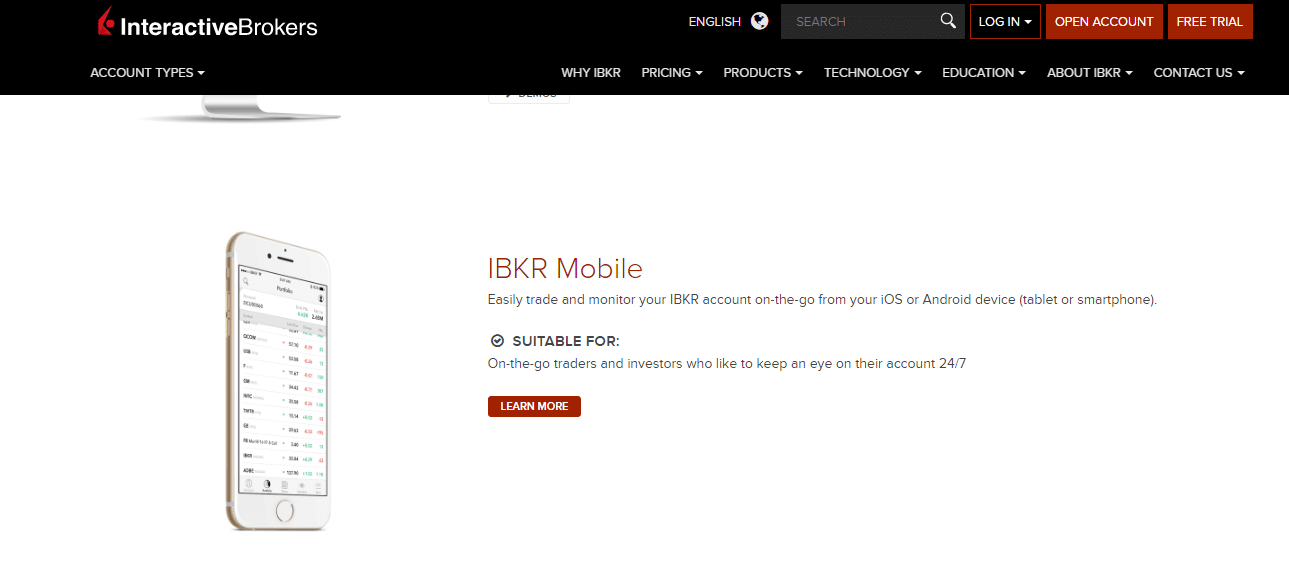 Cryptocurrency
It offers the traders to trade with Bitcoin and Ethereum ETNs and Bitcoin Futures.
Bitcoin and Ether ETNs are traded on the US OTC (Pink) markets and Stockholm Stock Exchange markets.
Bitcoin Index is accessible on the New York Stock Exchange (NYSE) and the CME Group and Chicago Board Options Exchange (CBOE)
Besides, Bitcoin Futures are accessible on the CME Group and Chicago Board Options Exchange.
Investments Offering
This Broker offers the most diverse offering in the business and leads by a wide margin in various areas, including global trading, order types, and money management. Any money staying idle on the account past 10,000 dollars will earn interest to clients. The rate will vary depending on the account balance and the trade value.
Inactivity fees
Interactive Brokers is one of the best online brokers that provide services to active traders and that shows in its inactivity fees for IBKR Pro clients.
Accounts with a balance of 100,000 dollars or less should meet at least 10 dollars per month in trade commissions or there will be a charge for the difference as monthly fees.
Accounts having an equity balance of 2,000 dollars or less should meet a minimum trade commission of 20 dollars. IBKR Lite does not charge inactivity fees.
Customer Service
Interactive Broker offers customer service to all its clients. Customer service representatives can be reached through telephone, email, live chat, and an automated 'IBot' as per Interactive Brokers reviews to get quick and relevant answers. Regardless, customer service is not accessible 24/7. Besides, customer service can be accessible in various languages and regions, in particular in English, Chinese, Indian, Russian, and Japanese.
Drawbacks
Unlike its other active trader-centered competitors, Interactive Brokers fails to meet expectations in the areas of market research, usability, and education for beginners.
Interactive Brokers' margin requirements for Intraday are not good, compared to other Indian discount brokers.
Further, Interactive Brokers has inactivity fees of Rs.200 per month for Indian customers, which may be a disadvantage for investors who rarely trade.
TWS is designed for extremely active traders, which might be difficult for beginners to use.
Wrap up
From Interactive Brokers reviews, we conclude that this is a good choice for active and advanced traders who are hoping to cut commissions. It offers industry-driving commission rates, over 60 distinctive order types, excessively low margin rates, support for every investment by trading in 125 global markets. This abundance of tools makes the platform apt for active and professional traders. Their Robo-advisory assistance is a low-cost approach to get acquainted with the platform. Active traders can be benefitted from the wide assortment of global asset classes, order types, and trading algorithms offered by this broker.
FAQ's
1. Is your money safe with this brokerage?
Interactive Brokers are regulated by regulatory authorities, which includes top-tier authorities like the UK Financial Conduct Authority and the US Securities and Exchange Commission. It also has licenses from several world-class regulator's and this broker is safe and secured.
2. Who Can Use Interactive Brokers?
This trading platform is designed by keeping advanced traders in mind. In case if you are a new trader, this platform might be a bit overwhelming. The platform is highly beneficial for experienced traders who know their way around trading.
3. Is Interactive Brokers right for you?
Interactive Brokers is one of the leading and most popular brokerages in the US, and it has been one of the best choices for experienced traders specially for the traders looking for cheaper volume pricing trading setup. Currently, with IBKR lite offering free trades based on Interactive Brokers review, it is the most preferred choice of casual traders. New traders might find it a little technical and they need to study the educational materials before proceeding with the trades.
Interactive Brokers
Pros
Interactive Brokers has an industry-driving commissions plan,
Interactive Brokers offers an extensive selection of investment choices.
Interactive Brokers offers low margin rates for margin investors.
Interactive Brokers provides BlackBerry App for its BlackBerry clients.
It offers a Free Trial Account for its clients.
Cons
Interactive Brokers fails to meet expectations in the areas of market research, usability, and education for beginners.
Interactive Brokers' margin requirements for Intraday are not good, compared to other Indian discount brokers.
Interactive Brokers has an inactivity charge of Rs.200 per month for Indian customers.