Do you want to start trading with NSBroker, or are you a newcomer who doesn't know where to start? This NSBroker forex review will help you get to know trading conditions at NSBroker and guide you to trade properly.
General Information
NSBroker is a trading brand of NSFX Ltd, a fintech broker company at Malta. You can find its head office at the address of 168 St Christopher Street, Valletta VLT 1467, Malta. Under the registration number IS/56519 licensed by Malta Financial Services Authority, NSBroker now has 9 years of experience in providing trading and investing service for all traders' levels, from the retails to the institutions. This milestone is achieved thanks to the combination of exciting trading offers, dedicated customer support, a user-friendly trading platform, low minimum deposit, and many more.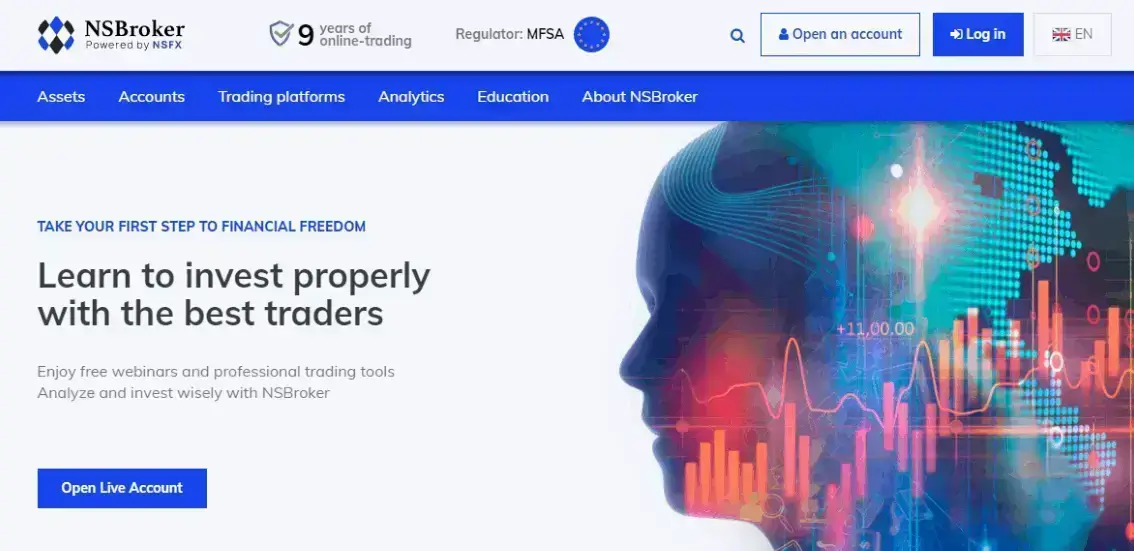 Regulation
Among hundreds of active brokers, NSBroker stands out as a multi regulated broker. It's not just licensed by Malta Financial Services Authority but also gets registrations from many reputable administrations such as FCA of the United Kingdom, ACP of France, BaFin of Germany, CNMV of Spain, CONSOB in Italy. Being authorized in various countries means a lot to both broker and trader. In the broker side, it can introduce international trading services legally. If you haven't known, many countries don't forbid CFD trading but don't support it at the same time, making it complicated when conflicts of interest occur. And in the trader side, working with a multi-regulated broker brings them many benefits plus protection. To be specific, in compliance with MFSA regulations, some safety measures that NSBroker offers its clients are:
Negative balance protection:

As its name has indicated, this automatic tool will cancel all trades when your money drops to zero, thus prevent you from the negative balance or being in debt in other words.

Fund insurance:

NSBroker is a member of the Investor Compensation Fund. This is an MFSA's backup fund aiming to compensate clients in case their broker is insolvent. According to this, each trader can claim up to €20,000.
Safety and Security
NSBroker applies different security solutions. For instance, NSBroker secures its environment with the Secure Sockets Layer protocol to shield all information from hackers and other intruders. However, this broker still collects several data from its customer like the IP address via cookies. The purpose of this is to help the broker understand the customer a bit more so that NSBroker offers the corresponding services and support. As has been stated in the Privacy Policy, NSBroker does not share its customer's information without permission.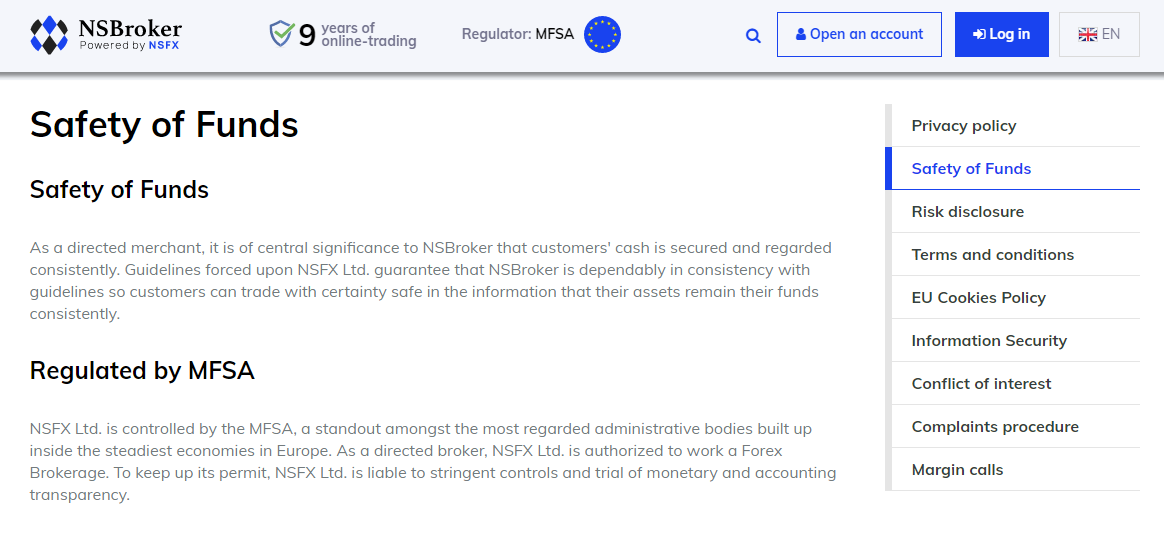 Selling contact with the third party is also forbidden. Nonetheless, NSBroker can consider doing so when it comes to legal issues required by law enforcers. For the safety of the fund, fund segregation is always kept in check. To be specific, customers' funds and broker's funds are not combined but isolated in different bank accounts. This policy makes sure the customers' money is used for their trading purpose only, not for any other broker's operations. The segregation of funds is confirmed by PwC, one of the biggest 4 international audits.
NSBroker Trading Conditions
NSBroker establishes the Electronic Communication Network (ECN) trading environment. ECN is the state-of-the-art environment for trading CFD. Why? A typical broker usually plays the role of a market maker rather than just a pure intermediary. It means the broker gets the quotes from the big market, adjusts the prices before sending them to its customer. Therefore, the customers' pricing is not the original ones but the marked-up ones; the spreads between asking and bid price are also widened as the broker makes money from that. In contrast, an ECN broker just receives and passes the orders; thus, the prices you receive are the best available ones, and the spreads are raw, meaning they can start from zero. 
Additionally, NSBroker is a longtime partner of many liquidity providers like UBS, Barclay, CitiBank, Currenex, PrimeXM, Dukascopy, and more. These financial institutions and banks ensure liquidity during trading hours, lowering credit hazards. An example of low liquidity is in a volatile market where there is a gap between the selling and buying side, spreads are likely to be widened, resulting in potential losses for traders. Therefore, the more liquidity providers the broker partners with, the more stable trading condition it ensures. For these reasons, NSBroker offers the spreads as low as 0.3 pips; the distance to the winning side is narrowed, and thus, the profitable chance is higher. So with such tight spreads, how can NSBroker and the ECN broker earn money? The answer is simple; they ask customers to pay commissions per trade. Luckily, these fees of NSBroker are quite insignificant; you have to pay only $8 per lot or 0.05% value of your order. 
Low spreads and commission fees are NSBroker's key features to attract traders from all levels since everyone wants low-cost trading services. At NSBroker, you trade contracts for difference (CFD), so you don't have to purchase the physical assets but speculate from the change in their value. Besides, CFD is a margin trading where you just need to deposit a part of the total value of the trading asset; thus, the required minimum deposit for CFD trading is reduced significantly. NSBroker offers a margin of 1% or the maximum leverage ratio of 1:100; for instance, if you purchase a lot of $100,000, the money you have to deposit is just $1,000 or 1% of that lot.
NSBroker Trading Offers
Another thing we need to review is the commercial offers. At NSBroker, you can make profits from over 60 underlying assets that belong to 5 groups: Forex currency pairs, Indices, Precious metals, Energy carriers, and crypto. A wide range of financial instruments brings you a diverse trading experience and a more profitable chance. For example, you are specialized in trading EURUSD, but the market doesn't always go the way you want, and sometimes, it becomes unpredictable, that's the right time to change to another asset or maybe another instrument class. Here are the trading assets you have at NSBroker:

Forex currency pairs:

Major pairs (EUR/USD, GBP/USD, USD/CHF, USD/JPY, CAD/CHF, CAD/JPY, USD/CAD, CHF/JPY, EUR/CAD, EUR/CHF, EUR/GBP, EUR/JPY, GBP/CAD, GBP/CAD, GBP/CHF, GBP/JPY); Minor pairs (AUD/CAD, AUD/CHF, AUD/JPY, AUD/NZD, AUD/USD, EUR/AUD, EUR/NZD, GBP/AUD, GBP/NZD, NZD/CAD, NZD/CHF, NZD/JPY, NZD/USD), and Exotic pairs (EUR/NOK, EUR/PLN, EUR/SEK, EUR/TRY, USD/DKK, USD/HUF, USD/NOK, USD/PLN, USD/SEK, USD/SGD, USD/TRY, USD/ZAR)

Precious metals:

Gold (XAU/USD) and Silver (XAG/USD)

Indices:

Major indices (AUS200, FRA40, JPN225, UK100) and Minor indices (GER30, USA500, WS30, US100)

Energy carriers:

Brent crude oil (XBR/USD), WTI crude oil (XTI/USD)

Cryptocurrencies: Bitcoin, Bitcoin Cash, Ripple, Ethereum, Litecoin
Trading Platforms
NSBroker does not have a signature trading platform but uses MetaTrader 5 from MetaQuotes. MetaTrader 5 is the latest trading platform developed to reform the online Forex & CFD investing industry. This trading platform is arming with advanced tools and features to help traders make in-depth analyses on the market. Besides, MetaTrader 5 also has automatic functions to relieve the burden on the traders' shoulders. Here are several things you can expect from MetaTrader 5:
Trading Signals:

You are a new trader who doesn't know where to make entries or you are a busy guy who barely has time studying the market. Just try following the trading signals of NSBroker's experts or senior traders on MetaTrader 5

Expert Advisor:

You know programming and want to create an AI who helps you analyse the market and provide advice before any decision. Expert Advisor can give you a hand.

Multi-threaded Strategy Tester:

This is the automatic testing tool. You set the parameters representing your strategy and let the system run with the historical data to show you the results. The next step is optimisation, you adjust the parameter until finding the best output.

Filling Policy:

You can choose between Fill & Kill and Immediately or Cancel (IOC). With the former approach, the system will fill your order by your specified volume, if that condition can't be met, the order is cancelled. In contrast, the latter will try to fill your trading volume as much as possible, the rest volume will be cancelled.

Depth of the Market (DOP):

This tool shows you all available bid/ask orders plus the corresponding volume. With this tool, you can choose the desired prices and volumes for your order.

Economic Calendar:

This calendar summarises all financial events and the estimated impact of them. Unlike other trading platforms, MetaTrader 5 integrates this calendar within, making it easier for fundamental traders to keep track with the news and make trading decisions simultaneously.

21 Timeframes:

Now traders can follow the price movements in many hours and minutes periods. Thanks to that, they can have more viewpoints and can see the insights of the market.

38 Technical Indicators:

The number of indicators is also higher. Yet, MetaTrader 5 still maintains the most popular ones like Moving Average, Relative Strength Index, Moving Average Convergence Divergence or Average Directional Index
Compatible Devices
MetaTrader 5 is used in all trading platforms versions of NSBroker, including desktop PC, Webtrader, and Mobile devices. All three versions are equipped with full tools and functions, but each has particular advantages and disadvantages. We have done a review on the connection speed of NSFX servers; all are stable since this broker sets up the network in many countries.
Desktop PC:

You can download and install the software which is already set up with the NSBroker server. This software is compatible with Windows, Linux, and Mac.

Mobile Devices:

The trading platform is also available as a mobile application. You can get it from both apple AppStore and Android Google Play. With this version, you need to find the NSFX Ltd server before logging in to your account. After that, you can trade at any time at any place.

Webtrader:

With this choice, you don't need to download or install anything, but to access, you need to go to the NSBroker website and log in to your account first.
Trading Education
Many new traders choose NSBroker because of its education center. NSBroker has been developing a comprehensive trading academy. Being a customer of NSBroker, you can access the library with a wide range of educational materials. If you want to learn on your own, try reading the collection of ebooks which covers all financial markets. If reading is too boring, you can switch to the video lessons to get more visual examples. 
Regularly, webinars are hosted by professionals; this is an exciting workshop where you can learn new trading knowledge, get informed with new trading chances, and seek answers to your question. Moreover, after signing up at NSBroker, you will be contacted by a specialist who helps you deposit, choose the best way to trade, determine the proper trading plan, and if you need, they can invite you to trading groups to learn from other likewise traders and get trading signals. Another benefit when working with this broker is that you can approach many articles covering various topics such as technical analyses or new strategies guides.
Open A Trading Account
After reading all of these above sections, you are now eager to sign up? Then don't worry, you can do it within a few minutes. The registration procedure of NSBroker has been simplified into 3 steps:

Click the "Open An Account' button on the top right of the NSBroker homepage. Complete the Registration Form that drops down. This form just asks you for simple information relating to your name, email, phone number, and passwords.

You need to upload several documents to verify your trading account. This step is not required at this moment, but you have to do it sooner or later, so just do it by uploading your proof of ID (passport/driver license/ID) and proof of address (bank statement/utility bills). Make sure all of them are clear with full 4 corners.

The last step is waiting for NSBroker to accept and activate your account, then you can deposit and start trading.
To get further information on the required documents, you can find it in the education center of NSBroker. This broker has guides for such questions.
Trading Accounts
After finishing the registration, you can create your accounts. NSBroker has 2 account types, which are a real account and a demo account. If you are a newcomer, a free demo account is highly recommended. You don't need to deposit any money with this account since the account already has the virtual fund. You can learn to trade and develop your strategy in this account. 
This free demo account simulates the real market movements and the trading conditions like spreads, leverage that NSBroker offers to get familiar with your broker and your trading platform. This demo account requires no deposit, so you can use it to practice as long as you want. Even when you become a senior trader, the demo account is still useful to experiment with new strategies.
Deposit and Withdrawal
For a real account, you need to fund it with real money before placing orders. NSBroker accepts only 2 payment methods via Bank Wire Transfer and Credit Card (Visa, MasterCard). To offset this limitation, this broker provides one of the fastest processing times of the industry. For deposit, you can top up your account instantly or just 1 day in maximum. The minimum deposit at NSBroker is set at $500, a reasonable amount even for new traders who normally don't have high capitals. Withdrawal is carried out in the same route as a deposit, but it takes 2 days for the money to get back to your bank account. And the most exciting thing is that NSBroker doesn't charge any fee for all of these payments.
Dedicated Support Team
NSBroker knows how to serve its customers. The support team is available 24/5 on live chat, phone, and email. If you have any problems during the trading time, bear in mind that the technical support's working hours are 08:00 – 20:00 (GMT+3). NSBroker's support team is well trained, and it is reflected by how they quickly respond on all channels. According to the NSBroker review taken by many authors, it's a matter of minutes until they reach you with the answer to your questions. 
Moreover, NSBroker has established a complaint policy and procedure. Since trading is an activity that is likely to occur in conflicts of interest, this policy can give a baseline to help both the broker and the customer to speak the same language. Additionally, NSBroker is an international broker, and customer support is multi-language, so don't hesitate to contact them. Here are the hotlines in the 3 biggest offices of NSBroker:
+44 (208) 089-08-14 – London

+43 (720) 02-25-09 – Austria

+356 (27) 78-15-65 – Malta
Summary
So we have gone through all of this NSBroker review. NSBroker is a reputable broker in Malta and Europe where it provides affordable trades, a user-friendly but innovative platform, rich education center, dedicated customer service, and fast payments. If you are a new trader, NSBroker is a safe place to learn and build a strong foundation. If you are an experienced one, you can take advantage of the outstanding trading service and tools that NSBroker offers to make profits as much as you can.
NSBroker FAQ
1. Is NSBroker regulated? 
Ans. Yes, NSBroker is a multi-regulated broker.
2. What are the lowest spreads at NSBroker? 
Ans. The spreads of NSBroker start from 0.3 pips.
3. What kind of payment methods that NSBroker accepts? 
Ans. You can deposit and withdraw money via Bank Transfer and Credit Cards.
4. Which trading platform that NSBroker uses? 
Ans. NSBroker uses MT5 for all devices and operating systems.