VeChain News
VeChain (VET) Lures an Amazing Traction; Retests 90-day Resistance at $0.00779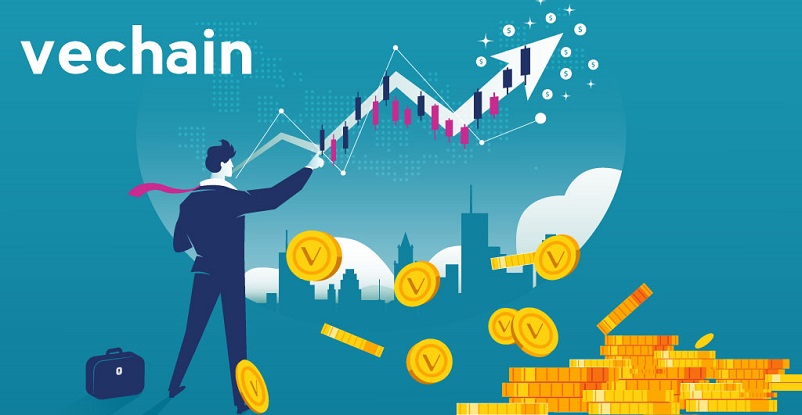 VeChain News
With the increasing amount of safety and hygiene measures taken in the food sector after the outbreak of Coronavirus from a wet market in Wuhan, China, the producers & sellers are likely to be altogether more transparent about their safety practices.
Aligned to these measures, Shenzhen Yuhongtai Foods Co. Ltd., on June 02, 2020, introduced about its adoption of VeChain Toolchain technology to strengthen their Food Traceability Platform. Shenzhen records a massive population of 12.53 million and is known as the technology hub of China and is the vanguard of the blockchain adopted industries.
The platform is doing it for the entire chain of their products ranging from premium pork products by their wholly-owned subsidiary Meijiada Fresh Foods, wherein the latter specializes in fresh meat and vegetable market. Additionally, along with VeChain Toolchain, Meijiada assimilates the entire task of sales to offer fresh and timely delivery on the same day itself and not store until the next day.
Alongside Meijiada now, with the help of VeChainThor, blockchain is able to streamline key supply chain data of their products such as creation, processing flow, logistics, date of packaging, as well as marketing information.
VeChain Price Prediction
VET/USD, at the time of penning down this article, was trading at $0.007301, after hitting a fantastic 3-month resistance at $0.00779 at the onset of the month in the previous week. Moreover, since the onset of the month, the price of VeChain is consolidating above 61.80% Fib Retracement level with a complete bullish crossover due to gained momentum.
Also, after the market crash in March, the currency had been drawing a notable uptrend on the daily chart and retains steady support from 50-day and 200-day MA. After retesting the 90-day resistance, VET price hit the upper 20-day Bollinger Band against the US Dollar after marking an amazing blow of momentum.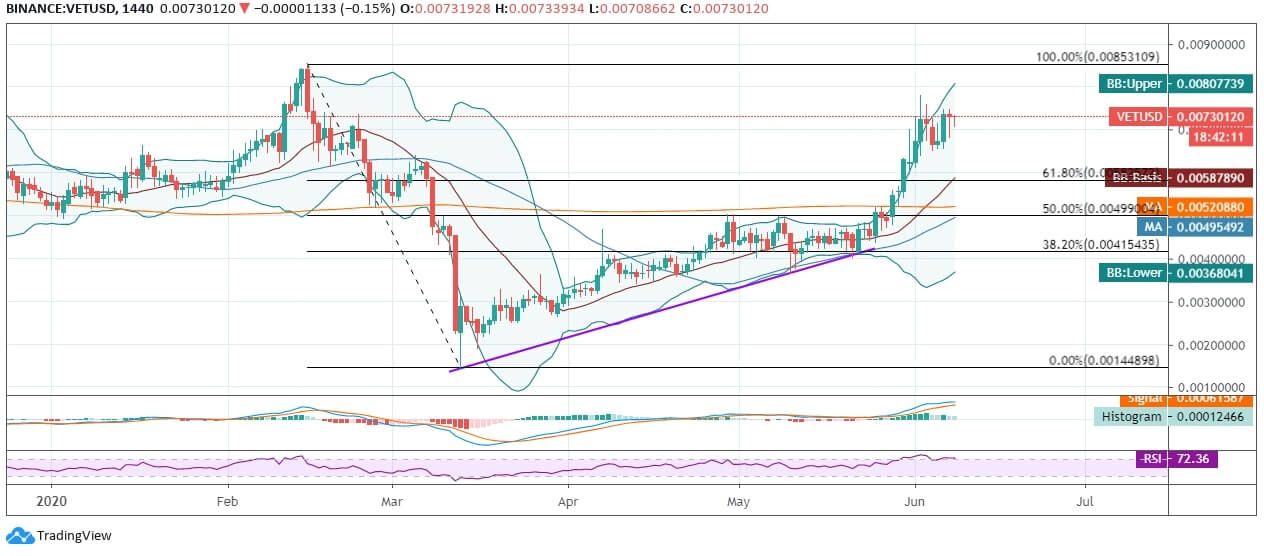 Moreover, VeChain and many other altcoins have been marking amazing traction and recovery on the daily chart, and the intraday tends to be quite a gainer, which necessarily confirms the alt season. The 20-day Bollinger Bands are exhibiting mixed signals of prompt momentum and increasing volatility as the bands widen. However, if compared to the king of cryptos, the VET price movement has been commendable against the recent fall when Bitcoin had hit the double bottom around $9.4k in the past five days.
The technicals are drawing a bullish picture due to intraday positive sentiments in the market, and thereby, MACD crosses above the signal line. Similarly, due to the increased demand of the token, the RSI of VeChain is already hitting above the overbought zone at 72.36.