VeChain News
VeChain Gains Impetus; Can it be Swapped with XRP for Quick Gains?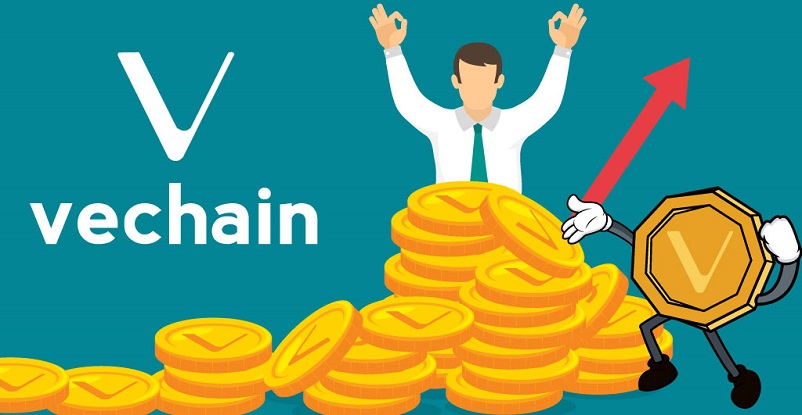 VeChain, as a smart platform, is acing the blockchain enterprise solution space, and thereby VET token is gaining enough impetus on the price front. With the recent high marked at $0.022 and the coin notably breached a 22-month resistance, in the trading hours yesterday.
VeChain has been one such altcoin of the market that had been trading sideways otherwise and has now gained traction to breach the major resistance above $0.010. With 5000+ cryptocurrencies, VeChain is amongst those successful projects of the present time that will survive amongst the many. And, we believe the platform has already started its journey towards development and extension of its services in all the sectors possible.
Currently, many networkers are earning gracefully from their investment in VeChain after it has breached the major 52-week resistance above $0.010. The current VET coin investment is gaining profits for all the addresses who had splurged when the coin was consolidating in the past year until now.
Additionally, if we compare the gains with XRP irrespective of the price gap between two, we know that XRP is trading around 20 cents with a recent hike from $0.18 price area. Now, the major question that surrounds the social media is: "Can VET be a major deviation for XRP holders to gain quickly which otherwise in slow in XRP?"
Moreover, investors should not be worried about the corrections, which is the inherent nature of the crypto market. The thing that matters is the constitutional value of VeChain, which is more than Ethereum today.
Moreover, VeChain has lured enough limelight as it is highlighted in Deloitte's Survey, recognized by the German Government, networkers considering VeChain in place of Ethereum and XRP to gain quick returns with developing platform.
VeChain Price Analysis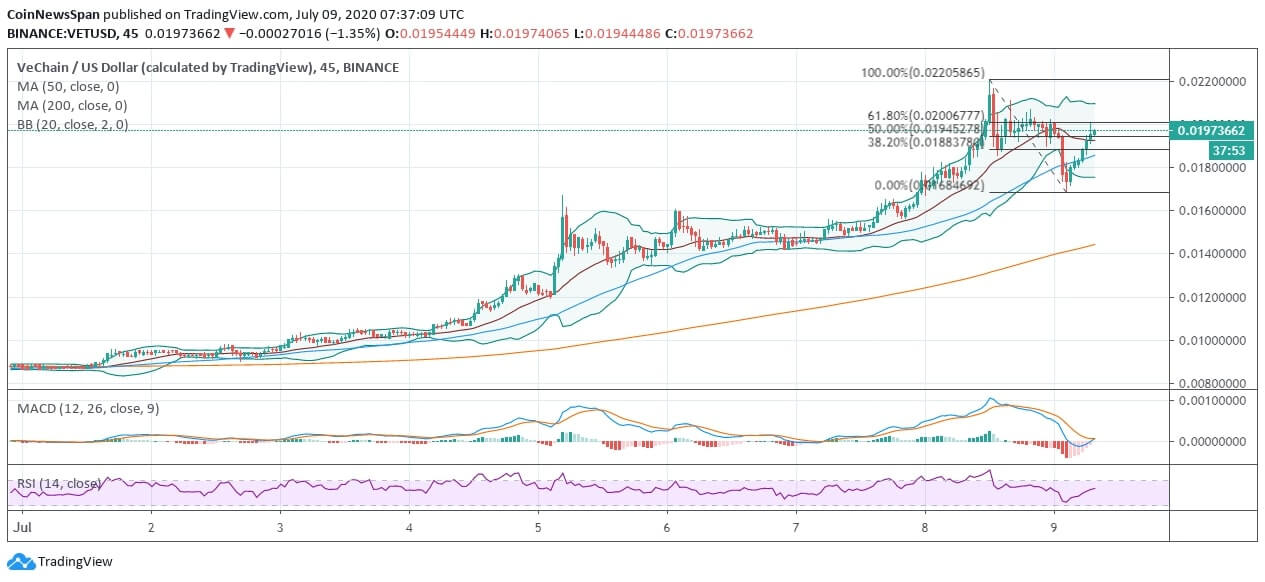 On the intraday chart, VeChain breached the strongest 22-week resistance as it hit a stupefying height at $0.02205. However, the pullback in the wee hours of the trading session today was quite notable when the price dipped around $0.017.
At the press time, VET/USD was trading at $0.0197 as it regained and strengthened to rise above 50.0% Fib Retracement level in the intraday. The 20-day Bollinger Bands laid on the intraday chart are not holding any notable extremity, and therefore, we do not project volatility for the day traders. The major support and resistance to watch out for lies at $0.016 and $0.022, respectively, for the intraday trading.
The MACD is holding a bearish crossover due to recent pullback after attaining yesterday height. However, as VeChain regains the momentum, the MACD line is seen approaching to intersect with the signal line for a bullish crossover. The RSI is inclined towards the overbought region after dipping around 30.