NEO News
NEO Loses 5.6% Overnight, Confines to $7.2
Neo loses 5.6% overnight to touch 7.2 USD.
The next resistance may come at 7.6 USD.
Neo has been down by a whopping 5.60% over the last 24 hours and the value as of now has been confined to 7.2 USD. The four price swings have given the price trend a range between 7.67 USD and 7.16 USD. The initial hours of yesterday were full of unprecedented shocks.
NEO Price Analysis:
Neo's first variation started at the very opening of the day and in the next 11 hours, it lost 4.26% to be placed at 7.34 USD. The next variation happened between 12:27 UTC and 14:46 UTC and this swing cost 3.42% and made it lose 0.25 USD and pushed the value to the lowest of the day at 7.16 USD. However, at 14:46 UTC, it started showing strength and over the next 8 hours and 44 minutes, it scaled 3.22% to reach 7.39 USD. The final variation started at 23:39 UTC and by 03:02 UTC, it reached 7.22 USD.
The market cap also has been affected by the last few days of market struggle. Between September 02 and September 03, the market cap has gone from 540 million USD to 519 million USD. The current market cap is around 516 million USD.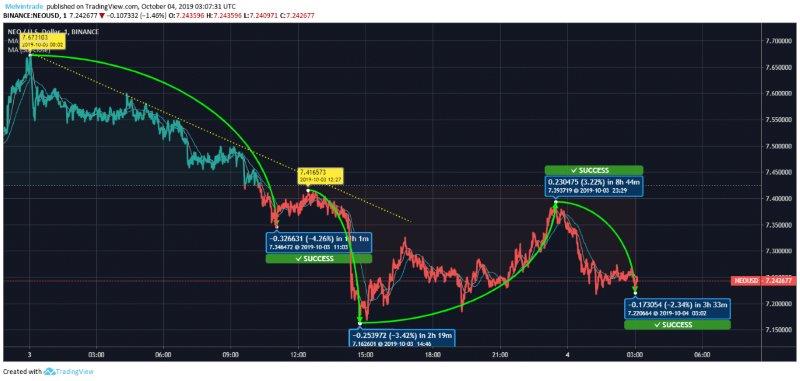 Neo is one of the emerging coins and it has just followed the overall market trend and lost huge. The 50-day average is going considerably higher than its 20-day average and its current trend is still at chasing mode. So, no quick turnaround may happen.
| | |
| --- | --- |
| Neo (NEO) | Resistance and Support Levels |
| 1st Resistance | $7.60 |
| 2nd Resistance | $7.84 |
| 3rd Resistance | $8.02 |
| 1st Support Level | $7.18 |
| 2nd Support Level | $7.00 |
| 3rd Support Level | $6.76 |