TRON News
Investing in Tron (TRX): How Safe Is It?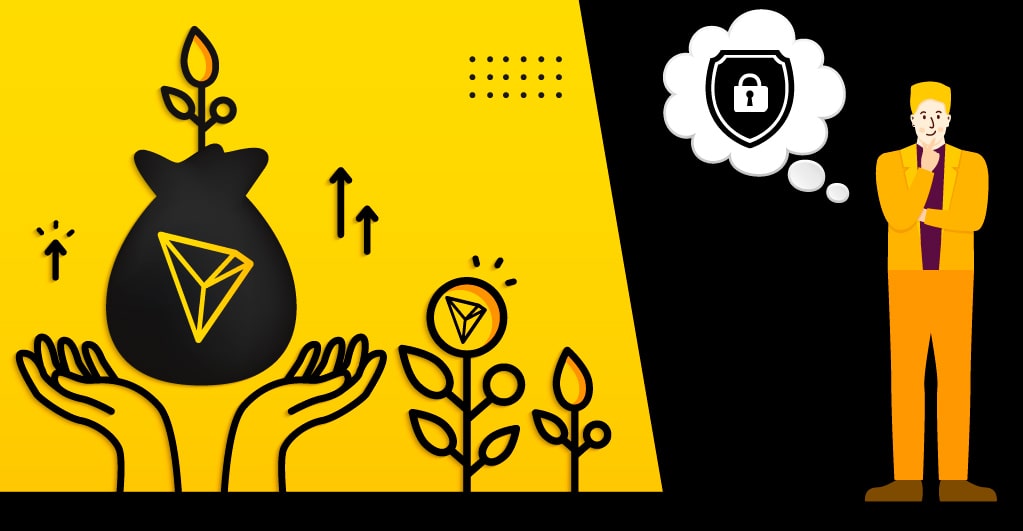 Tron is a decentralized platform that enables the distributed storage and sharing of digital content via blockchain technology and a P2P network. It was founded by the Singapore-based Tron Foundation in 2017. Simply put, Tron is ideal as a cost-effective and faster means of sharing digital content globally. The blockchain network of Tron is powered by its native cryptocurrency, Tronix, represented as TRX.
Tron aims to decentralize entertainment. And what does this mean? As a decentralized operating system that is based on blockchain technology, Tron connects content creators to content subscribers without the need for middlemen.
TRON Explained
To understand TRON, let's take a look at Netflix. As an OTT platform, Netflix charges both content creators and content subscribers where the latter pays for viewing the digital content. Here, only part of the fee is allotted to the content creators, while the creators must also pay for hosting the content on the platform.
In other words, OTT platforms like Amazon Prime, Netflix, etc., act as middlemen for sharing the digital content. On the other hand, Tron enables content creators to directly share their digital content with the content subscribers. In the process, the subscribers directly pay the content creators eliminating the need for middlemen. It is for this reason that Tron is cost-effective and allows for faster sharing of digital content.
As a decentralized blockchain network for sharing digital content, TRON enables content creators to host their content without approval, as in the case of YouTube. As per  Tron News, TRON also allows users to create new channels where advertisers will directly pay tokens to the content creator. Similarly, subscribers can subscribe to channels using tokens or can also pay tokens directly to the content producer for viewing the digital content.
TRX-the TRON Token
TRON uses its native cryptocurrency, TRON coin, or TRX, which is exchanged for sharing content. Users can apply TRX in the TRON ecosystem for purchasing TRON merchandise,  using TRON ATM, or credit card payment.
TRX is stored in cryptocurrency wallets that are compatible with Ethereum. Unlike other cryptocurrencies, TRX cannot be exchanged with fiat currency. That said, users can purchase TRON on cryptocurrency exchanges using other cryptocurrencies like bitcoin or Ether.
Is Investing in TRON Safe?
Tron, like other cryptocurrencies, is a highly volatile asset that is subject to market fluctuations. Traders make a profit by buying cryptocurrencies for a lower price and selling them higher. The profits earned also depend on the type of cryptocurrency the trader invests in.
Bitcoin is the most highly traded cryptocurrency as its value is on par with that of the popular fiat currency pairs. Needless to say, the large-scale application of any cryptocurrency will naturally increase the demand for its supply. As TRX is the native token used on the TRON ecosystem, the rising application of TRON will result in the increasing demand for TRX.
The TRON project currently hovers around a $1.1 billion market cap, already acquired BitTorrent and Steemit, and TRON's pragmatism for creating wealth has attracted a thriving community. The technology and the personnel behind Tron come with little concern. But before investing in Tron (TRX), you must check out Tron Price Prediction by crypto experts.
Prospects of Investing in TRON
Banking on the fact that decentralized sharing on digital content using blockchain technology will revolutionize digital entertainment, many financial investors predict that the value of TRON will gradually rise in the coming years. However, experts also believe that TRON is way ahead of its time, implying that there's still a long way to go for it to replace the existing digital networks for sharing content.
In a very short time, TRON has earned its place amongst the top ten cryptocurrencies. The complete potential of TRON's native currency is yet to be explored. That said, TRON is ideal for long-term investments rather than trading. So, how does one go about purchasing TRON?
Where to Buy TRON (TRX)?
Investors can buy TRX from cryptocurrency exchanges that support Ethereum. You cannot buy TRX using fiat currency. Users must first buy bitcoin or Ether, or other popular altcoins to purchase TRX.
As TRON is stored in cryptocurrency wallets, it is also important to register with an e-wallet that supports TRON. Once this is done, arranging for the necessary funds (cryptocurrency) to buy TRON will be the next step. Users can buy TRON from a myriad of cryptocurrency exchanges like Binance, Coinbase, eToro, to name a few.
Bottom Line
Presently, the price of TRON is $0.03, while its Market Cap is $9,511,330,768. Over the years, the cryptocurrency market has witnessed severe fluctuations in the price movement of TRON. However, experts believe that in the next five years, there is a huge scope for TRON to reach a value of $0.763. So, TRON is ideal for long term investments. There's also a probability for the value to reach $1, which will depend on the large-scale application of the TRON ecosystem.