Chainlink News
Chainlink (LINK) Snaps Fresh All-Time High Above $9.5 Today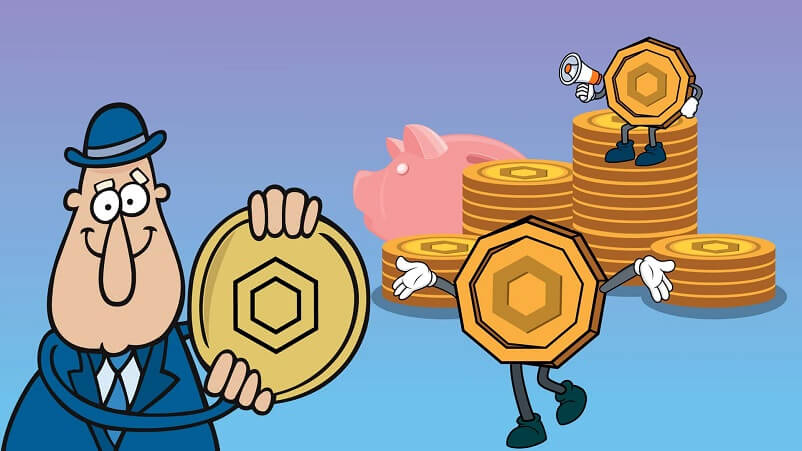 It was just towards the end of the previous month when Chainlink joined hands with China blockchain services. This will help Chinese governments and enterprises to connect the real-world data into their blockchain applications with the help of Chainlink industry-leading oracles.
Moreover, just as the price dynamics of LINK are hitting fresh highs, it was just yesterday when Chainlink collaborated with Provide to come up with New Easy Button for Enterprise Smart Contract Oracles. This will lead to a seizure of Chainlink data feeds by way of Provide API by developers.
This will lead to quick use of Chainlink oracle data by the enterprises, including run and pay for Chainlink nodes along with developing new use cases using baseline protocol. With fresh ATHs, LINK is all over the market as investors emphasize on the growth and development factor of the digital assets. After being traded laterally for almost three years now, Chainlink is in the limelight due to its recent price actions.
Chainlink Price Analysis
Chainlink is hitting a fresh ATH on the above 2-day chart against the US Dollar and at the press time was trading at $9.73. However, the 20-day Bollinger Bands are seen expanding, and the price trend of LINK/USD is seen hitting the upper band due to recent gain in the momentum. Moreover, on the above 2-day chart, it is clear that LINK was trading on a notable bullish note in the past 30 days since the onset of the previous month. Continuing the same bullish streak, Chainlink price snaps new highs.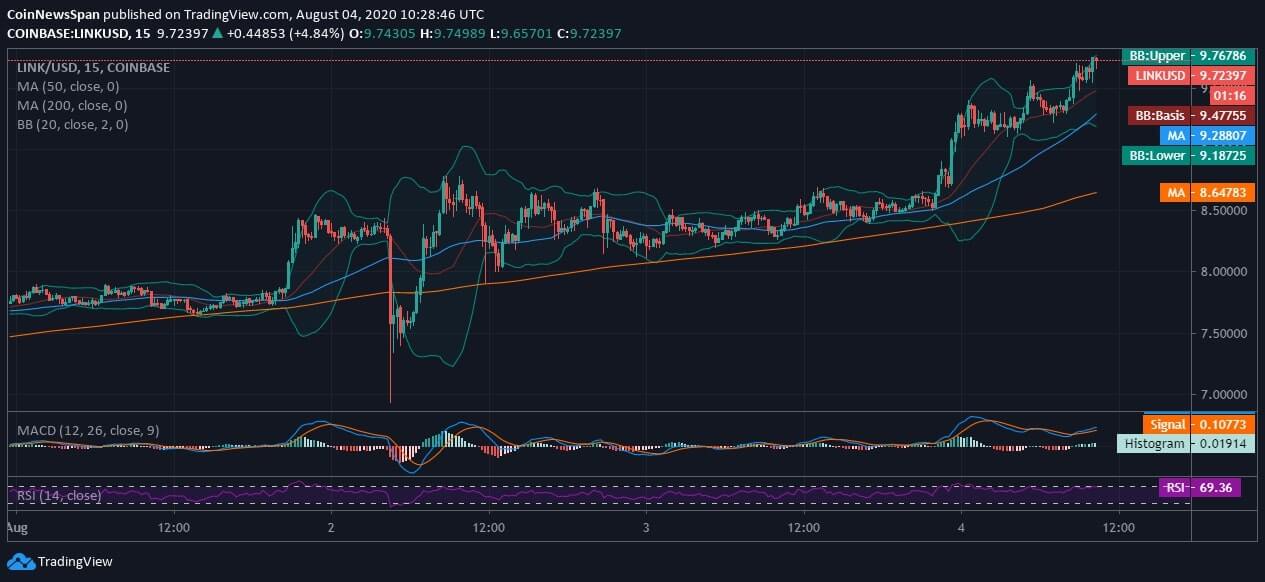 On the intraday chart, Chainlink tested bottoms as low as $6.9 briefly on the 2nd day of the month, which was followed by an approximately 24 hours consolidation. However, the coin is soaring since the wee hours of the trading session today and is now one of the top 10 cryptos of the global crypto market.
The price trend on the above intraday chart, on the other hand, is hitting the upper 20-day Bollinger Band but holds no extremities of a volatile breakout. This brings us to a simple yet solid conclusion that the recent rise in price is sustainable, real, and not illusionary.
Chainlink is holding complete support from 50-day and 200-day daily MAs on the intraday chart at $9.2 and $8.64, respectively. The MACD chart is drawing a bullish crossover due to recent ATH and crosses above the signal line.
Similarly, the RSI of the coin is inclined towards the overbought region at 69.36. the major support and resistance to watch out for lies at $9 and $10, respectively. The resistance around $10 will not be stringent if the coin continues to move with similar traction.