Chainlink News
Bullionix and Chainlink come together to power gold-based NFTs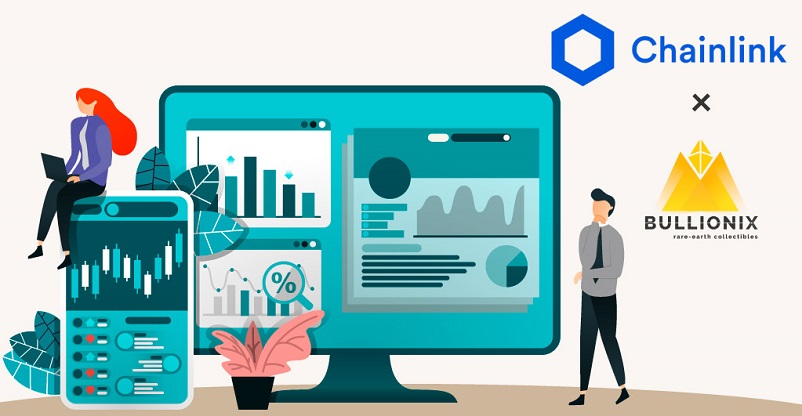 Just within three months of its launch, Bullionix has been able to carve a place for itself in the market. Bullionix has now announced its partnership with the Chainlink, and this coming together will help both companies to augment their respective market positions. Bullionix introduced 3D gold-staked non-fungible tokens (NFTs) a couple of months ago. The users of Bullionix mine these tokens, and to maintain accuracy, it is important for the company to have access to the right information of the gold market. Keeping this requirement in mind, Bullionix came out with the GoldLink feature, which displays all the gold-related information in a very interactive and easy-to-understand manner.
Finer Details
Chainlink is a market leader in providing cryptocurrency prices and rates of the Forex. In addition, a whole host of information related to the precious metals can be accessed on the open-source platform. The company is also a leading name in the gold (XAU/USD) and silver (XAG/USD) markets.
In order to get the feed on XAU/USD prices, Chainlink uses a decentralized network based on Oracle technology. It collects feeds from a number of independent nodes, which, in turn, receives the data from a number of reliable sources. Once the data is supplied, it is aggregated in the form of a reliable price that is available to the intended users and analysts. It is clear from the above mechanism that to provide a reliable price factor for the gold, it is absolutely essential to have a deep understanding of the market and have access to solid and reliable data.
GoldLink, now powered by the Chainlink's decentralized network, aims to serve its intended users with accurate and reliable gold prices. In fact, GoldLink has now become a one-stop destination for all things gold, thanks to this new association with Chainlink, Expressing the delight on this association, the founder of the Bullionix, Jesse Johnson said that this coming together would bring more transparency and legitimacy to the forum by enabling a wider set of the target audience to access and keep track of our gold-backed NFTs.
Conclusion
There is no doubt about the significance of this association, especially considering the fact that NFTs are still in their infancy as far as their digital asset status is concerned. By bringing more transparency, authenticity, and reliable data on the gold market, all the concerned stakeholders in the segment are sure to get benefited from these enhanced capabilities. It will also empower teams to achieve the goal of widespread adoption of these NFTs among target investors.