Bitcoin Cash took the high road during the first week of the month. The improvement was impressive, and the traders were eyeing for a higher level. The investors' long-awaited rally was anticipated to arrive. Well, the momentum took a contradictory turn, and the BCH price started falling.
The plunge was strengthened after the top guns like Bitcoin, Ripple, Ethereum fell along. The current scenario of the market is not indicating any improvement happening soon. The growth has already struck Bitcoin Cash. The escalation is almost 3% and looks like the path would lead to a rally.
Bitcoin Cash Price Analysis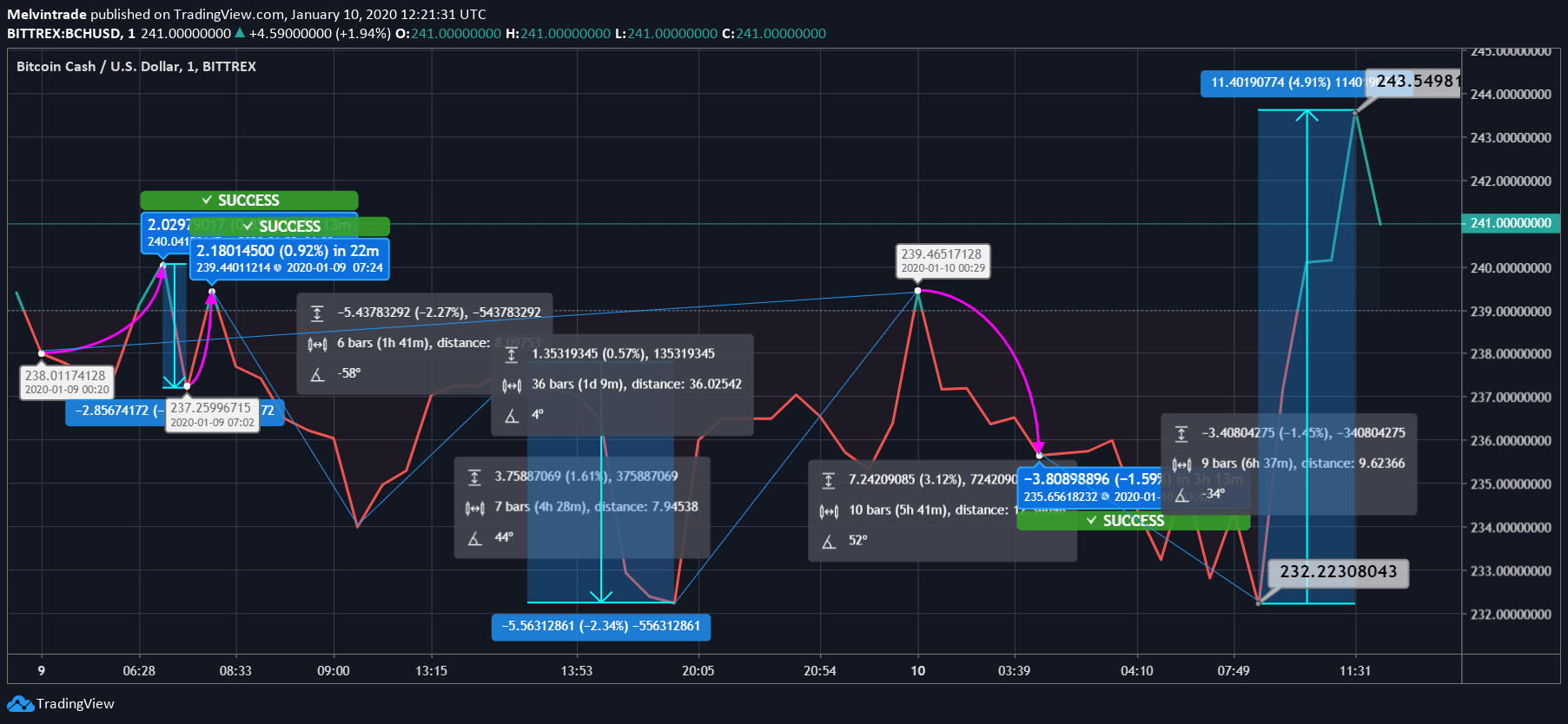 Yesterday, Bitcoin Cash began dealing at $238. The currency jumped to $240.04 by 0.85%. The price slipped to $237.25 by 1.19%. The coin jumped to $239.44 by 0.92%. The price dropped to $234 by 2.27%. And then the price escalated to $237 by 2.27%. The currency slipped to $232 by 2.34%. The closing hour took the BCH price to $239.46 by 3.12%. The intraday movement reflected a minor upsurge.
Today, Bitcoin Cash price began with a downside movement. The counters changed from $239.46 to $235.65 by 1.59%. The price slipped further to $232.22 by 1.45% fall. The escalation took place, and the BCH price touched $243.54 by 4.91%.
A few moments ago, Bitcoin Cash price was quite near to the immediate resistance level at $244. The coin improved tremendously as there was a heavy pressure for almost half of the day. The improvement is speculated to bring the much-awaited surge in the BCH coin. The traders interested in the currency are recommended to opt for long-term investment to ensure high returns.
| | |
| --- | --- |
| Resistance Level | Price |
| R1 | $244.06 |
| R2 | $248.91 |
| R3 | $254.76 |
| Support Level | Price |
| S1 | $233.36 |
| S2 | $227.51 |
| S3 | $222.66 |