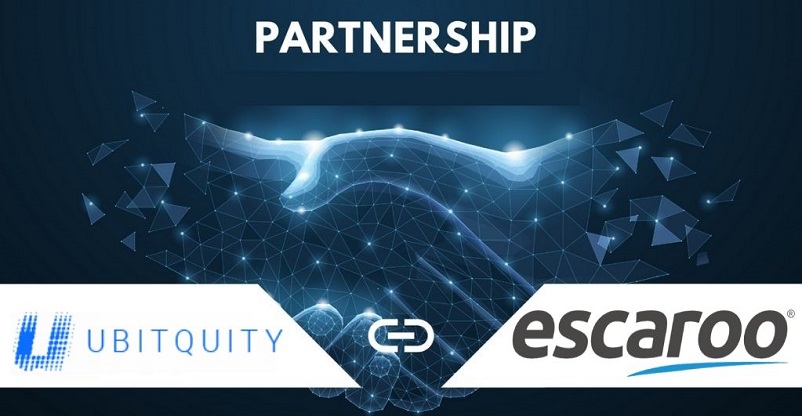 UBITQUITY, a renowned patent-pending Application Programming Interface and Baas platform, has announced the news about its new partnership with highly-acclaimed escrow service providing firm, Escaroo. The two leading entities are joining hands to put in collective efforts to revolutionize, innovate, and expand Escaroo's escrow product offerings for property title.
The news about the collaboration was made official through a post by the UBITQUITY team on their social media handle. The post read:
Ubitquity Announces Blockchain and Escrow Joint Venture Partnership With Escaroo Ltd. https://t.co/WPnMMk1hvt@Escaroo_com @thesamreynolds @WesWilliamsEsq @LadyAnarki

#Ubitquity #Escaroo #JointVenture #Blockchain #Escrow #SmartContracts

— UBITQUITY LLC (@ubitquity_io) April 20, 2020
According to the reports, the new revolutionary blockchain-powered escrow solution of UBITQUITY and Escaroo Ltd. will render the inclusion of a tokenized property title into the latter's escrow ecosystem. This will work as an assurance of reliability and trust and shall be handed over to the buyer after the completion of the deal requirements. The entire processing channel, including conveyance, shall be managed and operated through the Individual Smart Contracts system. All this will be done to trigger minimum human interaction and will turn out to be a milestone moment in the digitization journey of escrow-based transactions.
Frank Pira, Founder and CEO of Escaroo Ltd quoted,
Ubitquity is leading the way in blockchain title registration and Escaroo is leading the way as the most secure proprietary escrow system out there. Together, we will be a force to be reckoned with. When merged, the two systems will give clients the end-to-end tools needed for secure blockchain-based transactions.
UBITQUITY offers a simple and secured interface for real estate records keeping processes such as storing and tracking of property deeds and land records. The firm's SaaS Platform and API employ blockchain as well as off-blockchain data storage systems, which ensures users to be assured of the authenticity of their immobile asset at all times. The non-encrypted metadata related to the transactions are stored in a centralized database with decentralized, encrypted storage. UBITQUITY's tie-ups with prominent e-recording firms allow it to use an extensive suite of property titles from hundreds of county clerks' offices. This streamlines the real estate processes and helps the firm in expanding business operations on a global level with strong professional and technical integrations.
Nathan Wosnack, Founder and CEO of Ubitquity stated,
We are excited to be a part of this joint development project with an established cryptocurrency escrow firm, which demonstrates the uniqueness, flexibility and adaptability of Ubitquity's platform. After rolling out our highly successful platform to clients in the aviation title industry, real estate, and abstracting companies across the United States, adding escrow features for new customers will further accelerate Ubitquity's growth.
Escaroo is a popular platform that helps users to buy, sell, and trade through cryptocurrencies while allowing the involved parties to create and manage their transactions in a fully customized manner.