Blockchain News
Torus Labs Joins Hands With Solana to Create Decentralized Applications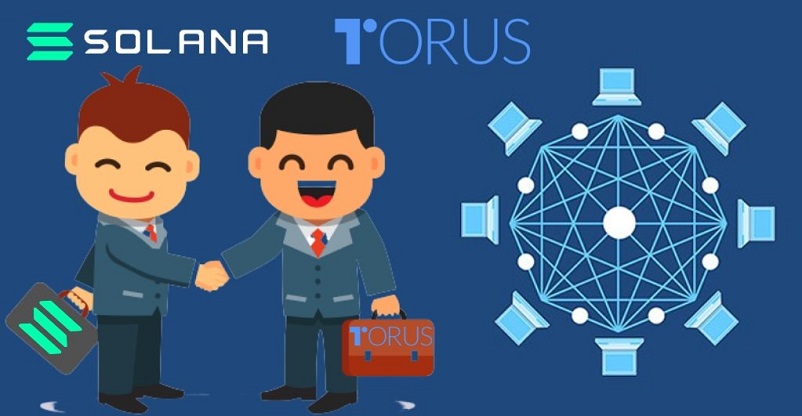 Working as a popular distributed private key management service providing firm, Torus Labs has announced the news about its strategic collaboration with a globally-acclaimed robust, secured, and scalable blockchain network, Solana. The integration between the two firms will render the developers on the Torus ecosystem with the tools to design scalable mainstream decentralized applications on Solana's blockchain channel.
The news about the Torus Labs and Solana partnership was circulated in the crypto space through posts on the respective official Twitter handles of the firms. The posts read:
We are thrilled to announce our collaboration with @solana to offer developers the tools to build scalable mainstream decentralised applications on Solana's Web-Scale Blockchain!https://t.co/lbCLkkNKXt

— Torus (@TorusLabs) April 23, 2020
We are officially announcing our partnership with @TorusLabs !

Torus provides one-click logins for DApps through the user's Google, Facebook, Reddit, Discord, Twitch, or Email account in a single step with no additional installations.https://t.co/J0IMB0uwYq

— Solana (@solana) April 23, 2020
According to the reports, the elite core team of both the participating companies will put in their joint efforts to aid the initiatives focused on blockchain mass adoption. A special emphasis will be laid upon to make blockchain solutions more user-friendly, scalable, and simplified in operational management.
The developers planning to use Solana blockchain will enjoy easy access to seamless key management through Torus' DirectAuth integration. This will allow the developers to have full control over their login and user onboarding or wallets in accordance with their individual needs. DirectAuth on Solana enriches the developers with a fair option to interact directly with the Torus Network. They are allowed to use the non-custodial Distributed Key Generation service with an aim to assign, store, and retrieve the keys. One can access the integration service across the web and native applications. It will aid users in managing their keys via OAuth accounts such as Google, Facebook, Reddit, Discord, Twitch, or Email.
Through the partnership, Solana is looking forward to carving out a highly efficient and result-oriented protocol system that is capable of manifesting cost-effective transactions as well as sub-second confirmation times for these transactions. On the other hand, Torus Labs will strive to offer a streamlined authentication system and enable a systematic Key Management system that is infusible and compatible with the existing Web 2.0 applications.
Solana stands out from other blockchain networks when it comes to its core operational capabilities. It has reported processing 59,000 transactions in one second with 400ms block-times. The transaction fee for each trading activity was estimated to be 0.00001 USD. Solana has achieved milestones without any compromise in the decentralization pedagogy or security through Proof of History mechanism, which is used for ordering and time events on the network before consensus. Also, it has become a hot-shot solution for a majority of developers as it does not involve sharding and so boasts of simple composability features for the developer community.
On the Torus network, the management is done by a collection of validator nodes operated by Binance, Etherscan, ENS, Tendermint, and other ecosystem stakeholders. The team is focused on curating services that solve the issues of developers most easily.