John McAfee
Seasonal Flu Vs. Coronavirus: Mcafee Has an Opinion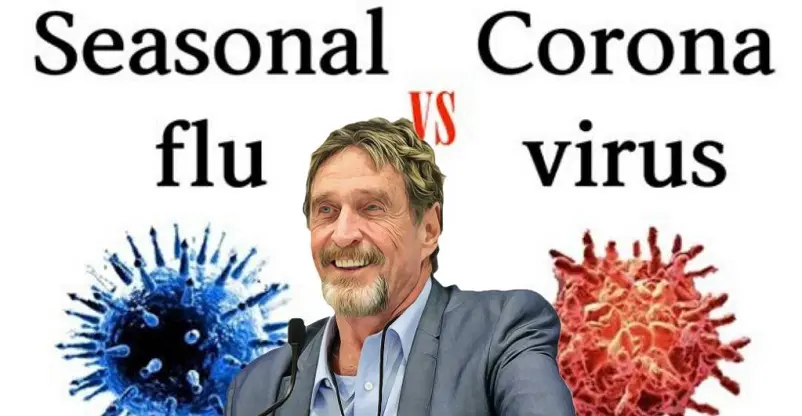 John McAfee, one of the biggest American businessmen and a computer programmer, recently showed a cold shoulder to the COVID-19, stating that it has only killed 4000 people so far worldwide in the span of six months' time.
In the almost six months of its existence,
The Coronavirus has killed 4,000 people worldwide.

In that same period of time (flu season),
The flu has killed over half a million.

Yet the media focuses on Coronavirus.

Smell the coffee people. pic.twitter.com/oeJdkqnYBi

— John McAfee (@officialmcafee) March 14, 2020
Comparing the virus to the flu, John McAfee said that flu kills millions of people worldwide, yet the media somehow brings COVID-19 into the limelight as a pressing epidemic.
When asked for the true agenda behind the tweet by a commentator, John replied,
Financial collapse of the U.S. and Europe. Orchestrated by China Or Collusion between world Governments to impose totalitarian rules against their citizens, Which has already happened in Italy and is beginning to happen in America: No public assembly.
It is noteworthy that McAfee is yet an official candidate in the presidential elections of the US in November, so this intervention from him is being considered as an act of propaganda that is part of his larger election campaign. Beside all opinions, the odds still indicate his low chances of winning.
On the other hand, the criticizers to John's statement responded by saying that it isn't the death rate that is worrisome about the situations but the mortality rate, which is considered almost ten times larger than the flu.
Where people have different notions and views regarding the situation, a common man can only hope he survives the tide of this deadly epidemic.