John McAfee
Daily Deaths Real Indicator of COVID-19 Impact as Less Than 1% Tested, Says John McAfee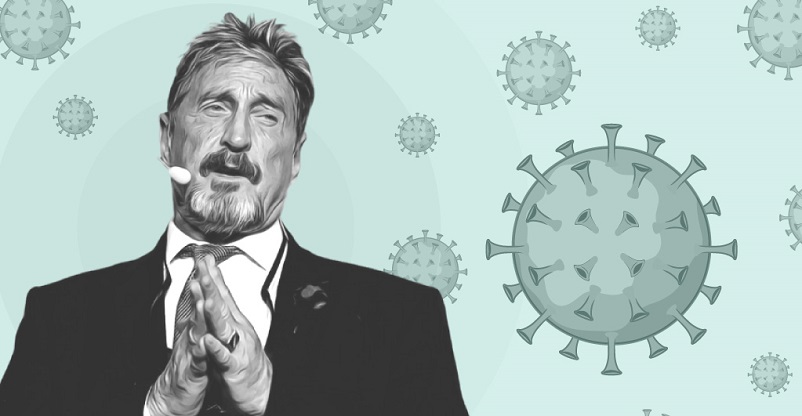 Computer scientist-turned-crypto entrepreneur John McAfee is known to speak his mind without mincing words. Hence, his views and expressions about the Coronavirus Pandemic have been quite outrageous. He alleged that the whole pandemic could be a conspiracy either by the world leaders or by the Sino-US elite. He had also alleged that there was something fishy about the death rates in the US elsewhere.
In his latest tweets, John McAfee says that daily deaths are the only true measure for the impact of COVID-19. He added that since only 1% of the total population has been tested, the cases are bound to increase.
The Coronavirus Pandemic has infected more than 14.6 million people across 213 countries and killed over six hundred thousand. Though it originated in Wuhan, China, the United States (3.8m) has been the worst hit, followed by Brazil (2.09m), and India (1.1m). However, McAfee argued that since only 1% of the population is tested, statistically, 99% of the people are actually infected, adding that more testing doesn't mean that the situation is worsening.
In the thread, McAfee posted an infographic, which indicated the death rates since January 2020. The infographic indicated that the global death rates since May 21 have been averaging under 5,000 deaths per day, which is less than 1 in a million, projecting that the situation isn't as grave or serious as people think. However, mere percentages don't necessarily indicate the true acuteness of the situation, especially since there are people who have lost more than one family member due to the virus. Relying merely on percentages doesn't show the correct picture, and history is a witness that the impact of an event can be much more than what percentages indicate.