John McAfee
John McAfee Shares His Views on Coronavirus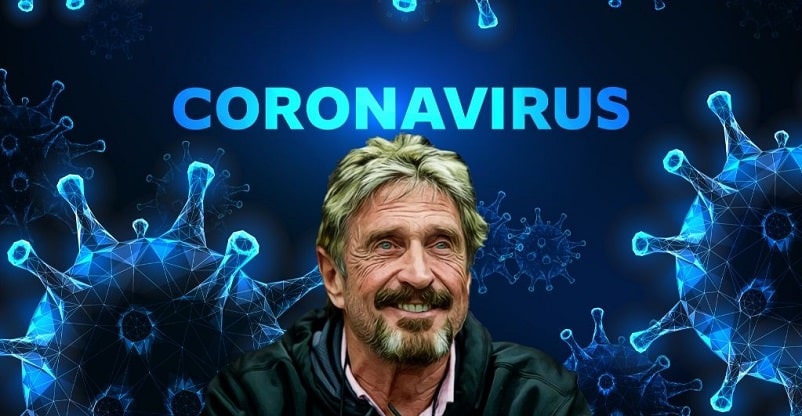 The recent tweet by John McAfee on coronavirus in which he compared the epidemic to the flu has seemed to go viral inviting continuous responses from the criticizers as well as John himself.
Part one

Of my second plausible reality
Of the Coronavirus: pic.twitter.com/zABMiyxVVV

— John McAfee (@officialmcafee) March 16, 2020
In another recent tweet, John uploads a video stating that he intends to discuss the other devious and dark side to the situation.
Part two of the second Coronavirus scenario. pic.twitter.com/0v6uFpVyDf

— John McAfee (@officialmcafee) March 16, 2020
He attacks the government by saying that they have been doing all the wrong things. He says, "Words mean jackshit to me, actions are everything."
Governments are unilaterally restricting the movement of people, restricting assemblies and imposing draconian rule. You can go to the doctor if you are sick and not if you are not sick.
"This seems like a totalitarian takeover," he says.
He also says that fear is something that paralyzes and all. And that when someone is afraid to the point where their lives are at stake, one is bound to do anything that can possibly help the situation.
To the Johns video, a number of commentators responded by saying that they, at one point through the enigma, felt that the virus could be a biological weapon meant for establishing a totalitarian role.
A comment goes as,
why so few deaths in #Russia YTD? Kremlin hit Iran, pinned it on China. assert dominance over Eurasian continent. pulled oil market stunt w/ Saudi cooperation. made billions upon billions. biological + economic terrorism?
People are projecting a number of vague ambitions and conquest motives behind the outbreak, and there definitely has been a horror settled deep within all our minds regarding the course that can take place with the virus.
John's statements, on the other hand, are taken by a pinch of salt by people as he clearly doesn't seem to understand the gravity of the situation.
In these hard times, it is better that we listen to our conscience that mandates us to act in prudent ways and support the initiatives that the government is setting in place.