Blockchain News
Russia to use Waves Enterprise's Blockchain Technology for Election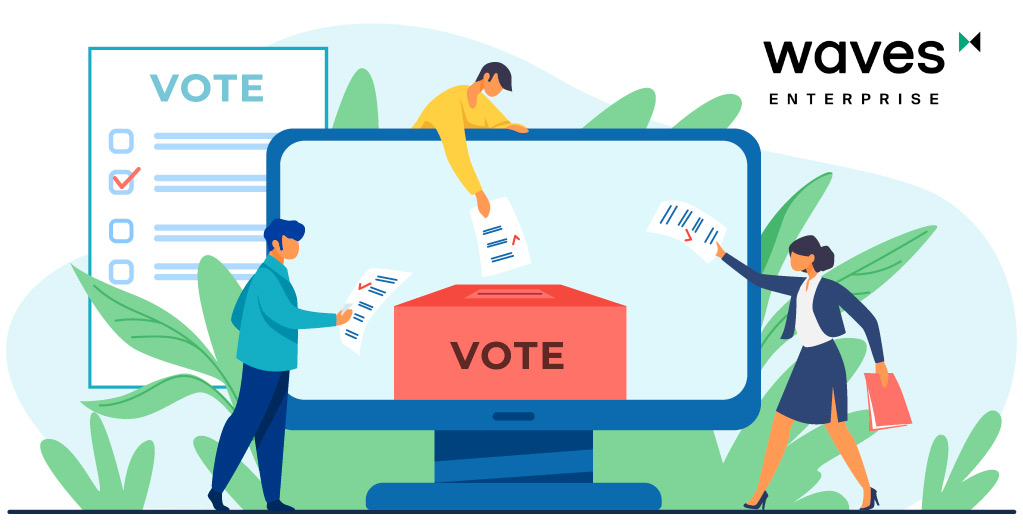 In an important development that is going to boost the adoption of blockchain technology, Waves Enterprise and Rostelecom have come together to supply a remote electronic voting system to Russian authorities. The Russian Central election Commission will utilize the system in certain parts of the country for the upcoming elections in September 2020.
Waves Enterprise, which is quite a well-known name in the blockchain domain, will develop an e-voting system based upon the open ledger technology. The system is expected to come with all the required features to help remote voters cast their ballot and participate in the election process.
Specific Details 
Blockchain technology's distinctive capability to provide credible, transparent, and tempered-proof systems is quite well-known worldwide. Thanks to the immutable open ledger principle on which the blockchain is based, the Russian Election officials are confident that the election results using the blockchain cannot be falsified. The new system will be adopted for the voting in Yaroslavl and Kursk regions. Voters will get the opportunity to cast their ballot remotely for the by-election that will elect representatives for the lower half of districts.
Despite using a completely different operating principle, voters won't feel this blockchain-based voting system different from the conventional process of casting their votes. Voters can choose from mobile or browser applications, and for casting the ballot, they need to get registered with the Russian government's public services portal. The identification testing process will follow wherein a unified biometric system (UBS) or unified identification and authentication system (UIAS) will be used to authenticate the identity of the voter. Once a voter passes the identification test, he/she will receive the ballot, and according to their choice, one can vote for their preferred candidate.
Details of Technology
In order to successfully complete the process, Waves Enterprise will use new-age cryptographic protocols and private blockchain to offer a foolproof voting system. A combination of these two powerful technologies will make the exchange of the information between stakeholders a completely safe and secure process. It is also important to note that all the processes related to the voting function, viz., acceptance of the data, the verification of the data, and storage of various transactions will be through the smart contracts, which further add to the transparency and the credibility of the voting system.
Conclusion 
The use of blockchain in the election process is expected to have wider implications for the adoption of technology in different domains. After conquering the business segments such as financial technology, supply chain, automobile, FMCG, and logistics, blockchain is now slowly and steadily getting its roots down in government projects. The acceptance of the technology from regulatory authorities will help open ledger to spread its wings further, and this specific project in Russia could prove instrumental in this regard.