Ripple price approaches the 23.60% Fib level after a price fall
XRP coin seems to have a support level at $0.2193
The coin failed to trade above $23; rejection followed by a price fall of more than 5%
MACD looks positive; SMA lines still give negative signals
Ripple (XRP) has started an upward journey just now today after early morning price plunges. The coin has been consolidating for more than a day till yesterday.
Ripple Price Prediction
On November 7, the coin opened at $0.2260 and had a few ups and downs around $0.2268 to $0.2243. The next day, XRP coin took a sharp surge above $0.23, increasing the risk appetite of the investors. However, instead of continuing the surge, it gradually declined below the key support of $0.2200. Ripple price found a support level at $0.2193 with a hefty drop of 5.53%.
The coin could manage a rebound above 23.60% Fib level at the time and then corrected down. Now when Ripple has started a gentle uptrend, the coin is again approaching the same Fib level. At 12:18:58 UTC, XRP price is trading at $0.2208.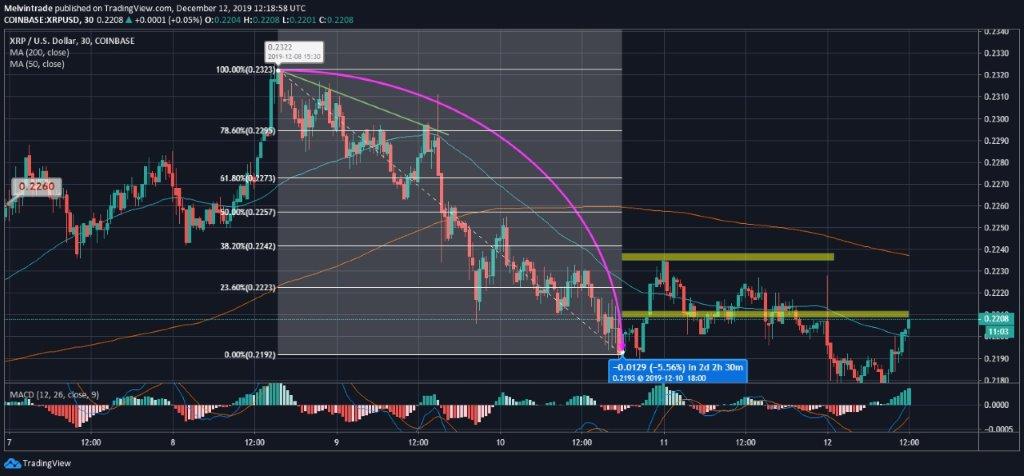 SMA lines are bearish since when the XRP price decline of more than 5% took place as here, the lines have formed a death cross. MACD lines are gearing up to enter the bullish zone while having the MACD line on the upside. Notably, Ripple, the major altcoin, is carrying a prolonged selling pressure for more than a month now.