Blockchain News
New York All Set to Host One of the Biggest Blockchain Events of the Era, the BlockchainWeekendNYC 2019

Happening on November 7-10, BlockchainWeekendNYC is a more private, and regional take on its sister event, the BlockchainWeek. It would be hosted in partnership with NYC's tech community and the New York City Economic Development Corporation (NYCEDC).
Serger Millman, the Managing Director of Starta Ventures and the BCW Event Host, stated: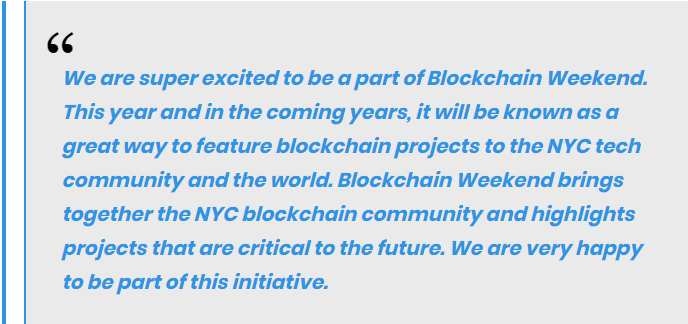 The BlockchainWeekendNYC is also an initiative to showcase the blockchain cases and projects being developed in NYC. It is the most appropriate opportunity to explore the growth and potential of an industry whose value is anticipated to reach $24 Billion before the beginning of 2026.
Aimed at connecting the tech communities across New York, the blockchain event would collectively bring together more than 50 blockchain events over the 5 NYC boroughs. This 4-day event would be the first of its kind and will feature everything about blockchain opportunities, with over 200 participating organizations, and more than 5000 attendees.
There will be panels, educationals, pilots, use cases, and big releases that are taking place across the whole city. Most of the events will be whole-day events.
Marcos Dinnerstein, the former Chief Editor of Digital.NYC, Burson Cohn, and Wolfe organizer stated: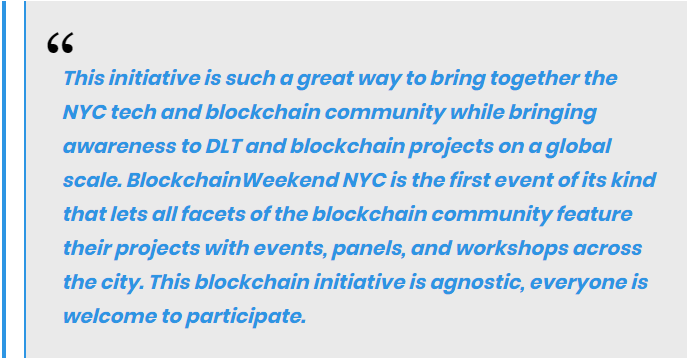 Participating events would be representing various tech ecosystems inside New York. Some of the participants include the Silicon Harlem, Civic Hall, New York Public Library, Blockchain For Social Impact, and dozens of other organizations that are part of the NYC tech hub.
Young Woo Shin, Editor, Silicon NYC – Tech beat of NY, commented: