Blockchain News
NEOPLY Firm Becomes Supernode For Blockchain Entity V Systems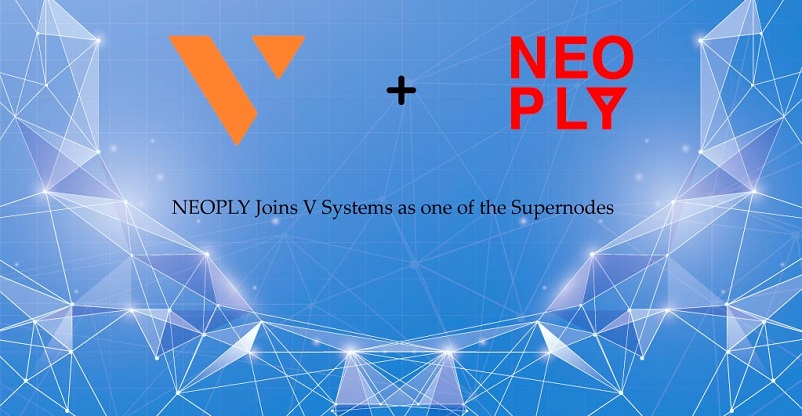 Seoul-based leading startup accelerator and node operator, NEOPLY has announced the news about it joining as a Supernode candidate in V Systems, a popular blockchain infrastructure providing firm. The firms will work together to support each other and encourage working capabilities.
The news about the partnership was circulated in the blockchain domain through official Twitter posts by both the participating companies. The NEOPLY post read:
According to the blog post, NEOPLY team will play a significant role in expanding V Systems network coverage. It will use the unprecedented excellence of its network capacities to boost the operability of V Systems with an intention to cater to its technical development and growth of its core environment.
NEOPLY is a highly acclaimed startup accelerator, which is the brainwork of NEOWIZ, a long-running video, and technology developing firm. The company has been putting a special emphasis on the disclosure and nurturing of projects powered by blockchain technology. Established in 2018, NEOPLY boasts of a strong client base, which is achieved through some strong strategic investments in over 10 fast-developing blockchain entities. The firm offers a wide range of customer services, including guidance, supporting, angel-funding, and workspace availability, etc.
The team is now exploring the potential of DApps and has shown a keen interest in developing potential DApp projects and supporting DApp developers in entirety. NEOPLY has a wide working experience as it has participated as a node operator in multiple chains like EOS, TRON, Terra, and IOST. The platform strives to satisfy the customers by prompting the stability and transparency of operations in a blockchain-based environment. It recently joined hands with the IOST blockchain network and became a part of the IOST Node Program. It presently stands at the 10th spot, with a total of 160 million votes on the IOST Node program system.