Blockchain News
KardiaChain Includes Band Protocol As Oracle Solution For Government & Enterprise Applications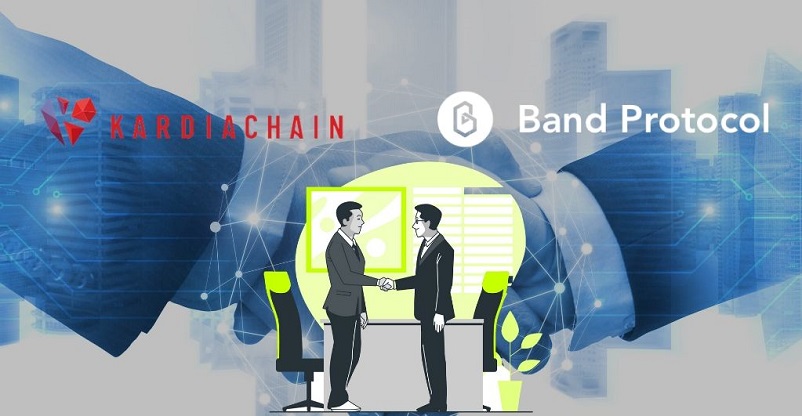 Working as one of the most trusted, secured, and scalable decentralized oracle solutions for Web 3.0, Band Protocol has announced its collaboration with the public blockchain platform, KardiaChain. Being adopted as the standard oracle solution by KardiaChain, Band Protocol will allow all the smart contracts being operated on KardiaChain to be connected to external data APIs. The integration is likely to play a significant role in strengthening the ecosystems of both the participating firms as well as will lay the foundation of a new era of enterprise and government blockchain adoption.
The strategic news about the partnership was circulated in the crypto community through an official tweet by the Band Protocol team. It highlighted that the oracle service provider would offer the KardiaChain customers access to services like reliable price feeds, business data, and unmatched support to leverage the multi-billion-dollar enterprise and government applications.
KardiaChain uses the revolutionary Dual Node Technology to facilitate cross-chain communications on the network. The technology allows simultaneous access to the ledger data of the firm and any other blockchain system. It has unprecedented experience of working with big service providers, business enterprises, and governments. It has partnered with Vietnam-based giant conglomerate, Geleximco, which boasts of a more than $2.2B in assets to decentralize their internal solutions along with the country's government institutions and other firms like ONSports.
Band Protocol shines as the only decentralized oracle offering the facility for smart contracts to choose their data type/sources and aggregation mechanisms while eliminating dependence on a centralized oracle node or single point of failure. KardiaChain chose Band Protocol to power its enterprise-grade applications through an oracle service that is decentralized, flexible and does not succumb to the limitations of network trafficking or congestion.
Tri Pham, CEO and Co-founder of KardiaChain quoted,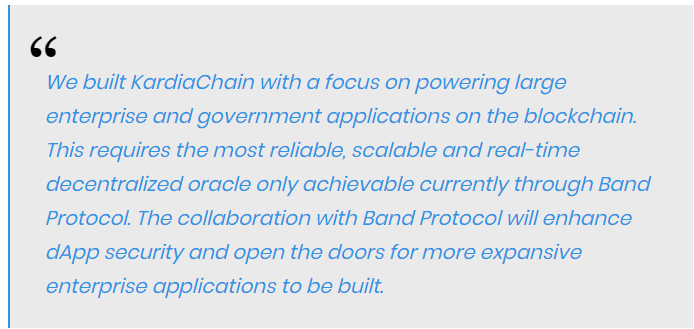 KardiaChain has concluded its IEO and first listing on Gate.io. based out of Vietnam. It has unveiled two versions of the testnet and is looking for mainnet launch in 2020.