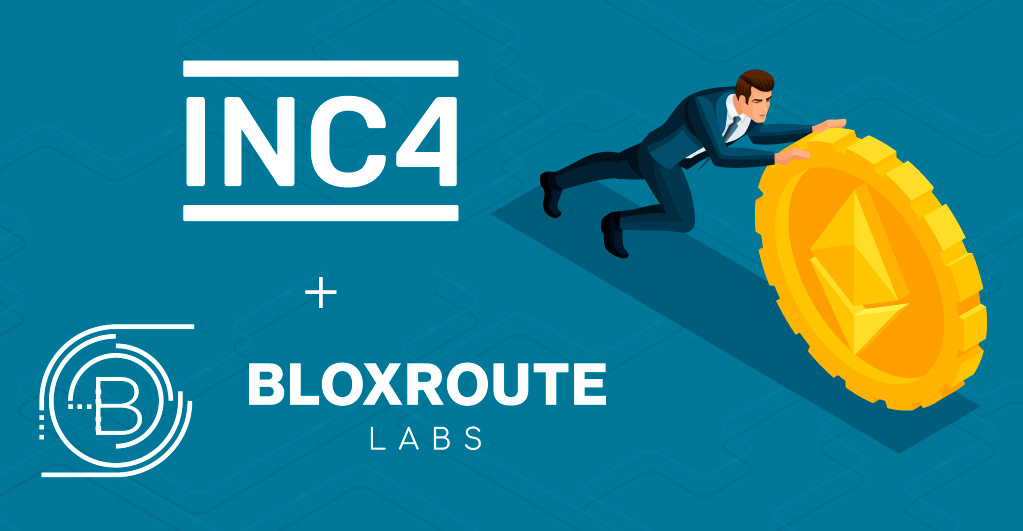 Working as a prominent Blockchain Distribution Network offering secure network communication channels, bloXroute Labs has entered into a strategic collaboration with INC4, a highly-acclaimed and award-winning blockchain entity. The partnership will help INC4 enhance the operability of its ETH mining cluster and blockchain engineering business interface using the bloXroute firm's expertise. The bloXroute team released an official Twitter post to circulate the news in the industry, stating:
We are happy to announce that we have partnered with INC4 to help boost their #ETH mining pool @minerall_io and blockchain engineering business, including reducing their uncle rate. 📉 ✨

Our Bizdev @sunlearnstorock breaks it down here: https://t.co/YpMZhxGe4X

— bloXroute Labs (@bloXrouteLabs) November 5, 2020
According to the news report, the integration of bloXroute Labs with INC4 will play a significant role in plummeting the ETH uncle rate of INC's native mining pool, MinerAll dominantly. It will help in allowing seamless access of bloXroute's Blockchain Distribution Network for the INC4 users.
Hailing from Europe as a private-owned development and blockchain engineering facilitator firm, INC4 is has gained a lot of popularity in recent times. Its renowned on-the-market ETH mining interface, MinerAll, has played a significant role in its success in the domain.
INC4 added support for the bloXroute BDN Gateway on the ETH mining nodes of MinerAll, earlier in mid-August. This has helped boost the ETH block and transaction propagation results, making the operability access quite easy for the users. INC4 is a one-shot solution for ETH application development and offers all the services starting from scratch like full-stack, customized software designing, etc.
bloXroute's innovative BDN network offers a plethora of features such as data compression, fast streaming of data, and seamless optimization of the route during operations. The network systems designed by 13 ETH mining pools and several ETH service providers using BDN adds to the entire channel's efficiency.
With BDN, INC4 can support quick data propagation for the users, thereby enhancing the performance and differentiation of multiple products. INC4 has an impressive experience of over a decade in the development of mining clusters and software, advertising channels, financial channels, etc. It strives to achieve project objectives quickly.