Blockchain News
Feeder Finance Integrates Chainlink Keepers to Decentralize Automation of Fees Distribution to FEED Stakers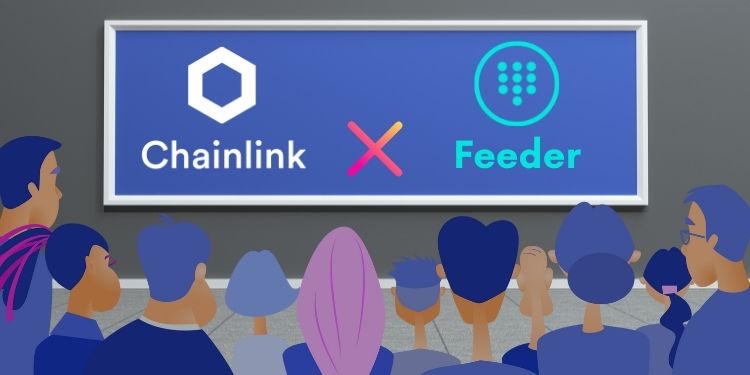 Feeder Finance published a blog post to announce that it has successfully integrated Chainlink Keepers into its system. The integration is now live on Binance Smart.
Integration with Chainlink Keepers has given Feeder Finance access to the services of automating the process of FEED token distribution. The process will be entirely decentralized while ensuring that it occurs in a secured and cost-efficient manner.
Background
Chainlink is an oracle network. It has become a benchmark to measure how others perform in the industry. The functions of Chainlink majorly include building, accessing, and selling oracle services at the time when a hybrid smart contract is required to be powered on a blockchain.
The oracle network provides smart contracts. These then help to reliably connect to an external API. Chainlink draws funding from various sources. The funding is worth approximately a billion dollars.
Funding by Chainlink is collected mainly through insurance, DeFi, gaming, and other industries.
Feeder Finance was launched in April 2021. It has been built on Fantom Opera and Binance Smart Chain. Feeder Finance is categorized as an All-in-One DeFi platform that works to simplify the investment journey of every type of investor alike.
It offers three crucial features to the users. These are vault aggregation, portfolio dashboard, and DEX aggregator. Every feature is crucial for the operations of the network.
Vault aggregation is derived from the top-most projects on Binance Smart Chain. Portfolio Dashboard enables an investor to have a quick glance at his or her investment portfolio. DEX aggregator enables a trader to swap the holding quickly on the platform.
Feeder Finance Integrates Chainlink Keepers
The integration of Chainlink Keepers gives Feeder Finance access to its automation process of distributing FEED tokens. This process is expected to be carried out securely in a cost-efficient manner. It will be concluded once FEED tokens are successfully distributed from platform fees to the staking pool.
Choosing Chainlink Keepers was a crucial decision. It was based primarily on how well it performs during network congestion.
Chainlink Keepers has earned a reputation of having node operators that are reliable and can secure billions of dollars in DeFi irrespective of the level of congestion in the network. The node operators of Chainlink Keepers are time-tested and provably reliable.
The oracle network executes functions at low cost while removing the need for an internal solution.
Four features that make it stand out in the market and the best choice for integration are high uptime, low costs, decentralized execution, and expandable computation.
Professionals at Chainlink Keepers have a history of keeping the network running even during times of high volatility. Users of the network enjoy a lower cost of automating maintenance tasks through various gas-optimizing features.
Chainlink saves time and mitigates the risk of a centralized server by leveraging a decentralized pool of Keepers. Off-chain computation performed by the Keepers allows developers to build advanced dApps at a lower cost.
Patrick, a Co-Founder of Feeder Finance, has called Chainlink Keeper the most trusted on-chain solution in the market. He added that the team had no doubt while taking a call on the integration process.
Read this  LINK coin price prediction to know how it is expected to perform in the future.