XRP nosedives to test 6-month support at $0.1713 with a lawsuit filed by SEC against Ripple and the third-largest cryptocurrency then. XRP loses a massive amount of market cap after the lawsuit filed and, therefore, loses his position against Tether as the latter takes over due to a constant loss of price. In the last week, XRP plunged by over 50% in less than 24 hours after a clear rejection of this investment tool and kept declining thereafter.
Back then, XRP was compared to many cryptos in terms of investment, and the returns on investment fetched given a suitable time period as mentioned in Ripple price prediction. However, the major concern and the point to be noted here is that although the price of XRP is plunging and the major investors might be ditching their investments in XRP as the credibility diminishes after SEC files a complaint and the crypto drops unbounded.
Grayscale has recently increased its position in XRP by over 8%, even after a clear rejection as crypto. What made Grayscale increase it's holding even though it can be omitted to trade as crypto or be laid be obligations if Ripple fails to prove its side.
BREAKING: Grayscale has increased their $XRP position by 8.5% after prices plunge to a 6 month low. pic.twitter.com/9OSYMiDqhK

— CryptoWhale 🐳 (@CryptoWhale) December 29, 2020
However, the major concern that lies it will XRP plunge even more and dip as low as zero or have a graded stop to this dip anytime soon. The either of two possibilities lead to two simple outcomes wherein XRP will make a comeback soon if Ripple proves its point or crash to holding a zero value.
Is $XRP done or will it make the ultimate comeback? 🤷🏻‍♂️

Hit the LIKE button if it's done or RT button if it's going to make a comeback. 🔥

— David Gokhshtein (@davidgokhshtein) December 29, 2020
 On the other hand, as per the information retained, a majority of the Ripple customers are overseas. In this regard, over 90% of XRP trading happens away from the USA that gives it a positive signal to retain its standard.
Most of Ripple's customers are overseas. 90% of #XRP trading volume happens outside the USA. $XRP has been declared NOT A SECURITY in Japan, Singapore, the United Kingdom and Switzerland. Regardless what happens with the SEC, #XRP is THE STANDARD!

— Crypto Bull🚀 (@CryptoBull2020) December 25, 2020
 Therefore, the 50% possibility of XRP making a comeback can be true if Ripple maintains its objectified ground.
XRP Price Analysis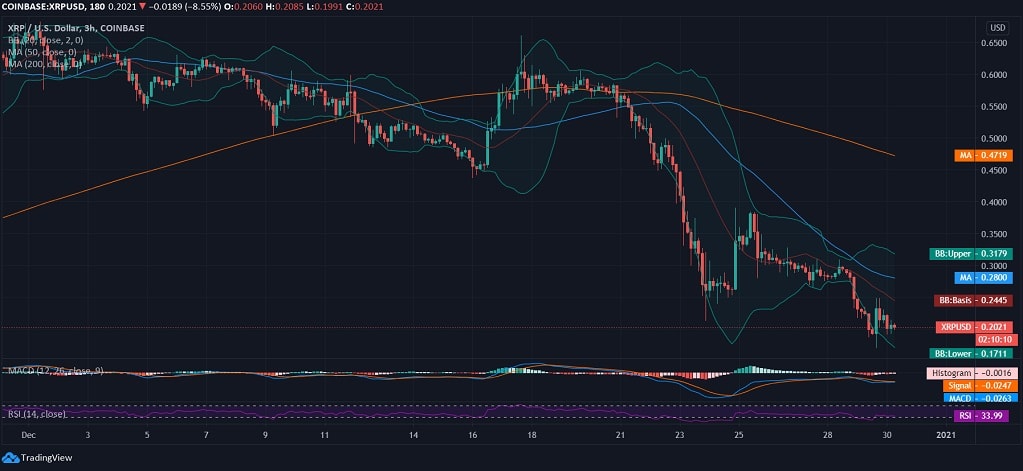 XRP continues to dig a bearish crossover against the US Dollar on the 3-hourly monthly chart over the past ten days now, and in this respect, the price trend of XRP/USD breaches the lower 20-day Bollinger Band.
After a steep decline in the previous week, the XRP coin lost all the support from 50-day and 200-day 3-hourly MA at $0.28 and $0.47, respectively. The MACD draws a clear rejection of the bullish divergence due to sluggish movement. XRP's RSI touches the oversold region as it lies at 33.09 after slashing the demand due to lowering prices.